Do you know about all the latest online shopping statistics? While brick and mortar stores are still making more sales than online stores, online stores are steadily on the rise. This is mainly because of the increased speed and convenience.
Understanding the data behind online shopping will help you build a strategic plan for your eCommerce business. Let's get started, shall we?
Online Shopping Statistics
If you're looking for specific stats, here's a menu so you can jump straight to them!
General Online Shopping Statistics
Let's begin with some general online shopping statistics to give you an idea of how big the industry actually is.
Online shopping is growing so fast that the global online shopping market size nearly hit 4 trillion in 2020. And in the US alone, we're expecting to have 300 million online shoppers in 2023.
That's 91% of the country's current population!
So far, 69% of Americans have shopped online, and 25% of Americans shop online at least once per month. The majority (59%) of these shoppers bought clothing items, and 47% bought their first item on Amazon.
But Americans aren't the only ones who shop online. People all over the world understand the benefits. According to Invesp, the countries with the leading average eCommerce revenue per shoppers are: USA ($1,804), UK ($1,629), Sweden ($1,446), France ($1,228), Germany ($1,064), Japan ($968), Spain ($849), China ($626), Russia ($396), and Brazil ($350).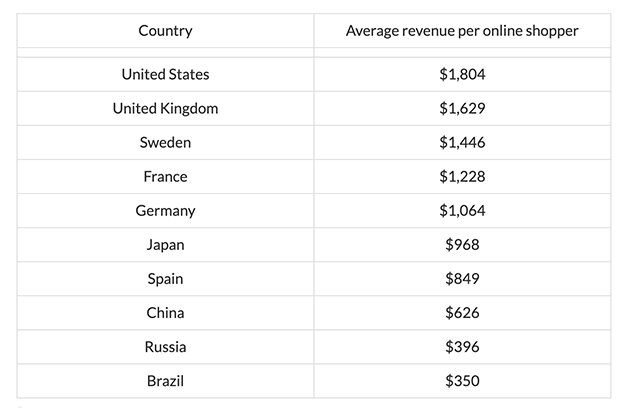 As of 2018, the digital buyers' penetration rate worldwide is 47.3%. If we're looking at statistics by gender, the difference between the percentage of male and female shoppers isn't a breath stopper — 72% are women, while 68% are men.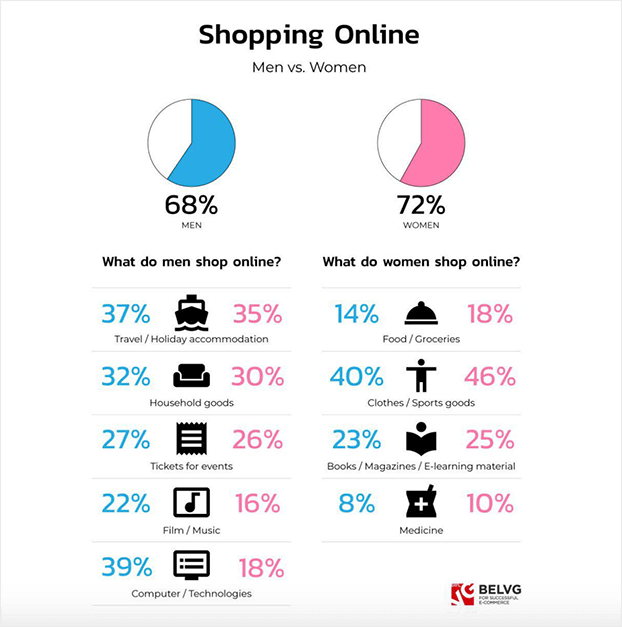 The main difference between men and women is what they shop for. Men usually go for heavy-duty items like furniture and computers while women usually shop for things like groceries and clothing.
Statistics for eCommerce Stores
If you're just starting to optimize your eCommerce store and think you have no chance against the bigger competition, think again.
In the near future, small retailers may see up to 30% higher mobile conversion rates compared to larger retailers.
And, if you haven't gotten into eCommerce yet, it's a great time to start. In 2019, it's estimated there are 1.92 billion digital buyers, and eCommerce sales account for 14.1% of retail purchases worldwide.
Since online shopping, in general, is growing so fast, the next statistic shouldn't come as a surprise to you. In 2023, eCommerce retail purchases are expected to rise from 14.1% to 22%.
But it's important to make sure that your eCommerce site is optimized for user experience. Something as easy to fix as an inconvenient return policy deters 80% of people.
Including thorough details on your product pages is so important. In fact, 88% of customers think detailed product pages are crucial for making a purchase decision.
Website design is also everything. Have you ever visited an ugly website? Perhaps one that looks like this?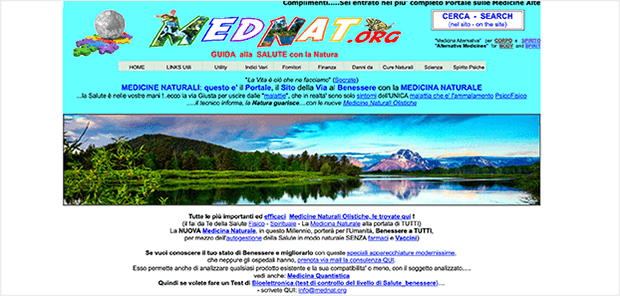 You probably have at some point. And if you haven't yet, we hope you never do. And we hope your customers don't either. 38% of shoppers will leave a website if it looks unattractive.
Mobile Shopping Statistics
If you thought for a second that mobile shopping wasn't a big deal, you'd be interested to know that 67% of users admit to window shopping for fun on their smartphones.
Not only that, but 77% of these digital window shoppers make impulse purchases. And, if you couldn't catch them right away, 70% of them will come back and make a purchase from their device within the first hour of seeing the product.
That's why improving your SEO can help you catch those spontaneous shoppers.
SEO Guide: SEO Made Easy—Ultimate Guide to Explode Your Traffic
Mobile shopping is quickly catching up to desktop shopping. It's easier to do as people are often on the go. Mobile shopping allows for shopping from anywhere as long as there's service. That's why a whopping 49% of people exclusively use their phones for shopping. That means 49% of your traffic will also come from mobile users. Because of this, optimizing your site for mobile is crucial.
The growth in mobile shopping vs. physical shopping and desktop shopping is outstanding. By 2021, mobile is predicted to dominate online sales, driving 54% of all sales.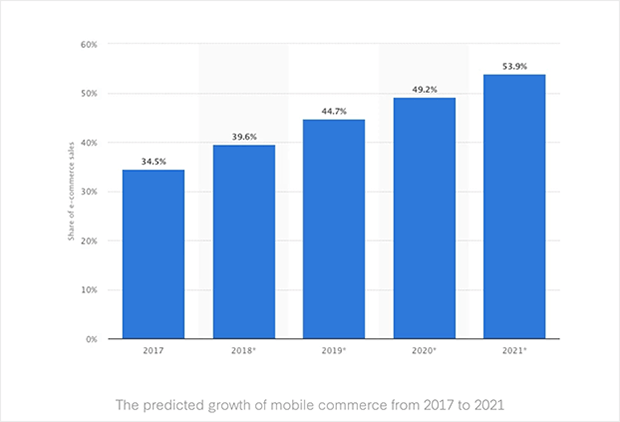 People don't only use their smartphones to shop online, but 65% check for price comparisons while they're physically shopping in a store. Checking things like price comparisons have influenced 51% of shoppers to purchase from a company other than the one they originally intended to.
Your store could be the alternative shoppers turn to, so, ensure your mobile website is up to date on prices, information, and is easy to find.
Abandoned Shopping Cart Statistics
The number one reason for shopping cart abandonment is… Drumroll… Unexpected costs.
Unexpected costs are responsible for 56% of all cart abandonment. And for a good reason too. Nobody likes being hit with unpleasant surprises just as they're about to make an exciting purchase.
With this information in mind, be honest and upfront with all the costs. If honesty isn't your thing, you could lose out big time. With the average abandonment rate of 68%, eCommerce businesses could be losing 3 billion per year or more.
Other factors that contribute to cart abandonment are high shipping prices (43%) and when users need to create an account before checking out (23%).
But there are always ways to reduce shopping cart abandonment for your company. First off, sending cart abandonment follow-up emails have an average of 45% open rate. And out of that 45%, 21% received click-throughs. That's almost half!
Secondly, to reduce cart abandonment, you can offer a discount on the items left in the cart. 54% of shoppers will purchase the items in their abandoned shopping cart after seeing a discount on those prices.
Online Shopping and Technology Statistics
There are a number of trends that emerged back in 2018 and continued being popular in 2019.
Chatbots are an example of one. 60% of consumers have used chatbots to find answers in the past 12 months. And for Millennials, a chatbox is the preferred support channel.
The main reason why chatbots are so popular is that when people want an answer, speed is always part of the equation. When people are waiting to speak with a service agent on the phone, it only takes 11 minutes before they get frustrated and hang up.
On the other hand, a chatbot will respond within a few seconds.
Another popular trend is voice assistants. If you have an iOS device, you've undoubtedly used Siri before. You might be surprised to know that 20% of searches on Google are made by voice assistants. And 27% of the global population uses voice chat.
Black Friday and Cyber Monday Statistics
As shoppers are preparing to make purchases, you should be preparing to make crazy sales.
Black Friday and Cyber Monday are by far still the busiest time of the year in terms of spending money. Did you know that in 2018, 174 million Americans shopped on this holiday? Each of these people spent an average of $335 per person.
But 93% of the biggest spenders, millennials aged 24-35, plan to shop during this weekend. And they spend an average of $419.52 per person.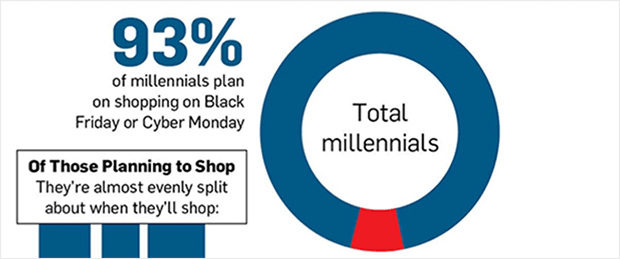 The majority of shopping happens online (58 million) rather than offline (51 million). As you can imagine, heading to a store on Black Friday could be a recipe for disaster. That's why 50% of people stay at home and browse on their devices. On Cyber Monday, 53% of purchases came from a mobile device.
According to BigCommerce, the most successful cyber week best practices for eCommerce stores of 2018 were:
Selling through Facebook or Instagram
Email marketing before thanksgiving
Using Amazon to sell
 Content and commerce integrations and strategies
Inventory preparation
User experience for mobile and desktop
Influencer marketing and social media engagement
Related Content: Ultimate Guide to Black Friday & Cyber Monday Marketing [+ Calendar!]
The Future of Online Shopping Statistics (Gen Z)
Although the oldest members of Generation Z are just now coming of age, their spending power is nothing to scoff at. Marketers need to understand this generation's unique needs and spending habits to stay relevant.
It's predicted that this generation, born after 1998, will have $44 billion in buying power. As of now, 93% of parents say their Gen Z child influences household spending. And in just a couple of years, this generation will dominate 40% of all consumer shopping.
95% of this generation have their own smartphone, in which they spend nearly 10 hours or more per day on. Because of this, they are 2X more likely to shop on mobile devices than millennials. They spend the most time scrolling through Instagram and watching YouTube videos.
Surprisingly, Facebook among teens has taken a plunge, and usage has fallen from 71% in 2014 to 51% in 2018. For following brands, Instagram is the preferred platform. However, using either of these social platforms, 85% of Gen Z go on social media to learn about new products.
Keep these online shopping statistics in mind and you'll understand your market. Then, you can start optimizing your online store to get maximum sales.
Speaking of getting maximum sales… Check out these awesome online marketing tools that will help you with every aspect of digital marketing. Or, take a look at how you can use social proof to send sales through the roof!
And, don't forget to follow us on YouTube, Twitter, and Facebook for more in-depth guides and roundups.