Do you want to learn how to launch a successful eCommerce site?
Launching an eCommerce site is a smart move as the future for these types of businesses is incredibly bright. But, getting started on the track to launching a successful eCommerce site can be intimidating.
It doesn't have to be.
That's why in today's article, we'll break this down into step-by-step actions, along with telling you the tools you'll need to get going.
That way, you have the foundation of a successful eCommerce site by the end.
Ready to get started? Let's dive straight into the list!
How to Launch a Successful Ecommerce Site
1) Pick and Obtain Your Products
Naturally, the first step in launching a successful eCommerce site is to pick the products you will be selling.
If you already have a brick-and-mortar store and are moving to an online business, congratulations!
If you are starting a store from scratch, you are probably wondering what you should be selling.
You'll want to choose products or, in some cases, services that appeal to your specific audience
Once you decide on the products you will be offering, you need to obtain them.
Whether you will be making them, sourcing them from a manufacturer, utilizing dropshipping, or something else, you need to know where your inventory will come from.
Once that's done, it's time to start setting up your eCommerce store.
2. Choose an Ecommerce Platform (& Web Host)
Now that you have decided on the products you will be selling, it's time to choose your eCommerce platform and web hosts.
For web hosting, we recommend Bluehost: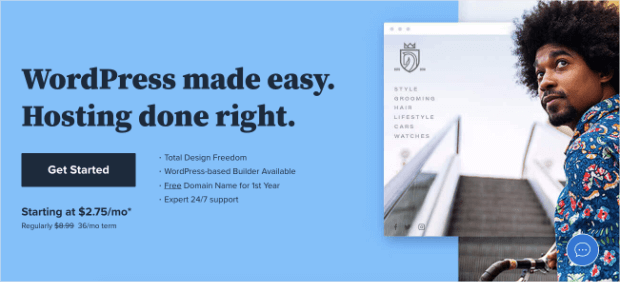 Many site owners go with Bluehost for their WordPress and eCommerce site hosting.
After all, it's reliable, has 24/7 support, and has been recommended by WordPress for hosting since 2005.
Plus, it's really easy to set up and comes with a free domain, making it an excellent choice for anyone launching a site.
Bluehost also offers several perks for their eCommerce customers:
Free SSL: secures your online store with automatically encrypted transactions
Free Domain: helps you claim a unique name for your store to help with branding
Site Monitoring and Statistics: tracks trends and customer behaviors to help you optimize your store
And more…
Bluehost also pairs perfectly with WooCommerce to give you a successful and powerful eCommerce store: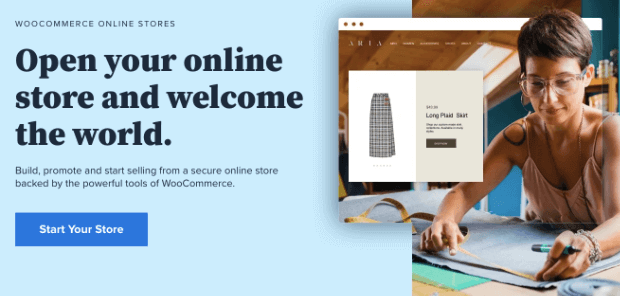 WooCommerce is hands down the most popular eCommerce platform on the market.
It's very beginner-friendly, so you can get started from scratch without needing any specialized technical know-how.
In fact, WooCommerce was made to integrate with WordPress, so it makes setting up and customizing your store a breeze.
WooCommerce also provides access to 55,000+ free WordPress plugins.
This platform also comes with hundreds of free storefront designs and gives you total control over the look of your store, thanks to a user-friendly builder.
Basically, WooCommerce has everything you need to launch a successful eCommerce site, no matter your website building and design comfort level.
Get started with Bluehost and WooCommerce today!
3. Upload Your Products
Product pages are perhaps the most important part of your site since they highlight what it's all about: your products.
This is another step you'll want to spend some time on. You don't want to rush in making your products the star of your site.
You'll do this by optimizing product descriptions, uploading professional-looking and eye-catching photos, and creating an easy-to-navigate page format.
a) Product Descriptions
Product descriptions are just what the term suggests: they describe your product and are an essential part of your product listing.
Use your product descriptions to explain things like the size, texture, and measurements of the item.
Also, be sure to talk about the usefulness and the value that the product can add to your customer's life.
Your product description can also be a prime place to make your brand voice and personality shine. Check out this product description from Odd Pears: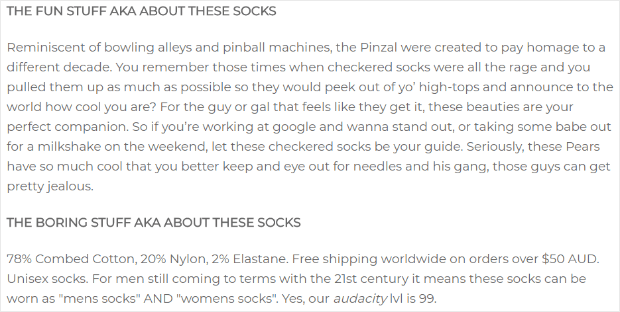 Your product description should answer these questions:
Who is the product for?
What are the basic details of the product?
Where can I use this product?
When should I use this product?
Why should I buy this product?
You will reduce questions from your potential customers and make your pages more friendly for search engines by answering these questions. We will talk a little more about search engines later.
b) Product Images
Product images help make your products shine and showcase them just as much as the product descriptions. For many people, product images could make or break their purchasing decision.
Pier1 has beautiful product images on their shop site and are a great example of how they entice people to buy: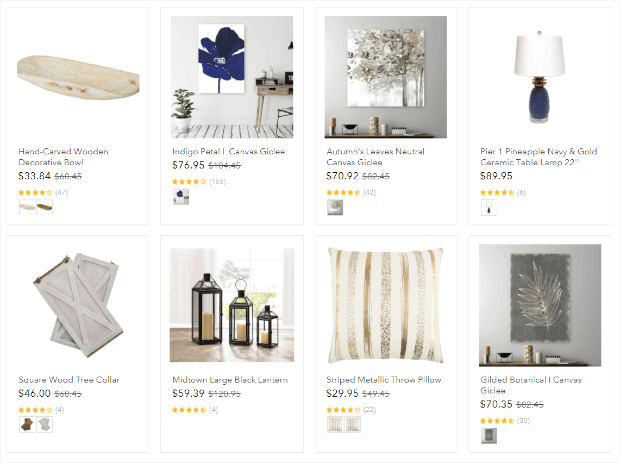 When taking and editing product images, follow the following rules:
Use high-quality images
Show the product from all angles
Use the same sized photos for a uniform look to your site
Show the product being used
Just remember that product images are there to put your descriptions into a shareable and beautiful photo that speaks to your customers.
c) Product Categories
Product categories help customers easily navigate your site. You can add products to categories to help your customers find what they are looking for.
You can also enable filters to pair up with your categories to help people sort through your product catalog and find the things they want.
Combined, these tips elevate the user experience and help set up your shop for success.
If you'd like more information on customizing product pages, check out How to Customize (& Personalize) a WooCommerce Product Page.
4) Drive Traffic
Your eCommerce site is ready to start generating sales. Now, let's get it noticed.
Even if you have the best products at the best price, no one will see them don't optimize your eCommerce site for search engines.
To have a successful eCommerce site, you need SEO in your corner.
SEO (Search Engine Optimization) is the practice of modifying your web pages to rank higher on search engines like Google.
Basically, if search engines can easily scan your site, you will see higher free organic traffic coming into your site.
There are actually several different plugins to help with SEO. However, we recommend All-in-One SEO (AIOSEO):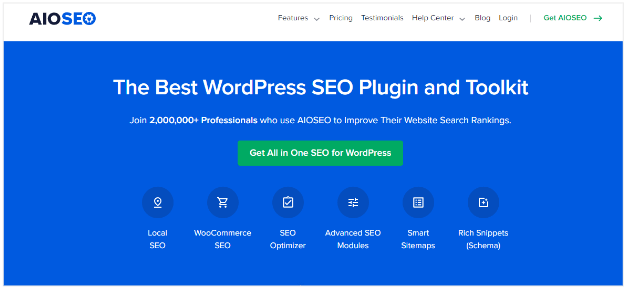 All-in-One SEO (AIOSEO) is the perfect WordPress plugin to improve your website's ranking on different search engines.
To get started, you tell AIOSEO what keywords you are targeting.
It will then give you actionable insights to help you start attracting more traffic, making your eCommerce website more successful.
AIOSEO also comes with an SEO checklist to help you further optimize your website settings to maximize your rankings.
If you're ready to improve your search ranking? Get started with AIOSEO today!
5) Capture Leads
Now that your website is up and running and generating traffic, your next focus should be on growing your email list.
Having an email list of leads and your customers can actually be one of your business's most valuable assets.
As you grow your list, you can start generating more return traffic and help improve your eCommerce site's conversion rate.
But what's the best way to grow your list? The most proven method is using optin campaigns.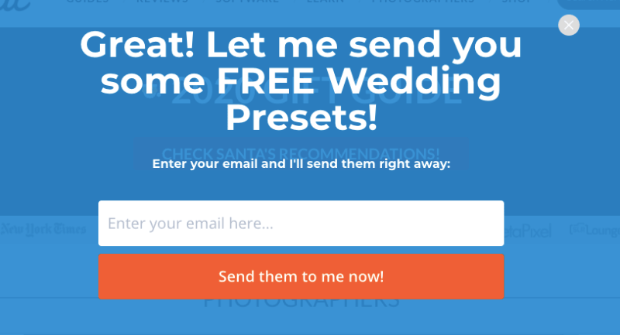 By that, we mean things you're already familiar with, such as:
Popups
Floating bars
Fullscreen welcome mats
Gamified spin wheels
And much more…
When you entice your site's visitors with special offers, discounts, or any kind of lead magnet, you'll grow your list even FASTER.
To help you out, we recommend using a tool like OptinMonster: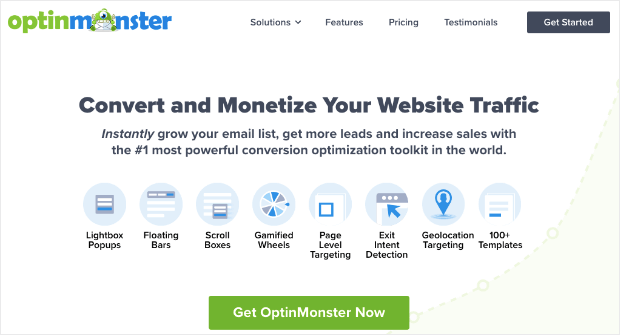 OptinMonster is the #1 lead generation software in the world. It allows anyone to create stunning, professional, and high-converting campaigns in a matter of minutes.
Plus, there are ZERO coding skills required to get OptinMonster to work for you. Here's how you'll do it…
You start by selecting the campaign type and template you want.
OptinMonster offers you various campaign types to help you reach your audience in new and engaging ways.

These different types of campaigns keep your audience from experiencing "popup fatigue," which happens when you reuse the same popup campaign over and over on your site.
When you've decided on a campaign type, you then have over 50+ pre-built templates to choose from.
They are all ready to go out of the box to help design your perfect optin campaign: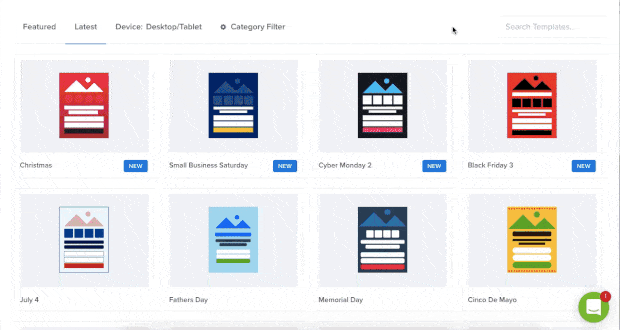 These templates are designed to save you time, energy, and money as you grow your email list.
From there, you'll be able to fully personalize your campaign to your target audience with OptinMonster's drag and drop editor.
If you want to change anything in your campaign, like text, you can do so directly in the builder: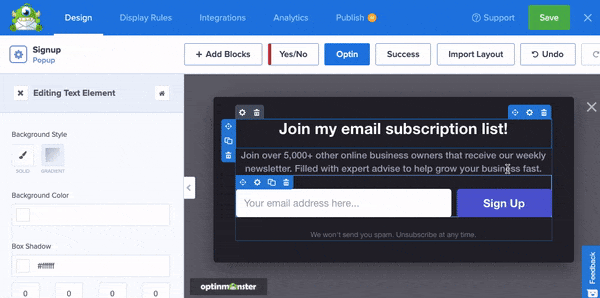 And to add new features like pictures, videos, or other functionality to your campaign, you simply need to select and drop them into place: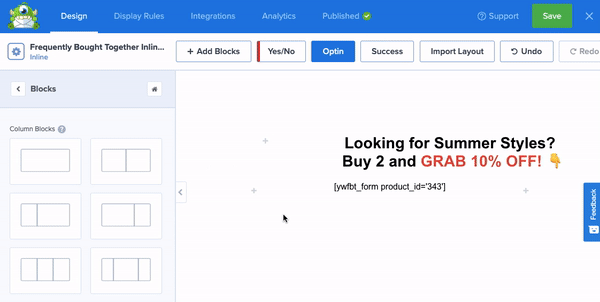 This lets you create high-converting campaigns with advanced functionality in minutes.
Once you create the campaign, you need to get it in front of the right people at the right time.
That's where OptinMonster's targeting rules come in. Here are a few of the most popular targeting options available in OptinMonster:
Page-Level Targeting: Boost conversions by matching your offers with the on-page content your visitor is reading.
Exit-Intent® Technology: Recover and re-engage abandoning visitors as they're actively leaving your website.
Geolocation: Personalize your offers by targeting people's physical location.
OnSite Retargeting®: Show new campaigns to returning visitors to keep them coming back for more.
Again, these are just a few of the most popular targeting rules, though there are many others.
Once you start getting new leads, you'll be able to sync them directly with your email service provider and start sending targeted email campaigns.
In fact, OptinMonster is how Kennedy Blue was able to increase sales by 50%!
You can have the same success by clicking below and starting your 100% risk-free trial today:
Get Started With OptinMonster Today!
BONUS: Done-For-You Campaign Setup ($297 value)
Our conversion experts will design 1 free campaign for you to get maximum results – absolutely FREE!
Click here to get started →
6) Optimize Sales
No matter how much work you put into your products and site, no one will buy from you or even give you their email address if they don't trust you.
But how can you optimize sales and get visitors to respond to your calls to action and start buying from you?
The solution is social proof.
Social proof proves your credibility to your users as your site gets more engagement. It's a way to show actual activity on your website, letting visitors know that others trust you, so they should too.
When visitors see people are visiting and buying from your website, that helps solidify trust.
Once you build that trust, visitors will be more willing to buy from you, helping you optimize sales.
You can show social proof in many ways, such as:
Testimonials
Reviews
Live sales notifications
And much more…
But how can you add real social proof to your website?
TrustPulse is the best option for displaying social proof to help you generate more leads from your site.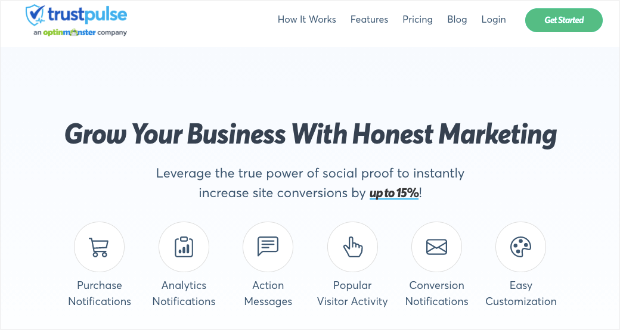 By using TrustPulse, you can display social proof notifications like:
Recent Activity: Show a live stream of website activities like purchases, registrations, signups, and more.
On-Fire: Display the number of people taking action on your website in a given period.
Visitor Analytics: Highlight active interest by showing actual page visits over time.
Action Messages: Show a single static notification to help drive visitors to take action or highlight information.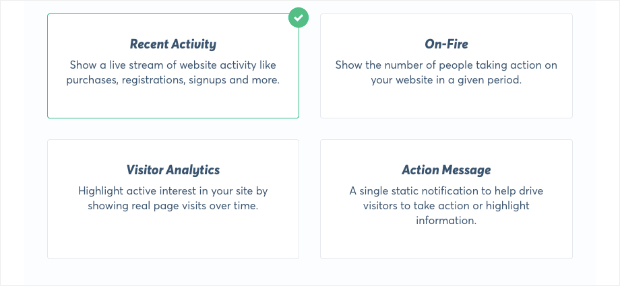 TrustPulse gives you complete control over the look, style, and message in your notifications with its simplistic and easy-to-use editor.
You've likely seen these types of notifications in the past, too. They look like this:

But you might be wondering, "Do these types of social proof help make my eCommerce site successful?"
TrustPulse has been proven to boost sales instantly by up to 15%.
Are you ready to see those results for yourself? Check out TrustPulse today!
7) Promote on Social Media
Now that your eCommerce site is all set up, optimized, and generating leads, it's time to start promoting it on social media.
Social media is the final key to unlocking your successful eCommerce site. The world is on social media, so you need to be there too.
You'll want to make your social media posts enticing and exciting for your customers.
If you do that, you'll start to notice more engagement and followers. More engagement and followers mean more sales.
To make the most enticing posts, we recommend RafflePress:

RafflePress is a contest and giveaway WooCommerce plugin. And yes, giveaways are a great way to boost sales.
Why? By offering giveaways, you are actually turning your customers into brand ambassadors.
They'll be excited to enter and will share your contest in hopes that they will win.
So, how does running a contest or giveaway work?
First, you create a giveaway that catches the eye of your reader.  Then, they give you their email to enter the giveaway.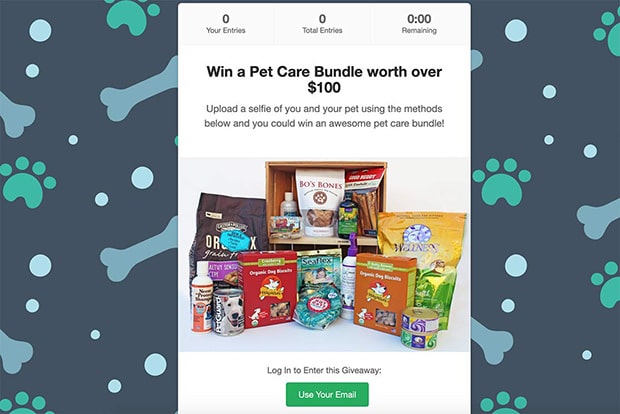 Next, your readers are encouraged to share your contest on social media to earn more chances of winning.
Finally, this word-of-mouth advertising brings even more people to your site. Then the process starts over again.
RafflePress helps you create a variety of different contests and giveaways, with most having 1-click entry.
In addition, their drag and drop builder and pre-built templates help you maximize your results based on your end goal.
Best of all, it seamlessly syncs with social media and WordPress.
Use RafflePress to run your own contest today!
8) Sync Your Social Media With Your Site
The last step to launching a successful eCommerce site is to sync your social media feeds to your website.
Chances are, especially if you follow our guide to increasing sales with social media, you'll be spending a lot of time curating social media content.
Many people share their experiences with different brands and products online. When they are excited about something, they will post about it.
If your brand has social media, it is a wise decision to share that content.
Why? Did you know that 79% of people say that user-generated content highly impacts their purchasing decisions.
Only 13% say that content made by a brand is impactful.
Unfortunately, those that don't follow you on social media may never see that content.
So, how can you make sure that they do?
Adding a social media feed will display all of your posts directly on your eCommerce store. If you are using WordPress, we recommend using Smash Balloon.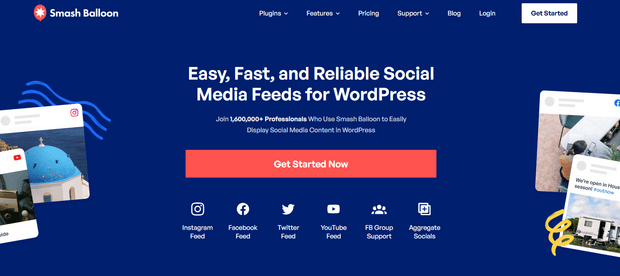 Smash Balloon is the world's top social media feed plugin for WordPress.
With Smash Balloon, you can easily display your feeds from the most popular social media sites like:
Instagram
Facebook
Twitter
YouTube
Plus, it lets your visitors engage with your social media profiles directly from your website.
Smash Balloon gives you the creative freedom to display fully customized feeds so you can tailor them to your brand.
The most significant upside is that getting Smash Balloon set up is incredibly easy.
Click here to try Smash Balloon now!
9) Add Wholesale Features
A wholesale business not only allows you to generate more sales, but it can also pave the way for building long-lasting relationships with your customers.
So, once your eCommerce store is successfully up and running, it's time to consider having multiple prices, orders, and registration options for wholesale customers.
To easily get started with wholesaling, you can use a plugin like Wholesale Suite.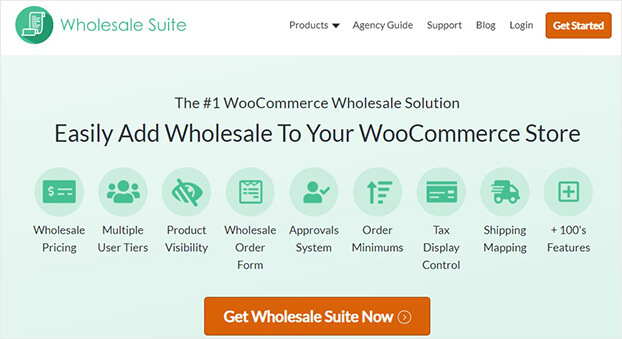 Wholesale Suite is the leading WooCommerce wholesale plugin for B2B eCommerce stores. With hundreds of features across three different plugins, it gives you and your customers a wholesale experience that can easily be managed like a retail store.
Here's how the Wholesale Suite bundle of plugins can help you grow your wholesale business:
Easily Set Wholesale Pricing Options
Wholesale Prices Premium is designed to allow store owners to easily manage wholesale prices, discounts, and listings. You can also display wholesale prices to wholesale customers, while still showing regular prices to retail customers.
Create a Fast Ordering Process
Boost sales and increase order size by providing customers with a quick and easy ordering process. The Wholesale Order Form lets you create a user-friendly order form that's searchable and categorizable so you can display your entire catalog on one page.
Get New Wholesale Customers Efficiently
The Wholesale Lead Capture plugin offers a built-in approval system to automate the recruiting and registering of wholesale customers. Using the customizable forms and email sequences, you can provide new customers with a better onboarding experience.
Ready to add wholesale features to your WooCommerce store? Try Wholesale Suite today!
And that's it for today! We hope that these tools and tips have helped you learn how to launch a successful eCommerce site.
If you want a complete eCommerce launch checklist to ensure a successful takeoff of your online business, read A 14-Point eCommerce Launch Checklist for New Store Owners.
You'll also definitely want to check out the following resources:
These articles will have even more information that you can use to get even better results (and more profits) from your eCommerce store.