When's the last time you scrubbed your email list?
If the answer is never, then you're likely wasting time, effort, and money on marketing to people who aren't interested in your business.
Email lists decline by 20–30% every year. Up to one-third of your subscribers will never open your emails, much less click on your call to action. So, what's the point in talking to them?
That's where email scrubbing comes in.
What is email scrubbing? Email scrubbing is removing unengaged subscribers from your email list so that you can market only to people who want to receive your emails.
This email list hygiene is an essential part of targeting your marketing, so you should do an email list cleanup at least a couple of times a year.
In this article, we'll look at why email scrubbing is essential, and give you a step by step guide to doing it.
We're going to use MailChimp in our examples, but the process is similar for most popular email marketing services.
Email Scrubbing: Warning Signs
How do you know when it's time to clean your email list? You can usually see the first warning signs in your email marketing statistics.
When you login to your email marketing app, you'll be able to see the open and click rate for your campaigns.
Take a look at what's been happening over the last few email campaigns. If there's a pattern of declining open and click rates, you've got a problem.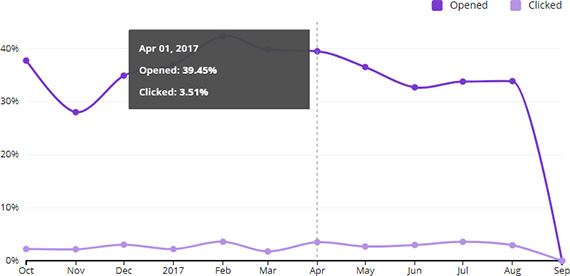 Next, dig down into individual campaigns, and look at the unsubscribe and spam complaint rate.
If you're using Mailchimp, you'll find this by clicking the View Report button next to each campaign. If more people than usual are unsubscribing or reporting your emails as spam, then it's another sign that an email list cleanup is due.

You may also want to look at email marketing benchmarks for your industry. While every list is different, if your open and click rates are way below average, then maybe you need to improve your email marketing practices. Use our beginner's guide to email marketing as a resource to help with that.
So, let's recap quickly. Here's how you know you need to clean your email list:
Reduced open rate
Reduced click-through rate
More unsubscribes
More spam complaints
All of this adds up to one big red flag. If people aren't opening and clicking, they aren't converting. That means you're missing out on leads, sales, and revenue.
Benefits of Email Scrubbing
Email scrubbing can help turn that around. A couple of the benefits of email scrubbing are simple math.
Better Open and Click Rates
Open and click rates are calculated as a percentage of the total number of emails sent.
Cleaning your email list means you're sending emails only to those who are interested. Even if the same people as before are opening your emails, they'll now be a bigger percentage of the total emails sent. And that improves your open and click rate percentages.
But if the same people are opening and clicking your emails, why does that percentage matter?
Here are a few good reasons…
Fewer Spam Complaints
Cleaning your email list also reduces the number of spam complaints. Some subscribers mark your emails as spam because they don't remember signing up, even if they actually did.
The problem is that mailbox providers like Gmail, Yahoo, and others log spam complaints. If there are too many, they'll start sending your emails straight to the spam folder, skipping the inbox.
And they'll do that for everyone you send email to, not just the people that reported you. Again, that significantly reduces the opportunity to get conversions, leads and sales from your email list.
This is a huge problem for all email marketers. In fact, the number of successfully delivered emails is on the decline globally.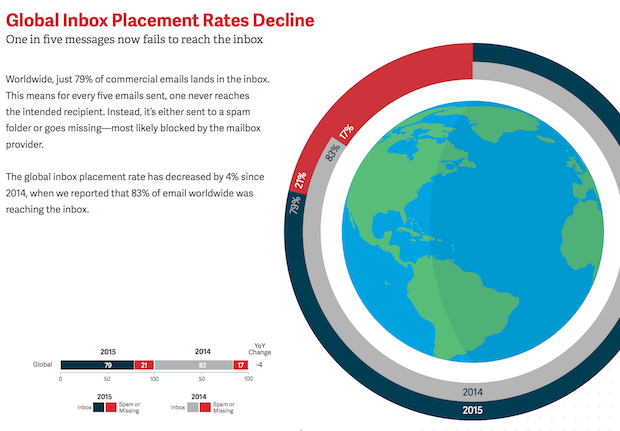 Email scrubbing helps by cutting down on the number of subscribers who are annoyed enough to mark your emails as spam. Fewer spam complaints equal a better sender reputation. That means more of your emails will reach subscribers' inboxes.
Fewer Bounces
Sometimes emails bounce, which means they never reach the intended recipient. Sometimes that's because of full inboxes, changed email addresses, or a technical error.
Too many bounces have the same effect as spam complaints: they hurt your reputation which affects email deliverability.
If you remove bounced email addresses when you clean your email list, the number and percentage of bounces will go down the next time you send.
Reduced Cost
Email marketing services often charge according to the number of emails you send or the number of subscribers you have, or both.
That means there's a real financial incentive to keep your email list clean. Every unengaged subscriber who stays on your list is costing you money.
Use email scrubbing to remove them and you can improve email marketing ROI.
Better Reporting
There's one last benefit of email scrubbing.
When your email list is bloated with unengaged subscribers, it can be hard to tell how your email marketing strategy is working. Subscriber inactivity and spam complaints will skew your stats.
But if you have a smaller list that's truly interested in and acting on your messages, your email marketing statistics will be more accurate. That means you can safely use that data to guide your future marketing efforts.
Which Email Lists Should You Scrub?
One question people ask about email scrubbing is which email lists they should scrub. Here are a couple of tips:
Start with the most active email lists because those are the ones driving conversions, leads and sales.
Pay attention to older lists, too, because unengaged subscribers who are on the list may still count as part of the total.
Even if your email list is relatively new, there's no point in emailing people who aren't interested.
That's why the short answer to which email lists to scrub is: all lists. If you're marketing regularly, you should also clean your list regularly, at least a couple of times a year.
What to Do Before You Clean Your Email List
We'll get to our email scrubbing guide soon, but before you start cleaning your email list, there are a couple more things to try.
Work Out Why Emails Bounced
As we said, there are plenty of reasons why emails bounce. Email service providers will let you know whether bounces are "hard" (which means there's a permanent error and your emails will never reach that recipient), or "soft", which means there's a temporary issue.
In MailChimp, for example, you can find this information by clicking on the View Report tab to the right of the name of any campaign.
Scroll down to the stats, and click on Bounced.

You'll see hard and soft bounces.

Hard bounces happen because:
The domain name doesn't exist.
The email address doesn't exist.
Delivery is blocked by the email server.
MailChimp automatically tags hard bounces as Cleaned, and they don't count as part of your email quota.
It's worth noting that if soft bounces happen regularly, then they'll become hard bounces.
Some bounces happen because of a typo in the email address. That can happen when you or subscribers edit their email information.
To fix this in MailChimp, click on the name of any of the bounced subscribers.
Check for typos. Some of these are easy to spot. Common typos include:
Misspelling the name of the mailbox provider, such as writing Gmial instead of Gmail.
Adding or omitting a letter in a name-based or company email address. For example, if someone works at IBM but their email ends in imb.com, you're safe to assume it's a typo.
In both cases, it's easy to correct.
Scroll down to Subscriber Details and click Edit.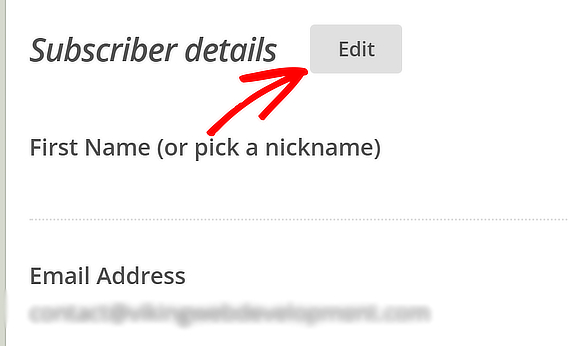 Fix the email address and Save. You'll get a confirmation message.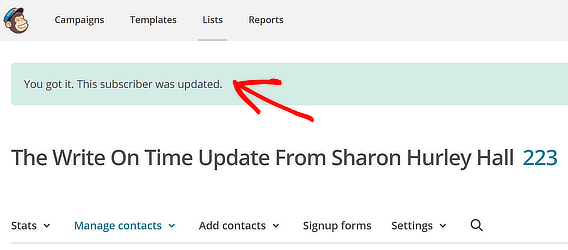 Next time you send to that recipient, your email should reach them.
Try to Re-engage Subscribers
There's one final thing to do before cleaning your email list. Try re-engaging your inactive subscribers with a win back email campaign. Since they're already signed up, a fresh approach could pique their interest and make them love your emails again.
Here's how you identify inactive subscribers in MailChimp.
Step 1: Choose Your List
Click on Lists in your MailChimp dashboard.

Click on the list you want to work with, then navigate to Manage Contacts » Segments. Select Create a Segment.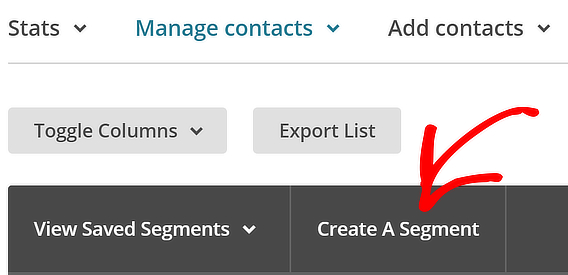 Step 2. Set Your Conditions
Go to Campaign Activity, and set your first condition.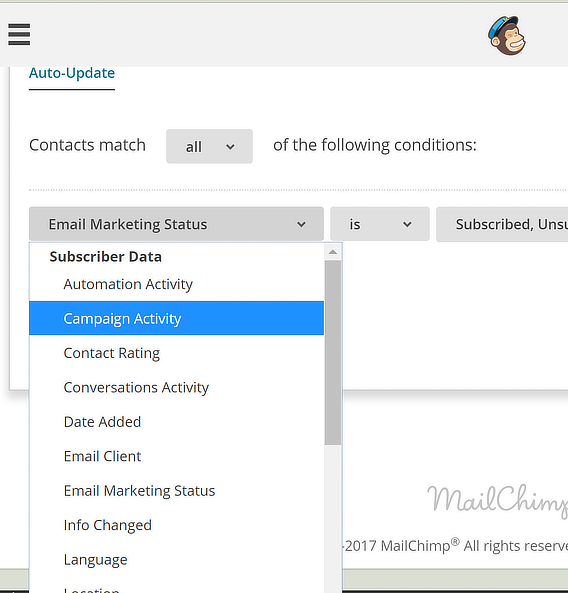 You can choose subscribers who did not open:
All of the last 5 campaigns
Any of the last 5 campaigns
All recent campaigns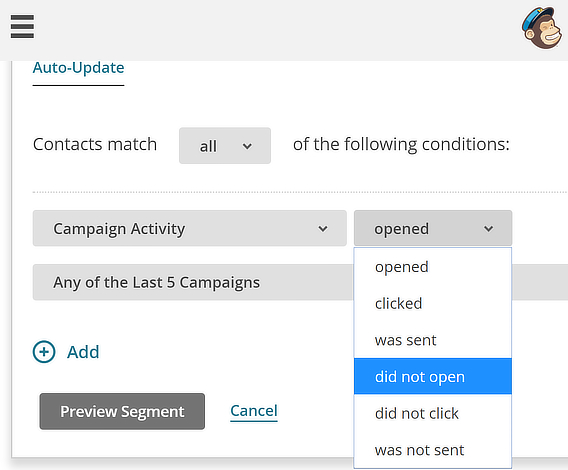 Set your second condition with the Add button. You can choose people who were sent:
All of the last 5 campaigns
Any of the last 5 campaigns
All recent campaigns
With these conditions, you identify subscribers who were sent the campaigns but failed to open them.
Preview your segment.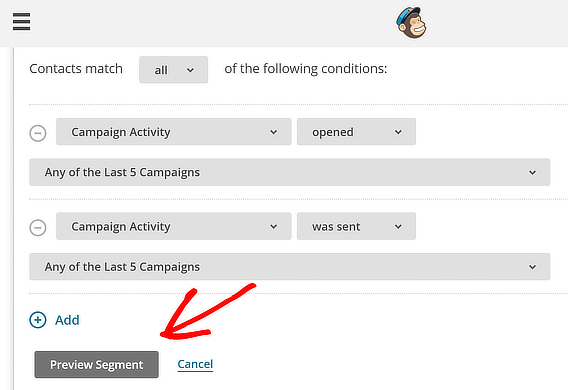 Save it so you can target those inactive subscribers with an email campaign.
A good starting point is to figure out why they're inactive. One of the easiest ways to do this is to ask. For example, this campaign from Teespring tugs on the heartstrings with a sad puppy face.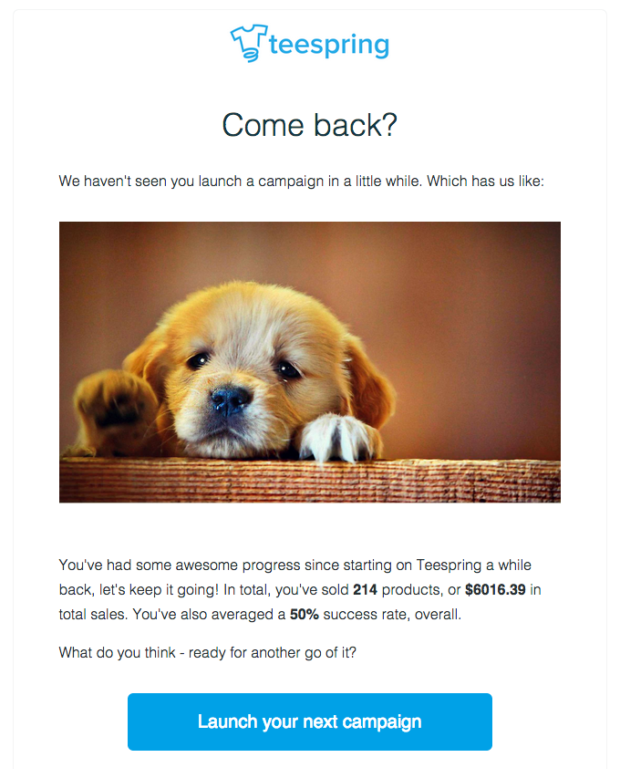 You can also offer subscribers an additional incentive to connect, like a special offer, discount coupon, or lead magnet.
Here's how you can deliver a lead magnet to inactive subscribers with OptinMonster.
Step 1. Create Your Campaign
Log in to your OptinMonster dashboard and create a new campaign.

Choose a campaign type. We're using the high converting Popup campaign type and Metro template.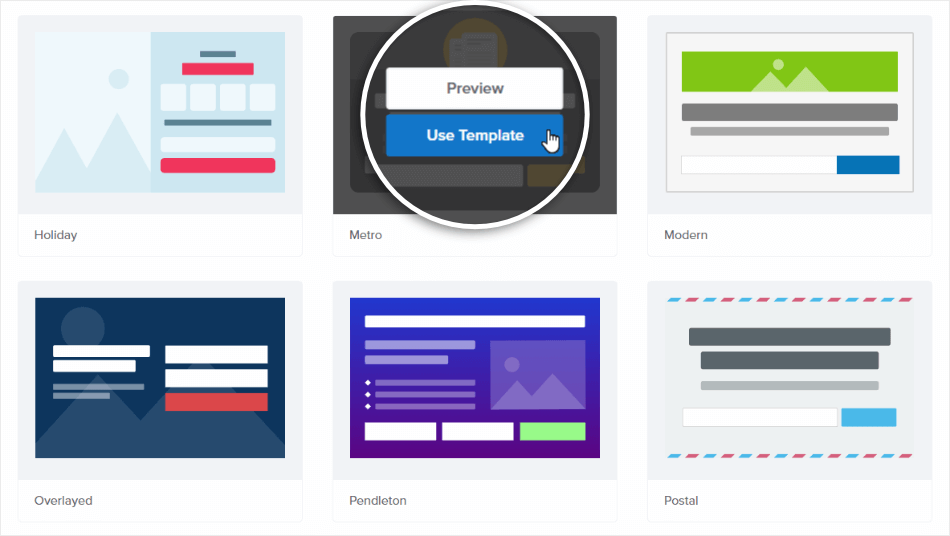 Name your campaign and press the Start Building button.
Step 2. Customize Your Campaign
You'll need to edit the sample campaign to meet your needs. You can change the headline, body text, call to action, and image.
Click to select the headline and type in your preferred text. Focus on the key benefit for the subscribers you're trying to re-engage.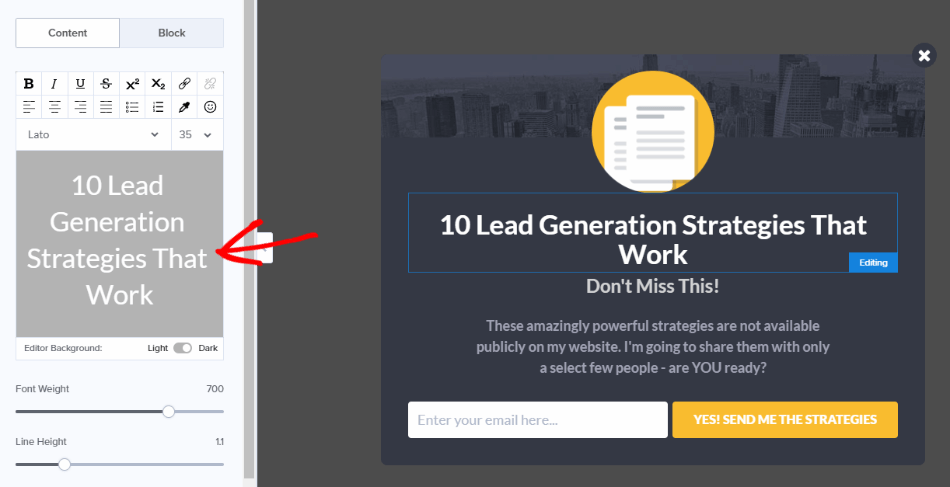 Do the same to edit the body text, expanding on the headline.
Change the default image to one that matches your copy. If you need inspiration, see our guide to 39 Places to Find Images for Better Conversions.
Edit the call to action, which will encourage people to complete the desired action.
Step 3. Set Up Lead Magnet Delivery
To deliver your lead magnet, go to the Success view. You'll see the default "thanks for subscribing" message.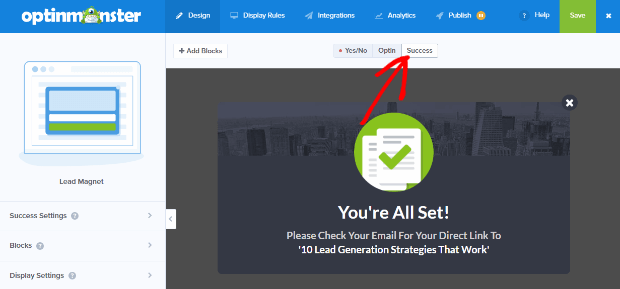 Add a button by going to + Add Blocks and dragging the block to your campaign.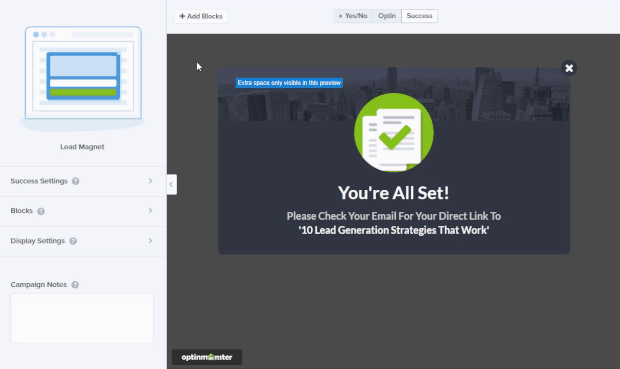 Change the Button Action to Redirect to a url and enter your download link in the Redirect URL field.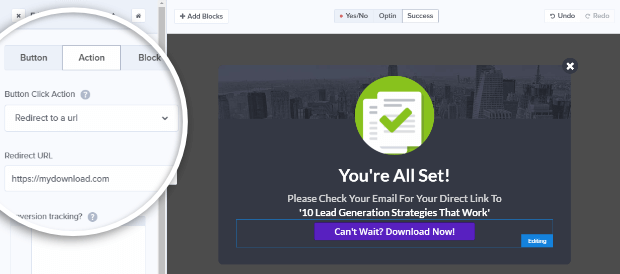 Step 4. Create a Shareable MonsterLink
Click on the Publish button, set the Status of your campaign to Live and save it.

Then, scroll down to the Publishing Options and click on Shareable MonsterLink.

You can use the link that comes up within your emails to popup a special campaign for the unengaged subscribers you identified above.
The beauty of this option is that there's no need to create a landing page.
Some subscribers will take your offer, but others will continue to ignore you. If you have tried and failed to re-engage subscribers, then it's time to start scrubbing your list.
Email List Cleanup: Who to Remove
In addition to hard bounces, there are other email addresses you need to remove. Don't worry; we'll tell you exactly how to do this in the next step.
For example, look out for duplicate email addresses or duplicate names with different email addresses. For Mailchimp list cleaning, there's an Excel formula to help you identify and remove duplicates. It also works for bounces.
For security reasons (and because you're spending money unnecessarily), you should also remove spam email addresses. You can usually spot these because of a strange letter or number combination.
Remove people who have unsubscribed, too. Again, you don't want those to count as part of your email marketing service plan.
And if you have ever bought an email list, which is a bad idea, remove those subscribers, too. They're not exclusive to you and haven't given you permission, so they're likely doing nothing for the bottom line.
Want to avoid spambots signing up to your email list in the first place? Check out this post to learn how to add reCaptcha to your optin forms!
That will help you keep your list clean right from get-go. Now, lets take a look at how you can scrub your contact list.
Step by Step Guide to Email Scrubbing
If you want to clean your email list for free, you can do it yourself. This works well if you have a relatively small list.
How to Clean Your Email List in MailChimp
We've already talked about how to find and remove bounced subscribers, using MailChimp as an example.
And we've shown you how to identify inactive subscribers. Remember, the first two steps were:
Step 1: Choose Your List
Step 2: Set Your Conditions
When you're ready to clean your list, here's what you do next:
Step 3: Remove Inactive Subscribers
Preview the segment. If it's small, tick the checkbox next to each name you want to remove.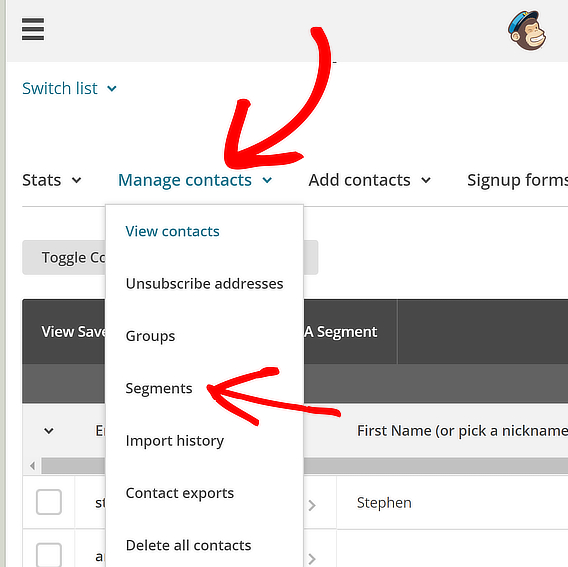 Click on the Actions menu, and select Unsubscribe. Confirm your action when the confirmation message appears.
That's it. If you have a large number of addresses to remove, you can use MailChimp's bulk unsubscribe method.
And here's how you handle email scrubbing in Aweber and Constant Contact.
How to Clean Your Email List via a Service
Wondering how to clean your email list without having to do it yourself? There are plenty of email scrubbing services. These work well for companies with large email lists, who don't have the time to manually clean their email lists.
Email scrubbing services include features like:
Email list validation
Fixing typos in email addresses
Bulk email list verification
Checking for emails from disposable email address providers
Blocking fake email addresses
Email Verification Services
Some email scrubbing services to try include:
Some have built-in integrations with the top email marketing services.
With others, you'll need to export your contacts, and upload them manually for cleaning.
To export your contacts from MailChimp, click on Lists when in the dashboard.
Click on the list name, then click Export List. Next, click Export as CSV. You'll get a ZIP file with all your contacts, with separate files for subscribed, unsubscribed, bounced, and cleaned contacts.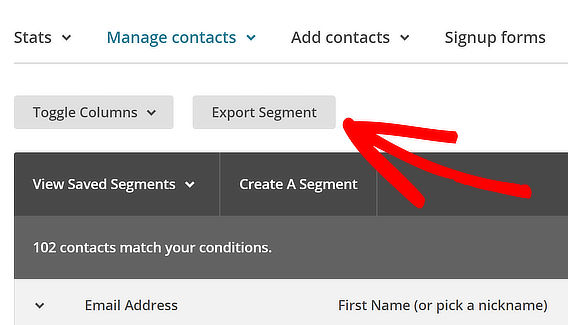 Once your list is cleaned, you'll have to reimport your contacts into your email marketing account. Here's how you do that in MailChimp.
Tips For Managing Your Newly Cleaned List
Once you have a clean email list, it's a good idea to keep it that way.
To maintain a healthy list, you can improve the quality of your new email signups by showing more relevant campaigns to your website visitors. OptinMonster's page-level targeting is an effective way to achieve this.
It's also a good idea to engage those new subscribers from the beginning with welcome emails, which most subscribers open. Here's how you can write the perfect welcome email, and here are some welcome email examples for inspiration.
And you can put subscribers in control of their email settings, allowing them to opt down (receive fewer emails) rather than opt-out when they think they're getting too many emails.
How to Engage Email Subscribers on Your Website
You can also ensure that new subscribers who return to your site see different campaigns, keeping them interested.
To do that, create campaigns for returning visitors, then go to Display Rules and set a condition of If visitor is returning.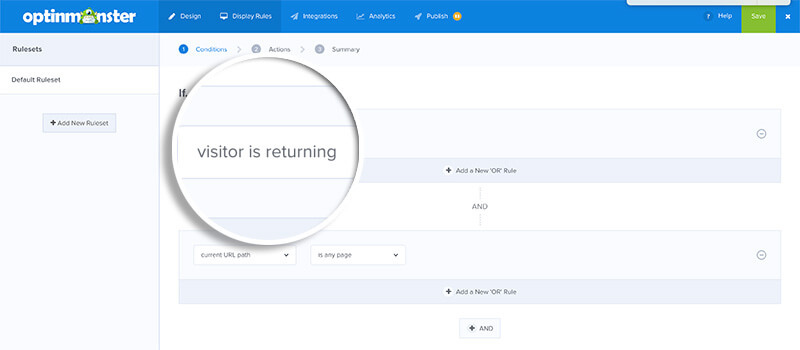 Finish editing your campaign and save it to target those new subscribers.
OptinMonster also has other advanced targeting features that are proven to increase engagement. For example, you can:
OptinMonster customers have used our targeting features to get hundreds of email signups from interested prospects, and more than double pageviews on their website.
Also, wome users have asked about why they would need both Mailchimp and OptinMonster together. For more details, read this post on OptinMonster vs. Mailchimp and which is better for lead generation.
Now you know why and how you should clean your email list, and have some email scrubbing services to try. If you enjoyed this guide, get more from your strategy with our guide to marketing automation best practices.
And follow us on Facebook and Twitter to get updates on new guides and tutorials.