Do you want to verify leads to fill your contact list with people who are more likely to become paying customers?
Without Lead Verification, you're leaving lots of money on the table. But with OptinMonster's TruLead®, you can automatically filter out "bad leads" like spambots, temporary email addresses, and other markers of unqualified email submissions.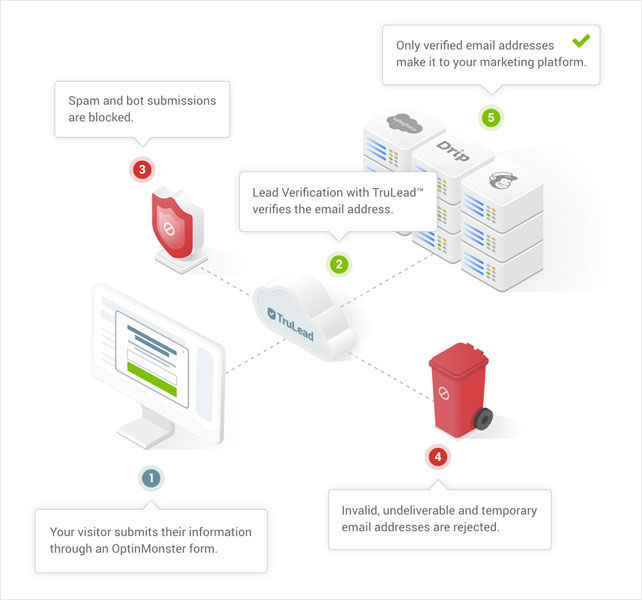 Verifying your leads is a guaranteed way of saving money through your email service provider, protecting your email IP reputation, and driving more revenue through your email campaigns.
That's why our unique Lead Verification system TruLead® is the fastest and most efficient way to optimize your lead generation strategy.
Save Money Through Your Email Service Provider
Most major email service providers (ESPs) charge you based on the number of contacts you have on your list.
This is true whether those contacts are verified leads or whether they're spambot submissions.
That means you could be wasting hundreds of dollars a month on a contact list that won't get you the return-on-investment (ROI) you're looking for. In other words, if you have "bad leads" on your list, you're pouring money down the drain.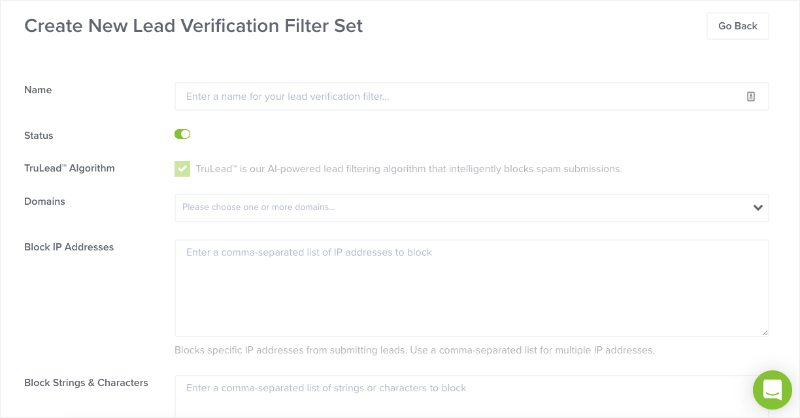 TruLead® allows you to filter out those "bad leads" to ensure that your contact list is full of people who are interested in your products or services. This filter works by letting you block:
Specific IP addresses
Characters, strings, or patterns in an email address
Temporary email addresses
Role-based emails (help@, support@, contact@, etc)
Free email addresses
These settings prevent spambots and disinterested traffic from loading your contact list with emails that will never turn into customers.
Improve Deliverability Rates With Lead Verification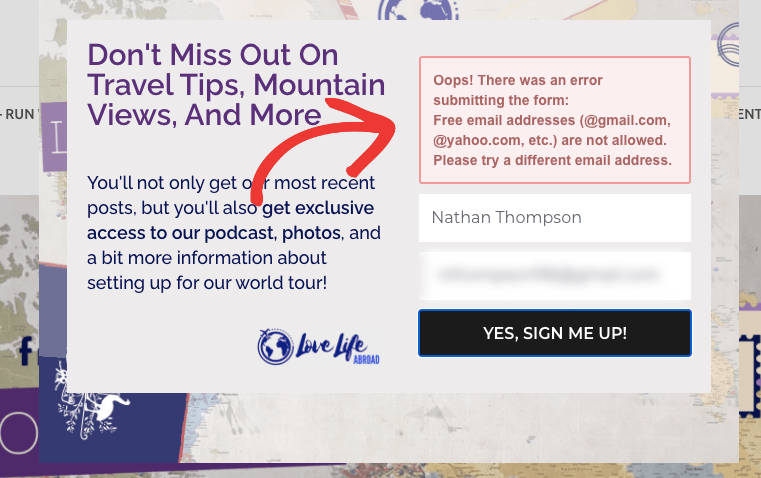 Getting higher deliverability rates is the #1 priority for email marketers. You could have the best promotional emails on the planet, but they won't do you any good if they get sent to your audience's SPAM box.
That's why it's so important to protect your email IP address reputation. And the best way to do that is to get lots of engagement from your email campaigns.
Since TruLead® filters out all those "bad leads" from your list, you'll see engagement rates drastically improve. That's because you'll only be sending promotional email campaigns to a concentrated target audience.
That means higher open rates, higher click-through rates, and, ultimately, higher deliverability rates.
In the end, your email IP address reputation will be improved, so your emails will end up in your audience's inbox where they belong.
Generate More Revenue With Email Marketing

Finally, having a contact list that's full of warm leads has an obvious advantage: you'll make more money through your email campaigns.
That's because you'll be sending your promotional emails to contacts who have been verified as your target audience. Every email address on your list is someone who loved your content, product, or services and is more likely to do business with you.
As a result, your campaigns will bring in more revenue and allow you to grow your business.
Ready to verify your leads to save money, protect your email IP reputation, and drive more profits? Sign up for OptinMonster and start using TruLead® risk-free for the next 30 days!