Are you confused about whether to use double opt-in vs. single opt-in for your email list?
Email marketing is one of the best ways to engage with visitors and turn them into subscribers and customers. According to Smart Insights, every dollar you spend on email marketing brings you $40 in return.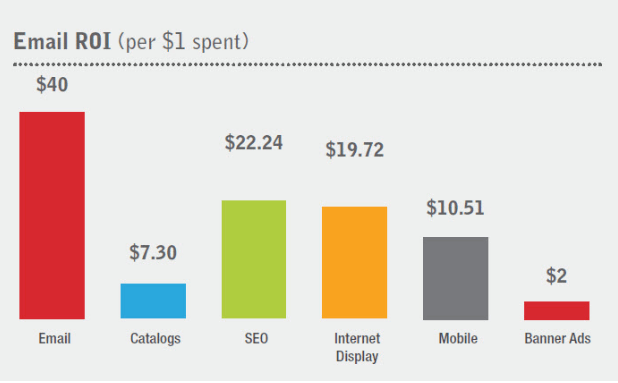 But before they can read your emails, they've got to subscribe, and that's why there's a debate over the best opt-in method.
In this article, we're going to lay out the pros and cons of double opt-in vs. single opt-in. As you'll see, whether you choose single opt-in or double opt-in has important implications for list growth, subscriber engagement, and more.
By the end, you'll be be able to make an informed decision about whether double opt-in or single opt-in will provide better conversions.
What's the Difference Between Double Opt-In vs. Single Opt-In?
The difference between double opt-in vs. single opt-in comes down to whether subscribers have to confirm signing up for your email list, or whether they're signed up right after submitting their email addresses.
Let's take a look at each option in a bit more detail.
What is Double Opt-In?
Double opt-in is when subscribers sign up via your subscription form, then get an email with a link they have to click to confirm that they want to get emails from you.
This is called a confirmation email, and when double opt-in is enabled, subscribers must confirm, or they won't get your emails. Here's an example of a confirmation email from NextDraft: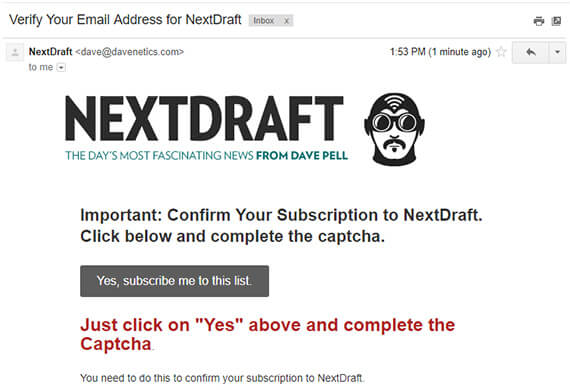 What is Single Opt-In?
Single opt-in is when subscribers sign up via a subscription form, and are immediately added to your email list. There is no need for further confirmation, and they'll start getting your emails straight away.
Now, let's look at the benefits and disadvantages of double opt-in vs. single opt-in so you can choose the one that suits you best.
Benefits of Double Opt-In
One huge benefit of using double opt-in is that you have a more engaged list. Because subscribers have to confirm, you know that the people on your list really wanted to sign up. That should make them more responsive to your emails, and more likely to open and click. Since subscriber engagement is good for business, this is of huge importance.
Confirmed subscribers are less likely to report your emails as spam. Too many spam reports can really affect your sender reputation and hurt email deliverability.
This is something to avoid at all costs, as a poor sender reputation could stop your emails from reaching subscribers at all. According to Talos Intelligence, around 85% of global email volume is spam.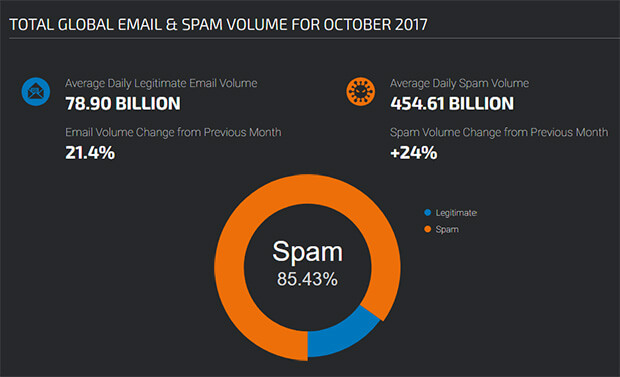 Luckily, since subscribers are likely to be engaged, using double opt-in can actually enhance your sender reputation, sending deliverability up.
Using double opt-in is also a great way to keep your email list clean. The spammers who sometimes target single opt-in email lists won't get anywhere, because if they don't use real email addresses, they'll never get confirmation emails. And if they appear on spam blacklists, they won't get your emails at all.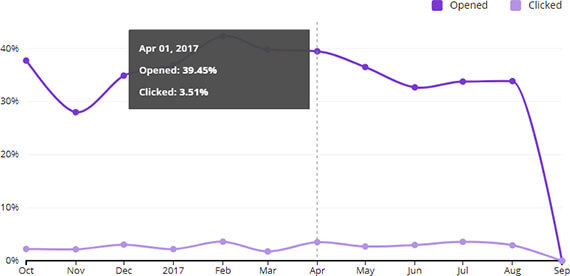 Since all list members are confirmed, using double opt-in gives you more accurate subscriber data. And that means you don't have to worry about spending money on emailing people who aren't interested, and may not even be real.
Finally, there's long term value in a list that's built on quality rather than quantity. And that's another huge benefit double opt-in delivers.
Want another way to avoid spambots signing up to your email list? Check out this post to learn how to add reCaptcha to your optin forms!
Disadvantages of Double Opt-In
Of course, there are disadvantages to double opt-in as well.
Double opt-in creates a longer signup process for subscribers. The more steps there are, the more likely it is that some people won't complete them.
Some subscribers will forget to click the confirmation link, which means they'll never actually become subscribers. If you're relying on your list to boost sales, then unconfirmed subscribers are costing you money.
Here's the irony: people who signed up actually WANT to have a relationship with you, but that'll never happen unless they confirm. A failed double opt-in process leaves them in limbo, and you lose out on a lot of potential revenue.
Think we're exaggerating? Clickz cites a Cirque du Soleil case study, where 20% of their signups never confirmed. Do the math: if 100,000 people sign up for your list, and 20% don't click the confirmation list; that's 20,000 people you can never make offers to.
One factor that can end up hurting your double opt-in open rate is that, because of the confirmation process, you can annoy subscribers by emailing them too often.
For example, you'll typically send the confirmation email, an email confirming they've confirmed successfully, and a welcome email.
And depending on your onboarding email sequence, you may even send more. That's a lot of email in a short space of time, and can be a big turnoff for new subscribers.
Finally, the big disadvantage of double opt-in is slower list growth. As you'll soon see, email lists grow much faster with single opt-in.
Benefits of Single Opt-In
One huge benefit of single opt-in is that when a subscriber signs up, they're immediately on the list. That allows you to grow your list fast, and connect with new subscribers more quickly.
This works for both you and them. You get quick results, while they get the instant gratification of immediate addition to your list. Plus you don't need to worry about unconfirmed subscribers lingering in limbo; everyone who signs up is on the list.
Disadvantages of Single Opt-In
However, single opt-in has huge deliverability issues, and that's bad for business long term.
For example, there's a much higher risk of being reported for spam. If people change their mind about signing up, they may identify your email as spam rather than simply unsubscribe. According to Litmus, 43% of people mark emails as spam, and half the time it's because it's easier to do that than to unsubscribe.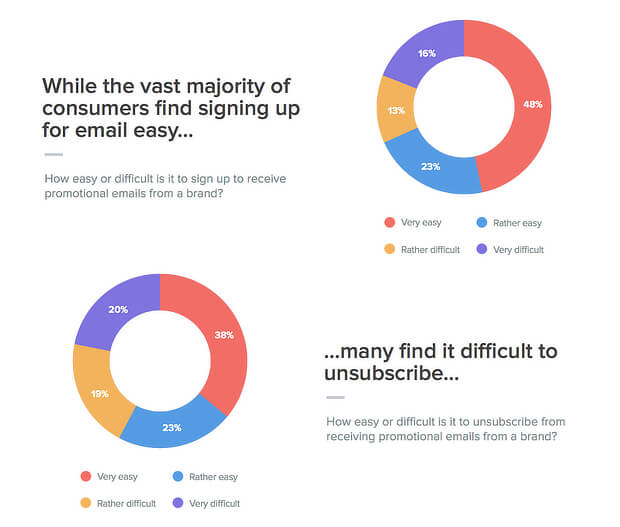 With single opt-in, mistyped email addresses can end up on your list. That can result in more bounces and hurt deliverability even more. Compare that with double opt-in, where those emails wouldn't be able to confirm.
You can also end up with fake and spam emails on a single opt-in email list. Sometimes people who want to grab your lead magnet, will type in a fake address, even though they have no intention of becoming real subscribers. When you send emails to these addresses, and they bounce, that affects your sender reputation and future deliverability.

Using single opt-in can also hurt you financially. Email service providers bill you for either the number of subscribers on your list or the number of emails you send (or both). So, if your list is full of fake or spam emails, you're wasting money on sending out emails that won't bring you any return.
Finally, there may be legal compliance issues with single opt-in in some territories. We'll look at that in more detail later in this guide.
Double Opt-In vs. Single Opt-In Conversion Rates
One issue that interests email list owners is the relative conversion rates of double opt-in vs. single opt-in.
According to MailChimp, who have just enabled single opt-in by default for their signup forms in most countries, 61% of people never finish the double opt-in signup process. In part, that's because most people no longer anticipate receiving a confirmation message.
MailChimp, (with exceptions for legal reasons in some territories), has some interesting statistics on this issue.
Other email providers put the number of unconfirmed double opt-in subscribers at a more conservative 20-30%.
However, GetResponse says that although single opt-in appears to be better at the outset, over time, its conversion rate is worse than the double opt-in rate. In fact, those who achieve the best results get twice as many clicks from double opt-in email lists than from single opt-in ones.

Using OptinMonster's conversion analytics to track email signups?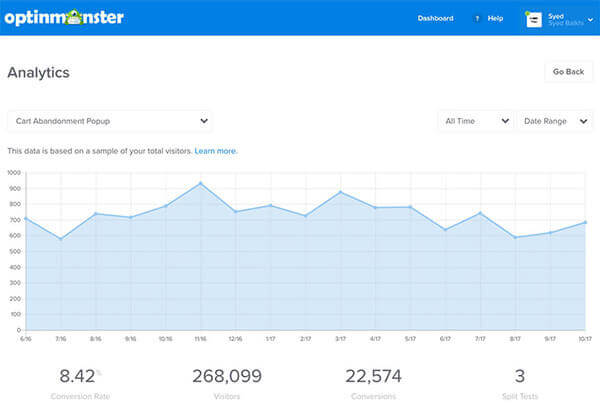 Once visitors complete the signup form, that's a conversion. But if you are using double opt-in and your subscribers don't click the confirmation link, your email marketing provider's stats may look different. That's also the case if subscribers use duplicate email addresses, or later unsubscribe.
Is Double Opt-In Required By Law?
We said we'd come back to the legal issues around email opt-ins. So, is double opt-in necessary to comply with the law?
It's not completely clear cut.
According to Litmus,
In the US, under CAN-SPAM, there is no requirement to have permission to email people
In other countries, permission is required, but it doesn't have to be via double opt-in
In Germany, after several legal cases, double opt-in is the norm to prove legal compliance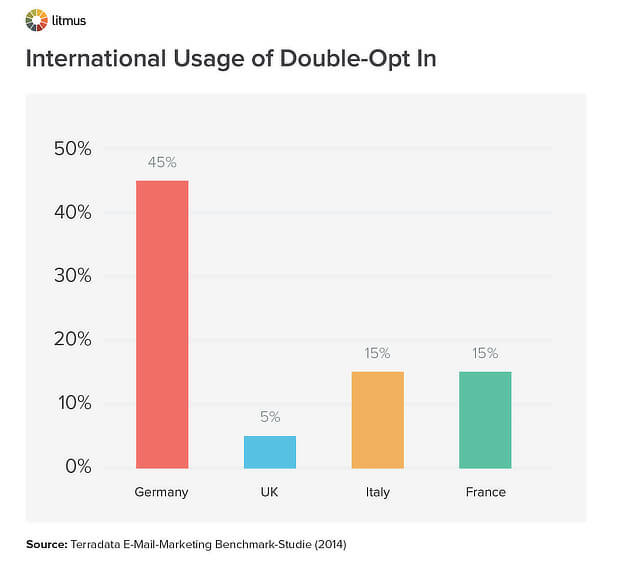 Kentico supports this assessment, but says even in Germany, despite common practice, using double opt-in is not a legal requirement.
However, it's worth noting that even after making single opt-in the default for most customers, MailChimp retained default double opt-in for EU customers concerned about upcoming changes in data protection regulations. This is something to keep in mind if your email list has international subscribers.
How to Configure Double Opt-In and Single Opt-In in OptinMonster
Once you've decided which of the two options is right for you, you'll need to configure your OptinMonster campaigns appropriately. In many cases, this functionality is set by your email service provider, and not by us. Here are some useful guides to help you:
Depending on your integration, you may need to tick a box in the OptinMonster campaign builder, as in this example for the MailChimp integration: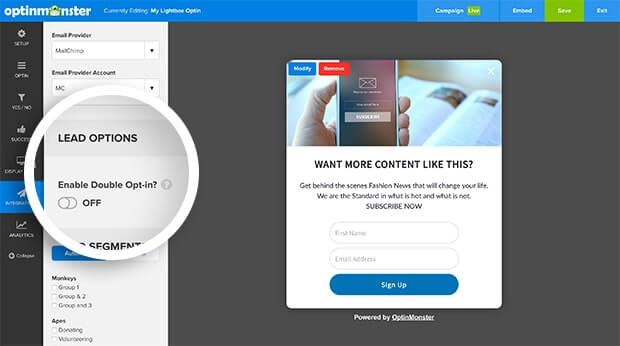 Now you have the information you need to compare the pros and cons of double opt-in vs. single opt-in. Which one will you choose?
Once you've decided, check out these email newsletter design tips and pay attention to some email marketing mistakes you'll want to avoid.
And follow us on Facebook and Twitter for more guides and tutorials.