Ever wonder what the big deal is with eCommerce personalization?
Let's use an offline example to explain.
When you go back to a restaurant you've visited before, it feels great when staff welcome you back and greet you by name, doesn't it?
And it's a nice surprise when they acknowledge a special occasion like a birthday or anniversary. Those personal touches make a difference to how you feel about that business. And they keep you coming back.
It works the same way in an online store.
Recognize and cater for your customers' specific needs, and they're much more likely to buy, because it's a more personal experience.
That's why eCommerce personalization is so important for online retailers.
It can be difficult to know where to start, though. That's why we've put together this guide.
It'll walk you through what personalization is, and share examples and tools to help and inspire you. By the end, you'll know how to use eCommerce personalization to wow your customers and increase sales.
Here's a table of contents so you know what's coming up.
What Is Personalization in Ecommerce?
Let's start with a definition of personalization in eCommerce.
Personalization in eCommerce means displaying individualized content, product recommendations, and offers to visitors. This personalization can be based on their personal data demographics, past and current browsing behavior, and other information.
Ecommerce personalization also means that each visitor to your online store has a tailored, relevant experience. For example, a repeat customer who's joined your loyalty program may see different offer than a new customer who's just made her first purchase. That's visitor behavioral targeting in action.
Since 74% of visitors hate irrelevant content, it's no surprise that personalizing store content boosts sales.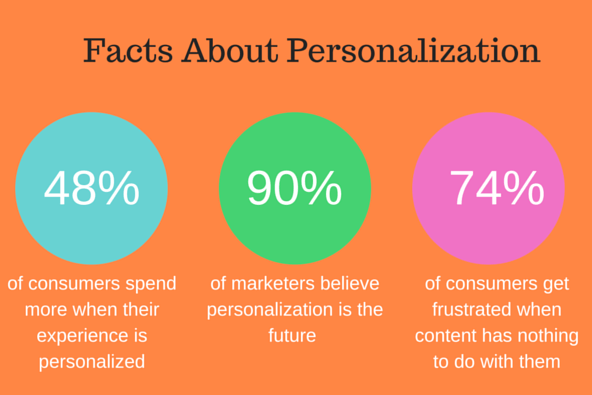 Data from Smart Insights shows that the phrase "people who viewed this also viewed" is responsible for 68% of eCommerce revenue for stores who use that tactic. That's why more than half of all eCommerce sites use this phrase in their personalization strategy.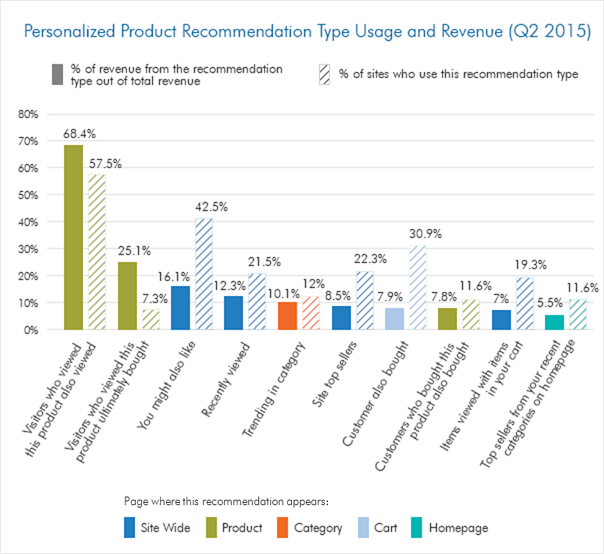 Collecting Data For a Personalized Shopping Experience
If you're going to increase sales on eCommerce sites, the first thing you need is data. Luckily, that's not hard to get.
One of the easiest ways to get started with data for eCommerce personalization is with your email list. At the least you'll have their email address. And with the right email marketing software, you can add even more information like their name, address, and even purchase information from your eCommerce site.
To see a few ways you can easily put this into action, see our guide on creative ways to personalize your marketing campaigns. This will help you to build your email list as well.
Another common way to personalize your eCommerce site for visitors is by using browser cookies. Cookies are bits of information that websites can store on a visitors browser. Using cookies, you can store information on someone's first visit, and then recall that information the next time they're on your website.
Cookies are one way to get started with personalization. For example, the next time they visit, you can welcome them back, just like Amazon does.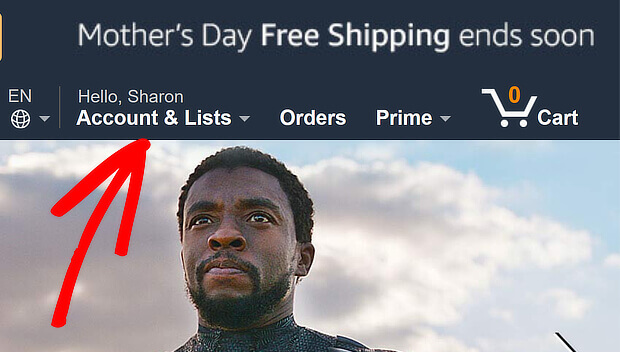 But you can also collect personalization data in a number of ways. For example, you can:
Ask customers to rate and review products. That gives you information about their likes and dislikes. You also get social proof to help win new customers.
Use a style finder and offer to send the results by email.
Here's an example of a style finder on the Swarovski Crystals site: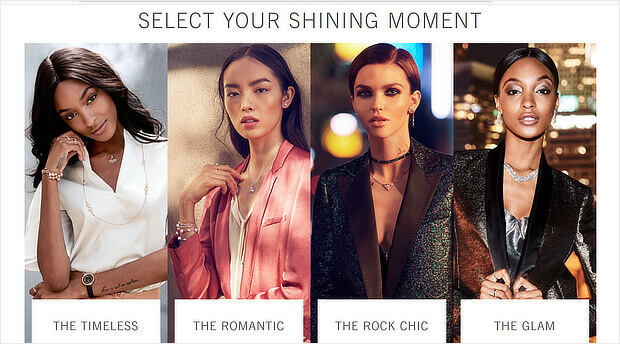 By the time visitors have found their perfect style, the retailer will have a lot of info about their preferences. This will come in handy for future visits.
Over time, you can build up a profile for each customer. You can use that info to fine tune your website personalization efforts.
Netflix is a good example of personalization in action. When people sign up for an account, they're encouraged to rate some of the programs they've seen before.
That lets Netflix make suggestions about other programs they might like. As users watch and rate more programs, the recommendations get better.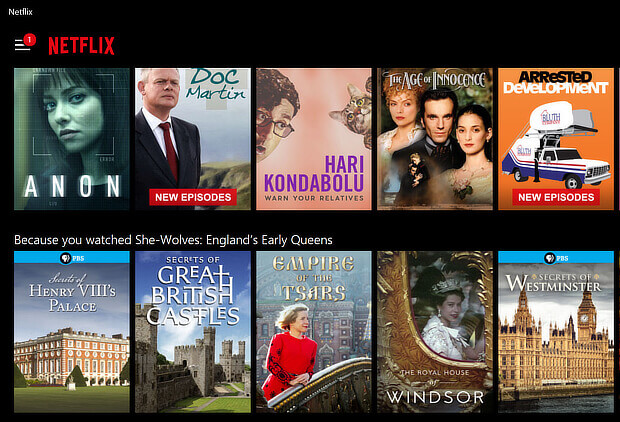 To gather and use data like this to personalize your eCommerce site, you'll need to use dedicated eCommerce personalization software. We'll share some of the most popular tools below.
But first, let's take a look at the different types of eCommerce personalization you might want to use for your site.
Types of Ecommerce Personalization
There are several types of eCommerce personalization.
Two types of personalization are prescriptive and adaptive personalization.
Prescriptive personalization is based on preset segments. That's when you show different offers to customers from Colorado and California.
Adaptive personalization goes one stage further. It uses the data you've collected to adapt in real time to customer location and behavior. Here's how that can work. You'll show different offers depending on whether it's hot or cold. And when your customer has already bought a winter coat, you can offer matching boots.
Other Types of Personalization
Here's another way to think about types of personalization. There's web personalization. This means tailoring the website to each shopper's behavior so each visitor has a unique online experience. When personalizing a website you can adapt:
Navigation
Search results
How products are sorted
What you recommend
There's also personalizing recommended products. This is important because personalizing product recommendations can triple conversions, according to Black Friday sales data from Barilliance. This type of eCommerce personalization includes cross-sells (related products), and upsells tailored to visitors' behavior.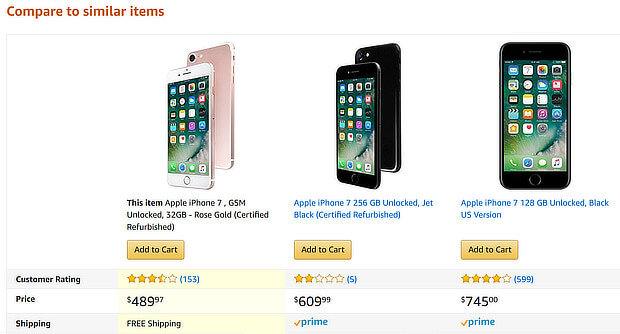 You can also use data and behavior to personalize your content marketing and email marketing. It's no coincidence that when you browse a selection of gadgets on a major retailer, the next couple of emails you get show offers for those same gadgets. After browsing marble products on the Williams-Sonoma site, they included related products in the next email:
There's a trick to being able to do this, as you'll see in the next section.
Planning Your Ecommerce Personalization Strategy
One of the key aspects of an eCommerce personalization strategy is segmenting your customers. It's important to know who they are so you can personalize eCommerce marketing appropriately.
Here are some simple segments to start with on any eCommerce platform:
New visitors
Returning visitors who aren't customers
Customers
You can also use data from web, marketing, and eCommerce analytics to segment visitors by:
Location
Device – targeting campaigns to mobile users is essential
Referral source, including the site they have come from or any campaigns you have run
Behavior (such as browsing particular product categories)
Some eCommerce retailers also single out VIP customers who visit often, visited recently, and spend a lot. You can find these via RFM analysis.
The segment customers are in makes a big difference to the offers you'll show them.
OptinMonster can really help you with personalized eCommerce marketing. That's because it provides affordable smart targeting that's proven to win sales. For example, Podcast Insights used onsite retargeting to boost conversions by 1099%.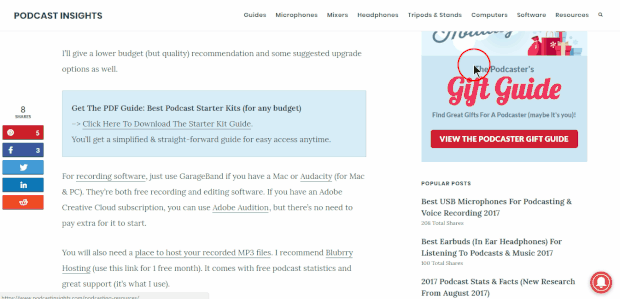 But eCommerce personalization isn't just about your business; it's also about your customer.
If you're going to personalize effectively, you need to show relevant recommendations and promotions so you don't turn visitors off. In fact, Shopify recommends that you use personalization only when it's likely to get you more sales.
Next, let's look at some examples of eCommerce personalization done right.
5 Ecommerce Personalization Examples
We mentioned some of the types of eCommerce personalization earlier. Here are some strategies you can try.
1. Personalize Onsite Navigation
ASOS changes the onsite navigation based on visitors' previous behavior. After looking at women's fashion on our first visit, it was the first thing we saw the next time we visited. You could do something similar with cookie retargeting, which is built into OptinMonster.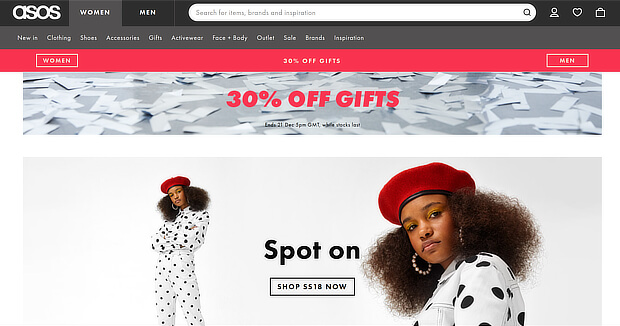 Expat.com uses cookie retargeting to show personalized offers to logged in users. This has helped the site recover 2.09% of abandoning visitors, and gain 30,000 new users a month.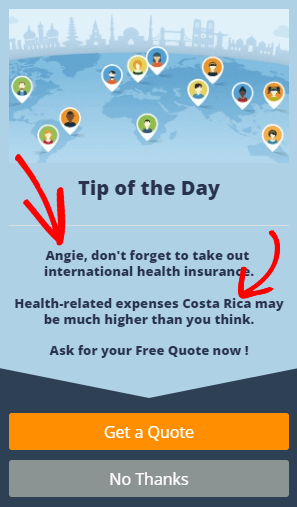 2. Adjust Product Recommendations
Amazon creates personal recommendation pages for each customer. These update to reflect what you've looked at recently, and what you've searched for.
Business Insider says this type of eCommerce personalization can boost sales by up to 10%. You'll need a tool like Monetate or Barilliance to do this kind of eCommerce personalization. Check them out in the tools section below.

3. Show Targeted Discount Coupons
Here's another way to personalize the customer experience for better conversion rates. Show coupons and offers related to the product category visitors are looking at.
An easy way to do this with OptinMonster is to create different campaigns for each product category. Then you can use page-level targeting to decide where to show those campaigns.
Inc Stores used product-specific messaging to show an offer to people interested in flooring for home gyms. This helped them gain more than 750 new subscribers a week, and convert 2.65% of abandoning visitors.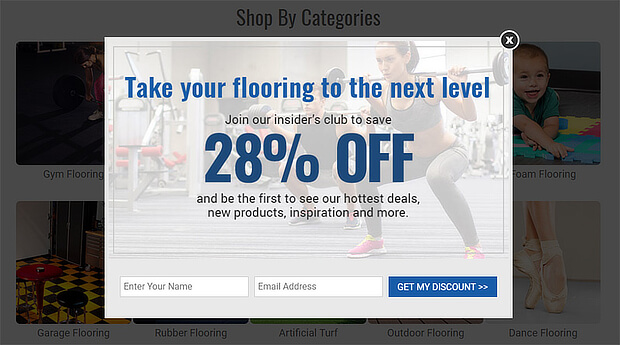 You can also do something similar with OptinMonster's dynamic text replacement feature. In the Expat.com example shown earlier, the customer's name is filled in by dynamic text replacement.
4. Adjust Promotions By Location
You can use geo-location targeting to show relevant messaging to customers based on location. OptinMonster customer IMSource increased conversions by 6500% with geo-targeting.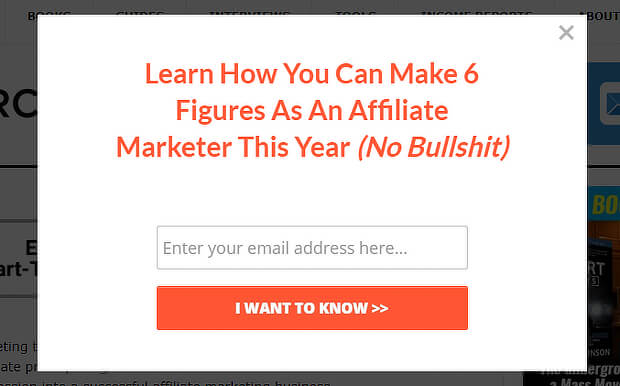 And Sportique used geo-location targeting to convert 4.8% of visitors sitewide.
Here's how you can get started with geo-location targeting.
5. Personalize Email According to User Behavior
We mentioned earlier Amazon's approach to personalization. Here's how that looks in practice. The online retailer sends emails and newsletters full of items the recipients have looked at, like this example: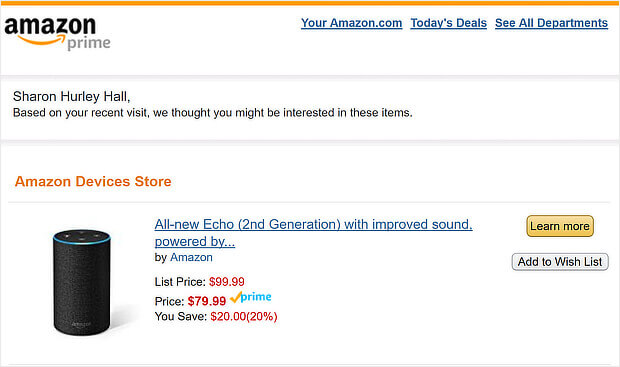 That encourages email recipients to click the links, browse, and perhaps buy.
Here's how you can use behavioral retargeting to boost sales. And read our guide for more eCommerce personalization examples.
6 Ecommerce Personalization Tools
So, how can you personalize effectively in eCommerce? Here are some of the best eCommerce personalization tools to help you.
1. OptinMonster
As you've already seen, OptinMonster's advanced targeting features are proven to help eCommerce retailers make more sales and recover abandoned carts. Here are a few more features we haven't mentioned.
You can use email retargeting to deliver personalized offers when customers opt in to your email list. Olyplant used retargeting to boost its email list by 122%.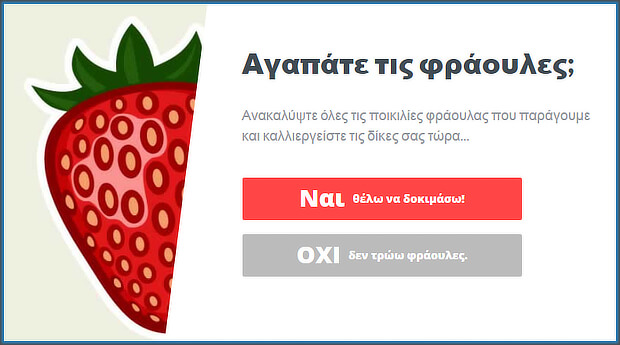 You can grab abandoning visitors' attention with Exit-Intent® technology. Clickbank University doubled sales with exit-intent®.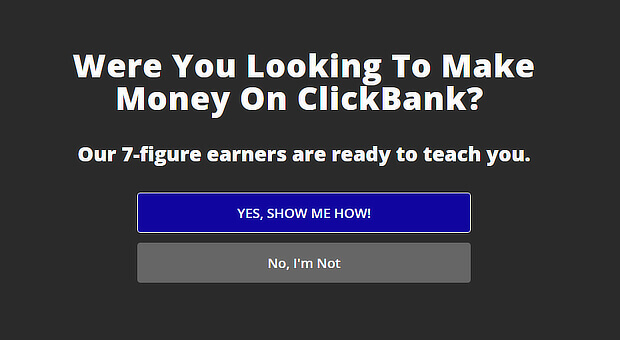 Plus you can segment offers by device. Skates.co.uk used geo-location with mobile device targeting to gain £2000 in daily holiday sales.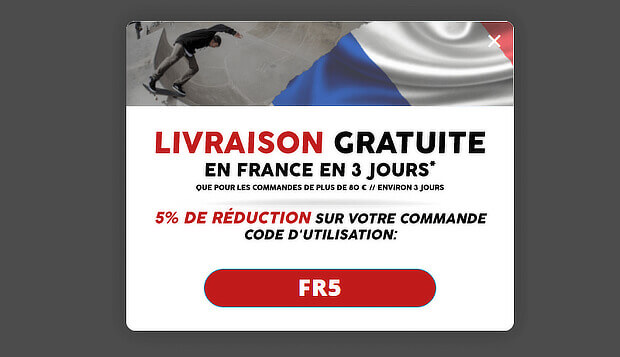 Ready to start personalizing your eCommerce marketing? All you need to do is get OptinMonster today so you can take advantage of our smart targeting and other features.
2. Monetate
Monetate is a well-known eCommerce personalization tool. Its features include intelligent personalization, segmentation, and recommendations. You can personalize customer interactions in many ways. Monetate also allows personalization for each individual.
Pricing information isn't available on their site, but you can schedule a free demo for more information.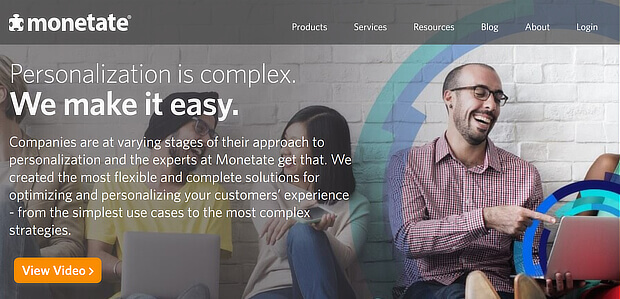 3. Barilliance
Barilliance says you can set up its eCommerce personalization software in just five minutes. IWith Barilliance, you get live notifications of purchases. It includes customer retention and cart abandonment tools. Barilliance also has online personalization and product recommendation tools.
Pricing isn't posted publicly, but you can contact them for a quote.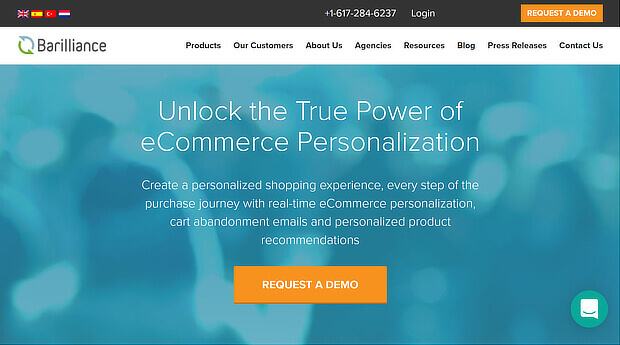 4. RichRelevance
Unlike many eCommerce personalization tools, RichRelevance says it provides "personalization as a service". But it also provides personalized navigation, search, and product recommendations to help you connect with customers.
You can request a demo of their services for more information.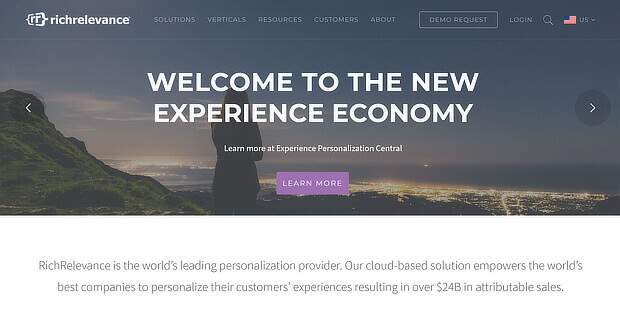 5. Cxsense
Want to personalize online interactions across multiple platforms? That's the service that Cxsense provides. It promises to help you engage customers on any platform, and to improve sales and increase conversions with real-time eCommerce personalization.
Csense offers free demos if you'd like more information about their software and pricing.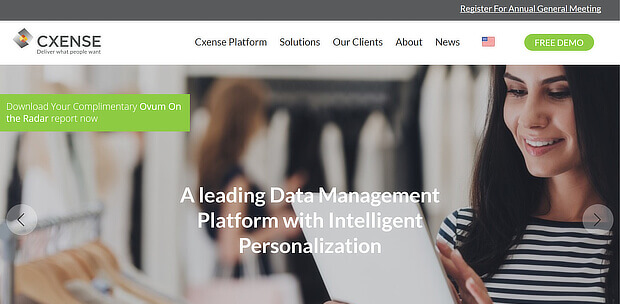 6. UNBXD
We talked earlier about creating individual experiences for shoppers. That's what UNBXD promises by personalizing product discovery. It includes predictive search so shoppers always see the items they're most likely to want. This encourages them to buy.
You can request a demo on their website for more information.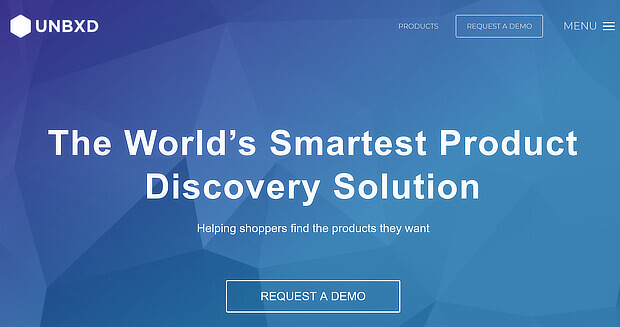 Want more eCommerce personalization tools? Check out our guide.
That's it!
Now you understand how to personalize your eCommerce marketing. Next, check out some eCommerce optimization strategies to skyrocket your sales. And follow us on Twitter and Facebook for more eCommerce marketing guides.