Did you know that a well-written confirmation email can boost your conversion rates and customer retention?
It's true! An automated confirmation email is a super easy way to provide excellent customer service. This will build customer loyalty over time, which can do wonders for your bottom line.
In this ultimate guide, we'll go over:
Let's dive right in!
What is a Confirmation Email?
A confirmation email is an automatic email sent after a specific customer action. The purpose of the email is to provide the customer with a record of what they did. That might be making a purchase or registering for an event.
Confirmation emails are a type of transactional email. Typically, these only go to existing customers or subscribers. Marketing or promotional emails may go to potential customers who haven't purchased or taken any action besides subscribing.
You can send automated confirmation emails through your eCommerce platform or email service provider. They're an essential part of any winning email marketing strategy.
Next, let's look at the different types of confirmation emails.
Types of Confirmation Emails
There are 4 different kinds of confirmation messages you can send. These include:
Subscription confirmation
Order confirmation
Registration confirmation
Booking confirmation
Subscription Confirmation Email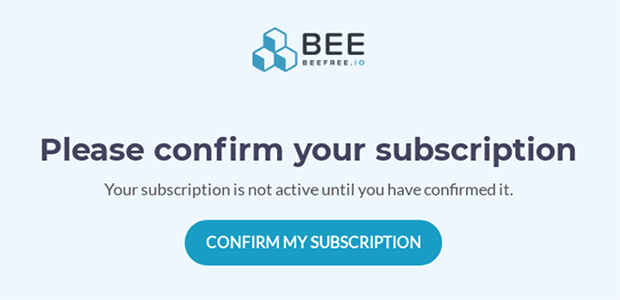 These emails go out to new subscribers right after they sign up for your email newsletter. They contain a link that recipients click on to confirm that they do want to receive your marketing emails. Once they click the link, they can also receive any lead magnets or welcome emails that you've set up.
Subscription confirmation emails, also known as double opt-in emails, aren't required. But they are often recommended as a best practice. By asking new subscribers to engage with your emails right away, you prime them to open your emails again in the future.
Order Confirmation Email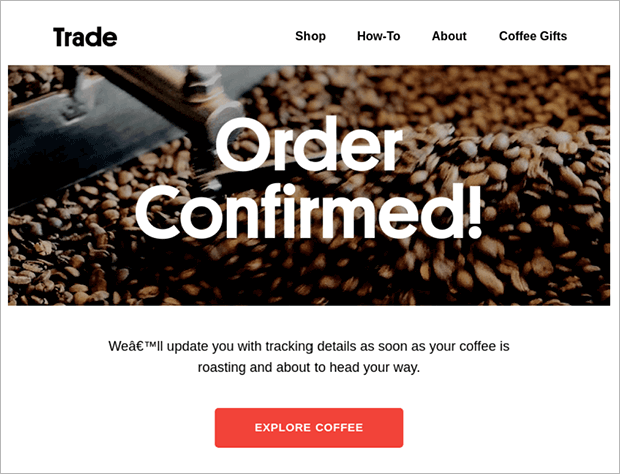 Purchase confirmation emails are sent after a customer places an order. They may contain payment confirmation, order numbers, shipping estimates, and other essential information. Sometimes companies send separate shipping confirmation emails as the order is processed and shipped out.
These emails act like receipts in case there's a problem with processing or shipping the order. Order confirmations also give customers a chance to make sure their order is correct.
Registration Confirmation Email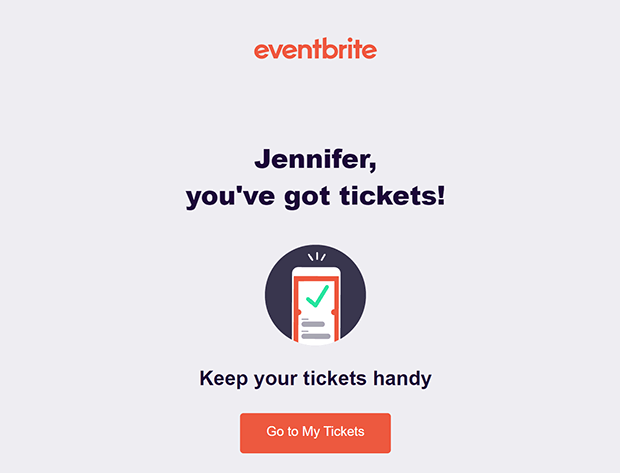 These automated emails confirm registration for online courses, webinars, or live events. In addition to confirming the date and time, registration emails can contain calendar invitations, virtual meeting links, or any materials necessary before the meeting.
Registration confirmations are a great way to build excitement before an event. This can be especially important for virtual events that are easy to forget about or skip.
Booking Confirmation Email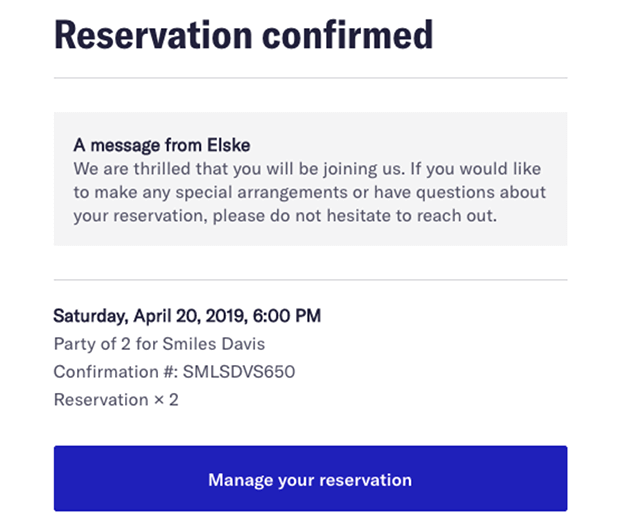 Booking or appointment confirmations remind customers about flights, concert tickets, tours, or service appointments. These include the date and time of the booking, ticket pricing, and sometimes a ticket or code for entry.
Why You Need to Send Confirmation Emails
The most important reason to send confirmation emails is to create a positive customer experience. You want customers to feel cared for, not like they're buying from a soulless vending machine. Even though confirmation emails are automated, they are still an important acknowledgement of the customer action. Imagine if you greeted someone and they didn't say anything in return. You probably wouldn't want to talk to them again!
In general, confirmation emails tend to have very high open and click rates. That's because they are directly related to an action the customer has taken and likely cares about.
Confirmation emails are also a good way to check email validity, since most people will use an active email address for transactions instead of a throwaway email.
Let's look at some specific ways that confirmation emails can benefit both you and the customer:
Subscription confirmation emails boost your open and clickthrough rates. They're also a good way to keep your email list clean. There's no sense sending emails to people who don't want to read them. Your subscription confirmation email can set the tone for future interactions, such as a welcome email series.
Order confirmation emails reassure customers that their orders have been received and will be processed. They can also help answer important questions about shipping or exchanges before they're asked. This helps customers feel taken care of.
Registration confirmation emails build excitement for the event and provide necessary information like virtual meeting links or calendar reminders.
Booking confirmation emails help customers prepare for their appointment with the date, time, and any items they need to bring. You can also include links to reschedule or cancel their booking, and the relevant cancellation policies as needed.
If a booking confirmation email has ticket information, customers will likely open it multiple times. Every time they look at that confirmation email will be another small but meaningful interaction with your brand.
Now, let's go over some actionable tips for getting the most out of your confirmation emails.
Confirmation Email Best Practices
1. Simple Messaging
From the email subject line to the body of the email, confirmation emails should be clear and easy to read. Customers don't want to hunt for their order number or registration information.
Confirmation email subject lines should say exactly what the email contains, such as:
[ORDER NUMBER] Shipping information update
[BRAND NAME] Order summary
Confirm your email address
[EVENT NAME] Registration details
This makes it easy for customers to search their inbox for relevant information. Again, it's all about making the user experience as easy as possible.
2. Consistent Branding
Even though your email content should be straightforward, you can still use eye-catching email design. At the very least, be consistent with your branding so that customers recognize the email coming from your business. Many spammers will send false confirmation emails as a way to get unsuspecting customers to enter their contact information or even credit card numbers. Customize confirmation emails with your logo, brand fonts and colors, and branded email addresses.
3. Mobile-friendly Design
As more customers use mobile devices, make sure your confirmation emails are easy to read on smartphones and tablets. We suggest keeping imagery to a minimum and using clear, high-contrast fonts at the appropriate size. Test your confirmation emails on different devices and email clients to ensure they are readable.
4. Clear Call to Action
Because of their high open rates, confirmation emails are a great place to ask for another action. Here are some examples:
Subscription confirmation: Ask new subscribers to also follow you on social media
Order confirmation: Ask new customers to reach out to your support team for help before requesting a refund
Registration confirmation: Ask participants to invite a friend or colleague to the event
Booking confirmation: Offer customers a post-purchase upsell before their appointment
Now we'll go over one way to send email subscription confirmation emails.
How to Send Subscription Confirmation Emails
In this example, we'll show you how to send a subscription confirmation or double opt-in, using Constant Contact. Constant Contact is a powerful email service provider (ESP) with loads of digital marketing automation features you can use for eCommerce, blogging, small business, and more.
In Constant Contact, a subscription confirmation is called a Confirm Opt-in. Contacts who sign up for your email list will receive an automatic subscription confirmation. They must click the confirmation email to join your list. Here's how to set up subscription confirmation emails in Constant Contact.
Step 1. Enable Confirm Opt-in
First, log into your Constant Contact account. Click on your profile name in the upper right and click on My Account.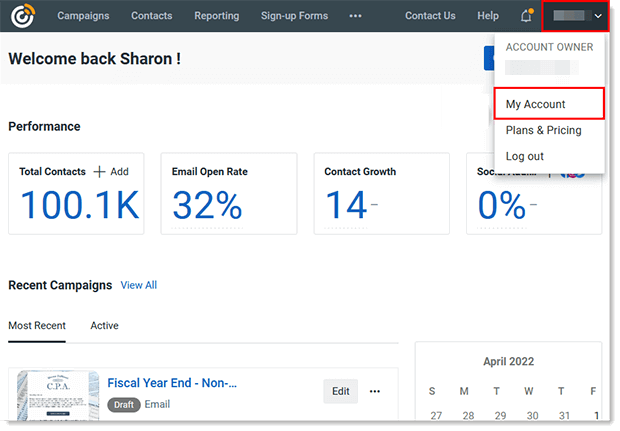 Next, click on Advanced settings and look for the Manage contact emails section. Click the Manage button.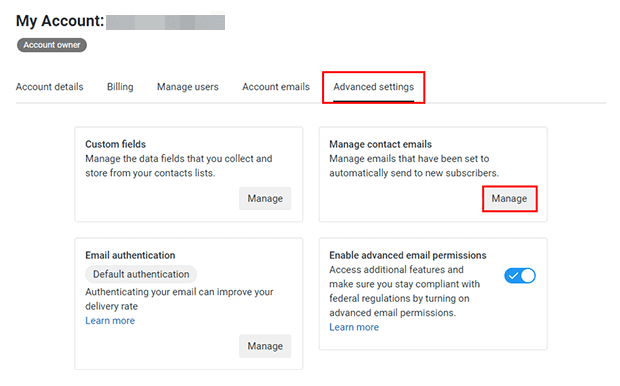 Once that's done, you'll see a section labeled Confirm Opt-in (Double Opt-in). Click the Activate button.

You'll see a confirmation message asking if you want to activate Confirm Opt-in. Click Yes, Continue.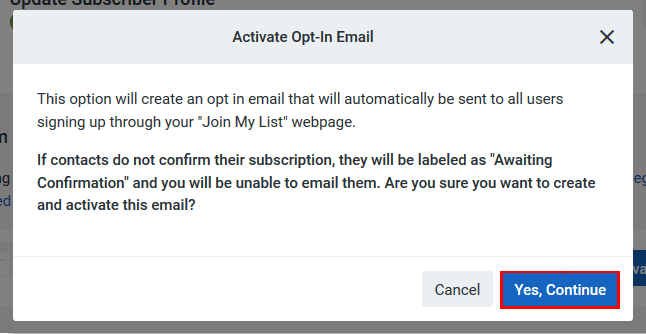 After this, you'll be taken to the confirmation email customization screen.
Step 2. Customize Subscription Confirmation Email
From the email customization screen, click Email settings. You can edit the subject line, preview text, From name and email, and reply-to email address. Make sure to always be very clear about who you are, why you're emailing them, and what you need them to do.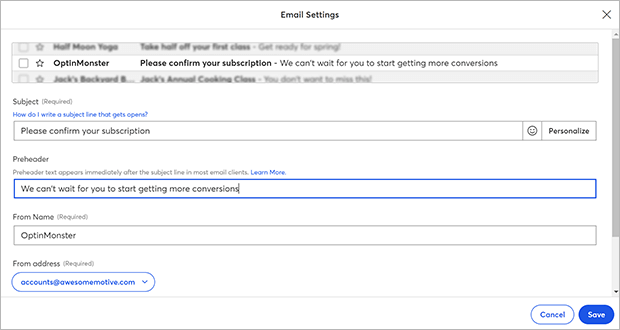 If you like, click on the Image block in the email builder to add your logo. We recommend doing this for brand recognition. You can also click on the different elements to customize the content and colors to match your branding.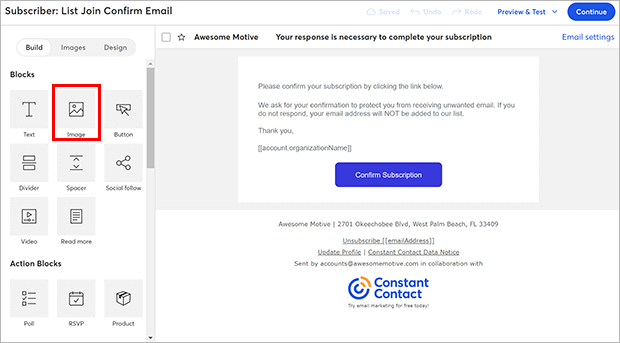 How to Send Other Confirmation Emails
With all the different eCommerce store platforms and email service providers out there, we can't list every single way to send confirmation emails in this article. But we did want to highlight some of the most common methods:
Finally, let's take a look at some of the best examples of confirmation emails for some inspiration.
Confirmation Email Examples
Blind Barber Appointment Confirmation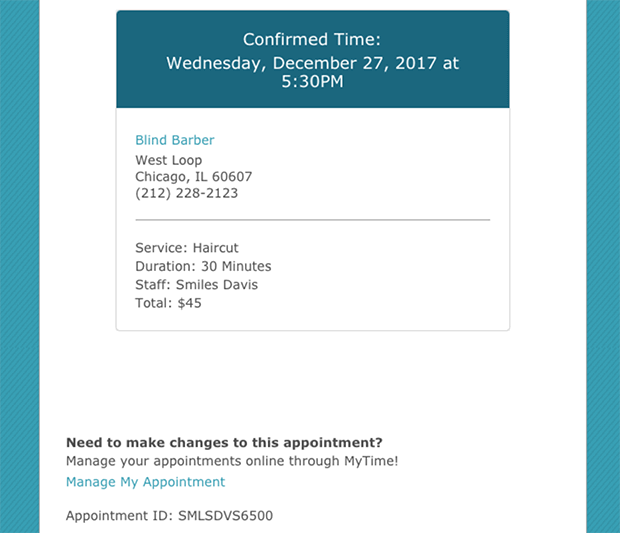 This booking confirmation email has all the important details such as date, time, and place. We also like the convenient link to change the appointment and download a calendar reminder.
Houses Of Subscription Confirmation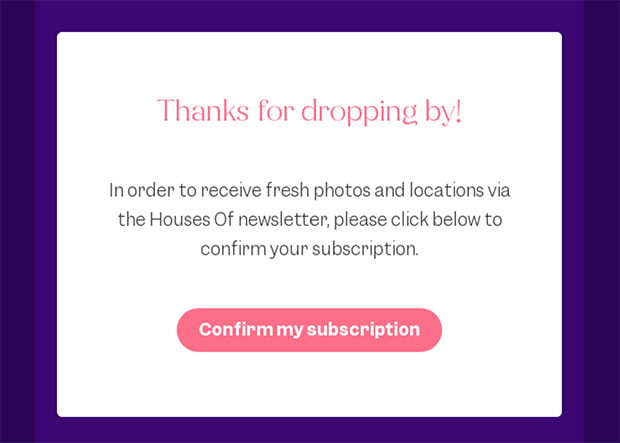 This quick and simple subscription confirmation from Houses Of makes good use of branding with the colorful email body and CTA button. The confirmation message is short but reminds readers why they subscribed in the first place and what they'll get if they confirm.
Kayak Booking Confirmation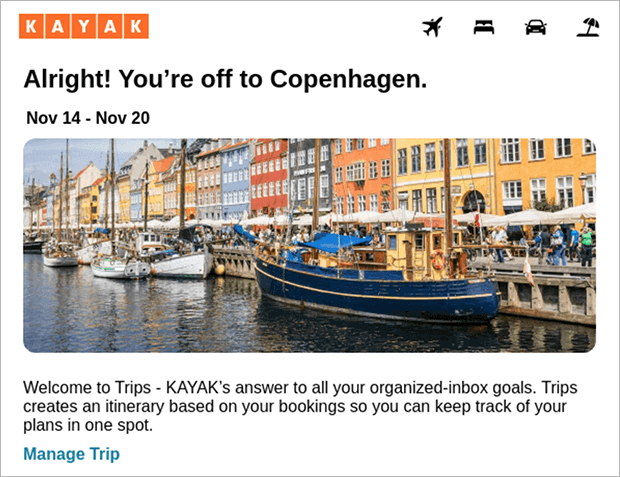 Kayak's confirmation email starts building excitement right away with a name and picture of the customer's destination, followed by the essential details of their trip. The email also includes links to the Kayak app along with reasons to use it.
Bally Sports+ Cancellation Confirmation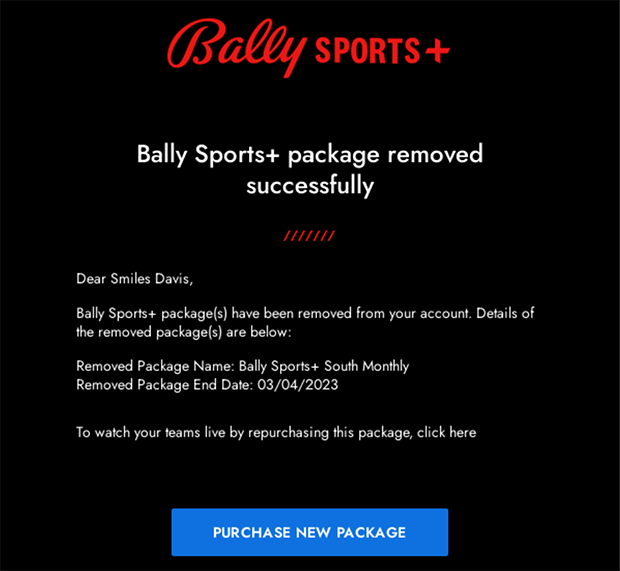 It's just as important to confirm cancellations and refunds as it is to confirm orders. If a customer is canceling or requesting a refund, chances are they are not totally happy with their experience. Cancellation emails are an opportunity to make things right by suggesting another product or simply confirming that the purchase has been canceled or refunded.
Recess Shipping Confirmation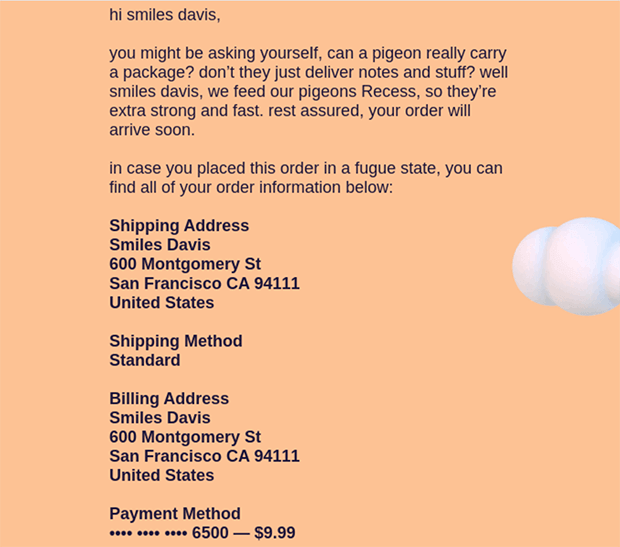 This follow-up email from Recess is a great example of how to get customers excited about their incoming delivery. The clever copy leads readers toward the important order details like shipping address and payment method.
Homes Alive Giveaway Confirmation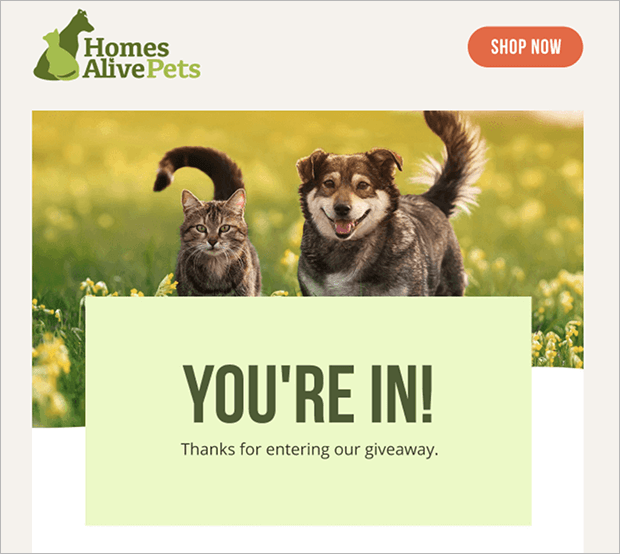 Giveaways are a great way to add subscribers to your email list. But you don't want a bunch of people to sign up just for the giveaway and never actually read your emails. This clever subscription confirmation makes a positive first impression with cute pet photos and a compelling subject line about the giveaway they just entered.
Food52 Order Confirmation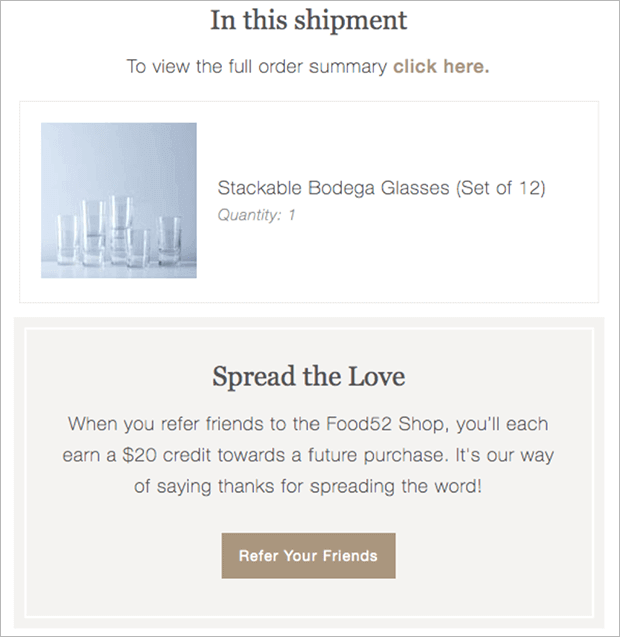 Food52 wisely uses this shipping notification to ask for referrals. The email reminds customers of what they bought and lets them know it's on the way before offering a $20 referral bonus. It's a great strategy that you can easily use on your order confirmation email templates.
Next Steps: Other Transactional Emails You Can Leverage
We hope this article helps you write your own awesome email confirmations. If you want to improve your email marketing even more, check out our ultimate guide to transactional emails.
One final note: If you're going to put in the effort to write really good confirmation emails, you want to get more subscribers and customers.
OptinMonster makes it easy to grow your email list, turn abandoned carts into sales, and drive more registrations and bookings. OptinMonster integrates with just about every email service provider. So you can easily send confirmation emails and more to all the new subscribers that OptinMonster will bring to you.
Get Started With OptinMonster Today!
BONUS: Done-For-You Campaign Setup ($297 value)
Our conversion experts will design 1 free campaign for you to get maximum results – absolutely FREE!
Click here to get started →