Are you wondering how to turn more visitors into email subscribers on your WordPress site?
Email marketing is one of the most effective ways to reach your audience, and get leads and sales. Often, website owners show subscription forms to every visitor, which means that some people just ignore them.
But there's a smarter way to grow your email list.
Instead of wasting time marketing to people who may not even care, you can use an OptinMonster MonsterLink™ to show onclick popup campaigns ONLY to visitors who are interested.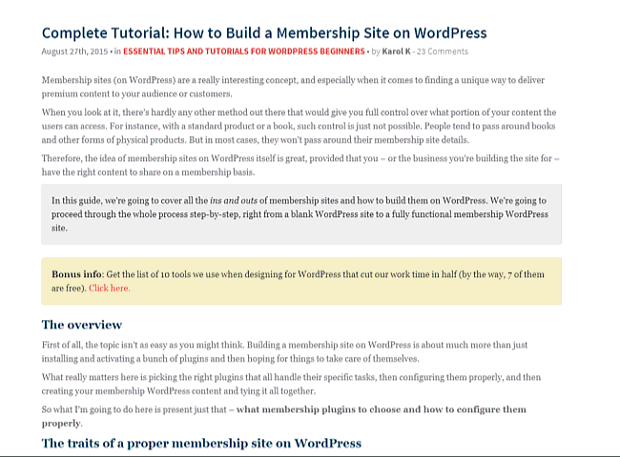 This 2-step optin process uses the powerful Zeigarnik effect. This psychological trigger means people who begin an action are more likely to finish it.
When visitors trigger your WordPress popup form on click, they'll already have shown interest and taken the first step by clicking. That means when the form pops up, they'll be motivated to finish the process and subscribe.
MonsterLinks™ are ridiculously effective. CodeinWP used them to increase conversions by 1000%. And Snack Nation uses this feature to get 1200 new leads a week.
Ready to explode email list growth? You'll need to get OptinMonster to be able to create this attractive and effective campaign. Here's how it'll look once your visitors click.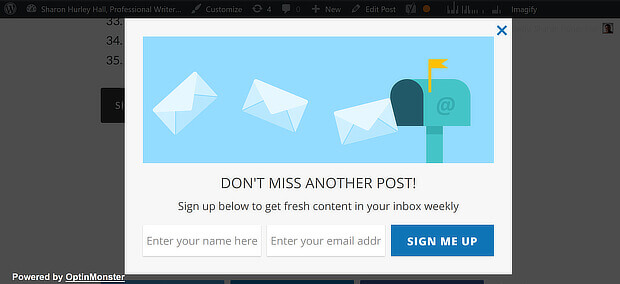 Let's get started…
1. Create Your Campaign
Login to the OptinMonster dashboard. Start building a new campaign by pressing the Create Campaign button.

Choose a campaign type. We'll use a Lightbox, which converts well for all OptinMonster customers.

Select a theme. We'll use Modern.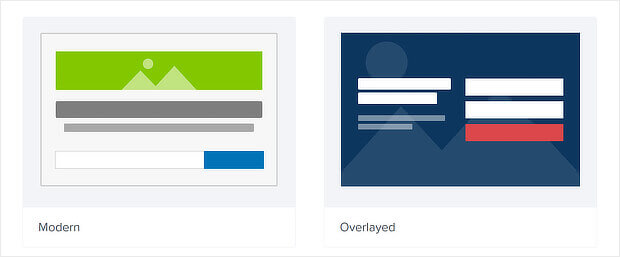 Name your campaign and decide which website you want to use it on. If you're not ready to decide, you'll be able to add the website later in the OptinMonster campaign builder.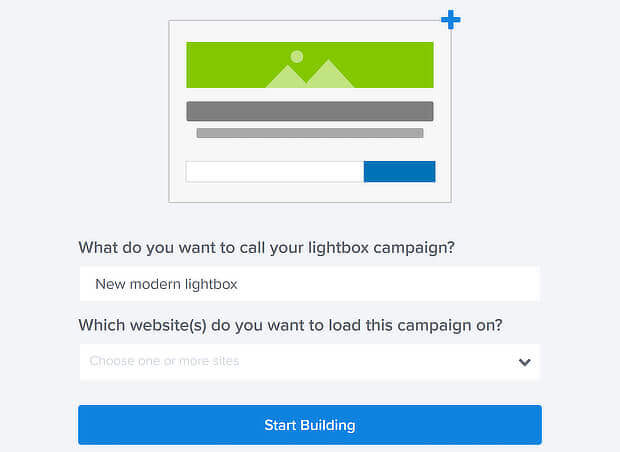 Press Start Building. You'll be redirected to the OptinMonster campaign builder, where you'll see the default Modern campaign.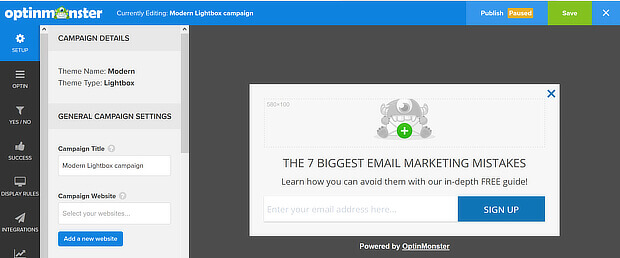 2. Edit Your Campaign
Now it's time to edit the campaign. First, click on the image area to go to the image gallery and add your own image.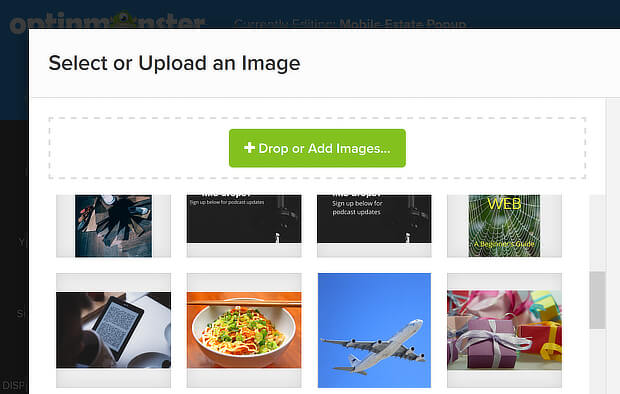 Our list of free image sites can help you find an appropriate image.
Click on the headline text to select it. Then type to replace it with your own headline. You can use the popup formatting toolbar to make the text bold, add color, and more.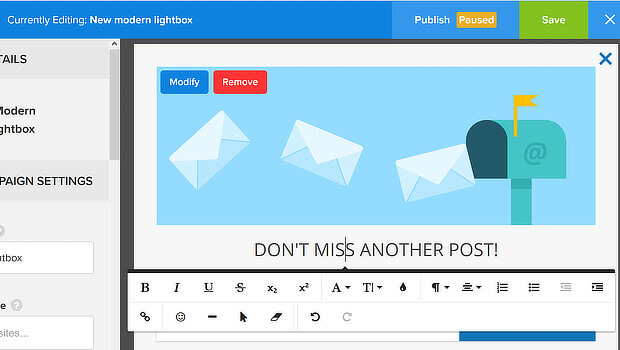 Use the same process to edit the body text.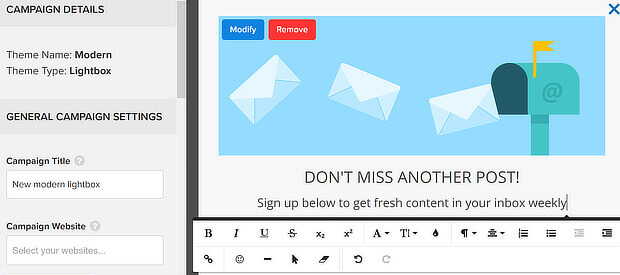 Use the green button at the top of the campaign builder to save your campaign. Do this at intervals as you build your campaign.

Click on the email box in your campaign. This'll take you to the Email Placeholder menu, where you can change the text that prompts visitors to enter their email address. We'll leave it as is.

Click on the submit button to go to the Submit Placeholder menu area. You can edit the button text and color here.

Keeping the signup form short makes it more likely people will sign up. However, if you plan to personalize the emails you send, you'll want to get subscribers' names.
To collect this information, add a name field to your campaign. Go to Optin » Name Field, and click the toggle to turn it on. You can change the prompt text as described earlier.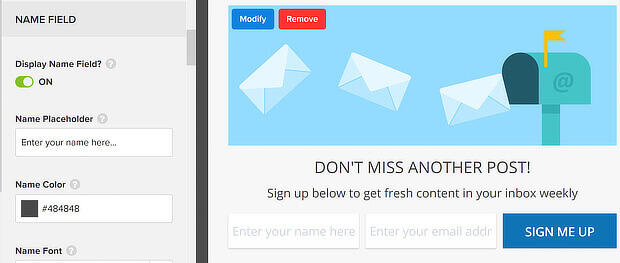 3. Add Your Email Provider
If you're creating this WordPress popup form to attract new subscribers, you'll need to enable an email integration with your email service provider. OptinMonster integrates with the top email service providers. In this tutorial, we'll show you how to enable MailChimp.
Go to Integrations » New Integration » Email Provider. Select MailChimp from the list of available options.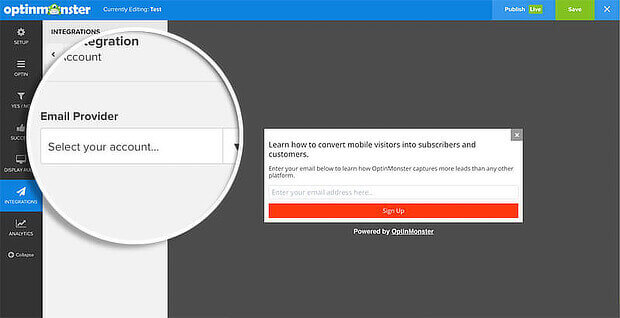 Get and add a MailChimp API key. Name the integration, then click Connect with MailChimp.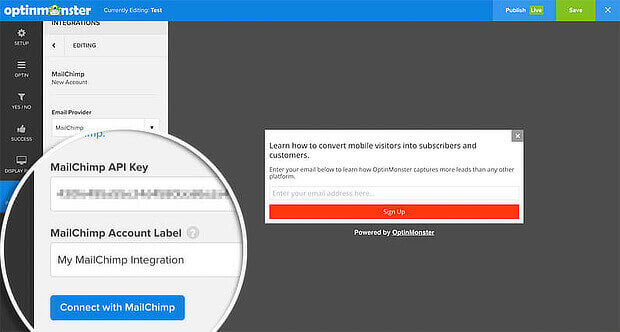 Go to the Email Provider Account menu item, and choose your list from the dropdown list.
In Lead Options, you can also enable double opt-in, which lets subscribers give consent to email them.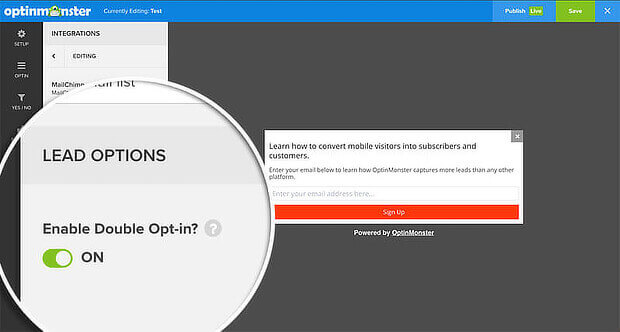 Now you can collect emails with your onclick WordPress popup form.
4. Set the Display Rules
The next step is to decide when your WordPress popup form should show. Since you want visitors to click a link or button to see it, you'll need to enable MonsterLinks™.
Go to Display Rules » When should the campaign appear? Choose MonsterLink™ (On Click).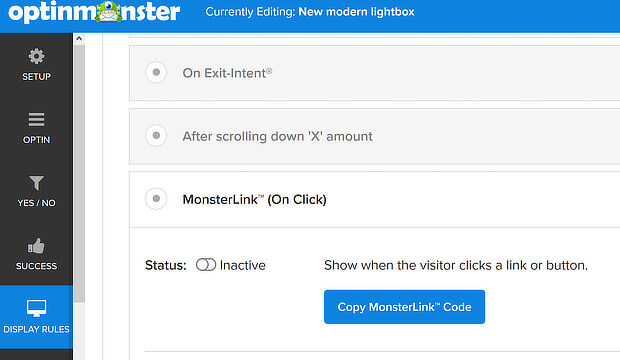 Click the toggle to enable the display rule. Then click the button to copy the MonsterLink™ HTML code.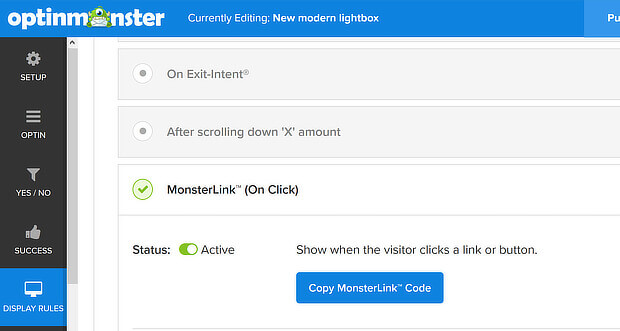 You will get a notification that the code has been copied. Keep that code handy, as you'll need it in the next step.
Next, it's time to make the campaign live. Click the Publish button at the top of your screen to go to the publishing options screen.
Click the toggle at the top of the screen to make the campaign live. If you haven't previously added a website where your campaign will display, you can do it now.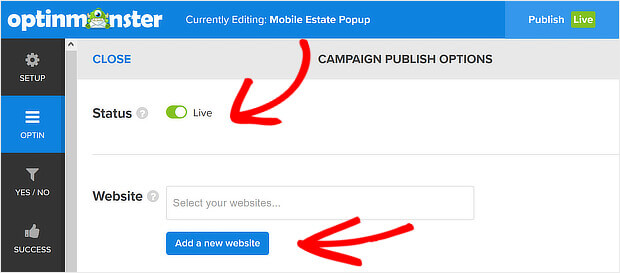 Scroll down to see the publishing options. We'll be publishing our campaign on WordPress, but you can also publish campaigns on Shopify or on any site via Shareable MonsterLinks™ and campaign or website embed code.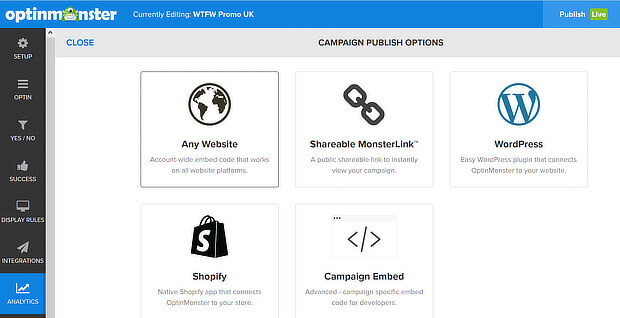 5. Make the Campaign Live on WordPress
Before people can click to see your WordPress popup form, you'll need to make the campaign live on your WordPress site. To do this, make sure you've connected the OptinMonster WordPress connector plugin.
Go to your WordPress dashboard. Click on the OptinMonster icon. You should see a list of all your campaigns. If you don't see the campaign you've just created, click Refresh Campaigns, and it'll appear.

Click the Go Live button next to the campaign name to make the campaign live on your site.

Next, let's add the link that triggers your popup on click.
6. Create Your Link
There are several options to add your link, and you won't need a WordPress popup shortcode for any of them. Note that you will need to use the text editor, rather than the visual editor, as the MonsterLink™ code is in HTML.
Add a Text Link
To add a text link to a page or post, go into the WordPress text editor and paste the code you copied earlier where you want it.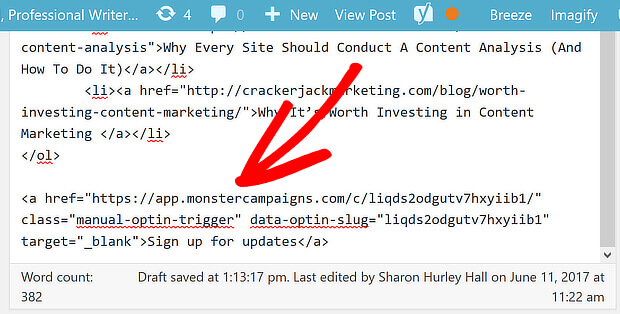 Edit the default "click me" text to something more appealing. Save or update your page or post. Here's how that looks on the page.
Add a Clickable Button
To create a clickable button, you'll need to make a small edit to the HTML code you copied. Copy it where you want it, then insert the word "button" with a space before "manual-optin-trigger".

This will create a button, formatted to fit in with your WordPress theme. Here's how the button looks on a website.

The appearance of your own button will depend on the WordPress theme you're using. You can customize it with CSS, or using a plugin like CSS Hero.
Add a Linked Image
Suppose you want to trigger a WordPress image popup on click? That's easy, too.
To create a linked image, upload your image to WordPress. Then insert your image code just before the end of the MonsterLink™ code, as shown below. Add some alt text to help with accessibility.

Here's one example of how that looks on a website. Clicking that image launches the campaign.

Learn more in our MonsterLinks™ guide, and see this tutorial if you want to add your MonsterLink™ to the WordPress menu.
How to Attract Even More Subscribers
While an onclick popup will get you subscribers, you'll get even more if you sweeten the deal. And the best way to do that is with a lead magnet.
A lead magnet is a kind of ethical bribe, where you give away something useful for free in exchange for an email address. If you've ever subscribed to download a cheat sheet, worksheet, or guide, then you've had a lead magnet. Here are some lead magnet ideas to inspire you.
OptinMonster makes it easy for you to deliver a lead magnet. In addition to adding a link to the thank you page, and sending it by email, you can use one of our success themes to deliver the lead magnet instantly.
To do this, go to Success » Success Action and select Display a Success Theme. Use the Download theme, which is perfect for instant lead magnet delivery.
Go to Download Location, and add the link where new subscribers can get your lead magnet.

Here are some other ways to use success themes and deliver a lead magnet with OptinMonster.
That's it!
Now you know how to trigger a WordPress popup form with a click. Next, see how to attract more subscribers with a gated content marketing strategy. You can also find out what visitors really want with a WordPress survey popup.
And follow us on Twitter and Facebook for more tutorials, tips, and guides.