Need some new optin ideas for your blog or business?
Optins and freebies are a great way to grow your email list. As your email list grows, so will your conversion rates and revenue!
In this article, we'll share our favorite tried and true optin ideas you can offer subscribers.
Here's a table of contents to help you find your way around:
What Is An Optin?
An optin is something you offer website visitors who subscribe to your email list. Optins are also known as freebies, content upgrades, or lead magnets. They're called optins because they are incentives for people to opt into your email list.
Why You Should Offer Optins and Freebies
Optins and freebies are a great way to grow your email list. But why does your email list matter?
Email matters because you must have a way to capture website traffic and bring those visitors into your sales funnel. When you build up your email list, you have a way to directly contact customers and potential customers who already want to hear from you. You don't have to fight for short-lived attention on social media or pay for expensive advertising. This is why email marketing often has the highest ROI of all digital marketing strategies.
Your email list allows you to build a relationship with customers over time. People often need to see a brand multiple times before they're ready to buy. When your first point of contact is to offer a helpful email optin or lead magnet, you get to start the relationship off right. You can then send an email autoresponder series or regularly scheduled email campaigns to help subscribers know, like, and trust you enough to buy.
Additionally, the open rates for welcome emails delivering freebies or content upgrades tend to be quite high. This can boost your overall email deliverability and keeps your list healthy with subscribers who actually want to hear from you.
How to Build Your List With Optins
There are many ways to share your optins and build your list, but our favorite is OptinMonster.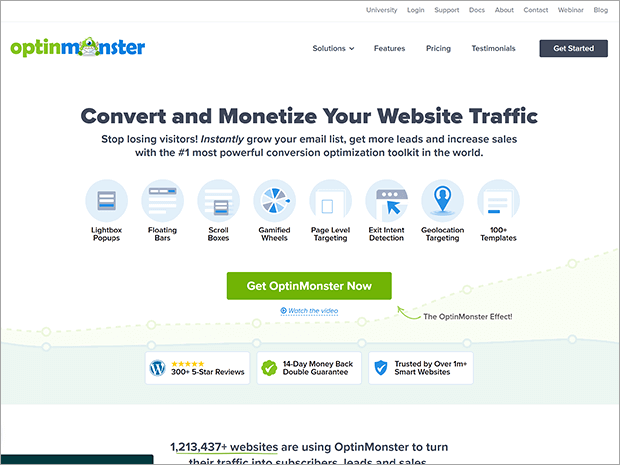 OptinMonster is the #1 list-building software in the world for creating engaging optin forms. Whatever freebie or lead magnet you're offering, you can use OptinMonster to supercharge your list growth using campaigns like:
Popups
Floating bars
Fullscreen welcome mats
Slide-in scroll boxes
Content gates
Gamified optins
OptinMonster comes with dozens of premade templates and Playbooks that you can use as is, or customize with the no-code drag and drop visual builder.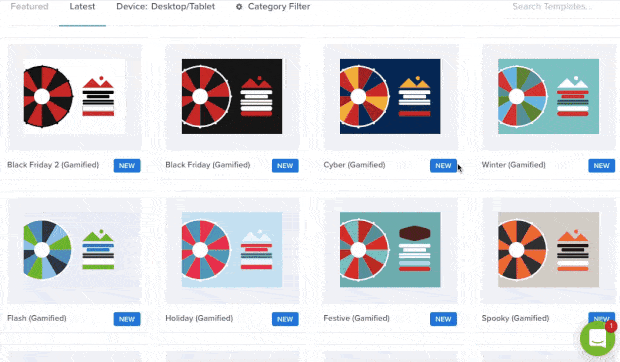 You can also A/B test different copy, graphics, display rules, and lead magnets to see what performs best.

Best of all, you can use OptinMonster's powerful targeting rules to show your optins to the right people at the right time. Some of these rules include:
Exit-Intent Technology® to reengage abandoning visitors and carts just before they leave your website
OnSite Retargeting® to show fresh and relevant campaigns to returning visitors
Geolocation to target users by physical location
OptinMonster also integrates with many email service providers and CRMs like Hubspot and Mailchimp. So no matter what you're using to manage your email list, OptinMonster can help you build that list.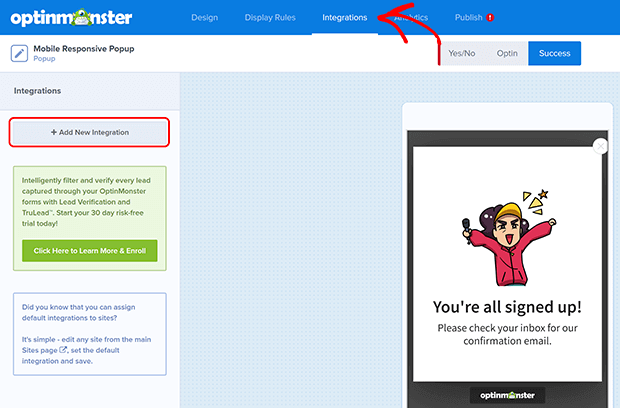 OptinMonster works on any site, including WordPress, Shopify, Squarespace, and more. With the OptinMonster plugin, you can create and manage your email signups within your WordPress dashboard.
Get Started With OptinMonster Today!
BONUS: Done-For-You Campaign Setup ($297 value)
Our conversion experts will design 1 free campaign for you to get maximum results – absolutely FREE!
Click here to get started →
Now let's look at some specific optin ideas you can use to supersize your email list. We've sorted these by business category to help you get started, but nearly all of them translate well into different industries and business models.
Optin Ideas for eCommerce
When building a list for eCommerce, your primary goals should be encouraging sales and staying top of mind for whenever customers are ready to buy. Here's some optins you can use for eCommerce:
1. Coupon and Free Shipping Codes
The easiest optin for eCommerce is a coupon code or free shipping offer. This can be a simple discount code: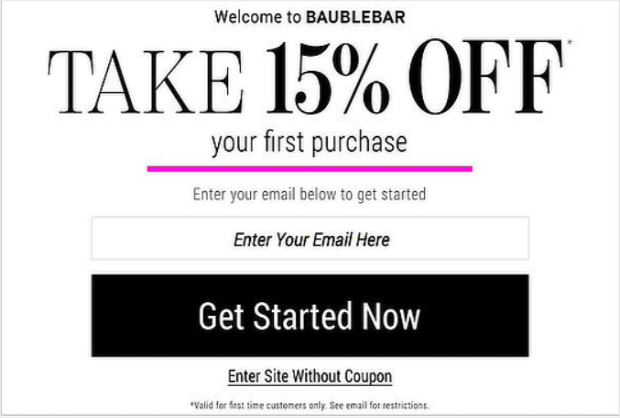 Or a fun spin to win coupon wheel: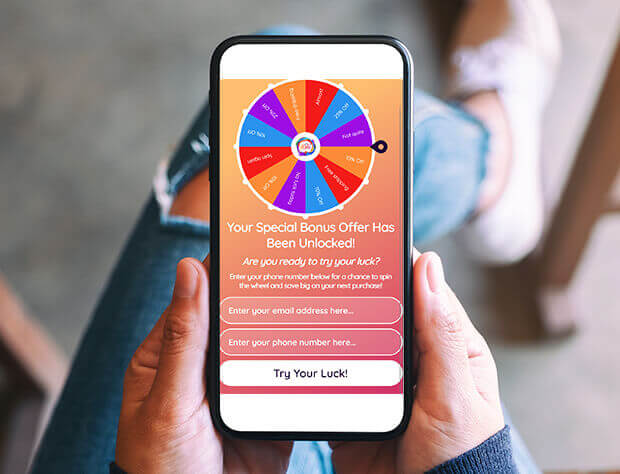 Either way, you can send the code to their email. This has the added benefit of training customers to look for your emails in their inbox.
2. Exclusive Access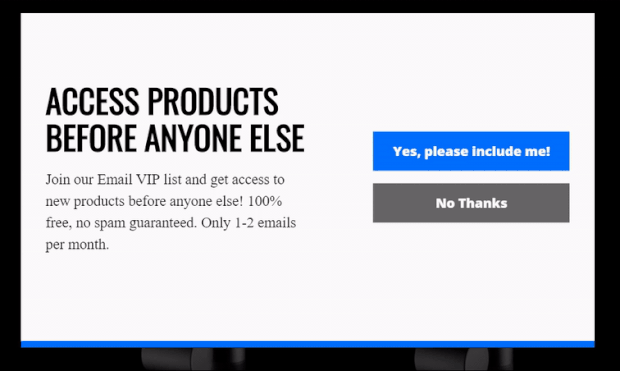 Another simple optin for eCommerce that doesn't cost you anything is granting exclusive access to your email list. That can be early notification of new products, or access to truly members-only products.
People love feeling like they're part of a special group. If you combine exclusive access with limited stock, you can generate even more urgency to buy quickly.
3. Waitlist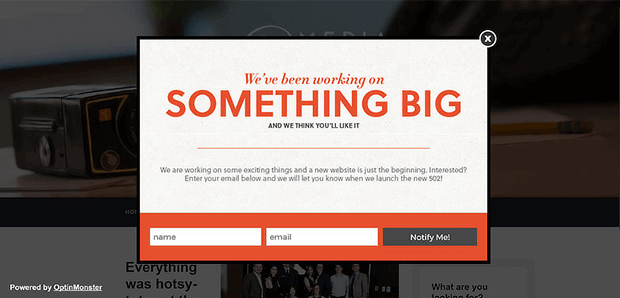 If you have new products or popular products that go out of stock frequently, create a waitlist for interested customers. Similar to exclusive access, a waitlist creates a sense of belonging as well as anticipation for the new product or restock.
4. Product Quiz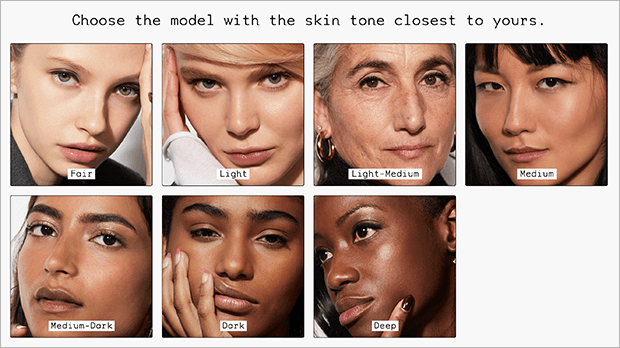 Our final optin idea for eCommerce is a product quiz. Use a product quiz to recommend the best products for the customer and then email them the results so they can keep them handy. This works especially well for customers who are still researching and may not be ready to buy. When you show up in their inbox with helpful recommendations, they'll be more likely to buy from you.
For other ways to improve your eCommerce email marketing strategy, check out best email subject lines for recovering abandoned carts.
Optin Ideas for Bloggers
Our next category is optin ideas for bloggers. Bloggers can make money from paid products or through ad and affiliate revenue. So your blog optins should either lead to paid products or help generate traffic for your blog. Here are our favorite optin ideas for bloggers:
5. eBook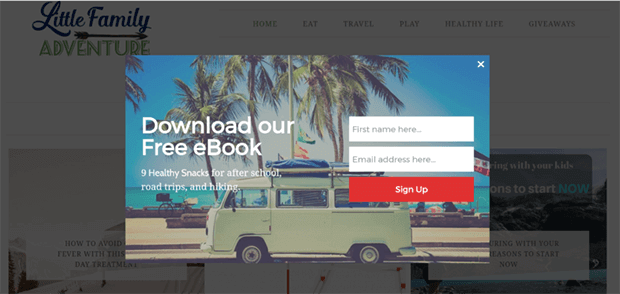 Again, we'll start with an easy blog optin idea. You can compile your most popular blog posts on a specific topic into a free eBook lead magnet. You can even expand this lead magnet into an eBook you can sell!
Now, you might be wondering why anyone would bother handing over their email address or paying for a bunch of blog posts they can just read on your site.
Remember, convenience is very valuable. Rather than click a bunch of links looking for content, the subscriber can get the best posts all in one place. Plus, once they subscribe, they can have new content sent straight to their inbox.
6. Printable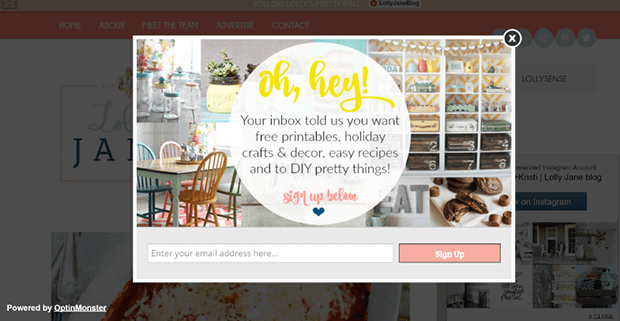 Sometimes a blog post can be even more useful when you add a formatted printable readers can download.
Popular printables include calendars, charts, checklists, worksheets, infographics, templates, and instruction sheets.
Again, don't underestimate the appeal of having the same content in a different format. Visitors might want instructions and checklists they can print and use away from their computer or phone. Or they simply want the content without the ads and design elements visible on the live blog.
7. Resource Library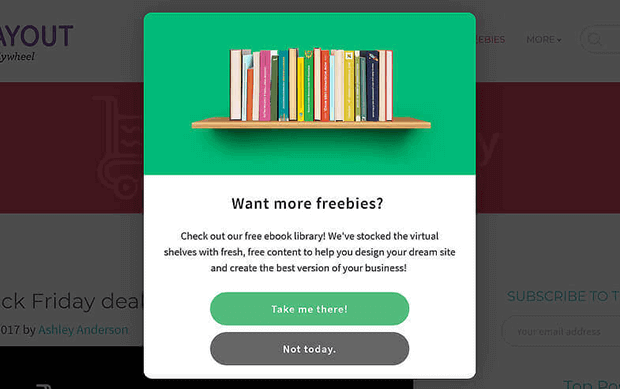 If you've been blogging for a long time, you may have lots of content upgrades, videos, printables, and other resources all over your website. Why not make the ultimate optin freebie and put them all in an easy-to-access resource library?
Instead of opting in for each individual resource, visitors can join your blog as a member and access all the goodies at once. You can easily create a free membership site with MemberPress.
8. Gated Content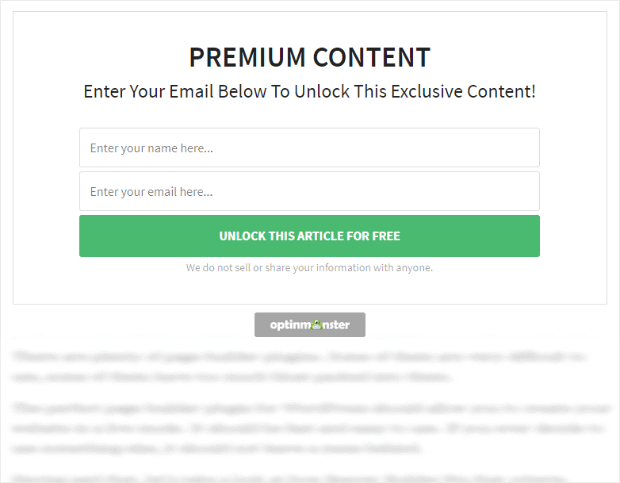 If you don't want to create a brand new piece of new content for your optin, you can simply use your popular blog posts as content upgrades by adding a Content Lock with OptinMonster.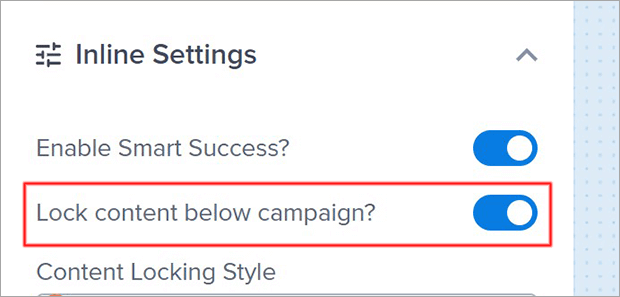 Locked or gated content is also specifically targeted to readers of a specific post. This can give you valuable data about what your target audience cares about most. This can inform your paid products or advertising and affiliate partnership strategy.
Optin Ideas for Small Businesses
When building a list of leads for your small business, you want to prepare them to hire or refer you when the time comes. Like eCommerce, the goal is to keep your business top of mind even if they're not ready to book your services just yet. Here are some small business optin ideas we love:
9. Checklist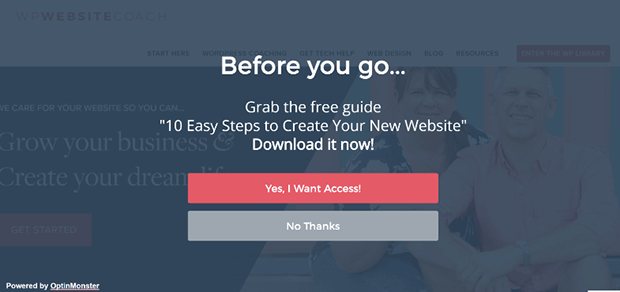 This is a specific type of checklist that helps new subscribers figure out how much they need your help. Create a step by step checklist to audit their own situation, and end with an invitation to book your services. (This is also a great opportunity to show them why doing it themselves may not be such a great idea!)
10.VIP Program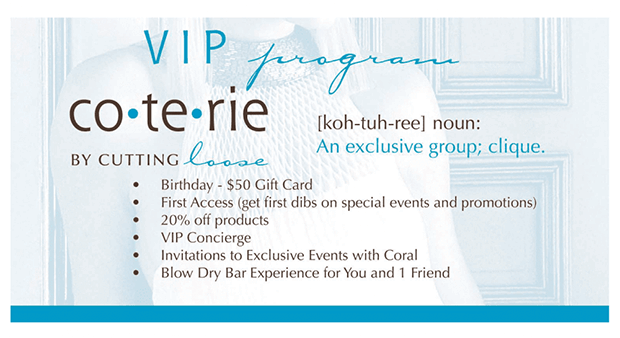 A VIP program for small businesses is similar to one for eCommerce. The main attraction for a service-based VIP program is availability. You can provide early access when you open your calendar for new bookings, or send email newsletters offering last minute openings.
You can also offer a loyalty program to your email subscribers where they can accumulate free services or upgrades when they work with you.
11. Contest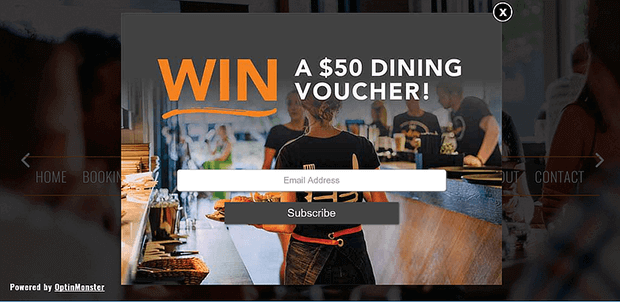 Everyone loves to win, and a contest is an easy way to collect email addresses. You can offer service packages or upgrades as prizes and pick a winner from your mailing list every week, month, or quarter. Seeing other people enter to win a prize can be a form of social proof showing how desirable your services or products are.
And don't forget to email those who didn't win with a special offer just for participating. RafflePress is the easiest way to run a giveaway on your WordPress website.
12. Free Consultation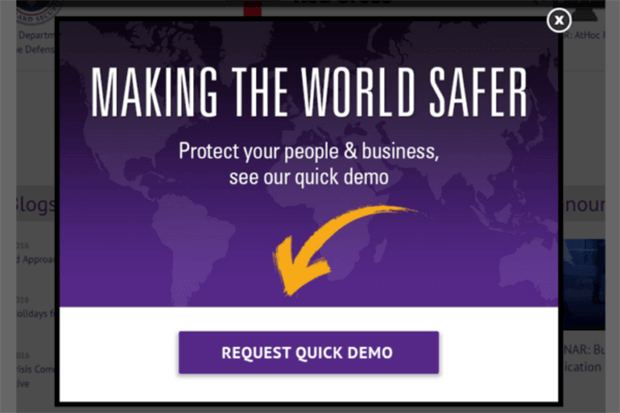 Did you know you can take part of your sales process and turn it into an optin? From makeup demonstrations to home price estimates, free consultations are the perfect way to show off your expertise and build your email list.
Optin Ideas for Coaches
List-building for coaches is an important opportunity to establish your authority in your niche. It's also a good way to clue visitors into their need for your services. Check out these optin ideas for coaching:
13. Email Course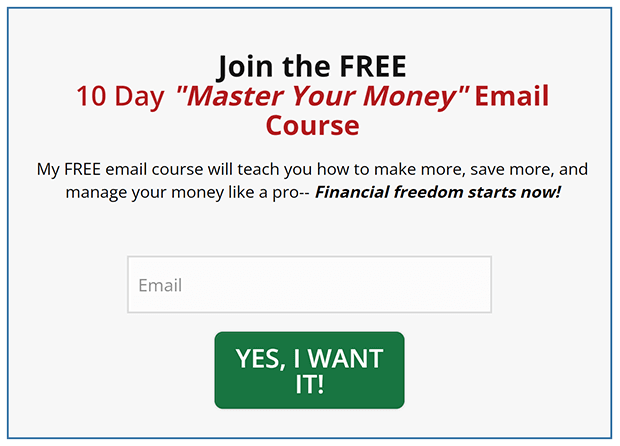 An email course is simply an automated series of educational emails sent after optin. The best way to use an email course as a lead magnet is to teach something actionable that also shows how much the subscriber can use your help. You can create an email course with Constant Contact or any other email service provider.
14. Quiz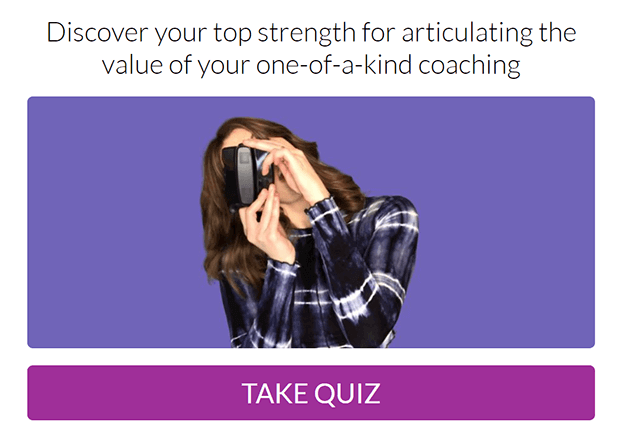 Instead of recommending products, optin quizzes for coaches tell the subscriber something about themselves related to your coaching services. Maybe you show them what's really behind their time management struggles, or how their personality type might affect their parenting style. Along with the results, you can send them the most relevant coaching offer. Interact is a simple tool for making fun lead magnet quizzes.
15. Challenge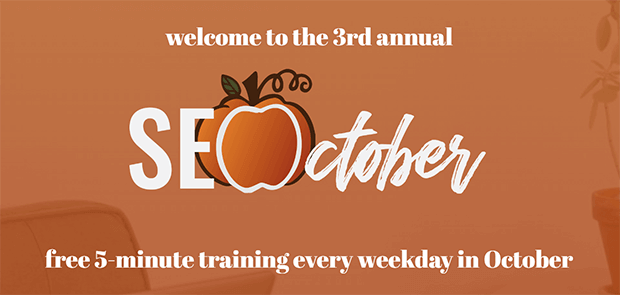 Coaching is all about improvement, so why not run a challenge funnel that inspires potential coaching clients to get started for free? You can run challenges from 3 to 30 days that give a preview of what it's like to work with you.
Like email courses, challenge funnels encourage new leads to pay attention to your emails, which is super important.
16. Workshop Recording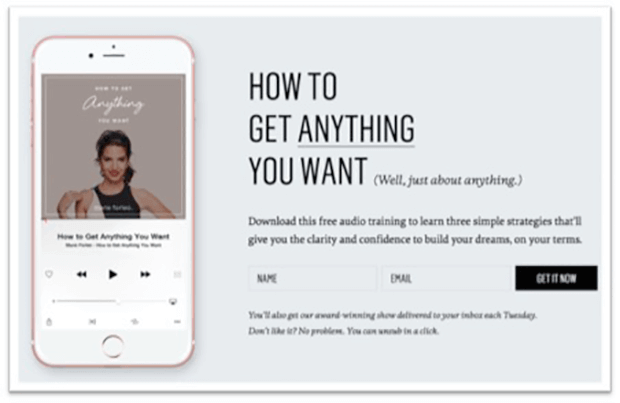 If you teach a live workshop, you can offer the recording as a free optin. If the live workshop was paid, don't feel bad offering the recording for free. Participants who paid got a different experience interacting with you live than visitors watching the free replay.
Optin Ideas for Artists and Creatives
As an artist or creative, your optins can do several important things. First, they offer a preview of your work. Second, a good optin can help fans imagine themselves actually owning a piece that you made. Finally, optins are a great way to show how hard it is to do what you do! Let's look at some optin ideas specifically for creatives:
17. Template

If you offer complex and ongoing creative services like copywriting, web design, or social media, consider using one of your own templates as an optin.
But wait, won't subscribers just take the template and do the work themselves instead of hiring you?
Maybe some will, but odds are those people wouldn't have hired you anyway. The rest of your subscribers will get a helpful resource but also realize that just having a free tool isn't enough. They need your experience to be able to do a good job. That's the perfect opportunity to include a call-to-action to hire you!
18. Digital Download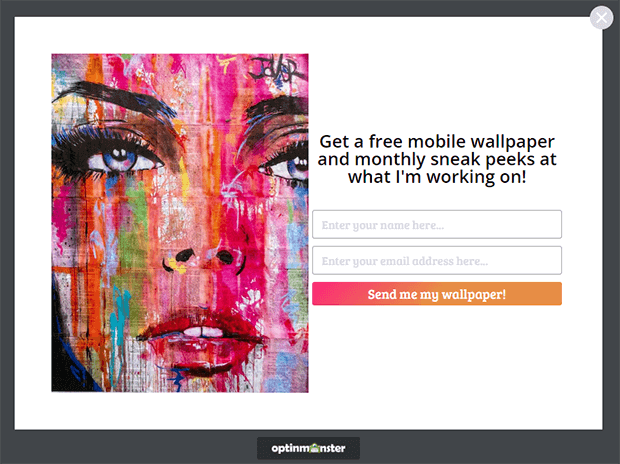 Artists can offer a digital sample of their work, such as a mobile or desktop wallpaper or music file.
Just like the template optin above, there will be some subscribers who just take the freebie and unsubscribe. But others will hear a song or see a small sample of your art and want to have the full experience. Digital downloads can give them the opportunity to try before they buy.
19. Tutorial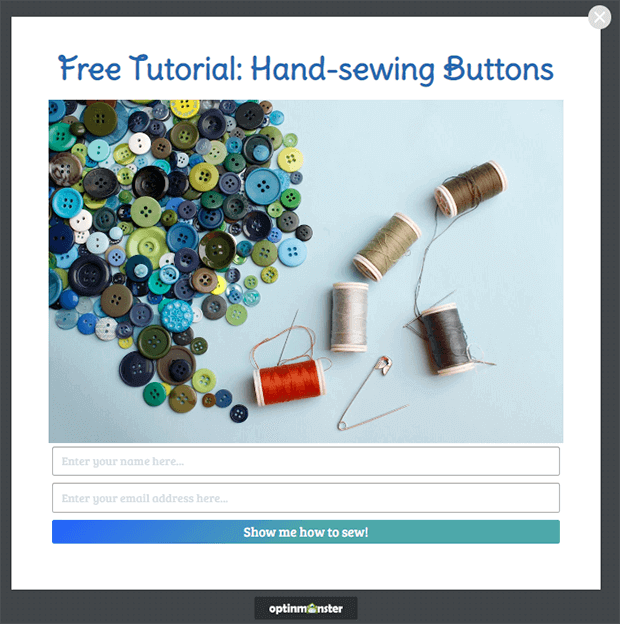 If you're a teaching artist or just want to show off your process, tutorials are fantastic optins for artists and creatives. Tutorial articles can be good for SEO, which is a nice bonus. You can easily use a Content Lock on an existing tutorial post, or put tutorial videos and other resources into a free membership.
20. Resource List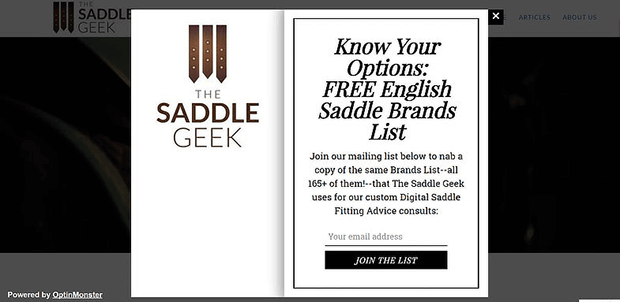 Fans are always curious about what materials and methods their favorite creatives use. Give subscribers a peek behind the curtain with a list of your preferred tools, techniques, or vendors. You can put this list behind a Content Lock or create a downloadable PDF that gets delivered to their inbox.
Once they're on your email list, you can share works in progress to help subscribers feel invested in your work.
Optin Ideas for Authors and Speakers
If you've written a book or are a subject matter expert, use your optins to establish your expertise and give readers or listeners a preview of your speaking, teaching, and writing style.
21. Book Sample

Offer a chapter from your book as an optin. You already did the hard work of writing the book, so make good use of it!
Another good thing to include with book samples is a table of contents. That way readers understand the context of the free chapter, and hopefully want to purchase the full book.
22. Bonus Material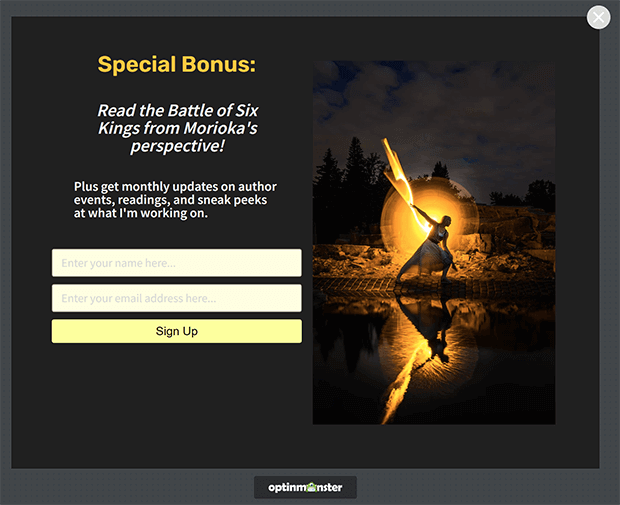 Most authors write far more words than make it into the final book. Take some of that material and use it as an optin. Readers love to see deleted scenes, extra background information, or different character perspectives on the stories they love.
23. Video Mini Course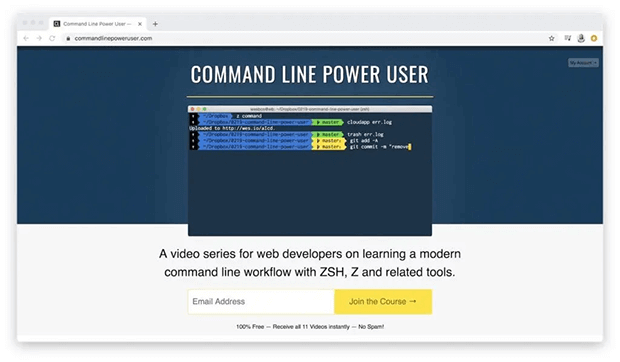 Similar to an email course, video courses can teach subscribers something quick and actionable related to your area of expertise. If you specialize in speaking or teaching in front of audiences, use videos as a way to get "face time" even when you're offline. This will help them know, like, and trust you better.
24. Frequently Asked Questions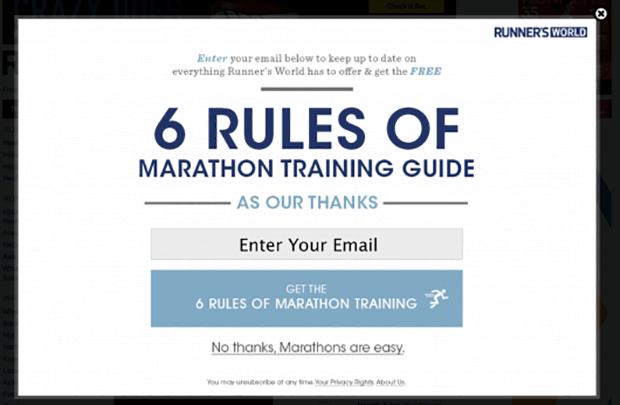 When you're known for being an expert on a topic, you probably hear many of the same questions over and over. Gather your frequently asked questions into a PDF or content locked post and you've got a ready-made optin.
How Can I Make A Good Opt-In?
These are just some of the many optin ideas you can use to grow your email list. Regardless of what format or topic you choose, keep these best practices in mind when creating your optin:
First, pick one problem to solve with your optin. These are freebies, so you don't want to give away too much. Plus, you don't want to overwhelm new subscribers who are just getting to know your work.
Next, make sure your optin contains actionable content and quick wins. Many business owners make the mistake of trying to sell in the optin itself. That's not the purpose of an optin. The optin should be valuable and usable on its own.
Finally, make sure your optin is consistent with the rest of your messaging. This is especially important if your business has evolved over the years.
For example, maybe your blog started as a cooking blog, and you had a popular smoothie recipe that still gets lots of views. But if your blog now focuses on personal styling, it wouldn't make sense to offer that smoothie recipe as an optin because it has nothing to do with your styling services and paid digital products. A better optin idea would be a wardrobe basics checklist or a series of how-to-style videos.
Where to Promote Optins
We've already discussed how to use OptinMonster to show email signup forms with your optins and freebies on your website. Here are some other places you can share your optins:
A standalone landing page
In your email signature
In the show notes of podcasts you appear on
At the end of webinars you present on your area of expertise
In Facebook ads
On your LinkedIn profile
In video descriptions on YouTube or TikTok
We hope you liked this list of optin ideas and found a few you can use for your business.
For more inspiration, check out our list of lead magnet ideas and examples.
To get started building your list, check out OptinMonster today!
If you like this article, please follow us on Facebook and Twitter for more free articles.