Are you looking for the best WordPress countdown timer plugins to boost your conversions?
Adding a countdown timer creates a sense of urgency and anticipation for your products, sales, and events.
That's why about every site, even major online retailers like Amazon, use countdown timers.
The good news is that WordPress plugins let you create customized timers for your website without writing any code.
In this article, we'll show you the best countdown timer plugins you can start using right now.
Why Use a Countdown Timer Plugin?
Before we jump in, let's have a quick look at why so many store owners and publishers use countdown timers.
Like most marketing techniques, countdown timers also tap into proven psychology principles. In other words, they're effective because they're based on primal human behavior.
There are two primary reasons countdown timers work so well.
The first factor is urgency. Creating a sense of urgency encourages people to act fast. Think of massive retail events like Black Friday and Cyber Monday. In 2019, Black Friday and Cyber Monday generated more than $16 billion in online sales in the United States.
With a countdown timer, you can capitalize on your customers' natural response to scarcity.
The second reason is FOMO, the Fear of Missing Out. FOMO is the idea that we don't want to miss out on a great deal. Research shows we're hardwired to avoid losing out on rewarding opportunities or experiences.
So, now you might be wondering, "How do I create a countdown timer in WordPress?"
Countdown timer plugins make it easy for you to use these techniques to build anticipation for your products. By adding a countdown timer plugin, you can make as many timers as you like.
Customizing your timer is quick and easy, and you don't need to make major changes to your website or write any code to add countdown timers to your website.
With a countdown timer plugin, you can:
Create product launch buzz
Increase online event attendance
Boost seasonal promotional sales
But there are several WordPress plugins that let you create countdown timers for your website. Finding the perfect fit for your website can be overwhelming. So, that's exactly why we're helping to narrow your search.
Best WordPress Countdown Timer Plugins
Check out the best WordPress countdown timer plugins on the market.

OptinMonster is the best WordPress countdown timer plugin that lets you generate more leads and skyrocket your conversion rate. It allows you to easily create customized countdown timers with a drag and drop builder. And adding the OptinMonster plugin to WordPress is quick and easy.
OptinMonster lets you create multiple types of countdown timer campaigns, such as announcement bars, popups, fullscreen mats, and more.
With OptinMonster, you can use stunning prebuilt countdown timer templates to:
Boost flash sale conversions
Reduce cart abandonment with time-sensitive promotions
Increase event attendance using limited early access discounts
OptinMonster allows you to create unlimited timers to place on different posts and pages on your WordPress site.
You'll get access to two countdown timer types. First, there's a static countdown timer. A static countdown timer counts down to a specific end date. That means, you can set a time and the offer expires for everyone at the specified time. The second option is a dynamic or evergreen countdown timer. This kind of timer is personalized for each site visitor. Instead of selecting an end date, you choose the length of the timer in days, hours, minutes, and seconds.
So, how effective are timers for increasing sales and revenue?
eCommerce site Kennedy Blue increased their sales by 50% with the help of this OptinMonster countdown timer:

Do you want these same results for your business? Get started with OptinMonster today. It's 100% risk-free with our 14-day money-back guarantee.
Get Started With a Countdown Popup Today!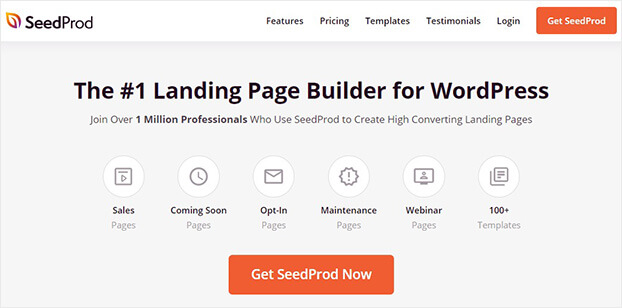 SeedProd is a powerful, easy-to-use landing page builder for WordPress. Using SeedProd, you can create an eye-catching landing page thanks to its visual drag and drop builder.
With SeedProd, you can easily add a timer to your landing page that creates anticipation until your website is launched. It comes with more than 100 templates, and the best thing is you can customize your landing page in minutes without writing a single line of code.
One great SeedProd feature is you can also add a countdown timer to your coming soon pages and maintenance mode page. It also lets you integrate the pages with your favorite email marketing service.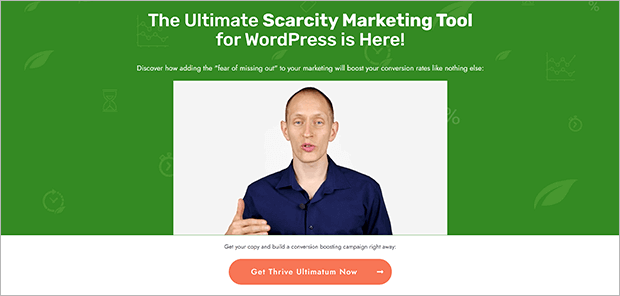 Thrive Ultimatum is a WordPress plugin that allows you to create scarcity-based campaigns to increase conversions on your website.
With Thrive Ultimatum, you can add customizable countdown timers to your pages and posts to create a sense of urgency and scarcity. You can choose from a variety of timer styles and designs, and you can also set the timer to countdown to a specific date and time.
Thrive Ultimatum also allows you to target specific pages and posts on your website, as well as specific user groups. This means that you can create highly targeted campaigns that are tailored to your specific audience.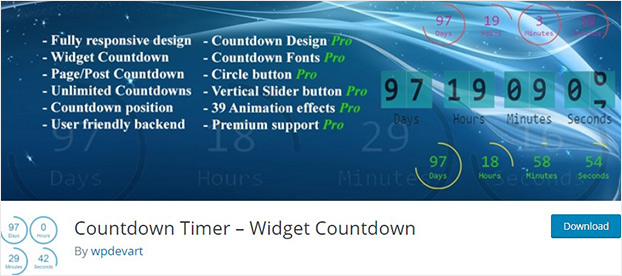 Countdown Timer – Widget Countdown is a simple countdown timer for your WordPress site.
You can customize the day, hour, minute, and second fields. You also have the freedom to change the color, size, and text of the timer.
Beyond those basic features, you're free to add your timer to any page or post. From here, you can control the position of the timer on your page.
What happens when you reach the end of the countdown? Maybe you want customers to know the sale has ended. With this countdown timer plugin, you can easily add a message to your timer after it's expired.
This countdown is fairly basic so you won't be able to create a popup to collect emails. Instead, you'll need to download a popup plugin, too.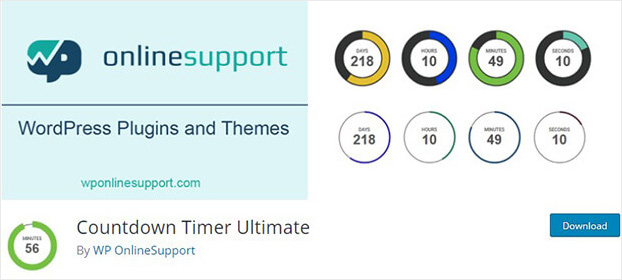 Countdown Timer Ultimate lets you create a countdown timer in minutes. It works with Gutenberg's block, so it's easy to embed on your website. The plugin uses an animated circle format, showing the remaining time in the center of the circle. This plugin gives you a simple graphic option for letting your site visitors know how much time they have left to redeem your offer.
You can show or hide the days, hours, minutes, and seconds. You can also customize the background color of your timer.
The premium version comes with 12 countdown timer designs. So, if you want more design options, you might want to look for a different countdown timer plugin.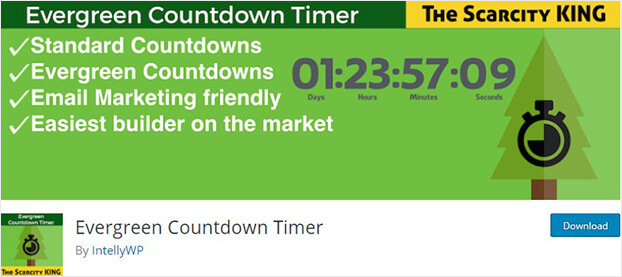 As its name suggests, the Evergreen Countdown Timer plugin lets you create evergreen timers.
This means you'll be able to personalize the countdown timer for every site visitor. The pro version comes with a few more options, like showing the number of remaining seats or tickets. These options would work well for events and webinars.
You'll need to enter a shortcode to add the timer to your website.

The WordPress Countdown Widget is a simple way to add a basic countdown timer to your WordPress blog posts and sidebars. It uses a drag and drop interface. This plugin also supports a count-up feature that might be handy for a creative marketing campaign.
It's simple enough to use because you simply need to add the shortcode to your website.
You'll be able to customize the colors but will need to use CSS for more advanced edits.

Easy Timer is a basic WordPress countdown timer. It displays days, hours, minutes, and seconds. You can reveal a piece of information once that time expires.
This countdown timer lets you add your timer to posts, pages, or widgets. You can also change the format of the timer with Easy Timer's count-up timer to show the time that's elapsed since a specific date.
Keep in mind this is a simple countdown timer so customization is fairly limited.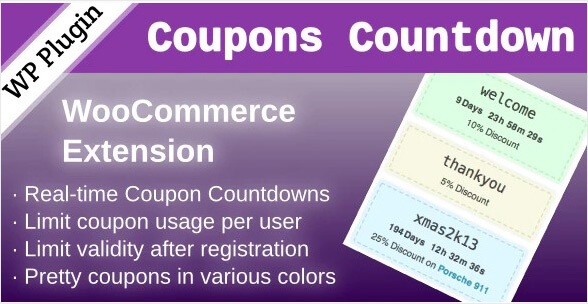 Do you have an eCommerce store?
WooCommerce Coupons Countdown is a WordPress countdown plugin that works with WooCommerce.
It allows you to create coupons with real-time countdown timers. You can show your customers when the coupon expires. You'll be able to tie the coupon expiration date to the customer's last order date.
You'll need to customize the shortcode to customize the coupon.
There you have it. Now, you know the best WordPress countdown timer plugins.
Are you looking for a countdown timer plugin that also skyrockets your email list, sales, and revenue?
Then, you need to use OptinMonster. Not only can you build a countdown timer, but it also lets you collect your emails and boost sales via stunning marketing campaigns.
OptinMonster comes with several different campaign types, such as popups, floating bar, fullscreen mat, gamified campaigns, and more.
Get Started With a Countdown Popup Today!
We hope you enjoyed this article. Then, you might also find these resources helpful:
Ready to boost conversions with countdown timers? Get started with OptinMonster now.