Do you want to quickly grow your email list, but you're not sure how to get started?
By creating a custom Klaviyo popup campaign with OptinMonster, you can get more email subscribers in no time. Plus, you can have your new leads sent automatically to your Klaviyo account.
And the best part is that the entire set up, including campaign design, can be done in a matter of minutes!
Sound too good to be true? Keep reading because, in this tutorial, we're going to walk you step-by-step on exactly how to get more subscribers to your Klaviyo email contact lists.
But before we do, let's make sure we're all on the same page as to what Klaviyo is and why it's such a great marketing tool.
Let's dive in!
What Is Klaviyo?
Klaviyo is a marketing platform that helps eCommerce businesses grow through various tools. They help companies of all sizes define and scale their brand, move their physical store online, and effectively communicate with customers.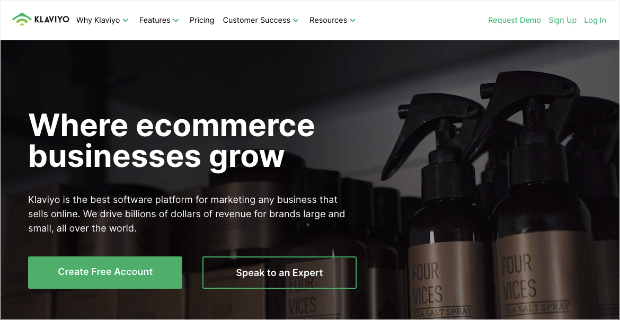 It's that last point–communicating with customers–that's most important for us here. Because out of all the features Klaviyo offers, they're an excellent choice for an email service provider.
And if you run an online store with a platform like Shopify or WooCommerce, a thriving email list is invaluable. You can use your list to promote:
Product launches
Related product suggestions
Upsells and pre-orders
Or any other eCommerce emails that would be profitable to you. And if you simply have a standard WordPress blog or informational website, you can use your list to profit through:
Online courses
Newsletters with affiliate links
Driving traffic to your site (to boost costs for ad space)
The point is that no matter what business you're in, a robust email list will generate more profit. And Klaviyo is a great tool for helping you maintain and fine-tune your list.
But how do you grow your email list in the first place? That's where OptinMonster comes in.

OptinMonster is the world's #1 conversion optimization toolkit. We solve one of the most common problems marketers face on a daily basis:
We help companies get more leads and sales in less time than any other competing software.
Learn MoreSee if OptinMonster is the right fit for you by reading this post, Is OptinMonster Worth It? (An Extensive Review for 2020)
The best part is that you can use OptinMonster as a lead generator and automatically integrate it with Klaviyo to send your email campaigns.
That means that you can use these 2 tools to create a full marketing system that works on auto-pilot.
And that's exactly what we're doing today. Let's get started!
Creating a Custom Klaviyo Popup
We understand that not everyone learns the same way. Some people prefer more visual tutorials. That's why we have this helpful video to guide you through creating a Klaviyo popup:
And to help you even more, please continue with this in-depth written guide.
Step 1: Create Your Campaign
First, log into your OptinMonster account: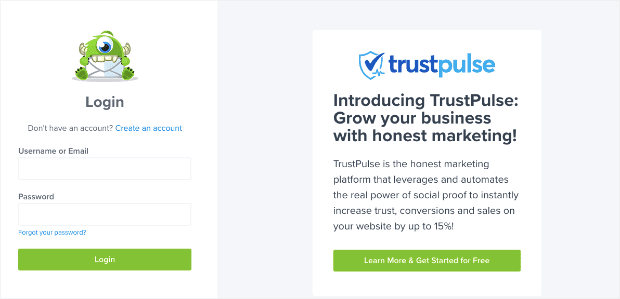 When you're in your dashboard, click Create New Campaign in the upper right-hand corner: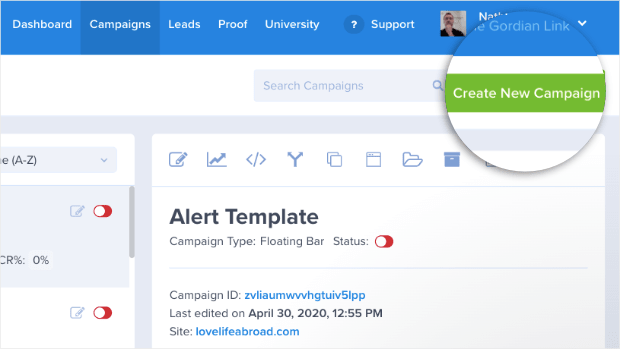 Now it's time to choose your campaign type. For today's tutorial, we'll select Popup:

Next, you'll see a variety of templates you can choose from: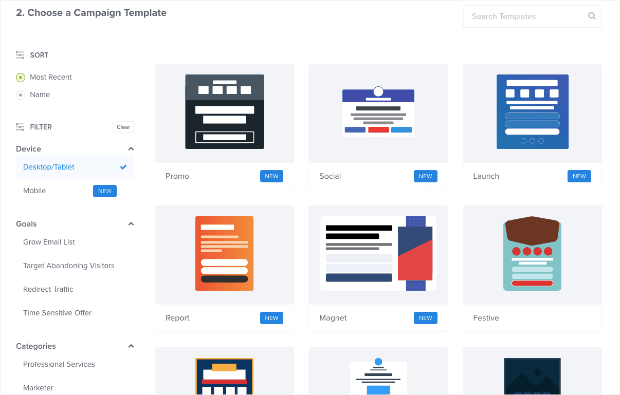 OptinMonster has over 50 pre-built templates that you can use across all devices. You can even filter templates that focus specifically on mobile users, depending on how your audience interacts with your website: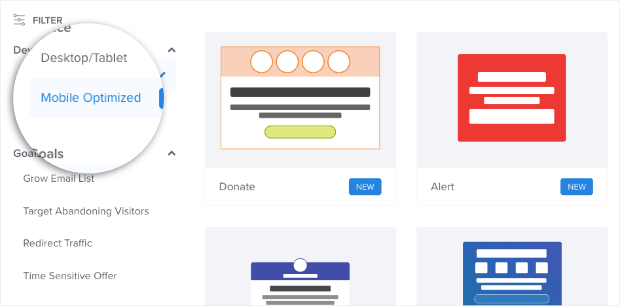 That said, our Desktop/Tablet templates also perform well and look great on the majority of mobile devices, so you never have to worry about your campaign looking anything less than stellar.
For our customer Klaviyo popup, we'll use the Magnet template: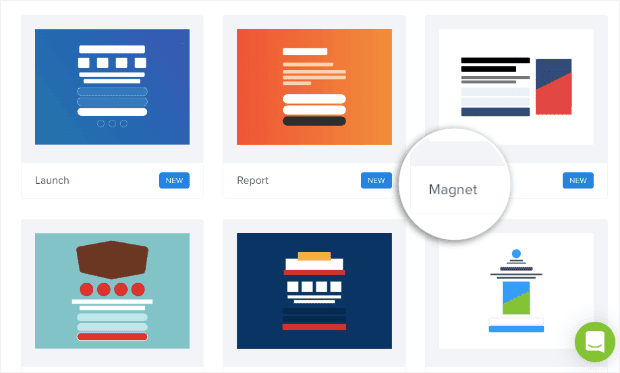 This is a good choice if you're using a lead magnet to grow your email list. It has 2 columns, allowing you to show the picture of your lead magnet on the right-hand side, and write enticing copy on the left.
NoteWant your Klaviyo popup to be truly custom? You can use our Canvas template to build your popup from scratch with no coding skills required!
Then name your campaign, assign it to a site, and click Start Building: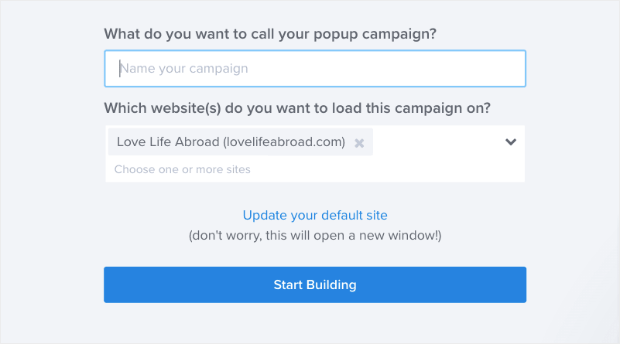 Step 2: Design Your Campaign
Using OptinMonster's drag and drop editor makes customizing your campaign incredibly simple.
We won't dive into too much detail about how to personalize your campaign in this tutorial, but any changes you'd like to make can be done in a matter of minutes.
If you've never built a campaign with OptinMonster before, and you aren't sure where to start, don't worry. Just check out this helpful resource on how to create your first campaign with OptinMonster.
But the most important thing to know about our editor is that you can easily customize every aspect of your campaigns.
Simply click on whichever element you'd like to modify, and the editing tools will appear on the left-hand side: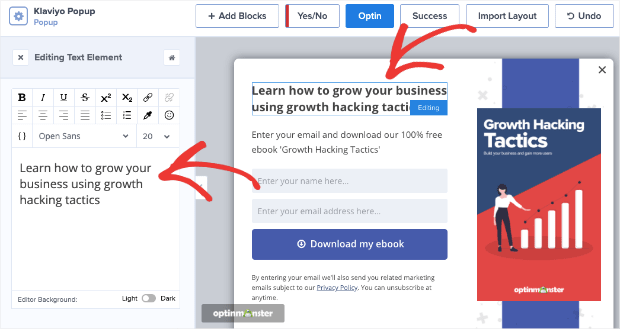 And if you want to add a new element, you can simply click + Add Block: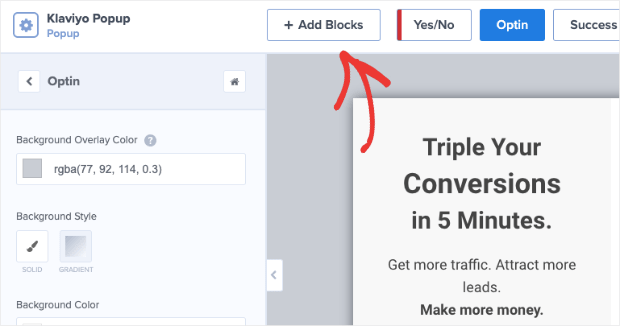 This gives you the choice of adding tons of features such as:
Buttons
ChatBot
Countdown Timer
Divider
HTML
Icons
Images
Text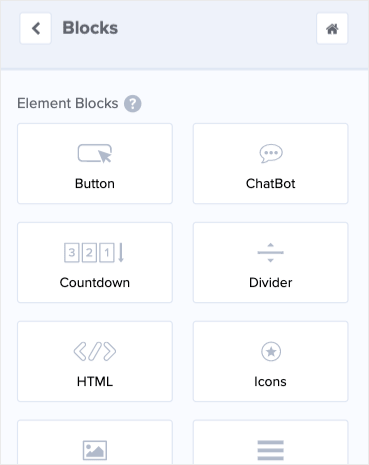 And much more! Then you can take any of these blocks, drag and drop them into place, and start customizing for your campaign's goals.
But that's not all. With the Field Mapping feature, you can also add extra fields like:
Text Areas
Numbers
Dropdowns
Radio Buttons
Checkboxes
Privacy notice
And more!
You can configure the individual field width and control the appearance of your field labels according to your preference. Best of all, you can easily map any field to your Klaviyo popup.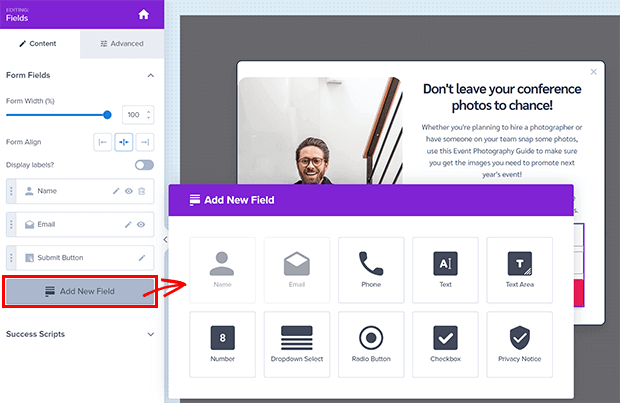 Here are 2 things to consider when creating your Klaviyo popup:
Use high-quality images
Focus on nailing the copy
As you showcase your lead magnet to grow your email list, avoid using stock photos. You want to use a high-quality image of your product to give readers more confidence in your offer.
Related ContentNeed some help coming up with your lead magnet? Check out this list of over 65 lead magnets you can use to get more email subscribers.
If you need some help with your images, you can learn more by reading this post on 15 visual content creation tips you can start using now.
And when it comes to writing your campaign, spend some time crafting a message that speaks to your buyer persona.
Remember, this popup campaign may be one of the first experiences a user has with your brand. You need to write compelling copy that makes it clear why they should hand over their personal contact information.
Focus on what tangible result they'll get from your lead magnet, how it will help solve a problem they're having, and, if you can, add a bit of social proof to give your campaign more credibility.
You can also rely on these 69+ copywriting templates that are proven to convert.
Here's a glimpse of the Klaviyo popup we built for this tutorial (in under 5 minutes):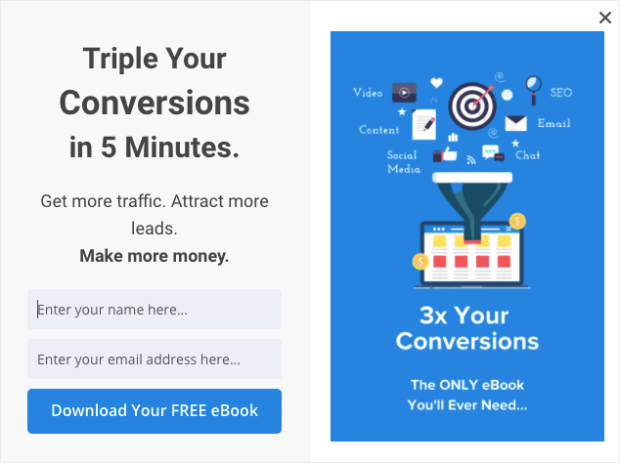 Once you've got the perfect campaign built for your brand and offer, it's time to decide where and when your campaign will appear to your audience.
Let's briefly go through how you can set that up.
Step 3: Display Your Campaign
There's no "one-size-fits-all" solution when it comes to where and when you should display your Klaviyo popup campaign to grow your email list.
It depends on your website, your content, and your goals.
But one of the most effective triggers you can use is Exit-Intent®, which displays your popup as visitors try to leave your site.
This is a really powerful tool to have because 70% of people who leave your website never come back.
With Exit-Intent® campaigns, you can recover many of your visitors who planned on leaving. In fact, using an exit-intent popup is how the digital marketing agency Fastrack was able to recover 53% of their abandoning visitors.
But one of the most exciting things is that, now, you can use Exit-Intent® on mobile devices too!
In the past, Exit-Intent® Technology was limited to desktop only. But now, you can harness this powerful trigger for your mobile users.
Learn more by reading this post on how to create mobile exit-intent popups that convert.
To add an Exit-Intent® trigger to your Klaviyo popup campaign, head over to Display Rules at the top of your editor:

Change your first condition from Time on Page to Exit-Intent®, which can be found in the dropdown menu: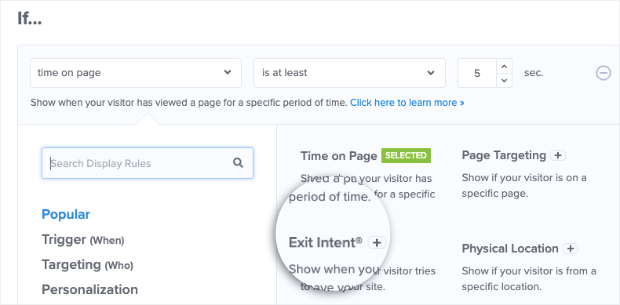 Then decide whether you would like your campaign to use Exit-Intent® for desktop, mobile, or both: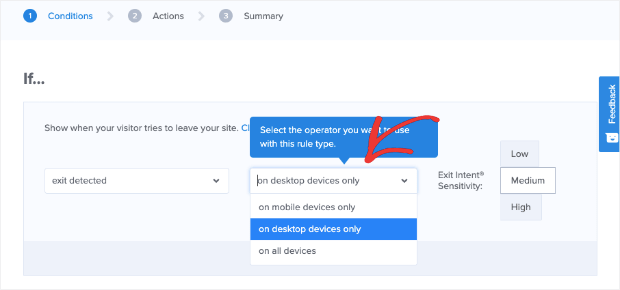 And, finally, set the level of sensitivity that you'd like for your exit-intent trigger from Low, Medium, or High:

NoteOn mobile, Low and Medium sensitivity will create a scroll up trigger, and High sensitivity will create a back button trigger. Read this post to learn more about how mobile Exit-Intent® works.
Again, this is just one of the many options you can use to determine when and where you'll display your Klaviyo popup. You can decide which targeting rules and triggers are most suited for your goals.
Now, we need to sync your campaign with your Klaviyo account.
Step 4: Integrate Your Klaviyo Account
In the header menu of your editor, head over to Integrations:

On the left-hand side, click + Add New Integration: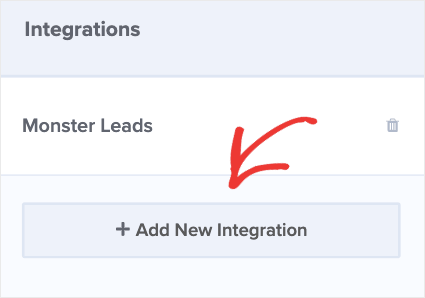 You'll see a dropdown menu containing a list of email providers. Scroll down until you find Klaviyo: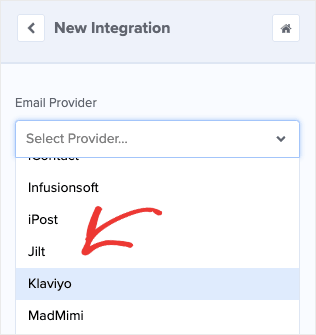 Then you need to give your account label a name: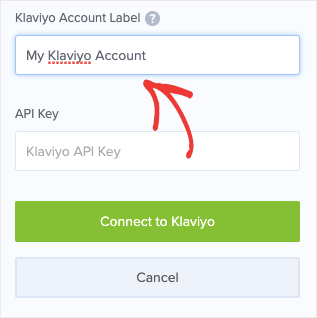 This can be any label you need to keep yourself organized. If you aren't using multiple lists, you can use a generic name like "My Klaviyo Account."
Then insert your Klaviyo account API key. For that, you'll need to head to your Klaviyo account dashboard: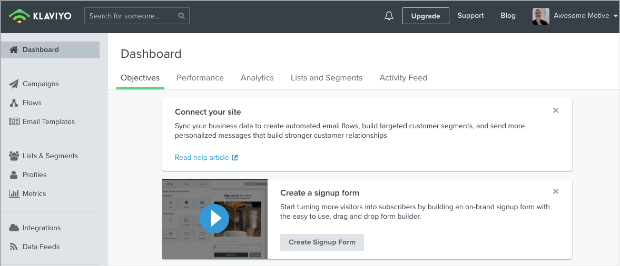 In the upper right-hand corner, go to your accounts dropdown menu and click the first option, Account: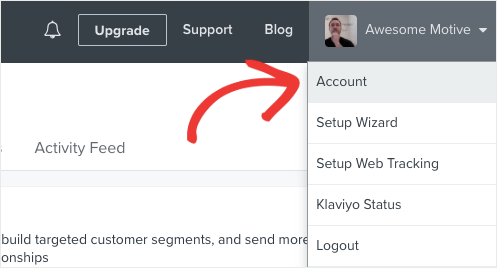 Go to Settings from your dashboard menu:

And click API Keys:

If this is your first time using Klaviyo and you don't have an API key yet, you can simply click Create API Key: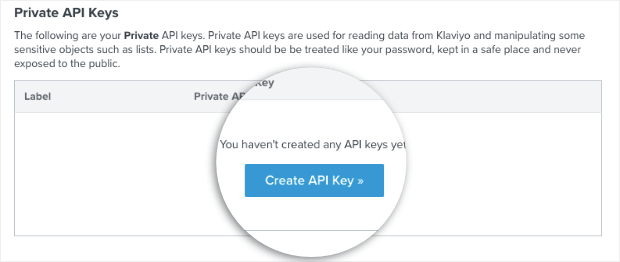 Now copy your API key and paste it back into your OptinMonster account where indicated: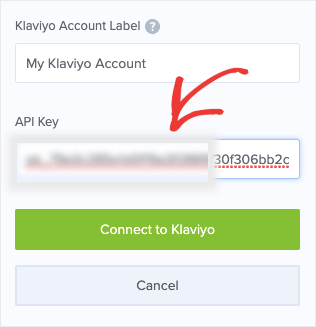 Then click Connect to Klaviyo: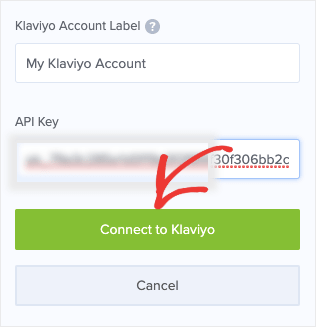 And that's it! Once you're connected, you can easily segment your audience by selecting a contact list in Klaviyo for your campaign: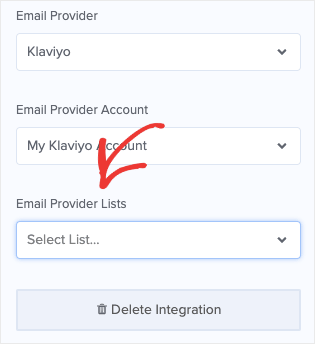 You now have a custom Klaviyo popup campaign to get more email subscribers. This is the campaign we built for today's tutorial in under 5 minutes: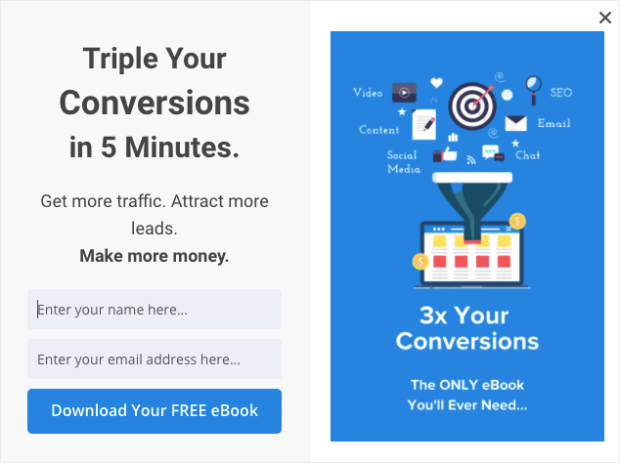 When someone signs up for the eBook, they'll automatically be sent to the appropriate email list in Klaviyo that can be later used for newsletters, affiliate marketing, or product upsells, releases, and sales.
More Helpful Resources for Email Marketing
Once you've grown your email list, you still need to know how to use it. For that, we recommend checking out the following articles:
These guides and resources will help you generate more revenue from your newly acquired Klaviyo email list.
We hope you enjoyed this article and, if you did, feel free to share it with a friend. And for more information on OptinMonster, check out this post: How Does OptinMonster Work: 8 Benefits (+ 12 Case Studies).
Ready to get dive in? Sign up for OptinMonster today, risk-free, to start getting more conversions and sales in a fraction of the time!