OptinMonster integrates with Google Analytics to give you a quick glance on how your campaign forms are performing. You can analyze clicks, views, and overall conversion rate for each campaign form and their variations. OptinMonster also tracks the referral page for each conversion thus giving you a better understanding of which post or page on your site is getting the most conversions.
Step 1 – Add Google Analytics to Your Campaign
Google Analytics are added on a per Campaign basis and are managed per campaign. This is done so you can track each campaign submission as an event.
As you are creating your campaign (or modifying it), you can connect your analytics. Select the Analytics tab in the campaign builder. You will see the active connections you have for your campaign. Since you haven't set this up yet, go to the Google Analytics row and click connect.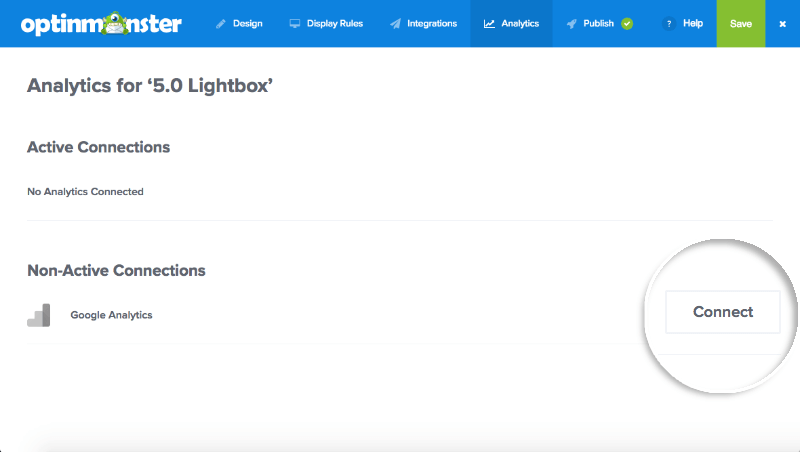 If you already have integrated a Google Analytics Account, then you will be able to select it from the dropdown. If you have not yet integrated a Google Analytics Account or want to integrate a new account, choose the Add a New Google Connection option from the Google Analytics Account dropdown.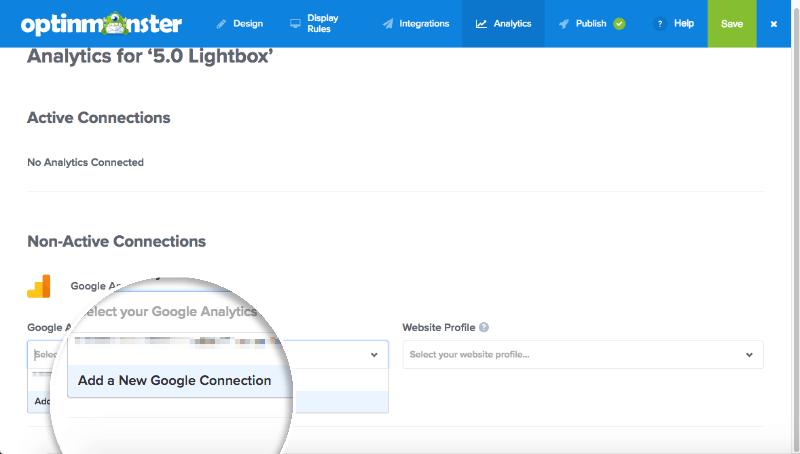 Step 2 – Add New Account
Once you click to add a new account, you will see our notice pop-up in blue:
"We need to authenticate your Google Analytics Account with OptinMonster before we can enable Google Analytics tracking for your campaign campaigns."
To continue, select the Generate Authentication Code button.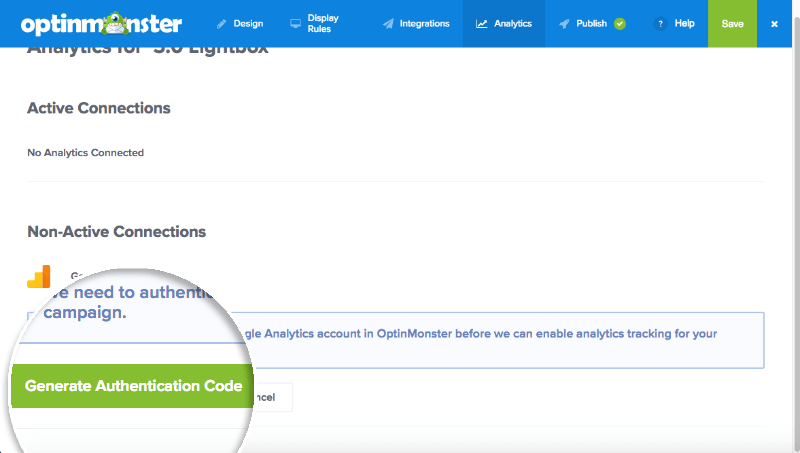 Step 3 – Connect to Google
You will then have a new window popup, asking you to connect OptinMonster to your Google Account, so it can view your Google Analytics data. Select the Allow button.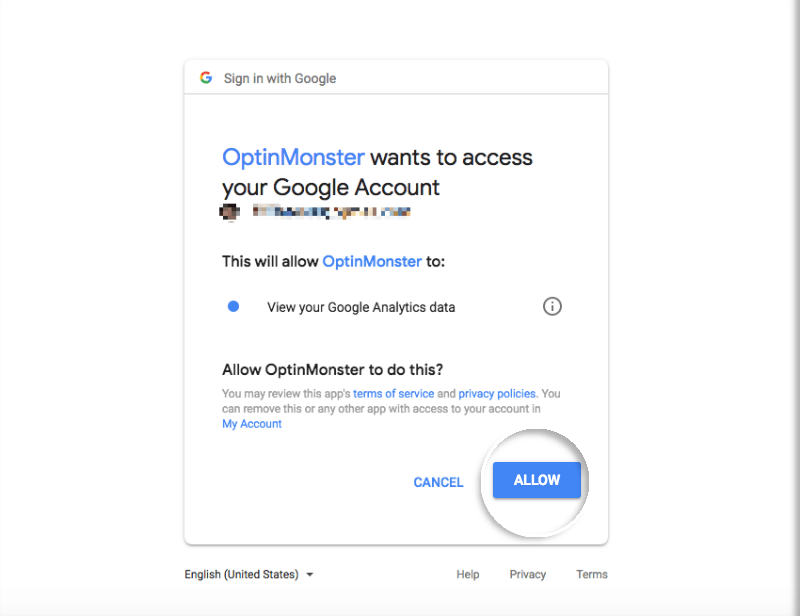 On the next screen, you will see a generated code, copy that code to proceed.

Once your code is copied then return to the campaign builder and paste it into your Analytics field where it says Authentication Token. In the Account Label field give your integration a unique name – this can be anything that will make this specific integration easily identifiable for you.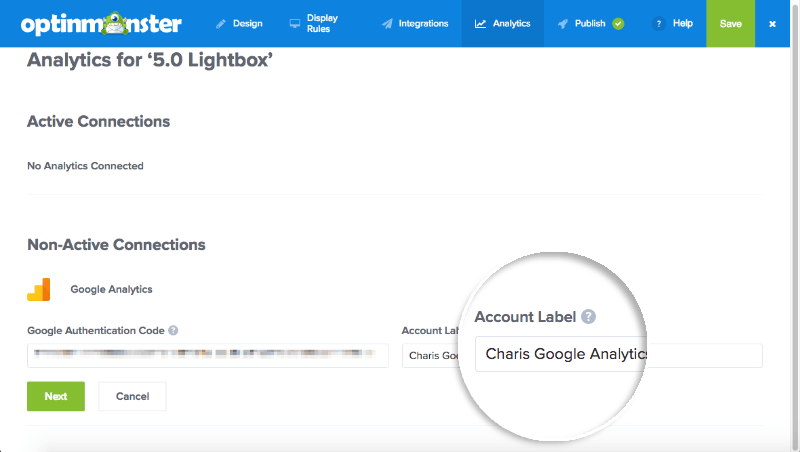 Then click the Next button. On the following screen you can choose the Website Profile. The recommended profile is All Web Site Data of the property that you want to connect with this specific campaign.
Warning: If the campaigns Google Analytics property is different than the domain where the campaign is permitted to load, then you will not receive any analytics data. However, if the campaign is on a sub-domain of the connected Google Analytics profile then you are good.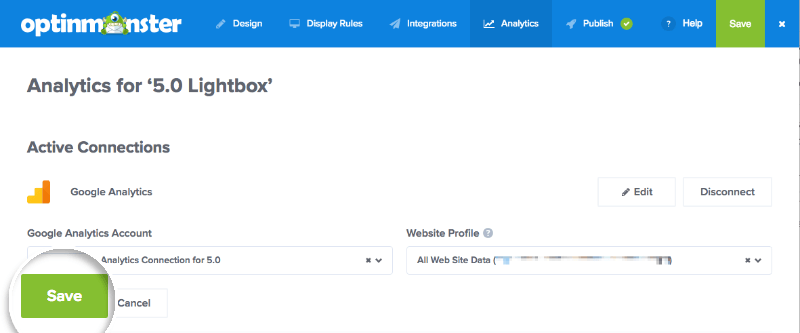 Once completed, select the Save button. You will see a success message regarding your fully connected Google Analytics to OptinMonster.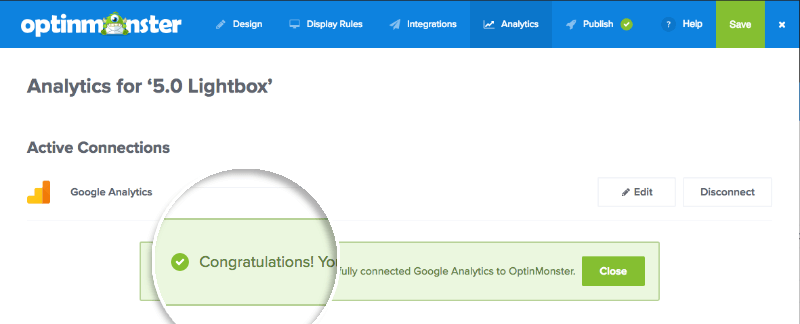 That's it! You're done! You can now track impressions and conversions for your campaign!
Want to view even more in-depth reports on your analytics? You can do this by viewing the stats directly within Google Analytics!
---
FAQ
Q: Where Do I View My Campaign's Analytics?
A: You can view reporting on your campaign by going to your Dashboard.
Click the small Arrow Icon beside the campaign of your choice.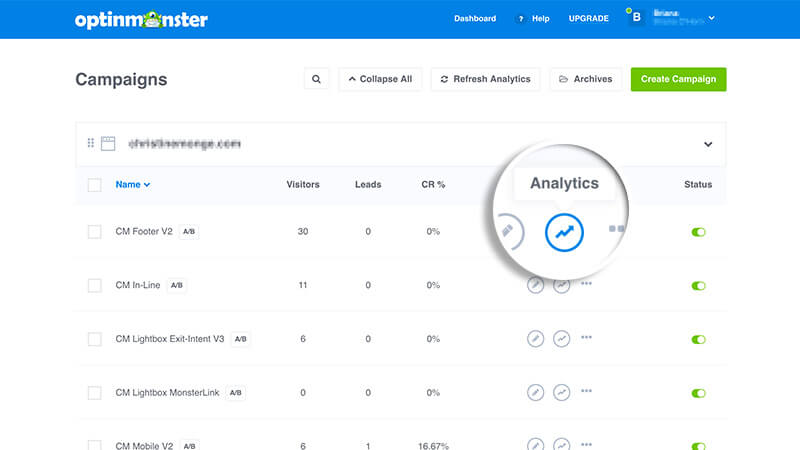 Once the screen opens, you can see a graph of your campaign over time (with customizable time ranges).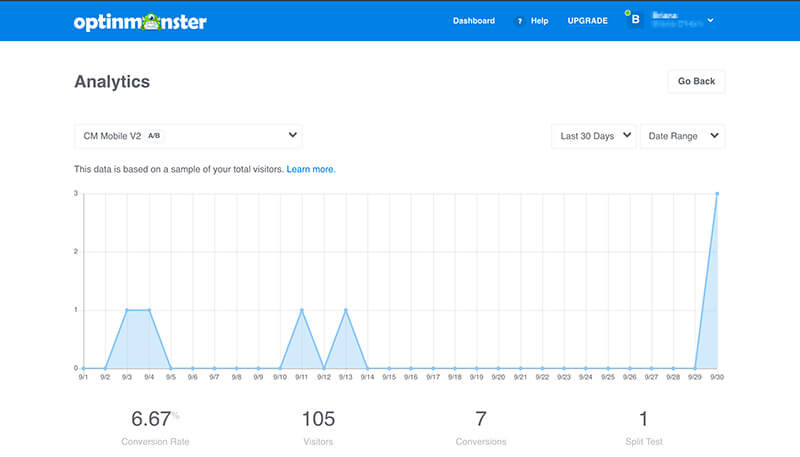 You will also see a list of your top 10 converting pages for that campaign.

Important Things to Know about How OptinMonster Handles Analytics
Regarding Impressions: Our analytics grabs data based on unique impressions and not total impressions. We have done this because we want to get the conversion data for the lifespan of the particular visitor and not simply every single visit they make. After all, that is the goal – to get a visitor to convert, regardless of how many times they visit.
Regarding Dashboard Data: The analytics we display on our dashboard is not real-time but cached data. Even once connected to Google Analytics, our data will be delayed by 24 hours. You will not be able to see your campaigns in real time on our Dashboard. You can, however, view events directly in Google Analytics by following our guide. When viewing Google Analytics directly, you should be able to see real-time events.
---
Q: How Do I Remove Google Analytics?
A: Disable Google Analytics for Individual Campaigns
To stop collecting stats for an individual campaign, in the Analytics panel of the campaign builder's Google Analytics Account dropdown choose the Select your account… option. Save your campaign and it will no longer collect stats.
A: Remove a Google Analytics Integration from your OptinMonster Account
To remove a Google Analytics integration from your account completely, first go to your My Account page by clicking the User Icon.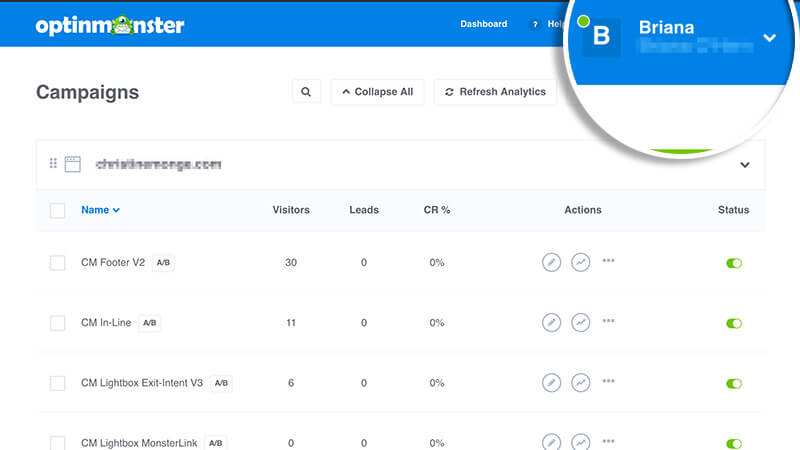 Next, navigate to the Integrations page by selecting the link from the sub-menu of your Dashboard.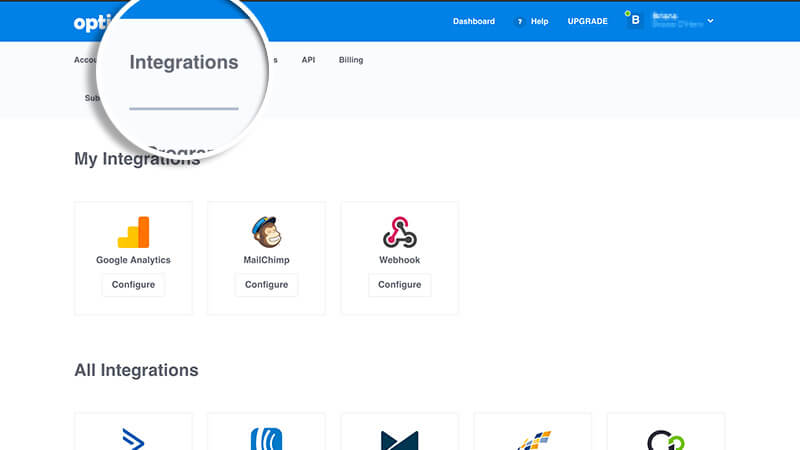 On the Integrations page select Configure button of the Google Analytics integration to expand it's view.
From here you can delete any existing integrations by selecting the Disconnect link.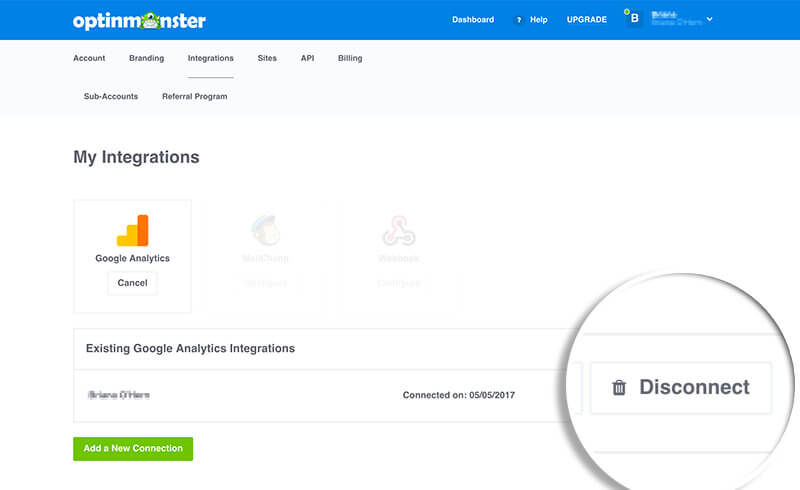 Confirm your deletion, and the Google Analytics connection is then removed.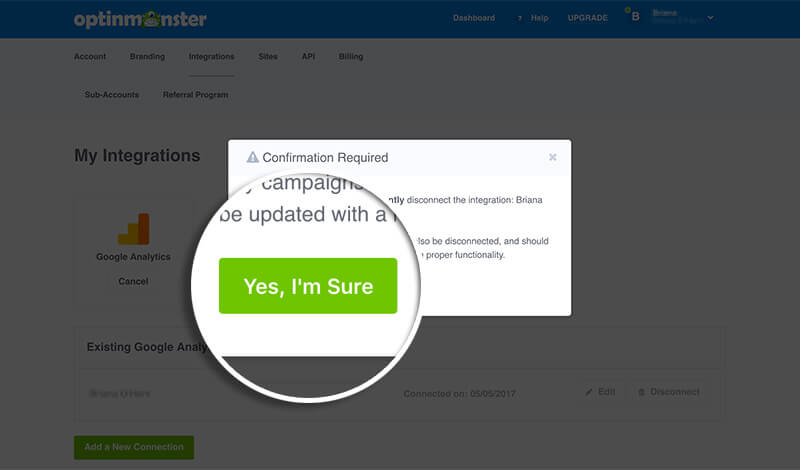 ---
Q: Why don't my site visits match my campaign impressions?
A: There are several reasons a campaign's impression data does not match your overall pageview count in Google Analytics, including:
Order of campaign loading: if you have multiple campaigns of the same type they will load on the page in the order they're embedded in the DOM. If for some reason the visitor never proceeds through the first campaign that appears of that type they will not end up viewing any additional campaigns of that type until they do.
For example, assuming you have three lightbox campaigns embedded throughout your entire site:
– Scenario 1: The homepage is set to load all of the campaigns. Campaign 1 appears to the visitor but they exit the page before loading campaign 2 and campaign 3.
– Scenario 2: campaign 1's page targeting excludes the campaign from loading on the homepage, as a result campaign 2 loads on the homepage first and there's no impression counted for campaign 1 on this pageview.
Cookie Settings: OptinMonster allows you to set both Individual Cookies and Global Cookies to help control how often your campaigns appear to visitors.
– Individual Cookies: Once a visitor has successfully subscribed, or closed the campaign with the close icon, a cookie will be set for the number of days you've specified. Once that time has lapsed the campaign will appear to them again.
– Global Cookies: What this does is prevent any popup campaigns from appearing to a visitor only once they've successfully subscribed through one of your campaigns. This allows you to more finely tune the appearance of the campaign to your visitors. If you've set an individual cookie for any campaign and the visitor closes or submits the campaign they won't continue to see that campaign even if they continue clicking through your site and generating pageview in Google Analytics. If you've set a global cookie for the domain and the visitor closes or submits an campaign they will not see any other campaigns on the site until the cookie duration has passed or they clear their browser's cookies. See our cookie documentation for more details.
Desktop vs. Mobile: Is your campaign configured to load on only specific devices? You'll want to be sure you're filtering your overall Google Analytics page-views by the device used and compare to mobile vs. non-mobile campaigns running on your site.
Configuration: Depending on the settings you've defined for each individual campaign it's possible for Google Analytics to count a pageview (the webpage finishes loading) and for the visitor to navigate away from or exit your site before the campaign is shown to them. As a result, GA will reflect a pageview but your campaign will not count an impression since it did not appear to the visitor.
As a result, it's rarely possible to run a direct comparison between the impression count of an individual campaign and the overall (unfiltered) pageview count of your site in Google Analytics.
---
Q: How Do I track Conversions if I am Using Custom HTML or Canvas?
A: Add the 'om-trigger-conversion' class to your Submit Input Button.
---
Q: What data does OptinMonster send to Google Analytics?
A: We send the event type (impression or conversion), campaign name and ID. It's possible that Google Analytics may also track other data with this that we don't control. However the bolded items above is all that we (OptinMonster) are sending.