OptinMonster already makes it easy to connect your campaign to Google Analytics to track impressions and conversions. Follow this guide to learn how to further leverage Google Analytics to create and track event goals!
IMPORTANT: This guide will help you get started creating Google Analytics Goals with OptinMonster, however it's important you customize the goal for your own specific needs to be sure it's providing value to your analytics. Due to the custom nature of your specific Google Analytics Goals, we're not able to provide support in setting up or troubleshooting Goals.
---
OptinMonster Events in Google Analytics
Normally when you want to track a goal in Google Analytics, you must first setup some code to track a specific event. With OptinMonster, we take care of this for you.
To get started tracking impressions and conversions as events in your Google Analytics account, follow our guide to connecting Google Analytics to your campaigns.
Note:
When first connecting your campaign to Google Analytics, there is an
initial delay of 24-48 hours
before stats will appear in your OptinMonster account. Following this delay, stats are cached ~24 hours. To access stats in real time you'll need to access your Google Analytics account and use their
Real Time feature
.
---
Creating Your Goal in Google Analytics
Now that your campaign is connected to Google Analytics, it will automatically begin tracking impression and conversion events. It's time to start creating an Event Goal!
Step 1 – Log into Google Analytics
First, log into your Google Analytics account and navigate to the Admin.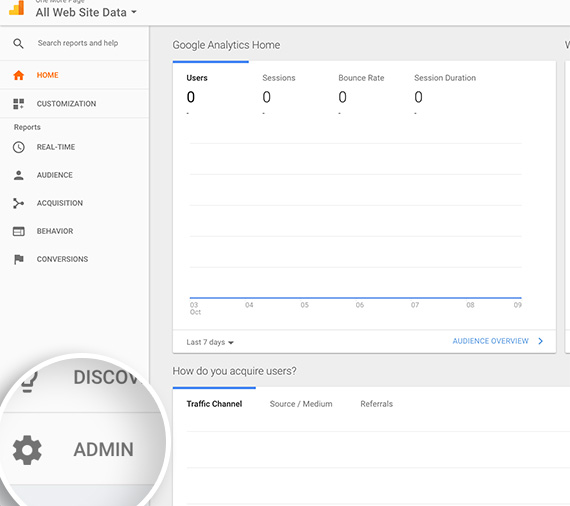 Step 2 – Select the Account & Property
Once in the Admin screen, select the Account and Property you want to create an Event Goal with.
Important: The Property you select must match the Property set to track stats for your campaign in the Analytics panel of the campaign builder.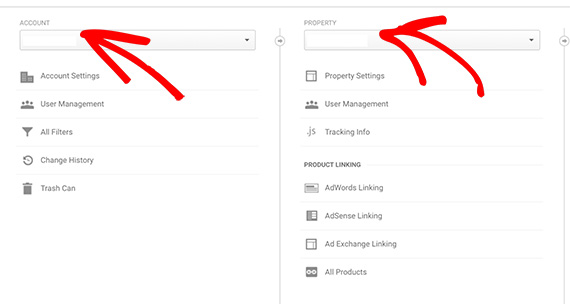 Step 3 – Create a Goal
Next, navigate to the Goals section of the Admin for this Property. If you've created any Goals you'll see them here, if you haven't yet created any you'll have the chance to create a new Goal in this screen.

From this screen, select the + New Goal button to create a new Goal.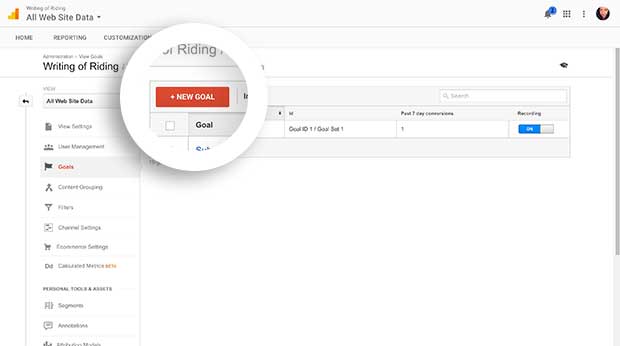 Under Goal Setup, choose Custom, then select the Continue button.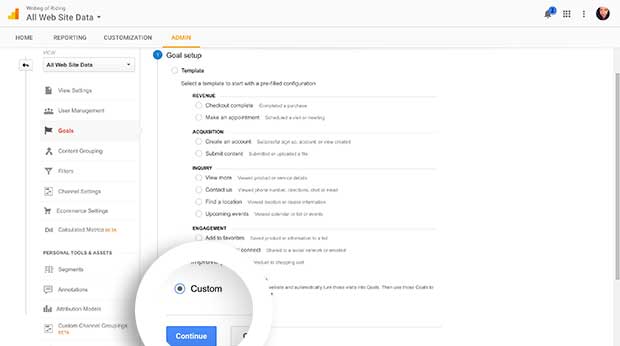 Next, for Goal description, give the goal a name. This will appear in the Goals screen for you to easily identify your specific goal later on.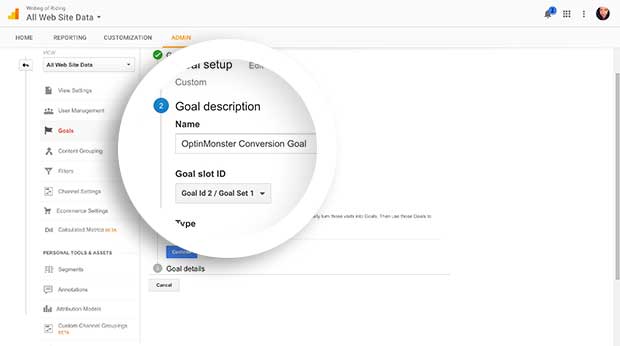 Under Type, choose Event.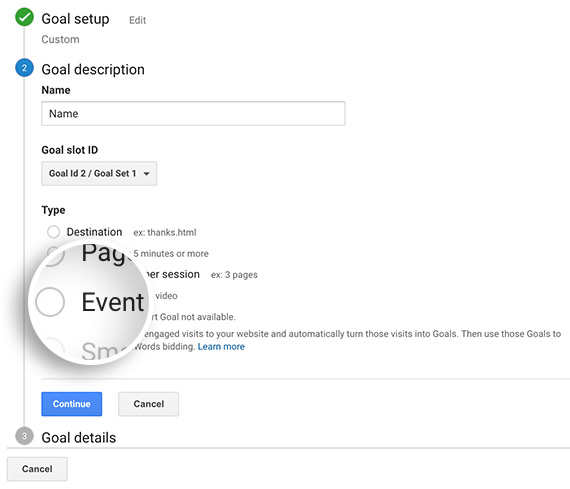 Then select the Continue button.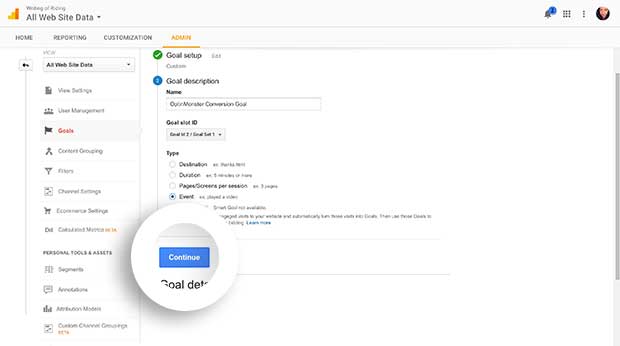 Google Analytics will ask you for the specifics of your Event Goal. In this example, we're going to track the conversion event for a specific campaign.
We do this by setting the event Action as 'Equals to' conversion, and the event Label as 'Equals to' the Unique ID of your campaign.
Your own event Label should match the Unique ID of your specific campaign.
Unsure where to find the ID of your campaign?
Open your dashboard and click the dots under
Actions
for the campaign. The ID you need is the
Unique ID
: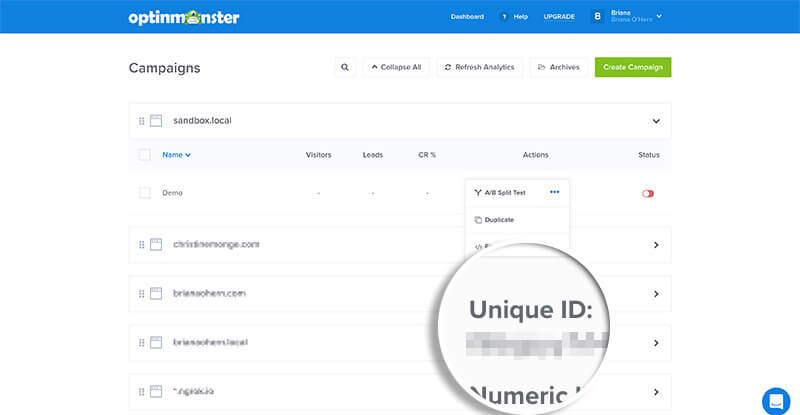 Finally, select the Save button to finish your event goal.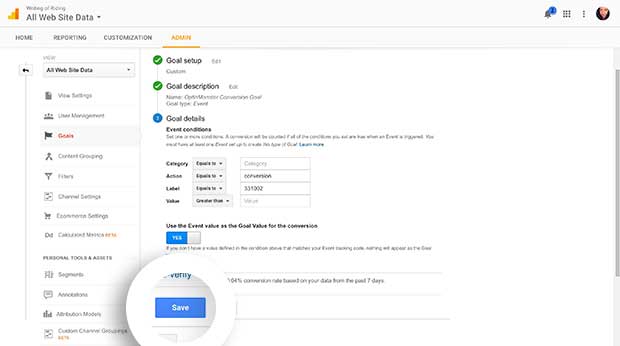 Step 4 – Enable Goal Recording
Once you save your new goal, you'll be returned to the Goals screen in your Google Analytics Admin. The last step to complete before your goal will begin tracking is to turn on Recording: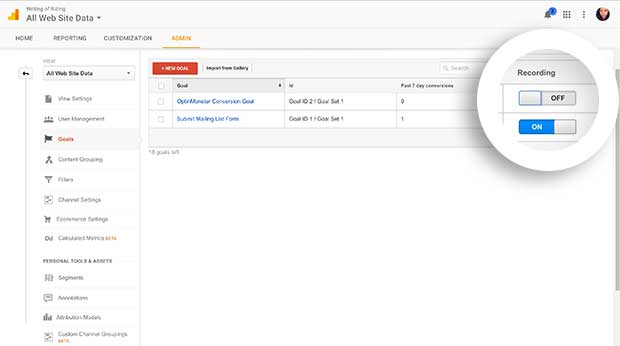 That's it, you've successfully created an Event Goal in Google Analytics!
---
FAQs
Q: Do I have to configure my Goal as outlined in this guide?
A: No! Consider this a starter guide to help you get familiar and comfortable creating your first Goal. In fact, you'll want to customize your Goals to fit your specific needs so this guide may not cover the specific Goal you end up creating in your own Google Analytics account.
---
Q: Can I enter the Title of my Campaign instead of the Numeric ID?
A: Yes, if grabbing the numeric ID doesn't fit your workflow, you can enter the Title of your campaign as the event Category instead.
Important: If you use the Title of your campaign in the setup of your event goal, it is imperative that your Campaign's Title not change in the future. In the main steps of this guide we recommend using the campaign ID because this will never change for your individual campaign.
---
Q: Can I track my campaign's impression events instead of conversions?
A: Yes! Simply change 'conversion' to 'impression' for the event Action when configuring your goal.