Do you want some membership website examples that are actually profitable?
Membership websites are often touted as an easy way to monetize your content and generate leads for your business. But it can be easier said than done to create a profitable membership site.
In this article, we'll show you some examples of membership websites that make money and break down just what makes them so successful.
Let's get started!
What's a Membership Site?
A membership site is a separate part of your website that offers membership perks like gated content, exclusive or early access to products and services, community forums, and more.
Your membership can be free or paid. Paid memberships may charge a recurring subscription or a one-time fee, and you can also have different levels of membership for different prices.
Membership sites are great for increasing traffic, website engagement, lead generation, and revenue for your online business.
What Successful Membership Websites Have in Common
It's not hard to add membership functionality to your website, especially with a powerful WordPress membership plugin like MemberPress. But in order for your membership-based site to attract lots of engaged, loyal members, you need more than just a paywall.
Purpose
You must have a defined, compelling purpose for your membership program. That purpose is most often to solve a problem, inspire action, or provide a gathering space online. The best memberships and online communities achieve some combination of these goals all at once.
Content
The best memberships have high-quality content and programming that supports the membership's purpose. You may consider offering online courses, webinars, individual or group coaching, gated blog posts, downloads, podcasts and more in your membership.
Regardless of format, think about whether your members-only content is live or on-demand. More interactive content like webinars and coaching might be better off as live events, while evergreen digital products like courses and downloads can be on-demand.
Another thing to consider is whether to give access to all the premium content at once or drip it out slowly over time or as certain milestones are reached. Again, think about how the content and programming supports the purpose of the membership. Are members supposed to follow a step-by-step process to achieve their goal, or is it more free-form? That will determine how to set up access to your membership content.
Membership Model
Like your exclusive content, the membership model you choose should also support the purpose of your membership. Some factors to consider for your membership plans:
Membership term: Fixed or ongoing?
Content access: Limited or lifetime?
Payment plan: Recurring or one-time fee?
Price point: High, medium, or low ticket?
These factors aren't strictly defined, of course, but it gives you something to think about when structuring your membership. There are exceptions to every rule, but here are some general guidelines:
Problem-solving: Charge a one-time fee or offer a limited term membership. Once they achieve their goal, they may exit the membership.
Inspiration: Some people want motivation for a short period, while others want to keep going longer, so offer both term-limited and ongoing options.
Gathering: For more casual hangouts, a recurring membership that people can join any time makes the most sense.
You may decide to offer different membership levels and payment plans based on individuals' motivation and resources.
Successful Membership Site Examples
Now let's take a look at some examples of membership communities that are doing it right!
Magnetic Makers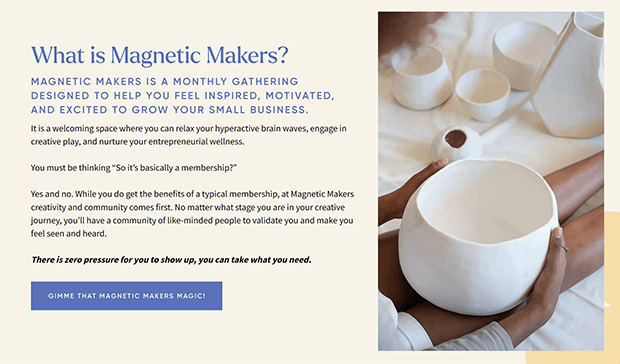 Purpose: Inspiration, Gathering
Membership Model: Monthly fee, always-on, no minimum term
Magnetic Makers is a membership for creative entrepreneurs like artists, crafters, coaches, and more. They offer monthly trainings for business owners, creative workshops to relax and inspire, brainstorming sessions, and a community space to connect with other creatives.
The relaxed feel matches the simple, no strings attached membership model. Pay a monthly fee to access all the tutorials, resources, and events as long as you wish.
The Copywriter Underground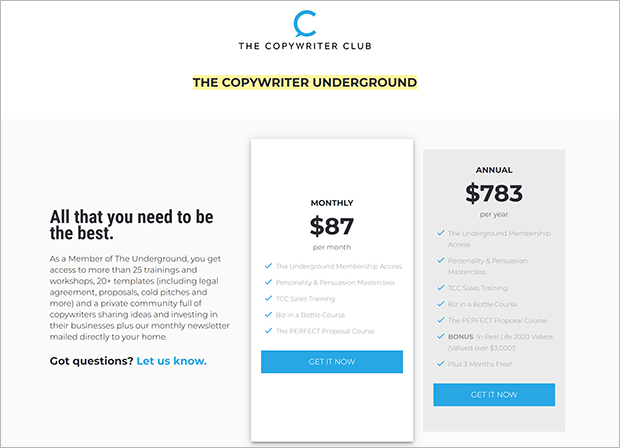 Purpose: Problem-solving, Gathering
Membership Model: Monthly or annual fee, always on
The Copywriter Underground is part of The Copywriter Club's suite of programs. Designed to help copywriters write better copy and build a more sustainable business model for themselves. Members get access to copywriting and business courses, video trainings, templates, coaching sessions, and live guest expert sessions.
The Copywriter Underground is a lower-priced alternative, add-on, or continuation of The Copywriter Club's other higher-ticket, fixed-term memberships that are more focused on achieving specific outcomes.
Build in Public Mastery

Purpose: Problem-solving, inspiration
Membership Model: Fixed term cohort, lifetime access to resource library
Build in Public Mastery is a course-centered membership that helps founders build a community around their products. What really makes this membership work is the flexibility it offers new members and alumni alike.
There's a self-paced curriculum, a live cohort, 12-month access to community events, and lifetime access to resources like templates, case studies, and data sets.
Build in Public Mastery also offers a money-back guarantee, which helps build trust.
Handweaving Academy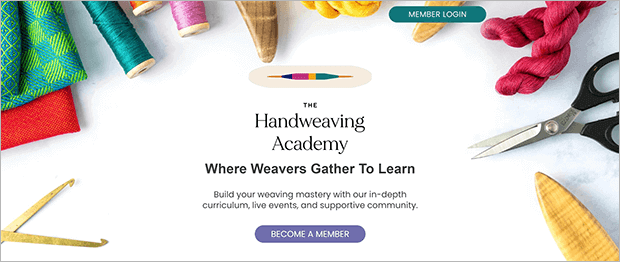 Purpose: Problem-solving, Inspiration, Gathering
Membership Model: Monthly subscription with 2 membership levels, always on
This online membership site provides online courses and resources to inspire weavers and improve their weaving skills.
In addition to the educational content, there are also class photo galleries to share projects, peer support sessions, and discussion forums that build a strong sense of community. The premium membership option also includes live interactive webinars.
Arlan's Academy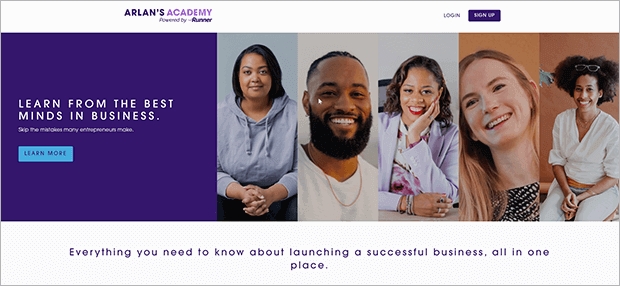 Purpose: Problem-solving, Inspiration
Membership Model: Free membership with access to all courses, always on
Arlan's Academy is a professional development course library assembled by venture capitalist Arlan Hamilton. The all-in-one membership offers a wide variety of courses for small businesses and investors alike. New content is added monthly, making this an incredible resource for members.
Unlike the other memberships on this list, Arlan's Academy is free! The membership generates leads for Arlan's consulting and for individual course creators and builds brand awareness for Arlan's companies. Free memberships can be a great way to build your email list and bring new leads into your sales funnel.
Good Inside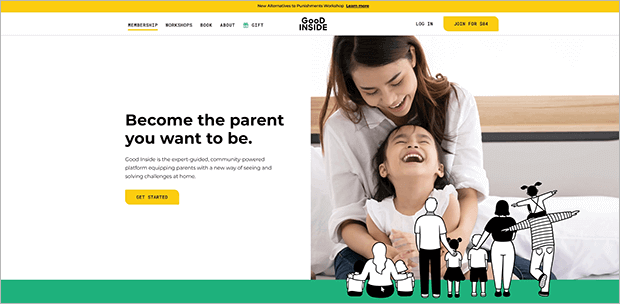 Purpose: Problem-solving, Inspiration, Gathering
Membership Model: 3-month minimum membership term, always on
Dr. Becky Kennedy's parenting membership grew out of the free content she's posted on social media sites like Instagram and TikTok. Good Inside provides support for parents through in-depth topical workshops, scripts for tough parenting moments, a coach-supported member area, and weekly Q&A sessions with experts.
Good Inside has a 3-month minimum membership term because the founder believes that changing parenting habits takes time. This is a great example of how a membership model supports the purpose of the membership.
Peak Freelance

Purpose: Problem-solving, Inspiration, Gathering
Membership Model: Monthly fee, always on, no minimum term
Peak Freelance is a membership for freelance writers that offers expert interviews, online courses, monthly town halls, community hangouts, a job board, and other freelancer resources.
True to its purpose and target audience, Peak Freelance is a self-serve membership. Members use the resources they need as long as they want to pay for membership.
How to Create an Amazing Membership Program
Want to know how to create a membership site that generates traffic, leads, and revenue for your business? Follow these 5 simple steps:
Define a purpose for your membership. How will your membership transform those who sign up?
Create different types of content that support the transformation your members want to achieve.
Pick a membership model and pricing plan that align with the purpose of your membership.
Choose a membership platform that lets you build the kind of membership you want.
Market your membership website to the right target audience through email marketing, social media, referrals, and other proven marketing strategies.
One way we love to market membership sites is to use OptinMonster!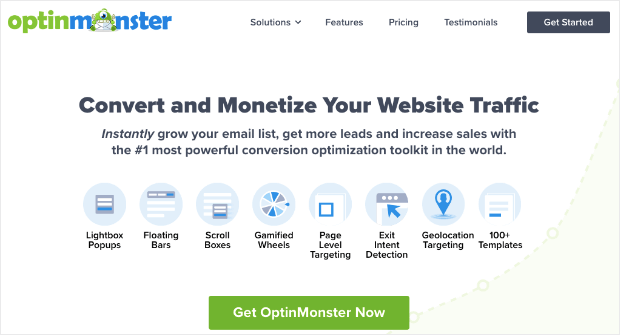 OptinMonster is the best popup builder for WordPress that integrates seamlessly with the membership plugin MemberPress. With OptinMonster, you can display popups promoting your membership based on what page a visitor is on, whether they're already a member, and so many other factors.
For example, when someone first signs up for your membership, you can invite them to share on social media.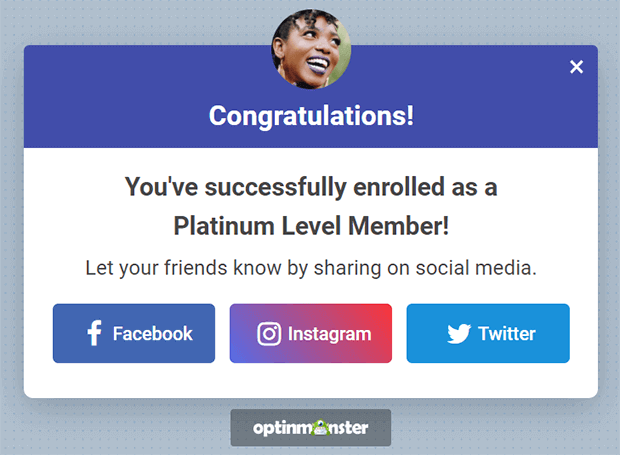 Or you can trigger a popup when someone tries to access members-only content.

Plus, you can use OptinMonster's drag and drop builder and other display rules to create high-converting campaigns throughout your website.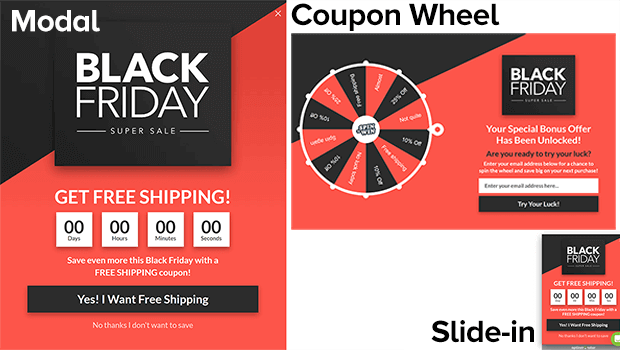 Get Started With OptinMonster Today!
BONUS: Done-For-You Campaign Setup ($297 value)
Our conversion experts will design 1 free campaign for you to get maximum results – absolutely FREE!
Click here to get started →
Are You Ready For Your Own Membership Website?
We hope these examples of membership sites have shown you what makes a membership business successful.
If you're inspired to make your own membership site, we've got you covered! Check out our lists of the best membership WordPress plugins and best membership website builders.