Are you looking for the best Shopify upsell apps to grow your revenue?
Upselling and cross-selling is a great way to boost your sales. If you're using Shopify for your ecommerce business, there are plenty of apps to help you upsell or cross-sell with ease.
In this article, we'll go over the best Shopify upsell apps for your ecommerce store.
Let's get started!
What Are Upselling and Cross-Selling?
Upselling, cross-selling, and downselling are sales strategies for increasing average order value (AOV) and overall store revenue.
Upselling is persuading a customer to buy a more expensive version of a product they were looking at. Store owners often offer discounted upsells to persuade customers to buy. For example, the upgraded version may normally cost $100 more, but you can offer it for only $50 more if customers upgrade from the shopping cart.
Cross-selling is offering relevant products that relate to the original product, often at a discount to motivate the additional purchase. Keep in mind that many apps refer to "upselling" when they really mean cross-selling.
Downselling is showing an abandoning customer a lower-priced option to try and save the sale. The idea is that some revenue is better than no revenue at all.
For example, imagine a customer buying a throw blanket for their couch. An upsell would be a larger blanket or one woven from more expensive materials. Potential cross-sells would be matching pillows and other room decor. And a downsell would be a smaller blanket.
Here's a visual comparison of upselling vs. cross-selling: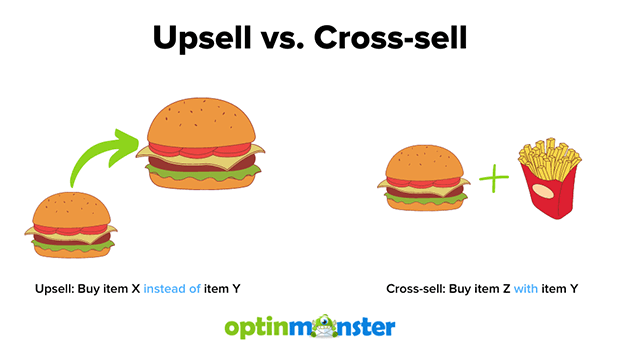 What to Look For in a Shopify Upsell or Cross-Sell App
If you're selling on Shopify, you'll need an app in order to offer upsells and cross-sells. When picking an upsell or cross-sell app for Shopify, consider the following factors:
Ease of use: How easy is it to create and edit your upsell offers?
Integration with other Shopify marketing apps: While most Shopify apps will work with each other, dedicated integrations with review apps or email marketing apps can make all of your marketing efforts more effective.
Types of upsell or cross-sell offered: Consider where and when you want to offer upsells and cross-sells and find an app that does those well.
Customer Support: How easy is it to get help if something technical breaks?
Pricing: Are the features and benefits worth the investment? Many Shopify upsell apps charge a monthly fee in addition to a commission on upsells made through the app, so read the fine print carefully.
Many apps allow you to offer both upsell and cross-sell in Shopify, but this is not the case for all apps.
Furthermore, you can upsell and cross-sell in multiple places, from the product page to a thank-you page after checkout. Different apps allow you to upsell at different points in the customer journey.
It's therefore very important to think through your upselling strategy before you choose an upsell app for your Shopify store.
With all this in mind, we picked our favorite upsell apps from the Shopify App Store. Let's take a look!
Top 10 Shopify Upsell & Cross-Sell Apps

If you're new to upselling, you might be wondering, "Are there any free upsell apps for Shopify?" The answer is yes! Upsell & Bundle Products is primarily a cross-sell app, despite the name. You can create post-purchase offers that add specific products to existing orders or show frequently bought together bundles on product pages. Yes, the app is totally free, and the support is highly rated as well.
Features:
Frequently bought together bundles
Volume discounts
Intelligent product recommendations
Pricing: Free

ONE is another free upsell app on Shopify. In addition to one-click upsells on the checkout page, ONE comes with a whole host of marketing features, all in one free app.
Features:
Countdown timers on upsell offers
Email and SMS marketing
Popup builder
Abandoned cart, checkout, and browse recovery
Pricing: Free

AfterSell is one of the best upsell apps for Shopify. As the name suggests, AfterSell focuses on making post-purchase offers. Customer enthusiasm often peaks at purchase, so it's a great time for upselling. One unique feature of AfterSell is the ability to downsell a lower-priced add-on if the customer rejects the initial upsell. The app also doesn't take a percentage of upsell revenue.
Features:
Single product and multiproduct offers
A/B testing to optimize your upsells
Custom thank you page builder
Product reviews and FAQ widgets
Pricing: Free plan available, paid plans start at $7.99/month

ReConvert is a very popular Shopify upsell app that allows you to upsell and cross-sell at checkout and on a post-sale thank you page. You can also add customer feedback, birthday collection, social sharing, and tracking widgets to the checkout page with the ReConvert app. The monthly fee is fairly affordable but you will pay a small portion of your upsell revenue to the app.
Features:
Smart AI product recommendations
Automatic discount distribution
Advanced segmentation
Visual funnel builder
Pricing: Free plan for 49 orders/mo; paid plan starts at $7.99/month plus 0.75% commission on upsell revenue

Frequently Bought Together is one of the best Shopify cross-sell apps. It generates Amazon-style product recommendations on your product pages to boost sales. You can manually set up product bundles or let the multiple AI algorithms do it for you.
Features:
Bundle discounts: percentage discount, fixed amount, cheapest item free, free shipping discounts
Tuned for popular shopify themes
Manual installation check
Ratings and review stats from other review apps
Pricing: Free for new stores, paid plan starts at $9.99/month

In Cart Upsell & Cross-Sell is one of the few dedicated in-cart upsell apps on Shopify. Their "no popups" strategy is meant to upsell while preserving an uninterrupted shopping experience. In Cart Upsell & Cross-Sell has a unique geotargeting feature that allows you target offers based on the shopper's location. This can be a good way to maximize cross-sells of seasonal or regional products.
Features:
Advanced targeting features based on location and product quantity
Automatic upsell discount application
AI-powered autosuggest
Pricing: Free plan available with 1 upsell offer, paid plan starts at $19.99/month

Candy Rack is an all-in-one upsell app that specializes in displaying offers right after customers click add to cart. In addition to one-click upsells and a smart auto-upsell feature, Candy Rack lets you upsell premium services like gift packaging or extended warranties.
Features:
Mobile-first layouts
Smart auto upsell
Customizable popups with real time previews
24/7 chat and email support
Pricing: Plans start at $29.99/month based on what Shopify plan you're using

Zipify OCU is another premium Shopify upsell app. Besides the 1-click upsells in-cart and after checkout, Zipify also features an easy-to-use offer landing page builder and advanced upsell triggers by product, variant, or collection.
Features:
Native Shopify integration
Built-in split testing
Mobile-responsive and editable funnels
Pricing: Plans start at $35/month plus 1% of upsell revenue

Honeycomb is one of the best Shopify upsell apps, but with a hefty price tag to match. You can build cart page and post-purchase cross-sells, upsells, and discounts. Honeycomb has the unique functionality of upselling warranties, insurance, and other non-product upgrades.
Features:
Autopilot mode to build funnels for you based on where you want to sell more
Pre-checkout, post-checkout, and blog page upsell funnels
Built-in personalization features
Honeycomb app to help you manage your funnels on the go
Pricing: Free plan with 100 monthly views, paid plans start at $49.99/month

CartHook is a top-notch upsell and cross-sell app for Shopify that offers more than just a technical solution. When you use CartHook, you also get free strategy consultations and funnel reviews, along with live in-app chat support. This extra guidance comes at a higher app price, but can help you maximize your investment.
Features:
1-click upsells between checkout and thank-you page
Built-in analytics let you see your new revenue and track your AOV boost
Subscription upsells
Live chat support
Pricing: Starts at $50/month plus 1% of upsell revenue
OptinMonster is not just a great Shopify upsell app. You can also use it to increase conversion rates, prevent cart abandonment and build your email list.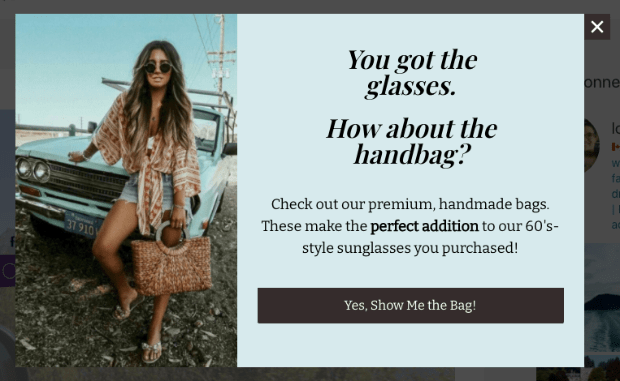 OptinMonster is the best popup builder for Shopify. It comes with an intuitive drag-and-drop builder and plenty of templates to help you get started.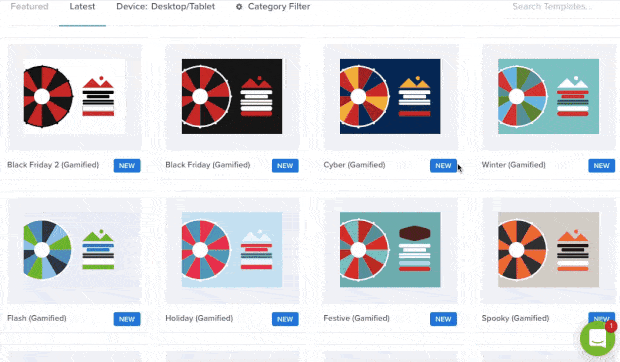 You also get the most powerful targeting rules in the industry so that you can show the right message to the right customers at the right time. With OptinMonster's Shopify display rules, you can target shoppers with specific items in their cart, more or less than a certain cart value, or some combination.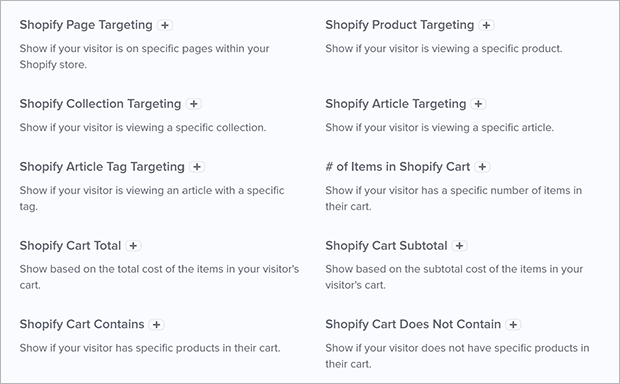 If you're curious, learn how to cross promote related products on Shopify with OptinMonster.
Pricing: Basic plan starts at $9/month, Shopify display rules available on the $49/month Growth plan
That's a wrap! Hopefully, you found a suitable Shopify upsell app for your business from this list.
Next, check out our full list of the best Shopify apps to increase sales.
Ready to start upselling on Shopify? Give OptinMonster a try today!