Are you looking for the best St. Patrick's Day marketing ideas to increase sales across your site?
St. Patrick's day is one of the most festive holidays of the year. And while people tend to celebrate with green beer and corned beef, one thing's clear: most consumers LOVE the holiday.
And by joining in on the holiday spirit, you can improve the user experience (UX) across your site while boosting sales for your online store.
That's why, today, we're going to share 5 St. Patrick's Day marketing ideas that you can use for your website. We'll also include some helpful tools that you can use to make your holiday promotion successful.
But before we do any of that, let's talk about why you should run a sale on St. Patrick's day in the first place.
Let's get started.
Why Run Sales on St. Patrick's Day?
Some people might think that St. Patrick's Day is a holiday for restaurants and bars. After all, the most common way of celebrating is with an Irish meal and a pint of Guinness or green beer.
But you don't need to be in the food or alcohol industry to take part in the fun.
And if you do skip St. Patrick's Day, you're missing out on a huge opportunity to increase sales from your online store. Here's why:
If you run an eCommerce business, then you likely know the value of running a good sale.
There's just one problem: How many holidays are there throughout the year that are directly related to your niche? Probably not many.
That means you're likely running sales randomly every few months and looking for reasons to do so. Which is *exactly* why you should be running sales on holidays like St. Patrick's day…
…because it gives you an excuse to engage your customers and website visitors.
This is the same reason why you see major companies get involved in holidays that are totally unrelated to their products or services. Like how Coca-Cola dominates advertising at Christmas or how Doritos consistently drops millions on SuperBowl commercials.
These holidays give companies a reason to speak with their clients. And LOTS of profits can be generated from these conversations.
But while this is all fun to talk about, how can you run a St. Patrick's day promotion that gets your business the results it needs?
Let's dive into our list of the 5 best St. Patrick's Day marketing ideas.
St. Patrick's Day Marketing Ideas
1) Offer a Special Discount
The obvious starting point is to offer your customers a discount or special offer for St. Patrick's Day. This could be something like 20% off, free shipping, 2-for-1 deals, or many others.
If you need some help coming up with promotion ideas, you might want to check out this post: 22 Sales Promotion Examples to Win More Customers.
Now comes the big question: how do you get this offer to the right people? That's where OptinMonster comes in: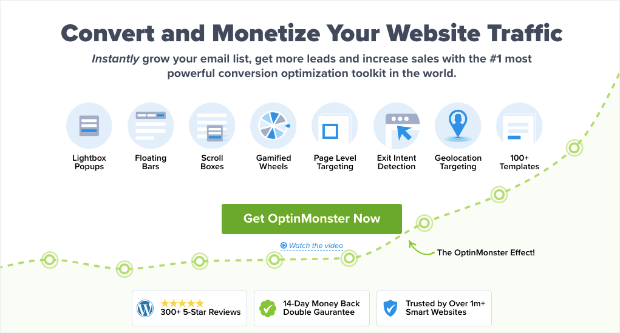 OptinMonster is the world's #1 lead generation tool that makes it easy to promote your St. Patrick's Day offers.
For starters, OptinMonster just released a St. Patrick's Day template that will have your campaign up and running in a matter of minutes: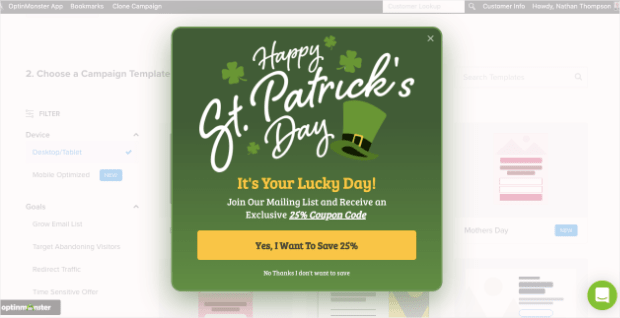 This ready-to-use template looks great across all devices and is easy to modify. With OptinMonster's drag and drop builder, you can quickly make any customizations you want.
Plus, you can use the inline text editor to modify the messaging and make it more personal to your brand and target audience: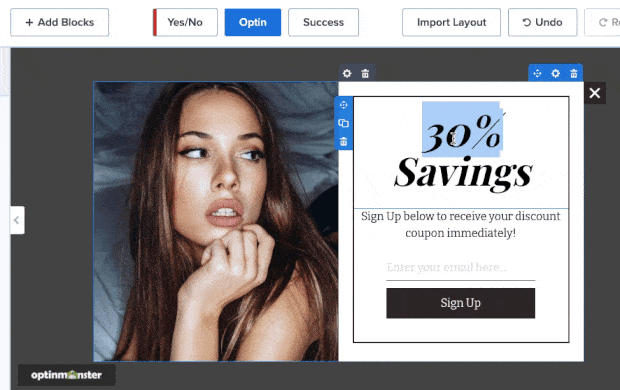 This allows you to easily create professional-grade and high-converting campaigns like popups, floating bars, fullscreen welcome mats, and more.
Once your St. Patrick's Day campaign is built, you'll need to get it to the right people at just the right time in their customer journey. For that, you can use OptinMonster's powerful targeting rules.
Some of the most popular rules and triggers include:
Exit Intent® Technology: Engage users as they're actively leaving your website.
Onsite Retargeting®: Display new campaigns to returning visitors based on how they interacted with previous campaigns.
MonsterLinks™: Turn any campaign into a clickable button or link.
Geo-Targeting: Show campaigns to users based in specific geographical regions.
These are just a few examples of popular display rules offered by OptinMonster, though there are many others.
But now, you may be wondering, "Do they actually work?" Just check out some of these success stories that OptinMonster customers have had:
Want to see it in action for yourself? Click below to start your 100% risk-free OptinMonster account today:
Create a St. Patrick's Day Popup!
BONUS: Done-For-You Campaign Setup ($297 value)
Our conversion experts will design 1 free campaign for you to get maximum results – absolutely FREE!
Click here to get started →
2) Use a Spin-to-Win Wheel to Test Your Visitor's Luck
One of the biggest themes on St. Patrick's Day is, of course, luck.
For that, there's no better way to run a promotion than with a gamified popup. We highly recommend using a spin-to-win wheel, like the one offered by OptinMonster: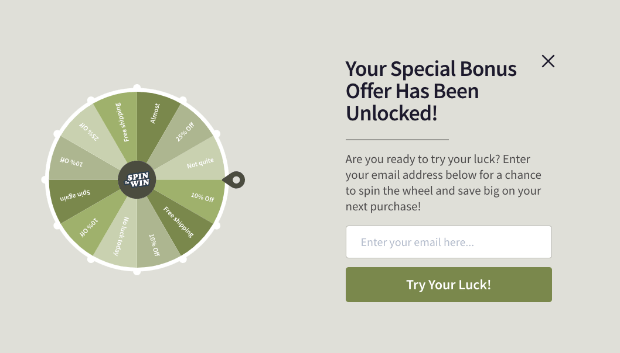 The example above is from a templated OptinMonster campaign (and nothing has been changed for the example).
Just like we saw earlier, every aspect of this campaign can be modified in a matter of minutes. But why use a gamified popup for St. Patrick's Day?
Again, the holiday theme gives you a great opportunity to collect emails and give discounts in a super engaging way.
Though you can use a gamified popup throughout the year, St. Patrick's Day is an especially fitting time to do so.
Want to learn how to create one of these campaigns in under 5 minutes? Check out this post: How to Create a Discount Wheel Popup (the Easy Way).
3) Run a Photo Contest on Instagram
People love to dress up for the holidays, and St. Patrick's Day is no exception. In fact, there's an unspoken rule about wearing green and the annoying consequences of getting pinched if you forget.
But you can use this to create more buzz around your promotion on Instagram.
How? By running a photo contest for the "best dressed" on St. Patrick's Day.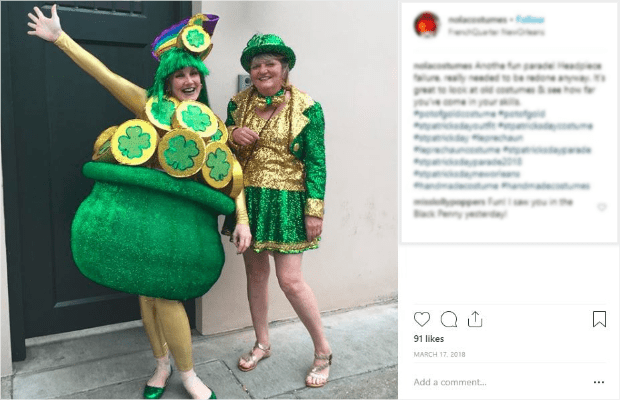 Not only will this give you tons of user-generated content, but it will allow you to engage people on social media and lead them to your website.
And to run a photo contest on Instagram, there's no better tool than RafflePress: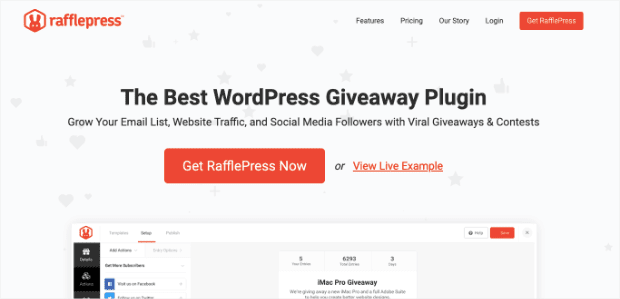 RafflePress is the #1 online giveaway and contest creator designed to make your campaigns go viral. That's because you can award entry points for completing actions like:
Visiting blog posts
Watching videos on your YouTube channel
Signing up for your newsletter
Referring a friend to the contest
And much more.
RafflePress also helps you quickly create a landing page for your contest with a custom URL. This lets you drive traffic to your online photo contest in whatever method you're most familiar with: organically or with paid advertising.
For more information, check out this post: How to Host an Online Photo Contest on Instagram.
Or are you ready to try it out for yourself? Get started with RafflePress today!
4) Showcase Your Holiday Spirit on Social Media
Whether or not you choose to run a contest on Instagram, one thing is certainly clear: you should be showing off your holiday spirit on social media.
Select your favorite platform and use St. Patrick's Day as a way to reach out to customers and start meaningful conversations.
Engage with your audience, check out how they're celebrating, and write posts that motivate your audience to interact with you.
You can also drive more traffic to your social media platforms by adding social feeds to your site. For that, you'll want a tool like Smash Balloon: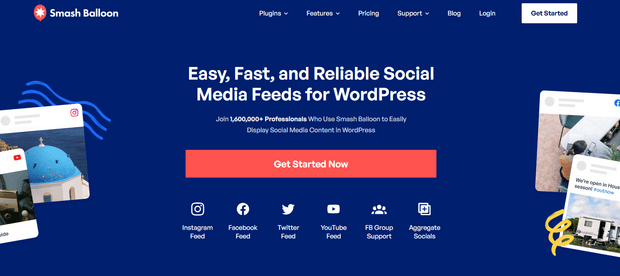 Smash Balloon is the #1 social media feed plugin on the market. It lets you quickly and easily add social media feeds to your website. This includes platforms like:
Instagram
Facebook
Twitter
YouTube
And more. But you may be wondering, how does this help with your St. Patrick's Day sale?
As you're leading up to the holiday sale, you can send more of your site's traffic to your social platforms. This is a great way of getting more followers and building your online presence.
Then, on St. Patrick's Day, it will be easier to connect with your audience on social.
And if you run a photo contest like we suggested in the last tip, you can showcase all the participants directly on your website.
This leads to more likes, shares, and followers for your social accounts and more traffic to your site.
Ready to see how it works? Try out Smash Balloon for your St. Patrick's Day social promotions today!
5) Hide "Treasure" Across Your Site
You may have heard the term "Easter Eggs" in digital marketing before. This is where you hide a special offer somewhere on your site.
Then you have 2 options:
Let people know you have a hidden offer
Let people find your hidden offer by accident, so they spread the word organically
Either way, hiding these little easter eggs on your website is a great way of using gamification to improve UX.
While there are many ways you can do this, the easiest way is with TrustPulse: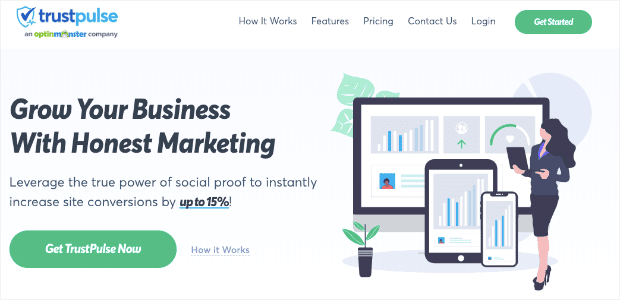 You may know TrustPulse as the world's best social proof software. But what you might not know is that it can be used for MANY other purposes as well, including adding hidden surprises to pages on your site.
That's because TrustPulse now allows users to create static messages for their site's visitors. And since you can make these messages appear on specific pages, you can hide "pots of gold" all over your site in a matter of minutes.
These campaigns could look something like this:

Then you can attach a URL link to your notification that redirects users to a landing page. From there, your site's visitors can enter their email to receive their coupon code.
And the best part about TrustPulse is that it's ridiculously simple to install, set up, and manage.
You can build professional and stunning notifications in a matter of minutes with zero coding skills required.
Try out TrustPulse today 100% risk-free!
And that's it! These have been the 5 best St. Patrick's Day marketing ideas that you can use to boost conversions and sales for your online store.
Create a St. Patrick's Day Popup!
BONUS: Done-For-You Campaign Setup ($297 value)
Our conversion experts will design 1 free campaign for you to get maximum results – absolutely FREE!
Click here to get started →
We hope you enjoyed this post. If you did, then you might want to check out the following resources:
These articles will have even more ideas, tools, and tricks to make your St. Patrick's Day promotions even more successful!