Are you looking for the best lead generation tool to grow your business, but aren't sure which one will do the best job?
OptinMonster and ConvertKit are 2 popular marketing tools. And they both have features that get your business more leads and sales.
But only one of these tools is designed to get you as many new leads as possible in less time.
So today, in our OptinMonster vs ConvertKit comparison, we'll look at 5 reasons why OptinMonster is better for growing your email list. More specifically, we'll show that OptinMonster helps you:
But before we dive into all that, let's take a brief look at what each software is and what they do best.
What Is ConvertKit?
ConvertKit is primarily an email service provider, but they also offer other lead generation tools, including landing page creation and basic sign up form campaigns.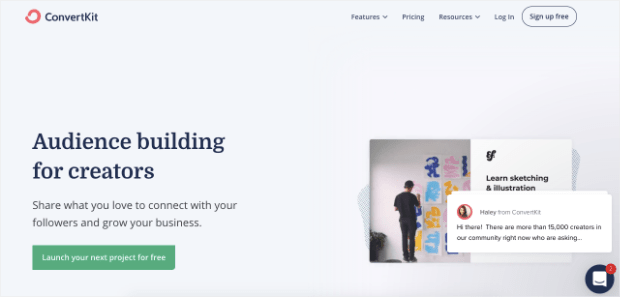 ConvertKit is a great product for sending email campaigns to your contact lists. They offer email automation, segmented contact lists, and detailed analytics reports so you can improve open rates.
On the lead generation side, users can create 3 types of sign up campaigns:
Popups (for exit-intent)
Slide-ins
Inline campaigns
They also allow you to create landing pages to capture email addresses.
Pricing begins at $29 per month for up to 1,000 subscribers and $49 per month for up to 3,000 subscribers. Then it scales to $119 per month once you've reached 10,000 subscribers.
But since ConvertKit is an email service provider with lead generation features, some customers wonder what the difference is between OptinMonster and ConvertKit and whether they should invest in 2 separate tools.
For that, let's look at what OptinMonster is and does best.
What Is OptinMonster?
OptinMonster is the world's best lead generation and conversion tool on the market.

We focus on getting your customers to take the action you want them to on your site. That includes getting more email addresses, phone numbers, sales, or any conversion goal you have.
Plus, we help you out at every stage of your customers' journey. How do we do it? Through a variety of campaign types, fine-tuned targeting options, triggered campaigns, detailed analytic reports, among other tools.
Basically, we get you more leads with less time and effort no matter what size company you are.
From day one, it's been our goal to level the playing field and help small to medium-sized businesses compete with the "big guys."
For more information on OptinMonster, check out this post: How Does OptinMonster Work: 8 Benefits (+ 12 Case Studies).
But how are we specifically different from ConvertKit? That's simple: we're are not an email service provider. That means we can grow and segment your contact list, but we don't send your actual email campaigns.
That's done separately and, as you'll soon see, it's a huge advantage to your marketing strategy.
So as we compare OptinMonster vs. ConvertKit, it's important to remember the context of what we're talking about:
Growing your email list.
Because even if you use ConvertKit as your email service provider, OptinMonster is still worth investing in. And here are 5 reasons why.
Ready to Dive In?: Sign up for OptinMonster today to start driving traffic, boosting conversions, and skyrocketing sales. Try it risk-free with our 14-day money-back guarantee!
5 Benefits of OptinMonster
1) Maximize Email Signups With Multiple Campaigns
As we mentioned earlier, ConverKit comes with 3 different types of campaigns you can use to grow your email list.
At OptinMonster, we have 9 different campaign types, including:
Lightbox Popups
Fullscreen Welcome Mats
Slide-in Scroll Boxes
Floating Bars
Countdown Timers
Sidebar Forms
Inline Forms
Content Lockers
Coupon Wheel Optins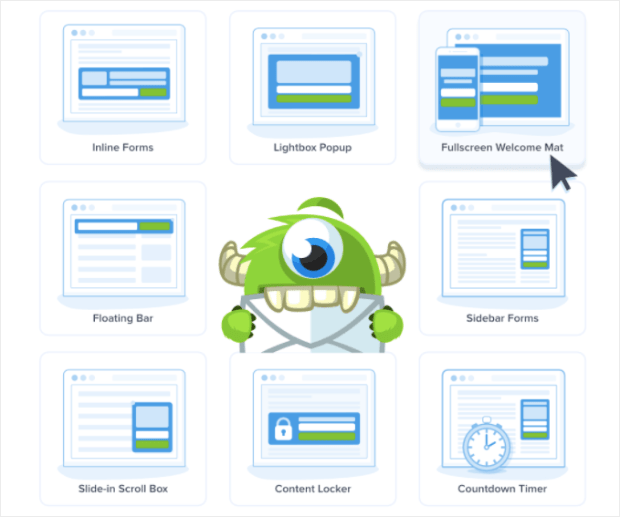 Each of these campaigns works better in some contexts than in others. For example, you may want to have a sidebar form on every page of your blog, like we do at OptinMonster:

But you may want to showcase a floating bar on specific pages of your site to emphasize a sale like WPForms:

The more campaign types you have to choose from, the easier it becomes for you to capture more leads in less time.
Here's what 1 user had to say on the popular review site, G2:

Since that review was posted, we've only added more campaign types and features to grow your email list!
2) Grow Your Email List Through Personalized Messaging
One of the main goals of every successful company is making sure their customers feel valued. That means trying to improve user experience (UX) with every interaction visitors have with your site.
A large part of that can be accomplished by personalizing your messaging.
Rather than showing all of your visitors the same generic messages, OptinMonster lets you personalize your campaign's copy. We do that through our many targeting and trigger options.
For example, you can write specific campaigns to speak to visitors based on how they've interacted with your site using OnSite Retargeting®. This way, you can avoid showing the same campaign to people who have already visited and make sure your promotions are always on point.
Or you could use Page-Level Targeting to make sure your optin campaigns are relevant to the content your visitor is looking at.
In fact, Page-Level Targeting combined with Exit-Intent® Technology is how Rich Page increased his conversions by 316%.
Since OptinMonster offers so many ways to customize when, where, and what your campaigns display to target audiences, you can drastically increase your sales and conversion rates.
Ready to start seeing massive results like Rich Page? Sign up for OptinMonster today risk-free!
3) Attract More Leads With Yes/No Campaigns
Sometimes, even the best campaigns can hit a wall no matter what software you use. It can often feel tough for marketers and business owners to get users to opt into their offers.
That's why we allow every campaign to transform into Yes/No campaign.
Traditional optin campaigns typically include a catchy headline, a nice image, and a field box where users can enter their name and email address. They look something like this: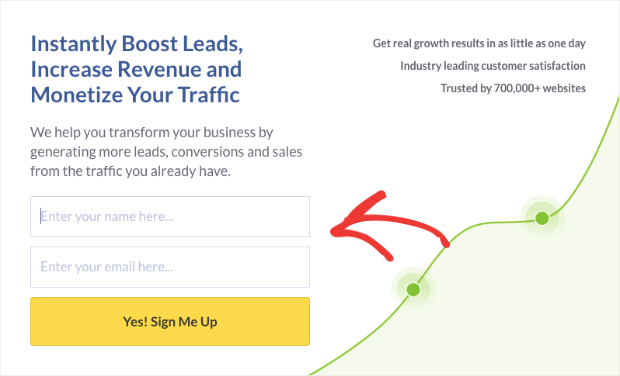 Yes/No campaigns take a different approach.
Instead of jumping straight to a contact form for the user to fill out, the campaign asks the user a simple "yes or no" question: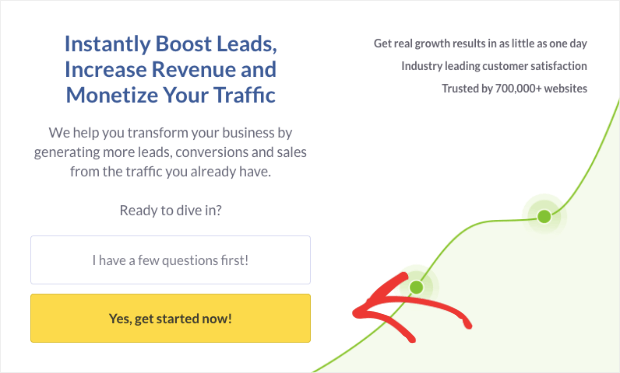 When the user clicks yes, they are taken to another form where they can input their contact details. Now, at first glance, you may think that adding another step to the optin process would make it less effective.
But it turns out, the reverse is true!
Yes/No campaigns leverage a psychological marketing hack known as the Zeigarnik effect. This proven phenomenon shows that people are more likely to finish a process once they've started.
That means if you can get users to click your Yes option, they'll be more likely to opt into your offer.
This is the same strategy that Internet Success Gids used to boost optins by 250%.
With OptinMonster, you can turn any of our campaigns into a Yes/No optin form. And to make sure you're getting the best results, you can even run a split test between the Yes/No form and the traditional strategy.
But that takes us into our 5th advantage of working with OptinMonster.
4) Optimize Conversion Rates With Split Testing
Too many marketers are leaving their conversion rates up to chance. They'll create a campaign for every page on their site and collect a few leads per month without realizing how many more they're leaving on the table.
With 1 simple change, they might find massive success in a mediocre campaign's performance. How can they know for sure?
By running a split test.
With just the click of a button, OptinMonster lets users create a split test to optimize their conversions. Once you create a campaign, simply go to your dashboard and click Create Split Test: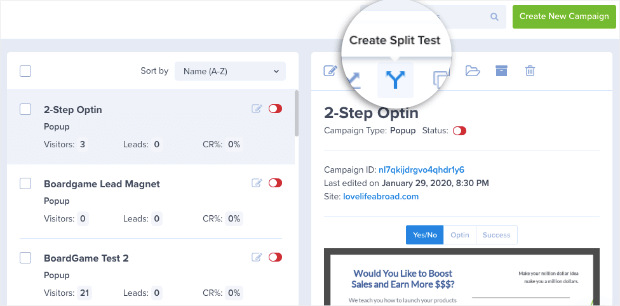 Then you can modify 1 element of your campaign and let it run.  After a few weeks, you can compare the results, determine which campaign is working best, and move forward with the winner.
Once you begin split testing your campaigns, you can feel confident that you're getting as many conversions as possible and not leaving anything up to chance.
Split testing is what Logic Inbound did for one of their clients to skyrocket conversions by 1500%!
Here's what another 5-star rating review had to say specifically about our split tests:

Again, our testing strategies are the only way you can feel confident about having an optimized conversion strategy.
5) Avoid Feeling Trapped by a Software
A common question we get from potential clients is why they would separate their lead generation tools from their email service provider. After all, isn't it more convenient to keep those 2 parts of your marketing strategy together?
It might be at first, but can be dangerous long term.
When you're first starting out, your needs and contacts won't be the same as when you expand and grow. You may want to switch email service providers who offer more competitive pricing as you get more subscribers.
This happens all the time.
But when your lead generation tool is wrapped with your email service provider, then changing platforms is a bigger headache. You'll need to figure out how to send new leads to the email provider you change to.
This is one of the main reasons we suggest keeping those parts of your marketing strategy separate.
Since OptinMonster easily integrates with any email service provider on the market, you'll never feel stuck with an email provider you no longer want.
Instead, you'll have the freedom to choose the right tools at every stage of your company's growth.
Thinking about switching email service providers? If so, we highly recommend the following:
Constant Contact: an excellent solution for small businesses who value phone/email support
Brevo (formerly Sendinblue): the perfect choice for businesses on a budget looking for a free option to get started
Drip: the most advanced option for eCommerce
These have been, in our experience, some of the best options for a business to scale with over time.
OptinMonster vs ConvertKit: Which Is Best?
Comparing OptinMonster and ConvertKit is tough because, at their core, these are 2 very different products.
ConvertKit is mainly an email service provider that gives you a few options to grow your email list.
OptinMonster, on the other hand, focuses on growing your email list and getting you more sales. It's the only thing we do, so we make sure we do it best.
So in terms of which is better for lead generation, OptinMonster or ConvertKit, it's not really a fair comparison. For that category, OptinMonster comes out the winner every time because we help:
Maximize email signups with multiple campaigns
Grow your email list through personalized messaging
Attract more leads with 2-step optins
Optimize subscribers with split testing
Avoid getting trapped into 1 software
But what all that really boils down to is this:
OptinMonster gets you more leads and revenue with less time and effort.
Ready to get started? Sign up for OptinMonster risk-free with our 14-day money-back guarantee.
And once you've built that email list, you'll need to know how to monetize it. For that, check out these helpful resources:
These posts have everything you need to generate more revenue from your email lists.