Are you looking to improve your marketing game, but not sure how? Studying a successful company like IKEA and implementing their strategies is a good place to start.
In this article, we'll look at 7 marketing tactics IKEA uses to grow their business and engage with their customers, and then look at how you can implement these strategies into your own business.
Ready? Let's dive right in.
1. Create an Experience, Not Just a Product
What's the first thing you think of when you think IKEA?
It's probably furniture, but it could also be Swedish meatballs or a Saturday afternoon meandering through their giant warehouse while arguing with your spouse.
Shopping at IKEA is different than shopping at other furniture stores, and it makes IKEA's model a unique experience for its customers.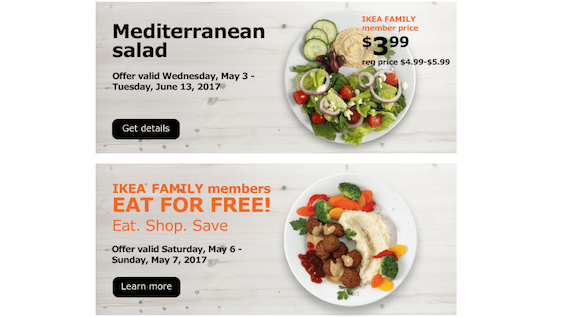 People can buy products from anywhere and from anyone. But if you can give them an experience when they buy from you, you're going to stand out.
And that means they're going to come back to you time and time again.
How You Can Make This Work for You
When you're planning your marketing strategy, you should think outside the typical sales box.
While your goal is to drive sales, there are more ways to do this than simply promoting a product. IKEA's success comes largely from offering other reasons to come to their store besides the needs to buy a new coffee table. You can get a bite to eat. You can get design inspiration from their beautifully set up example rooms. Heck, you can get daycare for your kids.
And while you're there, you'll probably end up buying a few extra things that weren't on your list.
Creating this unique experience for your customers will take some creativity and a good understanding of what it is your audience would like to see from you. But if you can swing it, it will help you bring in more people, make more sales, and endear people to your brand.
These kind of experiences can include things like providing helpful information, in-depth tutorials, workshops to accompany your products, offering other services that are helpful or fun for your customers, and hosting online webinars.
Oh, and Swedish meatballs.
2. Have Strong Brand Identity
The brands that everyone knows are the ones that have a very clear identity. IKEA is one of those brands. Its message of ease, value, and maximizing your space is clear in everything they do.
They are well known for clean advertising with a few bold colors (blue, yellow, and orange, which are the brand's colors) and images showing immaculate homes with modern, clean decor.
When you see picture of an IKEA kitchen, you know it's an IKEA kitchen.
If you want your brand to excel, it's important to have a clear idea of the message you want your brand to send.
How You Can Make This Work for You
You've undoubtedly heard a time or two how your content needs a clear call to action, but when it comes to advertising you have other things to consider.
Every ad you run should also contribute to and reinforce your brand's image, to the point where eventually people will be able to tell it is your ad without much analysis.
To do this, you'll want to start with a clear idea of what your brand stands for. Sit down and think about how you want your brand to be perceived, what words you would use to describe what your brand does, and what makes you different from the competition.
Compile these attributes into a makeshift mission statement. Voila. You have your brand's image.
All advertising should be created with this mantra in mind, and it should extend to everything you do as a company.
3. Invest in Content Marketing
Catalogs and Swedish meatballs are nice, but in the digital age having an effective content marketing strategy is a must.
And with offerings ranging from videos in their Home Tour Series to inspiration boards on Pinterest, IKEA has mastered the art of crafting online content their customers are dying to view.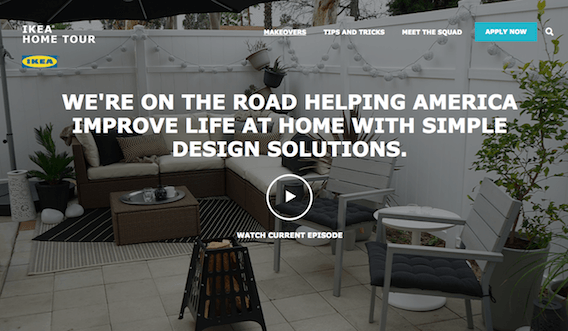 Every chance you get to interact with your customers is an opportunity for you to build your brand, strengthen your relationships with your clients, and promote your products or services.
IKEA recognizes this, and it's one of the reasons they're flourishing.
How You Can Make This Work for You
You shouldn't produce content without rhyme or reason. Start with a clear picture of your audience in mind.
Who are your customers? How did they find you? Are they more likely to hang out on Facebook, Twitter, or (gulp) MySpace? What need are they looking for you to provide for them?
Knowing the answers to these questions will help you craft successful content marketing campaigns that feel natural rather than forced.
IKEA's campaigns contain images, videos, and writing their customers like to engage with in their day to day lives. The products are placed in situations where it almost feels like the customer is stumbling upon them organically (rather than seeing them in a promotion).
Your content marketing efforts should feel organic, too.
If you shoehorn your product or service into your content, your customers will notice.
4. Make Use of Your Social Media Channels
While in a business's early days social media is often a distraction to be avoided, once you're established it's important to use it to its full potential.
Knowing which social media platforms your customers use, and reaching out to them on those platforms, is imperative. For IKEA, those platforms are Facebook, Twitter, Instagram, and Pinterest.
They post promotions, discounts, unique giveaways, events, and news; and they also use it as a platform to share their content. They're responsive to their followers, and they're quick to address any customer complaints.
How You Can Make This Work for You
There's lots of advice out there on how to best utilize social media marketing, but it's actually pretty easy to get started. Facebook has a helpful resource that explains how to use all of their tools for businesses.
Here are some tips based on what has made IKEA successful:
Post frequently. Social media moves fast, so publish often to stay on top of your customer's minds.
Advertise and post social media-specific deals and promotions for your customers. This will increase your followers and keep people interacting with your page.
Listen to your followers. You can help turn a bad experience into a good one by responding to complaints quickly and resolving issues promptly. Check in on social media at least once a day to answer comments and private messages.
Cross promote your posts across multiple social media platforms to maximize your reach.
5. Get to Know Your Customers
Social media is a great way to interact with your customers, but you need to go further.
It seems that so much of marketing is just trying to read your customer's minds, but why not get the answers straight from the horse's mouth? IKEA has run many successful campaigns where they've gotten insight from their customers to help shape their marketing and product decisions.
A great example of this was their First :59 campaign, where they reached out to their customers to ask them about their morning routine and how it impacts the rest of their day.
They then created the First :59 campaign to offer expert advice and tips to their customers.
How You Can Make This Work for You
Reach out to your customers and ask them questions.
Email them a survey. Post a link or phone number on your website. Create a hashtag campaign on Twitter.
Many people are more than happy to share their opinion on issues impacting their lives. This could be specific to your product or to the marketplace as a whole.
You just have to ask them.
6. Keep It Fresh
IKEA is constantly adding to its offerings with new products that often become part of their permanent collection.
Anytime they change things up, they give current customers a new incentive to come check things out, as well as create new opportunities to catch the interest of would-be customers.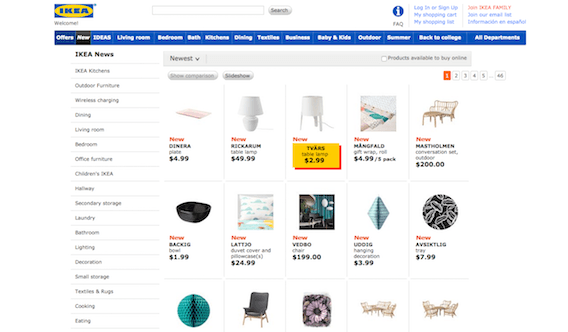 On top of this, they run promotions, events, and community outreach campaigns that catch people's attention and get them talking around the water cooler.
How You Can Make This Work for You
While adding to your roster of products and services is a great way to change things up and attract new business, you can generate new interest in a number of ways.
Create new blog posts or infographics. Publish new videos. Update the design of your website.
Another good strategy is to re-promote some of your strongest campaigns with subtle tweaks.
This will help keep your existing audience engaged while helping you reach out to people who are discovering you for the first time.
7. Don't Take Yourself Too Seriously
Consumers nowadays are getting tired of the hard sell, and that's part of the reason IKEA's strategy resonates with them.
IKEA knows furniture is part of your life, but they also know there are more important things in your life than their products.
Their advertising reflects this by keeping things light and fun.
How You Can Make This Work for You
Don't be afraid to be humorous and lighthearted in your advertising.
IKEA's ad making fun of Apple's intense marketing campaigns for its new products is a great example. This funny satire is immediately recognizable to just about anyone, and it endears the brand further to customers.
Avoid advertising that appears heavy handed or sensational. It's unlikely the product you're selling is going to change your customer's lives forever, but you know that it will improve it!
Ready to Launch a Killer Marketing Campaign?
You now know 7 strategies big companies like IKEA use in the marketing efforts. Ready to implement these content marketing ideas into your own business?
If so, tell us in a comment below!