Want to improve your email marketing? Using your email marketing analytics is one of the best ways to increase your marketing ROI.
Email marketing can be one of your best sources of revenue. And yet, many marketers miss out on sales because they're just guessing at what will work.
Instead, you can use email marketing analytics to know exactly what's working and what isn't, and how to improve.
In this article, we're going to go over 7 numbers you need to know from your email marketing analytics if you want to increase your ROI.
Why You Need Email Marketing Analytics
You might have heard that email marketing has the best ROI out of all marketing channels. That might be why you started doing email marketing in the first place.
But how do you know if your email marketing strategy is actually working?
That's where email marketing analytics comes in.
By strategically tracking your email marketing analytics over time, you can clearly see what's working and what needs adjusting.
Now let's see the most important email marketing analytics for growing your business.
Email Marketing Analytics: KPIs and Metrics to Track
We've listed the following KPIs and metrics in order of importance. We've also included some suggestions for improving your email marketing analytics and thus your ROI.
You should be able to see many of the metrics listed below in most email service providers (ESPs). The most important KPIs are also the hardest to measure, so we'll give you some tips for tracking those.
Don't have an ESP yet? We highly recommend one of the following:
Constant Contact: an excellent solution for small businesses who value phone/email support
Brevo (formerly Sendinblue): the perfect choice for businesses on a budget looking for a free option to get started
Drip: the most advanced option for eCommerce
These are some of the best ESPs for small businesses that plan to scale. It can be tempting to start with a more limited option that may be free forever. But most of these free options won't scale well. Changing ESPs later can be a big hassle, especially if your initial setup can't grow with your business. So we like to recommend ESPs that are growable.
The images from this guide will come from Drip but, again, most modern ESPs offer the same data to their users.
1. Revenue Generated
The most important question your email marketing analytics should answer is, "How much money did this campaign or strategy generate?" It's not the only question, but it's the one that matters most.
Email marketing is affordable, but it isn't free. You usually need to invest in an ESP and a lead generation tool. In some cases, you may also hire copywriters or designers to help craft your email series.
As a business, you shouldn't be spending this money if it's not helping you earn more money.
How to Measure Revenue Generated
Measuring how much revenue your emails generate depends on how your business makes money.
If you're selling eCommerce products, you can use Google Analytics to track which marketing email led to the most sales.
If you make money from booking workshops or services, you can manually track how many signups and bookings you get from subscribers on your email list.
Bloggers or publishers who do affiliate marketing can share dedicated affiliate links through email marketing and see how much revenue comes from those links. Email marketing can also increase site traffic which can indirectly boost ROI by increasing onsite affiliate and ad revenue.
Regardless of your business model, OptinMonster can help you track your revenue without Google Analytics or manual calculations.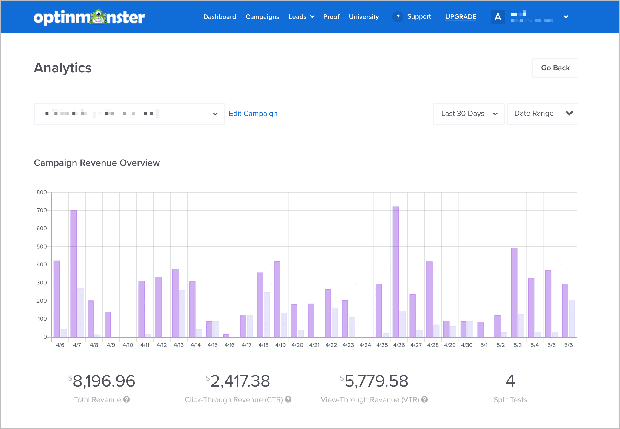 OptinMonster is the best email list building plugin you can find. With OptinMonster, you can create popups, floating bars, fullscreen welcome mats, or other optin campaigns to get your audience to take action.
Most importantly, you can easily see how well your optin campaigns are working. In the OptinMonster dashboard, you'll see the traditional metrics of visitors, conversions, and conversion rate. You'll also see a unique feature called Revenue Attribution. This is how much revenue that campaign has generated.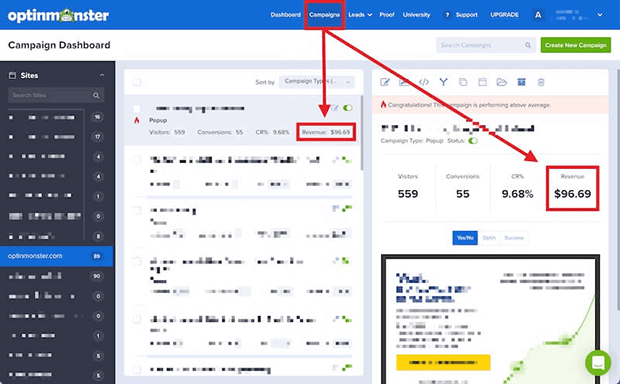 OptinMonster also has powerful targeting rules that let you show campaigns only to specific segments of your audience.
To measure revenue from your email marketing, create a targeted campaign for email subscribers. Then, enable Revenue Attribution for that campaign.
You'll be able to see how much revenue that campaign generates. And because that optin is targeted only to existing email subscribers, you'll know that revenue came from your email marketing efforts.
Want to see it in action for yourself? Click below to start your 100% risk-free OptinMonster account today:
Get Started With OptinMonster Today!
BONUS: Done-For-You Campaign Setup ($297 value)
Our conversion experts will design 1 free campaign for you to get maximum results – absolutely FREE!
Click here to get started →
How to Increase Revenue Generated
Revenue generation is the most complex KPI on this list. Many things can affect how much a certain email campaign earns.
But the good news is that improving any of the other email marketing analytics in this article can help bring in more revenue.
If you want to improve your email marketing ROI, you can do several things:
Increase conversion rate
Increase click-through rate
Grow your list with exit-intent and other popups
Decrease unsubscribes and bounce rates
Think of the other email marketing metrics as "levers" you can push to try and increase your ROI. Keep reading to learn more about each of these "levers."
2. Custom Conversions
The ultimate goal of email marketing is to get your customers to make a purchase.
But there are usually other actions customers take before making that purchase.
That's why it's important to track other conversion events, such as:
Joining a webinar where they learn about your product or service
Filling out a feedback form about what they need from your business
Leaving a positive review on a previous purchase
Commenting on a blog post that they found helpful
Following you on social media to learn more about your brand
You need to track how many people are taking the actions you want them to, even if it doesn't lead immediately to a sale. If you notice lots of people commenting on a particular blog post, for example, that would be a great place for an email popup or discount code popup.
How to Measure Custom Conversions
You can measure custom conversions by setting up custom conversion goals in Google Analytics.
Then you can create Urchin Tracking Modules (UTMs) for all of your email campaigns to track which emails led to the most conversions.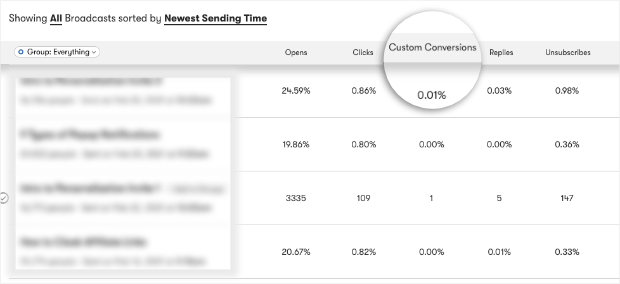 How to Increase Custom Conversions
Like revenue, your custom conversions rate can be complex to measure and improve. But again, there are lots of different "levers" you can try pushing on.
If you want to improve your custom conversion rate, you can do several things:
Increase click-through rate from your emails
Grow your list and increase overall traffic
Decrease unsubscribes and bounce rates
3. Audience Growth Rate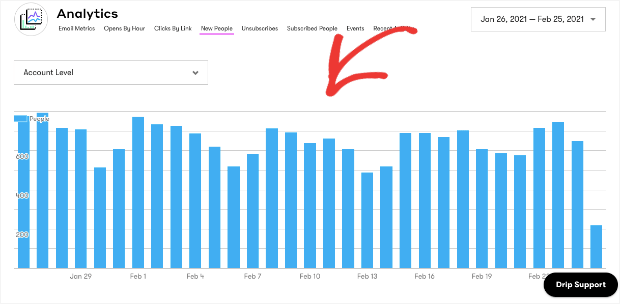 You're probably tracking how many subscribers you have on your list. But a better KPI to track isn't the actual number of subscribers. It's your growth rate.
That's because the number of subscribers you have each week isn't a super valuable metric. You might have 10,000 emails on your contact list. By itself, that number doesn't really mean anything.
But getting 10,000 subscribers in 2 weeks is very different from getting 10,000 subscribers in 2 years. Neither is necessarily bad, but they tell different stories about your email marketing strategies.
By tracking your audience's growth rate, you can get a better idea of how well your website is converting visitors to subscribers.
And when you see sharp spikes in the number of subscribers on your list, you can see which marketing campaigns had the most positive impact on this KPI.
This will help you strategize future lead-generation campaigns to repeat your success.
How to Measure Audience Growth Rate
You can measure how quickly your audience is growing by seeing how many new subscribers you add in a given amount of time.
If you use a tool like OptinMonster for list-building, you can also see how well your email optin campaigns are performing directly from the dashboard. This will give you a sense for how quickly your audience is growing.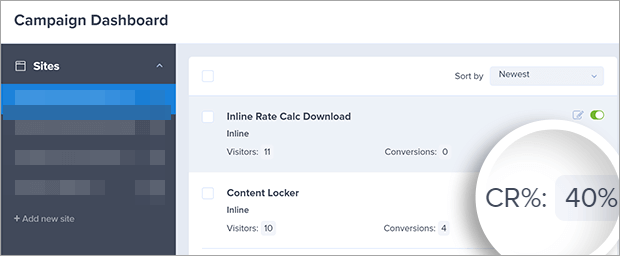 How to Increase Audience Growth Rate
There are lots of ways to grow your email list, from adding better lead magnets to improving your optin forms. OptinMonster can help with all of them.
It comes with a drag-and-drop builder that lets you easily build eye-catching popups to collect email addresses on your website.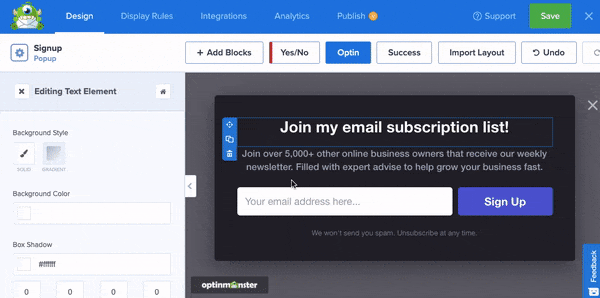 You can even split test your campaigns with the click of a button: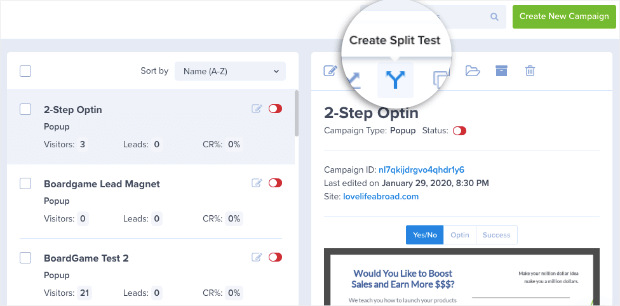 This creates a duplicate version of your campaign, which allows you to change different elements such as:
Header
Body text
CTA button color, text, style, and so on
Image
Video
Once your split test is ready, OptinMonster will show both versions of the campaign to your site's traffic at random.
Then you can see which one has a higher conversion rate in your OptinMonster dashboard, and you can let the winning campaign stay live.
Over time, you can continuously optimize your campaigns to increase conversions.
Split testing is how the digital marketing agency Logic Inbound boosted conversions by 1500% on their site (and saw a 500% increase in attracting qualified leads).
The only reason split testing is so efficient, though, is because of the powerful analytics you have to make smarter marketing decisions.
And if you want an overview of how all of your campaigns are working, you'll have a clear and easy-to-understand analytics dashboard to rely on: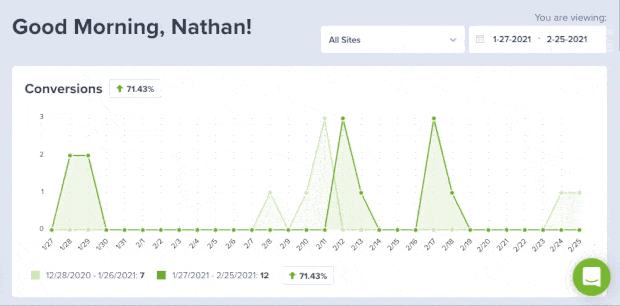 At the end of the day, access to these KPIs in a simple report can make or break your lead generation success.
And OptinMonster gives you the most resources for optimizing your campaigns to grow your list FAST.
Ready to check it out? Click below to start your 100% risk-free OptinMonster account today:
Get Started With OptinMonster Today!
BONUS: Done-For-You Campaign Setup ($297 value)
Our conversion experts will design 1 free campaign for you to get maximum results – absolutely FREE!
Click here to get started →
4. Click-Through Rate
Click-through rates (CTR) are another important KPI to track from your email marketing analytics. This refers to the number of people who actually clicked through to the call to action (CTA) in your email campaign.
If you have 100 people on your list, and 1 of them clicks on a link in the email you send, the click-through rate for that email would be 1%.
How to Measure Click-Through Rate
CTR is the first of the numbers on this list that is usually available directly inside your ESP.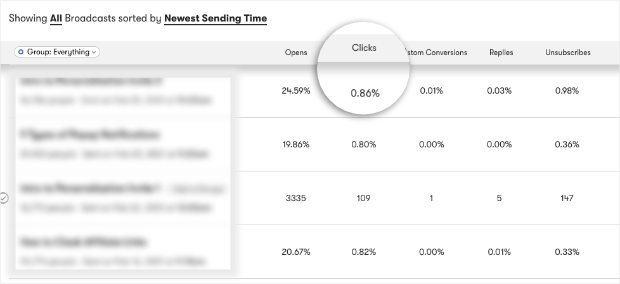 You can see CTRs for individual campaigns as well as your email marketing overall. It's important to pay attention to both. If you see a sudden drop or spike with a specific campaign, take a closer look to see what subscribers are responding to (or not).
How to Increase Click-Through Rate
CTR is usually an indicator of 2 things:
Whether you're attracting the right audience to your list
How strong your email copy is (particularly your call to action)
If your CTR is low, you may not be presenting your call to action in the most persuasive way. This is especially true if your open rates are significantly higher than your CTR. We'll discuss open rate in more detail later.
The best thing to do to improve your click-through rate would be to strengthen your email copy.
For some help with that, check out this post: 17 Tips for Writing Email Copy That Converts.
If that doesn't improve your CTR significantly, you may have a deeper problem with audience mismatch, which we'll cover next.
5. Bounce Rate
You've probably heard the term "bounce rate" before, but it was most likely for your website. When it comes to your email marketing analytics, your bounce rate refers to the percentage of emails that couldn't be delivered to your recipient's inbox.
How to Measure Bounce Rate

Your ESP should calculate bounce rate for you. This usually breaks down into "soft" bounces and "hard" bounces.
A soft bounce is when emails can't be delivered because of some temporary problem with either the recipient's inbox or server.
On the other hand, a hard bounce is when you're trying to send emails to email addresses that have been closed (or never existed at all).
How to Decrease Bounce Rate
You want your bounce rates to be as low as possible. That's because your bounce rate has a huge impact on the overall deliverability of your future emails.
You can reduce your email bounce rate by using double optins, keeping your list clean, and segmenting your list to send targeted content.
And you guessed it, OptinMonster can help!
OptinMonster integrates with many of the most popular ESPs, so enabling double optin is as easy as ticking a box.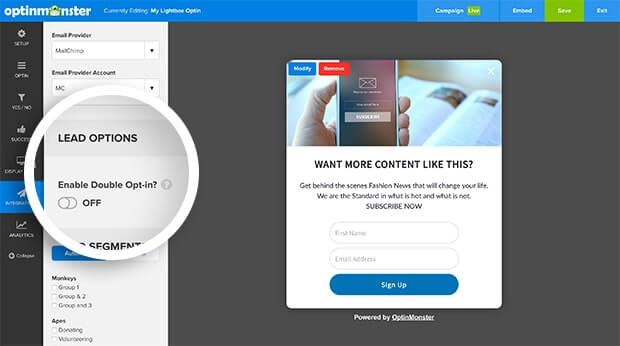 OptinMonster also has page-level targeting and other ways to show your campaigns to precisely the right visitors.

Once a subscriber opts in, you can direct them to specific lists or segments within your ESP.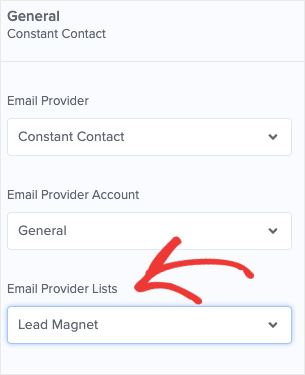 6. Open Rate
Open rates refer to how many people opened your email campaigns. So if you have a list of 100 people and 10 people opened your last email, the open rate for that email would be 10%.
Your open rate, by definition, should be higher than your click-through rate. In fact, it should be the highest among the basic email marketing analytics. If your open rate is lower than your bounce rate or unsubscribers, something is wrong with your ESP tracking.
How to Measure Open Rate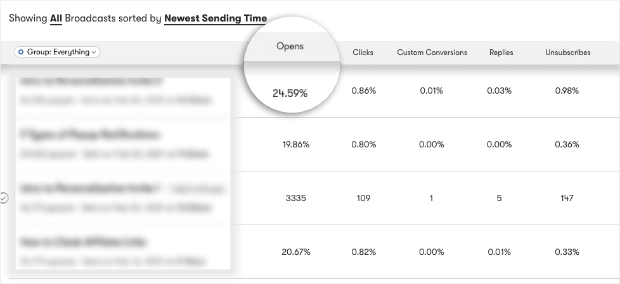 Open rate is usually found inside your ESP. You can also calculate it by dividing the number of subscribers who opened an email by the total number of subscribers the email was sent to.
Be aware that open rate is not the most reliable metric for your email marketing. Email opens are measured by a tiny graphic embedded within an email. There are many ways this measurement can be skewed, from anti-spam filters to autoresponders.
How to Increase Open Rate
While not the most reliable email marketing metric around, open rate can still tell us important information about:
How strong your subject lines are
Whether or not you're attracting the right audience to your list
Boring and generic subject lines will always have lower open rates than punchy and enticing ones. If your open rates are low, working on your subject lines is the best place to start.
Otherwise, low open rates might be a sign that you're not attracting the right kind of audience to your list. If that's the case, you'll need to target your ideal audience more closely as you capture new leads.
Either way, don't worry too much about open rates unless you see a major spike or drop.
7. Unsubscribes
Our final email marketing number is unsubscribes. This is how many people decide to leave your email list in a given amount of time.
We put this metric last in importance because people unsubscribe for lots of reasons, many of which are not in your control. So try not to take it personally!
You do, however, want to clear those unsubscribed emails from your ESP.
Many popular email providers, like Mailchimp, still count your unsubscribed emails toward your monthly plan.
So if you're paying an ESP to store 1,000 contacts, that number also includes unsubscribed email addresses. What a waste of money!
High unsubscribe rates can also harm your deliverability. So there's no point in hanging onto those unsubscribed addresses.
Make sure you clear those unsubscribed emails so that you're only paying to send emails to people who want to hear from you.
How to Measure Unsubscribes
Your ESP should show you unsubscribe rates for each email campaign and perhaps overall as well.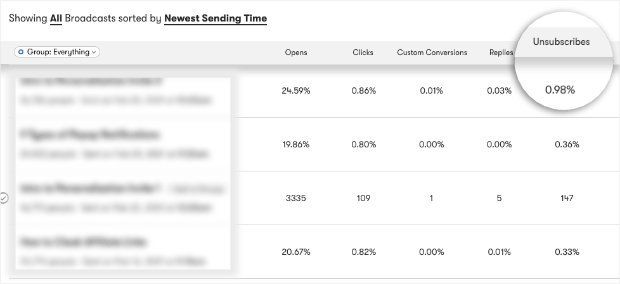 How to Decrease Unsubscribes
While it's natural to lose a few subscribers along the way, a large number of unsubscribes can usually point to an email with either weak or offensive copy. It can also be a sign that you're sending irrelevant content too often.
You should track how many people unsubscribe each week to keep improving your email copy. But then you should clear those emails to cut costs and protect your deliverability.
Remember, 10 highly engaged email subscribers are almost always worth more than 100 email subscribers who never look at your emails.
And that's it! Those are the top 7 numbers that you need to track from your email marketing analytics.
Now that you know how to measure the ROI of your email marketing, you can learn about how to run a successful email marketing campaign.
If you like this article, please follow us on Facebook and Twitter for more free articles.