Are you trying to learn how to create an email marketing funnel, but you're not sure the best place to start?
Email marketing consistently remains one of the best ways to generate revenue for online businesses.
It's a direct line to your target audience for announcing sales, product launches, special offers, and more.
But as the marketing world has gotten more sophisticated, many business owners get intimidated by the thought of "building a funnel."
If that's the case, don't worry.
Because, in today's post, we're going to teach you how to create an email marketing funnel in just 3 EASY steps.
Before we do, though, let's get clear on why email marketing is such a profitable marketing channel.
Why Create an Email Marketing Funnel?
Email marketing funnels allow you to automate a self-operating system that transforms new leads into loyal customers.
This is important because, as mentioned earlier, email marketing has proven itself as a profitable marketing channel for businesses of all sizes.
There are several advantages to creating an email marketing funnel, including:
Improve UX by personalizing the customer journey and keeping in touch with them along the way.
Save Time with an automated system that generates revenue while you sleep.
Establish Yourself as a thought leader within your niche by creating rich email content.
Drive Profits in a way that educates your audiences and builds more trust with your brand.
These are just a handful of the advantages to building an email marketing funnel, though there are many others.
With these benefits in mind, let's take a detailed look at how to create an email marketing funnel in just 3 easy steps.
How to Create an Email Marketing Funnel
Building your email marketing funnel isn't hard, but it can feel overwhelming.
That's why we've broken this article down into 3 consecutive steps:
Build an automated email series
Capture new leads on your website
Track the results to optimize your process
If you can accomplish the 3 steps above, you'll have an entirely automated email marketing funnel ready to turn leads into revenue.
Ready to get started? Let's dive into the first step.
1. Build an Automated Email Series
The first thing you'll want to do is build an automated email series.
This is a small collection of pre-written emails that are meant to guide your new leads down a sales funnel.
The idea is simple: to create engaging email content that informs and persuades your audience to take action.
Plus, creating these email series isn't difficult if you're working with the right email service provider (ESP).
Here are a few that we highly recommend: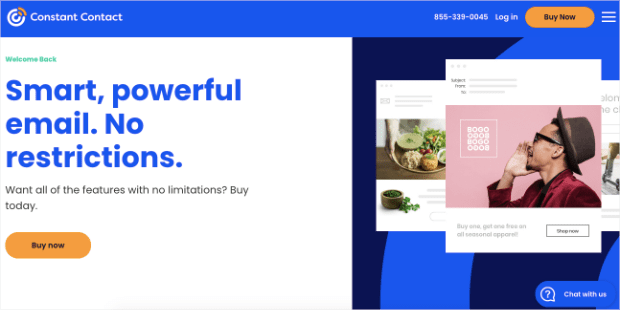 Constant Contact is an excellent option for businesses of all sizes. It allows anyone to quickly and easily create automated email series.
It also helps if you currently run an SMS marketing campaign (or would like to begin).
Constant Contact also has a free trial for 60 days. That means you can start building your email marketing funnel at ZERO risk.
b. Brevo (formerly Sendinblue)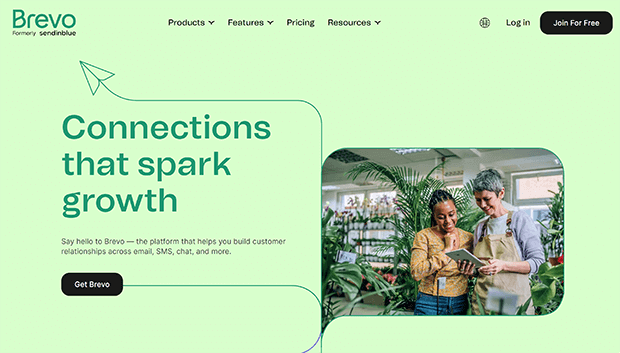 Brevo (formerly Sendinblue) is another great choice for an ESP. It comes with all the bells and whistles you'd expect from an email provider, including:
Scheduled campaigns
Pre-existing templates
Automation
Audience segmentation
A/B testing
And much more…
Brevo also has a ton of other advanced marketing tools you can use for FAST growth.
Plus, this is one of the only ESPs on the market that charges you by the number of emails you send rather than the number of contacts on your list.
c. Drip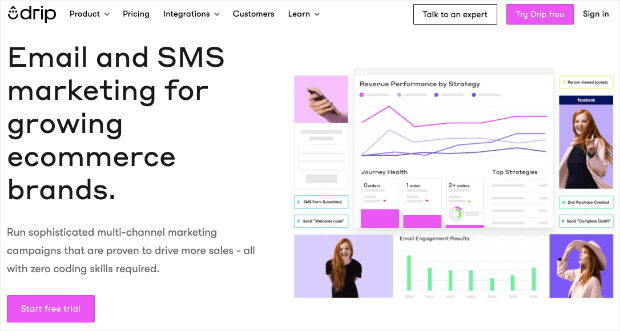 Drip is the last option on this list, but certainly not the least qualified to be here.
Drip is the perfect ESP for growing eCommerce businesses. It allows you to create automated emails to grow your customer base.
This ESP comes with pre-made email templates, audience segmentation, A/B testing, and much more.
If you're looking for a tool that's powerful but incredibly easy to use, Drip might be the right ESP for you.
But once you've selected the provider for your email marketing funnel, the next step is to write your email series.
For that, we highly recommend checking out this article: How to Create a Profitable Email Series.
Now let's turn our attention to how we can get more leads into your funnel.
2. Capture New Leads on Your Website
Once you've created your email series, you need to send new leads through it.
After all, even the best email copy on the planet won't convert if no one reads it!
That's why it's important to ensure that you're leveraging your site's traffic to capture as many leads as possible.
The BEST way to do that is a combination of:
Lead magnets
Optin campaigns
Lead magnets are valuable offers, products, or information that your target audience would find appealing. They're specifically designed to attract your potential customers.
You've likely seen these before. They often come in the form of:
eBooks
Infographics
White papers
Webinars
And more…
Need some help coming up with a lead magnet? Check out this post on 69 lead magnet ideas you can start using today.
But then you can combine these lead magnets with "optin campaigns" for even more conversions.
Optin campaigns are messages that you show to your site's traffic. It's where you present a lead magnet in the hope of capturing your visitor's email address.
This allows you to put them into your automated email series and move them through your sales funnel.
You've probably seen optin campaigns in the past, too. They look something like this: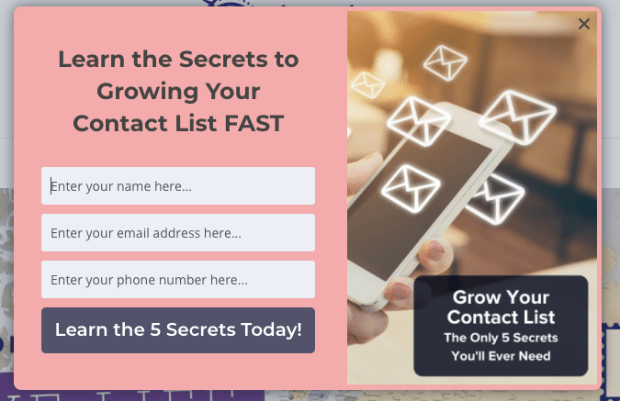 But now for the real question: "How can you create optin campaigns if you're pressed for time and not super 'tech-savvy'?"
If you want to get the MOST leads possible, the best software for that is OptinMonster: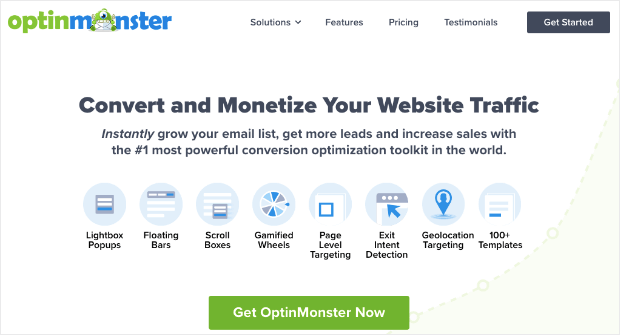 OptinMonster allows anyone to quickly and easily create professional optin campaigns in minutes.
It gives you more resources to capture email subscribers than any other lead generation software on the market.
Here's how it works…
Everything starts by selecting which type of campaign you want to build. OptinMonster gives you 9 options, including:
Lightbox popups
Floating bars
Scroll boxes
Gamified wheels
Fullscreen welcome mats
Inline campaigns
And more…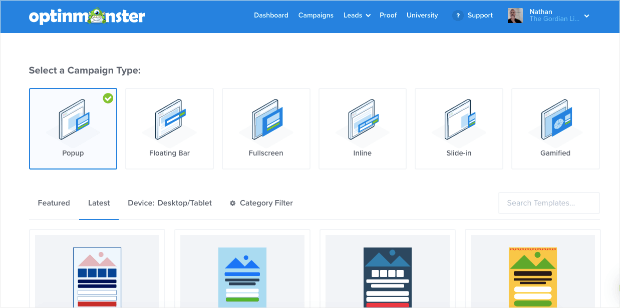 From there, you can choose any of OptinMonster's 50+ pre-built templates.
These are all designed to save you time, energy, and headaches as you create your campaign. They're all fully responsive and mobile-friendly: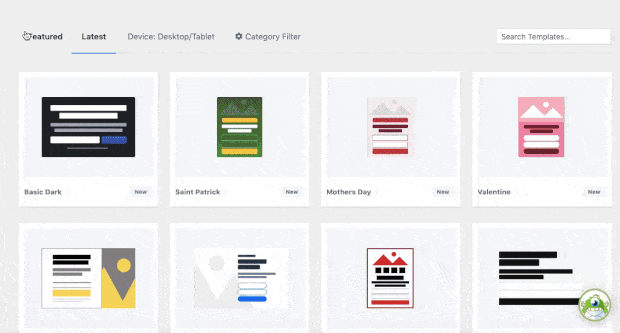 Now it's time to design your optin campaign.
You don't need to know ANY coding or have any professional design experience. That's thanks to OptinMonster's codeless drag and drop visual builder.
If you want to change any text in your campaign, for example, you can highlight it directly in the builder.
Then just make the changes you want: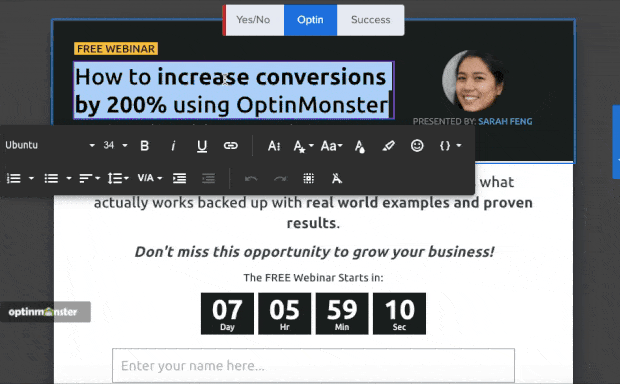 Plus, OptinMonster lets you add new features to your campaign, such as:
Images
Videos
Call to action (CTA) buttons
Dividers
Icons
And much more…
Once you find these features in your left-hand side menu, you can drag them directly into your template: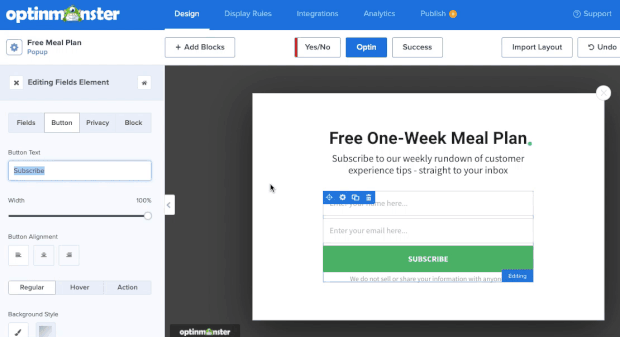 And since everything comes in pre-configured Blocks, you don't need any design experience to create beautiful campaigns.
Everything falls neatly into place by default, while still giving you the flexibility of 100% customization.
Next, you'll need to show these campaigns to the right people, in the right places, and at just the right times in their customer journey.
For that, you can use OptinMonster's targeting rules and triggers. Some of the more popular options include:
Exit-Intent® Technology: Recover abandoning visitors (and carts) by showing campaigns as users are actively leaving your website.
Geolocation: Personalize the user experience (UX) by targeting visitors from their physical locations.
OnSite Retargeting®: Keep visitors engaged by showing fresh campaigns to returning users.
Page-Level Targeting: Boost conversions by matching your lead magnets to the on-page content your visitors are browsing.
These are just a few examples of OptinMonster's targeting rules, though there are many others.
In fact, these are the same rules that helped companies like Human Food Bar get over 1800 signups per month.
Or how Shotkit is able to add 40+ NEW leads every single day.
But, so far, we've only looked at capturing leads. What happens when people actually subscribes?
OptinMonster sends new leads directly to your ESP.
This gives you an automated email marketing funnel that can generate MORE revenue even while you're sleeping.
Ready to take your business to the next level? Click below to start your 100% risk-free OptinMonster account today:
Get Started With OptinMonster Today!
BONUS: Done-For-You Campaign Setup ($297 value)
Our conversion experts will design 1 free campaign for you to get maximum results – absolutely FREE!
Click here to get started →
Now let's check out the last step for how to create an email marketing funnel: tracking your results.
3. Track the Results to Optimize Your Process
The last part of the process is tracking the results from your email marketing funnel.
It's the part that most marketers struggle with, but also the one that can get you the BEST results.
Why does this matter?
Because it allows you to create data-driven strategies for getting more leads than simply "going with your gut."
With the right analytics at your side, you can test versions of your email or optin campaigns. Then you can figure out what really resonates with your target audience.
OptinMonster, for example, allows you to run an A/B test at the click of a button: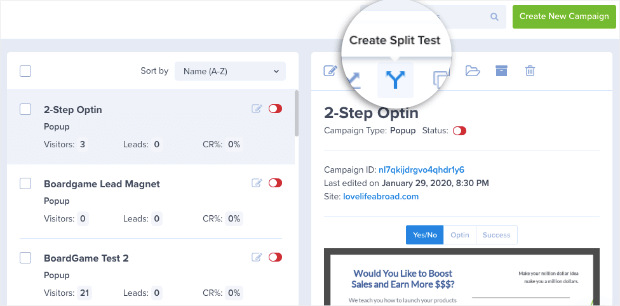 Plus, it comes with all of your conversion data right from your dashboard: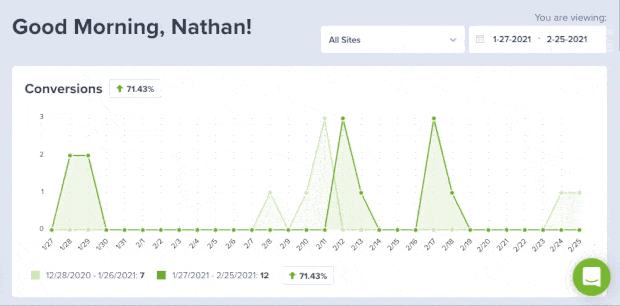 From there, you can use your ESP's analytics dashboard to look for:
Open rates
Click-through rates
Conversions
With this data at your fingertips, you can continuously improve your email marketing funnel to ensure you're never leaving ANY new leads on the table.
Understanding your conversion rates will also help you determine if you're attracting the RIGHT audience.
If you notice conversion rates are low, you might try a new lead magnet, different optin campaigns, stronger subject lines for your emails, and more.
But you won't know what to test if you're not consistently tracking your funnel's key performance indicators (KPIs).
And that's all for today! This has been a quick and easy guide on how to create an email marketing funnel in just 3 steps.
Get Started With OptinMonster Today!
BONUS: Done-For-You Campaign Setup ($297 value)
Our conversion experts will design 1 free campaign for you to get maximum results – absolutely FREE!
Click here to get started →
We hope you enjoyed this post. If you did, you'll definitely want to check out the following resources:
These articles will have even more information that you can use to improve conversions for your email marketing funnel.