Growing your business is the dream and goal of every entrepreneur, yet sometimes it's hard to come up with ideas to propel you to the next level.
Stuck for ideas on how to grow fast?
Take a look at the success of others for inspiration.
To help you get inspired, we've collected the most effective growth hacking examples of businesses who've successfully used low-cost promotion techniques to drive incredible growth.
While every business is unique, these growth hack ideas can inspire your own creativity, so your business can expand its customer base and earn more revenue.
We've listed the companies in alphabetical order, and there's a table of contents so you can jump straight to the growth hack case studies that interest you most. Let's get started …
1. AirBnB
Let's kick things off with one of the most famous growth hack examples: the AirBnB Craigslist hack. AirBnB is now famous for being the place where you can score affordable accommodation almost anywhere you travel, but in the early days, they needed to build their userbase, customer base, and reputation.
The founders realized that people who were looking for alternative accommodation often searched on Craigslist, so they offered an option for AirBnB accommodation providers to copy their listing to Craiglist with one click, verify the information, and post. The result? Immediate access to a large market of target users.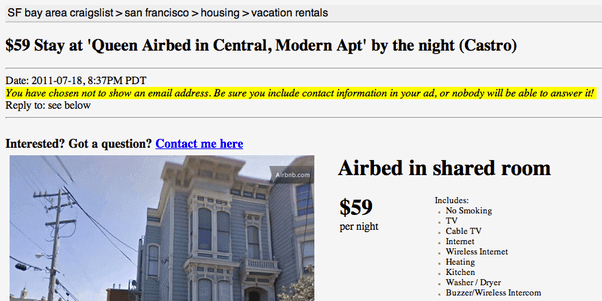 2. Dollar Shave
We're always saying that video marketing is a great marketing technique, and another of our famous examples of growth hacking proves it.
Dollar Shave Club used a video to promote its service of sending people new razor blades monthly for just $1. The video went viral, quickly gaining 19 million views and making the company a household name. You can see the video, which is now at more than 25 million views, below:
Two years after launch, Dollar Shave Club had made more than $20 million in revenue, says Business Insider. A year later, it tripled that figure.
(See our easy video marketing tips to use this tactic yourself.)
3. Dropbox
Dropbox is another company known for creative growth hacks, which is why it's listed in our roundup of growth hacking strategies. Dropbox gamified its onboarding process, offering existing users more free storage for linking their Dropbox account to Twitter and Facebook, and sharing information about Dropbox on those social sites. That was a free way to get new users and to grow exponentially.
You can see instant increases to your sales and conversions by 40% or more
even if you've never heard of gamification in marketing before
. OptinMonster makes it super easy!
And adding incentives for completing tasks on Dropbox, like sharing a file, got people using the service, making it more likely they'd stick around. Dropbox now has 500 million users, so that growth hack definitely worked!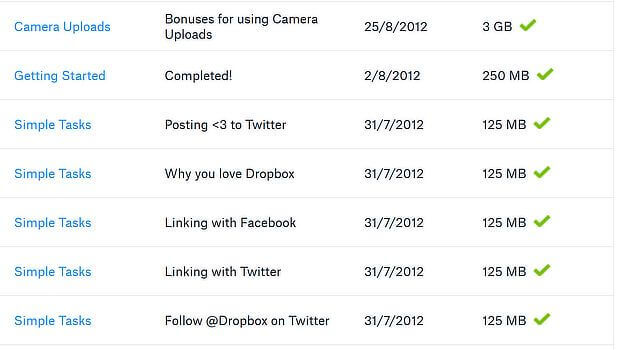 4. Facebook
With more than 2 billion users, Facebook is now a fact of life for many of us, but even the now ubiquitous social network used growth hacks to extend its reach fast. A Quora question on Facebook growth reveals a couple of particularly effective techniques:
Encouraging users to add their contacts
Sending out emails to those contacts if they were mentioned or tagged on Facebook
Mention notification emails piqued people's interest, and made them go to Facebook and sign up to see what had had been said about them.
5. Foundr
When Foundr decided to publish their first book, they turned to Kickstarter to validate their idea. Their growth hacking strategy involved influencer marketing, social advertising, and a competition via a tool called Upviral.
Recommended Resource: Looking for more tools like Upviral to grow your business? Be sure to check out our roundup of the Best Growth Hacking Tools for Marketers.
Foundr magazine editor Nathan Chen says using this tool allowed the company to give incentives for different promotional activities so the users could get more competition points and move closer to winning one of three great prizes. Foundr managed to attract hundreds of new backers and thousands of email marketing subscribers, and got 4x their Kickstarter goal.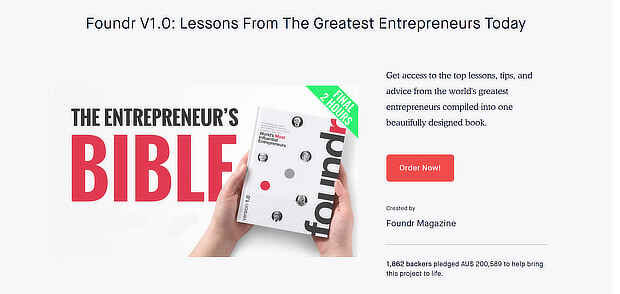 6. Gmail
When Gmail launched, it used an invite-only system to drive growth, and it worked. The fear of missing out (FOMO) is a powerful marketing technique, and if you have a product people really want, they'll respond to this type of marketing.
At the time, Gmail offered great email search capabilities, and better email management: in fact, many of the features we now take for granted in every email program. The invite-only growth hack worked so well that Gmail invites were auctioned on eBay.
Use this growth hack with caution, though. Google has used it again with other now-defunct products which turned out not to be popular (such as Buzz, Wave, and the almost unrecognizable Google+).
That's because this growth hack works best with open tools and communities. With Gmail, you can still email people using other email services besides Gmail, so the exclusive invites worked well. But with closed-off social networks like Buzz or Google+, the platform itself is unusable if you're the only one there – so limiting invites backfired.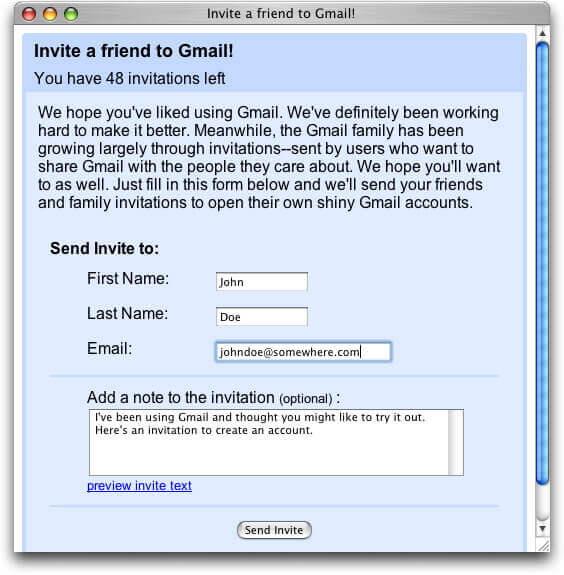 7. Groove
The next in our list of growth hacking examples comes from Groove. The company used a number of techniques to build a $5 million a year business, but they attribute most of their success to content marketing.
Their "aha moment" was the recognition that there was no other blog sharing real numbers and pitfalls on the road to growing a successful SaaS company. Once they decided to honestly share their experiences as a sort of case study, their user base exploded.
They asked their core customers what they needed information about, and used that information to create blog topics. And they emailed influencers selectively and asked for permission to share certain pieces of content with them.
The decision to be totally transparent also led to reviews, interviews and guest blogging opportunities, which all contributed to further email subscriber and user base growth.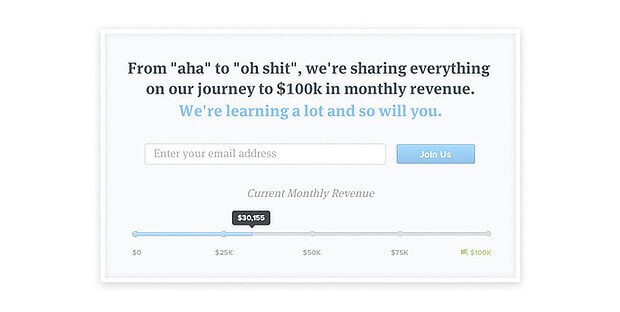 8. Grow and Convert
Content is also a key feature in the next in our list of growth hacking examples. Grow and Convert attracted more than 32,000 users in five months without having to pay for traffic. Here's how they did it.
They defined their target audience so they knew who they were creating content for (by the way, creating buyer personas will help you do that)
They searched Google, Quora, Facebook, and other social networks to find the most engaged communities where their target audience was hanging out online
They asked their audience where they should promote content to find out the sources they trusted
They joined their target communities and engaged with content there before sharing their own selectively and transparently.
As well as new users, Grow and Convert became part of a wider community, and attracted inbound links from the communities they were a part of, gaining SEO benefits, too.
9. Groupon
As we've seen, social sharing and refer-a-friend techniques are one of the tried and true growth hacking ideas, but Groupon has a twist on it.
You see, it works on the principle that you need enough people to take a deal to GET the deal, so if you don't share, then everyone potentially misses out, because the deal will expire. It's a great use of FOMO and urgency in marketing.

If you do share, you get the deal, and Groupon gets new users that it can market new deals to. Sweet, right?
10. Harvest Snaps
Some of the best growth hacks are born out of necessity. With no budget for traditional promotional tactics, Harvest Snaps had to get creative.
After defining their business model and user base, the company used some of the growth hack tactics we've already mentioned, like:
Gamification
Working with influencers
Social media promotion
But one of the revenue growth tactics that worked particularly well was creating an exclusive loyalty club for email subscribers. This kept the company in front of their subscribers, and made those subscribers feel good about being part of something that wasn't open to all.
The results were astounding. Within three years, Harvest Snaps had:
Grown revenue from $10 million to $240 million
Increased its social media audience to 342,000
Gained 95,000 new email subscribers

11. Hotmail
Never underestimate the power of an email signature. The next on our list of growth hacking strategies is deceptively simple.
Hotmail (the precursor to Outlook.com) added a signature line to every user's outgoing email, inviting email recipients to get a free account. That was all it took to engineer super-fast growth to 12 million users (or around 20% of the email market at the time) in 18 months.

12. Hubspot
Creating a free tool is another proven creative growth hack, which has worked very well for Hubspot. Hubspot's known for giving away free information to help its users, and its website grader tool is another example.
The tool helps people evaluate their sites for SEO friendliness, mobile friendliness, and speed, so they can optimize those sites. And since you have to sign up to get your site report, it also helps build Hubspot's email list.
In 2015, the company's founder and CTO Dharmesh Shah credited the website grader tool as a key part of growing the company to 15,000 users and a $1.6 billion market value.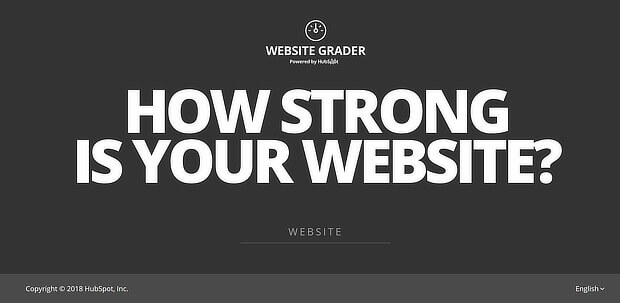 13. Instagram
The Facebook-owned Instagram now has more than 800 million users, but it wasn't always that way. Early users attribute Instagram's success to:
Having a great product with exactly the features users wanted
Focusing on user experience and making it ridiculously easy to use
Letting people try it out freely before launching, turning them into brand advocates
Within the first hour of launch, Instagram had 10,000 users, and it hasn't stopped growing since.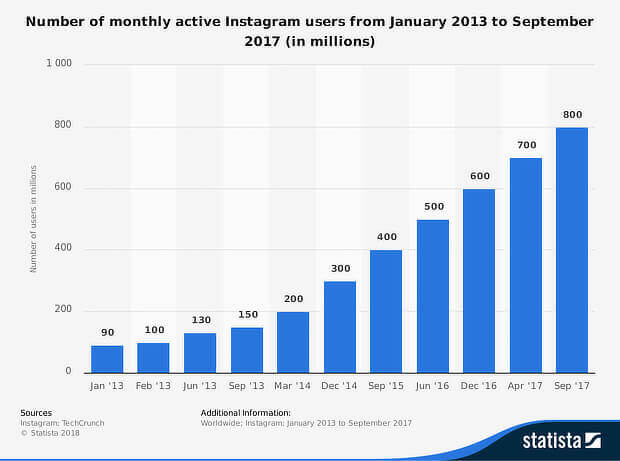 14. KnudgeMe
Social media features in a lot of our growth hacking examples, and with good reason. It's an extremely cost-effective way to promote anything. Knudge.me, an app to help people level up their English-speaking skills, used social media and in-product marketing to drive growth from 100,000 to 1 million users within six months.
The company also focused on retaining users and optimizing all aspects of the user experience. The app has been rated one of Google's best of 2017, and has more than 20,000 reviews above 4 stars.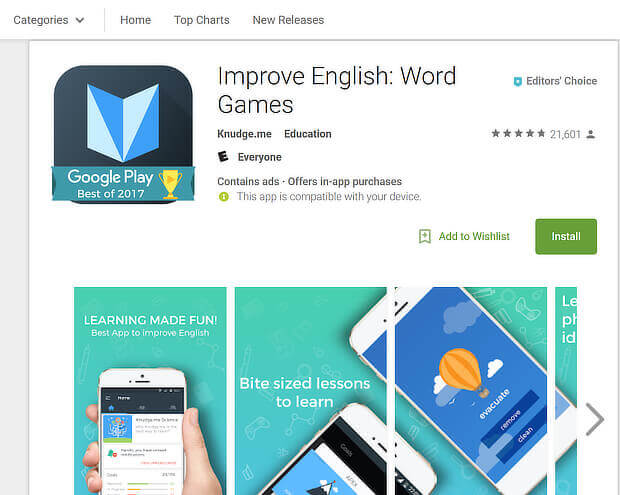 15. LinkedIn
These days, if you've got a job – or are planning to look for one – you've probably got a LinkedIn account. But it wasn't always that way. Keeping in touch with former work colleagues, and getting referrals and recommendations from them, wasn't that simple. LinkedIn changed that, and then used its assets to drive growth.
LinkedIn's initial strategy consisted of focusing on a sector it knew (tech) in an area it knew (Silicon Valley) and using this to test the concept of business networking. Once it worked, the company was able to expand to other sectors and areas, and now enjoys near global coverage.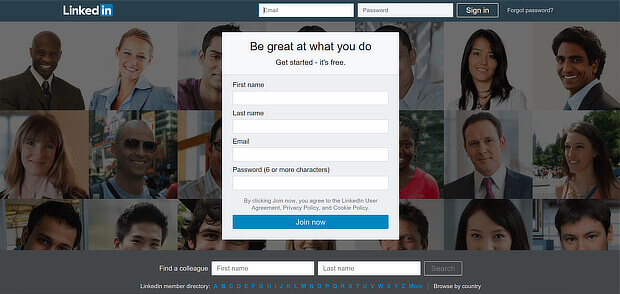 LinkedIn also paid attention to what worked to drive growth, so they could do more of it. That's why they focused on optimizing their home page, which drove more growth than email invitations.
Next, LinkedIn started monetizing what it did well, encouraging users to subscribe for quicker access to potentially helpful connections (via InMail), more advanced search engine, and more.
16. Monzo
Another of our famous growth hacks is based on applied social psychology. It's the "queue jumper growth hack. We may not like those who cut in line in everyday life, but we sure like knowing we're beating the people behind us.
Mobile-only bank Monzo has used the system to encourage signups and to grow from 0 to 250,000 users within two years. Users could see how many people were ahead of them in the queue, and how many were behind. And they could also jump the queue by referring others, driving even more growth.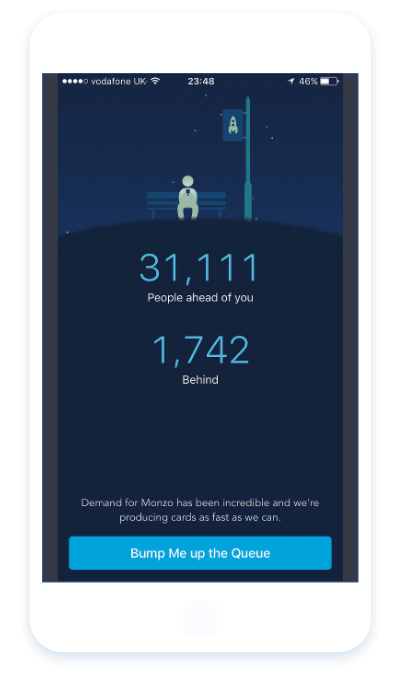 This tactic was also successfully used by stock trading app Robinhood, which had a 1 million person waiting list within a year.
17. Netflix
Growth hacking examples don't get much more transformative than Netflix, which started as a DVD rental company in 1997. As company co-founder Reed Hastings revealed, becoming the major player in online video streaming was always in the plan, hence the company name.
Netflix's USP was letting people watch what they wanted, whenever they wanted, and that's still a core component of their success.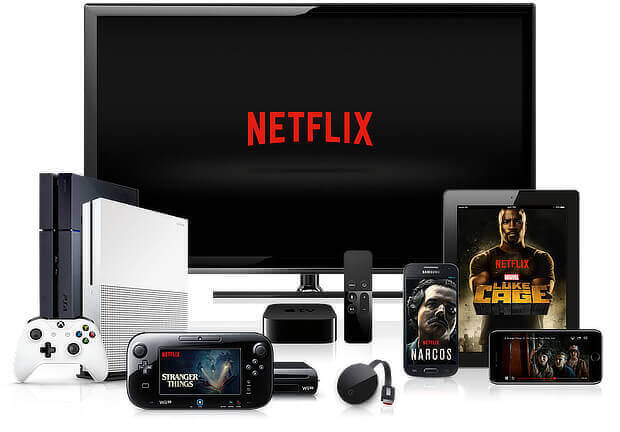 One technique the company used was to split into two businesses, for DVDs and online streaming, and use the profits from one to fund the expansion of the other.
Other growth hack techniques Netflix used include:
Acquiring and streaming popular TV shows so audiences would subscribe to watch them
Building a strong social media presence to connect with those who love entertainment
More recently, hiring the best talent to create great content that would encourage people to subscribe
The company now has more than 117 million streaming subscribers.
18. OptinMonster
Another of the most famous growth hacking examples is the "powered by" growth hack. Many companies have used this hack to fuel their growth. One example is Statuspage, which credits the hack with growing monthly revenue from $5k to $25k. It's used by a lot of companies, including OptinMonster, which by default includes a link that users can easily disable in their settings if they choose.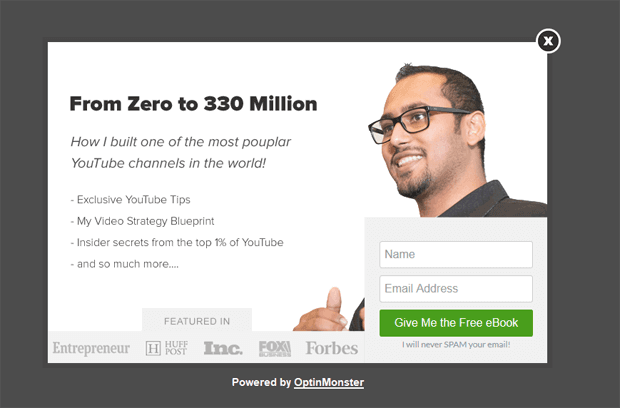 You can see more popup examples with the "powered by" link in our exit intent popup gallery.
19. Paypal
Think giving away money will help you grow? It certainly worked for Paypal. The company used referrals to grow their business by 7% to 10% daily, but there was a cost. It cost about $60 million to incentivize existing users to refer others.
If those numbers make your eyes water, consider this: that was a drop in the bucket compared to the company's eventual valuation of $46.6 billion in 2015 (and around $100 billion at the time of writing)
What's also interesting about this growth hacking example is that social media wasn't a thing then: Paypal grew via word of mouth on instant messaging, blogs, and emails.

20. Proven
Job board Proven improved organic traffic by 43% without increasing marketing spend or creating new content. Cost effective growth hacks examples don't get much better than that.
Their strategy: an internal competition called Mission Week, where employees gained points for improving and promoting an existing piece of content that wasn't doing well. Everyone in the company participated in activities including outreach, social sharing, content optimization and more, with the goal being for each to amass 20 points to complete their mission.
Search ranking for many pieces of content improved, resulting in the organic traffic boost.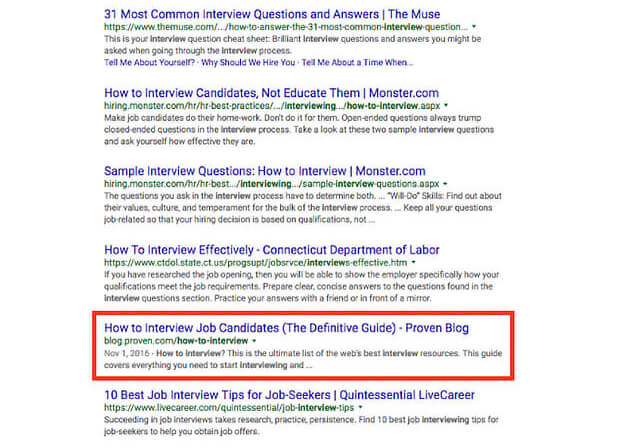 21. RJMetrics
Sometimes the most creative growth hacks have nothing to do with your business.
RJ Metrics used a cupcake giveaway to get attention for their SaaS startup. For a spend of just $50, the company got plenty of social media love, first from people hoping to win a dozen cupcakes, then from people who'd won them.
Other cupcake experiments followed, and the company discovered that cupcakes were a more popular incentive than iPads.
They're not the only company to use this technique successfully. Inspired by RJ Metrics' story, Advance B2B offered cupcakes to those people signing up for their SaaS grader tool, and improved their signup rate 1.5x.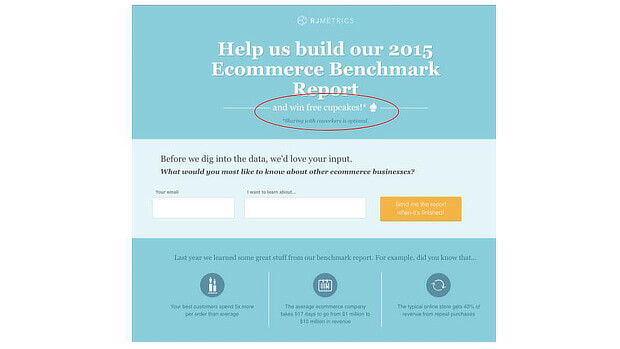 22. Shazam
Sometimes, in order to grow, you've got to get people's attention offline. That's what Shazam did. Because the app helps people identify songs from music and lyrics, it encouraged people to hold their phones up to speakers, making other people look, and attracting their interest. Instant word of mouth works, and the app has now been downloaded more than a billion times.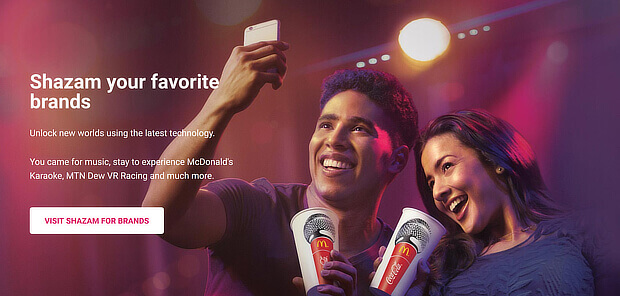 23. Slack
Slack's known as one of the fastest-growing B2B SaaS businesses. One secret of their success was to identify a problem people didn't know they had, and then provide the solution. That problem was poor productivity and increased stress because of poor communication, and Slack was the way to make it all work better.
The company combined that with a freemium model, and word of mouth from its users. It worked, and Slack grew to over 500,000 daily active users in just a year. At the time of writing, Slack had 9 million weekly active users.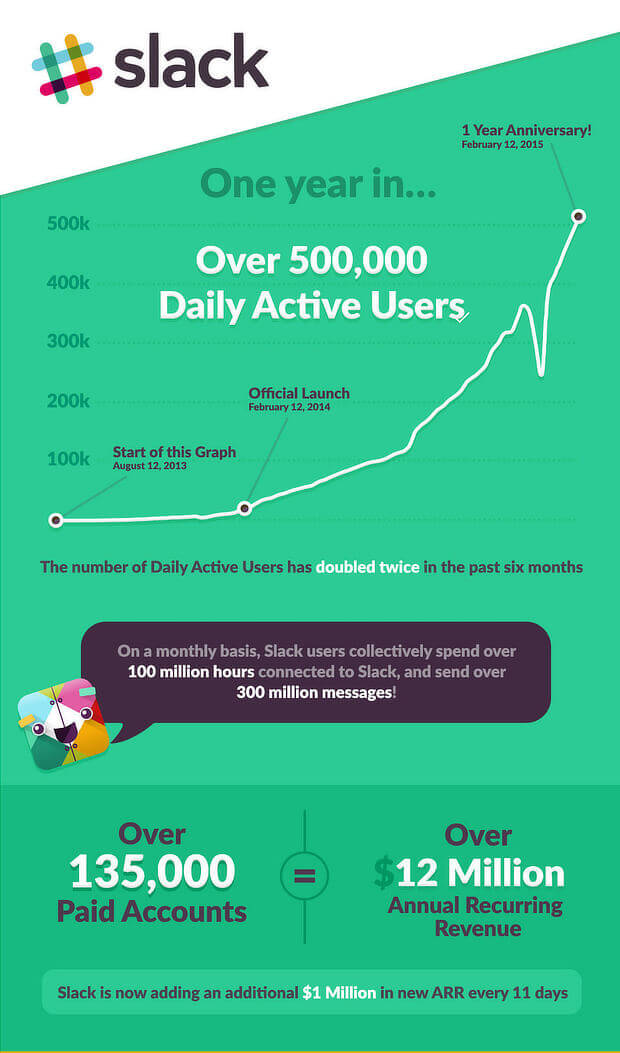 Recommended Resource: Be sure to check out our Ultimate Guide to Growth Hacking for more strategies, examples, and tools you can use to skyrocket your business.
That's it! Use these growth hacking examples to kick off your own growth hacking strategies, or check out our tips on increasing free trial signups to grow your business.
And don't forget to follow us on Twitter and Facebook for more tips and guides.