Any relationship — be it a vendor-customer, friend, or family relationship — all depend on clear and constructive communication. Receiving precise, timely, and effective support is no different.
In this article, we will walk you through the best practices to receive a timely response, making the best use of both your time and our time.
Before You Start
Here are some things to know before you begin:
If you are a new customer and are having problems loading OptinMonster on your website, checking that your hosting service is up to date should be your first priority.
If you are using WordPress please click here for WordPress-specific self-checks.
Using the support form while you're logged in will always speed up your reply time compared to submitting a ticket when you're logged out or when you email directly.
Self-Checks
Please review the following steps before proceeding with your support request.
Is Your Hosting Service Up-To-Date?
If you are using a platform other than WordPress to power your site, please check that your host meets the minimum required needs of your platform before proceeding.
Do You Have Any JavaScript Errors?
Many times, other scripts can cause JavaScript errors. Depending on the error, it can cause OptinMonster to not load or to load improperly. Like a car-wreck in front of you on the road, the problem is not your car but rather the mess in front of you. Similarly, these errors must be resolved first before determining if there is a possible problem with OptinMonster.
WordPress
Is Your Hosting Service Up-To-Date?
The latest WordPress release (as of May 4, 2020) recommends PHP 7.3 or higher, MySQL 5.6 or higher (OR MariaDB version 10.1 or greater), Apache or Nginx, as well as HTTPS support. You can find more about hosting services and requirements here. Sometimes images do not load or there are problems that are caused largely because a hosting service is not working properly or it is not up-to-date with the latest WordPress requirements.
Is WordPress Up-To-Date?
Again, this may seem basic, but it is crucial.  Are you running the latest release of WordPress? If not, you are more at risk to bugs, security vulnerabilities, and problems with plugins.  If you need help updating WordPress, check out their documentation here.
Is Your OptinMonster Plugin Up-To-Date?
We have already created a document talking about installing OptinMonster, so we encourage you to check that out and ensure your OptinMonster plugin is actually activated.
The next step is very similar, make sure OptinMonster is up-to-date with the latest version and that all your add-ons are both updated and activated. If you need help, check out WordPress's plugin documentation on managing plugins.
Still Need Support?
If you have progressed through the first steps but have not been able to resolve your issue, then now you are ready to reach out for OptinMonster Support.  No matter the level of support your subscription provides, remember these principles to help us best help you:
Provide a web-address for the website in question.
Be specific (as much as your technical ability allows) as to both the problem and your desired functionality for OptinMonster.
Be concise. To be specific, you may need paragraphs to describe the problem. No worries, write whatever is required. However, if you have a question lodged in the middle of a large paragraph, it has the potential to be accidentally overlooked as we process Support.
If you have numerous issues, consider using bullets or numbers to help make clear you have multiple questions, concerns, or suggestions.
Feel free to underline or bold any important information.
Back-end Issue? Please provide temporary admin credentials, including a link to your log-in screen.
To send us your support inquiry, follow our instructions below on submitting your support request.
WordPress Note: Please send us the Debugging PDF. You can find this by going to your WordPress Dashboard → OptinMonster Menu → Support Tab → click Download PDF Report. Attach that PDF when you're submitting your support inquiry.
Submitting a Support Request
You will have access to email support once you log in to OptinMonster.
First, log in to your account here at OptinMonster and you will see the dashboard.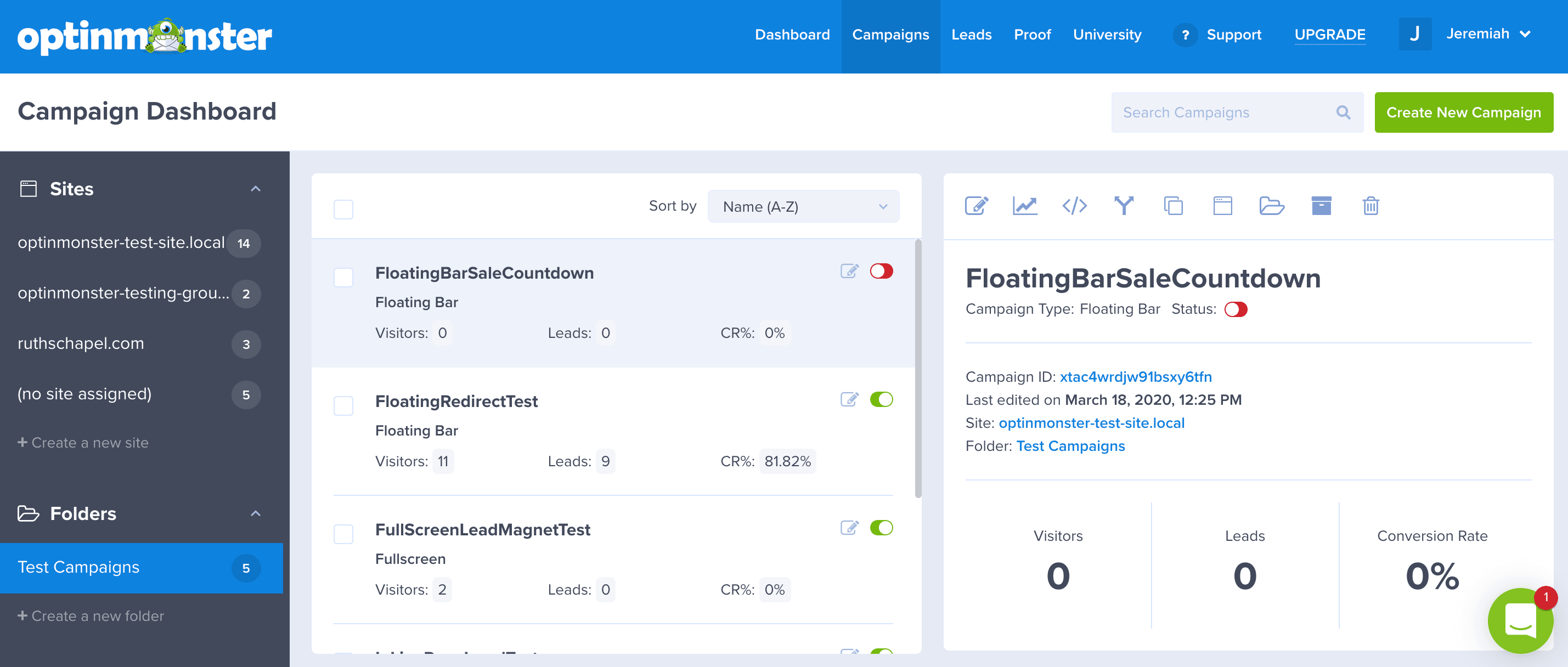 Next, click the ? Support button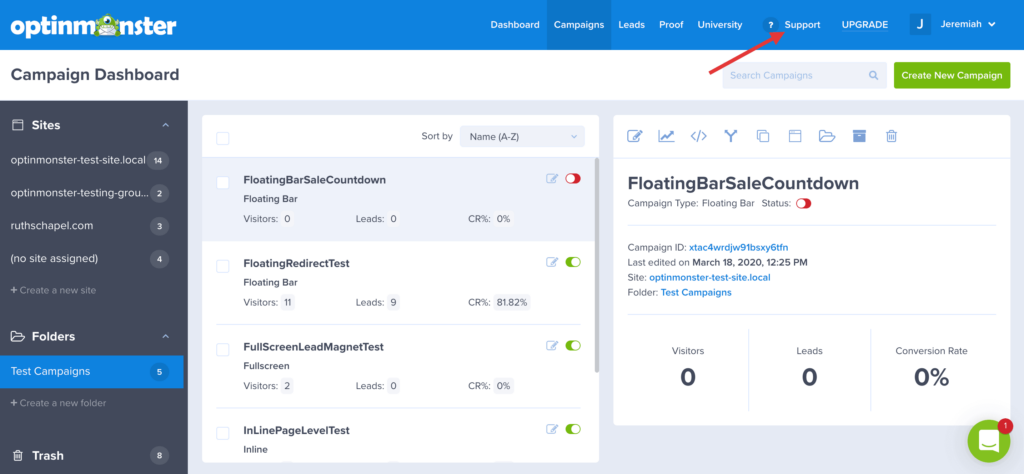 By clicking the ? Support button, you will have an overlay appear which will give you access to both related documentation and the area where you can submit a support ticket.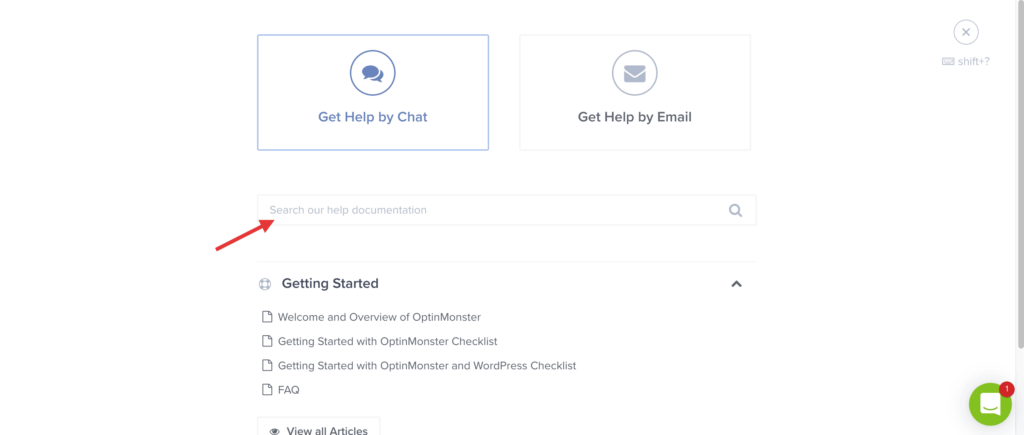 Then, on the help screen,  you will see the Get Help by Email option in the upper right hand corner.
Note: Help by Chat is not available for all users.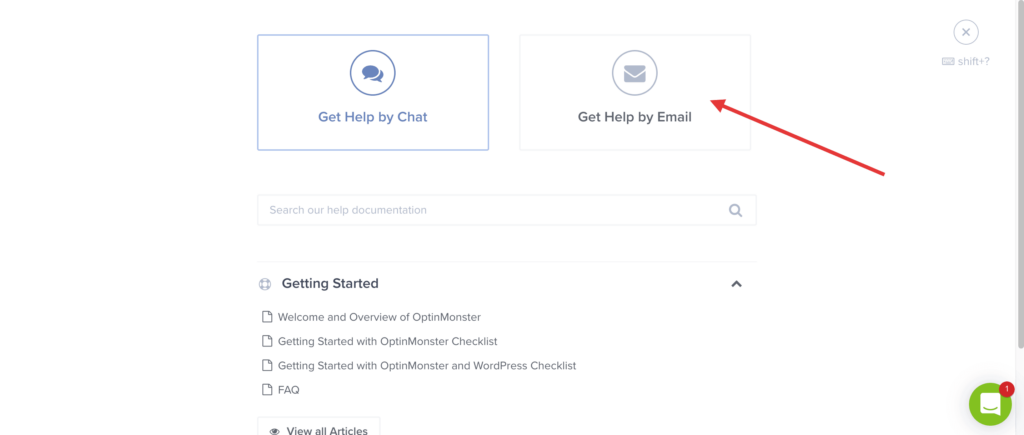 When you click that button, you will be taken to our support page, where you can select your topic, any related campaigns, and the ticket will come straight to our inbox.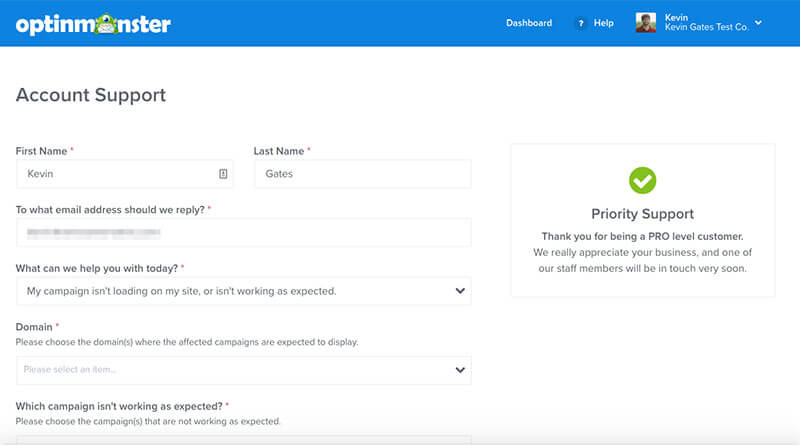 General Note: Using the support form while you're logged in will always speed up your reply time compared to submitting a ticket when you're logged out or when you email directly.
After you hit Submit then our system will receive your support ticket. We will respond as quickly as possible to resolve any issues and to help make your website the best it can be.
Thanks for reading!
If you're serious about jumpstarting your website business growth, then get started with OptinMonster today!
Get Started With OptinMonster Today!
BONUS: Done-For-You Campaign Setup ($297 value)
Our conversion experts will design 1 free campaign for you to get maximum results – absolutely FREE!
Click here to get started →