Would you like to test your OptinMonster campaigns before making them live? We make testing your campaigns easy! Follow this guide to test your campaigns on your website.
---
How to Test OptinMonster on Any Website
To test your campaign, set the Display Rules to have the campaign load only on a single page of your site. Our page-slug guide will show you how to target specific pages.
Step 1 – Create Test Page on Site
Create a test page on the site. Preferably this page should not be indexed, not allowed for bots, etc. It can be something like: yoursite.com/test. The slug shown on the previous URL is: test
Step 2 – Set Up Campaign for Testing
For the campaign that is being tested, go to your Display Rules tab. Then, under Where Should This Campaign Load? expand Visitors Browsing These Pages. Make sure the Status toggle is set to Active and then make it exactly matches test (or whatever is the right URL path for your test page. If the URL is yoursite.com/my-optinmonster-test-page then your slug would be my-optinmonster-test-page).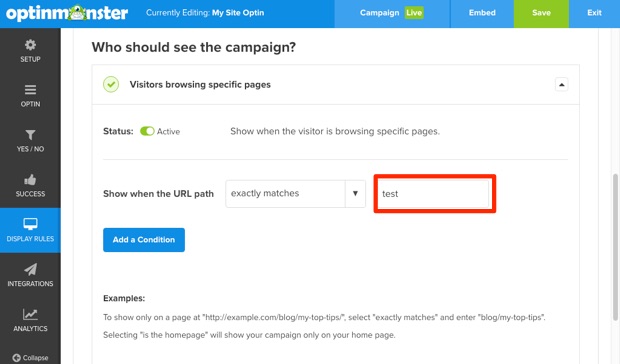 Confirm that the campaign is Live. This is located on the top-right area of your Builder Screen when editing your campaign.
Step 3 – Test Campaign via Google Chrome
Preferably, using Google Chrome and its Incognito Mode, as this ignores previous web browser cache and cookies, go test your campaign on your test page.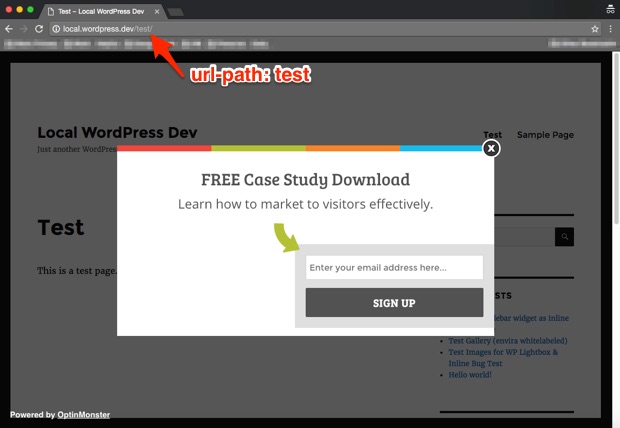 Every time you need to test again, close your Incognito Window and then open up a new Incognito window as this refreshes the session.
Step 4 – Final Testing
After your initial testing for time delay, scroll detection, etc. you can then finish the testing by setting your page-targeting rules for the page(s) in question. Remember to use Google Chrome's Incognito mode every time you want to test as each new Incognito Session disregards the browser's cache and cookies.
Pro-Level Subscribers
Are you a Pro User?
If so, instead of using the page-slug rule for testing, you could
add a parameter rule
instead. Set a parameter with your key to:
om-test
and your value to:
true
. If you're testing on your homepage, you could put this in your browser to see the campaign:
http://yourwebsite.com/?om-test=true
(assuming you don't have any other Display Rules needing to pass, such as having a certain cookie present, 3 page view, etc.)
How to Test OptinMonster on WordPress
Testing on WordPress has changed over time and the following presumes you are running the latest version of the plugin, and at the very least running 1.1.5.x or higher. Check out the changelog for our WordPress Plugin and go ahead and update your plugin if you have not done so already.
Step 1 – Confirm Campaign is Fully Setup and Live
Before any testing can occur, the campaign must be fully setup (integration, etc.) and its status must be live. Please review our creating your first campaign guide if you need assistance creating or editing your campaign.
Step 2 – Refresh List
After your campaign is updated and ready to test, go to your plugin. In the Optins sub-menu there is a button titled Refresh Optins. Click that. This is very important to do anytime you make changes, especially when making changes involving shortcodes.
Step 3 – Edit the Output Settings of Campaign
For the campaign you are testing, click on the link that says Edit Output Settings that is underneath your campaign's title.
On the next screen, you will see an option titled: Who should see this optin?. Change the setting to Show optin to only users (logged in). Click Save Settings.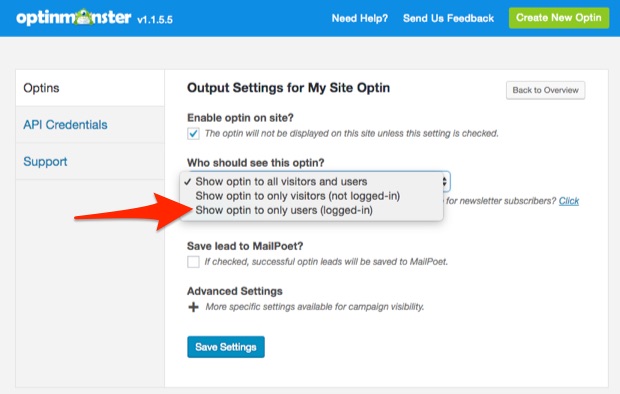 Step 4 – Clear Local Cookies
The next thing to do is to clear out all of OptinMonster's cookies on your web-browser (and only yours), so that you can properly test.
Go to the Optins sub-menu. Click the button that says Clear Local Cookies.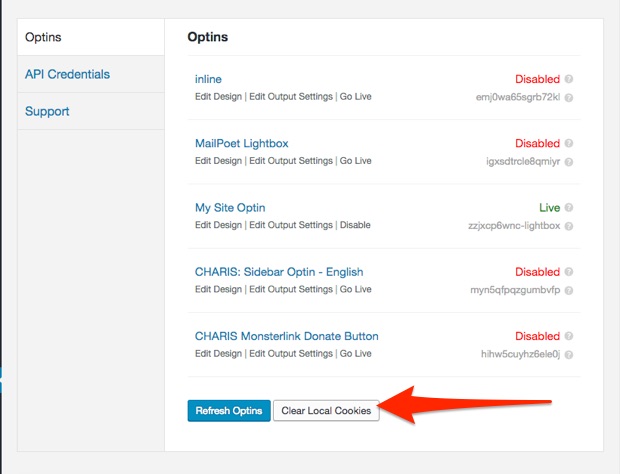 You're now free to test your campaigns according to the display rules that you have set. If you need to test again, just click the Clear Local Cookies button again.
When you are ready to go live, don't forget to update your output settings again so that both logged-in users and visitors can view your campaigns.
Interesting in making your campaigns more effective? Check out our post on hacks to boost your conversions.
---
Frequently Asked Questions
Q: How do I clear just my cookies for OptinMonster?
A: You can clear just your OptinMonster cookies by adding a query argument to the end of the page URL.