Would you like to target both Mobile and Non-Mobile Devices? With OptinMonster, you can create campaigns targeted specifically to certain devices to help improve your conversion rate for your campaigns.
---
Mobile Popup Campaigns
When creating a campaign, you can choose from our Mobile templates to create a mobile popup campaign that shows only to mobile visitors.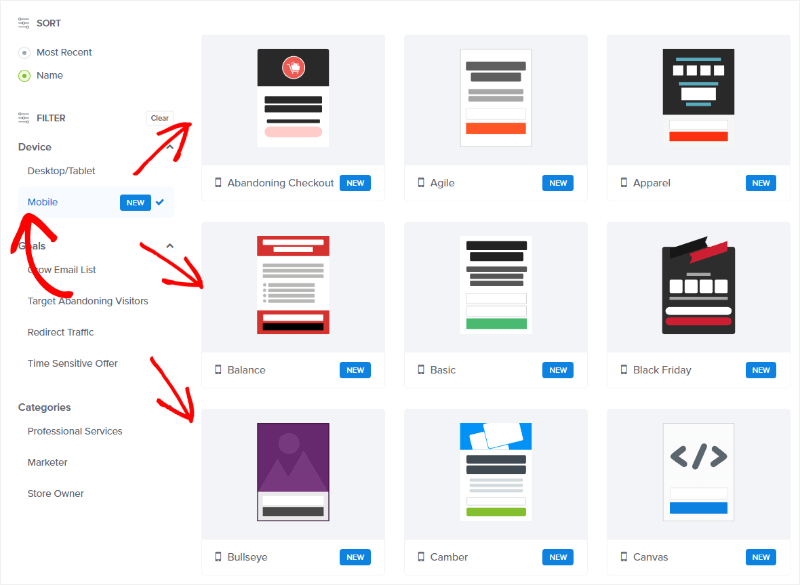 Device Targeting with Display Rules
What is Device Targeting
By default, all campaigns will show on all devices. However, just because a campaign can show on all devices does not mean that it should or that you even want it to show on every device.
There are times you may want to show an offer specifically to mobile users or show a larger sign-up form only to desktop users.
With OptinMonster's Device Targeting rule, you have the power to customize and optimize your campaigns to better serve your web visitors and increase your conversion rate for your campaigns.
---
How to Target Specific Devices?
To target your campaigns by device, you will want to add a display rule. In the Display Rules screen of the Builder, add a rule for visitor's device.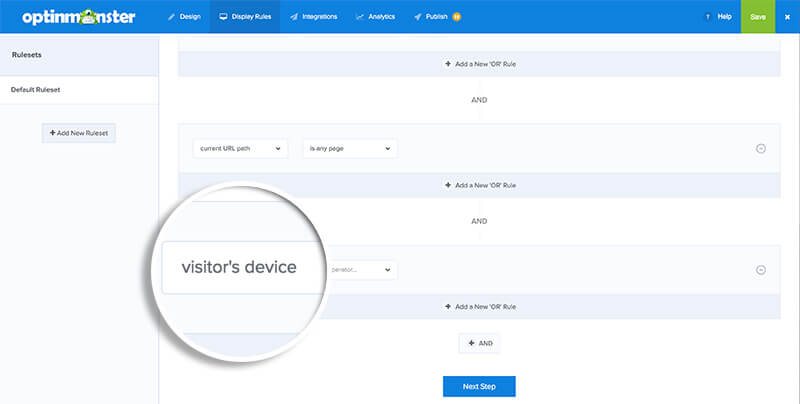 You will then have 2 options to set. The first is to choose whether the condition is or is not: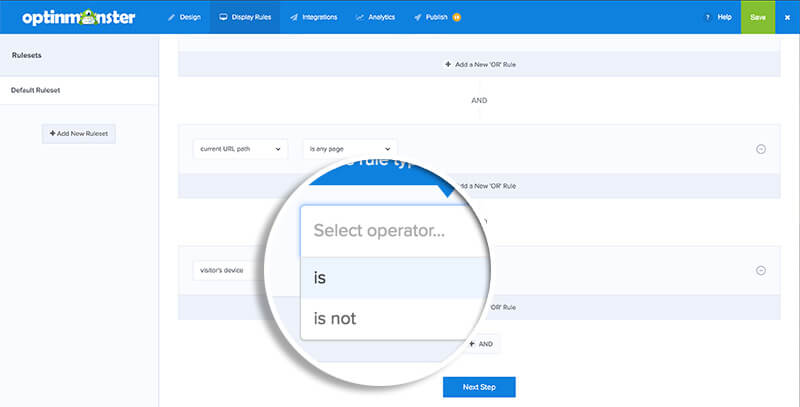 The second determines type of device. Choose from mobile, tablet, or desktop: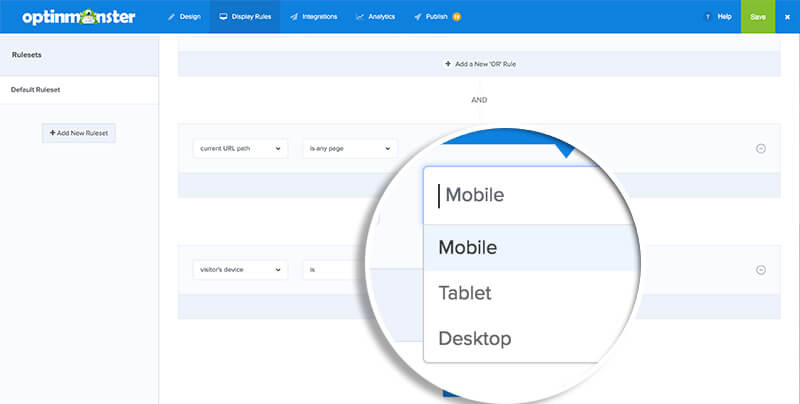 NOTE:
If this is your first time working with Display Rules in the Builder, you should take a minute to
review our Display Rules documentation
to become familiar with their function and purpose.
Show on Non-Mobile Devices Only
To show on non-mobile devices, you have a couple of ways of achieving that setup. The easiest way is to have your settings:
However, you could add a bit of flexibility if you wanted something like the fullscreen campaign to show on tablets and desktops, but not phones. In that case, you could put:
Show on Mobile Devices Only
To show your campaign specifically on mobile devices only, you again have options. You can have your settings be:
For more precise control, you could create 2 rulesets, which is beneficial if you want different rules for each kind of mobile device.
Ruleset 1 — is mobile
Ruleset 2 — is tablet
If you want to target specifically phones:
To target just tablets:
Congratulations, you know can target specific devices in OptinMonster.
Looking for even more targeting? Check out the geo-targeting addon and target specific locations with your campaigns.
---
Frequently Asked Questions
Q: Do MonsterLinks work across devices?
A: Yes, MonsterLinks will always work and are the one exception to the device rule.