Do you want to chain your campaigns together for responsive targeted marketing? Our MonsterChains feature lets you easily display campaigns based on the visitors' response to other campaigns. With a few steps, you can create dynamic marketing chains that display specific campaigns based on your visitors' interactions.
---
What is a MonsterChain
MonsterChains let you link your campaigns together to show or hide campaigns based on whether a visitor has seen, closed, or converted on previous campaigns. This can be helpful for providing things like follow up campaigns that only show when a visitor declined your initial offer or target only those who are leaving without subscribing. For ideas, see examples and customizations.
How to Create a MonsterChain
Step 1 – Review the Display Rules Guide
If you haven't already, you'll find it helpful to first review our display rules guide.
Step 2 – Display Rules
Select a campaign in your account to edit, which will open the campaign Builder. Select the Display Rules tab.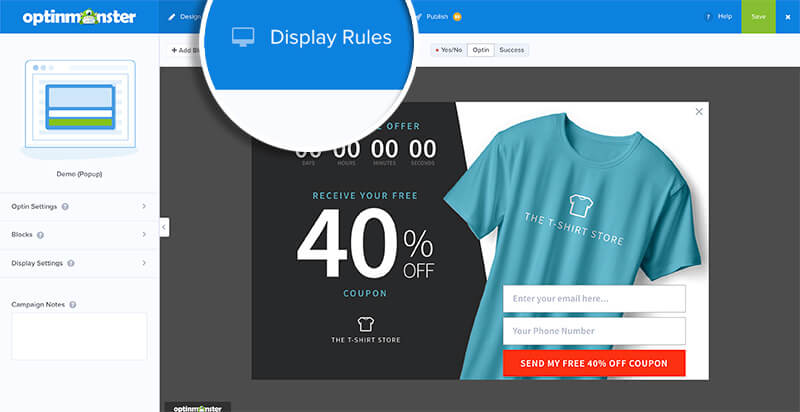 Step 3 – Configure MonsterChain Rule
Use the condition dropdown to choose an interaction rule.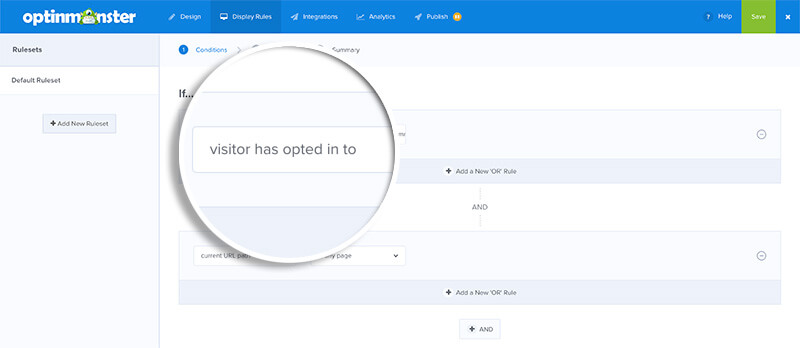 There are several interaction rule options:
Visitor has opted in to
Visitor has not opted in to
Visitor has closed
Visitor has not closed
Visitor has seen
Visitor has not seen
After you select a rule, choose the campaign you wish to target.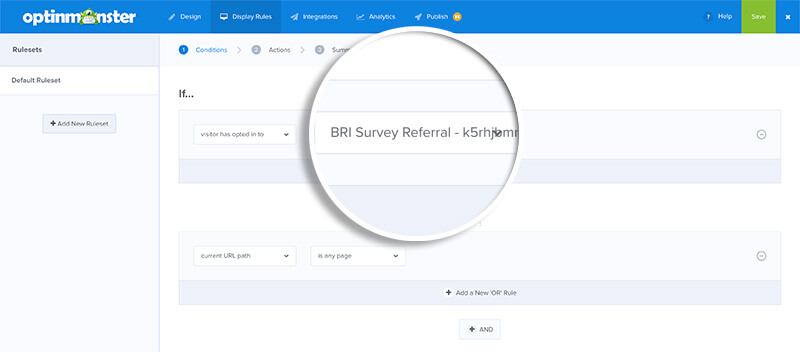 That's it, you've successfully page targeted your campaign using OptinMonster's Referral Detection technology!
Examples and Customizations
Follow Up With a Counter Offer
You can already use OptinMonster to offer your visitors a coupon code or a lead magnet to entice them to subscribe. What about those who don't subscribe? MonsterChains allow you to offer an improved, more enticing lead magnet or better coupon code to only those who turned down the first offer.
For example, you can create a campaign A that shows to all visitors after 10 seconds that offers a 10% coupon if they subscribe to your email list.
Then, you can create a campaign B that offers a 20% coupon if they subscribe to your email list, but it only shows when the visitor has not opted in to campaign A.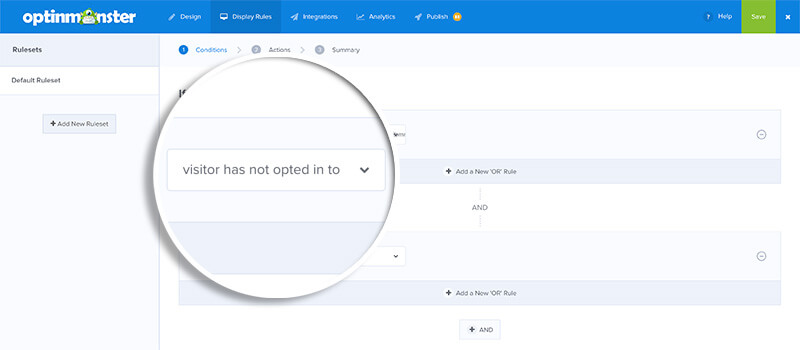 Now, you can turn more visitors into subscribers while keeping your discounts manageable.
Target Visitors Who Leave Without Subscribing
Creating Exit-Intent campaigns is a great way to increase conversions by waiting to show your campaign until the visitor is about to leave the site rather than interrupting their browsing experience.
However, if a visitor has already subscribed through another campaign on your site, such as an Inline Campaign then you don't need to ask them to subscribe again when they go to leave. Preventing them from leaving when they have already subscribed can negatively affect their viewing experience.
You can set your Exit-Intent campaign to only show when the visitor has not opted in to any of your other active campaigns.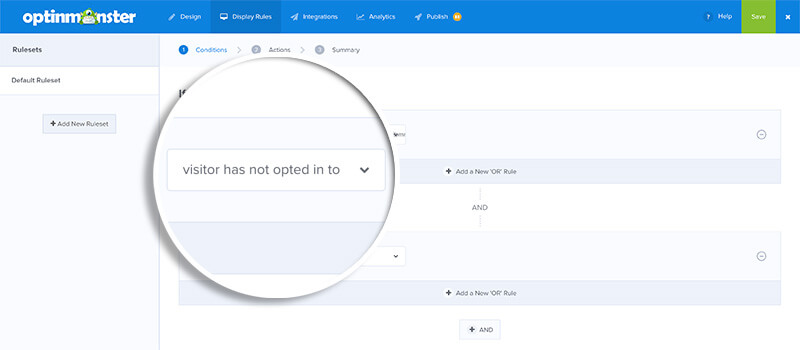 Now, your Exit-Intent campaign is only targeting those who leave without subscribing by other means.
Looking for more ways to create targeted campaigns? See our guide on how to use OptinMonster's Referral Detection for advanced lead targeting!
---
FAQs
Q: What is the difference between "the visitor has closed" and "the visitor has not opted in to" display condition?
A: The difference between both the rules is cookie targeting. The visitor has closed rule looks for the interaction cookie which is set when a campaign is closed by the visitor.
On the other hand, the visitor has not opted in to rule checks for both interaction cookie and no cookie at all.
So, if you want a campaign to appear only if the visitor has closed another campaign, you should use the visitor has closed rule and if you want a campaign to appear if the visitor has not seen another campaign OR has closed the other campaign, you should use the visitor has not opted in to rule.