Do you want to increase conversions on your pricing page? Your pricing page is probably the last page a prospect will visit before deciding to become a customer, making it one of the most important pages on your entire website. Follow these 9 pricing page tips, and you'll be well on your way to more sales.
1. Provide a Few Choices
When it comes to structuring your overall pricing structure, there are two extreme ends of the spectrum that you want to avoid.
On the one end of the spectrum, you don't provide any choices. In other words, there's just one pricing plan and everyone has to abide by it. This can make it difficult, or even impossible, for many of your prospects to purchase your product.
Then there's the other end of the spectrum, where you offer way too many choices. This can overwhelm and confuse the user, causing them to delay making their decision.
Ideally, you want your pricing structure to land right in the middle. That means offering three to four different pricing plans.
Three is the sweet spot if you can hit it, since it gives users a low option, a mid-tier option, and a high-end option. For example, OptinMonster offers $49, $99 and $199 annual plans.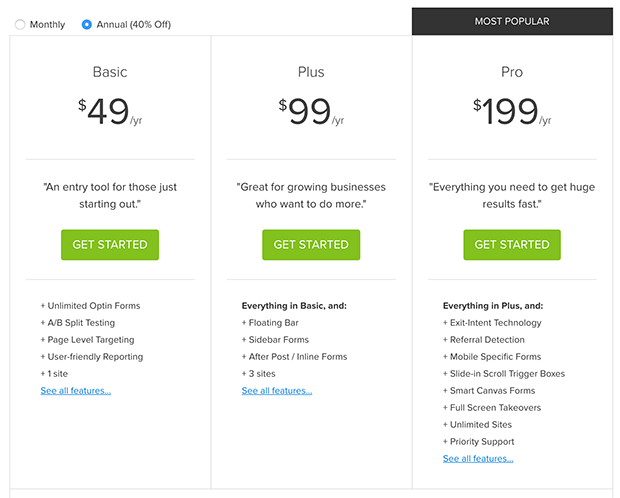 Notice how the options are listed side-by-side. This makes it super simple to scan and compare plans.
2. Name Each Plan
Naming your plans aids in memory retention: it helps prospects to make associations, so they can easily recall which plan comes with what features. The more descriptive your plan names (while still being brief) the better.
For example, let's say you're selling CRM software. Instead of naming your plans "Basic", "Professional", and "Enterprise", you might try calling to mind your different target customers. You could name your plans something like "Fresh Startup", "Growing Small Business", and "Ready to Go Public".
Heroku offers four different plans which are named according to how much performance you get. The "Free" and "Hobby" plans offer performance suitable for personal use, while the "Standard" and "Performance" plans offer professional-level performance.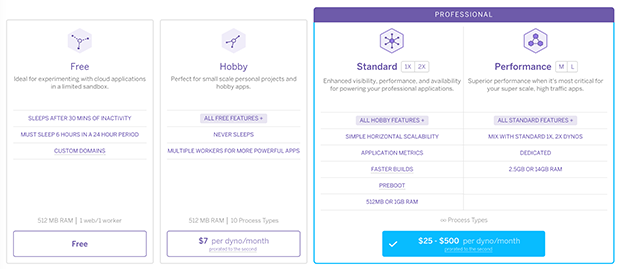 Heroku also includes a brief description under each plan name. In one sentence, these descriptions explain exactly who each plan is for, helping prospects to quickly self-identify.
OptinMonster does the same in one brief quote next to the "Get Started" button for each plan.

MailChimp even goes so far as to include an image above each plan, making it even simpler to understand which plan is which at a glance. They even included an interactive slider so you can calculate the plan which will suit your needs.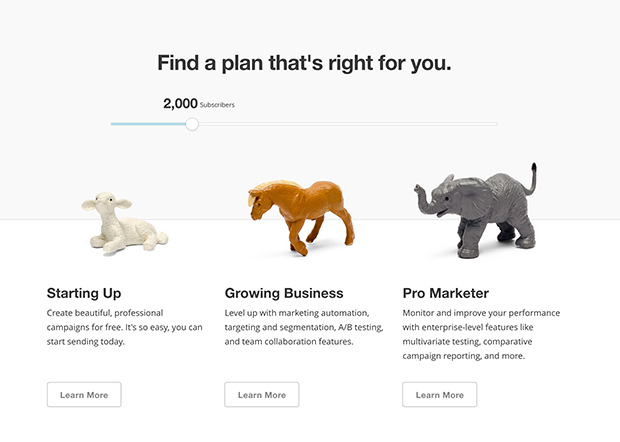 3. Suggest a Pricing Option
To make their decision even easier, try suggesting a specific pricing option to the customer.
All you have to do is highlight one of the choices so that it stands out. Simply saying, "Perfect For You" or "Best Value" can be enough to give prospects the confidence to come to a quick decision.
Remember, the longer a prospect deliberates on a purchase decision, the less likely you are to make the sale.
OptinMonster highlights the option which is most popular with our customers. We also automatically select the annual plans vs. the monthly plans, since these are the best deal for the customer (they're 40% off the monthly rates).

4. Eliminate Distractions
When designing your pricing page, it's easy to get so caught up in all the information you want to convey that you forget this important fact: prospects don't care about every single detail. They only care about the details they need to make a good decision.
If you aren't careful, you could end up with a crowded page that's distracting, overwhelming, and confusing.
Throughout the design process, remember that simple is best. A minimalist approach will always outperform a cluttered page, even though there's technically less information to persuade a customer.
For example, Qualaroo's pricing page used to look like this: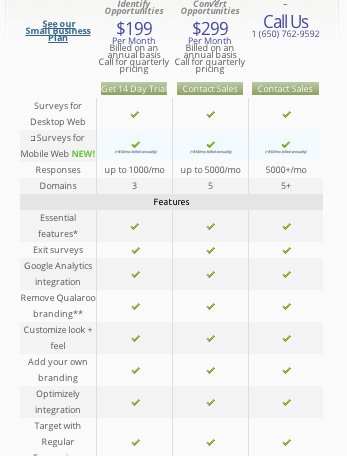 The problem with this is that there were way too many checkmarks. Many of these features were the same across all three tiers, so this information is unnecessary.
Here is Qualaroo's new pricing page: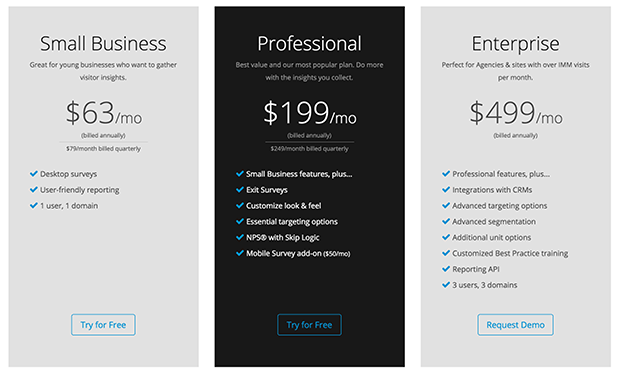 Now they have included only the checkmarks needed to make a quick decision. See how much easier this is to understand?
Give your prospects only the information they need to make their decision: no more, no less.
5. Establish Trust with Social Proof
Trust is huge when making a purchase decision, and you want to make sure your customers feel as confident as possible when they land on your pricing page.
Social proof is one of the biggest ways that smart marketers use to establish trust on their pricing pages.
Code School uses social proof by stating in the subhead, "Join over 1,000,000 students who are learning by doing."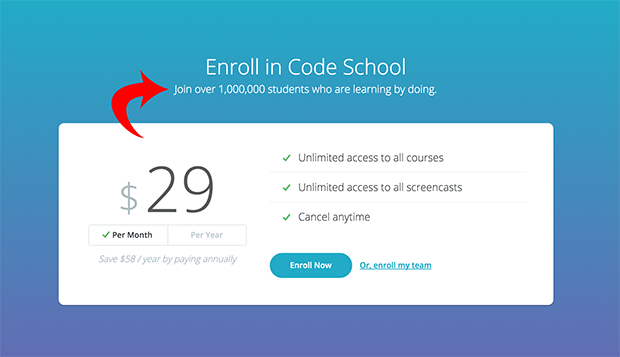 OptinMonster uses social proof in two different places on the pricing page. First, in the subhead, "Join 276,000+ using OptinMonster to get more email subscribers."

And then again further down the page in the form of testimonials.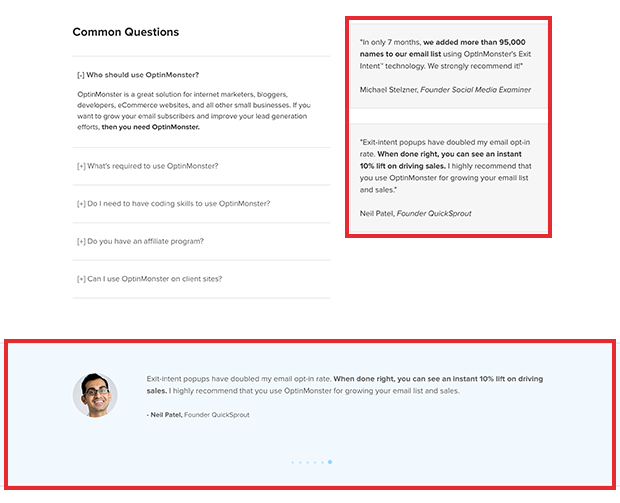 6. Show Purchase Progress
Studies show that people don't like to leave a process uncompleted. By showing the steps remaining in the checkout process, you encourage customers to stay the course.
For example, Awe.sm lists out the steps in the process directly above their three tiers of plans.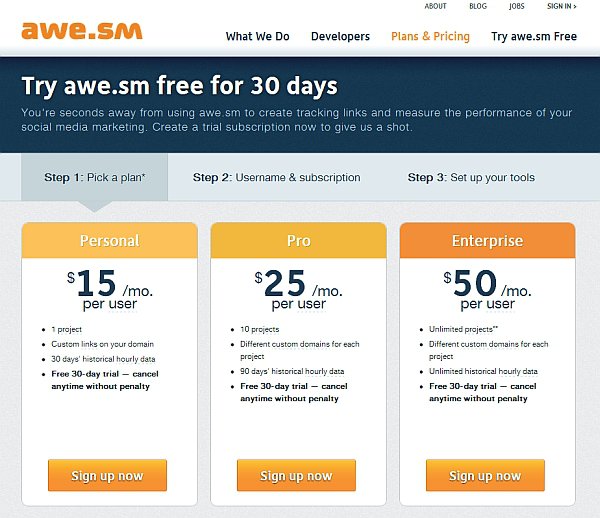 Listing the sequence of steps also helps to set expectations for the user, so they feel more in control of the process.
7. Repeat the CTA
Obviously, you'll need a clear call-to-action (CTA) button under each payment option. But don't stop there… If your pricing page is long enough that some users will have to scroll down, you may need to include a CTA in multiple different places.
For starters, make sure you have a call-to-action above the fold. This way, your CTA will be the first thing the prospect's eye is drawn towards when they land on your pricing page.
Buffer's pricing page includes a call-to-action button at the very top of the page.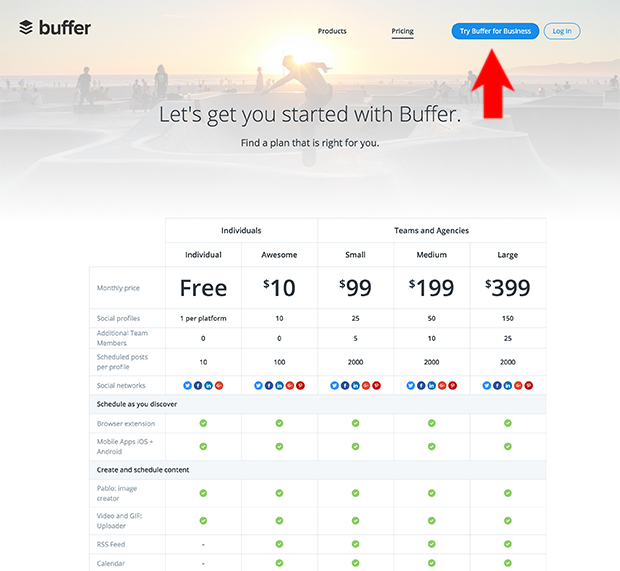 Once you scroll down the page, include a CTA there as well. The last thing you want is for the user to scroll to the bottom of your page and then lose track of the "buy" button.
Buffer includes CTA buttons under each plan, but these aren't visible until you scroll down the page. (Good thing they included a CTA at the top of their page as well!)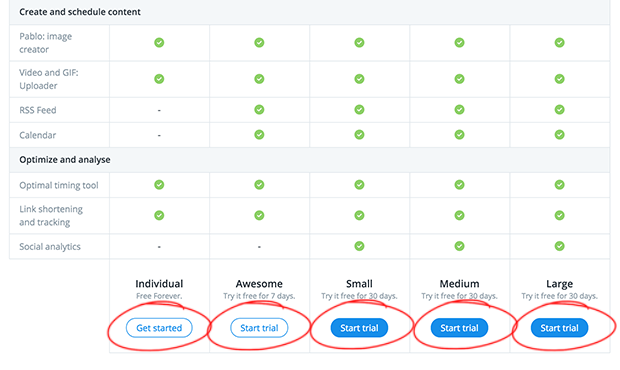 Note that, even though these buttons appear different, they all lead to the same action: signing up for a free trial. This way, Buffer is able to get you to sign up regardless of which section of the pricing page you are reading.
8. Anticipate Questions
If you were to gain insights into the cause behind bounces on your pricing page, you may find that many customers leave simply because they still have questions. One of the easiest ways to reduce bounce rates related to uncertainty is to provide answers to frequently asked questions.
Here's an example from the WPForms pricing page. As you can see, they list a handful of common questions and answers beneath the different pricing options.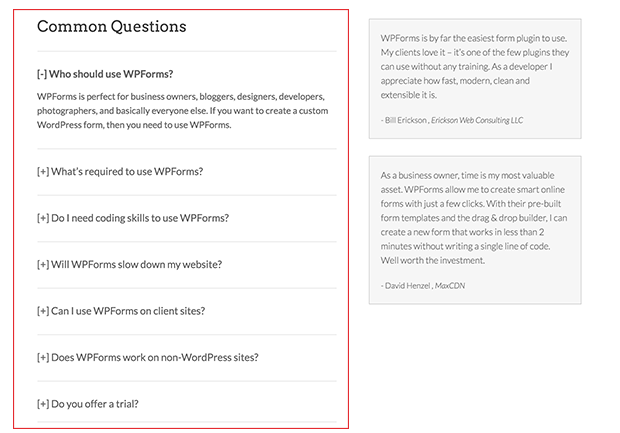 9. Use Exit-Intent Popups
If you want to design the perfect pricing page, you need to understand your user's behavior. And while you would ideally like them to click on the pricing page, select a plan, and sign up, this is rarely what actually happens.
You see, purchase decisions don't happen in a vacuum. It can take 3 to 13+ touches for a prospect to turn into a customer. So the first time someone lands on your pricing page, they may not convert right then and there.
Keeping this in mind, use exit-intent popups to maximize each lead. This kind of popup detects when a user is about to leave a page, and then presents them with one final offer before they go.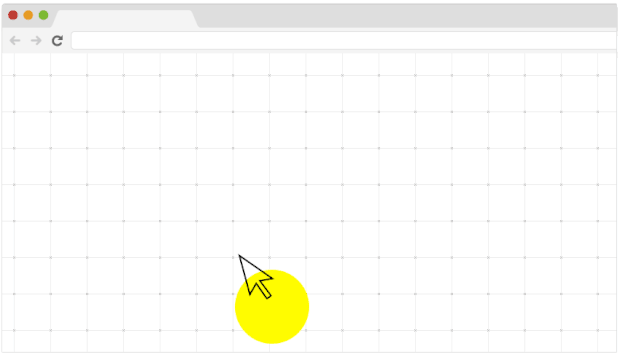 Exit popups can serve any number of purposes. For pricing pages, they typically do one of two things:
Ask for the user's email address in exchange for something free, so you can market to them later (e.g. a downloadable eBook, or another lead magnet).
Present a last-minute incentive to purchase now (e.g. a coupon code, free shipping, or a complimentary gift).
Here's an example of a lead-generating exit popup: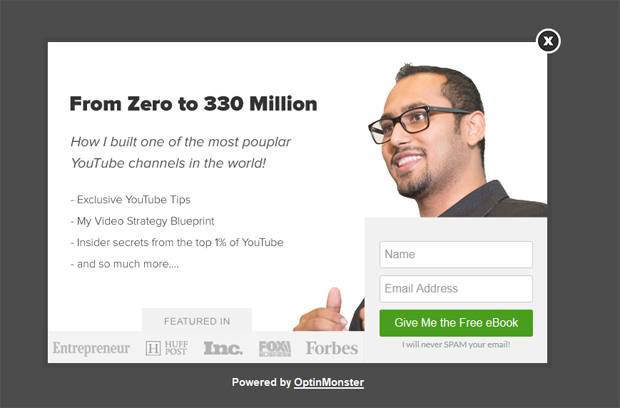 And here's an example of an exit popup that offers a coupon code: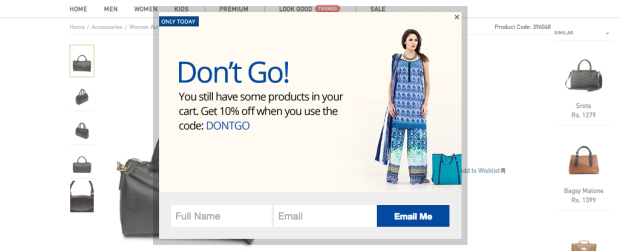 Want something similar on your website?
Start using OptinMonster
to convert website visitors into subscribers and customers.
We hope this article has helped you to learn some new ways to improve your pricing page and increase your sales. If you enjoyed this post, you may also want to check out 9 Customer Testimonial Examples That You Can Use on Your Website.
Which was your favorite pricing page tip? Is there a particular pricing page that you really admire (or one you can't stand the sight of)? Let us know in the comments!