Wondering what makes some websites have significantly higher conversion rates than others?
Well, it's probably because they've chosen a conversion-focused web design.
If you want to know what that is, you're in the right place.
Here's what we're covering:
What conversion-focused website design is and why it's important
Tips to follow if you want to level up your conversion rates
Successful examples of conversion-focused web design
Ready? Let's dive right into it!
Table of Contents
What is Conversion-Focused Web Design?
Why is Conversion-Focused Web Design Important?
6 Ways to Improve Your Website Conversion
What is Conversion-Focused Web Design?
To understand what conversion-focused web design is, you first need to understand what conversion and conversions are.
According to OptinMonster, "a conversion is an action taken by your website visitor in response to your call to action (CTA)."
This means that to have conversions on your website, you need to have a call to action.
Further, to have a call to action, you need to have actions that are important to you and (hopefully) your visitors.
In that context, conversion rate optimization (or conversion optimization is the process of trying to optimize the way you convert potential customers on your website.
One of the most prominent ways to achieve that is by adopting a conversion-focused web design.
For example, take a look at OptinMonster's homepage: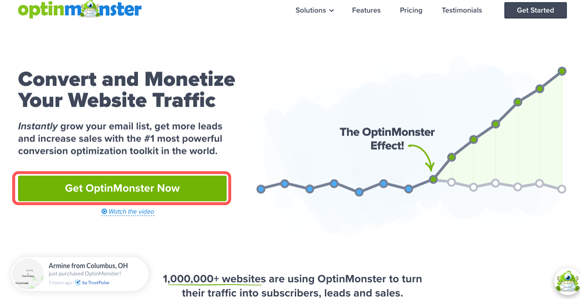 This is a great example of conversion-focused web design.
OptinMonster's homepage has one goal and one goal only: To convince the thousands of visitors landing on the website about the tool's value and get them to start with one of OptinMonster's pricing plans.
As is evident, there are no multiple calls to actions like you'll find on many SaaS landing pages.
Here, we have a simple and clean design, with web copy that's focused on adding value and aesthetics to make important actions (such as the CTA button) stand out.
In some cases, the desired action of a landing page would be to have the user fill in a contact form or call a phone number.
All these actions are important, and need to be "promoted" in the context of a design that clearly communicates the message of the company.
Why is this important?
Let's look at some prominent reasons.
Why is Conversion-Focused Web Design Important?
As we mentioned earlier, conversion rate optimization is a way to improve the way you convert visitors on your website into leads, customers or email subscribers.
One of the ways you can do so is by having a web design that's focused on conversions.
Of course, good design isn't enough, as you need to test your design, copy and CTAs using…
Heatmaps
Screen recordings
… Among other ways to help you on the path to success.
To understand the power of conversion-focused web design (along with experimentation), consider the fact that WordPress plugin Yoast managed to gain 12,000 email subscribers using the following opt-in: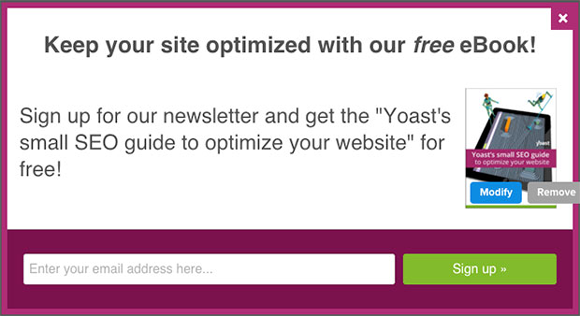 Some visitors saw that opt-in when they were exiting the website (exit-intent), others saw it in the mobile version of the website, while still others saw it as a Content Lock pop-up.
This case study illustrates something very important: Design matters when it comes to converting more visitors on your website.
Either via a pop-up or through a well-designed landing page, by adopting a conversion-first approach when promoting your website, you can get better results from your current visitors.
Companies that use conversion-focused web design manage to gain better results and get the most out of the traffic they already have.
Now let's look at some prominent ways to improve your website conversion, along with some great examples for each of the tips we'll mention.
6 Ways to Improve Your Website Conversion
Having explained what conversion-focused web design and why it's important, we'll now present some ways in which you can use conversion-focused design to improve conversions on your website.
For each of these tips, we'll use examples of SaaS companies you may already know as a way to understand how to implement the same tactics on your own website.
Tip #1: Keep Important Elements Above the Fold
The first way to improve your website conversion is by keeping important elements above the fold.
When we refer to being above the fold, we're essentially talking about "the content that fills your screen. The "fold" is the bottom of the screen."
Of course, this will depend on the device you're using as well as the dimensions of your screen.
This means that the fold is different for a smartphone screen, a laptop screen and a tablet screen.
Moreover, for those different device categories, there are additional differences based on the screen size of each device.
Let's make this concept a bit clearer using Ahrefs as an example.
Ahrefs is a tool for SEO and content marketing professionals.
Here's what Ahrefs homepage looks like on a 13' MacBook Pro: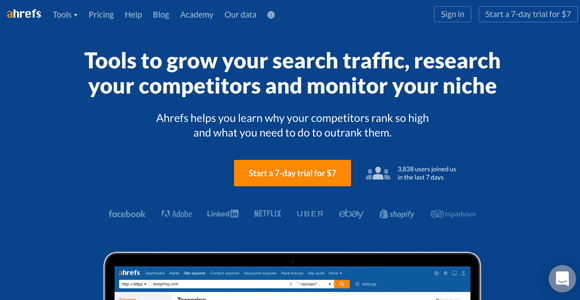 What you see in the screenshot above is what we call above the fold.
However, that's just on this one device.
The same thing should apply to all other devices visitors may use to access the company's website.
For example, here's what Ahrefs looks like using the iPhoneX: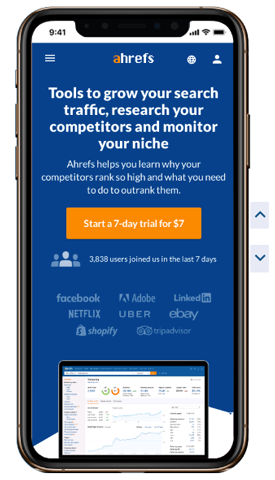 Once again, we can see that the important elements on Ahrefs' homepage are displayed properly without having to scroll down the page.
Thus, it's essential to understand that: a) your website's important elements should be displayed above the fold, and b) this should happen across all different devices and screen sizes.
What are these "important elements" though?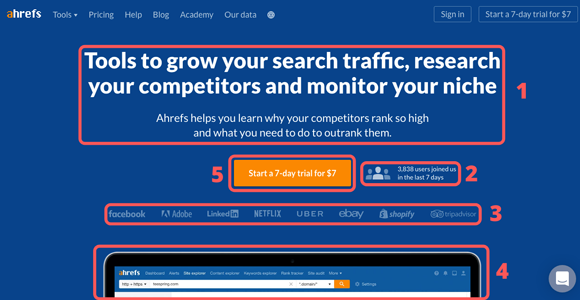 First, we have the tool's unique value proposition (UVP).
With this headline and sub-headline, the tool makes it super clear as to what users (e.g. digital marketing professionals) can expect from Ahrefs.
Then, we have a strong social proof signal, as visitors can see the number of users that have joined Ahrefs in the last 7 days.
Next, we have the logos of companies like Netflix, Facebook and Adobe, all of which use Ahrefs as part of their marketing strategy.
Following that, we have a nice mockup of what the tool looks like in action.
As you can see, this isn't displayed quite as well on a 13' MacBook Pro, but it's super clear on an iPhoneX.
The element that's super important is the call to action button, which a) explains what the user can gain from Ahrefs as well as b) what the user has to provide in return to receive it ($7).
Thus, we can see from this example how nicely Ahrefs has managed to include the most important information above the fold.
Of course, the visitor has to scroll down some pages to see other important information such as testimonials.
However, having all these elements above the fold would likely lead to analysis paralysis due to information overload.
Tip #2: Be Consistent With Your Messaging
The second way to improve your website conversion through conversion-focused design is by being consistent with your messaging.
To understand this point in more depth, let's use the presentation software page on Visme's website as an example.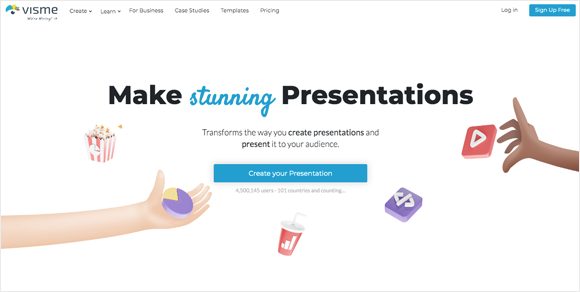 We can see that one of the main keywords this page ranks for organically is "presentation software."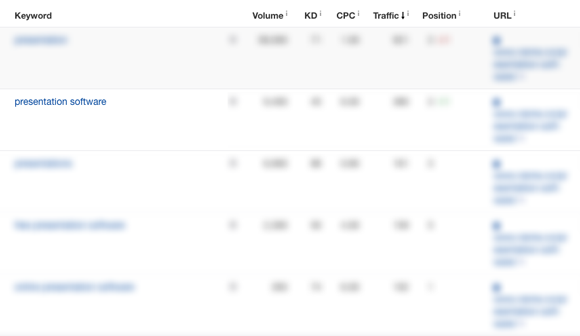 This means that most people landing on the page—from search engines like Google—are looking for a solution that will allow them to easily create visually appealing presentations.
This also means that the intent behind users searching for that term and landing on that page is crystal clear.
Thus, the design and copy of the page must be focused on "presentation design."
If we take a close look at the page, we'll notice that this is exactly what the messaging of the page entails.

The headline of the page reads "Make stunning Presentations", which is exactly what the user expects to see.
Moreover, the CTA button reads "Create your Presentation" which—once again—is exactly what the user wants to do.
By being consistent with our messaging and overall design, we make sure to give the visitor enough reasons to continue on the user journey we want them to progress with.
Imagine if the user thought they were going to see a page around presentations and the page was mostly talking about something else?
That would 'kill' the conversion and definitely result in a high bounce rate for the page.
Taking this a step further (and scrolling down the page a bit), we can see how various design elements present the value of the product and support the main topic of the page, which is presentation design.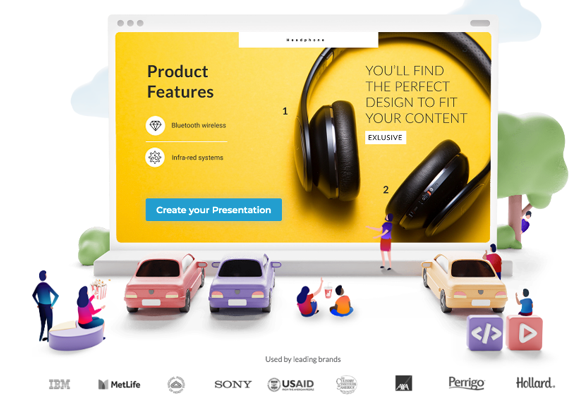 By combining copy and design elements such as those mentioned above, you can be consistent with your messaging and get better results from the traffic you already receive.
Let's move on to the next tip.
Tip #3: Make Use of White Space
You don't need me to tell you that white space is important when it comes to improving your conversion rate.
There isn't a better example here than Google's own homepage.
According to Internet Live Stats, Google receives over 40,000 searches per second.
Of course, this number is continuously growing as usage of the infamous search engine increases over time.
But why is it that with so much interest around its main product (the search engine), Google keeps such a simple design with just one main call to action?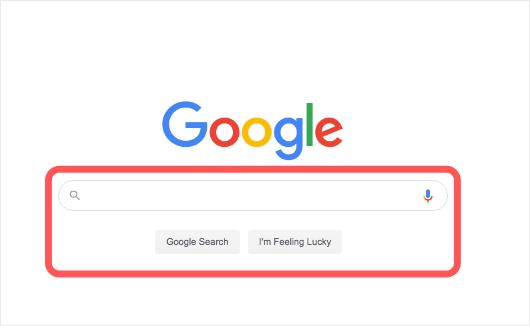 On top of that, taking a look at how the search engine looked like back in 2000, we can see that few things actually changed in terms of the design of the page.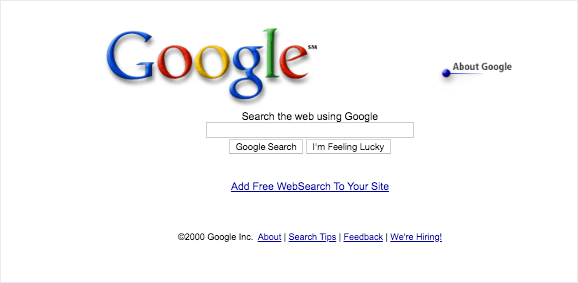 You may wonder why, but the answer is more than obvious:
Because this design works.
Google wants its users to be focused on the single most important element on the page:
The search button.
In keeping with this, the white space on the page serves that exact purpose.
If you think about it, the "conversion" in this case is getting someone to click that button and make a search.
We can therefore see that Google has taken a conversion-first approach since its early days, choosing to keep the page simple as a way to draw attention to what's most important:
Conducting a search.
The way the actual search results are served has changed more over time, of course.
Nowadays, we have various SERP features that distract us from the organic results. However, the way conversions are made has remained the same.
White space can be a great way for you to draw attention to the specific elements on your page that matter.
Make sure to use it wisely.
Tip #4: Make Your Call to Action (CTA) Buttons to Stand Out
The next tip I have for you is to make your CTA button stand out.
As we explained earlier, CTAs exist for a reason: To prompt visitors to take a certain action while on your website.
If your CTA isn't enticing and doesn't make a difference, your visitors won't pay attention to it and thus won't perform the action you want them to perform.
A great example here comes from OptinMonster.
Look at the CTA button on OptinMonster's homepage: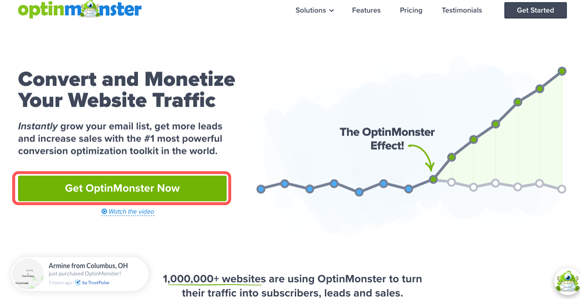 This CTA is:
Large, as it stands out from the rest of the elements
Makes a difference with the right use of color
The same is repeated five times on OptinMonster's homepage, all on different parts of the page.
See how nicely the CTA stands out, and that everything is built around that?
With this example, it's also worth noting that the use of white space (which we mentioned previously) makes the important elements on the page truly stand out.
This doesn't apply just on laptop or desktop devices, but on mobile as well.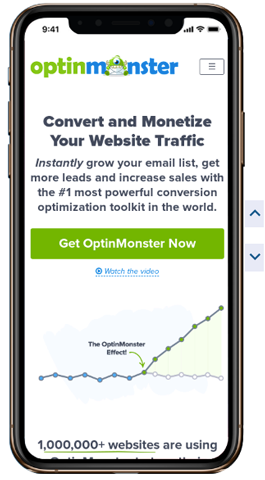 For example, we can see that on an iPhoneX, OptinMonster's CTA truly stands out and makes a difference, as it's almost as wide as the entire screen.
The same logic is followed across different parts of the website, such as the page listing OptinMonster alternatives.

Thus, as you can understand, making your CTA button stand out is very important and can definitely help you get better results.
In general, there are three ways to make your CTA stand out:
Let's move on to the next tip I have for you.
Tip #5: Focus on Search Engine Optimization (SEO)
Roughly speaking, there are three ways you can drive traffic to your website:
Organically
Through paid ads
Through referral sources
Traffic that comes through social media—if it's not paid—is also considered to be a type of referral traffic.
You can see this easily in the acquisition report within Google Analytics.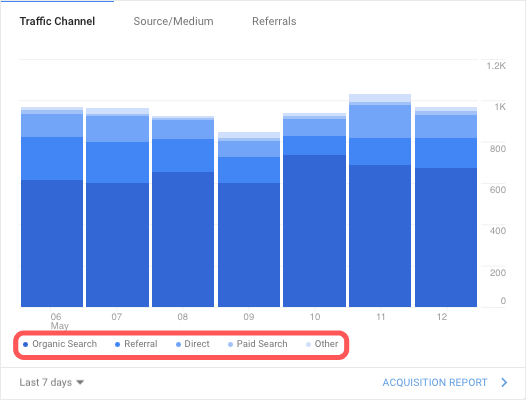 In most cases, you'll notice that a big part of your overall traffic will come from organic searches.
According to SparkToro, more than 50% of all Google searches result in a no-click search.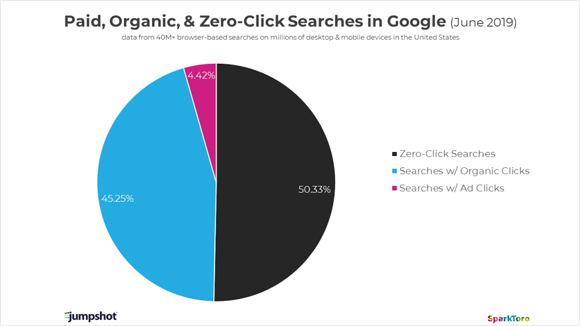 That leaves us with more than 45% of all clicks on Google going to organic search results.
This means that organic searches still drive the majority of traffic on the web.
You may be wondering: Okay, but how is this connected to conversions and web design?
From the moment we acknowledge the fact that organic is still the best driver of growth for most companies, we have to start caring about the traffic that comes from that source.
In addition, we have to start optimizing our website and web pages based on that particular channel, in an effort to improve conversions and get better results overall.
If you ask anyone involved in SEO, they'll tell you that SEO is a broad topic with many factors involved.
In fact, SEO has extended into many aspects of website optimization.
One of the most important of these aspects is the experience that the user has on a website.
Interestingly enough, that's the exact same thing we want to achieve through conversion optimization and conversion-focused web design.
Thus, the logic here is simple: Your web design and SEO team should work together and be accountable for one another.
This way, you'll manage to utilize the power of SEO and integrate it into your web design.
Let's move on to the final tip.
Tip #6: Use a Minimalistic Design
This is the last tip I have for you.
Using a minimalistic design is one of the main characteristics of conversion-focused web design.
But what does that actually look like?
One example is the homepage of live streaming platform Uscreen.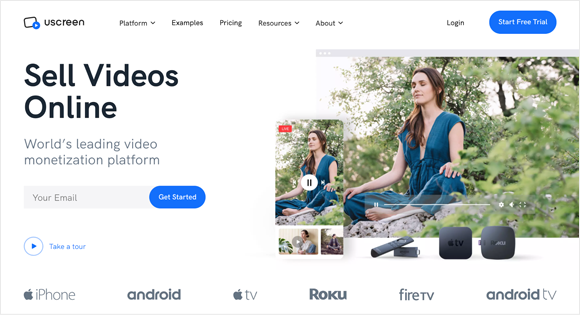 As you can see, what stands out on this homepage is a) the video screens, b) the copy (headline and sub-headline) and c) the email sign-up.
Keep in mind that this is what the user sees on a 13' MacBook Pro above the fold, which as we explained earlier, is what the visitor sees without having to scroll down the page.
Another great example of this is online reviews site G2's homepage.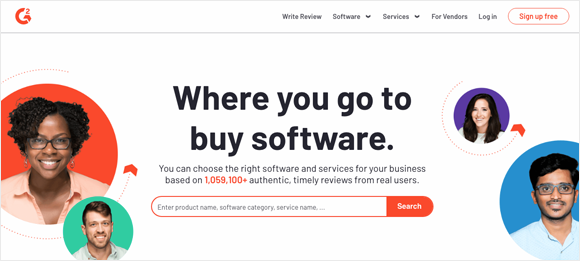 Our focus immediately goes to the faces of the software buyers, the headline and sub-headline and the search bar.
As expected, G2 follows the same logic on the rest of the homepage, as well as on other parts of the website.
If you scroll down a bit on the website's homepage, you'll notice that all the different sections follow the same minimalistic principles.
For example, this section has only a graph (from G2's UI), a supporting copy, and a CTA to learn more about G2's Track feature.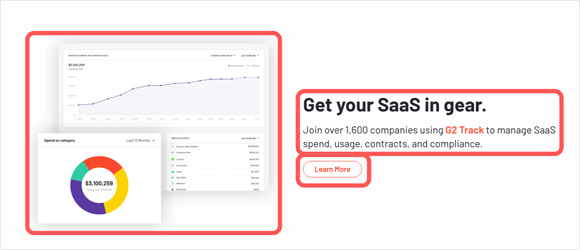 Instead of filling the homepage with information and text—which many businesses do for "SEO purposes"—G2 gives the visitor only what they need to know at first glance.
Of course, we're not in a position to know if this works for G2, but we can understand why it's an important concept.
This way, you avoid things like analysis paralysis that are popular "conversion killers" and instead offer clear options to your visitors.
The truth is that web design is a very opinionated field, as different web designers have different views on how things should be done.
Regardless, we can't overlook the benefits of minimalistic web design, especially when it comes to improving conversion rate.
Let's wrap this up by closing with some final thoughts.
Wrapping Up
So there you have it.
You now have a better understanding of conversion-focused web design.
Remember: Everything you do on your website should aim to create a better user experience.
In this context, you need to experiment to find how best to provide your website visitors with a seamless experience.
If that means you have to tweak your website copy, go for it.
If it means you need to adjust the design of your web pages, don't hesitate.
Do whatever it takes to enhance the experience visitors have on your website, whether that's updating your calls to action or putting a greater emphasis on the design of your website graphics.
If you do, they'll reward you with repeated visits and by taking actions that are important to you and your business.
Interested in improving your web design and want to learn how to use custom fonts on your optin campaigns? Learn how to upload custom fonts to your OptinMonster campaigns.
Get started with OptinMonster today and start converting your visitors into leads and customers.