Looking for membership website builders to help you create a membership site for your business?
Membership websites are an up and coming way to generate leads, build your email list, and grow your business. But how do you create membership websites if you don't know any coding?
Don't worry, this list of membership website builders will show you how to get started the easy way. Let's take a look!
What Is a Membership Website?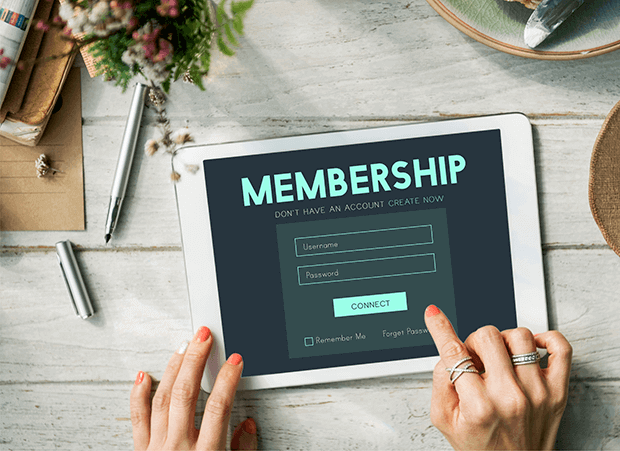 A membership site is a website with gated content and exclusive benefits for members. Memberships can be free or paid, but all require some sort of signup and login process.
Membership features can include community forums, online courses, exclusive products in an online store, special features on a mobile app, and other special perks for members only.
Membership vs. Subscription Websites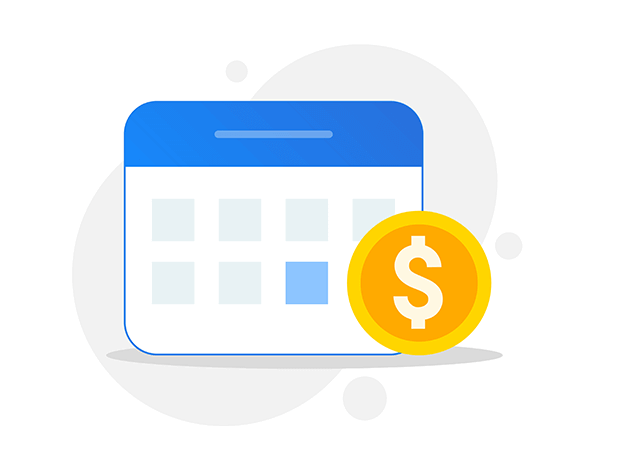 While you may see membership and subscription websites used interchangeably, we'd like to clarify that they aren't exactly the same. Not every membership is a subscription, and not every subscription is a membership.
An online membership is about belonging to a group, which members can pay for regularly like a subscription, pay for once to gain lifetime access, or join for free. On the other hand, a subscription simply means paying for something on an ongoing basis. That can be products, content, access, or anything else.
Let's look at a quick example. A meal kit delivery service would be a subscription, not a membership. But if you add an online cookbook club for swapping recipes, sharing photos of what they've cooked, or asking for advice about meal planning, that would make it a true membership.
How to Choose Between Membership Website Builders
Now that you know what a membership site is, you're probably wondering how to build one, especially if you don't have any coding skills. The good news is that there are plenty of membership website builders you can use to get your membership set up quickly.
To pick the best membership site, consider the following factors:
Pricing: Remember to factor in the monthly cost of the platform, a domain name if you need a new one, and your time or the cost of a developer to build your site
Customer Support: What channels can you use to get support if something breaks, and how quickly can they help you?
Functionality: You may need more advanced features for your membership such as online courses, forums, webinar integration, or podcast hosting.
Membership Models Supported: If your membership has multiple levels, different payment plans, a free plan or trial period, make sure your membership website builder can support those.
Ease of Use: Look for something that's easy for you and your members to navigate and update. Does it come with templates or will you have to design everything from scratch? Pay special attention to the membership management tools for adding, editing, and deleting members, since you'll need to do this a lot.
Marketing Tools Integration: To really make your membership an important part of your overall business plan, you'll need to promote your membership site. Ideally, choose a platform that integrates with the marketing tools you're already using.
13 Best Membership Website Builders for Any Platform

MemberPress is the best membership website builder plugin for WordPress. With MemberPress, it's easy to build full-featured membership sites on the WordPress content management system (CMS) you may already be using for your website.
Functionality:
Content dripping and pathways for members based on group
Full learning management system (LMS) to create online courses
User-friendly member dashboard
Digital downloads
Precise access control for members
Dynamic pricing pages
Customizable checkout with coupons and payment options
Membership Models:
Unlimited number of customizable memberships
Automated or manual member billing
Free or paid memberships
Customer Support:
Knowledge base
Support tickets (with turnaround within a couple hours during business days)
Email
MemberPress Pricing:
There is no free version of MemberPress, but the plugin is affordably priced and comes with a 14-day money back guarantee.
Basic: $179.50 per year
Plus: $299.50 per year
Pro: $399.50 per year
Get started with MemberPress today!

Thrive Apprentice is a fantastic membership plugin for WordPress that makes it simple to design and manage online courses, training programs, and membership websites. With its user-friendly drag-and-drop editor, you can produce professional-looking content without any technical knowledge.
Functionality:
Online courses with progress tracking
Content dripping
Interactive quizzes
Completion certificates
Digital downloads
Membership Models:
Courses-only
Courses with other digital content (like blog posts)
Digital content only
Customer Support:
Support tickets
Knowledge base
Video tutorials
Thrive Apprentice Pricing:
Thrive Apprentice is priced at $149 per year, or you can purchase the Thrive Suite for $299 per year and use it on up to 5 sites. The Thrive Suite includes 9 helpful WordPress plugins for building your online business.
Get started with Thrive Apprentice today!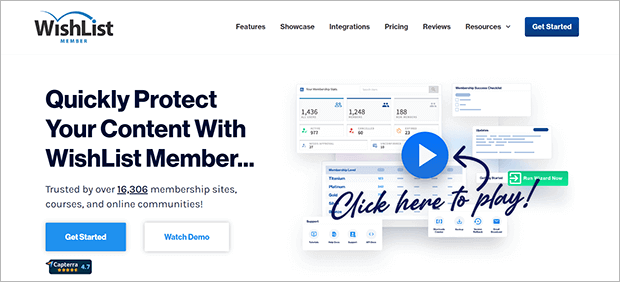 WishList Member is another popular WordPress membership plugin that makes it easy to protect and schedule your content. It doesn't have online course functionality built in, but you can integrate with other LMS plugins. WishList is great at turning your existing content into a membership.
Functionality:
Content protection
Content dripping and scheduling
Sneak peeks
Multiple payment providers
Member onboarding automations
Membership Models:
Free and free trial
Premium
Pay per post
Customer Support:
Knowledge base
Support tickets during business hours
Facebook group for peer support
Pricing:

MemberSpace is a beginner-friendly membership website software for content creators, entrepreneurs, educators, and more. MemberSpace works on any website platform, such as WordPress, Showit, Notion, and many more. It doesn't have forums or courses built in, but you can integrate other softwares to add those features.
Functionality:
Tiered access plans
Self-serve membership editing
Abandoned signup recovery
Failed charge recovery
Content dripping
Membership Models:
Free or paid plans
Free trial periods
Recurring or one-time payments
Member approval
Membership expiration
Customer Support:
Live chat
Email
Live support hours
Pricing:
Free plan with MemberSpace branding available
$49 per month to remove MemberSpace branding
5% transaction fees for all plans
Wild Apricot combines a membership website builder with robust member management, event planning, and marketing tools. It's designed with organizations in mind, so it might be a bit too complex for smaller organizations. But if you're running a large membership organization, it's a great option!
Functionality:
Membership widgets you can embed on existing sites
Members-only content for WordPress sites
Drag-and-drop website builder
Mobile-friendly themes
Blogs and forums
Online member database and searchable directories
Membership Models:
Multiple membership levels
Optional administrator approval
Group memberships for families, teams, or companies
Self-serve membership renewal
Customer Support:
Live chat
Email
User forums
Pricing:
Limited free plan available
Free trial with limited storage and no custom domain
Paid plans start at $48 per month for up to 100 contacts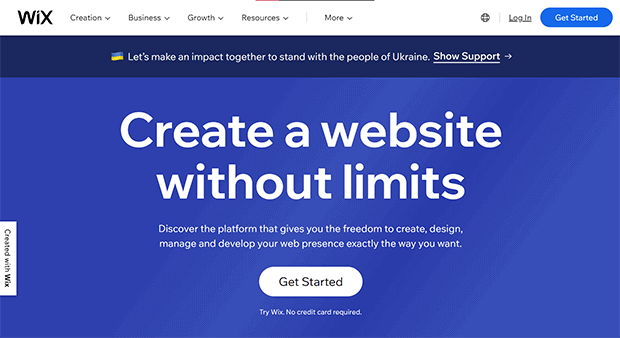 Wix is a popular website builder you can use to create a special members area with exclusive pages and services. Your website visitors can create their own account and profile to use with your online store, booking calendar, or exclusive content. The members area works best with other Wix apps like Wix Stores or Wix Groups. It's not as customizable as other all-in-one options, but you can mix and match the Wix apps you need to create a reasonably good user experience.
Functionality:
eCommerce customer accounts with order tracking
Appointment booking
Event management
Online ordering
Online programs
Protected web pages
Member-to member chat
Membership Models:
Free and paid subscriptions
Customer Support:
Pricing:
Free plan available with ads and no custom domain
Paid plans start at $16 per month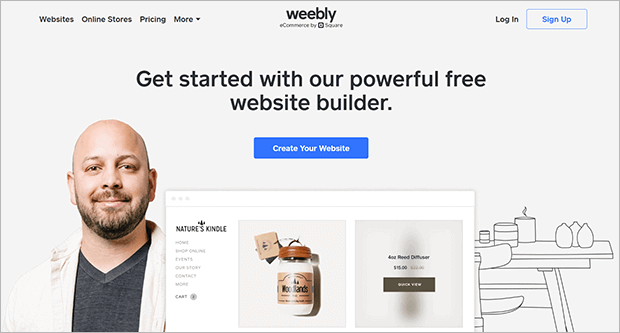 Weebly is another website-building platform that includes basic membership site features. Weebly membership functionality is limited to setting page visibility to members-only, but other apps can be added to handle online payments for membership fees. If you're already using Weebly and just want to limit page access, you can stick with this platform.
Functionality:
Content gating
One-click login
Membership Models:
Other apps needed for subscriptions and paid memberships
Customer Support:
Knowledge base
Community forum
Phone
Email
Pricing:
Membership sites are available on Professional plans or higher, which start at $12 per month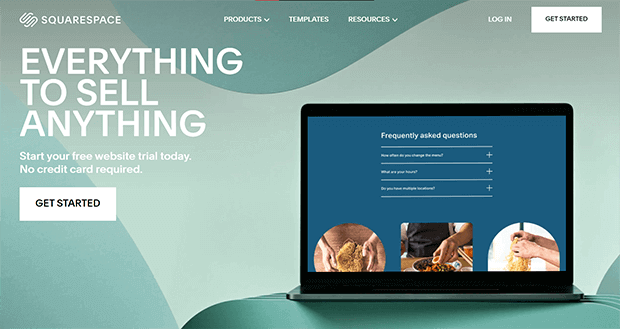 Squarespace is a well-established web design platform that now lets you sell your content on a membership site. For users already on Squarespace, their membership areas are a nice add-on to the SEO tools, analytics, and other site-building features that Squarespace comes with.
Functionality:
Protect and share content
Sell online courses and 1:1 coaching
Paid email marketing newsletters
eCommerce customer accounts
Promotional discounts for members
Membership Models:
Free membership
One-time fee
Recurring fee
PayPal and credit card support
Customer Support:
Knowledge base
Email
Live chat
Twitter
Facebook Messenger
Pricing:
Membership areas start at $9 per month in addition to the cost of your Squarespace website plan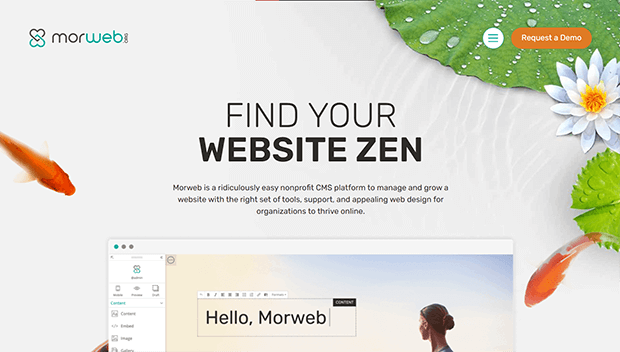 Morweb is a content management system (CMS) that is made with nonprofits and associations in mind. For organizations with few resources for wrestling technology, Morweb provides an all-in-one solution for managing members, events, donations, and resources without any coding or advanced technical systems.
Functionality:
Member portals with exclusive content
Member directory
Membership database
Member application forms
Membership dues
Multiple membership types
Membership Models:
Recurring payments (monthly, quarterly, or yearly)
Customer Support:
Pricing: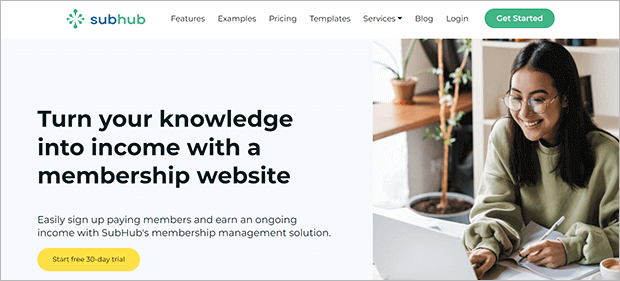 SubHub is a fully-hosted all-in-one membership site builder for knowledge-based businesses. We like their community-building features, dedicated customer service, and generous 30-day free trial.
Functionality:
Membership-based content access
Online courses
eCommerce store for physical products, digital downloads, and more
Member forum with directory, event calendar, and social media integration
Membership Models:
Unlimited subscription plans and levels
Recurring subscriptions (annual, monthly, and other)
Free trials
One-time payments
Pay-per-view content
Customer Support:
Pricing:
Starts at $47 per month with SubHub branding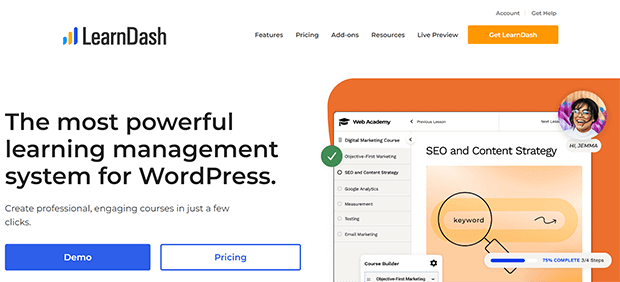 LearnDash is the most powerful learning management system plugin for WordPress. While it doesn't have some of the other membership site features, its online course functionality is light years ahead of almost everything else on this list. If your business is all about selling online courses, give LearnDash a try!
Functionality:
Online courses
Quizzes
Focus mode
Drag & drop course builder
Dynamic content delivery
Prerequisites
Badges & certificates
Leaderboards and gamification features
Membership Models:
One-time purchases
Subscriptions
All-access passes (one-time or recurring payments)
Course bundles
Group registration
Customer Support:
Knowledge base
Support ticket
Pricing: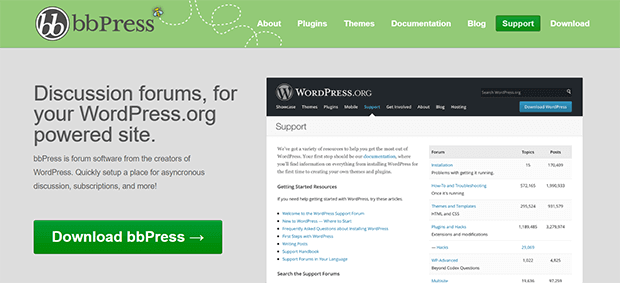 bbPress is an open source forum software if you just need a quick and easy way to set up a discussion forum on your website.
Functionality:
Discussion forums
Login requirement
Favorite topics
Content subscriptions (not paid)
Topic tagging
Search
Post formatting
Reply threading
Membership Models:
Free forum user registration
Customer Support:
Pricing:
We had to include OptinMonster on this list just in case you're looking for a simple content-locking solution but aren't ready to build a full-fledged membership site just yet.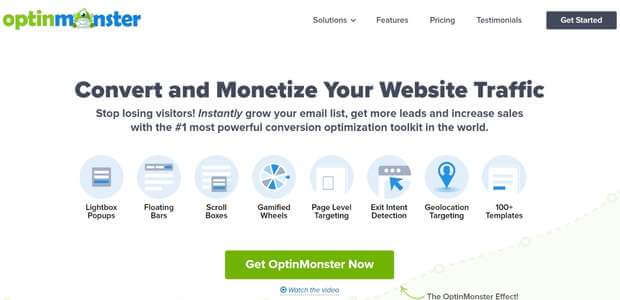 OptinMonster makes it easy to grow your email list by using gated content. Visitors can enter their email address to unlock the subscriber-only content, which forms a sort of mini membership on your email list.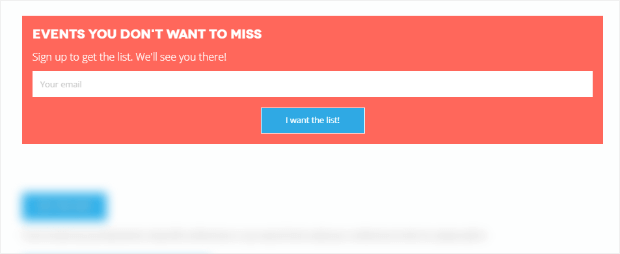 If you already have a full membership site built using MemberPress, you can use OptinMonster's powerful targeting rules to show your members special messages based on their login status, member level, course participation, subscription expiration, and more.
This gives you a great opportunity to automatically deliver great customer service and user experience to your members.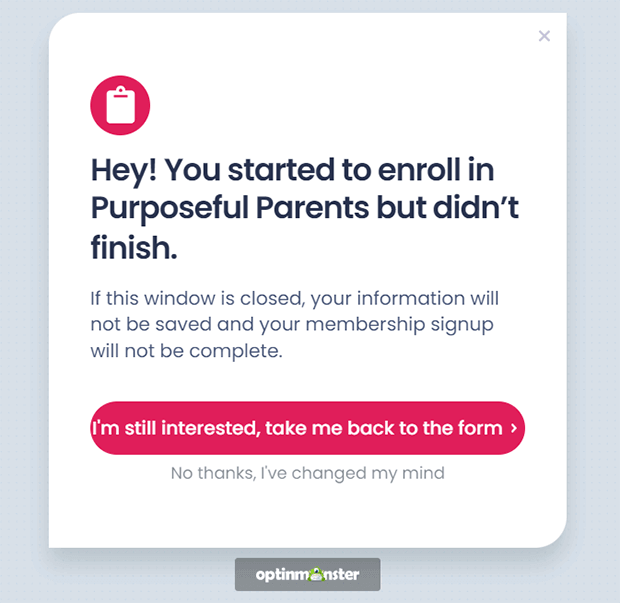 Plus, you can use all of OptinMonster's other targeting rules and the easy, drag-and-drop builder to create eye-catching campaigns throughout your website.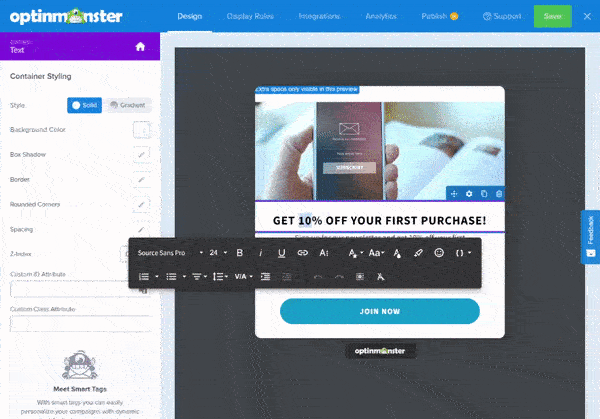 Get Started With OptinMonster Today!
BONUS: Done-For-You Campaign Setup ($297 value)
Our conversion experts will design 1 free campaign for you to get maximum results – absolutely FREE!
Click here to get started →
How to Create a Membership Site
Regardless of which membership website platform you go with, you can follow the same basic steps to create a thriving membership community.
Step 1: Choose Your Membership Model
First, you need to decide what your membership model will be. What perks will members get in return for subscribing to your list or paying a membership fee?
You also need to think about whether you're going to offer different membership levels. This can make your membership more accessible while reserving the biggest benefits for higher-paying members.
Finally, consider how much and how often you'll charge for your membership.
Step 2: Create Your Membership Content
Now it's time to create your membership content. You can always reuse what you already have and simply put it behind a paywall or subscription gate. You can also create new, exclusive content. If you're producing video, audio, or online courses for your membership, leave yourself plenty of time for content creation.
Other perks you can offer without creating new content include:
Early access booking
Exclusive discounts
Members-only events
Step 3: Pick Your Membership Platform
Based on your membership model and content types, look through the list of best membership website builders above and choose the platform that works best for you.
Any membership website builder you choose must have the ability to set gated content and create some sort of members-only area that can only be accessed by logging in.
Depending on the details of your membership site, it would be nice to have a platform that allows for easy customization, integrates with Stripe or other payment processors, tracks important engagement metrics, and functions properly with other WordPress plugins or marketing tools that you're using.
Step 4: Publish Your Members-Only Content
Once you have your platform set up, you'll need to publish your members-only content. This includes gated content and any other perks, but you may also need to write:
Welcome messaging for new members
Onboarding for your online community
Pricing plans for your new membership
Landing pages to sell the membership
Step 5: Promote Your New Membership
Building a membership website can be a lot of work even with the most user-friendly membership website builder. Make sure to get the most out of your investment by promoting and marketing your new membership!
Announce your new membership to your social media followers, email contacts, and blog subscribers. To boost conversion rates, you might consider offering a limited-time reduced membership price.
If you're using MemberPress, you can use OptinMonster to show targeted campaigns to users viewing the membership pricing page. You can also target users with abandoned signups, upgrade opportunities, and other scenarios based on their MemberPress status.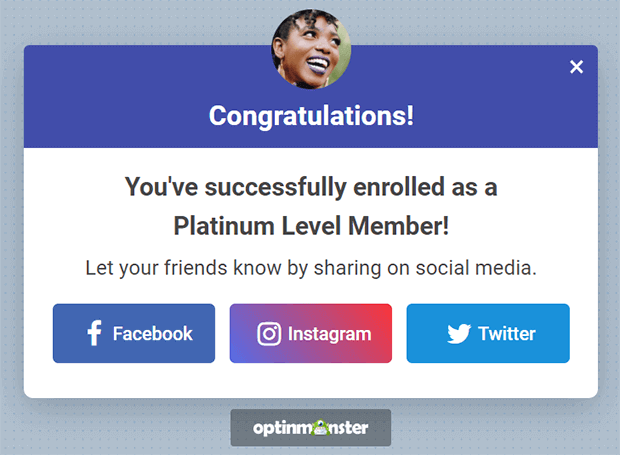 We hope this guide was helpful in choosing a membership website builder for your small business.
A free membership site can be a great way to build your email list. Check out other list-building strategies here!