Do you want to learn how to create a WooCommerce popup that increases your sales?
Running an eCommerce store can be tough. Online shoppers are constantly hit with distractions, making it difficult to capture their attention. One minute you have an interested customer who's about to hit the Checkout button.
And the next minute? They get a text, a notification from Facebook, or anything else that takes their attention away from your store.
Or maybe they're interested in your products but want to "shop around" before deciding to buy.
Whatever the cause may be, a WooCommerce popup is one of the best ways to get your customers' attention and guide them through the checkout process.
That's why, today, we're going to show you 7 ways to boost sales with a WooCommerce popup. More specifically, we'll look at how to add the following popups to your WooCommerce store:
Plus, we'll even include tutorials to teach you how to make each unique type of popup campaign.
But first, let's make sure we're all on the same page as to what a WooCommerce popup is and why it's so effective.
What Is a WooCommerce Popup (and Why They Work)
A WooCommerce popup is some kind of informational or promotional offer that you display to your customers on your WooCommerce site. These popups can serve many purposes, including:
Notifying your customers about company-wide news
Offering your visitors a promotion or discount code
Reducing shopping cart abandonment
Improving UX with a simpler login process
Growing your email list
And more. But all of these types of popups lead to the same goal:
Generating more profit to grow your business.
With a WooCommerce popup, you have tons of ways to get more sales and generate more revenue. Here are 7 concrete ways you can boost sales with your WooCommerce popup.
7 Ways to Sell More With WooCommerce Popups
1) Use a Free Shipping Bar for Your WooCommerce Store
One of the best ways to entice your customers to purchase your products is to offer free shipping. This accomplishes 2 things:
It gets the customer excited about saving money
It avoids unexpected costs at checkout
That second point is particularly important. One of the biggest reasons for shopping cart abandonment is added costs like shipping and taxes.
When a customer puts a $20 item in their cart, for example, it's a huge turn off to see the subtotal jump to $35 at the end.
Adding a free shipping bar to your WooCommerce store lets your customers know that this won't happen. And with OptinMonster's trigger and display rules, you can make your free shipping bar pop up to the right customers at the right time.
Plus, it's ridiculously easy to make. Here's an example of a free shipping bar we created in under 5 minutes:

This small addition can be just the motivation your customers need to buy from your website. That means more sales for you.
Check out this complete tutorial on how to make a free shipping bar for your WooCommerce store.
2) Add a WooCommerce Announcement Floating Bar
An announcement floating bar can be a powerful addition to your WooCommerce site. It's similar in nature to the free shipping bar we just discussed but can be used more broadly to increase sales.
Your announcement bar allows you to communicate different information to your customers, like:
Product updates
New product arrivals
Flash sales
Daily or seasonal promotions
And much more.
Many times, the perfect customer can leave your site without making a purchase simply because they never knew the right offer existed.
WooCommerce announcement bars fix that problem. And just like the free shipping bar, it's super easy to make.
Here's an example we made to inform users about a 24-hour sale: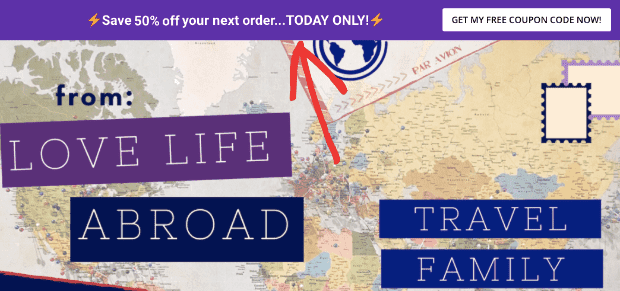 This took less than 10 minutes to put together and can be fully customized to your WooCommerce site's brand, voice, and message.
Learn step-by-step how to add a WooCommerce announcement floating bar to your online store.
3) Cross-Sell With a WooCommerce Popup
One of the best ways to boost your sales is to cross-sell products whenever a customer considers making a purchase.
Here's how this works:
A customer is looking at a product in your online store, or they've just added a product to their cart. When either of these things happens, you display a popup with a related-product suggestion.
If you make your offer enticing enough, your customer adds this related product to their shopping cart as well.
This leads to more overall sales per customer in your online store.
You can see the example we built below: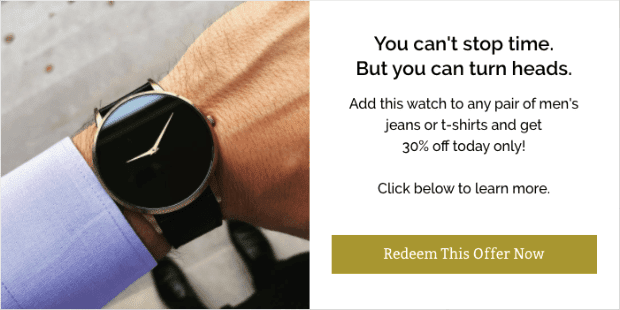 In this scenario, the customer would be looking at men's clothing. As they do, they'd see this WooCommerce popup that would offer them a watch for 30% off. But that discount only applies if the watch is added to a piece of men's clothing.
As a result, the customer is motivated to buy 2 products instead of 1.
Want to learn how to cross-sell more effectively? Read this article to learn step-by-step how to create a WooCommerce popup to cross-sell.
Or if you're ready to dive right in and start selling more today, sign up for OptinMonster risk-free!
4) Upsell With an In-Cart WooCommerce Popup
Upselling is similar to cross-selling, though they aren't entirely the same thing. As we just saw, cross-selling is when you make a related-product suggestion to your customers when they browse or add a product to their cart.
Upselling is a little more strategic.
The main difference is that upselling makes suggestions for products at a higher price point than the original purchase.
The goal is to get your customers to continually increase the amount they spend on your products.
So if your customer added a $10 handbag to their cart, for example, you might show them an offer for more expensive product lines.
Macy's does this with by offering a discount on their summer dresses when customers add smaller items to their cart: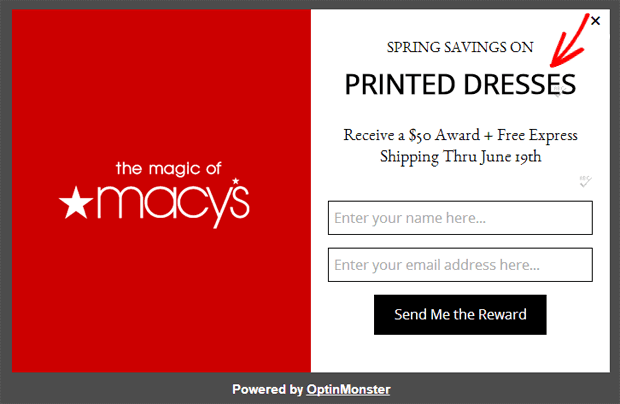 You'll notice they make the popup even more enticing by adding an incentive: receive $50 + free shipping. You can use the same tactic to get more upsells and increase the average sales amount of your customer's cart.
Plus, you can highly target your customers while they shop in your store. That's because OptinMonster integrates so easily with WooCommerce,
Check out this post if you want to know how to create an upsell popup for your WooCommerce store.
5) Improve UX With a WooCommerce Login Popup
User experience (UX) can be a big factor in getting repeat business. If a customer didn't enjoy shopping on your site, there's a good chance they won't be back.
That's why you should make improving UX one of your top priorities. An easy way to do this for your WooCommerce store is to build a custom login popup.
Here's an example of what we mean: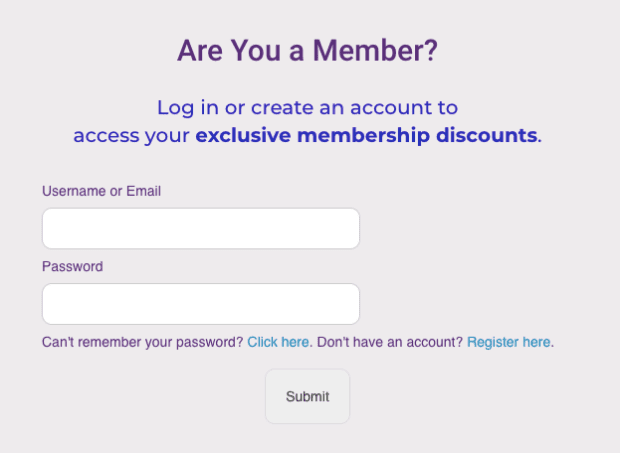 We built this membership login popup in around 10 minutes, and you can do the same.
But now you may be wondering, how does this improve UX?
That's simple. In many cases, when a customer is returning to a website, they'll click a login button. Then they'll be redirected to another login page. After that, they fill in the form, hit Submit, and get redirected back to the shopping area.
That means your customers are redirected 2 times before they can start the checkout process.
If you have a WooCommerce login popup, though, your customers can simply hit a Login button on your site. The popup will appear without any annoying redirects, and your customers will be logged into their account.
Making your customers' shopping experience as frictionless as possible can go a long way to getting repeat business.
And the more often your customers return, the higher your sales will be.
Here's an in-depth guide on how to make your own custom WooCommerce login popup.
6) Reduce Cart Abandonment With Exit-Intent®
We already talked in this article about shopping cart abandonment. It's a serious problem for eCommerce business owners, accounting for over $4 trillion in losses each year.
With cart abandonment rates hovering between 75–85% depending on your user's device, you need everything you can do to get your customers to click Confirm Purchase.
But how do you stop customers from leaving their cart?
Adding a WooCommerce popup with OptinMonster's Exit-Intent® technology is a great solution. Exit-intent popups get your customers' attention while they're actively abandoning their cart.
If you can provide them with a reason to stay, you'll recover a lot of nearly missed revenue.
Here's an example of a WooCommerce exit-intent popup we made in around 5 minutes: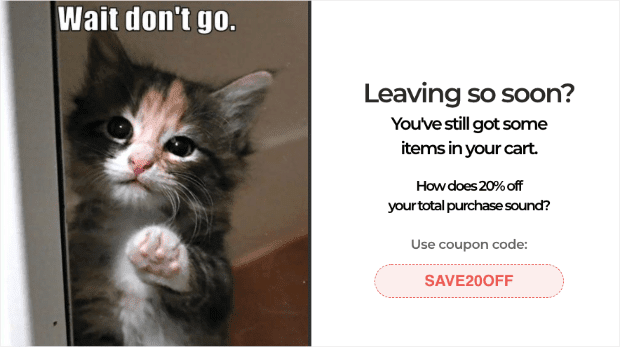 Again, these exit-intent popups can do wonders for getting customers through checkout and boosting your overall sales.
In fact, professional photographer Scott Wyden used OptinMonster to recover 21.06% of customers abandoning their cart on his WooCommerce site.
Want the same results? Read this to see how to create an exit-intent popup to reduce cart abandonment. This post even shows you how to make a full-on cart abandonment strategy that you can use for your WooCommerce store.
Also, you should know that exit-intent used to be restricted to desktop use only. But not anymore.
We've now made mobile exit-intent popups just as easy to use so you can reduce cart abandonment from your mobile shoppers. Check out this post on how to create a mobile exit-intent popup.
7) Grow Your List With a WooCommerce Lightbox Popup
When you think about a WooCommerce popup to make your business more profitable, your first thought might not include growing your email list.
So far, we've looked at popup campaigns that will get you some direct sales from your WooCommerce site.
But growing your email list can generate tons of revenue. You can use your email list to make money by:
Offering special promotions
Taking pre-orders for products or courses
Cross-selling or upselling based on recent purchases
Promoting links to affiliate products
And more.
A large email list can be one of the biggest money-makers for your WooCommerce store. That's why it's important you know how to use popups to get more emails.
The biggest element to your email list popup is coming up with a good lead magnet. That means offering something in return for your customers to join your list. This can include things like:
Coupon codes
eBooks
Infographics
Webinar registrations
Or anything else that your audience would find valuable in exchange for their email list.
Here's an excellent example of a popup that can grow your email list: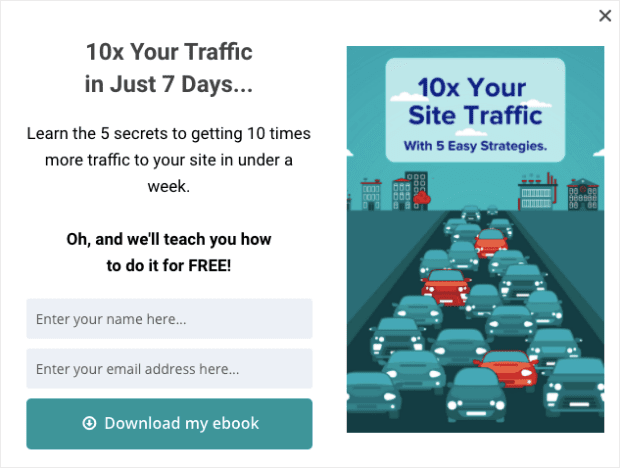 In just a few minutes, you can have a WooCommerce popup that grows your list and brings you more sales.
Check out this tutorial on how to grow your email list with a lightbox popup.
Once you've got a large enough email list, you'll want to learn how to use those contacts to boost sales. For that, you'll definitely want to read the following articles:
We hope you enjoyed this article. But more than that, we hope this leads you to more profits from your WooCommerce store.
Ready to get started? Join OptinMonster today risk-free and start boosting sales now!