Are you looking for the best Father's Day promotion ideas to boost sales for your online store?
Father's Day has become a popular holiday that's celebrated worldwide. It's a chance for children of all ages to celebrate dads everywhere.
And for you, that means it's the perfect reason to run a profitable holiday sale.
That's why, in today's post, we're going to share 7 Father's Day promotion ideas that you can use to boost conversions.
We'll even include the tools you need to successfully apply each strategy covered.
Let's get started!
7 Father's Day Promotion Ideas (+ Tools)
Each of the 7 Father's Day promotion ideas is designed to improve user experience (UX), engage with your customer, and boost sales.
Your exact offers will change depending on your products, services, and niche. But these basic strategies are universally proven to work.
Plus, many can be set up and thrown on autopilot in a matter of minutes. That means you have the opportunity to see massive results with limited effort.
With that in mind, let's dive into the list.
1. Create an Exit-Intent Popup Offer
One of the easiest ways to boost sales around any holiday is with a promotional discount.
That usually means giving customers a small percentage off their total purchase. As a result, 1 of 2 things tends to happen:
People increase their average order value (AOV)
More customers go through with checkout (rather than abandoning their cart)
This simple strategy has been shown time and again to boost conversions and drive more profits for eCommerce stores.
And the best tool for creating this kind of campaign is hands down OptinMonster: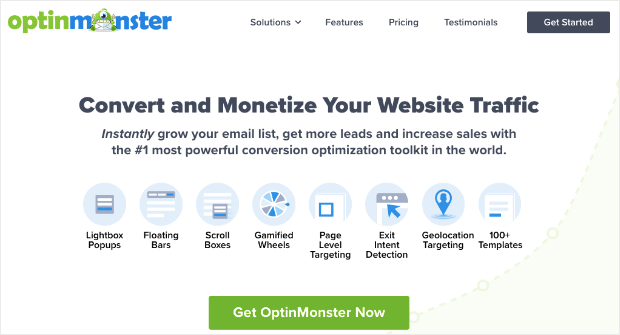 OptinMonster is the #1 lead generation tool on the market. It allows anyone to quickly and easily create optin campaigns (popups, floating bars, gamified wheels, and more) in just a few minutes.
Plus, you don't need any coding experience or "tech skills" to build professional and high-converting campaigns FAST.
Here's how it works:
You start by selecting one of OptinMonster's 50+ pre-made templates. For this holiday, choosing your template is even easier.
That's because we recently released our special Father's Day template: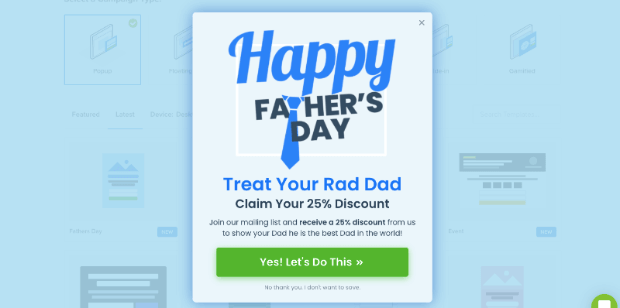 This template was designed to save you time, energy, and headaches in the campaign creation process. It means you'll have a headstart in running your Father's Day sale.
And when you want to make a few modifications to the campaign, that's not a problem at all. You'll simply use OptinMonster's codeless drag and drop visual editor.
This allows you to modify the text of your campaign in just a few clicks: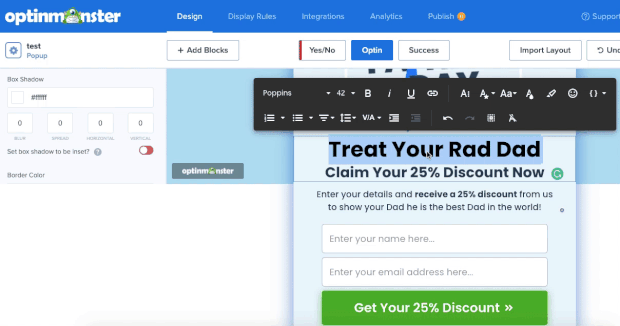 The inline text editor gives you full control over your messages:
Font family
Font size
Color
Background color
Alignment
And more…
And while this template is good to go out of the box, you may want to add a new feature like images, videos, and more. For that, you can use OptinMonster's drag and drop editor.
Just select the feature you want to add and drop it into place: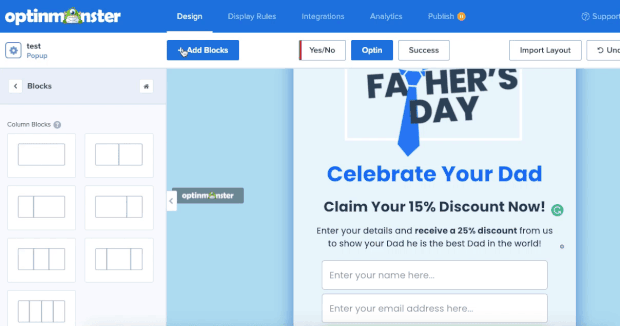 And since all of these templates are built with "blocks," everything falls neatly into place. That means you don't need to be a professional designer to create stunning campaigns in minutes.
But once you design the campaign, you're only halfway done. Because you'll also want to target this campaign to the right people, in the right places, and at the right times across your site.
For that, you'll need OptinMonster's targeting rules and triggers.
These are easy configurations that let you control where, when, and to whom your campaigns appear.
And as we said before, one of the best targeting rules you can use to accomplish this is OptinMonster's Exit-Intent® Technology.
This will display your Father's Day campaign to people who are actively leaving your website. As a result, you'll be able to reduce the number of abandoning customers and increase your total sales.
It's the same tactic that Fastrack used to recover 53% of their abandoning visitors.
And running a simple holiday sale is also the same technique that Cloudways used to:
Grow their list 229%
Increase free trial signups by 120%
Improve conversions 1700%
You can achieve the same massive results by clicking below and starting your 100% risk-free OptinMonster account today:
Get Started With OptinMonster Today!
BONUS: Done-For-You Campaign Setup ($297 value)
Our conversion experts will design 1 free campaign for you to get maximum results – absolutely FREE!
Click here to get started →
2. Build a Stunning Landing Page
For Father's Day, you might want to run a discount or promotion for specific products or just showcase the offer to make it even more tempting for your audience.
To do that, you'll want to build a dedicated landing page for your Father's Day sale.
This is especially true if you're working with pay-per-click (PPC) campaigns, as you'll need to quickly convince your audience that the offer is worth it.
But what can you do if you're not a professional coder and don't have much experience with web design?
If you're using WordPress, the answer is simple: use SeedProd.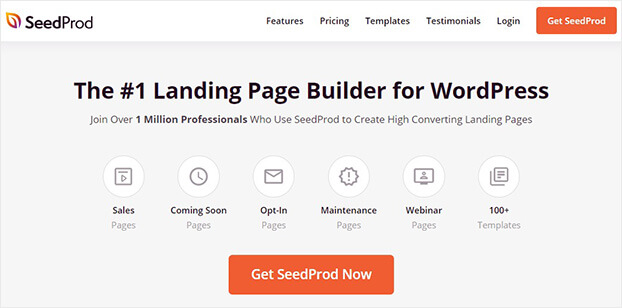 SeedProd is by far the best landing page builder for WordPress. Like OptinMonster, SeedProd has a codeless drag and drop builder that lets you create custom landing pages in minutes.
This gives you a huge advantage as you maximize sales this upcoming Father's Day.
That's because you'll be able to highlight and showcase your offers, provide tons of social proof (like reviews or testimonials), create payment and contact forms, and much more.
Plus, SeedProd has tons of templates that let you build your page FAST. When it's time to make modifications to your template, you'll be able to do everything in just a few clicks: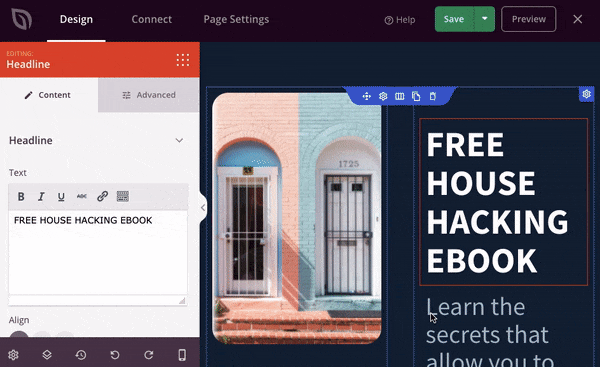 Finally, SeedProd allows you to integrate with tons of 3rd-party tools, OptinMonster included.
One of the most useful integrations for running a holiday sale is the WooCommerce blocks.
These features allow you to add WooCommerce fields to your landing page, like Add to Cart buttons, checkout forms, related products, and more.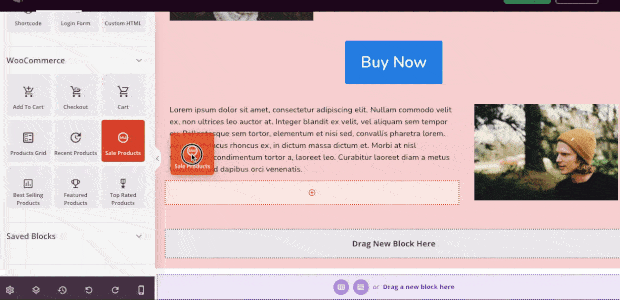 If you're serious about increasing sales this Father's Day, you'll definitely want to consider creating unique and custom landing pages for your products, discounts, or offers.
Doing so is a sure-fire way of generating more profits from your Father's Day campaign, no matter what channel you're using to drive traffic to your site.
Ready to get started? Check out SeedProd today!
3. Run a Social Media Campaign
For any holiday sale, social media can be one of your biggest assets.
You can ask your audience to participate in a photo contest, to share their favorite "dad story," or simply tag their dad in a Father's Day post.
Doing so further connects your brand with your target audience and adds more engagement with your Father's Day sale.
And once people have started to participate in your online sale, you can share those feeds with people using Smash Balloon: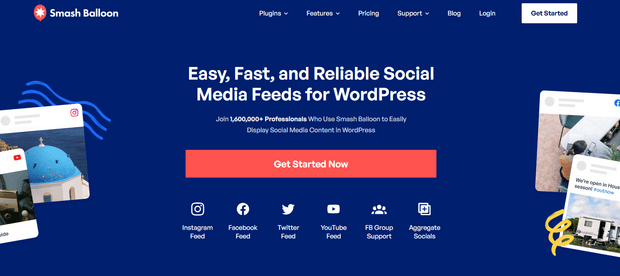 Smash Balloon is the world's leading social media feed plugin for WordPress.
It lets you share your social media feeds from your favorite channels, such as:
Instagram
Facebook
Twitter
YouTube
This tool comes with over a dozen feed layouts and lets you totally customize the feed to match your site's style and voice.
By adding this social media feed to your website, you'll get more interest in your Father's Day social media campaigns. As your audience grows, you can promote your Father's Day sale and simultaneously improve your brand's online presence.
As social media has been proven to be one of the best traffic drivers for online stores, Smash Balloon is one tool that you can't afford to miss out on.
Get started with Smash Balloon today!
4. Host an Online Contest
In the last tip, we recommended engaging with your audience via social media. And one of the things we recommended was hosting a photo contest.
But you can expand on that basic idea and run a full-fledged online giveaway.
This can include choosing a prize that your audience would love (ideally one related to fatherhood) and incentivizing your audience toward a call to action (CTA).
This could be something like:
Signing up for your newsletter
Registering to a webinar
Making a purchase
Or any other sales/marketing goals you're trying to achieve.
Regardless of what prize you choose, the basic idea is simple: online giveaways are a great way to get your audience excited about your brand.
And to create contests designed to go viral from the start, you'll want a plugin like RafflePress: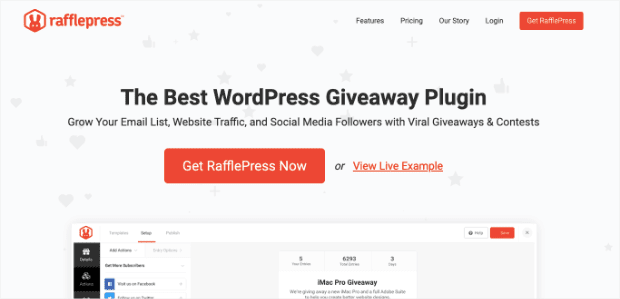 RafflePress is the best online giveaway plugin for WordPress on the market. It lets anyone create professional online giveaways regardless of their technical experience.
Here's how it works:
You select a prize that your audience will love. Then, you can use RafflePress to configure what qualifies for an "entry" ticket.
This can be having your users take different actions, such as:
Following you on Instagram
Liking a Facebook post
Visiting your landing page
Watching a demo video
Signing up for your newsletter
And much more…
You can also assign more than one way to enter the contest and award multiple entry points for people who take multiple actions.
Plus, you can make these entry points either optional or required, depending on what matters most to your achieving your marketing objectives.
And with RafflePress's drag and drop contest builder, you can create and share your online giveaways in a matter of minutes. Then you'll either use your giveaway's shortcode to embed the contest on a pre-built landing page or let RafflePress generate a new page for you.
Either way, you'll get a dedicated landing page for your contest and showcase how many people have entered the contest.
By displaying the number of entries your contest has, you'll leverage a powerful form of social proof that gets even more engagement.
It's why RafflePress is known as the best viral contest builder on the market.
Want to see it in action for yourself? Get started with RafflePress today!
5. Gamify Your Site
One of the best marketing strategies you can apply to your site today would be gamification.
This is where you take ordinary processes (like signing up for a newsletter, for example) and turn them into a game.
You have a few options to do this, but here are 2 of the easiest:
Use a spin-to-win wheel
Hide a prize on specific pages across your site
Both methods are incredibly easy and can be set up in minutes.
a) Spin-to-Win Wheel
When you're using OptinMonster, you can create a spin-to-win wheel in no time. That's because OptinMonster has pre-configured spin-to-win wheel campaigns: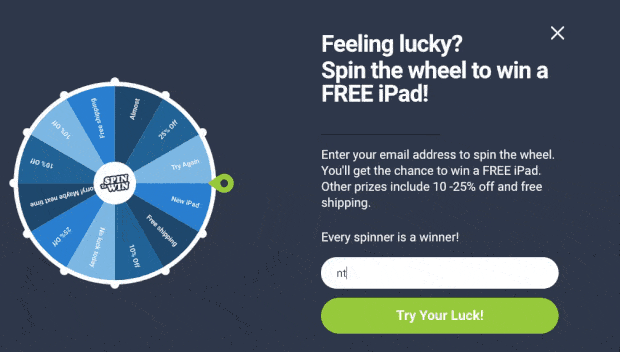 This is a great way to capture your audience's attention and get them to engage with your Father's day sale.
And with OptinMonster, you can configure your prizes and various options. Then, with the click of a button, you'll be able to change the winning probabilities to suit your current stock: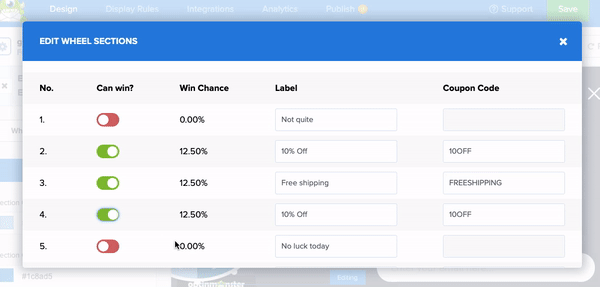 This gives you full control over your prize distribution. And for physical prizes, you can temporarily disable the opportunity to win if you run out of stock.
That way, you're always able to deliver on your promises to the winner of the campaign.
Ready to see it in action for yourself? Get started with OptinMonster today!
b) Hide a Prize
Another way to gamify your site is to hide a prize on select pages. These are called "Easter Eggs," and they're a great way to surprise visitors with a Father's Day prize.
While there are many options for hiding prizes across your site, we highly recommend using TrustPulse: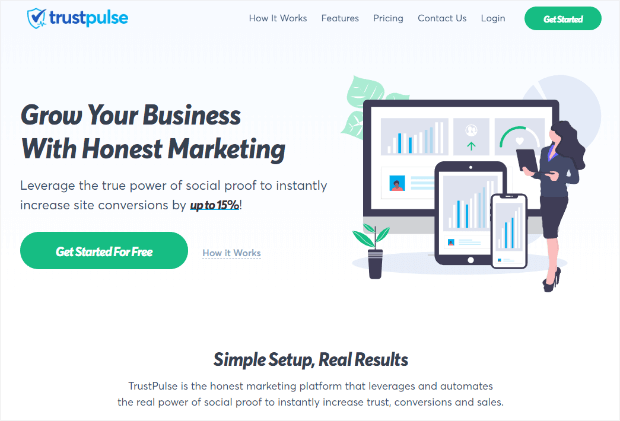 You probably know TrustPulse as the best social proof software on the market. So you might be wondering, "How can you hide a prize with a social proof notification tool?"
TrustPulse gives you tons of different campaign types to create social proof notifications across your site.
One of these options is the Action Message, which is a static notification that can be displayed on any URL of your website.
You can create a static notification that looks something like this:

Then you'd attach it to specific URLs and link the notification to your high-converting landing page.
The example you see above was created in less than 2 minutes and can be quickly configured to display on any page or post of your site.
TrustPulse has also been shown to instantly boost sales by up to 15%. That's a lot of profit for such a small addition to your site and a strategy worth considering for your Father's Day sale.
Get started with your 100% risk-free TrustPulse account today! 
6. Craft the Perfect Email Sequence
If you're not driving sales from your email list, you're missing out on a huge opportunity.
Email marketing is consistently one of the best revenue drivers for online businesses. Unlike other marketing channels like PPC or social media, email marketing gives you 100% control over how you communicate with your audience.
In other words, with emails, you're not vulnerable to algorithm changes or platform restrictions.
That means you should be creating Father's Day sales email sequences to automate your sales process.
Doing so will also give you an evergreen system that can be used year after year. Plus, all you'll need is an email service provider (ESP).
If you don't already have an ESP, we suggest going with Constant Contact: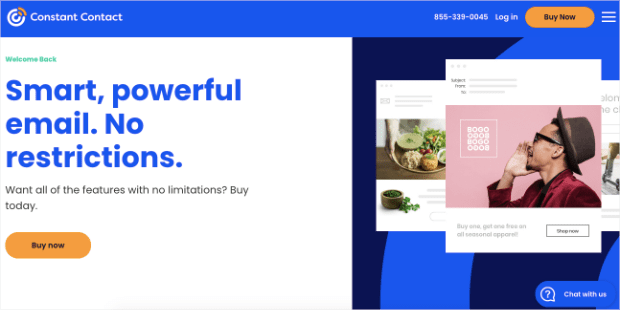 Constant Contact one of the best ESPs on the market and a great option for businesses looking for a way to improve their email marketing strategy.
That's because Constant Contact has everything you need to create stunning newsletters and email sequences, A/B test your campaigns for optimization, automate your workflows, and much more.
With this tool, you'll be able to build email sequences that get more engagement with your Father's Day sale.
And when the campaign is over, you'll have concrete data to help you refine your strategy and drive more profits next year.
It's a powerful ESP that's also affordable for small businesses, bloggers, and solopreneurs alike. In fact, they have a free option to help people get started FAST.
Sign up for your free Constant Contact account today.
BONUS: Done-For-You Newsletters.
Constant Contact is now offering to create a FREE newsletter for new subscribers. Interested?
Click here to get started →
7. Track Everything for Next Year
Last but certainly not least, the best way to run a successful Father's Day campaign is to learn from your mistakes. And you can only do that if you have the data to show you where those mistakes came from.
For that, you'll want a powerful analytics tool like MonsterInsights: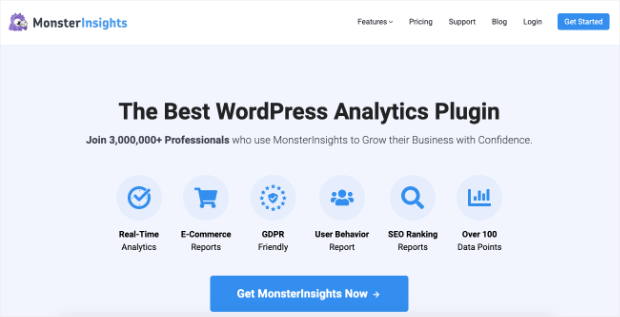 MonsterInsights is the best Google Analytics plugin for WordPress. In just a few clicks, it will have your WordPress site connected to Google Analytics (and Google Search Console, too).
Then you'll have all the data you need at your fingertips.
You can see your site's most popular pages and posts, so you can create strong CTAs for your Father's Day campaigns.
You'll also have valuable insight into your target audience, such as their demographic information, what device they're coming from, how long they stay on your site, and more: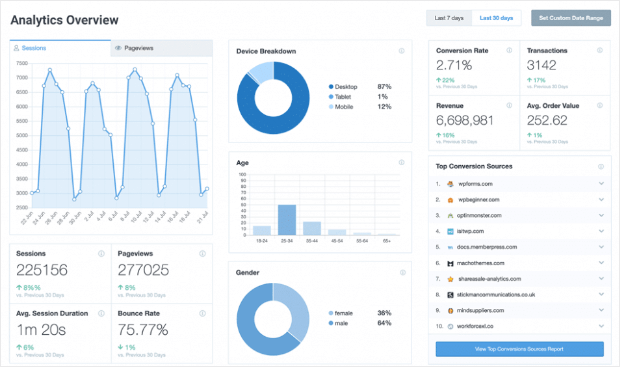 With MonsterInsights, you'll accurately track your sales to see how successful your Father's Day campaign was.
Then, when the holiday is over, you can review the results and look for places to improve your sales and marketing strategy.
While this isn't as "flashy" as the other tips and tricks on this list of Father's Day promotion ideas, gathering analytics about your sale is one of the best things you can do to grow your business.
Get started with MonsterInsights now!
And that's all for today! These have been 7 Father's Day promotion ideas that you can use to boost sales this upcoming holiday.
Get Started With OptinMonster Today!
BONUS: Done-For-You Campaign Setup ($297 value)
Our conversion experts will design 1 free campaign for you to get maximum results – absolutely FREE!
Click here to get started →
We hope you enjoyed this post. If you did, you'll definitely want to check out the following resources:
These articles will have even more information on how you can create a holiday sale and optimize it through email marketing best practices.