Do you want to use lead generation tools that bear your own brand name and logo?
White labeling lead generation software helps you grow your client's email subscriber list exponentially without revealing the tools you use to do so. You can add more value to your business and proudly show clients the results.
In this list, we've picked the top white label lead generation software that offer reseller programs and custom branding options.
Before diving into the list, though, let's look at why you might want a white label lead gen software in the first place.
Why Choose White Label Lead Generation Software
White labeling allows you to replace a software's original branding with your own. This means you can make it look like in-house software, so clients won't know what tools you use.
You can show clients your lead generation campaigns, progress, and results, and even give them their own access to an analytics dashboard.
In this way, white label tools help you build credibility in your expertise.
For many agencies or consultants, it's simply too time-consuming or costly to develop all the tools you need to serve your clients. White label tools become a more affordable and easier path to take.
Here are a few reasons why white labeling lead generation tools are a better way to go for consultants:
Leverage market expertise: Third-party developers focus on their product and fine-tune it to be the best it can be. They usually have tremendous amounts of expertise in their field and can create tools that produce great results.
Save time and money: Compared to creating your own tool, you can get white label tools at a fraction of the cost. All it takes is a few minutes to sign up and get started.
Boost brand awareness: Your clients will see your branding every time they use the tool's dashboard and reports. This gives your brand more visibility and reinforces it as reliable and trustworthy.
More choices: You can choose from a wide range of white label tools that already exist in the market. You just need to find and choose the right one for your business.
Now that you know how white label solutions can help you grow and expand your business, let's dive into the top white-label lead generation tools.
Best White Label Lead Generation Tools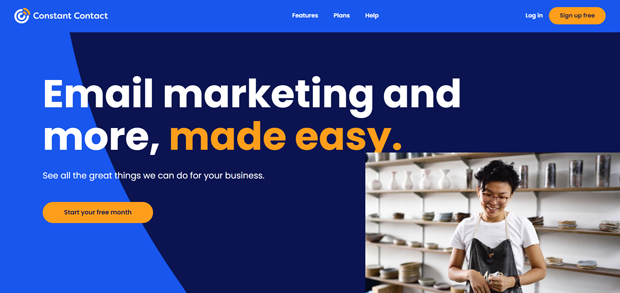 Constant Contact is the best and most popular email service provider. You can create lead generation popups and signup forms for your client's website to get more visitors to sign up for emails.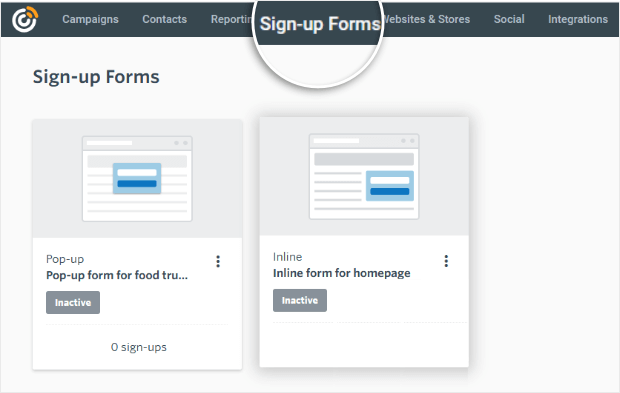 Constant Contact has an intuitive form builder so you can customize your forms with ease. Plus, you can lighten your workload by setting up autoresponder emails to welcome and engage with subscribers.
To white label the platform, Constant Contact runs a marketing reseller program that lets you set up and manage clients' email marketing accounts.
Once you sign up, you'll get access to Constant Contact tools, training, and support to help you get started and set up your business within the platform.
The best part about Constant Contact's white label solution is its powerful analytics. This gives you solid data about your performance and progress that you can proudly show your clients.
The reseller program is designed to help you increase revenue, attract new clients, and keep clients longer.
Highlights
Automate lead generation and email marketing
Add multiple user accounts for 'Account Manager' or 'Campaign Creator' roles
Manage all your clients in one place using the Client hub
Send emails bearing custom branding
Segment contacts based on purchase activity, website visits, activity and gender
Reliable support team provides help over live chat, phone, email, and forums
Pricing
Constant Contact start at $20 per month. You need to contact them for pricing on white label and custom branding solutions.
Get started with Constant Contact!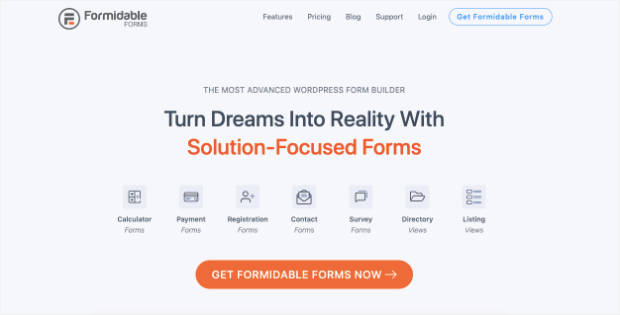 Formidable Forms is one of the best form builders for WordPress sites. You can collect leads through sign up forms, polls, surveys, quizzes, and much more.
Formidable Forms has really powerful features too like smart conditional logic to show follow-up questions based on responses.
And you can integrate with all popular email providers like Constant Contact, Mailchimp, Aweber, and MailPoet.
Plus, with the Zapier and Hubspot integration, you can automate much of your workflow.
Formidable Forms lets you completely white label the form builder. You can even rename the plugin in your client's WordPress admin menu.
You can even turn off all form branding, so you'll never see a "Powered by Formidable Forms" tagline on the web forms you create.
This way, the client will never see the Formidable Forms name inside the dashboard and on the frontend of the website.
Highlights
Remove all branding and replace it with your own
Plenty of form templates and a drag and drop builders
Invisible spam protection
Reports, graphs, and charts to track performance
Powerful integrations with email providers and marketing tools
Cost: White label lead generation software features are available in the Formidable basic plan or higher. Pricing starts at $39.50 per year.
Get started with Formidable Forms!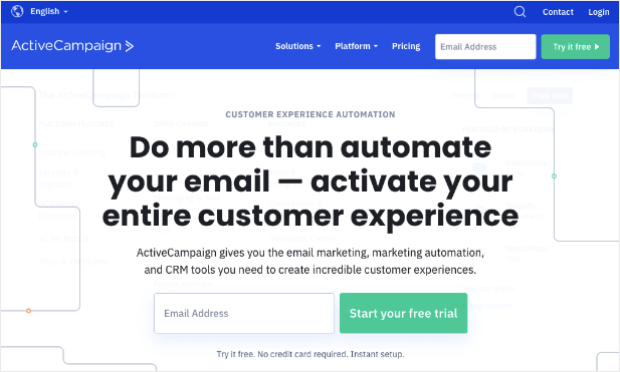 ActiveCampaign is an email marketing platform with powerful features to generate leads from your website.
There are 4 types of lead generation campaigns you can add to your site that include inline forms, floating boxes, modal popups, and floating bars.
ActiveCampaign lets you set most of your tasks on autopilot. So, for example, when you capture a lead, ActiveCampaign will:
notify your team
tag and segment the lead
send out a welcome email
add them to special deals and lists
With this kind of email marketing automation, you can get great results fast with lesser work.
Coming to ActiveCampaign's white label solution, you can rebrand the entire platform with your own logo and custom domain.

If you're savvy with coding, you can even use HTML and CSS to make cosmetic branding changes.
ActiveCampaign even lets you rebrand a specific client account. This means you can create a unique dashboard for them to personalize their experience.
Highlights
Remove all instances of their branding with a single click
Add custom pre-built templates and automation for clients
Allow clients to sign into your dashboard through your own website
Create custom buttons or import your own CSS
Connect with behind-the-scenes support to answer client queries
Pricing
ActiveCampaign starts at $9 per month. Most of its white label features are in the Enterprise plan that starts at $229 per month.
Get started with ActiveCampaign!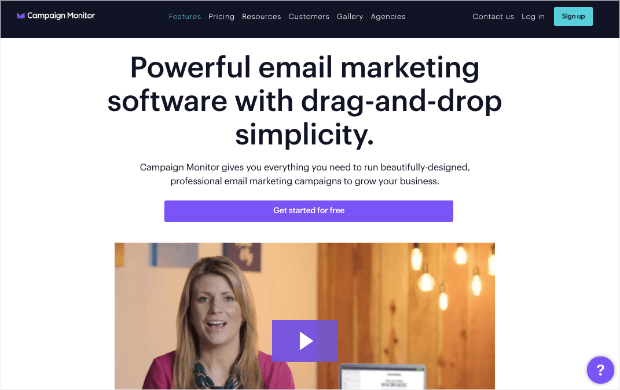 Campaign Monitor is a powerful email marketing and lead generation software. It has a simple drag and drop builder to create signup forms and emails.
You can add a branded subscribe button with an embedded signup form on your client's website. This will help convert online visitors into newsletter subscribers so you can get your client's a bigger email audience.
Campaign Monitor offers a private label feature that lets you create a single agency account with multiple sub-accounts for your clients.
This makes it easy to manage, track, and grow multiple businesses at the same time.
Also, you get access to powerful analytics that's easy to view and understand.
It gives you a bird's eye view of your email marketing performance for all your clients. You can even see the geography, acquisition, and engagement for each campaign.
Highlights
Create lead generation signup forms and landing pages
Integrate with powerful lead generation tools like OptinMonster and SumoMe
Grant access to client dashboard with user roles and permissions
Create and track invoices with in-app billing management
Share templates and automations with sub-accounts
Full analytics suite to track results
Cost: Campaign Monitors pricing depends on the number of email subscribers you have. Plans start at $9 per month for 500 contacts.
Get started with Campaign Monitor!
With that, we've covered the popular white label lead generation software in the market. Next, we'll show you a few powerful lead generation tools that offer custom branding solutions.
Custom Branding Lead Generation Software
White or private labeling allows you to completely replace the original branding with your own. You can create custom dashboards, reports, and operate the tool like it's your business.
Custom branding solutions, however, give you the power to make quite a few branding changes but there's no guarantee that your client won't see some trace of the original branding.
For instance, with OptinMonster, you can turn off the logo on all lead generation campaigns. You can even customize your dashboard and create dedicated folders for clients.
But you won't be able to hide OptinMonster notifications or links to support.
While these tools are not 100% white label solutions, they're worth exploring because:
they're powerful tools that can get you incredible results
their custom branding options might just be enough to hide from visitors or clients
Ready? Let's check out these lead generation tools with custom branding options.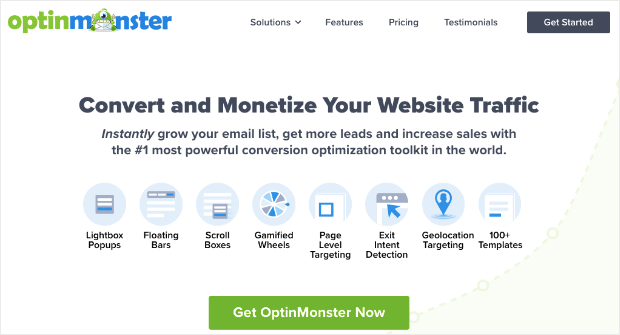 OptinMonster is the most powerful lead generation tool on the market. It lets you create high-converting campaigns like popups, floating bars, inline forms, and slide-ins.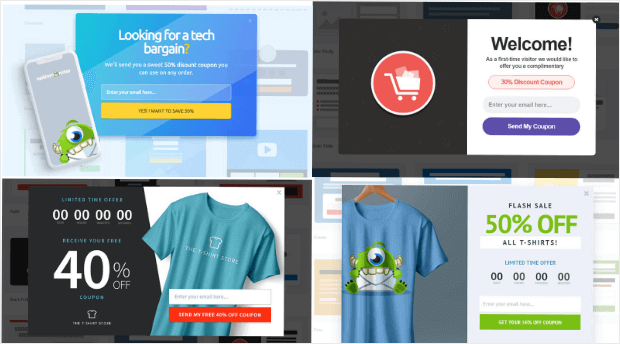 If you're serious about growing your email lists, Optinmonster is the way to go.
OptinMonster ships with 50+ stunning template designs and a drag-and-drop builder to set up high-converting lead generation campaigns in minutes.
You can add extra fields to your campaigns, like radio buttons, phone fields, text areas, number fields, lists, and more! This will help you capture detailed lead information with zero coding skills.
Plus, there are tons of powerful targeting rules and campaign triggers to get visitors to sign up for emails.
OptinMonster doesn't offer a 100% white label option, but you can even transform the OptinMonster dashboard and add your own custom branding.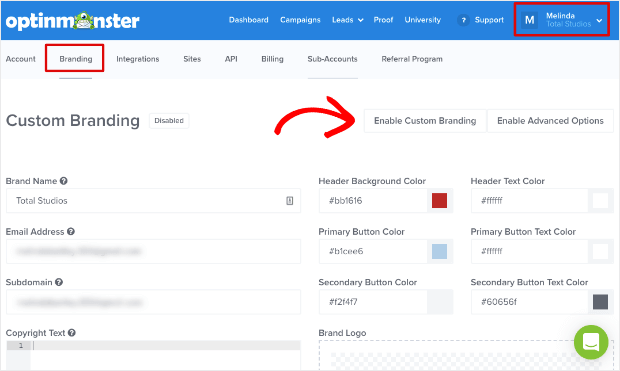 You simply need to Enable Custom Branding to see options to change the name, logo, icon, and copyright text. You can even customize the colors to perfectly match your own brand.

Next, you can create sub-accounts and invite new users to collaborate with you on campaigns.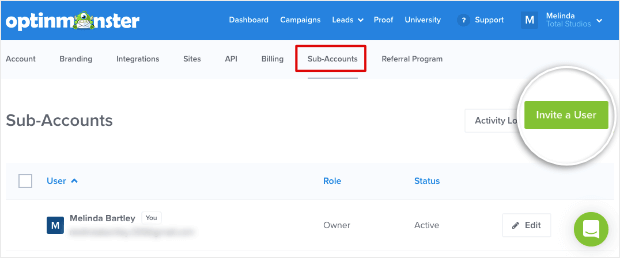 OptinMonster lets you assign different levels of permission to restrict their access as a viewer, author, manager, or admin.
And to stay organized, you can create folders for each client and grant them access only to their respective folder.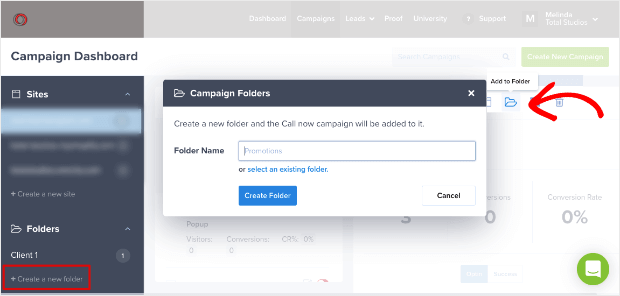 This way, your client will only see what's theirs and won't have access to your entire account.
Lastly, you can remove the OptinMonster logo and branding from your campaign designs in 1 click so you won't see a 'Powered By OptinMonster' tagline or logo.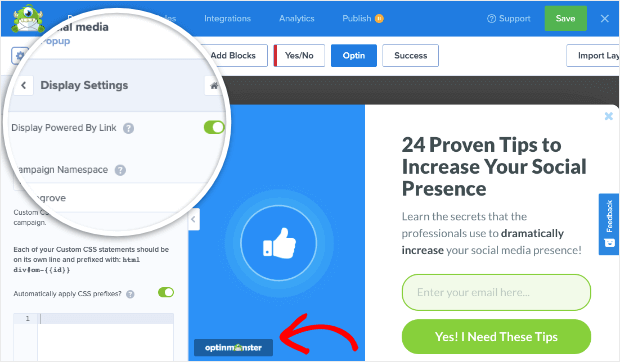 OptinMonster is a great tool for agencies and freelancers that want to get amazing lead generation results at an incredibly fast pace.
See how Medstar Media increased their clients' conversions by 500% using OptinMonster.
OptinMonster gives you the power to grow your client's subscriber base fast at affordable costs. You won't have to spend huge amounts of your budget on subscribing to white label plans or outsourcing the task to a lead generation agency.
Want to use the best lead generation tool to skyrocket your client's subscriber list? Then get your 100% risk-free OptinMonster account below:
Get Started With OptinMonster Today!
BONUS: Done-For-You Campaign Setup ($297 value)
Our conversion experts will design 1 free campaign for you to get maximum results – absolutely FREE!
Click here to get started →
Highlights
Easily manage multiple clients from a single dashboard
Allow restricted dashboard access to collaborate on projects
Remove OptinMonster branding from individual campaigns
Integrate with all popular email service providers
Built-in analytics to create reports for clients
Pricing
OptinMonster's custom branding solutions are available with the Pro plan and higher that starts at $29 per month.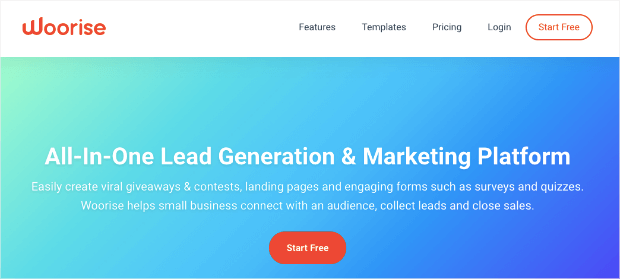 Woorise is an all-in-one lead generation platform. It lets you create white labeled signup forms, surveys, quizzes, viral giveaways, and more.
Each of these options creates opportunities to collect leads from your client's website. Plus, creating beautiful campaigns is easy using its conversion-optimized responsive templates.
Woorise lets you remove its branding in many places. For instance, there's a viral share feature you can use to get visitors to share your brand (refer a friend) in exchange for an incentive.
Instead of sharing a link with the woorise.com domain, you can create a non-branded short URL so clients and visitors will never know you're using Woorise.
Plus, you can replace the Woorise favicon to make it look like your own website.
Highlights
Viral contests with 1-click random winners
Spam and fraud detection
Signup and multipage forms
Integrations for email, payment, and marketing platforms
Cost: Starts at $23 per month.
Get started with Woorise today!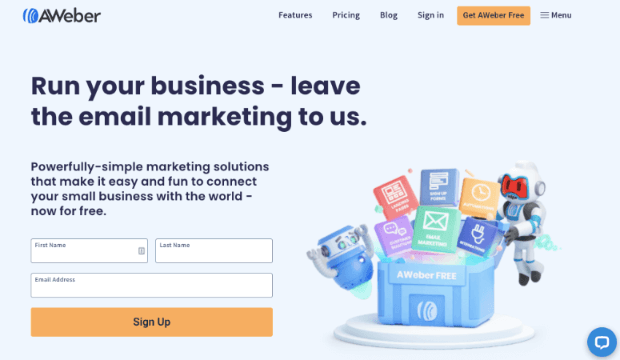 AWeber is a powerful email marketing platform. It lets you create mobile-friendly signup forms to collect leads from clients' websites and Facebook pages.
Aweber will even host a signup form on its own and give you a link to share with clients and potential subscribers. This means you can get subscribers without/before launching the client's website.
Plus, this tool lets you create branded templates that you can use every time you send out an email so that your client's email marketing remains consistent.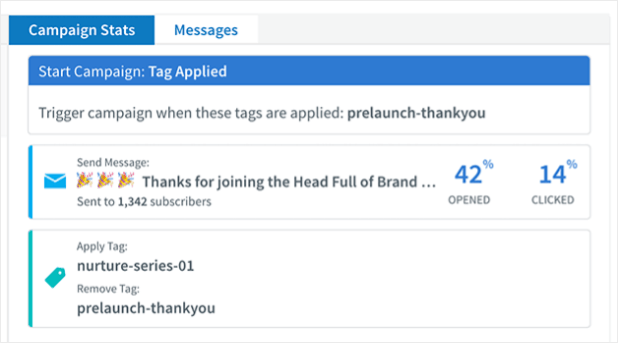 AWeber offers a co-branded private label option which means you can add your own company name and branding and use their services.
You can't market it as your own, however, as the AWeber logo will be displayed inside your account dashboard.
So when you grant dashboard access to a client, they'll see your branding along with a non-intrusive Aweber logo. For most clients, this isn't noticeable and doesn't pose much of a problem.
Highlights
Add custom branding but with Aweber logo in the dashboard
AI-powered email template designer to create branded newsletters in seconds
Easy subscriber management and segmentation
Set email campaign triggers and create targeted email flows
Analytics and reports that contain data that matters
Pricing
There's a free plan for up to 500 subscribers. The Pro version starts at $16.15 per month.
And there you have it! That's our list of the best white label lead generation software.
You may have noticed that most of the tools that offer white label solutions focus on email marketing with lead generation as a small part of that.
While they're great options for sending and automating emails, they may not be as effective in actually growing your subscriber list.
If you're looking to establish your expertise, out beat the competition from other agencies, and get lead generation results you're proud of, then you need to rely on a powerful tool like OptinMonster.
OptinMonster focuses on lead generation and conversions and is packed with features to maximize the number of subscribers you get.
With OptinMonster, you'll be able to:
Create conversion-optimized popups, floating bars, signup forms, gamified wheels, and more
Set up campaign targeting rules and triggers to display the signup box at a time when the visitor is most likely to subscribe
Recover abandoning users with Exit-Intent® popups
Boost client leads, sales, and conversions
Run seasonal, limited-period, and flash campaigns
Seamlessly integrate with email service providers
There's really a huge amount of scope for growth with Optinmonster.
And in most cases, its custom branding options are more than enough to hide any OptinMonster name and logo, especially if you just need a client's opinion or approval before you make the campaign live.
Want to get started with OptinMonster to get incredible lead generation results? Sign up for your 100% risk-free OptinMonster account below:
Get Started with OptinMonster Today!
BONUS: Done-For-You Campaign Setup ($297 value)
Our conversion experts will design 1 free campaign for you to get maximum results – absolutely FREE!
Click here to get started →
We hope you found this list helpful. If you're looking for more ways to reduce your work and get better results, then check out these resources:
These posts will help better your email marketing process and lighten your workload to make you and your clients happier.