Do you want to collect genuine emails and remove invalid ones from your contact list? Then you're probably in the market for the best email validity tools you can find.
Because with a generic email list, it's common to have incorrect, outdated, and sometimes even spam email addresses. This results in an inflated email list with low deliverability and click-through rates.
But once you clean up your list, you can be sure your emails are going only to valid email addresses.
That's why we've picked 8 email validity tools that you can use to check leads and increase response rates.
Before diving into our list of tools, let's get crystal clear on why you'd want to validate email addresses in the first place.
Why Verify Email Addresses
Email marketing can be tricky. If you're sending a lot of emails with most of them bouncing or being undelivered, your email address can be flagged as spam.
When that happens, your emails won't be delivered to the portion of your list that's engaged and excited to receive your content.
Plus, when you use an email service provider (ESP), they usually charge you based on the number of contacts on your list. That means you might be paying for contacts that will never convert into paying customers.
But email verification tools scan your contact list and remove email addresses that are:
Not formatted properly
Disposable/temporary
Created by bots
Have been blacklisted
Have invalid domain names
Role-based like admin@, support@, help@
Don't have a valid MX record
In other words, email validity tools make it easy to prevent spam signups and remove invalid emails from your list.
The end result is that you'll pay less and earn more from your email marketing campaigns.
Now that we know WHY you'd want to verify your email addresses, let's dive into how you can with these 8 email validity tools.
Top Email Validity Tools
We've listed the best email validity tools in the market based on accuracy, features, and cost.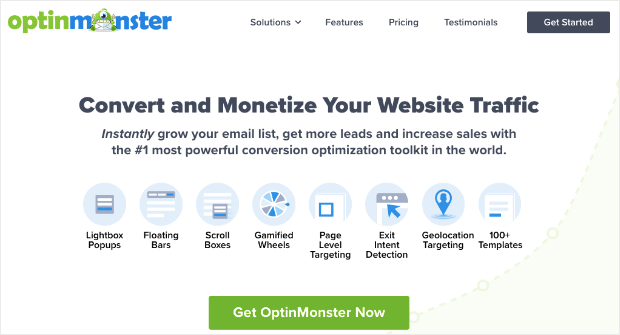 OptinMonster is the #1 lead generation software in the world to grow your email list exponentially. It lets you create highly targeted optin campaigns (like popups, floating bars, sidebar widgets, and more).
OptinMonster's targeting features help bring in the right crowd that is more likely to engage with your emails and convert them into paying customers.
Plus, it comes with built-in tools to prevent spam from getting on your list like honeypot protection, reCaptcha, and lead verification.
1. Honeypot Bot Protection
Spambots automatically fill out all fields in a form. The honeypot technique is used to trick bots by creating a hidden form field that regular visitors can't see.
When the hidden field is filled, OptinMonster will prevent the form from being submitted. This protection is already set up and enabled inside the OptinMonster software so you won't need to do anything.
2. Google ReCAPTCHA Protection
reCaptcha is a free service provided by Google that uses a "CAPTCHA" test to tell the difference between spambots and humans. You can sign up for Google reCaptcha and then add it to your OptinMonster account.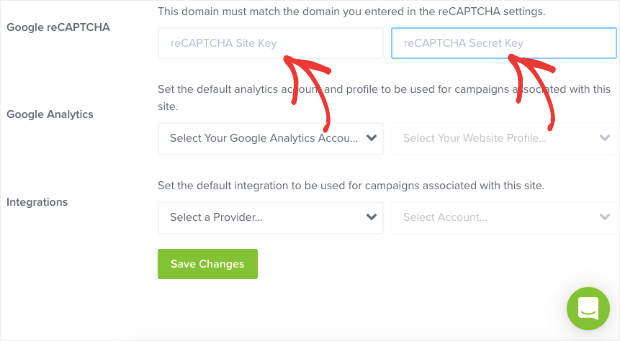 After that, you'll be able to enable reCaptcha on your optin forms at the click of a button.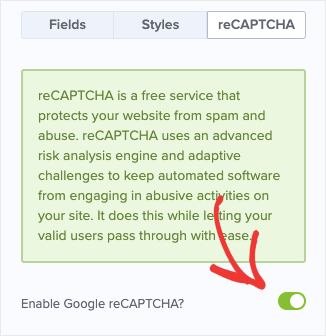 Then you'll see that your lead generation campaign is protected by reCaptcha when it's published on your site.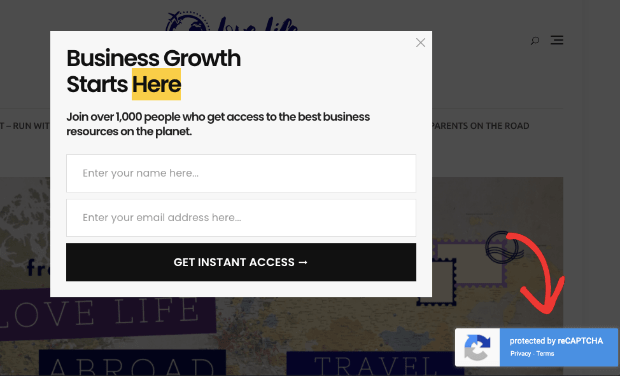 With that, spambots won't be able to fill out your signup forms.
3. TruLead® Lead Verification
TruLead® is OptinMonster's own email validity tool that verifies your lead before they're added to your contact list.
It autocorrects typical misspellings from popular email service providers like Gmail, Yahoo, Hotmail, and others. Plus, it lets you can block temporary, free, role-based emails, and even lets you block IP addresses.
You can access this lead verification feature inside the OptinMonster dashboard.

This lets you create filters to block IP addresses, patterns, strings, characters, and much more. You can also autocorrect emails, and block temporary and free ones.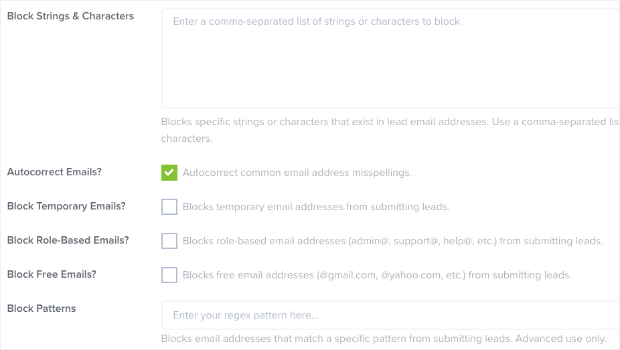 So when a visitor tries to enter a free email address instead of their professional one, they'll see an error message like this: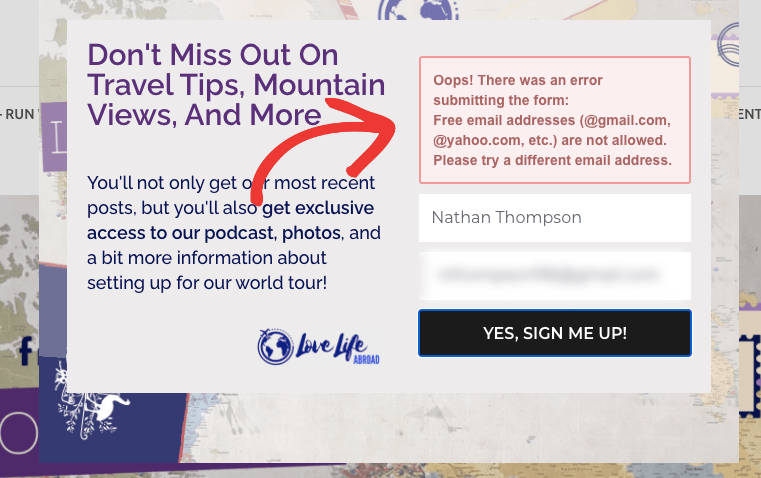 This error tells them why the form won't be submitted and how they can fix it.
And OptinMonster's lead verification doesn't stop there. TruLead® stores your rejected leads for 30 days. That means you can manually review rejected submissions and delete them or add them to your list.

With OptinMonster, you get 100% control over your lead generation process to collect the highest quality leads right from the start.
Cost: For TruLead®, there's a 30-day risk-free trial. Then it's only $29/mo (billed annually). Cancel anytime!
If you need more help getting started, read this in-depth guide with step-by-step instructions on how to get started with OptinMonster's TruLead® Email Validity Tool.
Want to see how it works? Sign up for your 100% risk-free OptinMonster account by clicking below:
Get Started With OptinMonster Today!
BONUS: Done-For-You Campaign Setup ($297 value)
Our conversion experts will design 1 free campaign for you to get maximum results – absolutely FREE!
Click here to get started →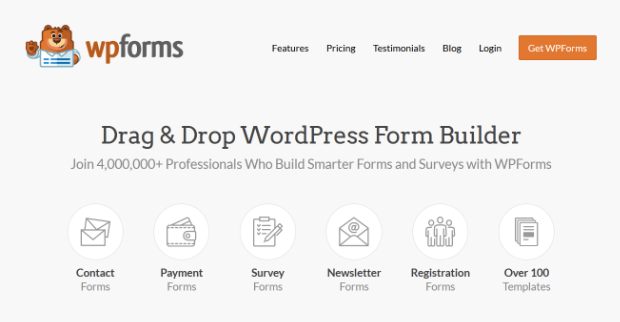 WPForms is the best form builder for WordPress sites. It lets you create any kind of form including contact, registration, order, login forms, and more.
WPForms lets you add custom lead validation settings and messages to your forms.
This means when a person is filling out the form, if they enter an email address that's not properly formatted, you can display a message saying "That's an invalid email, please enter a valid email address."
Right from the start, you can collect valid leads. Plus, WPForms has built-in spam protection and lead management features.
Key Features
Enable anti-spam protection to block bot entries
Add Google reCAPTCHA, hCaptcha, and Custom Captcha
Manage and delete form entries from a centralized dashboard
Cost: This tool starts at 39.50 per year.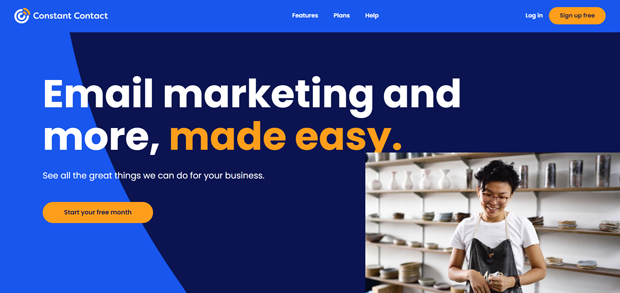 Constant Contact is the best email service provider that offers one of the highest deliverability rates.
For every email you send, Constant Contact lists out the number of email bounces and even tells you why they bounced. This lets you see if the email is suspended, non-existent, or blocked.
Then you can select the contacts you want to remove and delete them from your list.
Plus, Constant Contact lets you create confirmed optin signups. This asks new contacts to click a confirmation link in an email sent to the address they provided when they signed up for your list. If they don't click the link, they won't receive your emails.
Key Features
Create tags to track bounces
Use the age-list feature to contact your oldest subscribers to update their preferences
Add reCAPTCHA to prevent spam entries
And much more.
Cost: There's a 30-day trial, and paid plans start at $20 per month.
Get started with Constant Contact.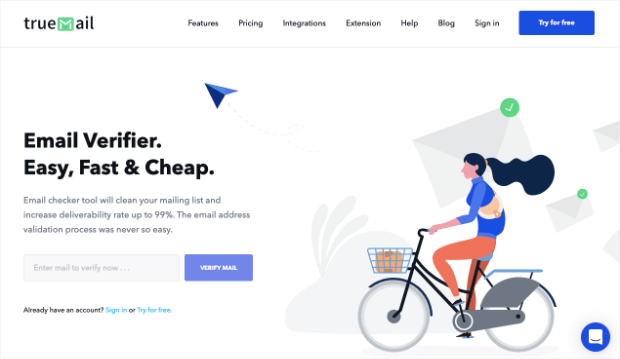 Truemail is a bulk email verification service to clean up your email list. It offers to increase your deliverability rate by up to 99% for free.
Truemail lets you build automated workflows to check email address validity automatically.
That way, you can pass data between Truemail's validation service and your apps. It doesn't require any coding and works with every platform or CRM.
Truemail lets you segment results and download them. This is a neat feature if you want to create new lists and email tags or launch reengagement campaigns based on your email verification results.
Key Features
Fast check with a speed of 100K addresses in 5 minutes
Real-time multi-step verification process
Handles large file uploads
Detect potentially harmful emails
Cost: Starts at $7 for 1,000 email verifications.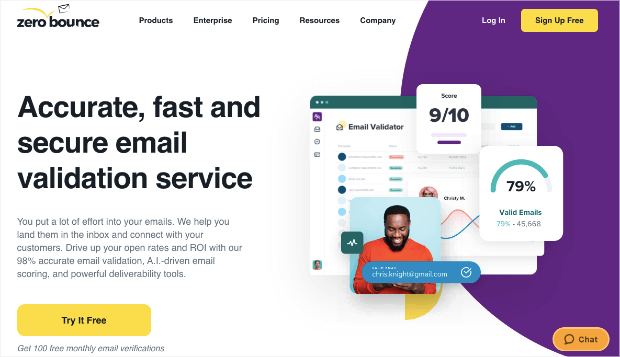 ZeroBounce is an AI-driven email validity tool that can verify emails with a 98% accuracy rate.
It comes with a bulk email verifier to check and remove poor-quality contacts. This helps reduce bounce rates and boost metrics.
You can even connect ZeroBounce to your signup forms to check every email in real-time so you only collect genuine, valid contacts.
The only drawback here is if you have a large list, it can take a lot longer to upload and process.
Key Features
Monitor for blacklists and spam flags
Run email deliverability tests
Find high-converting accounts with an email scoring tool
Check up to 100 emails for free every month
Cost: Get started with 100 leads free per month. Paid plans start at $16 for 2,000 credits.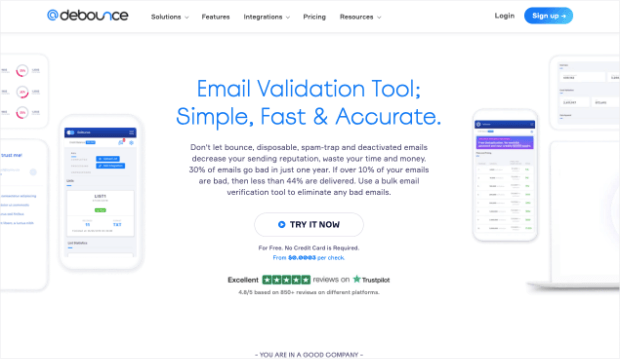 DeBounce is an email list cleaning service. It allows you to upload and verify lists of email addresses quickly and securely without sending emails.
DeBounce will detect duplicate, invalid, spammy, and non-operational inboxes. It also comes with a lead finder and data enrichment features to make leads more valuable and accurate. This also reduces the number of unknown subscribers.
The downside to DeBounce is that you need to upload a well-formatted contact list. It sometimes replaces columns with its own data, so you'd need to check the report before uploading it to your ESP.
Key Features
Intelligent Spam-Trap indicator to remove all records of spam
Removes invalid, parked, inactive domain email addresses
Integrates with your ESP to keep your list clean at all times
Bulk and automated lead verification
Cost: Starts at $10 for 5,000 verifications.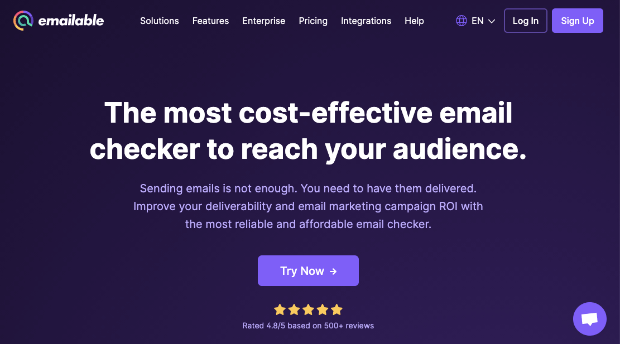 Emailable is one of the most affordable email checker tools. It helps improve email deliverability and the ROI of your email marketing campaigns.
Emailable will check for disposable, misspelled, role-based, and invalid domain email addresses. It gives you real-time results so that your receive only the latest status of email addresses.
Emailable also comes with name and gender detection to add more value to your email contact list.
With Emailable, you can clean old lists, filter out bad emails, and keep your email list clean and healthy.
Key Features
Improve your email deliverability by up to 99%
Reduce bounces by removing bad emails from your lists
Add email validation features to your own app using APIs
Block invalid emails before they are added to your database
Cost: Starts at $20 for 5,000 credits.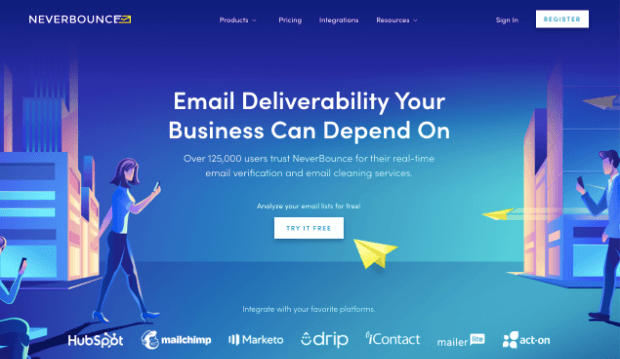 NeverBounce is a bulk email verifier to get real-time email verification.
NeverBounce works with any email list size. You can upload your email list and it will clean it for you without the long wait time. Then it gives you a new list with up to 99.9% deliverability.
You can also add the tool to your lead generation and signup forms, CRM and CMS platforms, and POS terminals. That means you can verify emails before they are collected.
However, there's no option to verify single email addresses if you want to validate specific subscribers.
Key Features
Connect to your ESP for automated and continuous cleaning
Test your data before deciding to clean it
Tons of integration options with ESPs and marketing platforms
Cost: Pay as you go at $0.008 per email verification ($16 for 5,000 credits).
And there you have it! That's our list of the best email validity tools.
Get Started With OptinMonster Today!
BONUS: Done-For-You Campaign Setup ($297 value)
Our conversion experts will design 1 free campaign for you to get maximum results – absolutely FREE!
Click here to get started →
We hope you found this list helpful in finding the best email validity tool for your business. We have more resources that you'll definitely want to check out:
These posts will guide you on how to improve deliverability and click-through rates, prevent blacklists, and keep spammers out.