If you're looking to launch an eCommerce business, you've probably come across Shopify during your research. Although there are plenty of Shopify alternatives, Shopify has become one of the biggest names in the eCommerce world, catering to 800,000 active stores around the globe.
But just because it's a top-rated platform, doesn't mean it's necessarily the best fit for you. It's essential to take time to research eCommerce platforms to find the right one for your business.
In this article, we'll compare the best Shopify alternatives to give you a better look at all the options available.
What is Shopify?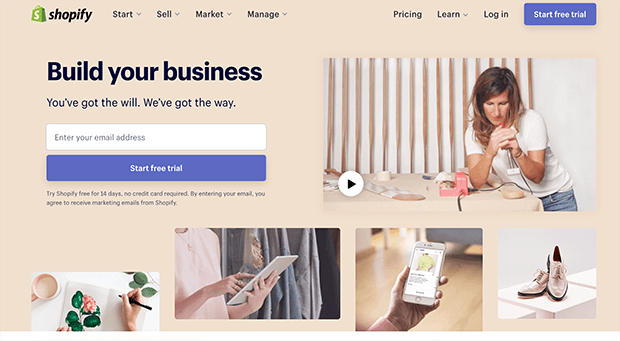 Shopify is one of the biggest and most popular eCommerce platforms in the world.
Its mission is to make it easy for anyone to start and grow an online store. And its tools enable you to go from just starting out to a full-featured store in minutes, no coding required.
You can use its store builder and large selection of themes to make customizations, add features, and accept payments. Plus, it's entirely cloud-based, which means you don't have to worry about setting up or maintaining your hosting servers.
Shopify Pros and Cons
Before we get into the best Shopify alternatives, let's go over Shopify's pros and cons.
Shopify Pros
Beginner-friendly: Although Shopify has a ton of features, it's one of the most accessible platforms to use, even for complete beginners.
24-hour support: Shopify offers 24/7 support meaning it doesn't matter where you are in the world or what time you need help with something. Someone will always be there to assist you.
App integration & community: If you can't get exactly what you need from Shopify itself, there's almost always an outside app that you can integrate. Shopify's app store is full of free and paid apps, and has a thriving community of developers.
Templates: Shopify offers the most diverse selection of 170 templates to choose from. You also have the option to design your own template.
Shopify Cons
Limited blogging options: If you value having a blog alongside your eCommerce store know that Shopify prioritizes product pages and storefront pages before blogs.
Transaction fees: Shopify payments are free, but they aren't available worldwide yet. So if you're in a part of the world where it's yet to be offered, you will need to pay for a third-party payment system.
Multilingual stores: If you want to include more than one language in your store, it's not easy or cheap to set up.
SEO issues: Unfortunately, Shopify still has some SEO issues that need resolving. Things like rigid URL structures, inability to edit tag pages, and duplicate content issues are some examples.
Shopify's Plans and Pricing
Shopify offers 3 different plans for your eCommerce site.
Basic Shopify: $26/month
Shopify: $79/month
Advanced Shopify: $299/month
Each of these plans offers different features like different transaction fees, shipping pricing options, and gift card options. The plan you choose will depend on the size of your company and what features you want to implement.
The biggest difference is in the number of staff accounts you can have. With the Shopify Plan, you can have up to 5 staff accounts, but the Advanced Plan gives you up to 15.
And if you choose to use Shopify payments for payment processing, the transaction rate will be:
2.9% plus $0.30 for the Basic Plan
2.6% plus $0.30 for the Shopify Plan to
2.4% plus $0.30 for the Advanced Plan
Using a third-party payment processor will cost you 1%-2% on top of Shopify's transaction fees.
As you can see, the extra fees can get very expensive for eCommerce stores that aren't based in countries where Shopify payments are available.
Best Shopify Alternatives
Now that you know what Shopify has to offer, let's take a close look at its competitors.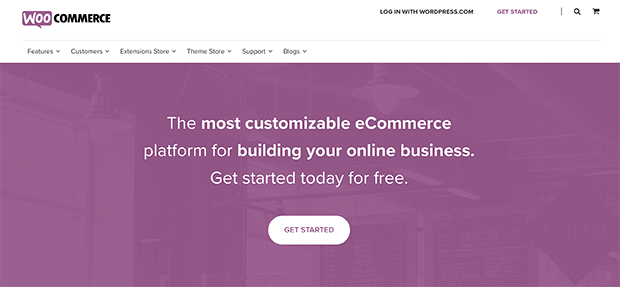 Unlike Shopify and BigCommerce, WooCommerce is a plugin for WordPress sites that allows you to take eCommerce transactions on the world's most popular content management system. Meaning, you need to have a WordPress site already to install it.
Despite only being available on WordPress, WooComerce has a larger market share than Shopify (21% vs. Shopify's 18%).
If you're looking to monetize your WordPress blog or just want to use WordPress to power your eCommerce store, WooCommerce is the Shopify alternative for you.
WooCommerce Pros
Easy set up: Set it up in 5 easy steps.
You own it: Easily one of the most important pros. Since you own your platform, you have full control over your website. If you want to change something, nobody can kick you out for not following the rules.
Payment processors: WooCommerce supports popular payment options like Stripe and Paypal, and there's no transaction fee.
It's free: The WooCommerce plugin is free, and you can start installing it right away. If you need additional functionality, you can purchase more plugins for a one time fee, instead of monthly payments.
Blogging made easier: Unlike Shopify, which has a blogging platform that's not so functional for bloggers, WooCommerce is based on WordPress, which is built primarily for blogging. Having your eCommerce store run alongside your blog has excellent SEO benefits.
WooCommerce Cons
Limited to WordPress: WooCommerce is specifically a WordPress plugin and can't be installed on any website that doesn't run on WordPress.
Complicated management: Shopify offers a pre-made website, so you don't need to have much experience before purchasing it. With WooCommerce, you'll need to understand all the technical aspects of building and running your eCommerce store. This can be difficult for beginners, and you may end up needing to hire a developer.
WooCommerce's Plans and Pricing
WooCommerce is a free plugin. However, you'll need to purchase your domain, web hosting, and other things like premium themes and plugins. Hosting can range anywhere from $50 to $500 for new eCommerce sites, and domain names will cost around $10 to $15.
Premium WordPress themes cost around $50 to $80. If you're not a developer, it might help to go with WooCommerce's official storefront theme. This is great for beginners, as it's built for WooCommerce. If you run into trouble, there's help available from the WooCommerce team.
Get started with WooCommerce on Bluehost!
Related Content: For a good idea of the costs you can expect when setting up an eCommerce site, take a look at our article How Much Does It Cost to Build a Website for a Small Business.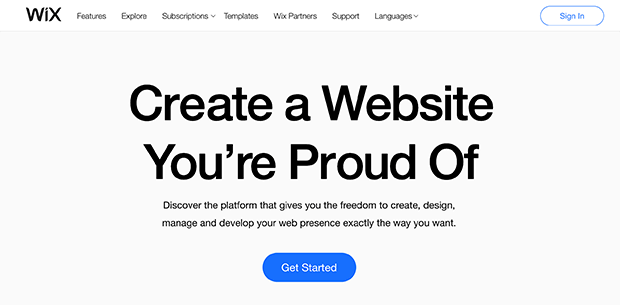 Serving over 100 million people over 190 different countries, Wix has made a global impact.
Whatever your skill level, Wix's user-friendly template editor gives you full control. You can create beautiful and professional websites, all at a cheaper cost.
An exciting feature that may help beginners get started is the ADI. ADI is like an automated assistant that suggests configurations based on a questionnaire.
If you don't want to go the ADI route, there's still the Wix Editor that gives you full control and customization with the drag and drop function.
Wix Pros
Features: Wix offers over 280 apps, plugins, and addons to embed live chat, social media, coupons, and more.
Customization: Options for customization are endless with HTML codes, lightboxes, and button styles.
Templates: 100+ templates—all with unique designs.
Free plans: A free plan is available if you're okay with Wix branding on your site.
Scalability: Unless your website is going to become a global household name, Wix has plenty of options to scale your site.
Wix Cons
Apps: Wix doesn't have nearly as many apps as Shopify.
Ads: With the starter plan, you'll be stuck with ads on your site.
Limitations: Wix doesn't yet offer plans with unlimited bandwidth and storage.
SEO: Although you have access to someone to help you with the optimization of your website, the techniques they use are a little old-school.
Related Content: How to Explode Traffic by Updating Outdated SEO
Wix Plans and Pricing
Wix offers 6 plans.
Combo Plan: $17/month
Unlimited Plan: $22/month
Pro Plan: $27/month
eCommerce Plan: $28/month
VIP Plan: $47/month
Enterprise Plan: $750/month
In comparison to Shopify, Wix offers a whole lot more variety in its plans. Plus, it's cheaper, and you have more flexibility depending on what kind of eCommerce you're running.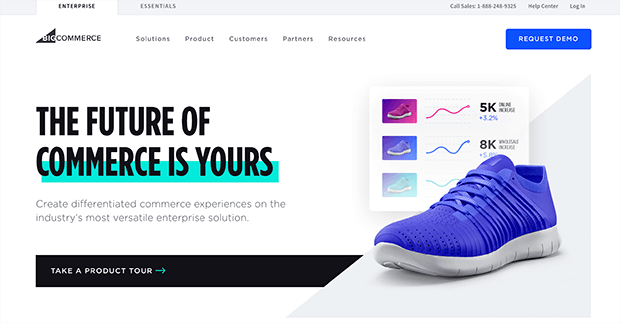 As the name suggests, BigCommerce is capable of supporting and creating massive online stores. It offers a considerable amount of features compared to Shopify like payment options, and more possible product variants.
It's also user-friendly for beginners, although with all the added features it can be a little confusing to know which options to choose for your store.
BigCommerce Pros
Unlimited staff accounts: Unlike Shopify, which only offers 15 staff accounts with the highest plan, BigCommerce offers unlimited accounts across all plans.
No transaction fees: BigCommerce does not offer any in-house payment options. However, you may integrate with a large variety of payment gateways and don't need to pay any transaction fees. The only fees you'll be paying are from your processor directly.
Single-page checkout: This is very important in preventing cart abandonment. BigCommerce offers single-page checkouts for all their plans. With Shopify, this feature is only available with an addon.
Product variants: With BigCommerce, you can use up to 600 product variants. You can also do this with Shopify, but you'll need to download a separate app.
Solid SEO structure: BigCommerce is better optimized for SEO, making it much easier for your site to rank in Google.
More options for basic plans: With Shopify, you'll only get gift cards and reporting after you've purchased the Shopify Plan. BigCommerce offers this feature for its Basic Plan as well.
Excellent customer support: Like Shopify, BigCommerce offers 24/7 customer support.
BigCommerce Cons
Sales threshold: Each of the plans have a limit to how much money you can make per year. If you make over that amount, BigCommerce will automatically upgrade your plan to one that allows for more revenue. With Shopify plans, there are no sales limits on any of their plans.
Abandoned cart recovery: BigCommerce only offers this tool starting at its Plus Plan, where Shopify offers it with all plans.
Apps and templates: BigCommerce has fewer apps and templates than Shopify. Because Shopify has a much larger ecosystem and userbase, it has more creators building apps and templates.
BigCommerce's Plans and Pricing
BigCommerce offers 3 plans:
Standard: $29.95/month
Plus: $79.95/month
Pro: $249.95/month
On any of these plans, you can save 10% if you pay annually.
As you can see, the prices are similar to those of Shopify. However, enterprises can receive custom pricing lower than Shopify's Plus Plan with this Shopify alternative.
BigCommerce Tools: Top 11 BigCommerce Apps That Will Convert More Customers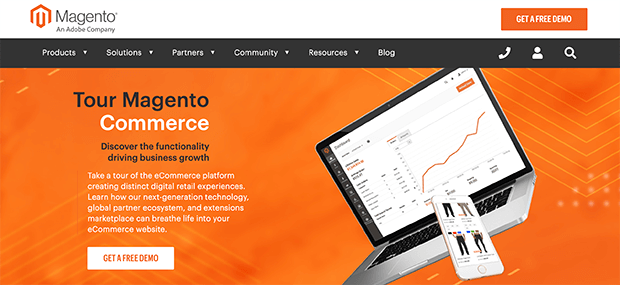 Like WooCommerce, Magento is a free, open-source platform. It's used by some of the largest retailers in the world like Samsung and Nespresso but also serves countless small eCommerce stores.
It offers a wide variety of features with almost nothing missing from the platform. Having said that, this software is sophisticated and might be hard for a brand new store owner to navigate.
Either way, Magento is #3 in terms of popularity behind its alternatives Shopify and WooCommerce.
Magento Pros
Variety of features: Magento offers features that extend far past Shopify's. It provides integrated checkout, payments, and more international shipping and payment options. It also includes instant purchase, site search, and a vast selection of extensions from their marketplace.
Control: You can control how you run your store without limits. Magento also has tons of extensions that you can use to boost sales and conversions.
Customization: Magento has endless customization options to help your store stand out. Personalization can be pretty limited on Shopify.
Magento Cons
User-friendliness: Shopify is known to be user-friendly. Magento is sophisticated software that will likely need a lot of development resources to get started. For an established company, this might be alright. For someone who's just starting, it may not be worth the headache.
Cost: In addition to the potential cost of hiring developers to help you run a Magento store, enterprise customers could be looking at a software cost of $15,000/year or more!
Time: Because of the steep learning curve, you might not be able to turn a profit right away.
Magento Plans and Pricing
Like WooCommerce, Magento requires you to buy web hosting. Hosting can cost $7.99 per month for Bluehost and can get much more expensive depending on if you require more advanced plans.
Themes can also be costly. If you're already okay with the complexities of Magento in the first place, you'll probably want something more than a free theme.
Paid themes range from $29 to $499 per year. On top of that, extensions can cost $50 per module.
And, if you need additional maintenance and support, you may need to hire someone if you can't do it in house.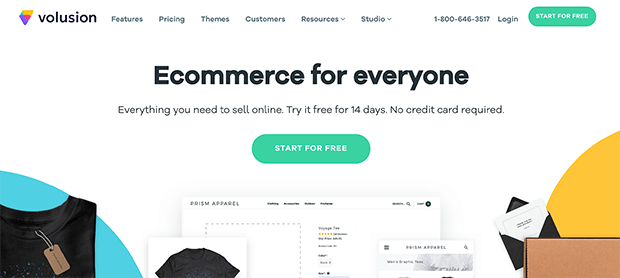 Volusion entered the field back in 1999 and has been around the eCommerce market longer than Shopify and most of the other alternatives on this list.
It offers similar functionality at around the same price as Shopify. But with years of experience over Shopify, it may have a lot more to offer.
Volusion Pros
Available resources: Volusion doesn't fall short on how-to guides, courses, ebooks, or newsletters to help you get started. It also has built-in onboarding materials and highly trained specialists at no extra cost.
Website speed: We all know how important website speed is, especially for eCommerce. With Volusion, your site is hosted on their servers, which are optimized for quick loading.
Perceptive dashboard: Volusion's dashboard is clear and easy enough for beginners to use, but also offers enough options for more complex eCommerce sites.
Payment processing: Included in all its plans, Volusion offers payments with PayPal, Stripe, and their own Volusion payments. You won't be charged a transaction fee for using 3rd-party payment systems other than the provider's price.
Volusion Cons
Transaction fee: If you decide to use Volusion's payment system, you'll pay a fee of 2.15% plus $0.30 per transaction. Transaction fees take a bite out of your margins, but you'll still be paying higher transaction fees with Shopify (2.6% plus $0.30).
Design options: Themes from Volusion are pretty much set in stone. They're hard to customize unless you're an HTML or CSS wizard, and it's really not a simple task if you're a solo business owner. Shopify offers a drag and drop builder, so you won't need any coding skills.
Apps and extensions: As your website evolves, you'll need more features. Shopify is excellent for this with its huge add-on app store. Volusion doesn't really have that. Sure, it has extra features, but not nearly as many as Shopify offers.
Volusion Plans and Pricing
Personal: $29/month
Professional: $79/month
Business: $299/month
Volusion's pricing is almost identical to Shopify's. The only difference is its Basic Plan is $29, instead of $26 with Shopify.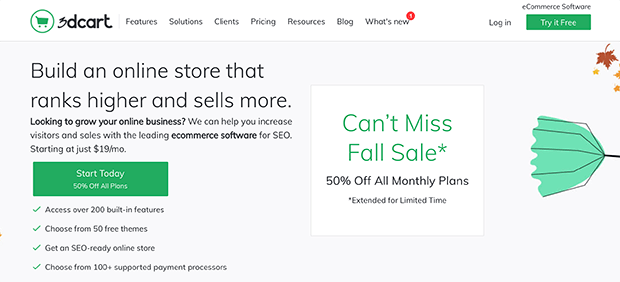 3dcart is very similar to Shopify in terms of what you get for plans and pricing. It's also a hosted solution, so you won't need to install any software or handle any server related issues on your own. This way, you can focus on growth.
3dcart Pros
Transaction fees: You won't have to pay a transaction fee like you would with Shopify. And, you can connect to 100 different payment processors.
Functionality: 3dcart offers 200 built-in features. Also, all plans offer necessities like single page checkout, domain registration, product and customer reviews, reports, dashboards, saved carts, coupons, discount codes, and more.
Startup Store option: 3dcart offers a Startup Store plan, which is $10/month cheaper than Shopify's basic plan. This plan is perfect for those who are just starting out and don't want to pay a lot, but that still want to have access to great features.
Customization: In order to customize your store with 3dcart, you need to know HTML and CSS. This could be good or bad, depending on your level of experience. You can customize to your heart's content and not get stuck with the non-changeable themes like you do with Shopify.
3dcart Cons
HTML and CSS: If you're a complete beginner to eCommerce, it's possible you won't know how to edit your 3dcart platform. Again, this may lead to hiring a developer to help you out.
User-friendliness: Customer reviews report that 3dcart could have a more user-friendly interface like Shopify's.
Advanced features and addons: There are many free features and addons, but some of the most important ones are only available in the $79 plan—for example, shopping cart abandonment, email newsletters, and loyalty programs.
Theme designs: If you don't know HTML or CSS, you'll be limited to choosing one of 3dcart's themes… And they aren't nearly as modern-looking as Shopify's.
3dcart Plans and Pricing
Startup Store: $9.50/month
Basic Store: $14.50/month
Plus Store: $39.50/month
Pro Store: $114.50/month
The variety of plans that 3dcart offers are way cheaper than Shopify's. So, if saving money is one of your priorities, 3dcart might be your best Shopify alternative.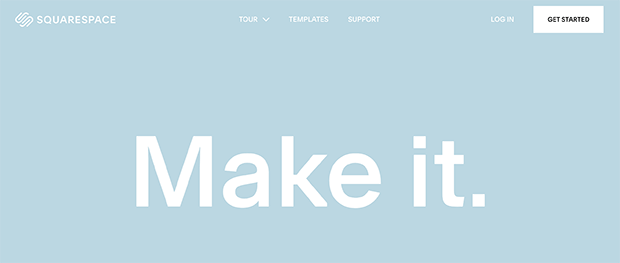 Like Shopify, Squarespace is a web builder for eCommerce businesses. Without any knowledge in coding, you can put together a beautiful website using Squarespace's modern templates. You can use Squarespace to create a blog, too.
Squarespace is known for its templates with amazing visual designs, which is why photographers, artists, and designers love the platform. It also has a lot of built-in features that support blogging. If you use many high-quality images and illustrations in your blog posts, Squarespace would be an excellent fit for you.
Squarespace Pros
Designs: As we said above, Squarespace offers modern templates that will give you the best storefront in town, and they're much more creative than Shopify's.
Easy to edit: Squarespace has a simple "what you see is what you get" editing tool that makes it easy to create desktop and mobile sites.
Plans for eCommerce: Squarespace offers plans for many types of business and has 2 plans dedicated to eCommerce. These plans come with useful tools like cart abandonment and inventory management.
Engagement: With Squarespace, you can upload product videos to engage your audience and creatively showcase your products.
Squarespace Cons 
Growth: Because Squarespace only allows for 2-level menus, it may get tricky for bigger stores that sell a lot of items in different departments. It also means that you'll have trouble setting up a multilingual site.
No app store: Squarespace doesn't have an app store or any plugin system, meaning you're limited to what comes with it.
Control over content: Like Shopify, you don't have 100% control over your content. If you go against Squarespace's terms, your website could be taken down in a second, without warning.
Editing: Unlike Shopify, you can't toggle between the pre-made template and HTML code on Squarespace. However, it is possible to add HTML code blocks to incorporate third party forms and widgets.
Squarespace Plans and Pricing
Squarespace offers 4 plans. However, only the last 2 plans built specifically for eCommerce stores.
Personal: $12/month
Business: $18/month
Basic Commerce: $26/month
Advanced Commerce: $40/month
Squarespace's Advanced Commerce plan is much cheaper than Shopify's Advanced Plan. But, Shopify might make up for this difference with its available features and app store possibilities.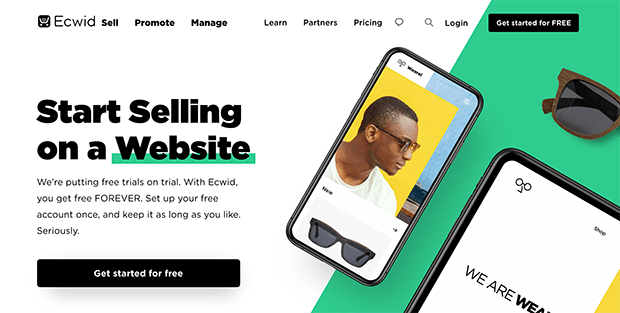 Already have a website set up? Want to start selling items on your blog?
Ecwid is an eCommerce widget that can be used on almost any website. It's super easy to set up and start using. All you need to do is add your products to your admin panel and copy and paste a few lines of code. Voilà!
Ecwid Pros
Fees: If you're a smaller eCommerce store and plan to sell 10 items or less, Ecwid is totally free of fees and charges.
Features: For the price, Ecwid is pretty competitive with its features. It offers automatic updates, real-time shipping rates, unlimited bandwidth, and you can sell digital goods.
Lightweight: If you already have an online presence and want to start selling, Ecwid is such a lightweight and straightforward solution. It doesn't require much effort or thought to use.
Ecwid Cons
Features: The biggest drawback with Ecwid is the features are minimal, but as we already mentioned, it's meant to be a lightweight solution for your eCommerce store.
Growth: Because of the basic features and design tools, the possibility for growth is minimal. If you're looking to scale your eCommerce business, a platform like Shopify would be better.
Ecwid Plans and Pricing
Ecwid offers 4 plans. The free plan allows you to sell up to 10 items on your site. However, if you want to scale a little, you'll need a paid plan.
Free: $0/month
Venture: $15/month
Business: $35/month
Unlimited: $99/month
This Shopify alternative is much cheaper than Shopify. But again, it's only a widget and if your goal is to grow a huge eCommerce business, this might not be the right fit for you.

Like Magento and WooCommerce, PrestaShop is a self-hosted platform so you can use it on almost any site you want. It has all the eCommerce features you need to run a successful eCommerce store.
PrestaShop Pros
Ease of use: PrestaShop is super easy to use. As soon as you log in, you're shown a variety of features, unlike Shopify where it takes a while to discover what features are available.
International store: PrestaShop caters to those looking to sell internationally. You can add different languages, currencies, and opt for international shipping and taxes.
Support: Most open source platforms don't offer support because they're free to use and overhead support is costly. However, PrestaShop offers setup guidance, technical help, and even tips to grow your business.
(Almost) endless themes: PrestaShop's market place contains 10,000 themes, modules, and services, both free and paid.
PrestaShop Cons
Time and maintenance: You can get your Shopify store up and running in just a couple of hours, but PrestaShop is likely going to take more time. Once you've got it set up, there's also a lot of maintaining to be done.
Unprofessional design: Even though PrestaShop has a ton of features, its template designs lack professionalism.
Expensive integrations: It has a large selection of addons, but it can get pricey. If you need Amazon and JA Marketplace integration, for example, it's going to cost $217 for the addon. The majority of the addons are $55-$110.
PrestaShop Plans and Pricing
You can download and install the PrestaShop software for free. Surprisingly, you can run an eCommerce store with that alone. However, if you'd like to scale by adding addons like cart abandonment, you'll have to pay.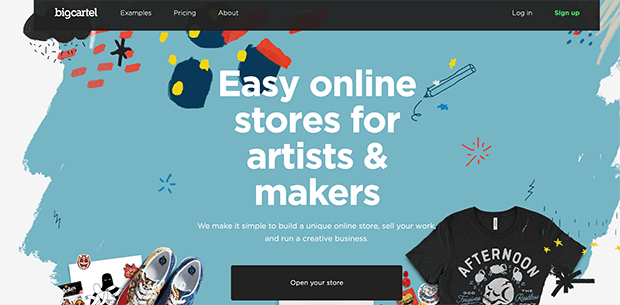 BigCartel has gained a lot of traction among solopreneurs and small businesses, mostly due to its affordability. It doesn't offer as many features as Shopify, but it does come with enough to power your business.
You can also try it out on a free plan before paying for a subscription, giving you the flexibility to opt-out if it's not your thing.
BigCartel Pros
Integrations: One of the best features of BigCartel is that it comes integrated with Google Analytics, Facebook, and PayPal without having to do any coding.
Fees: BigCartel doesn't charge any transaction fees.
Free Plan: There's a free plan for anyone with 5 products or less.
Price: BigCartel is wallet-friendly.
BigCartel Cons 
Lack of support: It doesn't offer phone or live chat support, which will make it difficult to solve any technical problems.
Not for large companies: Because of the limited features, BigCartel isn't suitable for larger companies.
Searching: There is no inventory search function. A search function is important for customers since many know exactly what they're looking for when they land on your site.
BigCartel Plans and Pricing
BigCartel's plans are categorized by how many products you plan on selling.
Platinum Plan (25 products): $9.99/month
Diamond Plan (100 products): $19.99/month
Titanium Features (300 products): $29.99/month
Compared to Shopify, these plans seem very reasonable. Plus, you're able to sell a lot of products. You also get features like customizable themes, 5 images per product, and real-time stats.
So Which of the Best Shopify Alternatives Is Right for You?
No two eCommerce stores are the same. Everyone has different business goals and different needs to achieve those goals.
BigCommerce is powerful and flexible and is our top pick for the best Shopify alternative.
If you're looking for something simpler, Shopify is a great choice for many eCommerce businesses.
Choosing the right eCommerce platform for your business is just a matter of examining your goals. And, no matter the platform you choose, you can depend on OptinMonster to convert interested visitors to customers. Get started with OptinMonster today!
Now that you have a better idea of the eCommerce platforms out there, here's how to optimize your site for the holidays. Want more marketing tips and guides? Follow us on YouTube, Facebook, and Twitter!