Are you looking for the best ActiveCampaign alternatives but can't seem to find the best fit?
ActiveCampaign is one of the most popular platforms for email marketers and websites. That said, there's plenty of competition on the market where you may find better deals and more value for your money.
We've compared ActiveCampaign with the best alternatives available. This list will give you features, pricing, and what you can expect when you switch over from ActiveCampaign.
Before we dive into the list, though, let's take a quick look at what ActiveCampaign has to offer so we can do a true comparison.
ActiveCampaign: A Brief Summary
ActiveCampaign is a reliable email marketing tool that prides itself as the #1 automation platform for eCommerce. It makes it easy to manage subscribers and track their preferences.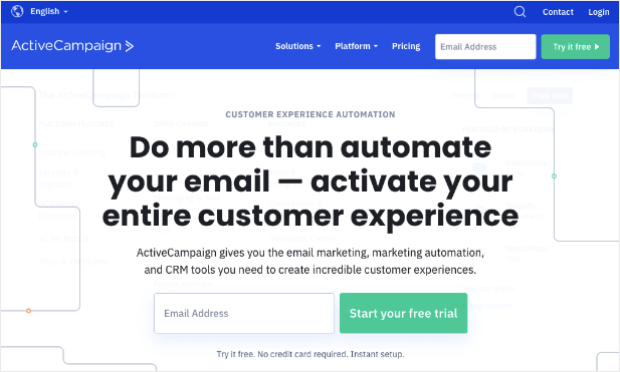 Here's where ActiveCampaign stands out:
Send customized newsletters and messages targeted by contact's interests
Leverage their 96% deliverability rate
Create custom signup forms to collect emails
Automate welcome series and set up workflows
Analyze advanced reports to find new opportunities to grow
Track what visitors do on your site to gain insights into their interests
If you aren't already a customer, ActiveCampaign has a free trial for 14 days and their plans start at $9 per month. They have 4 plans that are Lite, Plus, Professional, and Enterprise.
The best part about ActiveCampaign is that you pay only for marketable contacts in your list. For every plan, the cost depends on the number of subscribers you have.
That means you can be sure you're not paying for dormant or inactive subscribers.
The downside to ActiveCampaign is that it doesn't have the most user-friendly interface which can be tough to navigate, especially for beginners. And while they have a great support team, users have complained of spotty service.
Now that we know the basic pros and cons of ActiveCampaign, let's take a look at the alternatives.
The Best ActiveCampaign Alternatives
We've picked the best and most popular email service providers (ESPs) in the market that rival ActiveCampaign.
First, though, let's make one thing clear: if you don't have a strategy in place to grow your email list, then the ESP you choose doesn't really matter.
Why? Because for any ESP to work, you need a robust list of contacts to send your email campaigns to.
So before we begin, we want to draw your attention to first getting the right lead generation tool. This will make a huge difference to your ESP experience as well.
The easiest and most effective way to collect leads is using OptinMonster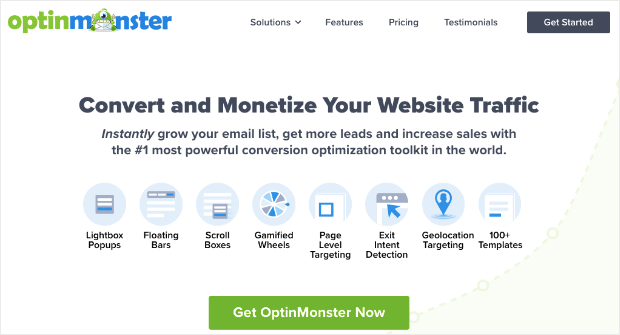 OptinMonster is the most powerful tool to exponentially grow your subscriber list. It lets you create targeted and personalized lead generation campaigns like popups, floating bars, inline forms, slide-ins, and more.
OptinMonster comes with 50+ beautiful templates and 9 campaign types, so you can set up high-converting campaigns in minutes.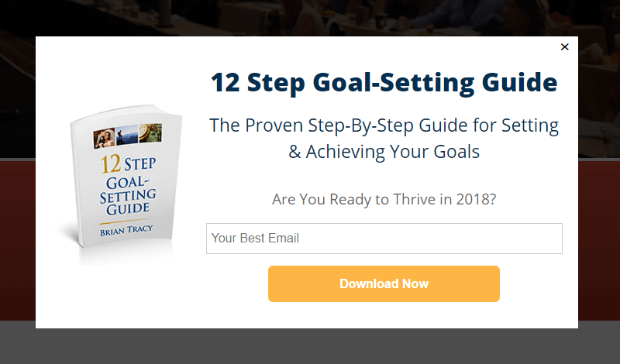 It also comes with a drag and drop builder to easily customize your campaigns.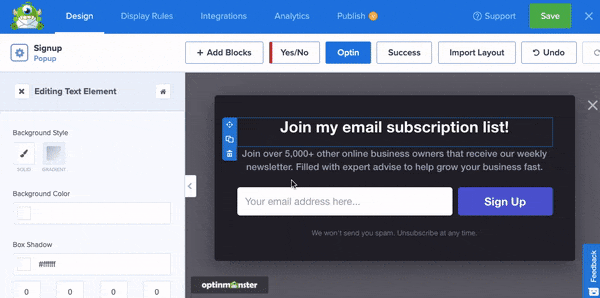 Now where OptinMonster really stands out is its powerful targeting features. This lets you can display campaigns to the right people, at the right time and place to maximize signups.
For instance, you can use Exit-Intent® to detect when a visitor is leaving your site. OptinMonster will then display a popup asking them to sign up for your newsletter.
That means you can make one last offer to try to retain as many abandoning visitors as possible.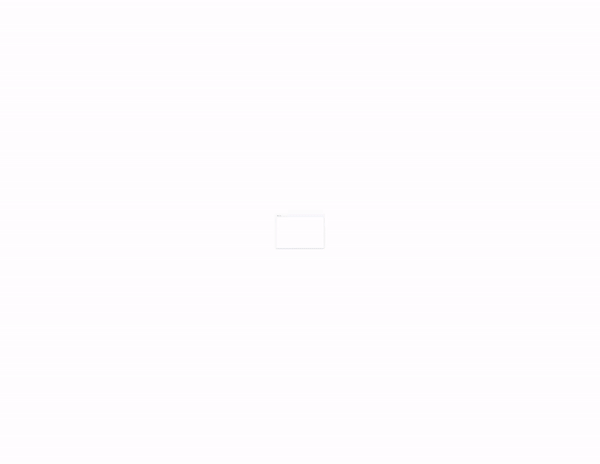 This feature works so well that NeilStrauss.com increased conversions by 125%!
In a nutshell, here's where OptinMonster can really help you:
Powerful targeting features for all sites, including eCommerce
Tag, segment, and organize leads to manage your list easily
OnSite Retargeting® and OnSite Followup® campaigns to engage with returning visitors
A/B testing and analytics to optimize results
Integrates with all popular email marketing services including the ones in this list
24/7 reliable and friendly customer support
Want to start growing your email list right away? Then get your 100% risk-free OptinMonster account below:
Get Started With OptinMonster Today!
BONUS: Done-For-You Campaign Setup ($297 value)
Our conversion experts will design 1 free campaign for you to get maximum results – absolutely FREE!
Click here to get started →
Now that you know the best way to generate leads, let's take a look at the best ActiveCampaign alternatives.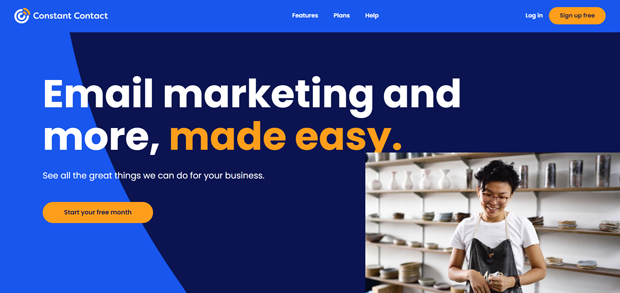 Constant Contact is the most popular (and our favorite) email service provider.
It's backed by AI-driven tools to easily segment and target your subscribers. That way, you can send out personalized emails to maximize open and click-through rates.
Constant Contact is ridiculously easy to set up and creating emails is also a breeze. You can select a pre-designed template to use as a layout for all emails so your brand's voice remains consistent.
Plus, Constant Contact lets you set up automated email series to welcome new subscribers or reengage with disinterested ones.
Comparison: When stacked up against ActiveCampaign, Constant Contact offers a 97% deliverability rate and way better customer support. It's suitable for websites of all sizes and is so flexible that it can suit any email marketing goal.
Standout Features
Best email deliverability track record
Drag and drop builder for easy customization
Schedule emails and promotional offers
Segment audience based on purchase activity, website visits, activity, and gender
Track progress with insights and analytics
Reliable support team
Pricing
Starts at $20 per month.
Get started with Constant Contact today!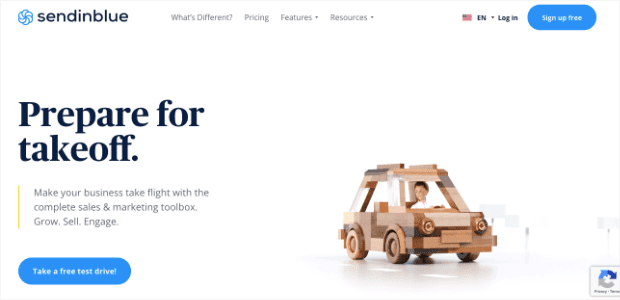 Sendinblue is another top contender among the best email service providers in the market.
Sendinblue maintains a good sender reputation and high delivery rates so you can be sure emails sent reach your subscriber's inbox.
Comparison: While ActiveCampaign focuses on email marketing, SendinBlue is more than that. It also offers SMS marketing and chat support features.
This lets you keep track of your customer interactions in one place, so you can build stronger relationships with them.
Standout Features
Powerful drag and drop builder
Responsive email designs that look good on all devices
Add unlimited subscriber contacts
Fast and helpful email support
Pricing
Sendinblue has a free plan that lets you add unlimited contacts and send up to 300 emails per day. Paid plans start at $25 per month.
Get started with Sendinblue today!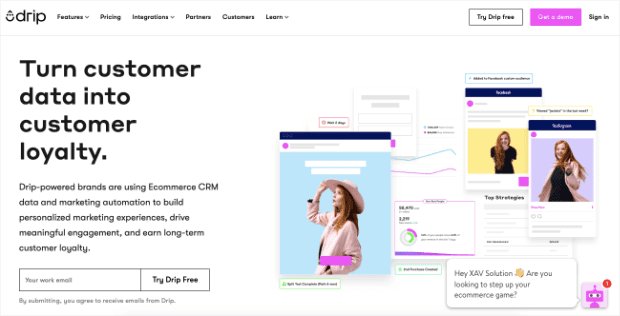 Drip is an email-focussed platform to grow your list and send emails with ease.
It's rich with features to help you make more money from email marketing. You can integrate the platform with other marketing tools to create a cohesive and powerful marketing stack on a budget.
Plus, Drip lets you see how people interact with your brand, so you can segment your audience and tailor your messages.
Comparison: ActiveCampaign has been around much longer than Drip but both platforms are really powerful. It all comes down to what you need from an email service provider. Drip's integrations and automation are better suited for eCommerce stores.
On the other hand, ActiveCampaign's inbuilt CRM and sales automation work well for businesses that have more complex sales processes.
Standout Features
Automate emails based on subscriber behavior
Set up a custom sending domain
Manage subscribers and unsubscribers easily from the dashboard
Pre-built workflows to set up campaigns and automated sequences
Pricing
Drip has a free 14-day trial. Paid plans start at $19 per month.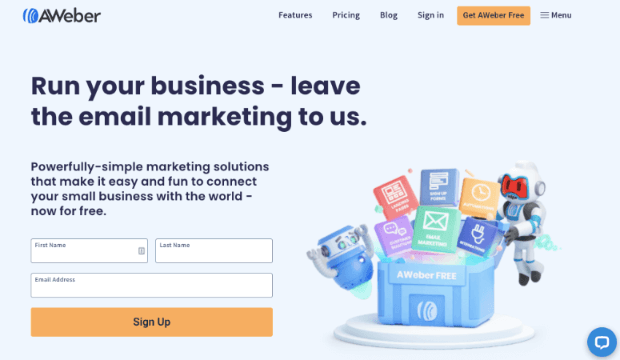 AWeber is a powerful yet simple marketing platform. It gives you access to email marketing, landing pages, web push notifications, and more.
AWeber lets you create custom templates without ever having to write any code. It also gives you easy access to analytics to track the performance of your emails.
What we love about AWeber is that it automatically pulls content from your blog and turns it into an email newsletter template to share with subscribers.
It also comes with built-in eCommerce store solutions and integrations to connect to other marketing and website platforms.
Comparison: AWeber is tailored for businesses looking for a straightforward email marketing platform on a budget. Compared to ActiveCampaign, it's much easier to use making it a great choice for beginners, too.
Standout Features
Drag and drop email builder + free template library
Automate newsletter broadcasts from the latest blog posts
Easy subscriber management and segmentation
AI-powered email template designer to create branded newsletters in seconds
Set triggers and create targetted email flows
Analytics and reports that contain data that matters
Pricing
There's a free plan for up to 500 subscribers. The Pro version starts at $16.15 per month (billed annually).
Get started with AWeber today!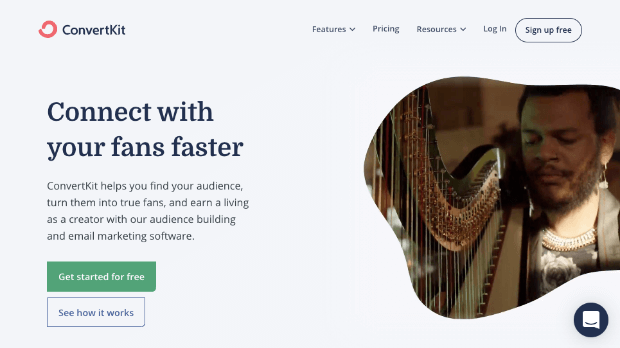 ConvertKit is a marketing platform with a goal to help you make money from the content you create. That makes it more than just an email service provider.
That said, ConvertKit has one of the best deliverability rates at 99.72%! And it comes with a user-friendly email designer to write, edit, and customize newsletters.
It takes care of end-to-end email marketing from lead capture forms to robust email infrastructure for sending newsletter broadcasts.
Comparison: ConvertKit is geared towards bloggers and content creators where things could easily be managed by one person, while ActiveCampaign is a better choice for small and large businesses.
Standout Features
99.72% deliverability rate with a 30% average open rate
Choose who you want to receive your broadcast
Create branded email templates and set default templates
Add buttons, images, and videos to your newsletters
Schedule emails for later or set up automated triggers
Pricing
Free for up to 1,000 subscribers. Premium plans start at $29 per month.
Get started with ConvertKit today!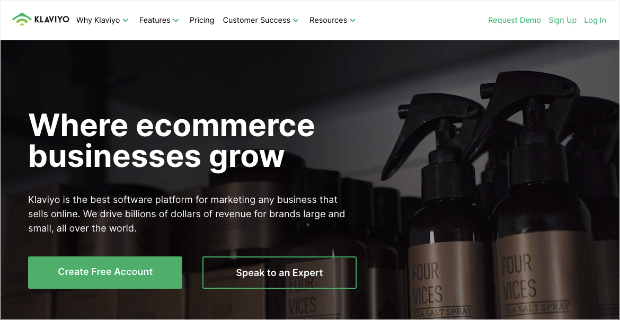 Klaviyo helps you grow your business through email lead generation and message automation.
It's tailored for growing businesses, especially eCommerce sites, and can help put admin tasks on auto-pilot so you can focus on what's important.
Klaviyo lets you easily import your contact list from other platforms so migration will be a piece of cake.
What stands out about Klaviyo is its ability to take boring Excel sheets and turn them into readable and segmentable audience lists.
Plus, Klaviyo integrates with other apps like OptinMonster. This lets you create custom Klaviyo popups to get more email subscribers.
Comparison: Klaviyo has an easy-to-use interface that out beats ActiveCampaign. However, ActiveCampaign has far superior features when it comes to email marketing that includes a better deliverability rate, email and spam testing, and more.
Standout Features
Automate your welcome series, abandoned cart, and other email campaigns
Prebuilt forms to get more signups
Templates to craft your newsletters
Pricing
Klaviyo is free for up to 250 subscribers. Paid plans start at $20 per month.
Get started with Klaviyo today!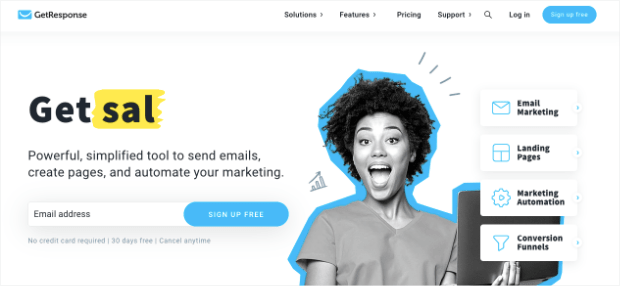 GetResponse is a powerful and simplified email marketing software. It helps automate marketing processes that include growing your audience, engaging with customers, and tracking performance.
GetResponse comes with 100+ templates so you can easily set up and send one-time email broadcasts with updates and special offers for your subscribers and customers.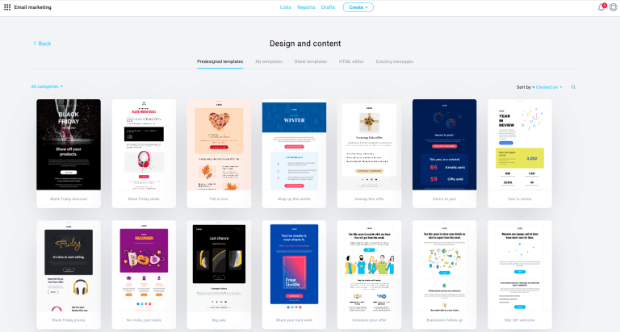 Plus, it lets you create automated email sequences to follow up and build a relationship with subscribers. You can even host live webinars to engage with your audience on a more personal level.
Comparison: GetResponse is made more for entrepreneurs and online marketers, though it can also suit small and large companies.
If you have an eCommerce store and more complex marketing goals, we suggest staying with ActiveCampaign or using Constant Contact.
Standout Features
99% proven deliverability rate
Drag and drop email creator to design newsletters in a few clicks
Delivery tools like Time Travel and Perfect Timing to send emails at the optimal time
Advanced segmentation tools to build custom segments
Track performance and subscriber preferences
Pricing
GetResponse has a 30-day trial period for any plan. After that, pricing plans start at $10.50 per month.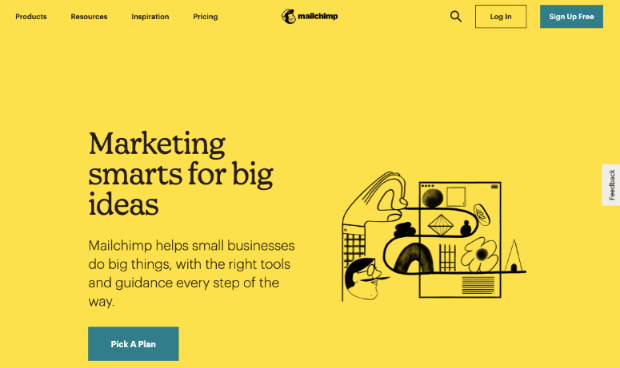 Mailchimp is one of the oldest email service providers and is widely popular for it's forever-free plan. It has helped millions of small businesses easily set up professional email marketing for free.
Mailchimp makes it incredibly easy to get a business email address and send out branded newsletters to your audience.
A huge downside to this platform is that it recently changed its subscriber policy. Mailchimp now charges for all subscribers in your list, even ones who have unsubscribed.
That means you need to manually purge your list and remove unsubscribed customers on a regular basis to avoid getting charged for them.
Comparison: If you have a small subscriber list and want a free email service, Mailchimp is the way to go.
For established businesses and eCommerce stores, we recommend sticking with ActiveCampaign or choosing a more reliable and transparent service like ConstantContact.
Standout Features
96% to 99% deliverability and inbox acceptance rates
Email builder that's easy to use even if you're a beginner
Set up automated triggers using the customer journey tool
Pricing
Mailchimp has a forever-free plan for small businesses. It allows you to create 1 audience list with up to 2,000 contacts. Paid plans start at $10 per month.
There you have it! That's our pick of the top ActiveCampaign alternatives the market has to offer.
Verdict: The BEST ActiveCampaign Alternative
After analyzing features, pricing, and deliverability, Constant Contact comes out as the best!
It has one of the highest deliverability rates, top-notch customer support, and affordable pricing. And to top it off, the dashboard is so easy to use making it great for beginners, too.
Once you've selected your ActiveCampaign alternative, check out OptinMonster to grow your email list. You can target visitors at the right time to get them to sign up.
OptinMonster lets you add signup forms to your site, along with popups, floating bars, and slide-ins to prompt visitors to subscribe. The beautiful templates and the drag and drop builder make it so easy for anyone to use.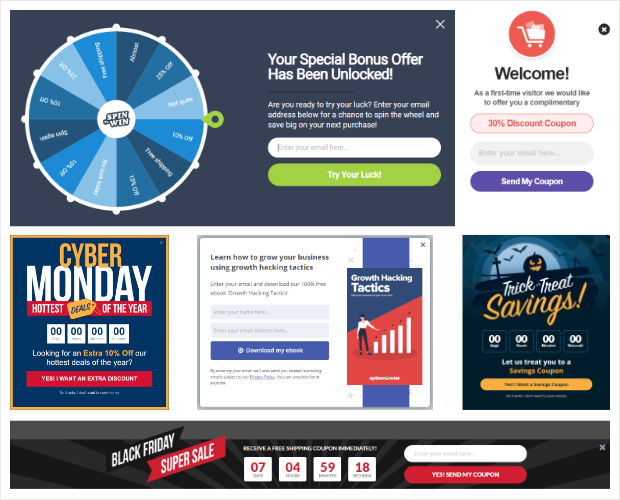 Plus, OptinMonster integrates with popular email service providers including the ones on this list. So all leads collected will be automatically segmented and added to your email contact list.
And using our powerful targeting rules, you can create high-converting campaigns to optimize your email signups. You can show different campaigns based on whether a user is:
new or returning
exiting your site
viewing a specific page
from a geographical area
has seen a campaign before
And that's just to name a few. These display rules are so effective that companies like Human Food Bar get 1800+ signups per month!
Want the same results for your website? Sign up for your 100% risk-free OptinMonster account by clicking below:
Get Started With OptinMonster Today!
BONUS: Done-For-You Campaign Setup ($297 value)
Our conversion experts will design 1 free campaign for you to get maximum results – absolutely FREE!
Click here to get started →
We hope you liked this comparison of ActiveCampaign alternatives. If you're looking to expand your email marketing efforts, you'll find these posts helpful:
We've picked these posts to help you create an email marketing strategy that is easy and effective.