Are you looking for the perfect Mother's Day promotional ideas to honor and celebrate moms everywhere?
Mother's Day is a chance to connect with the world's unsung heroes: moms.
And since mothers do so much for everyone else, you now have a fun opportunity to do something exclusively for them!
That's why, in this post, we're going to share 7 Mother's Day promotional ideas that you can use this year.
Ready to get started? Let's jump straight into our list of ideas.
7 Mother's Day Promotional Ideas
Each of the Mother's Day promotional ideas below can be used to engage with your audience, improve user experience (UX), and drive more sales.
Whether your site gets traffic through pay-per-click ads, organic traffic, or social media, you'll find the right promotional idea for you.
Let's get started.
1. Offer an Exclusive Discount to Moms
First and foremost, you should be running a special discount exclusively for mothers.
This will obviously depend on your niche, product, and services. Still, most eCommerce businesses have something that would appeal to moms.
You should set up a few discounts and run "optin campaigns" across your site.
These are things you're already familiar with, like popups, floating bars, fullscreen welcome mats, and more.
And to share discounts with your audience, there's simply no better tool than OptinMonster: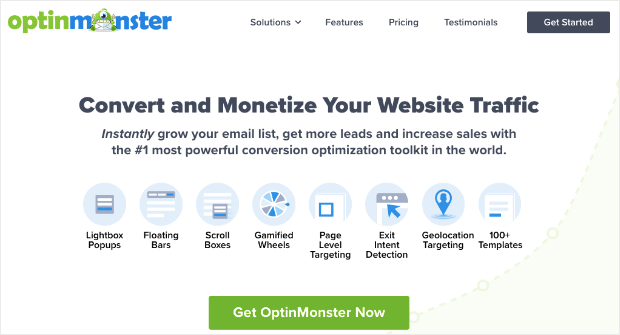 OptinMonster is hands down the world's best lead generation tool, and it'll be your biggest asset for your upcoming Mother's Day campaigns.
That's because OptinMonster gives you a variety of campaign types to spread the word about your discounts, including:
Popups
Floating Bars
Scroll Boxes
Gamified Wheels
Fullscreen Welcome Mats
Inline Campaigns
And more…
And for each campaign type, you can select from over 50 pre-made templates, including our personalized Mother's Day campaign: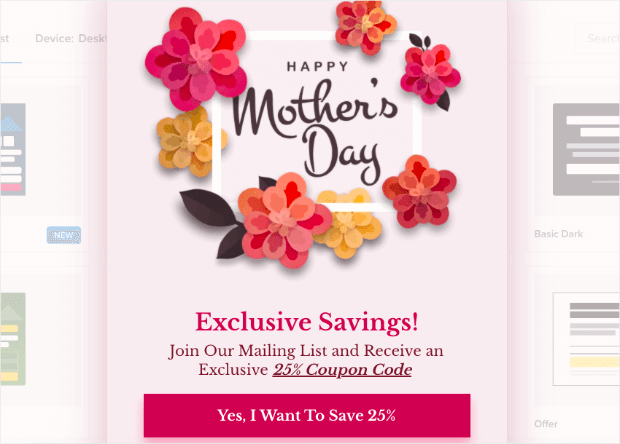 This saves you time, energy, and headaches during the campaign creation process.
Plus, OptinMonster has a drag and drop editor that you can use to quickly modify the appearance of these templates.
To change the text, for example, you can use the inline editor to modify your messaging: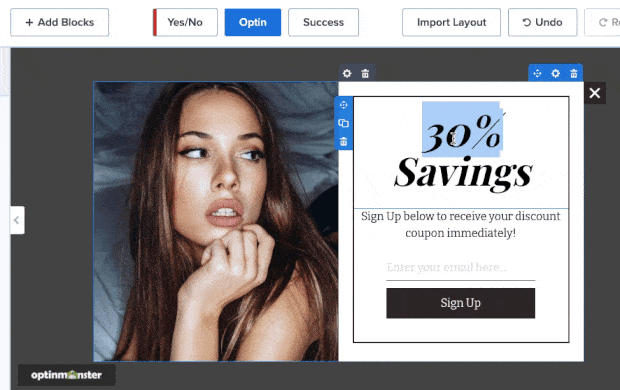 With this feature, you can change your text's:
Font family
Font size
Color
Alignment
Line height
And much more…
But let's be honest: every business will have unique needs. That's why you can also use OptinMonster's drag and drop builder to add new functions to your template.
These can be things like chatbots, images, videos, and other features to help you boost conversions.
And adding these to your campaign couldn't be easier. All you need to do is locate the feature block, then drag and drop it into place: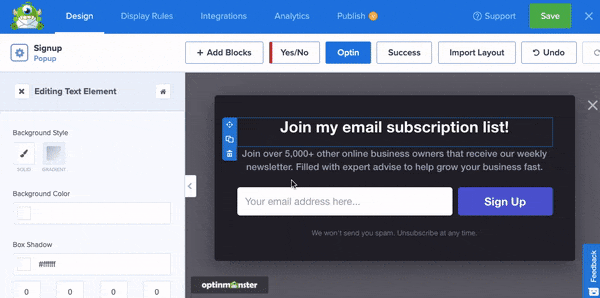 The best part is that you don't need any coding skills to work with OptinMonster at all.
Everything can be done in a matter of minutes, giving you 100% control over how your campaign looks.
But you can also decide exactly when and where it should appear with OptinMonster's targeting rules. Some popular targeting rules include:
Exit Intent® Technology: Show campaigns as users are actively trying to leave your site.
OnSite Follow Ups®: Display fresh campaigns to returning visitors to avoid "popup fatigue."
Page-Level Targeting: Target campaigns to specific URLs to personalize the user experience.
These are just a few of the top targeting rules offered by OptinMonster, though there are many others.
These are the same tools that businesses like Cosmetic Packaging used to grow their list by 754%.
You can have the same results and grow your business this Mother's Day by clicking below to start your risk-free OptinMonster account:
Create a Mother's Day Campaign Today!
BONUS: Done-For-You Campaign Setup ($297 value)
Our conversion experts will design 1 free campaign for you to get maximum results – absolutely FREE!
Click here to get started →
2. Build a Dedicated Landing Page
Lots of eCommerce businesses will have products that would be particularly appealing to mothers.
But rather than sending your audience to a boring list of your products, why not create landing pages for your store's Mother's Day gifts?
This lets you showcase your product, add social proof (like testimonials and reviews), offer product-specific discounts, and more.
Landing pages would be especially important to your Mother's Day campaign if you're using a pay-per-click (PPC) strategy to drive traffic to your site.
By creating a dedicated landing page for your Mother's Day products, you'll be able to make your offers more personalized to your audience.
As a result, you can expect more sales from your Mother's Day promotions.
And if you're using WordPress, we highly recommend working with SeedProd: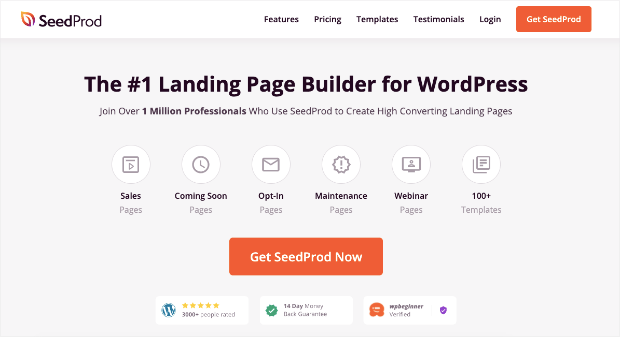 SeedProd is the best landing page builder plugin on the market. It allows anyone to quickly and easily create landing pages in a matter of minutes–regardless of their coding abilities.
That's because SeedProd has a drag and drop builder that lets you add new features to your landing page.
Plus, it comes with advanced integrations for platforms like WooCommerce. This lets you add products to your page in no time: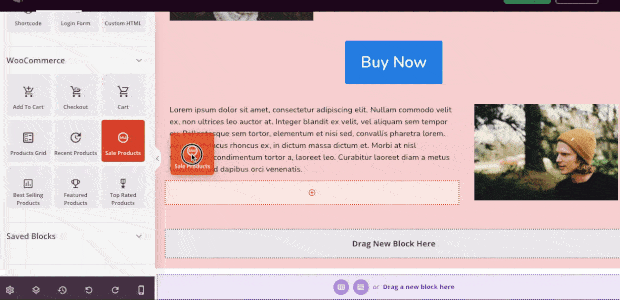 SeedProd also allows you to connect 3rd-party marketing tools and your favorite email service provider (ESP).
That way, even if you don't make a sale, you can capture your audience's email address and nurture the lead over time.
But the best part about SeedProd is the template selection.
While the free version of this plugin gives you a limited amount of templates to work with, paid plans unlock tons of great templates to save you more time.
It's how total beginners can create stunning and high-converting landing pages in a matter of minutes.
Ready to see it in action for yourself? Get started with SeedProd today!
3. Run a Social Media Campaign
No matter what you decide to do for Mother's Day this year, one thing is for sure: you need to display it on social media.
Social media can be a great way to showcase your brand's unique voice and connect with your audience.
Some ideas for social media Mother's Day campaigns include:
Run a photo contest with kids and their mom
Find the cheesiest Mother's Day gift ideas
Post a photo of "what makes Mom great"
Encourage a "Mother's Day" shoutout to fill your wall with praise for moms
These are just a few ideas, though the list is not exhaustive.
Because the truth is that you can use social media to boost your Mother's Day sale in an endless number of ways.
And if you really want to boost engagement, we recommend adding your social feeds to your website.
If you're using WordPress, this is incredibly easy with Smash Balloon: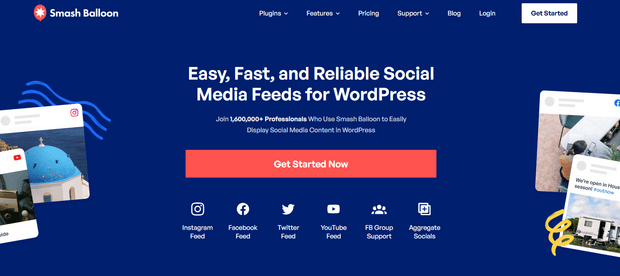 Smash Balloon is the world's leading social media feed plugin for WordPress. This plugin lets you add feeds from:
Instagram
Facebook
Twitter
YouTube
And more…
In just a few clicks, you can have your social feed set up on your website. How does this help with your Mother's Day promotion?
Leading up to your sale, you can use any of the social media promotional ideas listed above (or others).
And rather than this being limited to your social media followers, you can display it to all of your website's traffic.
Not only does this boost your sales, but it can also lead to other benefits, such as:
Growing your followers
Building brand awareness
Increasing your online presence
And much more. The more eyes you can get in front of your Mother's Day social media effort, the more successful your promotion will be.
Want to try it out? Get started with Smash Balloon today!
4. Host an Online Giveaway
Online contests are an excellent to instantly boost your Mother's Day promotion.
It's best to start early so you can generate more interest around the giveaway.
But if you select a prize that connects with your target audience, online contests can grow your business in many ways, such as:
Increasing your subscribers
Growing your social media following
Promoting "word-of-mouth" marketing strategies
Boosting sales
And much more.
Again, the key to having a successful Mother's Day contest is to pick a prize that your target audience will love.
For the actual contest itself, you can create it in several ways. But the easiest will definitely be using RafflePress: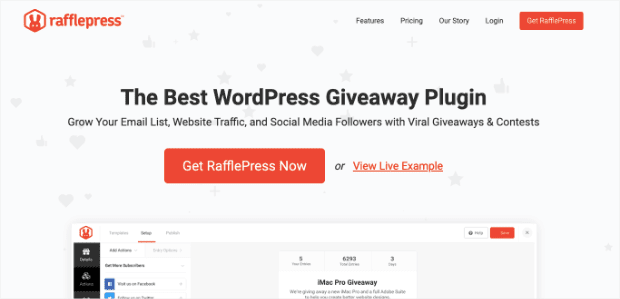 RafflePress is the best giveaway plugin on the market. With this tool, WordPress users can create viral contests in just a few minutes.
That's because RafflePress has a drag and drop contest form builder that doesn't require any technical skills to use.
You can create contests based on various actions you want people to take.
So if you're trying to grow subscribers from your Mother's Day contest, you can give "entry points" for people who sign up on your list.
Or, if you want to boost sales, you can make entry points for people who visit your landing page.
In fact, you can create a Mother's Day contest to boost your business and get more:
Subscribers
Social media engagement/followers
Traffic
Sales
RafflePress is a versatile tool that is sure to improve the success of your Mother's Day promotional campaign.
Ready to see it for yourself? Get started with RafflePress today!
5. Hide a "Bouquet" on Your Website
It's no secret that gamification in digital marketing works. For whatever reason, people LOVE it when you turn some aspect of your site into a game.
It's one of the reasons why OptinMonster's spin-to-win wheel campaigns are such a huge success.
But there's another easy way to turn your website into a game for Mother's Day: hiding a "bouquet of roses" on your site.
These notifications might look something like this:

When uses find the bouquet notification, they can click it and get redirected to the prize page.
On that page, you can offer discounts, free shipping, or other enticing offers for your Mother's Day deals.
The easiest way to create these kinds of notifications is with TrustPulse: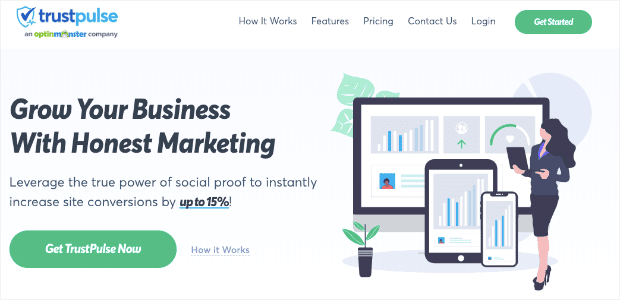 You might know TrustPulse as the best social proof software on the market. So how can it help gamify your site for Mother's Day?
With TrustPulse, you can create Action Message notifications. These are static messages that you can make appear on specific URLs of your site.
Plus, you can totally customize the look and feel of your campaign, even if you have no coding experience.
That means you can create a "prize" notification that links to a landing page on your site for Mother's Day deals.
But here's the best part: once you have the tool, you can load up your site with other social proof to further boost sales.
You can do that through other notification types, such as:
Recent Activity Notifications: Display recent user behavior like sign-ups or purchases to encourage other visitors to do the same.
On-Fire Campaigns: Show actions taken by larger groups for things like popular landing pages or flash sales.
Visitor Analytics: Highlight how popular sections of your site are with real-time visitor count tracking.
So as your visitors are going to your Mother's Day landing page, they'll see other social proof notifications that build trust and boost sales.
In fact, TrustPulse users have seen an instant increase in sales by up to 15%!
Get started with TrustPulse today!
6. Create an Email Sequence
When it comes to your Mother's Day promotion, you'll want to build an email sequence to share new deals and offers.
An email sequence is an automated series of emails that guides your list down your sales funnel.
Unlike other marketing channels, such as social media or PPC, an email list is the most reliable way to reach your audience.
That's because it isn't dependent on algorithm changes that you'd find on social media or paid advertising platforms.
A few weeks before your promotion, you can start your email sequence. Again, it should run on auto-pilot, so the hard part is just setting it up.
And the good news is it's really not even that hard!
Most modern email service providers (ESP) make this incredibly easy.
Don't have an ESP just yet? No worries. We recommend going with one of the following three options if you're just starting out:
Constant Contact: an excellent solution for small businesses who value phone/email support
Brevo (formerly Sendinblue): the perfect choice for businesses on a budget looking for a free option to get started
Drip: the most advanced option for eCommerce
These are some of the best ESPs for small businesses on the market. For more options, feel free to check out this resource: 7 of the Best Email Service Providers for Your Business.
7. Send Timely Reminders for Discounts & Promotions
One of the biggest problems any sale or promotion faces is getting the word out.
That's because when it comes to digital marketing, you're fighting LOTS of distractions.
Email campaigns are great, but you still depend on people checking their inbox at specific times.
To get around that, you can always use push notifications to boost engagement with your Mother's Day promotion.
Push notifications are small messages that go directly to your audience's desktop, even if they aren't actively looking at your site.
And since users just need to hit "Allow" to receive your notifications, subscription rates are typically higher than email optin forms.
To get started with push notifications, we recommend PushEngage: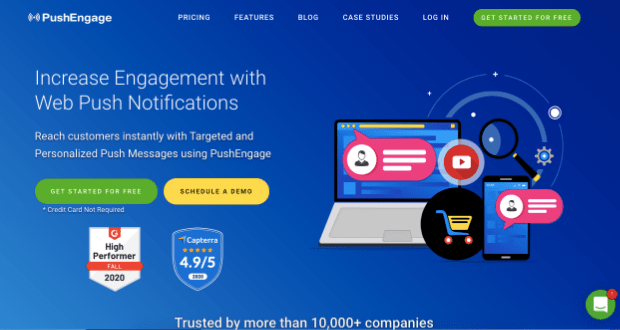 PushEngage is the best and easiest way to begin using push notifications.
It's simple to set up and get started, even if you don't consider yourself "tech-savvy."
With PushEngage, you can use advanced features to boost engagement with your Mother's Day campaigns. These features include:
A/B testing
Automated "drip" series
Audience segmentation
Triggered notifications
Analytics dashboard to monitor success
And much more. With PushEngage, you'll be able to connect with your audience long after they've left your site.
Then you can link your notification with a landing page for Mother's Day products or deals. This will improve UX across your site and, ultimately, boost sales for you.
Get started with PushEngage today!
And that's it! These have been 7 of the best Mother's Day promotional ideas, along with the tools you need to make the campaigns a success.
Create a Mother's Day Campaign Today!
BONUS: Done-For-You Campaign Setup ($297 value)
Our conversion experts will design 1 free campaign for you to get maximum results – absolutely FREE!
Click here to get started →
We hope you enjoyed this article. If you did, you might also be interested in the following:
As you get more leads from your Mother's Day promotion, these resources will help you nurture them into paying customers over time.