Are you using Sendloop to send email campaigns, but trying to figure out how to grow your list?
Sendloop is a great option if you're looking for an email service provider to help with your marketing strategy. But to get the best results, you need a solid list of contacts to begin with.
That's why, today, we're going to teach you how to add a Sendloop popup to your website to grow your list. By the end of this tutorial, you'll have a concrete plan for increasing conversions and getting more email subscribers.
But before we start, let's get clear on what Sendloop is and how it can help with your marketing efforts.
What Is Sendloop?
As we mentioned earlier, Sendloop is an email marketing service (ESP) that's been in the business for over 20 years: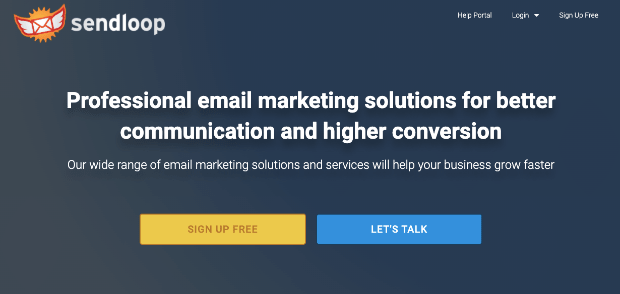 Sendloop helps companies and businesses of all sizes communicate more efficiently with their customers and get higher conversions.
As an ESP, Sendloop's focus is sending personalized email campaigns to the subscribers on your list. You can design beautiful email campaigns from drag and drop templates, manage your audience, and automate your email follow-ups.
But even with all those features, most marketers still find themselves stuck in the same problem: how do they grow their audience in the first place?
That's where OptinMonster comes in:

OptinMonster is the world's #1 lead generation software. That means we're the best at getting your casual website visitors to take the actions you want them to on your site.
And even though we're able to help you boost sitewide traffic and increase sales, one of our biggest strengths is helping you grow your email list.
How does it work? By letting you create stunning and highly targeted optin campaigns in a matter of minutes.
Optin campaigns are small messages that appear across your website, prompting users to do something. These are known as calls to action (CTAs).
Through various campaigns like popups, floating bars, slide-in scroll boxes, and more, you can show enticing lead magnets to your site's visitors. Here's an example of the Sendloop popup we built for today's demo: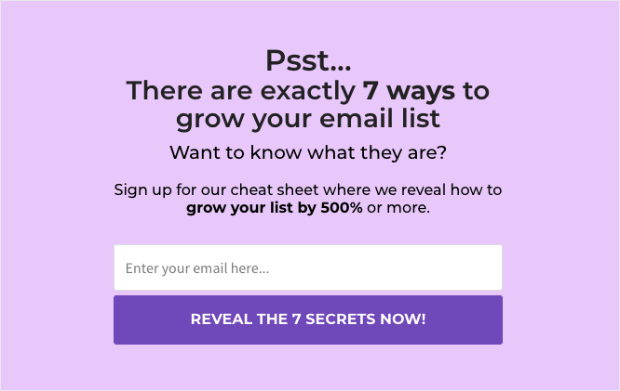 This campaign took us less than 5 minutes to create. And you can build a similar popup campaign that matches your brand's voice, style, and message in the same amount of time.
Then, when people decide to opt into your offer, they'll provide their email address in exchange for your lead magnet.
In the end, your customers get tons of value, and you grow your email list.
Not sure what a lead magnet is or how to make one? Not a problem. Just check out this resource on 69 high-quality lead magnet ideas to get more subscribers.
Or, you may want to learn a bit more about OptinMonster. For that, we recommend reading this post on how OptinMonster works (+ 8 benefits and 12 case studies).
Now that we know what Sendloop is and how you can use OptinMonster to grow your list, let's dive into the tutorial.
How to Create a Sendloop Popup
We know that everyone learns a bit differently. That's why we created this helpful video for our visual learners:
You can also follow along with our in-depth written instructions below.
Step 1: Select Your Sendloop Campaign Type
After you've created an account with OptinMonster, make sure you're logged into your OptinMonster dashboard: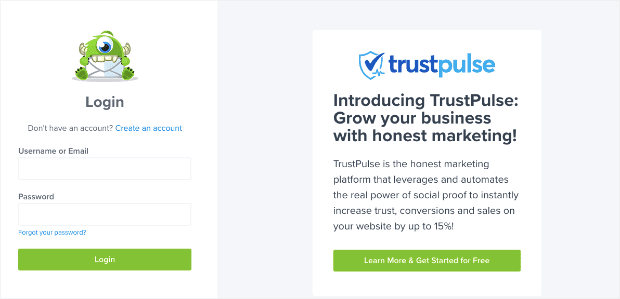 Go to the top right-hand side of your dashboard and click Create New Campaign: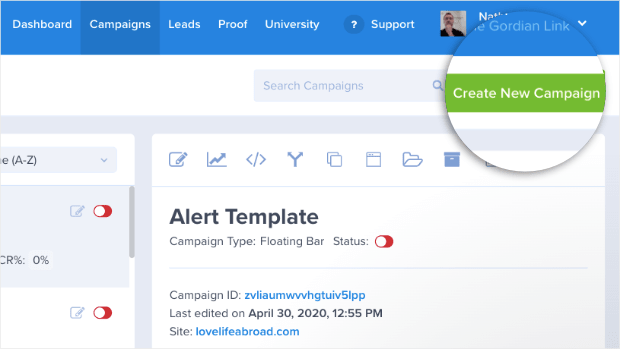 Then you'll need to select your campaign type. For this tutorial, we'll choose a Popup:

Next, you'll choose the right template for your Sendloop popup campaign: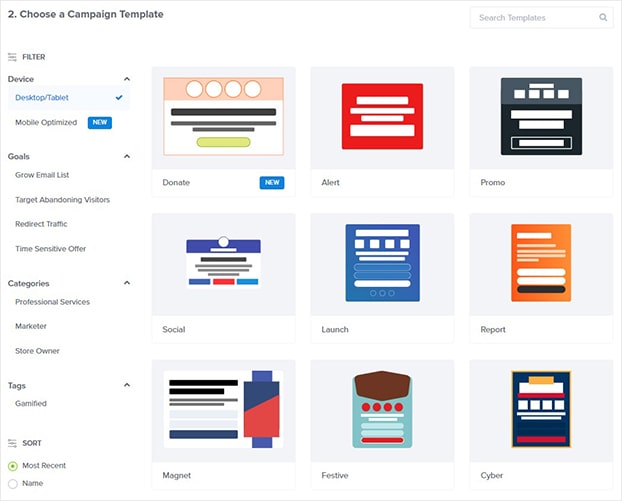 OptinMonster has over 50 pre-built templates that work great across all devices. A really helpful feature while choosing your template is the ability to filter your options on the left-hand side.
If you know that your traffic comes from their mobile devices, for example, you can select Mobile Optimized template: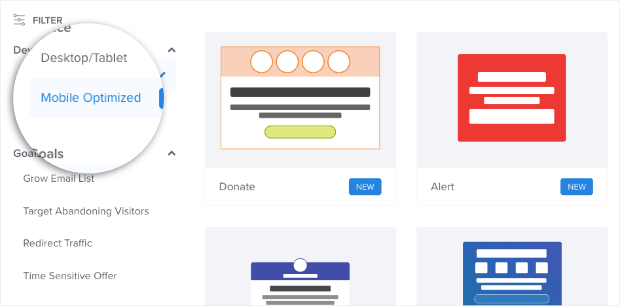 Even though our desktop and tablet campaigns work great across most smartphones, our Mobile Optimized templates will ensure that your Sendloop popup looks stunning on mobile devices.
You can also build your template from scratch using our Canvas template: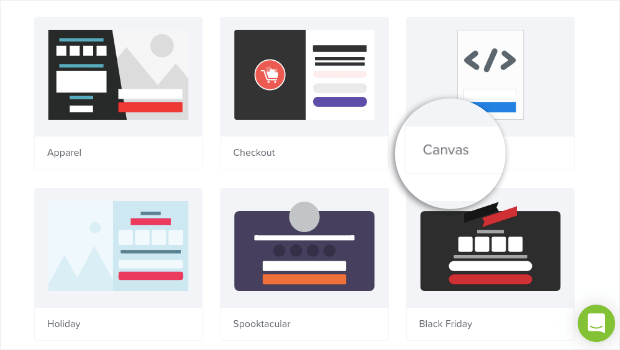 The good news is that our drag and drop builder lets you create a 100% unique popup campaign with no coding skills required. That means you can create the perfect popup design in a matter of minutes, even if you don't consider yourself "tech-savvy."
For today, though, we'll choose the Basic template:

This is an excellent option because it gives you plenty of room for enticing copy, it's minimalist by design, and can be the perfect template for beginners.
Once you've chosen the template that's right for you, it's time to design your popup.
Step 2: Design Your Sendloop Popup
Designing your Sendloop popup is easy with OptinMonster. Even if you're not a professional designer, we make building stunning popups incredibly simple.
But we won't get into too much depth on how to design your campaign in this tutorial. That's because there are too many customization options to cover here.
If you've never designed a campaign with OptinMonster or you just need a refresher, that's no problem. Check out this resource on how to create and design your first OptinMonster campaign.
For now, there are just a few things that you need to know when it comes to designing your popup.
All of our campaigns are made up of "blocks." These are things like text blocks, image blocks, spacer blocks, and more.
Every template comes with a set of blocks built-in. To change any of these blocks, simply click on them in your editor. Then, your editing tools will appear on the left-hand side.
What happens, though, if you love a template, but it doesn't have the block you're looking for?
Not a problem. You can easily add blocks by clicking + Add Blocks at the top of your editor menu: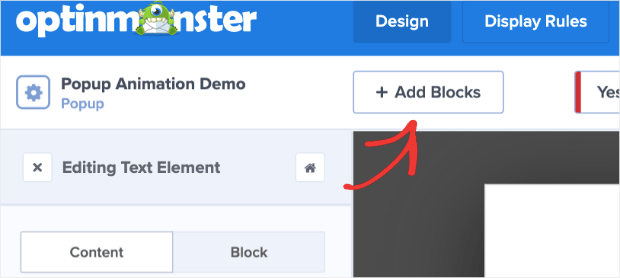 This will bring up a list of block options that you can add to your Sendloop popup, such as:
Buttons
Countdown timers
Images
Videos
And more: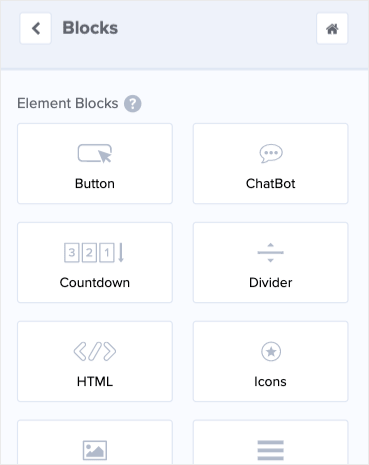 When you find the block you're looking for, you can drag and drop it into your campaign: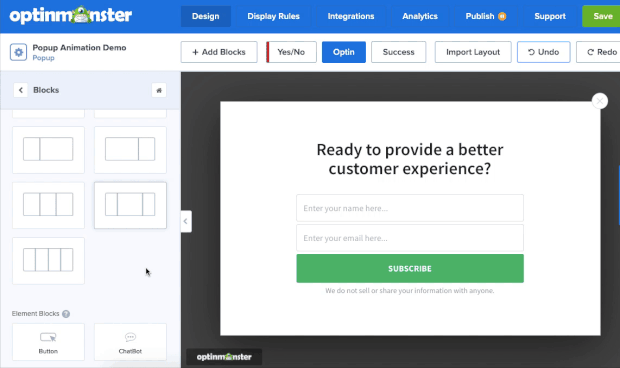 Like we said, modifying your OptinMonster campaign is simple, even if you don't have any experience with coding or design.
Here's the campaign we created in less than 5 minutes for today's tutorial: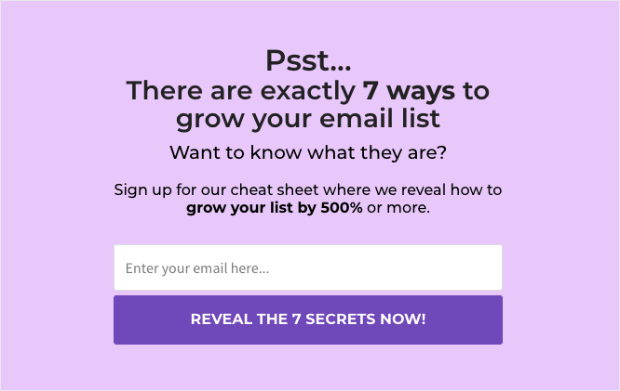 After you've created the perfect campaign to grow your email list, it's time to determine where your Sendloop popup will appear across your website.
Step 3: Select Your Display Rules
Growing your email list is much more than just showing a popup to your site's traffic. It's about showing the right message to the right people at the right time in their customer journey.
To help you accomplish this, OptinMonster lets you create targets and triggers for all of your campaigns.
But what do these terms, "targets" and "triggers" mean. Here's a quick definition of these key terms:
Targets are rules that allow you to show your popup to people who have unique characteristics or match a demographic profile.
This could be people visiting your site from a certain location, using a particular device, or browsing a specific page on your website.
Triggers, on the other hand, rely on user behavior to determine if a campaign should appear.
You can create a trigger based on when people are actively leaving your site, if they've scrolled through a certain percentage of your content, or if they've stayed on the same page for X amount of time.
These are just a few of the examples of targets and triggers we offer, though we have many more!
Targets and triggers make all the difference when it comes to boosting conversions. That's because they help you target your Sendloop popup to the right people rather than just appearing for everyone.
The ability to personalize your campaigns means more people subscribing to your email list and, eventually, more profits for your company. But how do you set these targets and triggers up in the first place?
First, click on Display Rules at the top of your editor:

By default, OptinMonster has 2 rules for each campaign:
Time on page is 5 seconds
Appears on every page
In today's tutorial, however, we'll want to create an exit intent popup for our Sendloop campaign.
This type of trigger uses Exit Intent® technology to display your popup as people are actively leaving your site. And exit intent popups are really effective.
In fact, the fitness company Crossrope increased its email signups by over 900%.
To create your exit intent popup, click Time on page in your display rules menu. This will show your target and trigger options: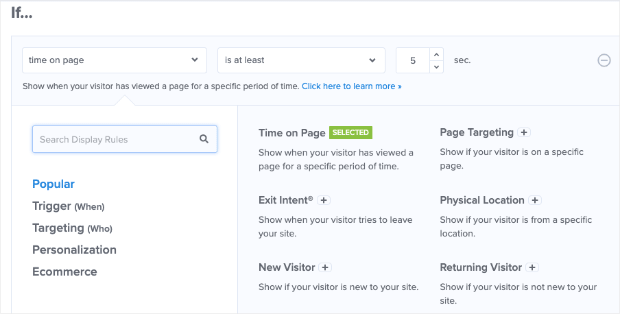 Locate and click Exit Intent® +: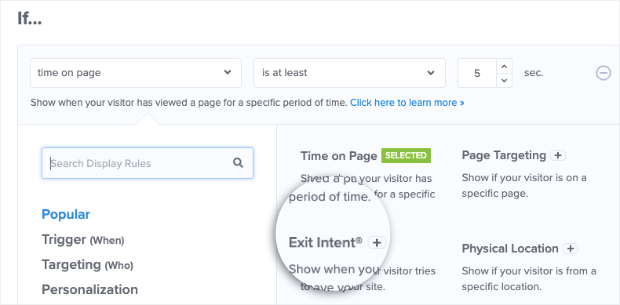 Then you'll decide which devices you want your exit-intent popup to appear on. You can choose:
Mobile devices only
Desktop devices only
On all devices

When you've determined which device your Sendloop popup will display on, you'll need to select the sensitivity level. You can choose between:

Keep in mind that the sensitivity level you choose will have a direct impact on the type of exit intent trigger created for smartphones.
On mobile devices, Low and Medium sensitivity make a scroll up trigger. When users read through your content and begin to scroll up, your campaign will appear.
High sensitivity makes a back button trigger. When users go to click the back button on their mobile device, your Sendloop popup will be displayed.
For more information on how this works, read this article on how to create mobile exit-intent popups that convert.
The second default display rule we mentioned was that your campaign will display on every page of your site:

But you can modify this to specific URLs, URL paths, or any other page on your website that you want to include or exclude: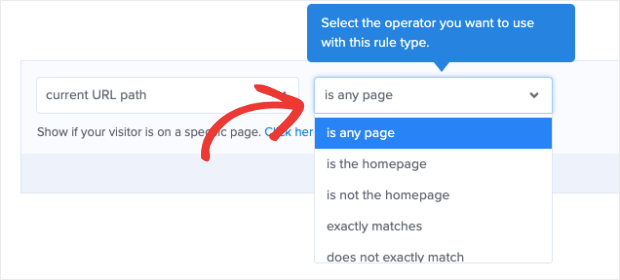 For today's popup tutorial, we'll keep this default condition as is. And now comes the last step: integrating Sendloop with OptinMonster.
Step 4: Integrate Sendloop with OptinMonster
Connecting OptinMonster with Sendloop is super easy. Start by clicking on the Integrations button at the top of your editor:

In the left-hand side menu, click + Add New Integration: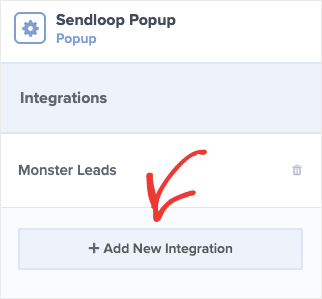 From the drop-down menu, find and select Sendloop: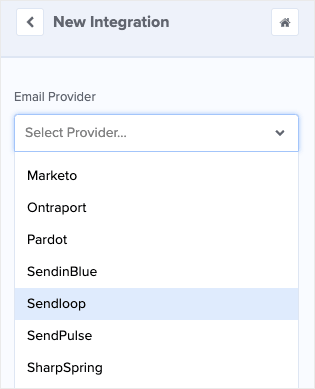 Now you'll need to fill out 2 things:
Your account label can be anything you want. This is just to keep yourself organized and won't be seen by your new subscribers.
Your API key can be found in your Sendloop dashboard. Just log into your account and find Settings in the upper right-hand side of your profile menu: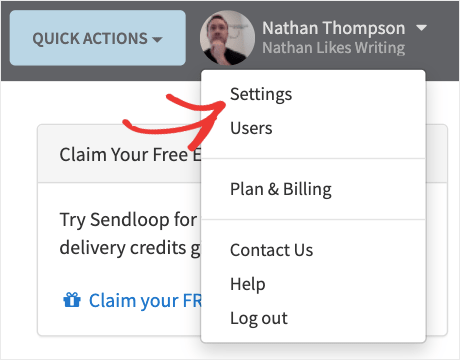 Then click API Settings from the main menu to locate your API key: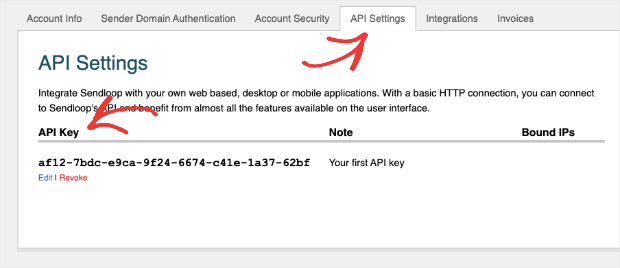 Copy and paste the key into your OptinMonster account dashboard and click Connect to Sendloop: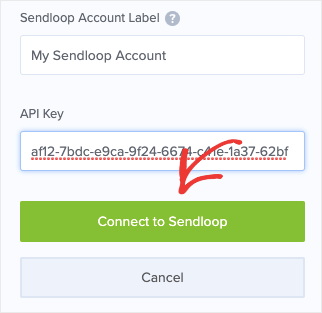 And that's it! When people opt into your popup campaign, their contact information will go directly to your Sendloop account.
We hope you found this article helpful. If you did, you might be interested in reading the following resources:
These will have everything you need to grow and monetize your email list.
Want to get more conversions, boost subscribers, and increase sales? Join OptinMonster risk-free today!