Are you trying to learn how to create a promotional strategy that automatically generates more leads and sales?
When you first started an online business, you probably thought building it was the hard part.
Then you rolled up your sleeves, polished your website, and realized you've only completed half the battle.
The other half is promoting your products or services.
That's why, in today's post, we're going to teach you how to create a promotional strategy that will help you drum up new leads for your business.
Ready to get started? Let's dive straight into our list.
How to Create a Promotional Strategy
This tutorial will be broken down into actionable steps that you can follow along with.
That said, we highly recommend that everyone gets started with the first 3 tips.
These strategies will allow you to promote your offers through email marketing best practices.
This is important because email continues to be one of the best channels for growing, reaching, and nurturing your audience.
So to kick things off, we'll talk about why it's so important to find the right email service provider (ESP) as you learn how to create a promotional strategy.
1. Find the Right ESP
The first thing that you should do when trying to figure out how to create a promotional strategy is which ESP you'll be using.
This will be the foundation of your email marketing efforts, which is the backbone of how you communicate with potential leads.
In other words, the ESP you choose is really important.
With any email provider, you'll want to look for the following characteristics to make sure it has everything you need:
Low learning curves to start using the software from Day 1.
Fast segmentation to organize your audience for more personalized messaging.
Flexible tooling to integrate with your current marketing stack or add new tools in the future.
Intuitive automation to generate more sales even while you're sleeping.
Reliable tracking to test and optimize your campaigns over time.
Scalable pricing to grow your business for years to come.
The good news is that many of the most popular ESPs on the market come with these options.
If you're still looking for one, though, we highly recommend the following: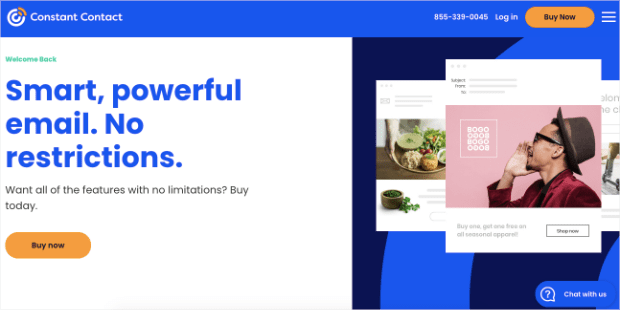 Constant Contact offers an easy-to-use, lightweight interface and is great for both big and small businesses. And, as one of the largest email marketing services in the world, Constant Contact is able to offer great deliverability rates and highly rated support with every plan.
You can use their drag and drop editor and email newsletter templates to create and send professional emails. You can even send automated emails to new subscribers.
Plus, Constant Contact is running a promotion where they'll build your first email newsletter FOR YOU.
Click here to have your 'done-for-you campaign created today!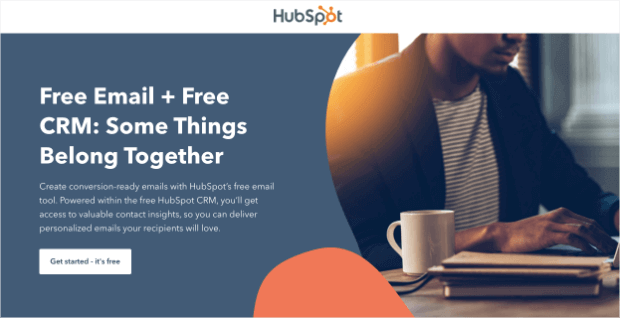 HubSpot Email Marketing has some of the most powerful analytics while remaining intuitive and easy to use for non-tech users.
Start by creating beautiful, on-brand emails with the drag and drop editor. You can customize your emails by adding CTAs, colors, images, social icons, and text while ensuring they are responsive on all devices.
Also, why not check out HubSpot's free CRM? This helps you track customer information and see how each subscriber performs on an individual level.
Get started with HubSpot today!
3. Brevo (formerly Sendinblue)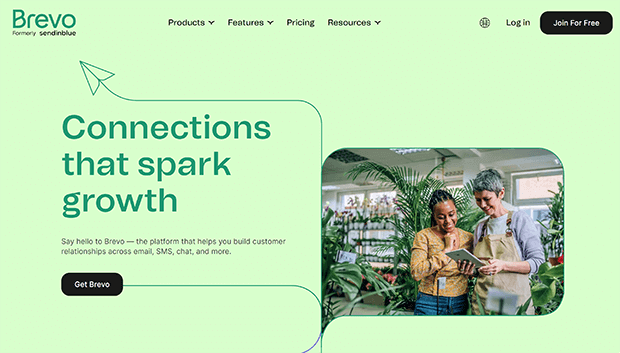 Brevo is a powerful email marketing tool with minimal startup costs that gives free users an unlimited number of contacts.
It features awesome things like automation workflows and autoresponder campaigns, segmentation tools, and A/B testing tools.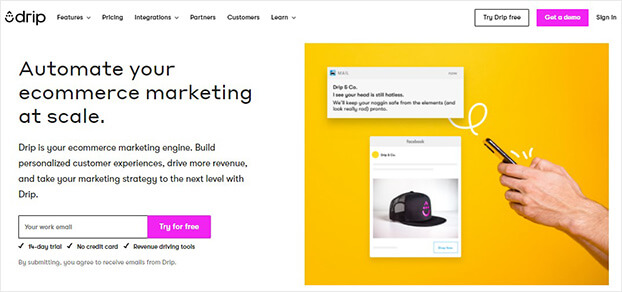 Drip is another excellent email service provider that you can choose from.
You can keep your contact list stored with Drip and create email campaigns. When new users sign up, they can be tagged, segmented, and fit into an automated email series.
Over time, you can refine your email marketing strategy and put everything on autopilot. As new leads come in, they'll get new emails that nurture the relationship until they become customers.
Now that you have a few ideas for which ESP you want to choose for your promotional strategy, let's move to the next step: growing your mailing list.
2. Grow Your Mailing List With Optin Campaigns
The next thing you'll need to do as you create a promotional strategy is to build out your contact list.
After all, the best offers on the planet won't matter if you have no one to share them with.
And yes, we'll share a few other tips on how to promote your offers apart from emails. But you should be growing your email list from Day 1.
But how do you get people to subscribe to your mailing list, especially when you're just starting out?
Won't it simply take too long?
That's where OptinMonster comes into play: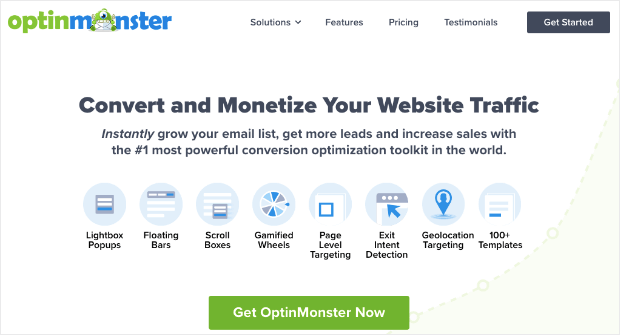 OptinMonster is the world's #1 lead generation software. That means we're the best at growing your email list FAST through highly-targeted optin campaigns, like:
Popups
Floating bars
Fullscreen welcome mats
Slide-in scroll boxes
Content lockers
And many more.
These campaigns help you grow your email list FAST. Here's an example of what a simple lightbox popup might look like: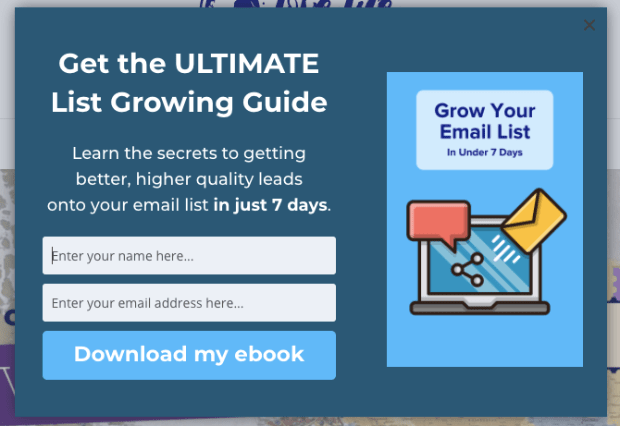 And just like Constant Contact, OptinMonster comes with over 50 pre-made templates that help save you time and energy in the campaign creation process: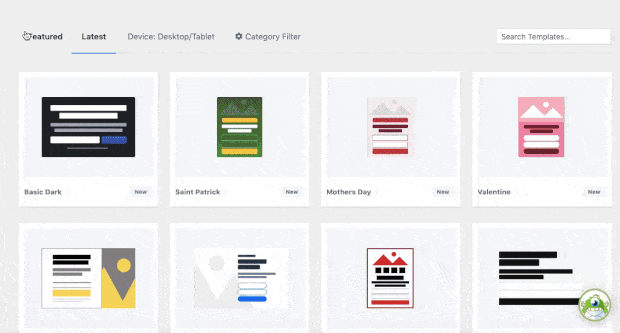 From there, you'll be able to modify your optin campaigns with a codeless drag and drop visual builder.
This allows you to modify any text in your optin campaign and add new features, like:
Videos
Images
Dividers
Icons
HTML
And much more…
And, again, everything can be done with just a few clicks: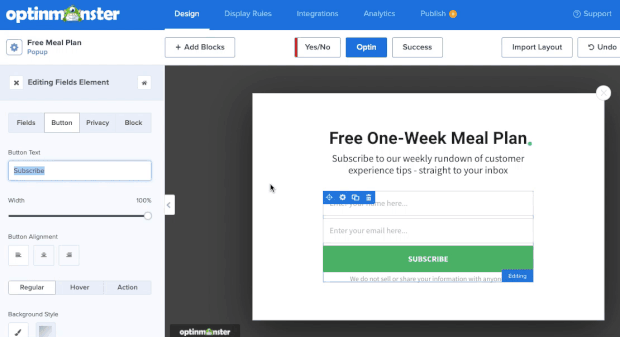 But creating the campaign is only half the battle.
From there, you'll need to target your offers to the right people, in the right places, and at just the right times in their customer journey.
Some of OptinMonster's most powerful targeting rules include:
Exit-Intent® Technology: Recover abandoning visitors (and carts) as users are actively leaving your website.
OnSite Retargeting®: Keep users engaged by displaying fresh campaigns to returning visitors.
Geolocation: Personalize UX by targeting visitors by their physical locations.
MonsterLinks™: Boost conversions by turning any link into a clickable email newsletter signup form.
These rules have gotten MASSIVE results for our clients. Need a bit of proof?
Just look at these case studies from OptinMonster customers:
But here's the best part…
OptinMonster seamlessly integrates with ANY email service provider on the market: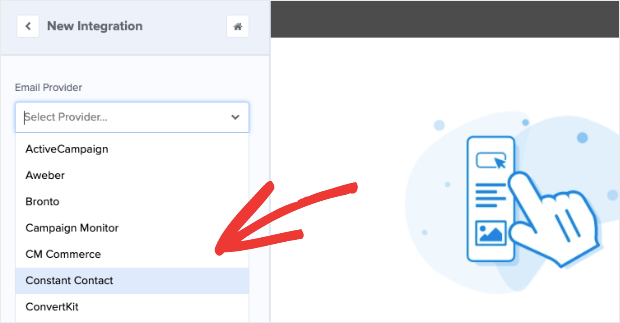 That means you can quickly sync your ESP and have new leads sent directly to the right contact list.
Then you can have your newsletters automatically sent to your new leads to convert them into happy (and paying) customers.
Ready to get started? Click below to sign up for your risk-free OptinMonster account today:
Grow Your Email List Today
BONUS: Done-For-You Campaign Setup ($297 value)
Our conversion experts will design 1 free campaign for you to get maximum results – absolutely FREE!
Click here to get started →
3. Follow-up With Automated Email Campaigns
Now you have 2 pieces of the puzzle in place:
A reliable ESP
A lead generation software to add new subscribers
What's left? Creating automated email series.
An automated email series is when you write a handful of emails that your new subscribers will receive on a pre-configured schedule.
Imagine someone signs up to one of your offers, like a free eBook: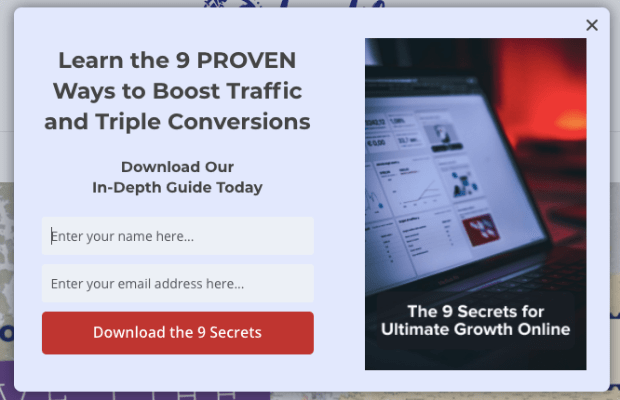 Then that person receives:
Welcome email (immediately after)
Follow up email (2 days later)
Follow up email with a discount for your products or services (2 days later)
Case study from your best customer (3 days later)
Another discount (1 day later)
And so on…
Once these emails have been written once, they can be reused to guide ALL of your new leads through your sales funnels.
And the best part? Everything can be set to run on autopilot.
That means your promotional strategy can generate new sales for you even while you're sleeping.
So far, we've seen the first 3 steps on how to create a promotional strategy based on email marketing.
Now let's look at other tips you can use to get your products and services in front of the right audience.
4. Optimize Your Site With Social Proof
When it comes to promoting your website, you've probably worked hard to write convincing sales pages and copy.
But the most convincing kind of message doesn't come from you. Instead, it comes from other satisfied customers.
In other words, if you want to promote your product or services, then you should be using as much social proof as possible.
The good news is that there are many kinds of social proof that you can use to showcase your brand. These include things like:
Reviews
Testimonials
Trust badges
Screenshots of social posts
And much more…
But why not use social proof in a way that builds trust AND promotes what you have to offer? This is something that can be done with social proof notifications.
And for that, there's no better tool than TrustPulse: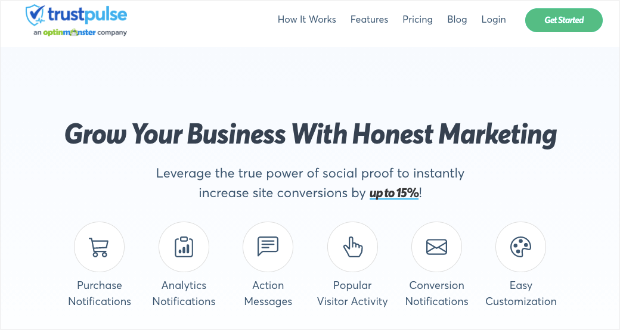 With TrustPulse, you can create social proof notifications like:
Recent Activity: Show a live stream of website activities like purchases, registrations, signups, and more.
On-Fire: Display the number of people taking action on your website in a given period.
Visitor Analytics: Highlight active interest by showing actual page visits over time.
Action Message: Display a single static notification to help drive visitors to take action OR highlight valuable information.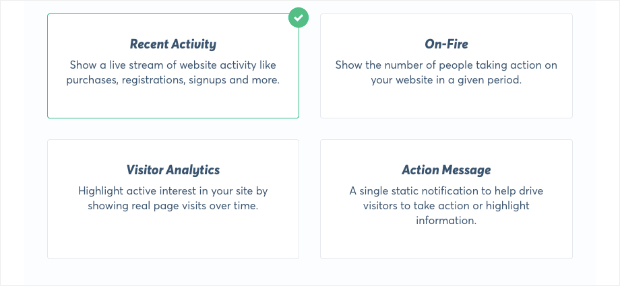 With a simple and easy-to-use editor, TrustPulse lets you have full control over the look, style, and message of your site's social proof notifications.
For example, here's a live sales message using TrustPulse designed to boost trust and drive sales.

But what if you don't have a lot of sales or activity to show off just yet?
TrustPulse's Visitor Analytics highlights the active interest in your website and shows actual page visits over time.
Plus, you can focus on showing activities like registrations, signups, and more.
Visitor analytics are useful if you are just getting started but want to increase the number of leads you generate FAST.
Just like OptinMonster, you don't need any technical know-how to get started.
Plus, TrustPulse is proven to boost sales by up to 15%.
Want to try it out for yourself? Sign up for your 100% risk-free TrustPulse account today!
5. Leverage Push Notifications
Earlier in this article, we looked at email marketing and why it needs to be the backbone of your promotional strategy.
But there's another method you should also consider to spread the word about your business: push notifications.
Push notifications are small messages that appear across your subscriber's browser: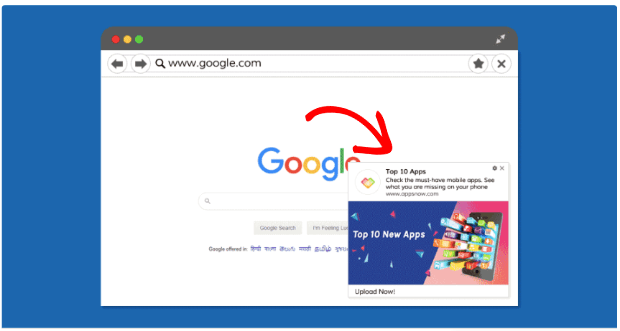 These non-intrusive messages provide users with a link to your landing page.
And since they don't need to be active on your website to receive these notifications, you have 24/7 direct access to your audience.
Plus, you'll typically see more people sign up for push notifications than they will for email newsletters.
That's because you won't ask users for personal information to join your notification list. Instead, users will simply need to click a button that says "Allow."
Then they'll automatically get added to your notification list, and you can promote your products any time you want.
But setting up push notifications can be difficult when you're not working with the right software.
That's why we highly recommend you use PushEngage: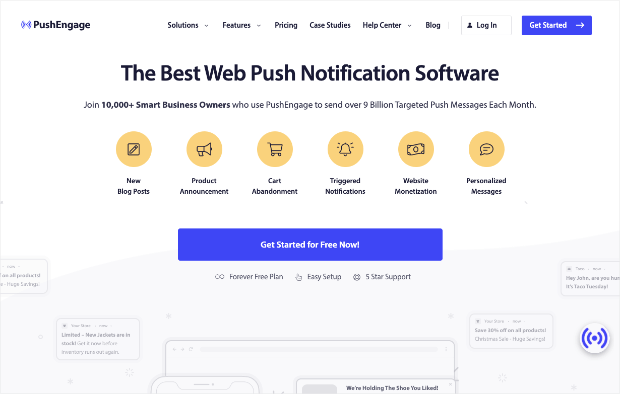 PushEngage makes it easy for you to create push notifications without needing any coding or technical skills.
Plus, PushEngage allows you to:
Schedule notifications
Segment your audience ot more personalized messaging
A/B test your messages
Create cart abandonment "drip" series
Automate a subscriber's customer journey
And much more…
Combined, all of these features help you generate leads and convert visitors to paying customers.
Another plus?
Push notifications are delivered to your subscribers instantly. If your subscriber happens to be offline when you send the message, they will see it once they reconnect, so they will never miss an offer.
See how easy it is to use by starting your 100% risk-free PushEngage account today!
6. Promote Your Business on Social Media
If you've been building your online business, you probably have a social media presence started.
If not, we definitely recommend you check out this article: 8 Best Social Media Platforms for Your Business.
But here's what a lot of new marketers and business owners get wrong: you should combine your social presence with your website.
This allows you to direct traffic from your website to your social channels and vice-versa.
In the end, this gives you more traffic for your site and more followers on social.
When it comes time to promote your products or services, both of these factors will serve you well.
But how can you easily combine your social media channels with your website?
For that, there's no better solution than Smash Balloon: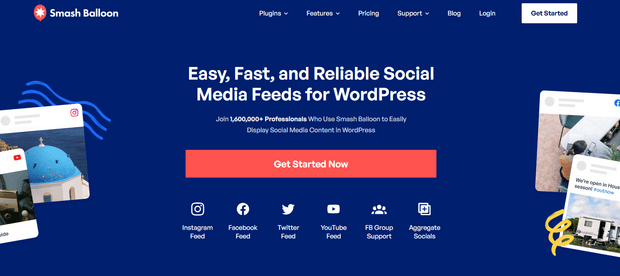 Smash Balloon is a quick and easy way to add social media feeds to your WordPress site.
This premium plugin lets you customize feeds from:
YouTube
Facebook (pages and groups)
Twitter
Instagram
Once you download the plugin, there are ZERO technical or coding skills required.
Everthing is totally customizable with an easy-to-use dashboard so you can perfectly tailor your social feeds to your brand's look and style.
As a result, you'll build a larger following on social media and get an instant boost in brand awareness.
Check out Smash Balloon today!
7. Run an Online Contest or Giveaway
It's no secret that running an online contest or giveaway is a great option for promoting your brand.
And the process isn't complicated, either.
In fact, everything can be broken down into 3 steps:
Choose a prize your audience will LOVE
Create a way for users to sign up
Select and announce your winner
But just because the process is simple doesn't make it easy.
So how can you create controlled and reliable contests to promote your business in a way that people will actually want to engage?
The easiest way to make your online contests is with a plugin like RafflePress: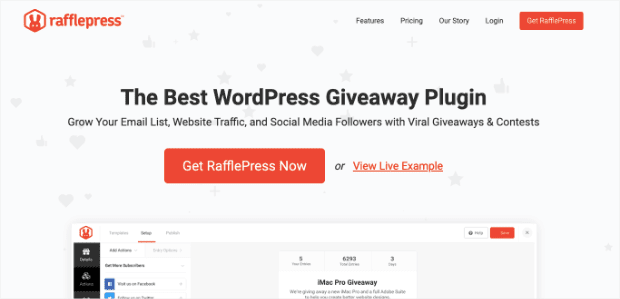 RafflePress is the best online giveaway plugin for WordPress on the market. It lets anyone create professional online giveaways regardless of their technical experience.
Here's how it works:
You select a prize that your audience will love. Then, you can use RafflePress to configure what qualifies for an "entry" ticket.
This can be having your users take different actions, such as:
Following you on Instagram
Liking a Facebook post
Visiting your landing page
Watching a demo video
Signing up for your newsletter
And much more…
You can also assign more than one way to enter the contest and award multiple entry points for people who take multiple actions.
Plus, you can make these entry points either optional or required, depending on what matters most to your achieving your marketing objectives.
And with RafflePress's drag and drop contest builder, you can create and share your online giveaways in a matter of minutes.
Then you'll either use your giveaway's shortcode to embed the contest on a pre-built landing page or let RafflePress generate a new page for you.
Either way, you'll get a dedicated landing page for your contest and showcase how many people have entered the contest.
It's why RafflePress is known as the best viral contest builder on the market.
Want to see it in action for yourself? Get started with RafflePress today!
8. Get More Rankings on Search Engines Like Google
The biggest problem facing all online business owners today is getting more traffic to their site.
After all, you need at least some traffic before you can get conversions.
And one of the best ways to promote your products AND get more traffic is through search engine optimization (SEO).
SEO is the process through which you help search engines like Google understand your content. That way, they can deliver that content to people typing in questions or "queries" into that search engine.
But over the years, SEO has become increasingly time-consuming and difficult to learn. That's why it's good to have a tool that can help guide you to better results.
All-in-One SEO (AIOSEO) is the perfect solution if you want to improve rankings on search engines like Google.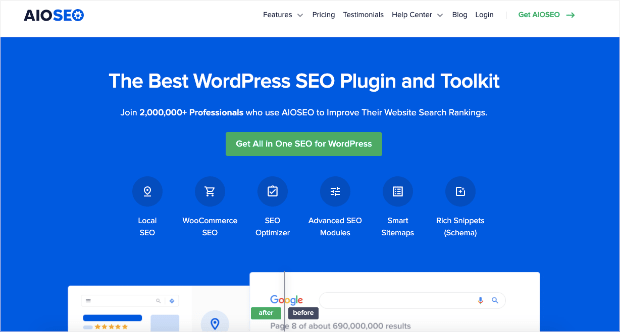 That's because AIOSEO is the best WordPress SEO plugin and toolkit on the market. It comes with everything you need to optimize your blog posts for higher rankings.
While this plugin has tons of advanced features to help with your site's overall SEO, it's the TruSEO on-page analysis feature that will help bloggers the most.
When you're done with a draft of your blog post, you'll be able to enter the keyword you're targeting and have a full run-down on how well you'd likely rank.
AIOSEO will give you tips to improve the content for better chances at jumping up the search engine page results (SERPs).
This tool also comes with a built-in title checker, so you can create the most clickable titles possible for your articles. You can even add dynamic values to your post's tags and meta descriptions.
This helps you create evergreen content by dynamically changing things like your post's date, author information, and more.
Beyond that, there's a whole set of advanced SEO tools to help you drive more sales via WooCommerce, send smart XML sitemaps, integrate with social media, and much more.
Get started with AIOSEO today!
9. Test, Track, & Tweak Everything
This is the last tip on the list, but certainly not the least important.
In fact, this might be the MOST important thing to keep in mind: you need to test, track, and tweak everything.
You should constantly look at your site's data to see if you're promotional strategies are working or not. That means understanding who's visiting, who's coming back, and how people are engaging with your content.
From there, you can run tests on your campaigns and promotions to optimize them for better results.
While it may feel like a slow process, these small tests compound over time and allow you to get FASTER growth.
Google Analytics is the definite starting place for gathering data around your promotional strategies.
But to get all the best data at your fingertips, you'll definitely need to get a plugin like MonsterInsights: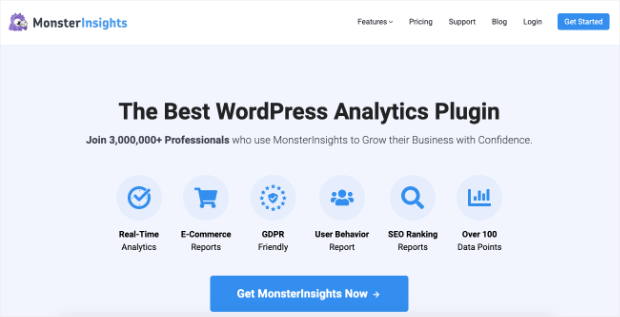 MonsterInsights is hands down the best Google Analytics plugin for WordPress. It gives you all of the power of Google Analytics directly from your WordPress dashboard.
This is crucial for expanding your audience and getting more traction from your promotional strategy.
That's because MonsterInsights will give you powerful analytics about how your audience is responding to your site and how they're engaging with your blog posts.
You'll have detailed information on key performance indicators (KPIs), such as:
Bounce rates
Time on page
Pageviews
New vs. Returning users
Custom conversions
eCommerce sales and reports
And much more…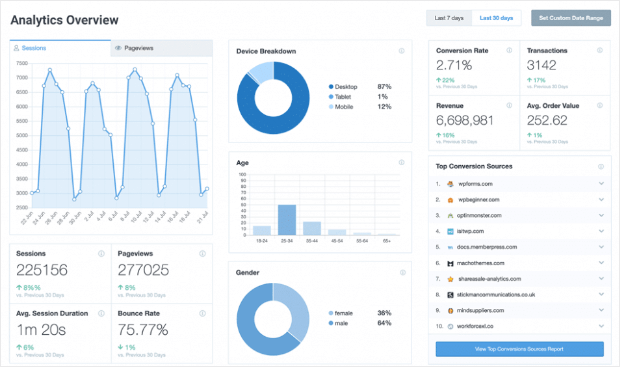 You'll also get other valuable information like your users' demographics, what device they're searching from, your site's top blog posts, and much more.
With this information, you can create a promotional strategy that's designed to convert. Plus, you can refine existing posts to be more engaging by copying patterns you find in your most popular articles.
At the end of the day, MonsterInsights is your best bet for creating a data-driven marketing strategy that will attract your target audience.
From there, you'll be able to engage readers more deeply and have an easier time monetizing your blog.
Get started with MonsterInsights today!
And that's all for today! We hope you enjoyed this post on how to create a promotional strategy for higher conversions.
If you did, you'll definitely want to check out the following resources:
These articles will have even more information that you can use to learn how to create a promotional strategy that takes your business to the next level.