If you're running a business, chances are you're busy.
Like, really busy.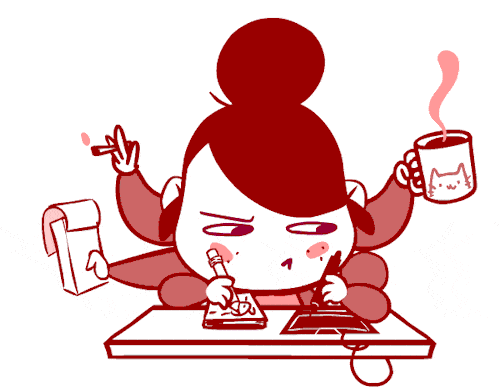 So when it comes to writing copy for your email campaigns, the last thing you have is the time to do it.
And that's exactly why we've got 6 email marketing templates to lend a helping hand.
In this article, we're going to look at:
What email marketing is
Whether or not email marketing is still effective
3 email service providers we recommend
6 email marketing templates to save you time
By the end of this post, your email marketing strategy won't just be up and running. It'll be up and launching your sales to a whole new level.
But first things first…
What Is Email Marketing?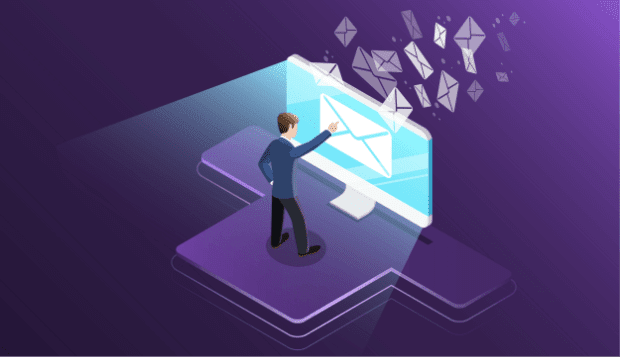 Email marketing is a strategy that uses email to either nurture or convert current leads into loyal customers.
And while there are many different marketing strategies to reach new clients, email marketing is one of the most effective because it's:
Less expensive than many other marketing strategies
More reliable than social media since the platform can't be shut down
Totally customizable to your brand's image and voice
Easy to automate
Able to reach warm leads who already opted into your content
More suited to building relationships over time
Great at giving you control over the conversation
Super effective for affiliate marketing
Unlike other forms of marketing, like pay per click advertising or social media, email marketing has the unique combinations of all the characteristics listed above.
No other marketing strategy is as well-suited to let the business owner drive communication for long periods of time. And no other platform allows you to nurture personalized relationships on such a large scale.
Note: Still think email marketing doesn't hold a candle to social media? Check out our in-depth analysis of email marketing vs. social media. Both are great, but they serve very different functions in the marketing world.
That said, we're still constantly hearing the question, "Is email marketing dead?"
So let's hit that question head-on to sort out the answer.
*Spoiler Alert:* It's not.
Is Email Marketing Still Effective?
Not only is email marketing still effective, we believe it is still the most effective marketing strategy around.
And we've done our homework ?.
Consider the following stats on how email is still a big part of our everyday lives:
People send 102.6 trillion emails every year
That number is expected to grow to 126.7 trillion by 2022
The average email subscriber receives 13 commercial emails a day
More than 3/4 of teenagers are still using email
Over 50% of people check their email before doing anything else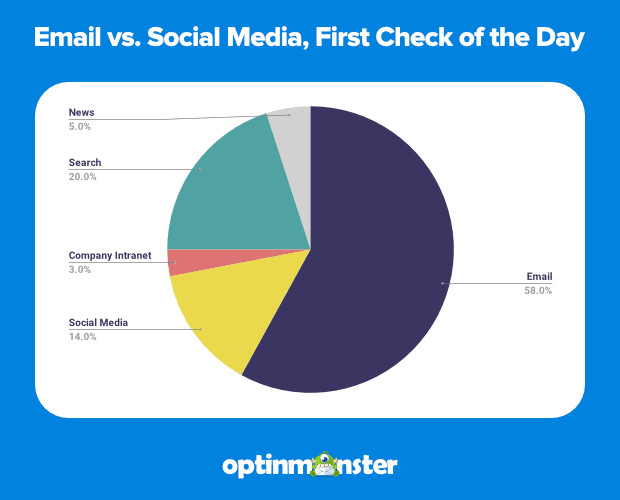 It seems that no matter what new software has popped up over the last decade, email is irreplaceable. And for marketers, that's a really good thing.
Because if you look at the open rates for email marketing compared to other platforms, it's hardly even a contest. Emails get an open rate of 22.86% and a click-through rate of 3.71%.
Compare that with Facebook, Twitter, and Instagram's engagement rate of 0.6%, it doesn't take a marketing guru to see the advantages.
And email use isn't just for one age group, either. It turns out nearly all ages use email: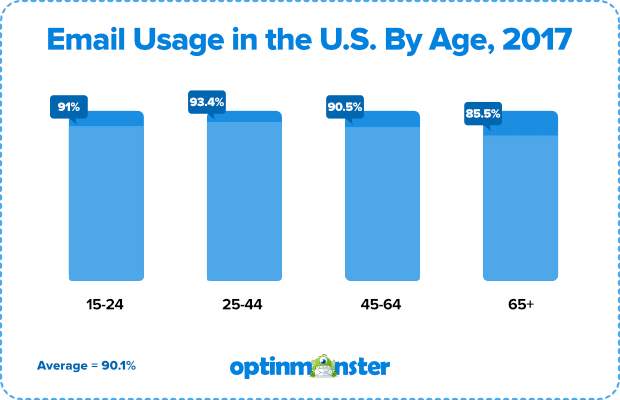 With stats like these, it's hard to deny the power of email marketing. And once our readers realize this, they usually follow up with a very important question:
How do I create an effective email marketing strategy?
If you've ever asked yourself that hair-pulling question, no worries. We've got an in-depth guide to email marketing with all the answers you're looking for.
But if you're in a rush, here's a quick breakdown of how email marketing works in 6 steps:
That's it!
And we know what you're thinking:
Can it really be that simple?
The truth is, yes! It is that simple, but that doesn't mean it's easy. You should spend time to create a quality lead magnet and write email copy that sells.
That's the hard part.
And don't forget, you should constantly monitor your success so you can make data-driven decisions moving forward.
Now that you're starting to see the benefits of email marketing, it's time to check out three email service providers we highly recommend. After that, we'll dive headfirst into our 6 email marketing templates.
What Is the Best Email Marketing Software? 3 Awesomely Reliable Options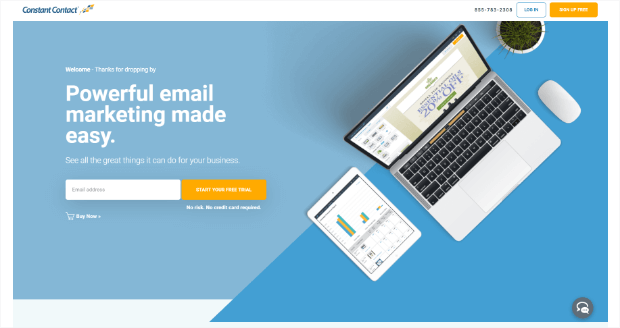 Constant Contact probably isn't new to you. It's one of the largest email service providers in the world.
And for good reason.
Constant Contact does way more than just email, too. But for our purposes, we'll just be looking at that here. They have a killer drag and drop builder for email campaigns, allow you to easily segment your audience and have loads of eCommerce marketing tools at your disposal.
Finally, you can upload any existing contact lists you already have. So if you're looking for a change from your current provider, Constant Contact would make for an easy transition.
Their pricing is totally simple. They have an Email package starting at $20 per month and an Email Plus package starting at $45 per month. Both can increase (within reason) as you scale.
And as you would expect, you can sign up for a free trial with no risk of payment.
2. Sendinblue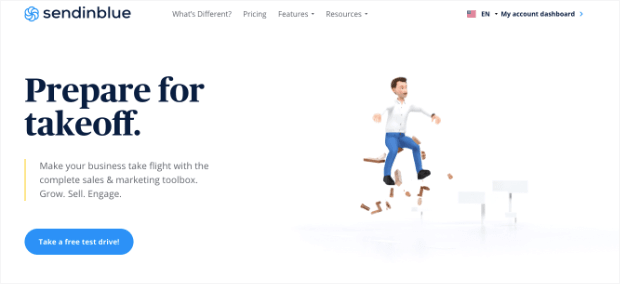 Sendinblue is another great option for an email service provider. And they have all the features a seasoned email marketer would need: A/B testing, email marketing templates, send-time optimization, advanced reports, and more.
Plus, they have other services for people needing more than just email. They have a great SMS marketing and live chat product to help you communicate with clients. All the messages you send can be personalized and are highly tracked for performance.
Their pricing is very appealing, as well. They have a Free version that allows for up to 300 emails per day. As you scale, the price shoots up but never becomes unreasonable.
By the time you need the Premium service with over 120,000 emails per month, you should see enough return on investment on the $70 fee.
1. Drip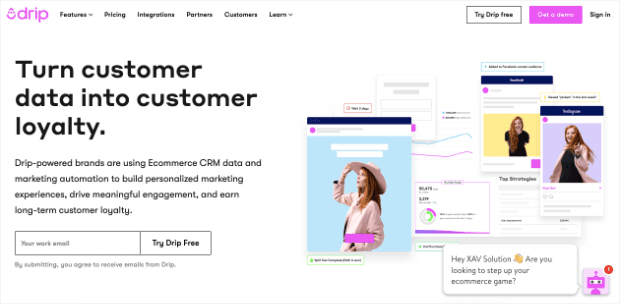 Drip is an awesome email service provider, especially if you're into affiliate marketing. The reason is that some email service providers will shut down your account if they find that you're including affiliate links.
Drip is more forgiving, though. They rely more on your email open rates than anything else. So if you're sending spammy affiliate emails and tanking your open rates, they'll likely send you a warning.
But if you're running a basic email marketing campaign or responsibly using affiliates, then you'll have no problems with them.
You can start Drip for free with a 2-week trial. Then their pricing scales with your growth.
Ok, so now you've got some good options for your email marketing service provider. It's time to look at some email marketing templates. These will save you time so you can get back to doing what you love: serving your customers!
6 Free Email Marketing Templates
Here we've provided one email for every step of a successful sequence. You may need to make some changes depending on the product or service you sell, but these templates were designed to be as universal as possible.
And yes, they are 100% original. You won't find them anywhere else!
These templates cover:
Welcome new customers or leads
Recognize your audience's existing problem
Educate your audience about a theoretical solution + a soft sell
Nurture the relationship with cool content
Sell the product (hard sell)
Get feedback
With these email marketing templates, you can literally have your first email series up and running in under 30 minutes.
Let's get started.
1. Welcome New Customers or Leads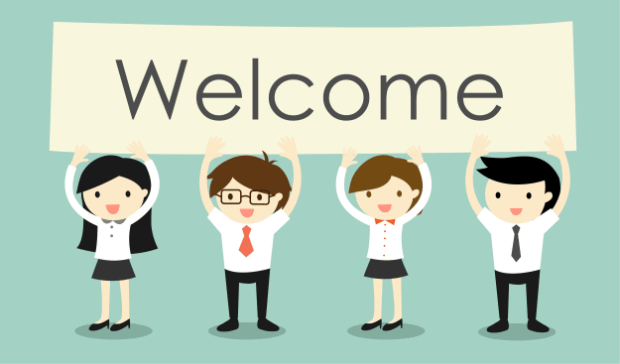 Hey there [Name],
I just wanted to say thank you for signing up with [Your Business Name]. I couldn't be more excited to have you be part of the community!
Over the next several weeks, I'll be sending you some emails to help you [insert the expected outcome of working with you].
And, of course, here is the [insert lead magnet] as promised!
If you have any questions or feedback, don't be shy. I'd love to hear from you. Or you can join our [insert social media platform] group. We've got loads of people just like you excited to [insert the expected outcome of working with you].
Thanks again, and I'm looking forward to working with you 🙂
Gratefully yours,
[Name]
[Business]
2. Recognize Your Audience's Existing Problem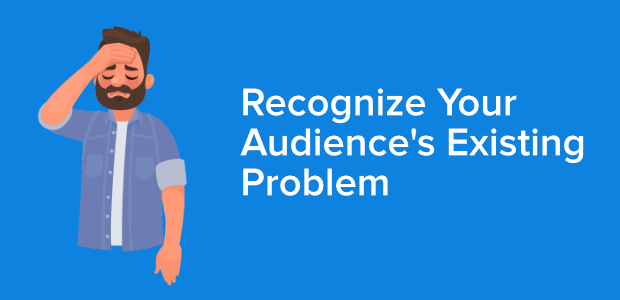 Hello [Name],
You know, a few years ago I found myself feeling just like you do right now. I was [insert the negative emotions associated with your problem].
[Insert a funny GIF expressing those emotions].
To be honest, it felt like there was no escape. I know it sounds dramatic, but I would sit up at night just thinking about [insert negative consequences from their problem].
Yeah, I know… I was literally losing sleep over [insert the problem]!
And that's when it hit me:
I could either be part of the problem or be part of the solution.
Thankfully, I didn't get too tired to choose the latter. So for the next [insert time here], I went to work. It wasn't always easy, and I had a lot working against me:
[Insert a bullet point list of obstacles you faced while creating your product]
Now I'm proud to say I've made through to the other side, unharmed and better for the journey.
That's why I'm so excited to help you get there, too! But before we do, I want you to do something for me.
Grab a pen and a piece of paper (yes, we're going all old-school on this one), and write down:
Today's date
The biggest challenge your facing in [insert your niche here]
Three fears about what will happen if you don't hit your goal
If you're anything like how I used to be, you'd probably see this assignment as "silly" and do it in 5-minutes.
Don't be like the old me!
Give yourself some time, take this seriously, and really reflect on those questions. Once you have, put that list up on your fridge, office desk, or anywhere else you can see it on a daily basis.
You'll be getting an email from me tomorrow. But don't open that email until you've created your list and identified your fears of failure. Addressing them head-on will play a major role in your success.
Can't wait to get started with you!
Always,
[Name]
[Business]
3. Educate Your Audience About the Theoretical Solution + A Soft Sell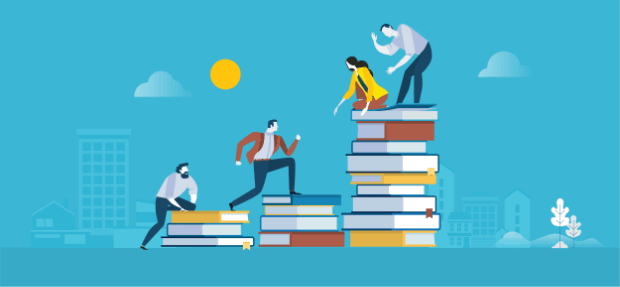 Hey there [Name],
I hope you remembered the instructions from my last email! Right at this very second, you should have a terrifying list hanging up somewhere in your house.
In fact, you should be able to look at it right now.
And if you have NO IDEA what I'm talking about, go back and read my last email. This list is super important for the rest of your journey, so please don't read ahead until you've created it.
Once you have that list at hand, I have some very good news for you: I personally promise that soon enough, your list of fears will make you laugh.
I know, I know, it seems impossible right now. But trust me, things are about to get a whole lot better.
So much better that, again, I promise you'll be laughing at how silly these fears really are!
How do I know?
Because when I look back at my own list, I can't help but smile at how distant the problem has become. Since then, I've stumbled upon the answer. Whether it was by determination, trial and error, or just dumb luck, I've finally learned how to:
[Insert a bullet point list of what benefits your product specifically has toward solving the customer's problem]
And now my old list of fears has been replaced with a new list:
A list of everything I know I am going to accomplish.
But don't worry about writing that one, yet. We'll get there 😉
For now, it's time we crush this list of fears together. That's why I created [insert product name]. I did it to specifically to [insert the solution to their problem].
And I know that it works for two reasons:
It worked for me
I've seen it work for hundreds of customers just like you
Here's how:
[Insert a description of your product here and how it specifically solves their problem]
Now you're more than welcome to dive in and try it. In fact, for those people who do want to get started right away, I'm offering a [insert a discount or promotion]. I love to see people 100% committed to solving their problems, and as a business owner, I feel an obligation to reward that type of passion in my clients.
But I also understand that some people need more time to get their ducks in a row. And that's OK!
The point of this email is to give you that little bit of light at the end of the tunnel. To know that you aren't alone and that if all else fails, there's a good option waiting for you right here.
So take heart, stay strong, and keep pushing forward one foot at a time. And if you ever need anything, I'll be here.
All you have to do is write 🙂
Thanks for reading, and I'll be in touch soon.
Sincerely,
[Name]
[Business]
4. Nurture the Relationship With Cool Content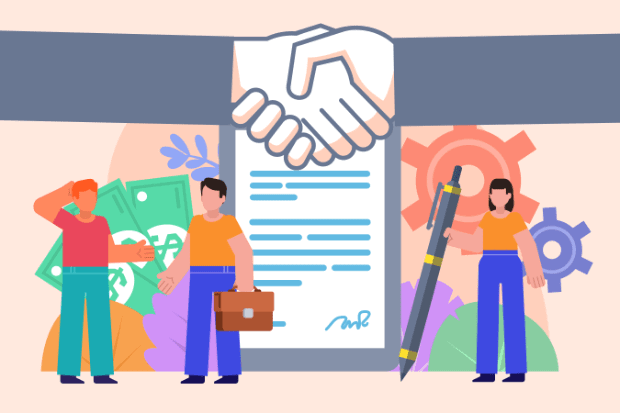 Hey [Name],
Earlier today, I was going through some things I had worked on this past year. I stumbled across something I think you're going to like.
Scratch that. I KNOW you're going to LOVE.
It's a [describe what the content is].
One of the things I specifically remember about this resource was how many people it had helped. To be totally honest, I had written it more for myself than anyone else. But when I shared it publicly, I had tons of clients tell me how useful they found it!
Well, long story short, you reminded me of many of those customers and where they were when they got it.
So I thought I'd share it with you, too 🙂
Ok, time for me to get back to work… Thanks for reading, and have a great day!
Sincerely,
[Name]
[Business]
5. Sell the Product (a Hard Sell)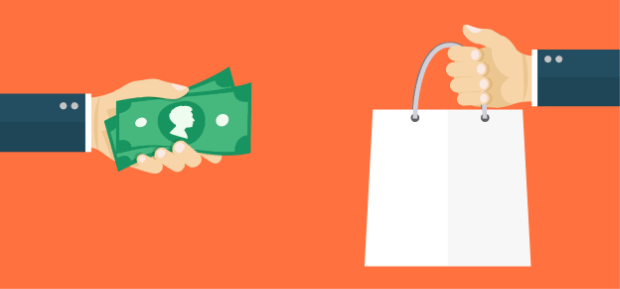 Hey [Name],
I wanted to follow up with you and let you know that the [promotion you offered from email #3] is expiring in the next 24 hours.
It's not a trick. It's not a trap. And it's not a sneaky marketing gimmick.
It's just the end of a seasonal promotion 🙂
So I thought I'd let you know. I also wanted to quickly tell you about [insert name of successful customer]
[Insert a small case study of a successful customer. Talk about the problem this person had, how nothing had worked until your product, and how your product specifically fixed the problem]
But here's the funny thing: [insert name of successful customer mentioned above] had the exact same hesitations as you do now.
Why? Because trying something new is scary.
I get that. And do you want to know the total, 100% honest truth?
You might not need [insert product] at all. 
Let's get real here: with all the YouTube videos, blogs, vlogs, and information online, you could probably figure out the answer to your problems all by yourself.
After all, it's what I did! It just took me [insert a long time here] to do it and had tons of hidden costs involved.
And while I would love to help you fix your problem in a fraction of the time and overall cost, I understand that some people like to go it alone.
Again, I get that.

I just know that [insert the name of the solution] worked for me, [insert name of successful customer], and hundreds of others. And I'm 100% confident it will work for you too.
So if you decide to move forward right now, you can still get the [offer promotion or discount] before it expires. Tomorrow, it will be back at full price but still worth every penny.
Interested? Just head over to [insert URL] and get started today. Remember, every step forward is one more move toward obliterating that list of fears staring menacingly at you each day.
And, as always, if you have any questions, please don't hesitate to write back. I'd love to hear from you.
Sincerely,
[Name]
[Business]
6. Get Feedback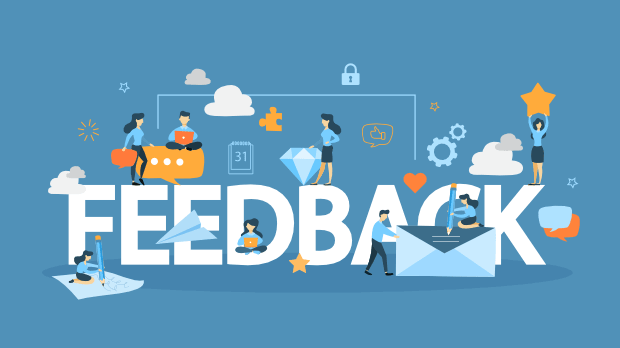 Hey there [Name],
I noticed you decided not to take me up on my [insert discount or promotion]. No worries. Not everyone is ready at the same time.
If it's OK, I'll still send you some cool content to help you on your journey. We won't be able to dive as deep as I would like, but I need to reserve some of that energy for my clients who took the leap.
I hope you understand!
That said, I would love to know if there was anything I said or did that kept you from moving toward fixing your problem.
I've been known to be my own worst critic, so direct feedback helps me more accurately gauge where I can improve. Would you mind filling out this small feedback form to tell me what I did wrong?
[Insert link to feedback form]
It should only take about 3 minutes to fill out, but it will save me hours of naggingly critical curiosity! If you can find a few moments, I would really appreciate it 🙂
And hey, if you had planned on taking positive action, but it just slipped your mind, I get it. Those things happen. If you reply to this email, I'll see what I can do about extending [insert promotion or discount here] for up to 3 hours after sending this email.
No reason to punish you just for being human!
Thanks again for reading and, hopefully, taking a few minutes to fill out that feedback form. Your opinions are super valuable to me, and I really appreciate it.
Sincerely,
[Name]
[Business]
Before Sending These Emails, You Need One Very Important Thing
Here's the funny thing about email marketing:
The best email copy on the planet won't do anything for you if you don't have a list of emails to send it to.
So as great as these email marketing templates might be at getting you higher conversions, they're useless if you aren't actively growing your email list.
For that, you need some kind of conversion optimization toolkit. And that just so happens to be our specialty here at OptinMonster.

But you probably already knew that ?.
The bottom line is that you need to invest in some kind of conversion optimization software. With all the digital noise online, it's nearly impossible to capture your reader's attention without help.
To push your strategy even further, check out these 10 brilliant email marketing examples. You can learn from these big brands to refine your own email marketing strategy.
Enjoy this article? Or, better yet, did you love these email marketing templates?
If so, feel free to share them on Facebook or Twitter. And if you're looking for even more tutorials to improve your marketing skills, hit up our YouTube channel.
Just don't forget to subscribe (please and thank you).
Though if you read this far, chances are you're pretty serious about your email marketing strategy. Let us help you get to the next level of success with your online business.
Don't be shy. Join OptinMonster today!