Want to boost engagement with a spin to win wheel on your WordPress site?
Spin to win wheels make your offers more interesting because let's face it, who doesn't love a chance at winning something?
These small gamified popups give your visitors a good incentive to sign up for your marketing emails, webinars, store sales, and more.
Plus, they're easy to make and add to your site with the help of plugins.
That's why, in this post, we've handpicked the best WordPress spin to win wheel plugins that let you create discount wheels FAST.
But before we get into the list, we'd like to quickly show you how to choose the right spin to win wheel plugin for your site.
Choosing the Right Spin to Win WordPress Plugins
A spin to win wheel has the potential to explode your email list. It gives your visitors a chance to actively engage with your site and win a prize.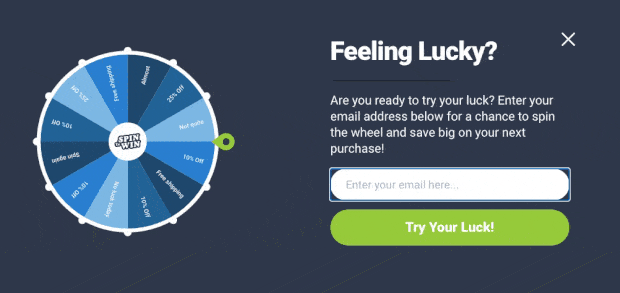 That means people will be more willing to give up their email address in exchange for one of the prizes offered in your campaign.
But these wheels can quickly become complicated if you don't have the right tools to help you manage the results.
So here's what you should look for while picking a spin to win plugin:
Easy set up so you can get started without any coding knowledge
Pre-made templates and easy customization options
Centralized management of prizes from a single dashboard
Email integration to instantly send prizes through emails
Analytics to track how well the campaign performs
Affordable pricing plans
Now that you know what makes a great spin to win plugin, let's dive right into our pick of the top 7 spin to win wheel popup plugins for WordPress.
Best Spin to Win WordPress Plugins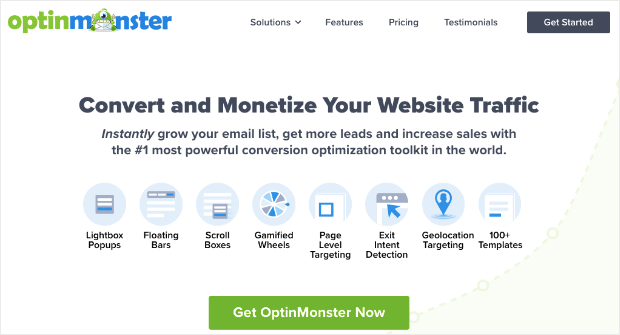 OptinMonster is hands down the best spin to win plugin for WordPress. It comes with 5 beautiful discount wheel templates, so you can pick one that matches your brand and marketing goals.

At OptinMonster, we've made it really easy to add labels and coupon codes to the wheel. That way, you can manage your discounts as you create your wheel campaign.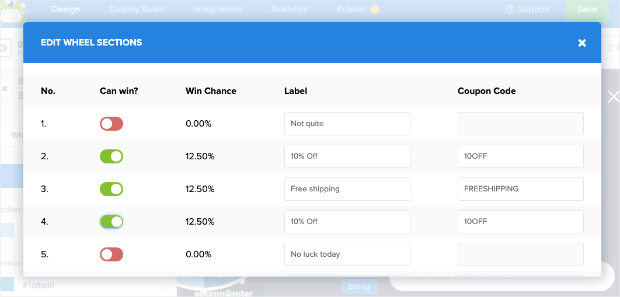 Plus, if the winning item goes out of stock, you can temporarily remove it from the prizes until you have it available again.
This helps you avoid letting people win prizes you no longer have.
OptinMonster also shows you the probability of a visitor winning the prize. You can increase or decrease the number of winning options to tweak the probability ratio for more "high-ticket" prizes.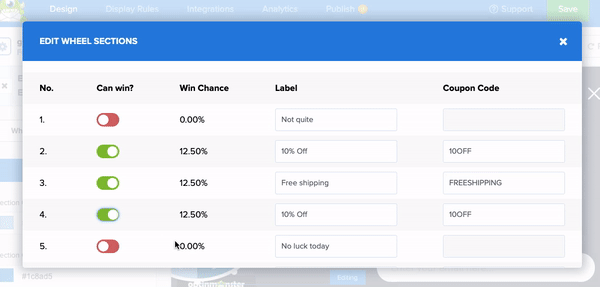 The spin to win wheel templates are fully customizable. You can use our drag and drop builder to easily change the text, image, and call to action.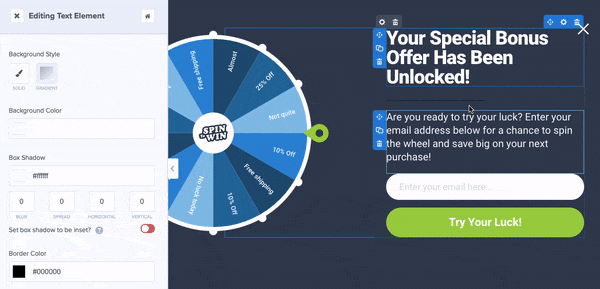 OptinMonster also lets you target your audience based on their interests, location, and how they engage with your site. You can even target visitors leaving your website to entice them to spin the wheel before they go.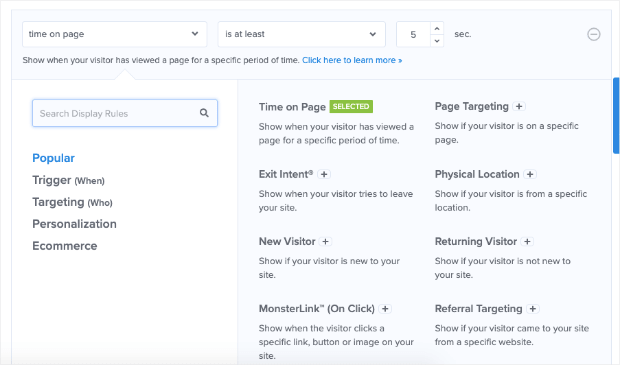 This gives you complete control over who sees your popup and when.
Finally, OptinMonster tracks all your campaigns. You can easily see how many people viewed and engaged with your spin to win wheel to optimize conversions over time.
You can even see how much revenue your spin to win wheel generated to ensure it's bringing a good return on investment (ROI).
In a nutshell, you get:
5 beautiful pre-made spin to win wheel templates that are easy to customize
12 wheel slices with automatic probability settings
Email integrations to set up automated emails
Powerful targeting rules to get maximum conversions
Actionable insights and analytics
Still not sure spin to win wheels can work for your website?
Check out how PortraitFlip converts its traffic into leads using OptinMonster spin to win wheels.
OptinMonster works with any website, and it integrates with all popular email marketing tools. At just $9 a month, OptinMonster is the most powerful and affordable spin to win plugin on this list.
Ready to create your own discount wheel popup?
Get Started With OptinMonster Today!
BONUS: Done-For-You Campaign Setup ($297 value)
Our conversion experts will design 1 free campaign for you to get maximum results – absolutely FREE!
Click here to get started →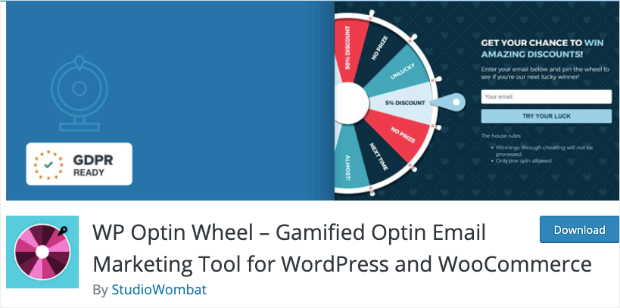 WP Optin Wheel lets you grow your email list by offering visitors a chance to win a coupon.
You can create wheel of fortune games on your site with pre-made themes. There's a free version of this plugin available in the WordPress repository, but it's very limited in features and only integrates with Mailchimp.
The paid version starts at $50 with 1 year of updates and support.
Key Features
Connects to 12 marketing tools and email providers
Add and customize up to 24 wheel slices
Integrates with Woo coupons to automatically create unique coupon codes
Send a personalized email to users when they have won or lost
Target visitors on exit, button click, or time trigger
WP Optin Wheel only works on the latest versions of WordPress and WooCommerce. If you haven't updated your site, you'll need to do that before choosing this plugin.
Check out WP Optin Wheel today!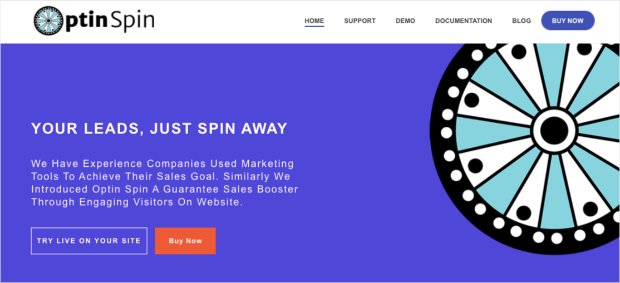 OptinSpin is another spin to win plugin for WordPress and WooCommerce sites.
OptinSpin uses default WooCommerce Coupons to offer discounts to subscribers. When a visitor wins a prize, OptinSpin will send the coupon to them via email.
Visitors can use the code instantly on their purchase or save it for a later date.
Key Features
Unlimited wheel slices
Customizable forms that are mobile-friendly
Control popup display and probability ratios
Connect to Mailchimp, Remarkety, and Drip
OptinSpin costs $29 for 6 months and $38 for the entire year. But it's limited in features compared to other plugins on this list.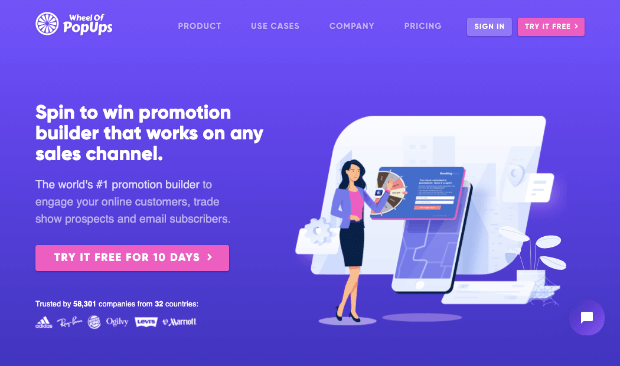 Wheel of Popups is a premium WordPress plugin that lets you create spin to win wheels for your WooCommerce store.
It comes with a standard discount wheel popup template, but you can customize it to fit your brand's unique style.
Wheel of Popups lets you preview, analyze, and export emails collected through your spin to win wheel.
It also integrates with most website platforms, marketing tools, and email service providers.
Key Features
Overview of all spin to win wheel campaigns
Real-time analytics and reports
Preview the collected emails and phone numbers
Dedicated account manager to help you
Wheel of Popups plans start at $29 per month, and it's limited to just 1 promotion.
You can get a discount on your first purchase, but it's still quite an expensive plugin and doesn't come close to the features other spin to win plugins have to offer.
Check out Wheel of Popups today!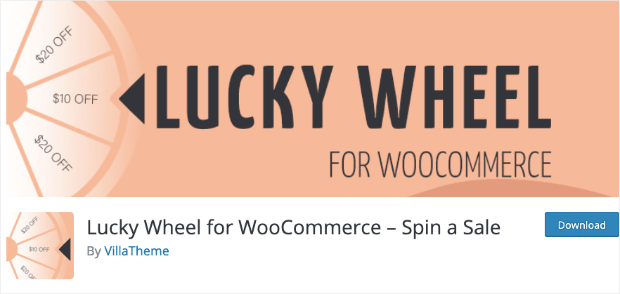 Lucky Wheel for WooCommerce helps you collect emails by offering customers a chance to spin a lucky wheel.
The plugin will then send the prize to the email address entered by the subscriber. You can control how many times a user can spin the wheel and delay the time between each spin.
Key Features
Add and remove up to 20 wheel slices
Customize offers and probability
Send unique one-time coupons to winners
Integrate with Mailchimp, ActiveCampaign, and SendGrid
This plugin lets you display the wheel on any page using shortcodes, so it isn't the most beginner-friendly option.
There's a free version available that's limited to 6 slices. The paid version starts at $30 for 6 months.
Check out Lucky Wheel for WooCommerce today!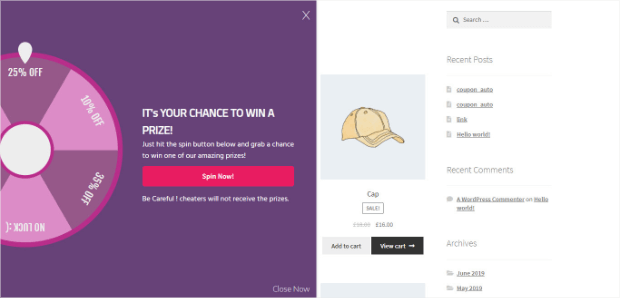 Spin Wheel for WooCommerce makes it easy to create discount wheels for your site. You can offer discounts and coupon codes in a fun and engaging way.
With Spin Wheel, you get complete control of text, color, and segment options. The best part is that you can auto-generate coupons when a customer wins, so it saves you time and makes it easier to manage.
Key Features
Trigger wheel on checkout, exit, or time spent
Schedule campaign to appear only on specific dates to promote sales
Unlimited wheel slices that are fully customizable
Important analytics
Link wheel to free downloads like eBooks
Spin Wheel costs $49 per year. When you buy the plugin, you'll need to configure it on your WooCommerce site, which can be pretty technical.
Check out Spin Wheel for WooCommerce today!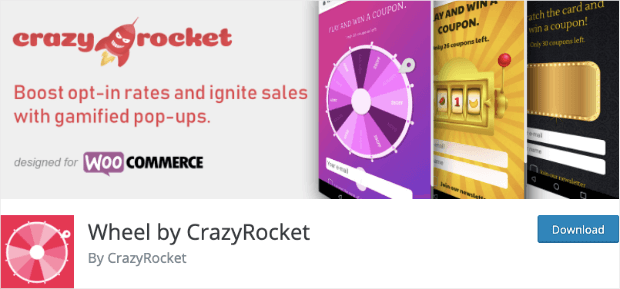 Wheel by CrazyRocket lets you easily create lucky wheels where visitors get a chance to win a coupon. That way, you can motivate them to buy now or come back to your site again.
Wheel lets you generate coupons and also apply them to the winner's cart automatically. You can add a countdown timer to create a sense of urgency to get more people to spin the wheel.
Key Features
Beautiful themes to create spin to win wheels
Configure chance of winning for each slice
Mailchimp and Klaviyo integration
Analytics that's easy to understand
Wheel by CrazyRocket starts at $9 per month for the basic plan. You'll get access to 2 active campaigns. If you want to use the automatic coupon code and get analytics, you'll need to sign up for a higher plan.
And with that, we've covered the top spin to win wheel WordPress plugins on the market.
Now you may still be wondering which is the #1 spin to win plugin from this list. Up next, we'll give you our verdict.
Which is the Best Spin to Win Plugin For WordPress?
We've carefully looked at each plugin, what it has to offer, and its pricing to find the best spin to win plugin.
While every plugin has something unique to offer, OptinMonster takes the #1 spot, hands down. It's packed with so many features to create exceptional spin to win wheels on your site.
OptinMonster also has more targeting features and campaign triggers than any other plugin on the market. You can target visitors based on their location, referral source, actions, and interest in your site.
It helps you recover abandoning visitors and encourage more shoppers to become paying customers.
Plus, it's so easy to set up and use that you can create campaigns in under 5 minutes.
Ready to get started with your own spin to win wheel?
Get Started With a Discount Wheel Popup Today!
BONUS: Done-For-You Campaign Setup ($297 value)
Our conversion experts will design 1 free campaign for you to get maximum results – absolutely FREE!
Click here to get started →
We hope you found this list helpful in finding the best spin to win WordPress plugin. If you're looking for more resources to grow your eCommerce store, you'll definitely want to check out:
These resources will have even more information on how you can grow and drive more revenue from your eCommerce site.