Are you looking for the best 4th of July promotion ideas to celebrate this independence day and increase your online sales?
If so, you're in the right place.
Because in today's post, we're going to share 7 high-converting ways you can increase store sales this 4th of July.
Plus, we'll share the tools you need to run each type of promotion.
That way, you can have the most successful and financially freeing summer yet.
Ready to dive in? Let's get started.
7 Profitable 4th of July Promotion Ideas
Since this is such an in-depth post, feel free to click the section that you'd find most helpful:
Otherwise, let's dive straight into our list of 4th of July promotion ideas.
1. Create Holiday Optin Campaigns
First and foremost, you'll want to set up various optin campaigns across your site.
By "optin campaigns," we mean things you're already familiar with, like popups, floating bars, slide-in scroll boxes, and so on.
You should have 2 goals with these campaigns:
Capture your traffic's email addresses
Increase your customer's average order value (AOV)
While the ultimate goal is to increase sales from your online store, your priority should definitely be on growing your email list.
That's because out of all the people who visit your site and see your 4th of July campaigns, only a fraction will be ready to pull out their credit cards.
But once those people are on your mailing list, you'll be able to nurture the new leads over time.
That means getting more sales in the long run and building a relationship that leads to loyal paying customers.
And to accomplish either of the goals listed above, there's no better tool than OptinMonster: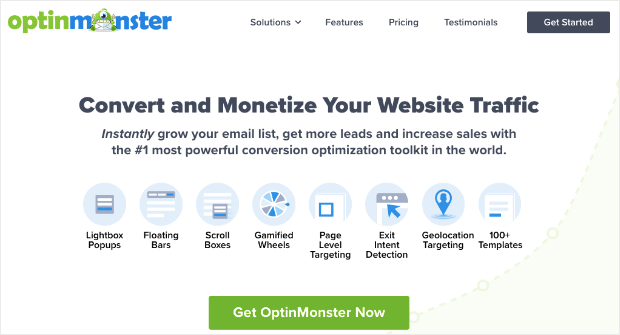 OptinMonster is hands down the world's best lead optimization tool that's proven to grow your list, increase conversions, and boost eCommerce sales.
That's because OptinMonster allows anyone to create stunning and high-converting optin campaigns in a matter of minutes.
Whether you're designing a lightbox popup, a fullscreen welcome mat, a banner bar, or any other type of campaign, you won't need any coding or design experience.
To get started, you can pick from any of OptinMonster's 50+ pre-built templates. And for this holiday, that part couldn't be easier.
OptinMonster has a 4th of July template that's ready to go out of the box: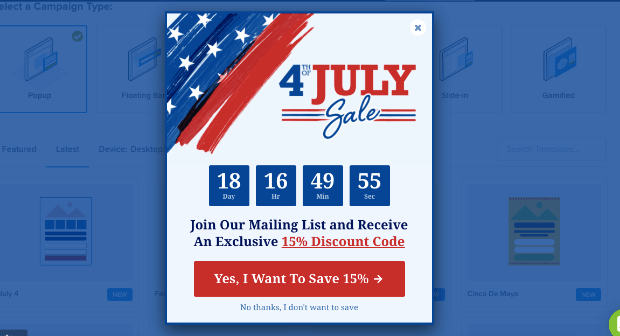 With this template, you'll have a headstart in your campaign design. Then you can make modifications to the template, so it matches your brand's voice, style, and message.
But the best part is that you won't need any technical skills to have full control over your optin campaigns.
To edit the message, for example, you can use OptinMonster's inline text editor: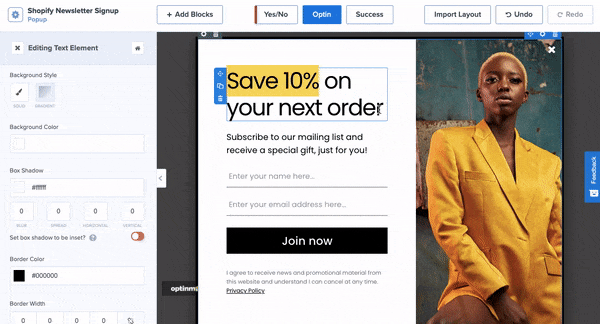 This lets you change the message's:
Text
Font
Size
Color
Alignment
Line height
And much more…
You can even add new features to your campaign in the form of "blocks."
These blocks can include things like:
Video
Images
Custom HTML
Chatbots
Icons
And more…
Once you've found the right feature for your campaign, simply drag and drop it into place: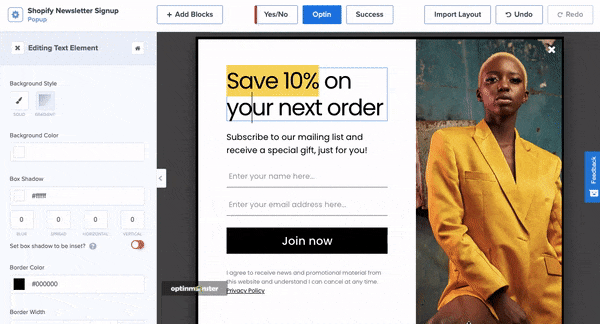 And because OptinMonster's campaigns are made up of these blocks, everything will fall neatly into place every time.
That means you don't need to have any digital design experience to have professional campaigns up and running in minutes.
Finally, you'll want to target these campaigns to the right people, in the right places, and at just the right time in their customer journey.
For that, OptinMonster gives you more targeting rules than any other lead generation software on the market.
Some of the most popular targeting rules include:
Exit-Intent® Technology: Recover abandoning users as they're actively leaving your website.
OnSite Retargeting: Engage returning users with fresh campaigns they've never seen before.
Page-level Targeting: Personalize the user experience (UX) by creating custom campaigns that match the content of your site's posts and pages.
MonsterLinks™: Boost conversions by making your campaigns open on a button click. This allows the customer's behavior to actively trigger the campaigns they'll see.
These are just a few examples, though there are many others.
And these are the same kinds of targeting rules that helped Cloudways run a successful holiday sale and boost free trial signups by 120%.
Or how Fastrack recovers 53% of their abandoning visitors.
You can have the same massive success by clicking below and starting your 100% risk-free OptinMonster account today:
Get Started With OptinMonster Today!
BONUS: Done-For-You Campaign Setup ($297 value)
Our conversion experts will design 1 free campaign for you to get maximum results – absolutely FREE!
Click here to get started →
2. Target the Right People
In the last tip, we mentioned a bit about OptinMonster's targeting rules.
But one rule is so important for the 4th of July that it deserves special attention: targeting users who actually celebrate the holiday.
A lot of eCommerce stores have customers from around the world. Even if you're only advertising in North America, you'd still have customers from Canada or Mexico that don't celebrate Independence Day.
You can really personalize your customer's journey by ensuring that you're only showing holiday campaigns to people who actively take part.
How do you do that if you're not a professional coder or developer? That's where OptinMonster makes things incredibly simple.
That's because OptinMonster has a special targeting rule, Geolocation.
This lets you display your optin campaigns to users based on where they're physically located.
Not only does this allow you to target people all over the United States, but it also lets you build special promotions for your local community.
This is particularly helpful if you run a brick-and-mortar store, too.
Not sure where your customers are coming from? If that's the case, then you definitely need a tool like MonsterInsights: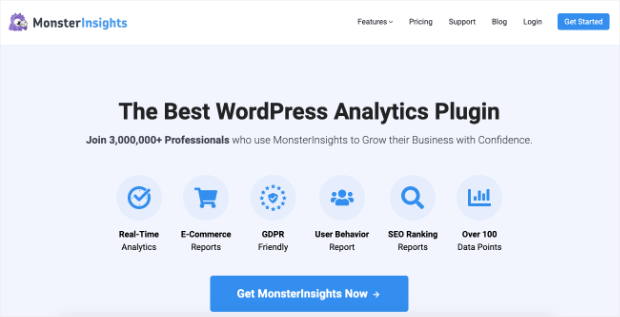 MonsterInsights is the world's #1 Google Analytics plugin. It gives you all the power of Google Analytics directly from your WordPress dashboard.
This gives you valuable insights into your audience, including what content they love, how long they stay on your site, which devices they use, and, of course, what countries they're visiting from.
That helps you determine the extent to which you'll need to target users specifically in the United States and gives you an idea of what kind of conversions you can expect.
Get started with MonsterInsights today! 
3. Build an Independence Day Landing Page
Whenever you're running a holiday sale or campaign, you'll definitely want to take a few minutes to create a dedicated landing page.
This is a place where you send traffic to see your holiday discounts and promotional offers.
Landing pages are important because they can be tailored to get higher conversions from specific events or products.
You'll be able to add social proof to build trust with your audience, create highly targeted call to actions (CTAs), showcase your products with video demos, and much more.
But how do you create a landing page if you're not a web designer? That's where a tool like SeedProd comes into play: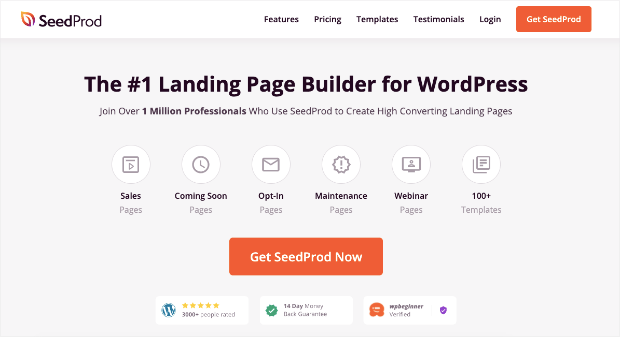 SeedProd is the best landing page plugin for WordPress. With this tool, literally anyone can create fully optimized and beautiful landing pages in a matter of minutes.
SeedProd comes with tons of pre-made templates that can give you a headstart as you design your landing pages.
These templates are fully responsive, look great across devices, and will save you hours of time (not to mention headaches).
Plus, SeedProd comes with a codeless drag and drop visual editor. That means you won't need to touch any code when you add new features to your landing page.
These features include things like:
Optin forms
Videos
Images
Text
Testimonials
Reviews
And much more…
There are even WooCommerce-specific features that let you add checkout buttons, frequently bought together bundles, recommended products, and more.
These tools help you increase the AOV of your customers as they browse your 4th of July landing page to redeem your special offers.
Get started with SeedProd today!
4. Gamify Your Website
One of the best things you can do to increase conversions and sales on your site is to gamify certain parts of it.
"Gamification" is the process of turning ordinary experiences into a gamelike journey. You've likely seen this before from brands you already know and love.
Starbucks, for example, built a gamified app for its customer loyalty program. Customers are awarded stars with every purchase.
When they get enough of these stars, they can redeem them for drinks and food.
You can do the same with OptinMonster's high-converting spin to win wheel: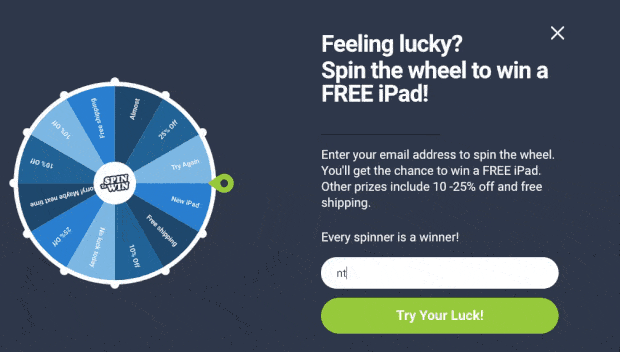 These campaigns have proven to be as effective as they are popular.
You can modify these discount wheels to match the color and style of your brand. Plus, you can add or remove prizes depending on what you'd like to give away.
Then you control the probabilities for each prize: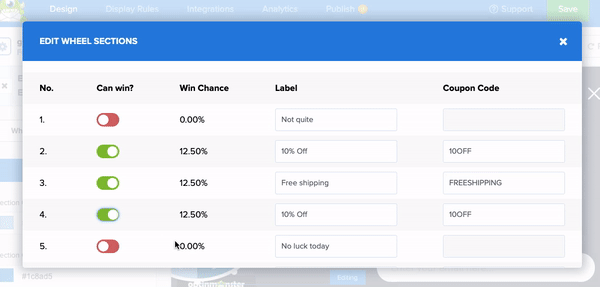 This lets you limit the number of high-ticket prizes you actually give away while still providing value through smaller discounts or coupons.
But the best part is that you don't need any coding or technical experience to set it up. For more information on this, feel free to check out this resource: How to Create a Discount Wheel Popup (the Easy Way).
Or feel free to watch the video tutorial below:
That tutorial will give you a quick glimpse at just how easy it is to create a high-converting spin to win wheel with OptinMonster.
Want to try it for yourself? Get started with your risk-free OptinMonster account today!
5. Run an Online Giveaway
If you're trying to boost engagement with your website, running an online contest or giveaway is always a great strategy.
Much like gamifying your optin campaigns, giving visitors the chance to win a prize is the perfect way to "build some buzz" around your brand.
The trick is to select a prize that's right for your target audience. This is where lots of marketers and business owners get it wrong.
They'll select a prize that EVERYONE would want (like an iPad, for example), which brings lots of contestants in.
The only problem? While you're attracting more people, you're attracting less quality leads. That means your winner may never actually engage with your brand again!
Instead, you should select a prize that is targeted to your ideal buyer persona to attract potential customers.
But now, you might be wondering, "What's the best way to host an online contest?"
If you're using WordPress, then you'll want a tool like RafflePress: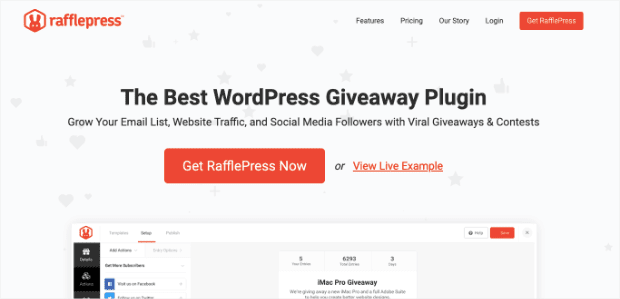 RafflePress is the best giveaway plugin on the market and the perfect solution for creating viral contests.
That's because RafflePress gives you 100% control over how people enter and share your giveaway.
You can create CTAs and award entry tickets for people who take the actions you want them to.
For example, each person who signs up for your newsletter can have an entry ticket. But if they ALSO watch a demo video of your product, they can get a second entry ticket.
These are just a few examples of ways you can increase engagement through your contest, but the possibilities are endless.
This helps you accomplish multiple marketing goals with the same 4th of July promotion.
You can then embed your contest on any post or page of your WordPress site. Or, if you prefer, you can have RafflePress generate a landing page for you.
Then award even more entry tickets to people who share your Independence Day contest.
It's this "sharing" feature that gives your giveaway a much higher chance of going viral and getting you higher engagement (and sales).
Get started with RafflePress today! 
6. Engage Your Audience With Social Media
If you're running an online business, chances are that you're brand is on social media.
But a lot of companies have a weak link connecting their website with their social media profiles. They'll have a few social share buttons but, beyond that, the two channels are distinct from one another.
This 4th of July, why not increase engagement with your social media platforms using your own website traffic? 
You can do this by adding social feeds to your website and creating 4th of July-specific content.
Whether that's showcasing Independence Day decorations on Instagram or live streaming a firework show on Facebook, adding this element to your site is a great way to boost your company's exposure.
You can even combine some of the tips listed in this article, such as promoting an online giveaway with social media. Then you can post those interactions on your site to get even more contestants.
And if you want to add a social media feed on WordPress, then you really need something like Smash Balloon: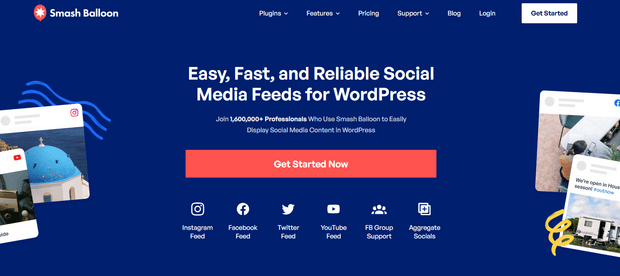 Smash Balloon is the world's leading social media feed plugin for WordPress. It lets you add social feeds from your favorite platforms, including:
Instagram
Facebook
Twitter
YouTube
This allows you to leverage your website's traffic to boost your social media presence.
But what really makes Smash Balloon stand apart is how easy it is to get started. Without any coding skills, you can add your social feeds to any part of your site's posts or pages.
Plus, you can customize the look of your feed to match your brand's style.
It's a lightweight plugin, so you don't need to worry about harming your site's performance. It's also mobile-friendly and fully responsive.
That makes Smash Balloon the perfect tool for promoting your 4th of July sales, bringing more customers to your social media platforms, and showcasing your brand's unique personality.
Want to see it in action for yourself? Get started with Smash Balloon today!
7. Lead into the Day With an Email Sequence
When people think of running a holiday sale of days like the 4th of July, they tend to limit themselves.
Rather than planning ahead and creating excitement around the event, they'll send out an email on the actual holiday.
Then they're surprised when the results aren't what they'd hoped for.
But you can instantly boost the success of your 4th of July promotion by building an email sequence that leads up to the actual day.
This lets your audience know ahead of time what your promotion includes and helps you get them excited for the deals you're running.
For that, you'll want to use a reliable email service provider (ESP). Here are 3 that we highly recommend:
Constant Contact: an excellent solution for small businesses who value phone/email support
Brevo (formerly Sendinblue): the perfect choice for businesses on a budget looking for a free option to get started
Drip: the most advanced option for eCommerce
These ESPs have all the tools you need to create automated email sequences. That means you can send your 4th of July campaigns a few days before and automatically send follow-up reminders.
Doing so will help refocus your audience's attention to your brand and increase engagement with your Independence day sale.
So rather than sending out 1 email on the actual holiday, you can create a week-long email sequence that really gets people engaged.
Plus, you can integrate any ESP with OptinMonster. That means your new leads will automatically flow into your holiday sequence and receive your 4th of July campaigns.
Then you can sit back, enjoy the fireworks, and enjoy even more financial freedom as your Independence Day sales drive more revenue.
And that's it for today! These have been 7 of the best 4th of July promotion ideas that you can use this year.
Get Started With OptinMonster Today!
BONUS: Done-For-You Campaign Setup ($297 value)
Our conversion experts will design 1 free campaign for you to get maximum results – absolutely FREE!
Click here to get started →
We hope you enjoyed this post. If you did, you'll definitely want to check out the following resources:
These articles will have even more information on how you can increase sales for America's #1 summer holiday.