Are you looking for the best WordPress lead generation plugins to grow your email list FAST?
Email marketing remains one the best ways to drive revenue for businesses of all sizes. It's an affordable and time-efficient way to communicate with potential leads and transform them into paying customers.
The only problem? Email marketing only works if you have a robust mailing list of qualified leads.
And if you're using WordPress, the best way to grow that email list is with a plugin designed to do so.
That's why, today, we're going to teach you about 9 WordPress lead generation plugins that you can use to add more subscribers to your list today.
Before we get started, though, let's get clear on why you should consider a lead generation plugin in the first place.
Why You Need a Lead Generation Plugin
Let's be honest: growing your email list can be hard–not to mention time-consuming.
Your site's visitors are likely bombarded with hundreds of advertisements, offers, and squeeze pages throughout the day.
As such, they've become immune to companies asking for their email address, and they're less likely to hand it over.
That's where a lead generation plugin comes into play.
Because with the right lead generation tool, you're able to present new offers in an engaging way that doesn't just fill your list with people but with the right types of people.
In other words, the right WordPress lead generation plugin can help connect you with qualified leads who are more likely to turn into customers.
Here are the top 3 reasons why you should be using a lead generation plugin:
Grow Your List Faster: Cut through the noise by using a tool that makes your offer stand out and gets you more leads in less time.
Attract Better Quality Leads: Use advanced targeting rules to show your message to the right portion of your website's traffic (the portion that's more likely to become a paying client).
Drive More Revenue: Since you're filling your list with better leads, your deliverability rates will improve. That means more people will see your emails and are more likely to make purchases as a result.
Now that we know why you should be using a lead generation plugin for WordPress, let's turn our attention to the 9 best tools you can choose from.
9 WordPress Lead Generation Plugins

OptinMonster is hands down the best WordPress lead generation plugin available. It's a cost-efficient way of growing your list with warm leads regardless of the marketing channel you use to bring traffic to your site.
With OptinMonster, you can quickly and easily build professional "optin campaigns." These are things like popups, floating bars, fullscreen welcome mats, and more.
And the best part is that you don't need any coding or design experience to use this plugin. Instead, anyone can create stunning optin campaigns in minutes, like this one below: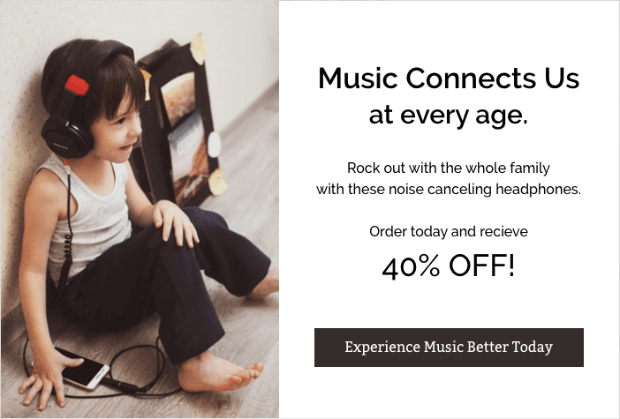 How does it work? That's the easy part.
Everything starts with selecting the right template for your marketing goal. OptinMonster has over 50 pre-built templates for each campaign type to choose from: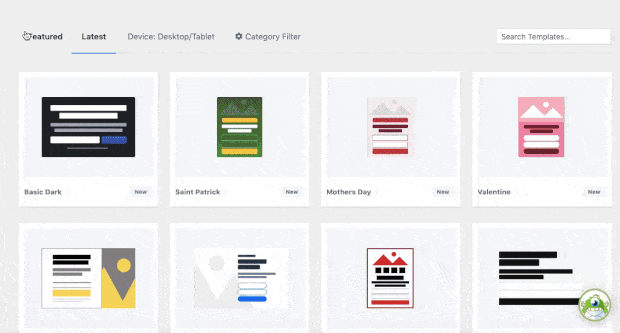 From there, you'll only need to make minor modifications to your campaign's look, messaging, and offer. Making those changes couldn't be simpler.
To change any text in your OptinMonster campaign, you can use the inline editor: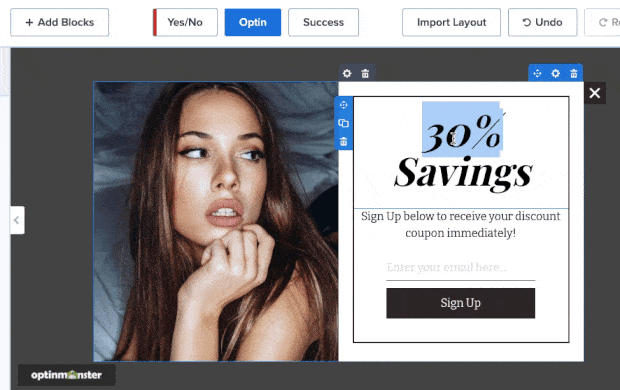 This allows you to make changes directly to your campaign text's:
Font-family
Size
Line height
Color
Alignment
And more…
Want to add a new feature to your campaigns such as an image, video, chatbot, and more? Not a problem. You can add all those features with a drag and a drop: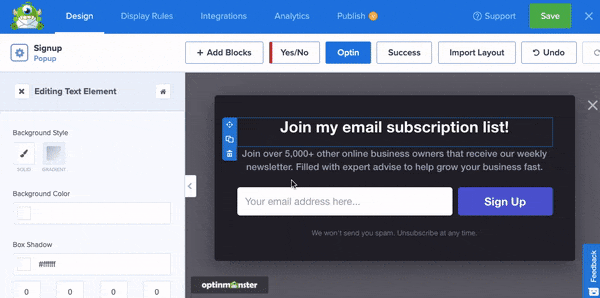 And since all of our campaigns are built with "blocks," everything stays organized and always looks professional.
This is one of the reasons why anyone can build such highly effective campaigns. But the other reason is OptinMonster's advanced targeting rules.
These let you show your offer to the right people, in the right places, at just the right time in their customer journey. Some of OptinMonster's most popular targeting rules include:
Exit-Intent® Technology: Show campaigns as users are actively leaving your website.
Geolocation Targeting: Display campaigns based on where your user is physically located.
OnSite Follow-Up Campaigns®: Create "drip" campaigns to show new offers based on how your visitors interact with previous ones.
Still not sure if OptinMonster would work for you? Check out these success stories of business owners just like you who saw massive success from using this lead generation plugin:
You can have the same success by clicking below to start your 100% risk-free OptinMonster account today:
Create High-Converting Lead Capture Forms Today!
BONUS: Done-For-You Campaign Setup ($297 value)
Our conversion experts will design 1 free campaign for you to get maximum results – absolutely FREE!
Click here to get started →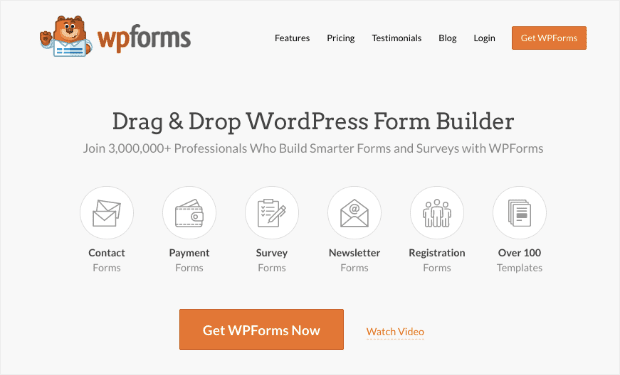 WPForms is the best form building plugin on the WordPress market. It allows you to add all types of forms to your website to increase engagement, conversions, and sales from your visitors.
With WPForms, you can create reliable and professional forms in a matter of minutes. That's because this plugin comes with loads of templates for all types of forms, including:
Contact
Payment
Survey
Newsletter
Registration
And more…
Plus, WPForms has various addons that you can use to integrate with your other favorite marketing tools. You can, for example, connect your forms to your email service provider (ESP).
That way, all your new leads will go directly where you need them to be in order to improve your email marketing efforts.
These features and more make WPForms one of the best lead generation plugins available for WordPress.
Features
Choose from 100+ templates to get started fast
Integrate with 3rd party marketing tools to build a more profitable strategy
Drag and drop form builder saves you hours of time (and headaches)
Create Responsive and mobile-friendly forms
Leverage conditional logic to build smarter forms
And more…
Pricing: Paid plans for WPForms start at $31.60/year.
Get started with WPForms today!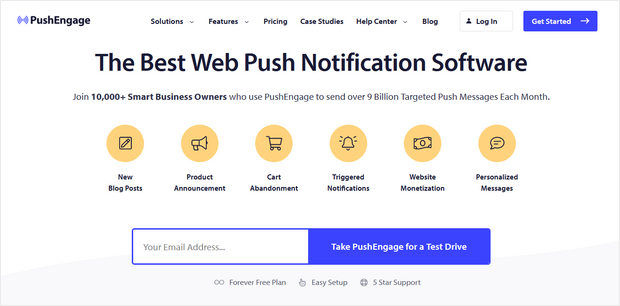 PushEngage is a WordPress plugin that allows you to send push notifications to your site's subscribers. This gives you instant and direct communication with qualified leads who weren't quite ready to hand over their email address.
Push notifications are a great lead generation solution because they don't require you to ask for any personal information.
Instead, your visitors simply need to click Allow to start receiving notifications on their browser.
As a result, you can typically grow a list of push notification subscribers much faster than you can grow a mailing list.
But since unsubscribe rates are usually higher for push notifications, you'll want to pair this plugin with a tool that converts your push notification subscribers into leads on your mailing list.
This makes PushEngage the perfect lead generation plugin to pair with a tool like OptinMonster.
Once people have subscribed to your push notification list, you'll be able to send them direct offers, updates, and product launches to drive more sales.
Features
Easy setup and installation
UTM parameters let you track where sales are coming from
Audience segmentation lets you personalize messaging
A/B testing ensures you get the best conversion rates
Multi-browser support to reach the most people possible
Drip campaigns allow you to turn notifications on auto-pilot
Pricing: Paid plans for PushEngage start at $25/month (though there is a free plan that lets you get started at zero risk).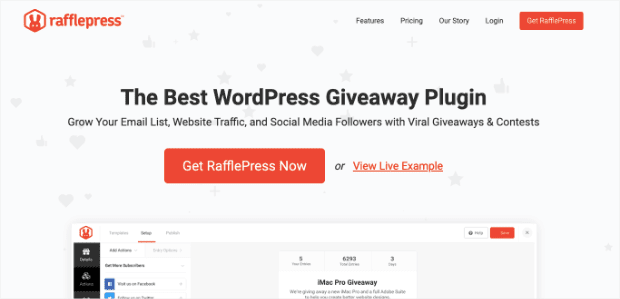 RafflePress is an online giveaway plugin for WordPress. How does this help you generate leads?
Because this plugin is the best tool for creating online contests that go viral.
RafflePress allows you to have people complete various actions to enter their chance to win a prize of your choosing. You can have people enter your contest by:
Joining a newsletter
Referring a friend to the contest
Visting your website
Reading a blog post
Following you on social media
And much more…
Plus, they have tons of templates to help you get started FAST. All you need to do is install this plugin like any other, and you can have a viral contest in a matter of minutes.
And as long as you choose a prize that attracts your target audience, you'll be able to fill your list with qualified leads in no time!
Features
Drag and drop giveaway builder
Viral giveaway templates
Contests are responsive and mobile-friendly
1 click entry + fraud protection
Social media integrations
Landing pages are generated for your WordPress site
And more…
Pricing: Paid plans start at 39.20/year.
Get started with RafflePress today!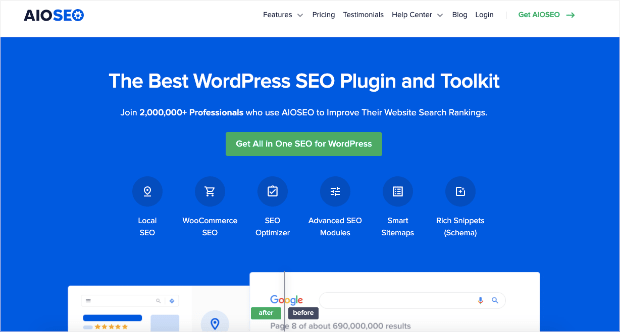 You might know AIOSEO as the world's best SEO plugin for WordPress, but that actually makes it one of the best lead generation tools at your disposal.
That's because one of the best ways to attract new leads is through organic content marketing or, in other words, ranking your site on search engines like Google.
For small business owners, search engine optimization (SEO) can be tough. Many people simply don't have the budget or time to master the ins-and-outs of SEO as well as their competition.
But with the right SEO plugin, that's no problem. You can use AIOSEO to ensure that your site's pages and posts are optimized to rank on sites like Google to bring tons of new leads to your website.
From there, you'll want to make sure your site is ready to capture those new leads with a tool like OptinMonster.
That way, you can add more leads from your organic traffic to your email list.
Features
Easy installation and setup
SEO audit checklist
Schema markup
TruSEO on-page analysis
Smart XML sitemaps
Social media integrations
And much more…
Pricing: Paid plans start at $49.50/year.
Get started with AIOSEO today!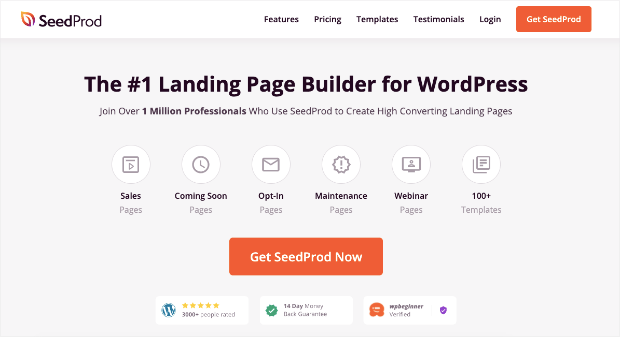 SeedProd is the #1 landing page builder for WordPress, making it one of the best lead generation tools at your disposal.
That's because landing pages play a HUGE role in how many leads you get and how qualified your leads are to being on your list.
With SeedProd, anyone can create professional and high-converting landing pages in minutes. That's because this plugin comes with loads of templates that save you time, money, and headaches.
They also have a drag and drop builder and an inline text editor to make sure your landing page says, looks, and functions exactly how you want it to.
Plus, you can integrate other marketing tools like OptinMonster or WPForms, for example, to build a more powerful marketing stack.
From there, you can integrate your landing page with your email service provider (ESP) to send leads to the right contact list.
This makes SeedProd the BEST landing page builder on the market and one of your strongest lead generation tools.
Features
Drag and drop page builder
Inline text editor
Landing page templates
Responsive and mobile-friendly
Subscriber management
And much more…
Pricing: Paid plans begin at 39.50/year.
Get started with SeedProd today!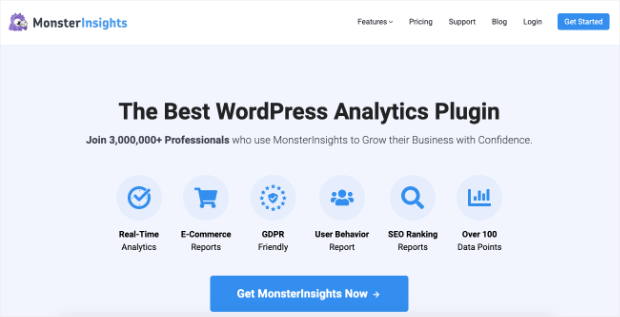 MonsterInsights is the world's best Google Analytics plugin for WordPress. So what's it doing on this list of lead generation tools?
Because until you understand your audience, you'll never get as many (or as warm) leads as you need to grow your business. 
For that, you need to keep your eye on your site's and demographic's data.
MonsterInsights gives you direct access to all the data you need directly from your WordPress dashboard. With MonsterInsights, you can quickly see valuable information like:
Users
Sessions
Bounce rates
Top posts
Devices users found you from
Where your audience is located
Custom conversions
And much more…
With this information, you can improve your marketing strategy for organic, paid ads, and social media. This allows you to optimize the wheels that are already in motion and find new opportunities to bring in even more leads.
So rather than making a lead generation strategy based on your "gut feeling," why not rely on the data instead? And for that, there's no better plugin than MonsterInsights.
Features
Universal tracking
eCommerce tracking
Digestible and comprehensive reports
Affiliate tracking
Event tracking for WordPress
And more…
Pricing: Paid plans start at $99.50/year.
Try out MonsterInsights today!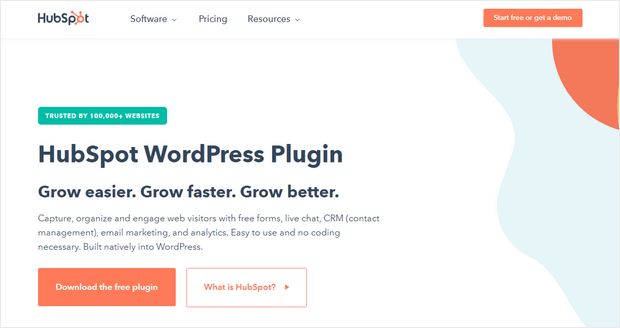 The HubSpot WordPress Plugin is a powerful lead generation tool that will help you improve your inbound marketing strategy and grow your email list.
The plugin offers a wide array of lead-generating features, including live chats and chatbots, forms, popups, and email marketing.
With live chat and chatbots, you can automate the lead capture process and provide proactive support to new website visitors, even while you sleep or perform other tasks.
You can also easily build forms like quizzes, signup forms, lead magnet forms, and popups within minutes to increase your email optin rate. Customizing the forms to match your brand and get the exact information you need is simple too.
In addition, you can nurture and engage new subscribers through HubSpot's email marketing automation. You can send auto-responses and personalize emails based on CRM-powered customer information.
Features:
Add chatbots and live chat software to your website pages
Create popups and forms with a drag and drop builder
Sync form submissions and track activity in the free HubSpot CRM
Send newsletters and email marketing campaigns
Real-time analytics on your marketing performance
Pricing: The HubSpot WordPress plugin and its features are free to use. Paid plans start at $45/month.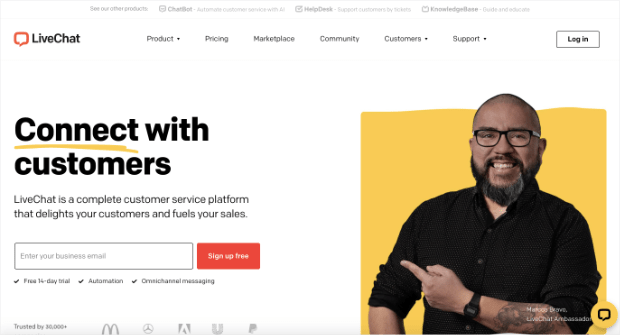 LiveChat is a complete customer service platform that adds live chat functionality to your website.
This allows you to connect directly with customers so you can:
Answer questions about your product
Suggest resources to help your users
Improve user experience (UX)
Guide your new leads down your sales funnel
Plus, LiveChat uses artificial intelligence (AI) to generate leads and send them to the appropriate department. If a lead seems ready to buy, they can quickly be transferred to sales.
If the lead still isn't sure, they'll be sent to your marketing team. This allows you to personalize the customer journey for each of your leads so you can transform more of your site's visitors into paying customers.
Features
Canned responses
Chat tags
Rich messages
File sharing
Targeted messaging
Chat ratings
Powerful analytics
And much more…
Pricing: Paid plans start at $16/month.
Get started with LiveChat today!
Which Is the BEST WordPress Lead Generation Plugin?
At this point, we've shared 9 of the best WordPress lead generation plugins. But out of these options, which one stands out from all the rest?
The answer is definitely OptinMonster.
OptinMonster gives WordPress users more tools for generating new leads and transforming them into paying customers.
This plugin helps you through their easy-to-use campaign builders, the variety of campaign types they offer, and through their out-of-the-box advanced targeting rules.
If you want to grow your email list FAST, then OptinMonster is definitely the plugin you've been searching for.
Create High-Converting Lead Capture Forms Today!
BONUS: Done-For-You Campaign Setup ($297 value)
Our conversion experts will design 1 free campaign for you to get maximum results – absolutely FREE!
Click here to get started →
And that's it! These have been the 9 best lead generation plugins for WordPress.
We hope you found this article helpful. If you did, you might also want to check out the following resources:
These posts will have everything you need to generate new leads and improve your email marketing strategy to drive more sales.