Do you need help picking a WordPress CRM plugin?
CRM plugins turn your WordPress website into a lead generation and client management system. They can replace multiple spreadsheets, databases, and apps with one tool you can run from your WordPress dashboard.
In this article, we'll go over what features you should look for in a WordPress CRM tool as well as our top picks for CRM plugins.
Let's get started!
What is a CRM Plugin?
CRM stands for customer relationship management software. These tools are designed to keep track of lead generation and client communications throughout the customer journey.
WordPress is a content management system (CMS) and website platform that's popular with business owners around the world. It has lots of awesome features built in, but isn't a CRM solution on its own. Instead, you can install plugins that add CRM functionality to your website.
Advantages of WordPress CRM Plugins
If you already have a WordPress website, it makes sense to use a CRM plugin that works directly from your site.
Leads will come in through your WordPress contact forms. Using a WordPress CRM plugin means you don't have to send information from your WordPress site to a third-party app. This can also save you money since you have fewer tools to pay for.
Another option is to use standalone CRM software such as Salesforce or Zoho that's hosted on the cloud. Some of these CRM solutions do have WordPress plugins, but are hosted and run on the company's servers. Many of these hosted options charge by number of contacts, while most CRM plugins are a flat annual subscription payment.
In this article, we'll be focusing on CRM tools that are meant to be installed and run in WordPress.
How to Choose a WordPress CRM Plugin
There are tons of lead management plugins on the market. How do you know which one is best for your business? We suggest looking at these factors:
Analytics: Your CRM plugin should help you track how well your business is doing and how customers behave. Look for custom reports that help you zero in on the metrics that make the most difference for your business.
User-friendly: A good CRM plugin should be easy to use. Clear instructions and thorough documentation will let you spend less time fussing with software and more time generating more sales.
Contact management tools: You need a CRM plugin that can handle a lot of contacts and segment leads based on customer behavior interests. Finding and filtering contacts should be easy too.
Activity tracking: You'll want to be able to track what your team members and customers are doing. Some CRM plugins can even help with project management.
Workflow automation: The best WordPress CRM plugins will have automation features for sales funnels, sorting emails, scoring leads, and other tedious CRM processes.
Form builder: Your CRM plugin should definitely have a good lead generation form building tool. Look for drag-and-drop functionality, custom fields, and widgets or shortcodes for easy form embedding.
Integrations: Your plugin should work well with your website and any other marketing tools you use. Look and see how recently the plugin was updated and make sure it works with the current version of WordPress.
Price: Finally, make sure the price is within your budget. Some options may cost less but have fewer features, or require hiring a developer to install and customize.
9 Top WordPress CRM Plugins
FunnelKit Automations is a WordPress CRM plugin that helps people make their websites work better. It can send emails to customers and track what they do on your website. This tool can also make it easier to sell things by guiding customers through a step-by-step process. ThIS plugin used to be called Autonami, and FunnelKit used to be WooFunnels. Whatever the name, this tool is still as amazing as ever.
FunnelKit Automations has several special features that make it a useful tool for website owners.
Email Marketing and SMS Marketing Automations: You can set up a series of email campaigns or SMS notifications to be sent to customers based on certain triggers. Some triggers include signing up for your newsletter or making a purchase. This helps you stay in touch with your customers and build relationships with them over time.
Segmentation: Instead of sending the same generic email to your entire list, get better results by segmenting. FunnelKit lets you create audiences based on purchase history and other behaviors, and send beautiful marketing emails with the drag and drop builder.
No-Code Workflows: FunnelKit Automations connects to different plugins and apps that your customers interact with. The plugin integrates with 100+ apps including:
Gravity Forms
Ninja Forms
WooCommerce
AffiliateWP
Mailchimp
and many more
You can use a workflow template or build your own using the visual builder.
Analytics: This CRM plugin has a split-testing feature, which means you can try out different versions of your website or email campaigns to see which ones work best. This can help you improve your marketing over time.
Plus, you can also add the FunnelKit Funnel Builder plugin if you'd like to create full sales funnels that connect directly to your CRM. These funnels include optimized checkout pages, 1-click upsells, order bumps, and real-time analytics.
Pricing:
FunnelKit Automations Lite is available for free on WordPress.org.
More advanced automations, updates, and support are available for >FunnelKit Automations Pro starting at $129.50/year.
You can also bundle FunnelKit Automations and Funnel Builder to build a full marketing system starting at $249.50/year.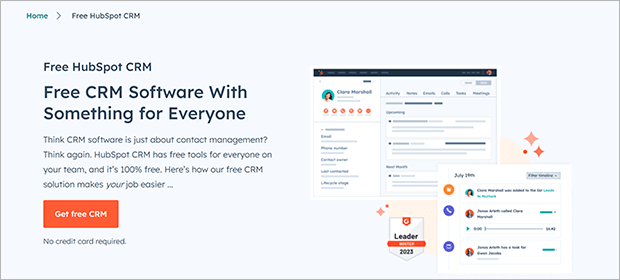 HubSpot CRM is a customer relationship management plugin that can help you keep track of your customer interactions and improve your marketing efforts. HubSpot has a free CRM plugin that integrates natively with WordPress.
With the HubSpot CRM WordPress plugin, you can:
Automatically capture contact information from your website visitors and store it in the HubSpot CRM
Create custom contact forms and pop-ups to help capture more leads
Track how visitors interact with your website and use that information to improve your marketing efforts
Use the CRM to manage your sales pipeline and keep track of deals and contacts
Create and track email campaigns directly from the HubSpot CRM
Add live chat and chatbots to your website to improve customer service
Analyze your website's performance with detailed analytics reports
Overall, the HubSpot CRM WordPress plugin is a powerful tool that can help businesses better understand their customers and improve their marketing efforts.
Pricing:
The HubSpot CRM plugin is free, but you'll need to pay for an upgraded HubSpot plan to access advanced features like social media marketing and remove the HubSpot branding. These premium plans start at $18/month for up to 1,000 marketing contacts. Be aware that the price goes up rather steeply for more contacts and features.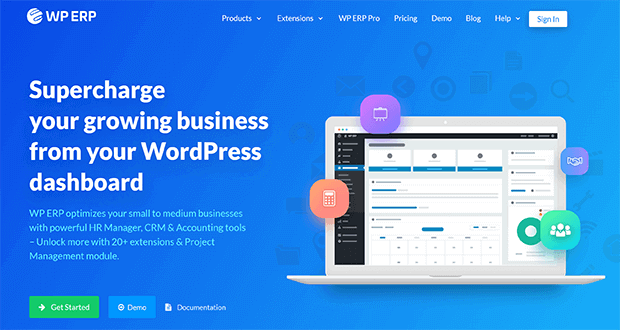 WP ERP is a CRM plugin that can also help businesses manage their work better. ERP stands for enterprise resource planning and can go beyond a regular CRM. It has 3 modules that can help you manage your employees, customers, and finances all in one place.
Some of the things you can do with WP ERP include:
Manage your customers and their information in one place, including their contact methods, interactions, and lead status
Keep track of your sales pipeline and see where each deal stands in the sales process
Assign tasks to team members and keep track of their progress
Analyze customer data to better understand their needs and behaviors
Create email campaigns to target specific groups of customers or leads
Track the success of your marketing efforts with detailed analytics reports
WP ERP is available in different languages, which is helpful for businesses working in different countries.
Pricing:
The core plugin and human resources, accounting, and CRM modules are free. You can also upgrade to WP ERP Pro and add on a wide variety of premium modules that best fit your business. Be aware that WP ERP pricing scales up with additional users, such as managers and individual employees.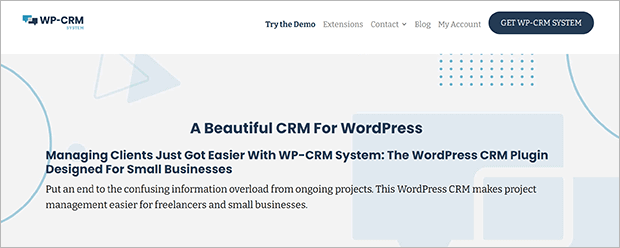 WP-CRM is a CRM plugin for WordPress that helps small businesses manage their customer relationships. It offers a range of features designed to improve project management for freelancers and business owners.
With WP-CRM, you can:
Store and manage customer information, including contact details, notes, and interactions
Create custom fields to capture the information that matters most to your business
Send invoices and get paid through Stripe
Create and track email campaigns designed for specific customer segments
Use customer data to identify trends and inform your marketing strategy
Generate reports to track your sales and marketing performance
There are also paid extensions for functions like:
Zapier integration
Client portals
Integrations with Mailchimp, Gravity Forms, Slack, and other productivity tools
Pricing:
The core plugin for WP-CRM is available for free at WordPress.org. Bundles of extension plus support and updates are available starting at $99/year.

Jetpack CRM is a CRM plugin that comes from the makers of the popular security plugin Jetpack. They're also the team behind WooCommerce, Gravatar, and other heavy hitters in the WordPress world.
Jetpack CRM is easy to use and can do many helpful things to help businesses keep track of their customers.
Build detailed customer profiles
Send quotes and invoices including Quick Pay URLs for easy payment
Track transactions by contact or company
Give clients their own private portal on your website
Create your own lead generation forms in the plugin or integrate with popular form plugins
The plugin is open source and developer-friendly if you want a fully customizable CRM plugin option.
Pricing:
The free version of Jetpack CRM comes with all the basic features. Premium plans start at $11/month and include bundles of paid extensions. Individual extensions are also available starting at $29/year so you can build your own custom version of Jetpack CRM.

Groundhogg is a WordPressCRM plugin that scales with your business as it grows. This plugin is awesome at automating marketing workflows and helping you gather data about your customers.
Some of Groundhogg's key features include:
Advanced search filtering to identify customers based on whatever criteria you need
Centralized contact records from other plugins like WooCommerce, BuddyBoss, online course plugins, and more
Plain text, block, and custom HTML email editors
Conditional and personalized email content
Automated funnel templates you can customize
Detailed analytics on your sales funnel and email performance
Other premium sales and marketing tools are available at higher plans, such as:
CSV import for adding contacts in bulk
Booking calendar
Customer birthday automations
Signed contracts
Social proof popups
Integration with 30+ plugins and SaaS products
They also offer complimentary setup, which is an unusual but welcome perk.
Pricing:
The basic plan for Groundhogg starts at $20/month. Unlike some other CRM plugins, Groundhog uses flat rate pricing. That means you pay the same price whether you have 500 contacts or 25,000.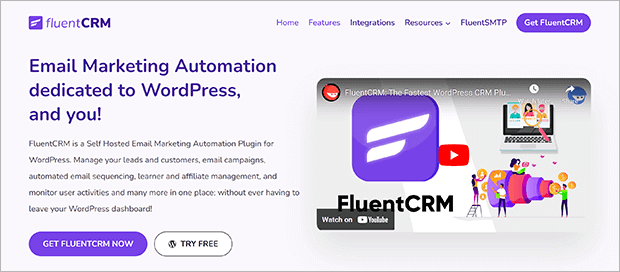 FluentCRM is an email marketing automation WordPress plugin. It's designed to turn your email subscribers into customers through automated email sequencing, contact segmentation, and detailed reporting. FluentCRM also integrates automatically with popular plugins without the need for premium add-ons.
Let's look at some of FluentCRM's features:
Full contact profiles with communication and purchase history, email engagement rates, and other important metrics
Smart lead segmentation with lists and tags
Personalized email sequences for onboarding and lead nurturing
Email marketing automation for follow-up emails, creating WordPress user profiles, updating customer information and more
Pricing: FluentCRM paid plans start at $129/year for 1 site license with all features included. Additional licenses cost more but don't get any additional support or features.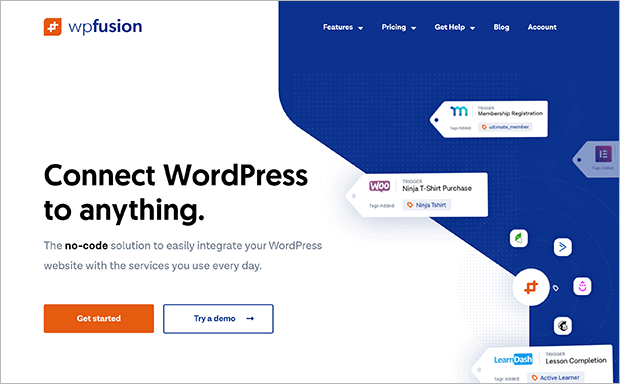 WP Fusion is a CRM plugin that focuses more on the marketing automation side than contact management functionality. That said, if you already have a CRM tool that you like and just want to improve the connections between your email list and other marketing content, WP Fusion is a great choice.
Here are some common ways to use WP Fusion:
Control content access
Track purchases and subscriptions
Send form submissions to your CRM
Recover abandoned carts
WP Fusion integrates with a ton of paid and free plugins such as:
Membership plugins like MemberPress
eCommerce plugins like Easy Digital Downloads and WooCommerce
Learning management systems like Thrive Apprentice
Form builders like WPForms
Page builders like Thrive Architect
Event calendars like BookingWP
Translation plugins like WPML
Affiliate plugins like AffiliateWP
and much more
Pricing:
WP Fusion is one of the spendier plugins on this list with the personal plan starting at $247/year. It does connect a lot of plugins but you'll still have to do your contact management through your ESP.

Last but not least, we wanted to suggest Thrive Automator as a free WP Fusion alternative if you're most interested in marketing automation.
Thrive Automator can connect all the different plugins on your website to collect vital customer data. For example, you can add a customer to your mailing list after they make a WooCommerce purchase.
Another thing you can do is tag email subscribers when they comment on your blog. This information can help you segment your most engaged subscribers and send them personalized offers. Or you can create a WordPress account for every new customer or client automatically.
Thrive Automator is incredibly simple to use. Simply select a trigger, set the filter conditions, and pick an action. With Thrive Automator, you can connect all of your marketing plugins with ease.
Conclusion: What's the Best WordPress CRM Plugin?
There are lots of CRM platforms out there that integrate with WordPress. But for a truly WordPress-based solution, we recommend FunnelKit Automations.
The workflow builder and customer segmentation features are second to none. You can also get a great deal if you bundle Automations with the Funnel Builder.
If you're looking for a free WordPress CRM plugin, we like Thrive Automator for sending customer data between your other marketing automation plugins.
For more ways to grow your business with WordPress, check out our list of best WordPress plugins.
No matter what WordPress CRM plugin you use, OptinMonster can create marketing campaigns that bring in more pageviews, leads, and conversions. See how to automate lead generation with OptinMonster.
[cta block]