Are you starting an eCommerce store and having difficulty deciding between WooCommerce vs. Magento?
Both platforms have gained popularity over the last few years as excellent eCommerce solutions that anyone can use to sell products online.
The only problem? Since both have such a strong reputation, it can be difficult to choose between the two.
That's why, in this article, we'll take you through an in-depth comparison of each tool. That way, you can feel more confident in choosing the BEST platform for your online business.
To help guide you through this article, feel free to use this table of contents to jump straight to the features that interest you most:
Before diving into the comparison, though, let's look at each product to understand what it promises to do and why that matters to YOU.
Ready? Let's get started.
What Is WooCommerce? 
WooCommerce is an eCommerce plugin built for WordPress. It helps you seamlessly build and manage an online store.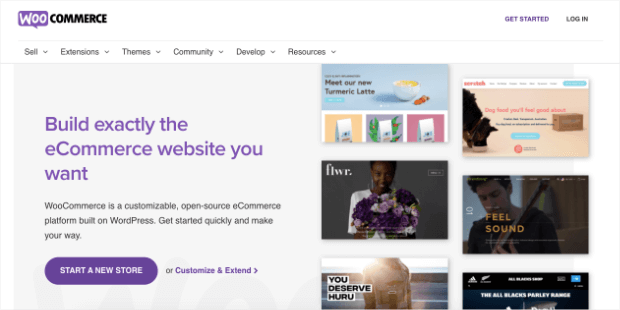 WooCommerce is one of the most popular eCommerce platforms on the market. It provides a simple yet powerful shopping solution.
WooCommerce can be used by anyone who intends to sell their products online. That's possible because it's powered by extensive features and an ever-growing library of helpful plugins and addons.
Put more simply, it's powerful, easy-to-use, and very effective.
Now let's take a quick look at its competitor, Magento.
What Is Magento?
Magento is an open-source platform used to develop eCommerce websites.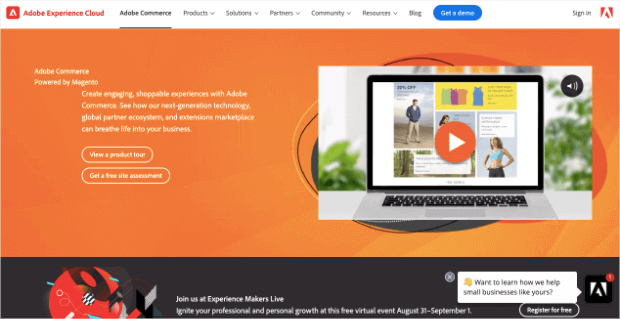 Magento offers online merchants tons of flexible options, including complete control over the functionality and content of the store.
That means you can completely customize your Magento store to attract more visitors.
Plus, it provides powerful marketing and management tools that you can use right away to grow your business.
But none of these qualities matter if the learning curve is too steep for you to actually use the tools that either platform offers.
That's why we'll turn our attention to the first aspect of our WooCommerce vs. Magento comparison article: easy of use.
1. Ease of Use
From product listings to inventory management, there are a lot of things to manage in an eCommerce store.
You should select a platform that allows you to easily manage different eCommerce operations through smart integrations and automation.
Let's start by looking at WooCommerce.
Ease of Use – WooCommerce 
WooCommerce is very easy to use and is perfectly suited for beginners. In fact, you don't need any coding knowledge to set up a new store from scratch with WooCommerce.
To make it even more simple for users, WooCommerce provides an easy-to-understand setup wizard that gives you a complete walk-through of the basics like page creation, payment setup, and more.
Plus, WooCommerce is flexible and highly customizable. You can personalize your online store with a variety of free theme options. You can change colors, add new functions, and insert images in your eCommerce store with just a few clicks.
But the best thing is that there are no limitations. This platform allows you to add unlimited products.
You can even create product listings and manage all the product data in a single dashboard:
Finally, you can add any feature you like to customize your site. Along with that, you get complete access to your site's backend if you want to make any technical changes.
Let's see how this stacks up with Magento.
Ease of Use – Magento
Magento comes with a modern and intuitive interface, but the setup process can be a bit challenging for new users.
You should have some technical experience to use Magento, specifically in the coding language PHP.
Experienced developers find the Magneto interface to be fairly reasonable. It has a quick self-hosting setup, and you get a consolidated interface when adding a new product.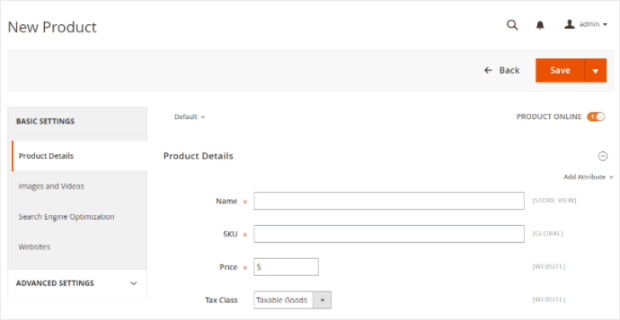 Magento's user interface (UI) can be a bit complicated for first-time users, but it offers a lot of scalability and flexibility options.
It's why the term "ease of use" can be a little difficult to judge. If you're an experienced coder in PHP, you'll find the platform a breeze.
If you're more on the creative side and you don't have a firm grasp of the technical side of things, then you'd likely run into some challenges along the way.
2) Payment Gateways
You will (hopefully) conduct a lot of online transactions when you're selling through your eCommerce store.
All you need is a secured payment gateway that supports a wide range of payment options.
We'll begin by looking at what WooCommerce has to offer.
Payment Gateways – WooCommerce 
With WooCommerce, you get a lot of flexible payment options.
It even supports popular payment processors such as PayPal and Stripe by default.
Plus, you can integrate the Cash on Delivery option where your customers can make payments once their order is delivered:

But if you're using WooCommerce, payment options are not just limited to PayPal and Stripe.
You can use all other popular payment services through addons.
The best part is that you can have unlimited store transactions, and WooCommerce won't charge you for that.
It's completely free. 
Only your bank or payment gateway will charge a transaction fee for your store transactions, but WooCommerce won't take a dime.
Payment Gateways – Magento 
Luckily for Magento users, this platform supports a lot of third-party eCommerce payment gateways.
It also supports popular payment processors such as Paypal, Stripe, Braintree, and more.
You can add almost all the popular payment integration extensions for Magento. However, most of them are paid: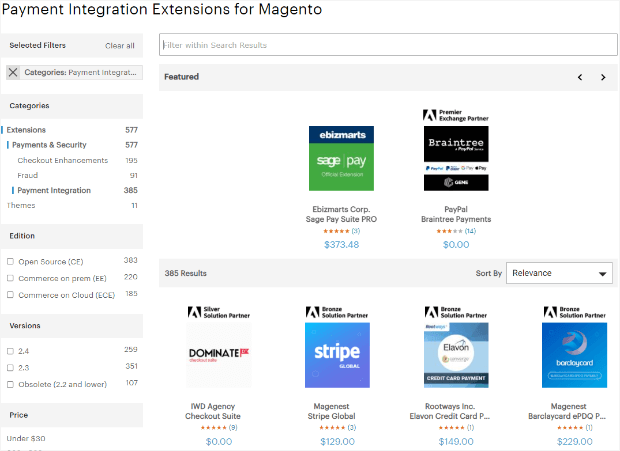 Adding a new payment gateway in Magento can be a bit tricky for first-time users.
You need to configure the payment module and payment method to implement payment processing.
Again, this comes back to Magento users needing to have a minimum amount of technical skills.
That means the payment gateways themselves might not be an issue, but paying for and integrating them can be depending on your level of expertise.
3) Addons & Extensions
If you're looking to expand your online store, then you need a few addons and extensions.
They help to boost store management, deliver fulfilling shopping experiences, generate more sales, and a lot more.
You should look for a platform that supports a variety of plugins and addons.
Addons & Extensions – WooCommerce 
WooCommerce users LOVE that this tool provides access to more than 55,000 free WordPress plugins and extensions.
More often than not, you'll find a plugin when adding a new feature to your store. If not, you can easily hire a developer to upgrade your site's functionalities because WooCommerce is incredibly flexible.
Plus, you can usually find more people experienced with adding plugins to WordPress for less money than you'd find someone who can add technical aspects to a Magento store.
That's because WordPress has a wide-ranging community online.
If you have any trouble installing these addons with WooCommerce (which you most likely won't), there are TONS of ways to get help on a tight budget.
You can also customize your WooCommerce store by using plugins for product listing, inventory management, shipping, tax calculation, delivery management, and a lot more.
Addons & Extensions – Magento 
Magento comes with a wide variety of paid and unpaid third-party addons and extensions.
You can find 5000+ extensions in the Magento marketplace.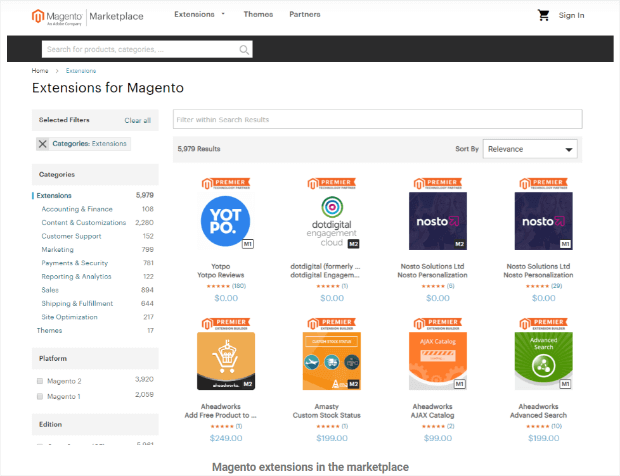 Magento users get a host of extensions for accounting, payment security, site customization, sales reporting, and more.
However, most of these extensions are paid and, generally speaking, require a bit more technical knowledge to set up.
This is one of the major drawbacks of relying on a platform that's highly technical: yes, those technical aspects do create a powerful eCommerce platform.
BUT if you can't use that power because you don't have the technical skills, it won't be an effective solution to your problem.
4) Affordability
Cost is one of the most influential factors when it comes to choosing an eCommerce platform.
You need to consider all costs associated with eCommerce store operations.
Ideally, eCommerce owners will look for low-cost platforms that tick all the boxes in terms of scalability, flexibility, and operations.
We'll begin by looking at WooCommerce.
Affordability – WooCommerce 
WooCommerce is a free, open-source platform with world-class support. Although it's free, you still need to pay for your domain name, web hosting, and SSL certification.
It typically costs around $29.99 per month.
And since WooCommerce is the world's most popular platform, there are many hosting companies that offer specialized and affordable WooCommerce hosting plans.
Bluehost is one of them: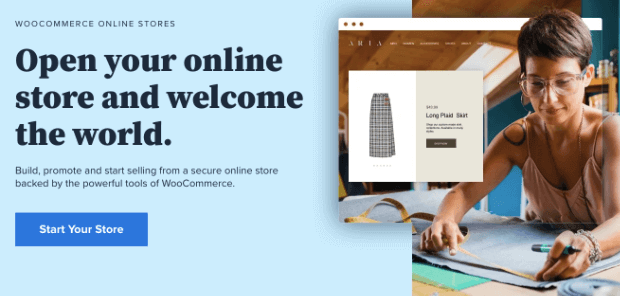 Bluehost is the official WooCommerce hosting provider. Bluehost's WooCommerce hosting plans are really affordable and are packed with a lot of freebies.
You can get your domain, hosting, and SSL certificate for as low as $12.95 per month. Plus, you get 24×7 support and free Office 365 for a month.
Affordability – Magento 
Magento offers three basic editions: Magento Community, Magento Enterprise, and Magento Enterprise Cloud.
The Magento Community edition allows you to easily install the software free of cost. However, you need to pay for hosting services, which generally start from $10.
Also, you need a domain, themes, and some extensions to get started.
The domain may cost you anywhere between $10 to $500 or higher. You can use free themes or get paid themes. Similarly, there are a lot of paid extensions, and you should buy the ones which your business needs immediately.
Magento Enterprise is the best fit for large eCommerce stores with complex business requirements as they come with amazing features for inventory and warehouse management, advanced admin roles, cutting-edge business intelligence tools, and more.
There is no fixed fee for Enterprise users. Instead, it's calculated on Gross Sales Revenue.
Magento Enterprise Cloud is an advanced hosting platform. It comes with a lot of advanced features such as web store scalability, added layers of security, 360-degree store customization, and more.
Since it's an automated hosting platform, hosting is already included. You just need to pay for domain and SSL to get started.
Magento Enterprise Cloud is loaded with intelligent features and is very costly. Pricing, again, involves your Gross Sales Revenue.
Verdict: WooCommerce or Magento? 
Our detailed guide has helped you understand that both WooCommerce and Magento offer a lot of personalization and scalability options.
The right choice is dependent on your business needs and your technical abilities.
That said, for the majority of eCommerce business owners, WooCommerce will be the better option.
WooCommerce is user-friendly and is perfectly suited for new or small eCommerce stores. The best thing about WooCommerce is that you can begin with very little investment on your end.
WooCommerce is also very easy to use, and it comes with a basic setup wizard that helps you to establish your online store without any code.
That means you likely won't need to hire developers to add new features to your site. Plus, if you do run into trouble, you'll have a large community to help you troubleshoot and find solutions.
Magento, on the other hand, is a good but advanced solution.
It's packed with many features in terms of store management, customization, accounting, and more. However, you can't use Magento without technical knowledge.
Or, at the very least, you'll be much more limited because it's tailor-made for experienced developers.
Before wrapping up, let's quickly address one issue that you'll face regardless of the platform you choose: getting MORE leads for your online store.
Getting New Leads on WooCommerce & Magento
Now that you're all set with your eCommerce store, you need leads.
And that means you need a tool that grows your email list, drives more conversions, and generates more revenue for YOUR business.
This is exactly what OptinMonster brings to the table.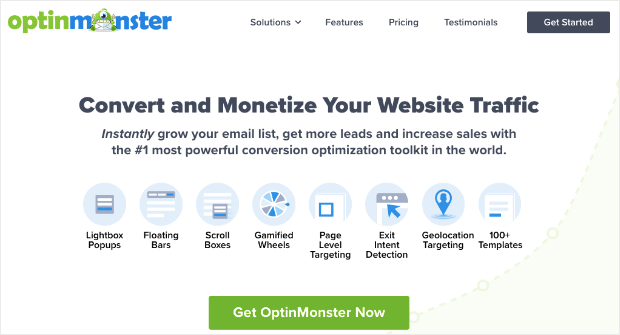 OptinMonster is the world's best lead generation tool. It allows anyone to quickly and easily create "optin campaigns."
These are things like popups, floating bars, fullscreen welcome mats, and so on.
That means you can create engaging popups like this in just a few minutes: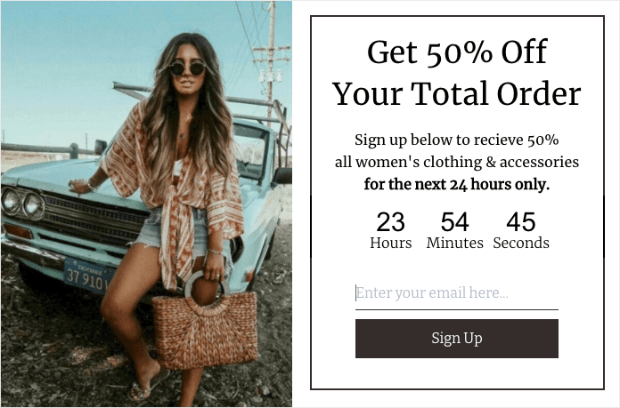 How can you do that so quickly and easily?
First, there are 50+ stunning templates that look great out of the box for all types of OptinMonster campaigns.
These templates are all mobile-friendly and responsive, so you don't have to worry about harming UX for mobile users.
And when you're ready to make a few changes, you can use OptinMonster's codeless drag and drop visual builder: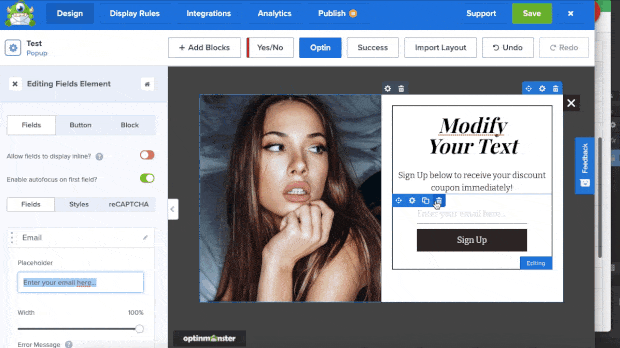 Once you design your campaign, you can start thinking about conversions with OptinMonster's powerful targeting rules.
These allow you to show your campaigns to the right people, in the right places, and at just the right time in their customer journey.
OptinMonster even has targeting rules specifically for WooCommerce stores. That means you can display a campaign based on:
Number of items in your customer's cart
Cart sub-total and total
Product tags
Product pages visitors have viewed
And much more…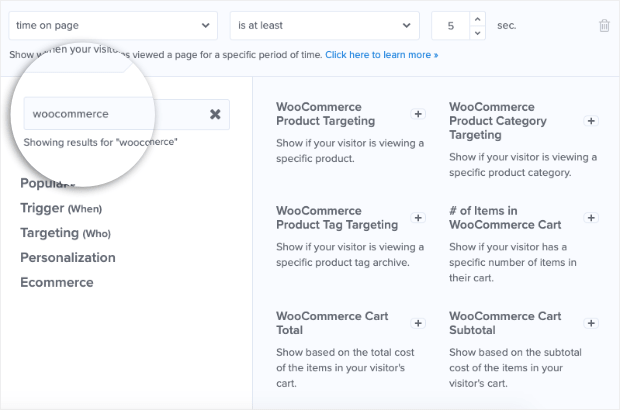 These are the types of targeting rules that eCommerce businesses such as DealDoktor used to increase conversions by 2100%.
And once you've gotten your new leads, you can integrate your email service provider in seconds.
This allows you to send new leads to your contact lists depending on which offer people signed up for. Then you can personalize your email marketing strategy for higher conversions.
It's what makes OptinMonster your BEST bet for generating leads for either WooCommerce or Magento, depending on the platform you choose.
Highlights
Simple drag and drop builder to build amazing optin campaigns in just a few minutes
100+ pre-built campaign templates
High-converting campaign types such as gamified wheels, floating bar, fullscreen welcome mat, lightbox popups, and more
Powerful intent-based campaign triggers and targeting rules powered by behavior automation
Comprehensive insights and A/B testing to get desired results from campaigns
Best-in-class customer support
Want to get more leads with OptinMonster? Then get your 100% risk-free OptinMonster account below:
Get Started With OptinMonster Today!
BONUS: Done-For-You Campaign Setup ($297 value)
Our conversion experts will design 1 free campaign for you to get maximum results – absolutely FREE!
Click here to get started →
And that's all for today!
We hope this has helped you get a clear understanding of the key differences between WooCommerce and Magento.
If you enjoyed this post, you'll definitely want to check out the following articles:
These resources will help you to generate more online revenue from your eCommerce store, regardless of the platform you build it with.