Are you looking for the best popup software to generate leads, but aren't sure which one will work best for you?
OptinMonster and Popupsmart are both popular popup platforms. Both come with important features to grow an email list and generate sales.
But which one is the best tool for scaling your business?
In this article, we'll compare OptinMonster and Popupsmart in different categories to find out the best of the two.
Before we jump into the actual comparison, let's get a bit more familiar with the individual products.
We'll start with Popupsmart.
What is Popupsmart?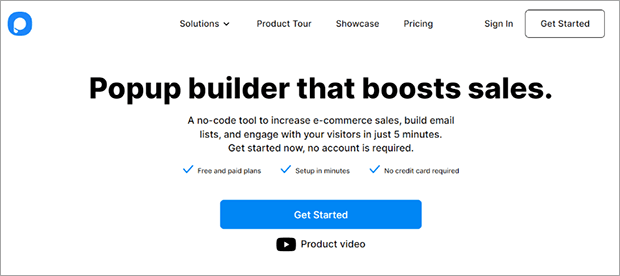 Popupsmart is a tool that aims to increase business conversions with the help of popups, and forms. It comes with an easy-to-use popup builder that helps you create popups quickly, including lightboxes, sidebars, floating bars, and fullscreen campaigns.
You can customize the color, fonts, and typography with the styling settings. Next, you can set the targeting rules and triggers for showing popups on your website.
The popups are responsive and device friendly. You also get the option to select whether you wish to show or hide popups on different devices.
The good thing about Popupsmart is it's very easy to use and a suitable option for beginners who need a simple popup tool for their website.
Now that you're aware of what the Popupsmart tool is, it's time to meet OptinMonster.
What is OptinMonster?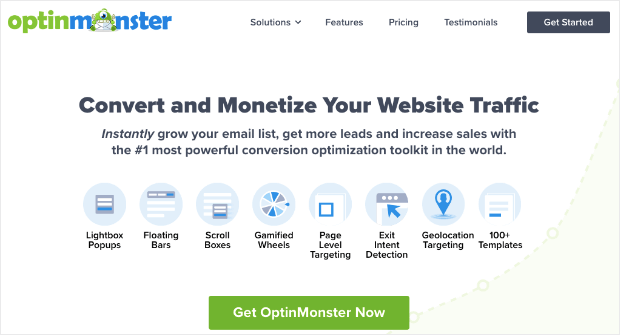 OptinMonster is the #1 lead generation tool that lets you create beautiful popups, inline forms, gamified wheels, floating bars, and content locker popups.
All these campaigns help you get more email subscribers, which means more leads and turn them into paying customers.
OptinMonster's ultimate goal is to help you increase the conversions, so you can scale your business.
Using OptinMonster's drag and drop builder you can create any campaign in minutes with no coding experience. You also have access to 100+ readymade templates designed by experts.
Once you design the template, you can easily use targeting rules to show them to the right audience at the right time and place.
This way, you can be assured that you're capturing enough leads for business growth.
If you're curious to know how OptinMonster has helped businesses, check out these success stories that our customers have proudly shared:
Want to see the same results for your brand? Click the below link to start your risk-free OptinMonster account today.
Sign Up For OptinMonster Today!
BONUS: Done-For-You Campaign Setup ($297 value)
Our conversion experts will design 1 free campaign for you to get maximum results – absolutely FREE!
Click here to get started →
It's time to deep dive into our OptinMonster vs Popupsmart comparison.
OptinMonster vs Popupsmart Review
In today's OptinMonster vs Popupsmart review, we'll look at which tool offers the best features. Here are the specific categories in which we'll compare both the software today:
Let's begin with our comparison.
1. Ease of use
Any lead generation tool you'd use should have a simple interface.
Both OptinMonster and Popupsmart come with an easy-to-understand dashboard, and you do not need coding knowledge to get started with either of them.
Let's start with Popupsmart first.
Once you signup for Popupsmart, you can log in to your account.
Within the dashboard, click on the Create a new popup button. Here you can give a name to your campaign and proceed to the popup builder dashboard.
You'll have to go through four steps to create and configure your campaign.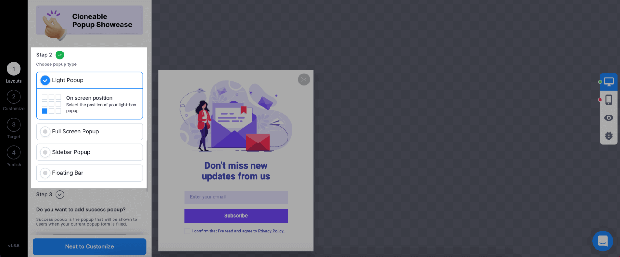 The first step is to select a template and then choose the popup type. However, there are limited options; you can only select from light-box popup, full-screen popup, sidebar popup, and floating bar popup.
Next, you can style the color, fonts, and typography from the customize section.
Their third step offers options to set the targeting rules and triggers, such as scroll percentage and exit intent.
The final step is publishing the campaign and verifying the added website integration.
Now that you know the Popupsmart process, let's turn to OptinMonster.
If you don't have an active account, you can signup for OptinMonster now!
Once you login into your account, creating a new campaign is super easy.
The first step is to select the type of lead generation campaign for your business. OptinMonster offers more campaign types than Popupsmart.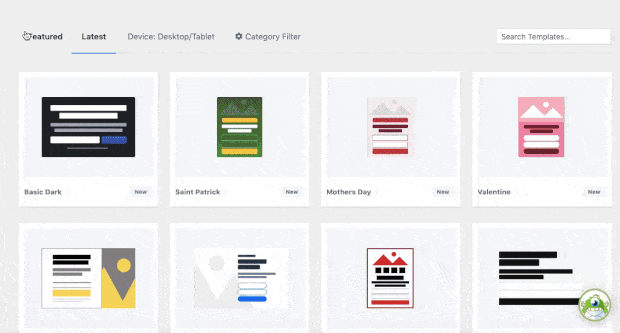 While both products offer lightboxes, floating bars, sidebars and fullscreens, OptinMonster also offers slide ins, gamified campaigns like the coupon wheel, and MonsterLinks.
In the next step, you get ready-made templates designed by experts. You can use these templates with minimal editing or give them your personal touch.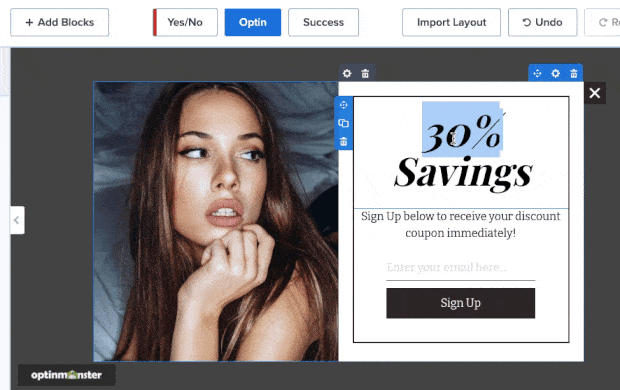 OptinMonster's easy drag and drop builder makes it easy to add blocks and create professional-looking popups in just a few minutes.
To get the maximum conversions out of your newly designed template, you can use OptinMonster's advanced targeting rules like page-level targeting, different user activities, exit intent, and many more.
Next, you need to integrate the template with your favorite email marketing software. Popupsmart has just over a dozen marketing integrations, while OptinMonster has nearly three times as many, including Zapier, Webhooks, and Custom HTML. OptinMonster seamlessly integrates with all the popular email marketing software available.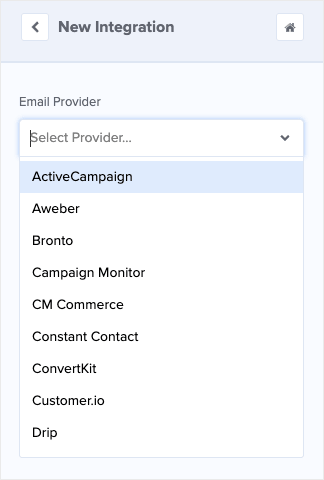 That's all you need to create high-converting campaigns to scale your lead generation process.
2. Campaign Types
One of the top reasons for selecting a lead generation plugin should be the ability to create different types of campaigns.
But why is that so important?
Because if you only go with the popup approach that comes up repeatedly, you might end up irritating the visitors. So instead of getting potential leads, you'll lose website visitors.

With Popupsmart, you can only create four types of campaigns:
Lightbox popups
Sidebar popups
Fullscreen popups
Floating bars
These are the only campaigns available in Popupsmart, and there is no mention of form opt-in campaigns.
On the other hand, OptinMonster has way more campaign types available, for example:
Lightbox popups
Fullscreen welcome mat
Gamified wheels
Inline forms
Sidebar forms
Floating bars
Slide-in scroll box
Content locker popups
And many more.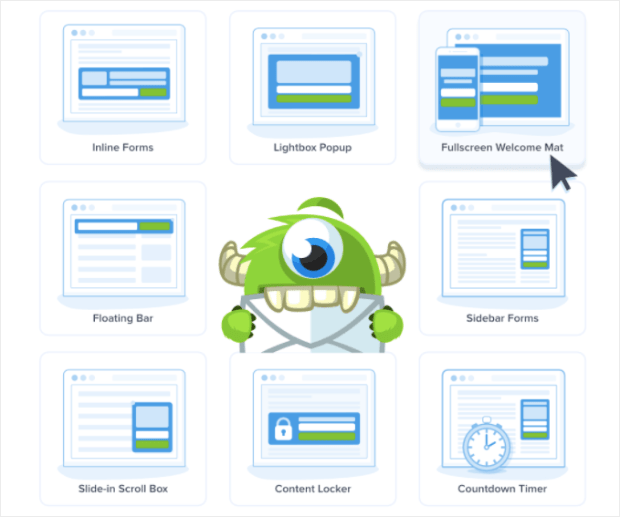 You can easily create multiple campaigns targeting the same audience with different types of form and popup campaigns.
Your visitors will not get annoyed if they see a fixed sidebar subscription form or an inline form within the post content.
Rather than relying on just a few popups, you can try and play around with the variety of campaign types available and see what brings in the most number of conversions.
OptinMonster is clearly a winner and has all the necessary features across different campaign types.
3. Triggers and Targeting
The most important thing after creating beautiful templates is to show them to the right audience at the right time.
That is possible when you've advanced targeting rules and event triggers.
Popupsmart comes with a good set of targeting rules like after scroll, device-based triggers, HTML, user inactivity, exit intent, and so on.
These options are good for someone just beginning with their website but established owners looking to scale their business need more powerful solutions.
Now, let's turn to OptinMonster to see what value it brings.
OptinMonster offers many more targeting rules and triggers to maximize your conversions and increase sales.
Every targeting rule available at Popupsmart is also available within OptinMonster, plus all these and more:
OnSite Retargeting: It allows you to show new campaigns to returning visitors based on how they interacted with the old campaigns.
OnSite Follow Up Campaigns: Create automatic popup drip campaigns for your website users when they've already seen the popups.
AdBlock Detection: Check if the users use AdBlock technology on their browser. This is effective because thousands of users block popup ads, but still you can show them your offers.
Inactivity Sensor: Show popups in case users haven't performed any activity to grab their full attention.
Geo-Location: Target website users based on their location.
And many other advanced level triggers that are easy to configure with OptinMonster's display rules menu.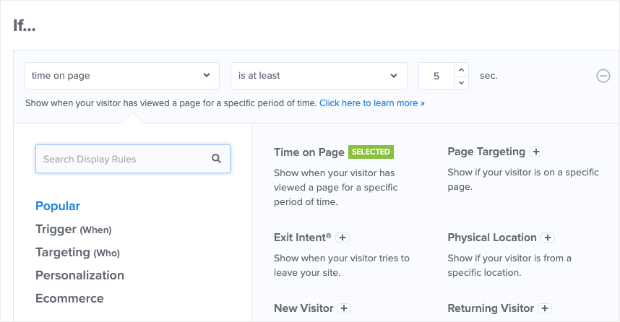 You can set specific pages from the easy-to-understand dropdowns.
This way, OptinMonster helps you get much more conversions than any other lead generation software.
4. Pricing
Pricing is a crucial factor to consider while finalizing a tool for your business.
For a tool like lead generation, you should ideally less and let the software pay for itself from profits that you get from new leads.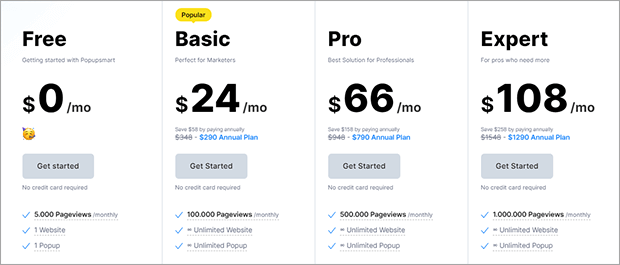 Popupsmart's basic plan starts at $24/month which gives you access to create unlimited popups. They also have a free plan wherein you can use their tool if you've less number of pageviews on your website.
If your website receives more page views, you can purchase from either the Pro plan which costs $66/month or goes with the expert plan which costs $108/month.
On the other hand, OptinMonster comes in four pricing plans:
Basic: $9/month
Plus: $19/month
Pro: $29/month
Growth: $49/month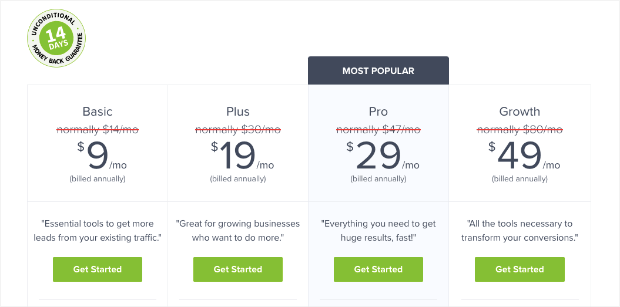 As a beginner, you can start with the Basic plan and move to higher plans as your business needs grow over time. This is very important because you'll not need to pay for extra features unless you're using them.
Not only do you pay less in the case of OptinMonster but also get access to features that are not available in Popupsmart software.
Although, Popupsmart offers a free plan for low-traffic websites it does not unlock its most important features in the free plan.
OptinMonster vs Popupsmart: Which Is the Best Popup Plugin?
Now that you know which plugin has advanced campaign creation options, plenty of trigger settings, targeting rules, and other essential features, you can easily opt for the best popup plugin for your business.
OptinMonster is the clear winner in the lead generation software market.
Want to try OptinMonster for your business? Click the below button and sign up for a 100% risk-free OptinMonster account today!
Sign Up For OptinMonster Today!
BONUS: Done-For-You Campaign Setup ($297 value)
Our conversion experts will design 1 free campaign for you to get maximum results – absolutely FREE!
Click here to get started →
And that's all for today's post.
We hope this OptinMonster vs Popupsmart comparison will help you pick the best popup plugin for your website.
If you liked this comparison, don't forget to check out the below comparison posts:
All these posts will help you understand how OptinMonster is a better lead generation plugin and why you should opt for it to scale your business.
What are you waiting for? Sign up for OptinMonster today!
If you liked this tutorial, please follow us on Facebook and Twitter for more free WordPress tutorials.