Are you looking for an in-depth MailerLite review to see if this email service provider is right for you?
Email service providers (ESP) have a bundle of tools that help you build, grow, and stay in contact with your email list. From building eye-catching emails, automating everyday tasks, and building workflows, ESPs can certainly make your life easier.
In today's post, we'll be doing an in-depth review of one of the most popular email service providers on the market: MailerLite.
More specifically, this MailerLite review will look at the tool in terms of:
Feel free to use the table of contents above to jump around to the topics you'd like more information on.
Let's get started to discover if MailerLite is the right email service provider (ESP) for your business.
MailerLite Review: What Makes It Perfect for You
MailerLite is a popular email provider that is more powerful than the name suggests. The only "lite" thing about MailerLite is the effort you have to put in to make it work for you.
While it has plenty of other marketing features, we'll only focus on MailerLite's email design and service tools for this review.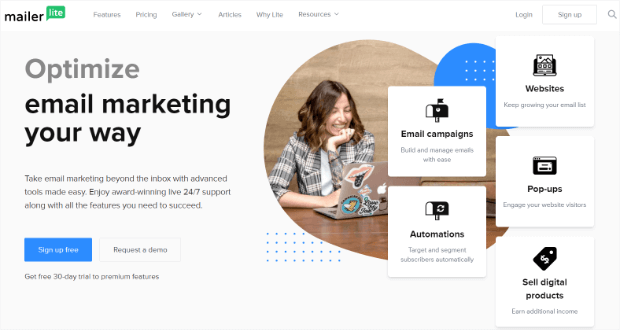 Let's dive right into our MailerLite review:
1. Ease of Use
When we're talking about using any ESP, we need to make sure it's easy to do 2 main things:
Setup the service
Design a new email campaign
a) Setup: Ease of Use
Getting signed up for MailerLite is incredibly easy. Like the other email service providers we've reviewed, you only need some basic information and a few minutes to get set up.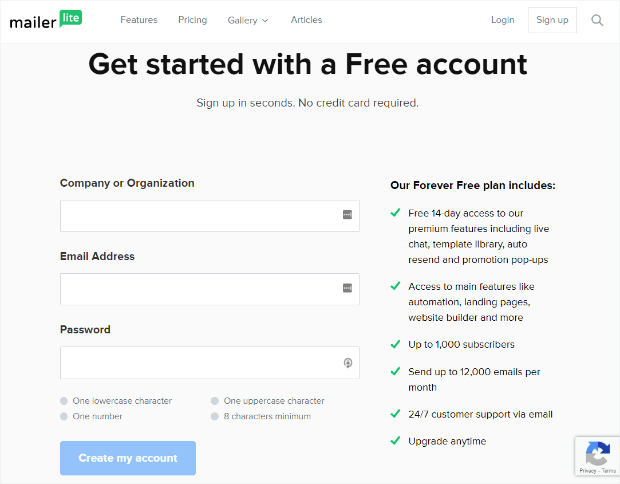 After entering your contact information, you'll be taken right to the MailerLite dashboard. Then, if you are ready to start designing an email campaign, you can go ahead and get started.
Though, to actually send those emails, you need to finish setting up your MailerLite profile. To do that, just click on the grey Complete Profile button.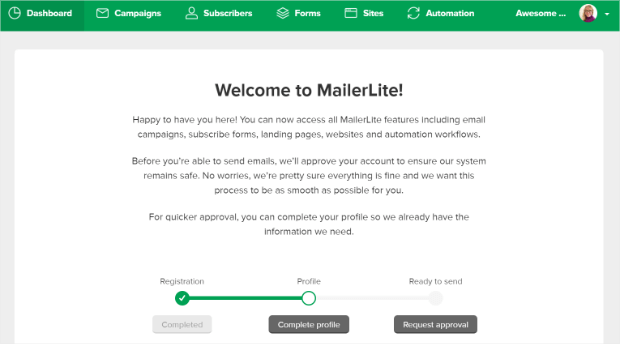 This will take you to a questionnaire page. Here, MailerLite will ask you everything they need to help you comply with the CAN-SPAM Act and international anti-spam laws. Also, you'll answer other questions so MailerLite can customize the platform to fit your specific needs.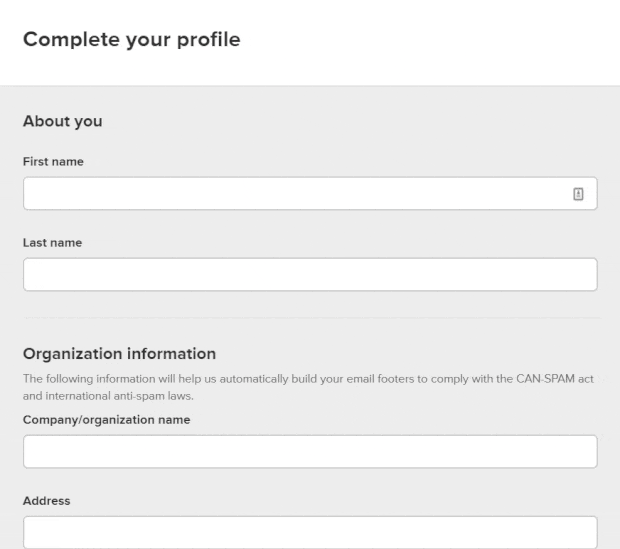 MailerLite only accepts contacts that you receive with their permission. So, if you buy lists or add emails to your lists without the person's consent, you will be unable to contact them with this platform.
And that's it. Your profile is all set up, and you're ready to go! Just remember to click Request Approval on the main dashboard screen to start sending emails.
This was a quick and easy signup and setup process. However, there are some steps with the MailerLite setup that we didn't encounter with other providers.
However, we understand that MailerLite wants to protect its platform from spam and other harmful accounts, so we won't take any points off for that.
b) Campaign Design: Ease of Use
Designing a campaign with MailerLite is simple.
To get started, it's as simple as clicking on the green Campaigns button on your dashboard.
Before you design your campaign, MailerLite collects some data to set up your email.
It's just standard stuff like your subject, language, sender name, and email address.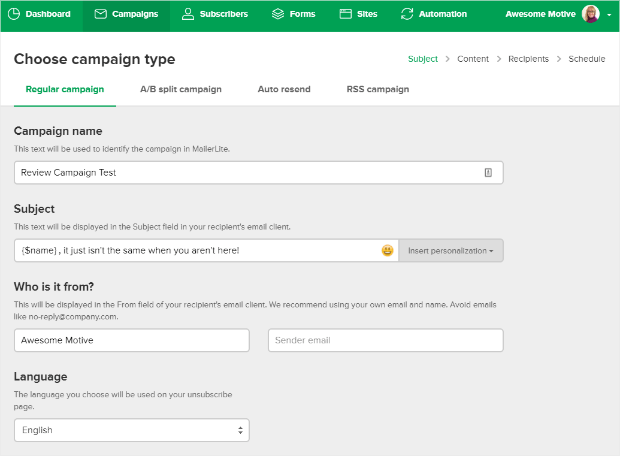 In your subject line, MailerLite also has personalization tags to make your email stand out in your customers' inboxes.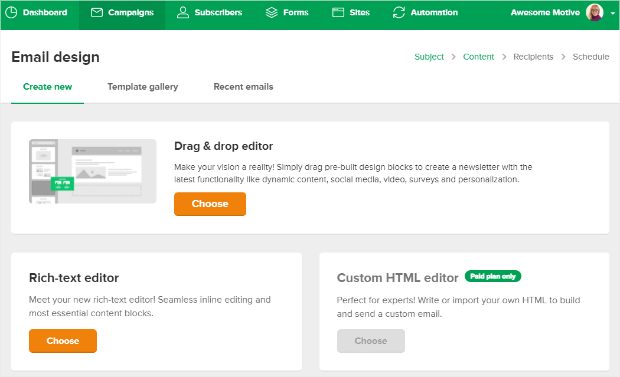 MailerLite has 3 different editors, so you can use whichever one you feel most comfortable with.
For most, the drag and drop editor will be the best choice.
Now, MailerLite does offer 76 design templates. However, they are locked if you are in the free tier.
If you click on the + button next to Email design, you'll get a menu with templates and designs to choose from.
We'll look at how easy it is to use the drag and drop builder for this review.
Drag and Drop Editor
When you go into the builder, you'll have a live view of your email. It comes preloaded with a basic design that's ready for your company's unique touch.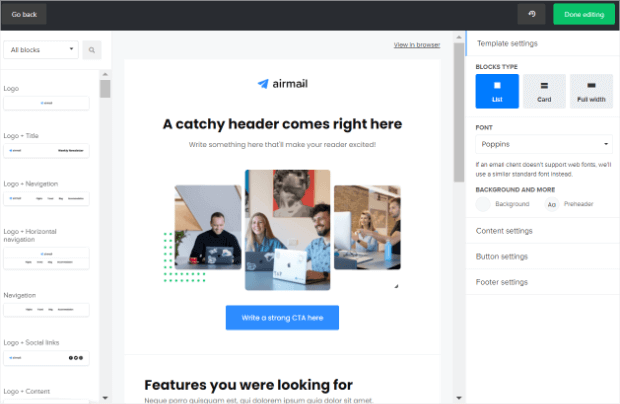 Using the designer is simple. If you want to add additional elements, known as blocks, to your email, drag them in from the menu on the left side of the designer. Then, click on it and drag it if you want to reposition them on your email.
Then, to change the way your elements look or act, click on it and change the settings on the right side menu.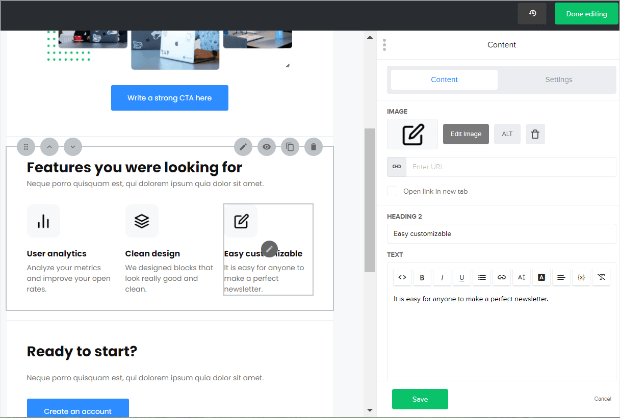 With the MailerLite designer, you can design a professional-looking email pretty quickly and relatively easily.
Pro Tip: When you click on a section to edit, the list of blocks on the left disappears. Just scroll to the bottom of the area you are editing on the right side and click Save to bring it back. Then the block menu will come back.
One thing that's unique to MailerLite that we loved is the image editing feature. If you have an image that needs a little bit of extra spice to stand out, MailerLite has the tool to help.
With their image editor, you can add filters, text, and more to your images.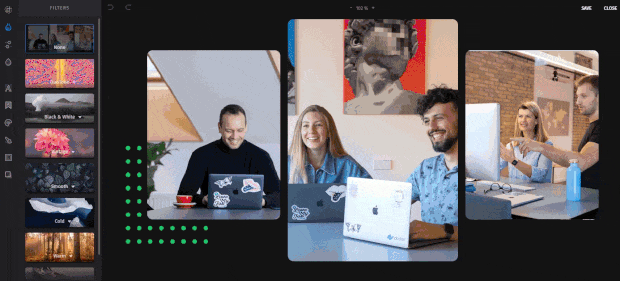 Then when you are done designing, all that's left to do is pick which of your email lists will receive the email.
Designing a campaign in MailerLite was fun, fast, and stress-free. When's the last time you used those words to describe sending emails?
Moving forward in our MailerLite review, let's look at how flexible it is to adapt to your business.
2. Flexibility
When it comes to flexibility, we look at 2 main things:
First, can MailerLite grow with your business?
Does MailterLite work with the programs and tools you already use?
MailerLite answers with a loud and enthusiastic "Yes" to both questions.
When you are just getting started with email marketing, your needs will be vastly different from those with an extensive list of subscribers. And MailerLite knows that.
For instance, you will not have to pay for the service until you grow above 1,000 subscribers or send over 12,000 emails in a month.
While some functions are locked in the free tier, you still have more than enough tools to run a successful email campaign. But once you start in the paid levels, all features are unlocked. The price you pay is only based on subscriber numbers.
And that's it. You can't get too much more flexible than that!
But how about the programs you are already using to help market your business?
MailerLite integrates with over 130 other programs and platforms ranging from eCommerce to project management and beyond. So, chances are, whatever online tools you are using, MailerLite will work hand in hand with them.

It's obvious that MailerLite is flexible but can it save you time?
To find out, let's go over some of the automation tools MailerLite offers.
3. Automation
MailerLite's automation helps guide your customers through every step of their customer journey, from new leads to completed purchases.
And this is all hands-off for you, so you are free to focus on other things.
With the MailerLite automation builder, you can build dynamic workflows with a few clicks of the mouse.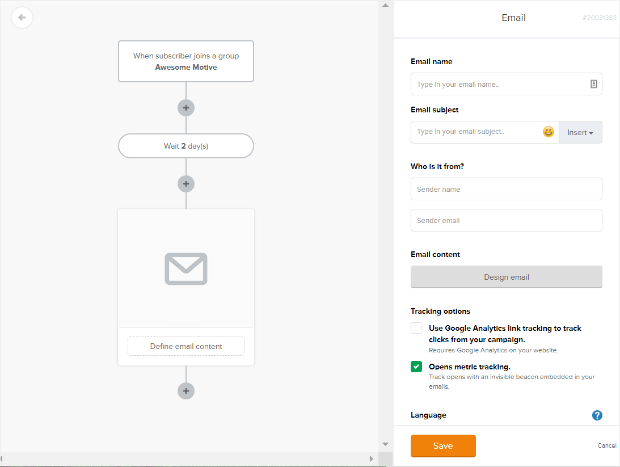 MailerLite has 6 triggers to choose from to start an automated workflow:
Subscriber joins a group
Subscriber completes a form
Subscriber clicks a link
Updated fields
Anniversaries
Trigger on exact dates
Then, you can decide what happens when that trigger occurs. So, you can tell MailerLite to send a specific email, wait to send the email, set additional qualifiers, and more.
Essentially, automation puts a lot of your email marketing tasks on autopilot. No more stressing out about customers that fall through the cracks. Instead, you can rest assured that each customer is being taken care of.
With MailerLite, you can make each workflow as simple or complex as you'd like. Then, you can set it and forget it.
And that's the true heart of automation: saving time, increasing sales, and enhancing the customer experience.
We've talked about how to send emails and automate your email lists. But how do leads get there in the first place? Up next in our MailerLite review, we'll look at lead generation.
4. Lead Generation
Like most other email service providers, MailerLite has tools to help generate leads.
But like every other email service, lead generation is just an added tool. It isn't the main focus, so the tools aren't the best at attracting and generating high-quality leads.
So what does that mean for your business?
Lost sales and conversions because of limited design options, the inability to target your ideal audience, and showing your campaigns at the wrong time.
While you can design email optin campaigns with MailerLite, you are limited to:
24 templates
5 display positions (featured, floating, slide box, half-screen, full-screen, and on click)
6 display rules (based on scroll distance, time on page, exit intent, duration between campaigns, and pages it should show on)
Sure, that's a good start. But it's not the best start. And when you want your business to succeed, you can't settle for just "good."
To maximize the number of quality leads for your email list, you need a tool that has a singular focus on lead generation.
Generate More Leads With OptinMonster
The best tool to use to instantly grow your email list is OptinMonster: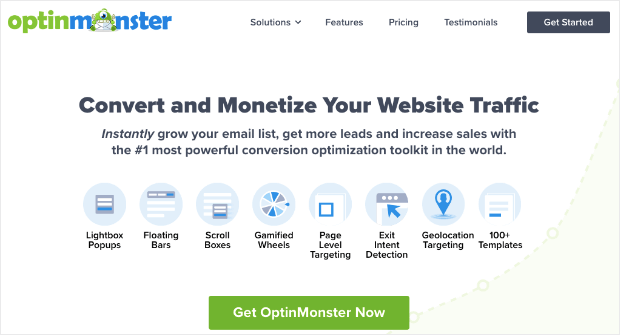 OptinMonster is hands down the world's most powerful lead generation tool.
Exponentially grow your email list with a combination of eye-catching designs and powerful targeting rules.
With OptinMonster, you don't need to know how to code or be a designer to create high-converting lead generation campaigns. That's because OptinMonster comes with over 50 beautiful pre-made templates.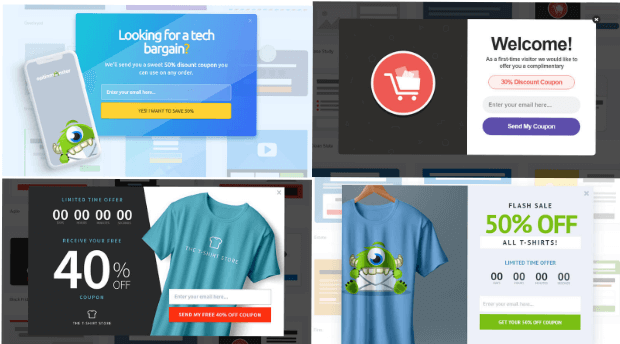 Plus, with OptinMoster's drag and drop visual builder, you can edit your lead generation popup with just a few clicks.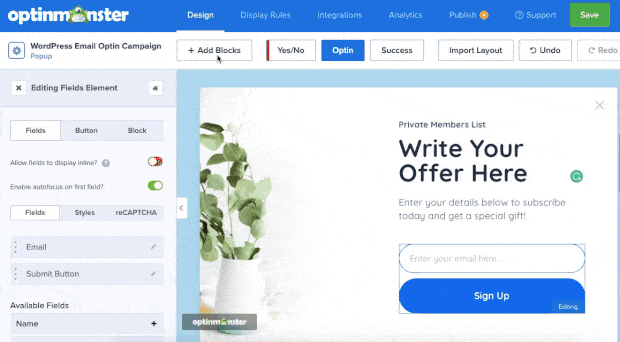 But why do you need a separate tool like OptinMonster for lead generation?
OptinMonster has industry-leading targeting rules that result in even more people signing up for your email lists.
While MailerLite has 6 display rules, OptinMonster sets the standard with 46.
More display and targeting rules mean you can show your lead generation campaigns optimized for different audiences.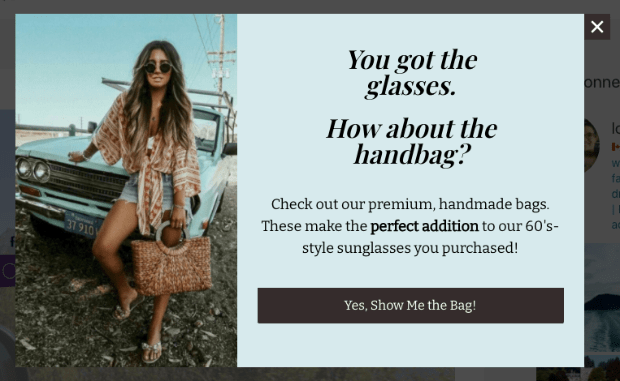 Not only does OptinMonster let you personalize where you show each campaign, but you can target specific people and actions with rules like:
Exit-Intent® Technology: Trigger your campaign to appear when visitors actively leave your site.
OnSite Retargeting®: Shows new campaigns to returning visitors.
Geolocation: Personalize campaigns based on the visitor's physical location.
Finally, OptinMonster and MailerLite seamlessly integrate so you can feed your leads right into your lists.
But how do we know that it's the wisest decision to use separate tools for lead generation and emails? Because we see the results every day.
In fact, using OptinMonster is how Cosmetic Capital exploded their email list by 300%.
You too can experience these spectacular results by clicking below and starting your 100% risk-free OptinMonster account today:
Get Started With OptinMonster Today!
BONUS: Done-For-You Campaign Setup ($297 value)
Our conversion experts will design 1 free campaign for you to get maximum results – absolutely FREE!
Click here to get started →
5. Pricing
MailerLite pricing is simple and easy to understand.
You only pay in tiers for the number of contacts on your account. No more trying to balance features and paying for more than you need.
As your business grows, so do your MailerLite plans.
The MailerLite free tier includes 1,000 subscribers and 12,000 monthly email sends. If you want to upgrade to unlimited email sends with 1,000 subscribers, that tier is $10/month.
For 1,001 – 2,500 subscribers, you'll pay $15/month. 2,501 – 5,000 subscribers will run $30/month. Finally, 5,001 – 10,000 users are $50/month.
All paid plans include unlimited email sends.
Verdict: MailerLite Is It the Right ESP for You?
If you are a small business with a modest budget, MailerLite is the perfect email service provider for you.
MailerLite is a robust tool that does more than just send emails. With a clean interface, you can get in, get your email work done, and move on with your day.
Though, if you want to make the most of your marketing time and budget, remember to pair it with OptinMonster to add even more leads to your automated email campaigns.
And that's all for today! We hope you found this MailerLite review helpful.
If you did, then you'll definitely want to check out the following resources:
These articles will have even more valuable information to help your email marketing efforts reach the next level by driving more leads and sales.
Want even more conversions? Get started with OptinMonster today!