Are you looking for an in-depth Mailchimp review to see if you should sign up for this popular email marketing platform?
An email marketing platform comes with all the essential tools that let you build and grow your email list. From optin forms to email builder, you'll get everything you need to kick off your email marketing campaign.
In today's post, we'll give you all you need to know about one of the most popular email service providers on the market: Mailchimp.
More specifically, this Mailchimp review will look at the tool in terms of:
Feel free to use the table of contents above to jump around to the sections that interest you most.
Otherwise, let's start from the top to discover if Mailchimp is the right email service provider (ESP) for your business.
Mailchimp Review: Do You Need This Popular ESP?
Mailchimp is a well-known email service provider that offers more features to help market businesses and launch websites. Though it does have various marketing features, we will be exclusively focusing on Mailchimp's email design and service tools.
Let's dive right into our Mailchimp review:
1. Ease of Use
When we're talking about using any ESP, it's essential to look at how easy it is to do two main things:
Setup
Design a new campaign
a) Setup: Ease of Use
Mailchimp's setup is straightforward and only needs some basic information before you are free to start using the platform.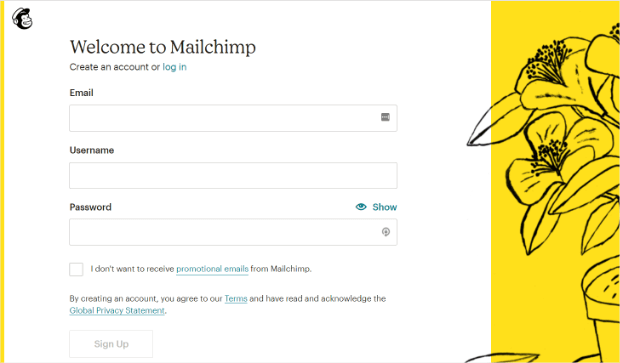 Though, right off the top, Mailchimp has you select a payment plan before you even set up a profile and can get into the platform.
Now, there is a free plan with a maximum of 2,000 contacts and 10,000 sent emails. It just seemed a bit abrupt, especially compared to similar ESPs we've reviewed.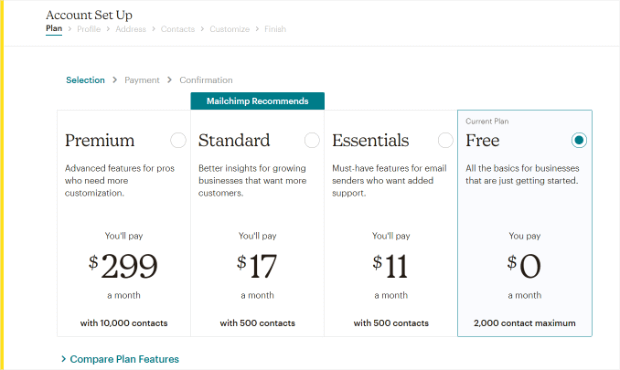 As part of the account setup wizard, Mailchimp will prompt you to enter essential information about your business, like an address and phone number. This is to help make sure you comply with international anti-spam laws.
The setup wizard will also walk you through several questions to help customize your profile:
How many contacts do you have?
What do you sell online (products or services)?
How do you sell the products or services?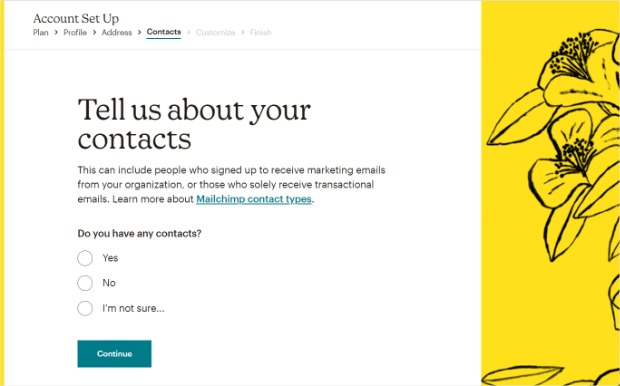 Once you are prompted to sign up for Mailchimp's newsletters (personalized based on your answers), you are taken to your dashboard.
The dashboard is customized with recommendations on how to get started.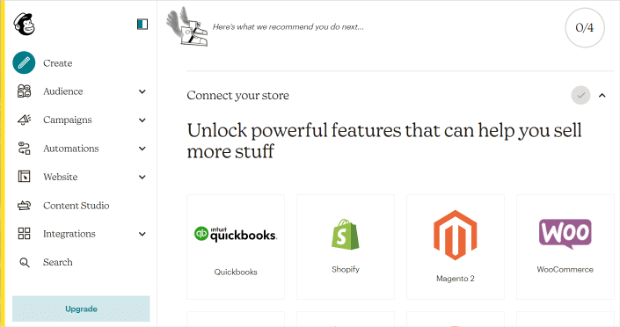 Where most other ESPs offer a tour of the program, along with suggested tasks, Mailchimp skips the tour and gets you right to work.
Overall, signup was easy to navigate and took less than 5 minutes to complete.
b) Campaign Design: Ease of Use
Mailchimp takes a checklist approach to email design. This lets you easily see what is left to complete.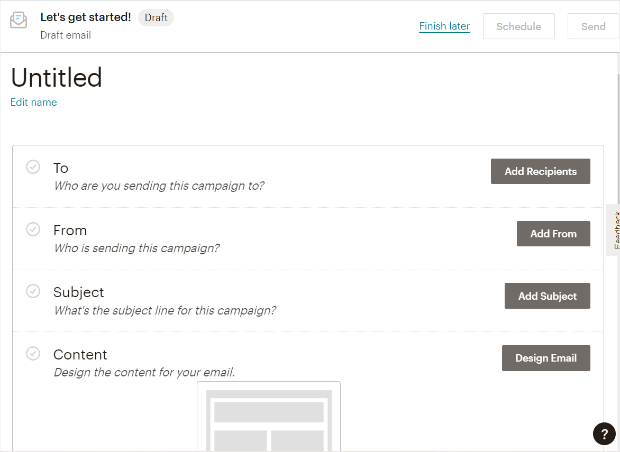 At the time of publication, Mailchimp has a new email builder in beta testing.
We'll be using the classic builder for our review as the new builder is not fully live.
Mailchimp has multiple layouts and themes to pick from. Choosing a layout gives you more design input in terms of images, colors, and the overall look of your campaign.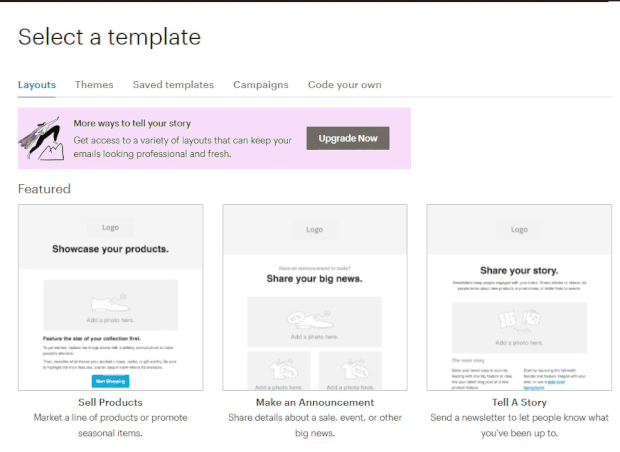 Note: Most layouts and themes are locked in the free plan.
There are several different templates under each theme to best customize your campaign. Each one is different, so you are sure to find one that fits your business needs. They are labeled with the business type and function they are best used for.
For instance, we picked a sale announcement template for eCommerce.
To help you save time, the fields in the email template are labeled for the best purpose. For instance, it tells you where to put your featured product, images, related products, promotions, and more.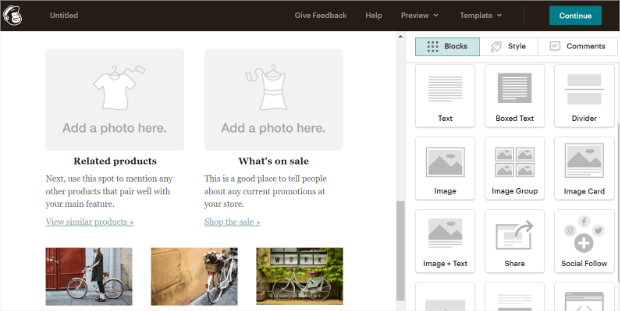 If you want to edit any part of the template, just click on the block. A new menu will appear, giving you control over the block's content, style, and other settings.
There are some other features that you can add to your email:
Social follow icons
Videos
Images
Text boxes
And more…
In the layout builder, you won't see the same placement prompts. This builder is best for those who need a little more design flexibility.
One issue we ran into with Mailchimp's campaign design was that the builder was slow to load. If you are short on time, precious seconds are wasted on waiting.
Moving forward in our Mailchimp review, let's look at some of its other functions and features.
2. Flexibility
Flexibility with Mailchimp dramatically depends on the plan you use. The number of account users, user roles, email sends, contacts, and features are limited or blocked in the free package.
For instance, there is no email or live chat support for the free plan after the first 30 days. Otherwise, you will need to upgrade to start unlocking these.
Now, there is a lot of flexibility regarding integration with other marketing platforms. In fact, there are over 300 programs and tools that integrate with Mailchimp. Some of the more popular integrations are:
Shopify
Stripe
WordPress
LiveChat
Zapier
Canva
Square
A special word of warning for anyone in the affiliate marketing industry: Mailchimp has a strict policy prohibiting affiliate marketing as an industry on its platform.
Now, you are allowed to use certain affiliate links in your campaigns. However, there are rigid and very specific rules about what links are and aren't allowed. If you send out a link that violates this policy, your account will be suspended and possibly permanently closed.
Yes, email marketing can take a lot of time and work.  So, let's see if Mailchimp can help you automate tasks.
3. Automation
The last thing you want to worry about when dealing with emails is manually sending them out.
After all, that's one reason you probably are looking at this review.
Most people want to take a "set it and forget it" approach to email marketing. You set up the email funnel, design the emails, and leave it to the email marketing tools to handle the rest.
Mailchimp does offer some automation features. However, if you are only using their free plan, you are limited to only 1-step automation flows.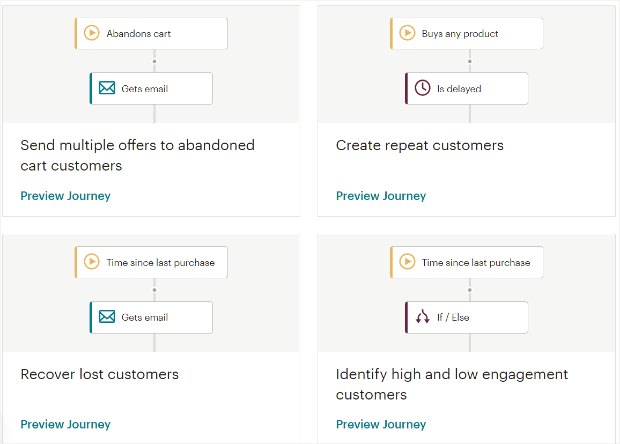 If you upgrade to their paid plans, you can create more detailed and targeted automation.
Mailchimp offers a variety of automation templates based on a different of objectives like:
Welcoming new contacts
Recovering lost customers
Reorder reminders
Collecting feedback
And more…
You can also create your own custom customer journeys with the paid plans.
But how do you get leads to start your customer journey? Up next in our Mailchimp review, we will look at lead generation.
4. Lead Generation
Like most email service providers, Mailchimp also includes a lead generation tool.
However, just like most email services, lead generation is just an added function and not the main focus of the software. This means that options for layout, design, targeting, and other display rules are severely lacking.
While you can design email optin campaigns for your site in Mailchimp, you are limited to:
5 layouts
Two popup positions (slide and modal)
One display rule (based on time or scroll distance)
That's not the best way to collect leads for your business.
How Can You Effectively Generate Leads?
What you need is a tool that's primary focus is on lead generation.
That tool is OptinMonster: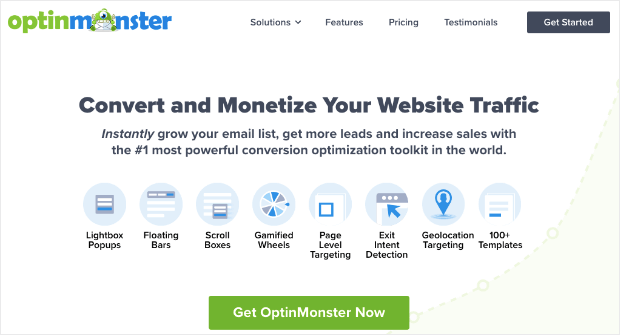 OptinMonster is the world's most powerful lead generation tool.
With a user-friendly design, you can quickly build professional campaigns that generate leads and convert visitors.
You don't even need any coding or design knowledge to create your own eye-catching campaigns. That's because OptinMonster comes with 50+ pre-made templates.
Plus, with OptinMoster's drag and drop builder, you can edit your popup with just a few clicks.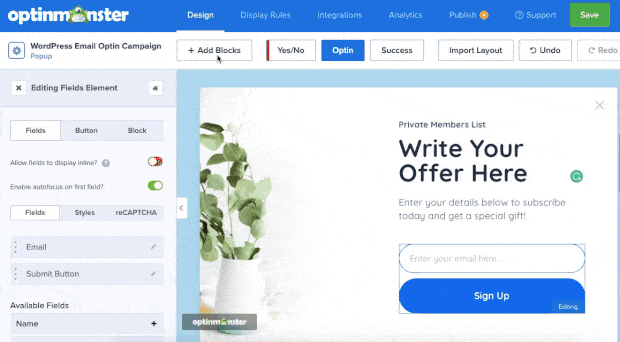 Plus, you can add new features, such as:
Videos
Custom HTML
Countdown timers
And more…
But why should you use a different tool for lead generation?
OptinMonster has advanced targeting rules that result in HIGHER conversions.
One area where Mailchimp lacks is targeting rules. Simply, there are no targeting rules.
Meanwhile, OptinMonster gives you many options to target your ideal audience. Some popular campaign targeting rules are:
Exit-Intent® Technology: Trigger your campaign to appear when visitors actively leave your site.
OnSite Retargeting®: Shows fresh campaigns to returning visitors.
Geolocation: Personalize campaigns based on the visitor's physical location.
Finally, OptinMonster and Mailchimp seamlessly integrate so you can email your leads right away.
How do we know? Because we see it happen every single day.
In fact, using OptinMonster and Mailchimp is how DateID experienced massive growth, increasing subscriptions by 175% every month.
Or how Human Food Bar amplified their email list by getting 1800 subscribers each month, using welcome popups and Onsite Retargeting® targeting.
You can experience these dazzling results by clicking below and starting your 100% risk-free OptinMonster account today:
Get Started With OptinMonster Today!
BONUS: Done-For-You Campaign Setup ($297 value)
Our conversion experts will design 1 free campaign for you to get maximum results – absolutely FREE!
Click here to get started →
5. Pricing
Depending on your email marketing needs and goals, Mailchimp has a plan for you.
Since Mailchimp offers a suite of products, we will only look over email marketing and ESP features and pricing.
Mailchimp's free plan sets you up with all of the basics you need to launch email campaigns. With this, you will receive:
Up to 2,000 contacts
Up to 10,000 sends per month
1-step automation
Access to the Subject Line Helper tool
Basic email templates
Though the free features are minimal, it is an excellent option for those looking to try out the platform.
Paid plans start at $11/month. Though your contact limit is reduced to 500 on this plan, it does unlock many necessary features like custom branding, email support, and A/B testing.
If you go for the basic plan and want to keep the 2,000 contact limit, you will be paying around $34 a month.
Verdict: Do You Need Mailchimp?
We've gone over quite a few features and some issues here in this Mailchimp review. But one question remains: do you NEED this email service provider?
While Mailchimp is a popular marketing platform that has a lot of features, there are a few areas that may concern small businesses on a tight budget:
No email or live chat support after the first 30 days on free plans
Very limited functions
Strict policy prohibiting affiliate marketing
Though, with this in mind, we wouldn't say that Mailchimp is an absolute need for those with tight budgets and that need more features.
Instead, we suggest Constant Contact or Brevo for those businesses.
And that's all for today! We hope you found this Mailchimp review helpful.
If you did, then you'll definitely want to check out the following resources:
These articles will have even more valuable information to help take your email marketing efforts to the next level, driving more leads and sales.
Want even more conversions? Get started with OptinMonster today!