OptinMonster offers seamless integration with MailChimp email marketing service. Connecting OptinMonster to your MailChimp email list is very easy. Follow our step by step guide on how to connect OptinMonster with your MailChimp account.
---
Step 1 – Integrations Tab
If you're uncertain how to add your integration, you can follow our guide for connecting to Email Service Providers and CRMs.
Next, select MailChimp from the Email Provider drop-down.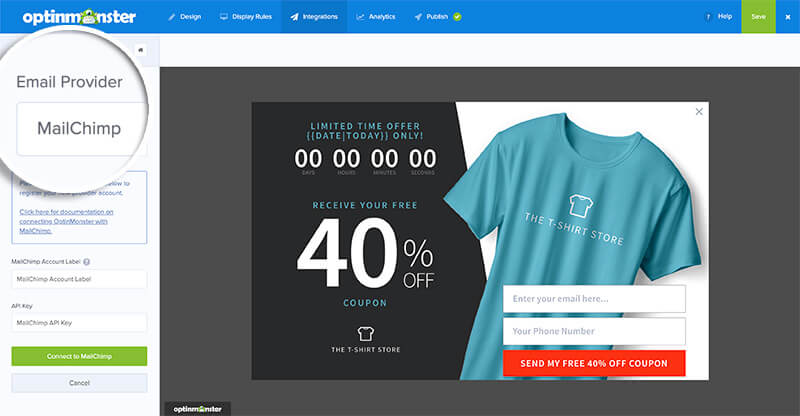 Step 2 – Log into Your MailChimp Account
To obtain your MailChimp API credentials, log into your MailChimp dashboard and navigate to your Account page from the dropdown menu next to your avatar and name.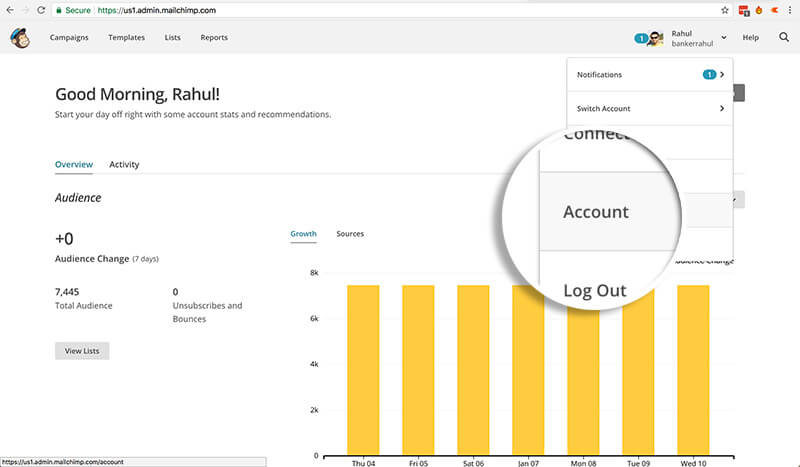 On the Account page, you will need to select the API Keys link under the Extras drop down menu.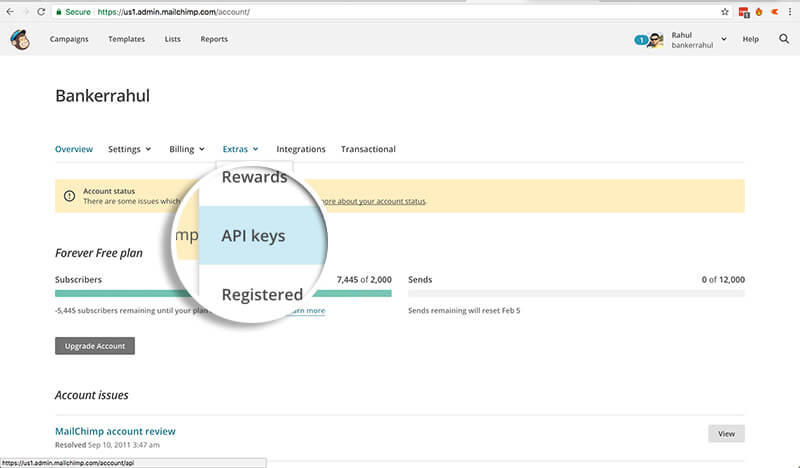 Scroll down the page, and copy the specific API Key you wish to use. You may wish to Create A Key if none are listed or you wish to use a new one.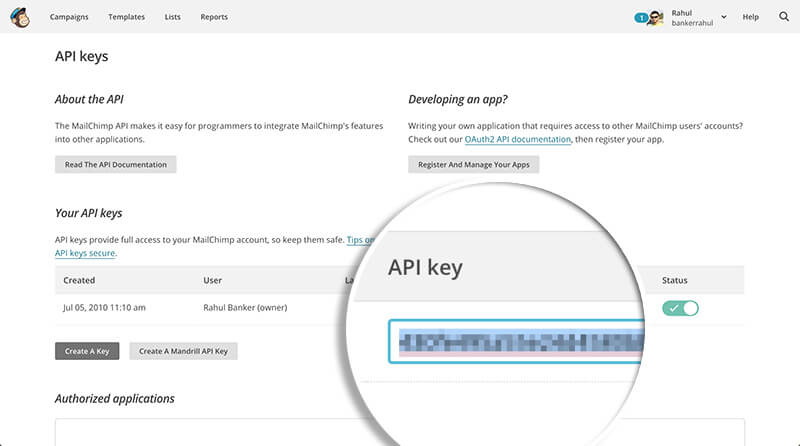 Step 3 – Enter the API Key
In the Campaign Builder, paste your API Key into the corresponding field. Don't forget to add a unique label for easy identification! Then, select the Connect to MailChimp button.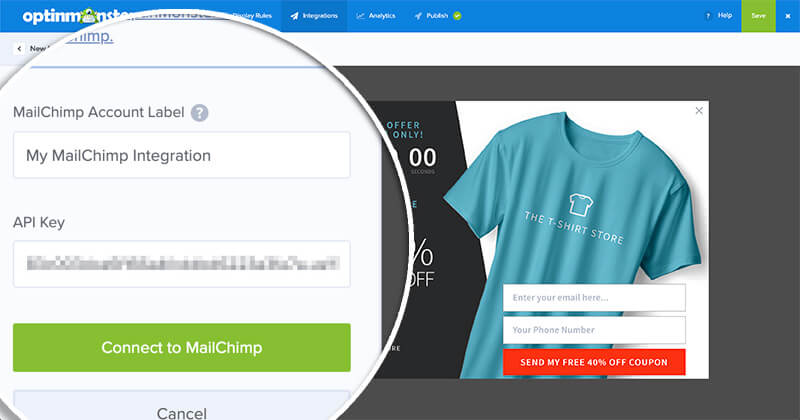 Step 4 – Select a List
OptinMonster will now connect to your MailChimp account and fetch your email lists. Select an email list you want users to subscribe to.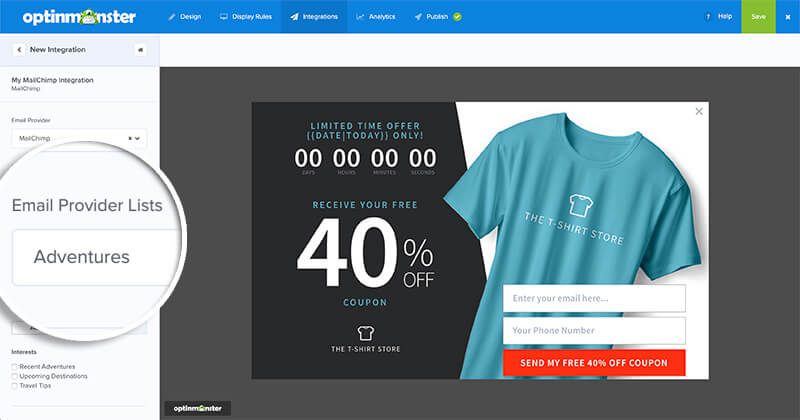 Step 5 – Configure Lead Options (optional)
You'll also have the option to Enable Double Opt-in for your campaign or assign MailChimp tags to your leads.
That's all, you have successfully connected OptinMonster to your MailChimp account!
Ready to start showing your campaign? See our guide on how to embed your campaigns on your website!
---
FAQs
Q: How do I configure single or double opt-in?
A: See our guide on single vs. double opt-in for MailChimp.
---
Q: How do I send welcome emails to new leads?
A: MailChimp allows you to send a final welcome email to new leads. In order to send final welcome emails:
For marketing purposes, most users should use the MailChimp automation to send a series of emails to new subscribers.
---
Q: Can I add MailChimp groups?
A: Yes! To help provide clarity on implementing MailChimp groups on your campaign, we've created a standalone guide for adding leads to your MailChimp groups here.
---
Q: Is it possible for me to add a phone field to my campaign?
A: Yes! You can add a phone field. Check out how to capture phone numbers with OptinMonster
---
Q: Why am I receiving a "failed to connect" error when trying to connect MailChimp with OptinMonster?
A: This can happen if the API Key you're using has maxed out the number of allowed simultaneous connections.
We recommend creating a new API Key to connect to OptinMonster to resolve this issue. If you're unable to generate a new API Key for some reason, re-trying every 5 minutes until the connection is accepted should also resolve the issue.
---
Q: Can I receive the IP address of my lead directly into MailChimp?
A: With our native integration we do send over the IP Address of your lead. It should go to MailChimp fields:
ip_signup AND / OR
ip_opt
---
Q: Why is the phone number not getting saved in the MailChimp list?
A: Please log into your MailChimp account and navigate to Lists > Select your List > Settings > List fields and *|MERGE|* tags – from this screen you can edit your input fields.
Make sure your phone field has the value of PHONE. After you make that update, you should be good to go.