Do you want to learn how to set up affiliate link tracking in WordPress and boost your affiliate revenue?
Affiliate marketing lets people make money by helping to promote another company's products and services. The best part is that you'll never have to worry about inventory, shipping, or customer service.
All you have to do is maintain your own website and market products.
It shouldn't be a surprise that content is king in the world of affiliate sales. But how do you know what content is actually driving your affiliate marketing sales? And how can you quickly get started?
That's why today, we will show you the exact steps to easily track affiliate marketing sales to make your revenue soar.
Why is Tracking Affiliate Sales Important?
Affiliate marketing sales are just one of a seemingly endless list of metrics that you can track. But, if you are short on time and manpower, the most important metrics to measure are sales and clicks.
But why are tracking sales and clicks so important, other than knowing how much you are making?
First, it helps you refine your marketing strategy. By tracking your affiliate marketing sales, you'll quickly see trends in what links are the most and least profitable and what is driving people to buy.
Tracking will also help you figure out what products are in demand. That way, you can promote complementary products to help pull in even more sales.
Secondly, tracking the number of clicks on your links will help you create content that drives conversions. Converting visitors to paying customers (also referred to as conversion rate) is the lifeblood of sales. The data you collect will show you what content resonates best with your audience.
Do they respond best to a listicle? Or maybe your audience can't refuse a well-placed and expertly timed popup (more on those later).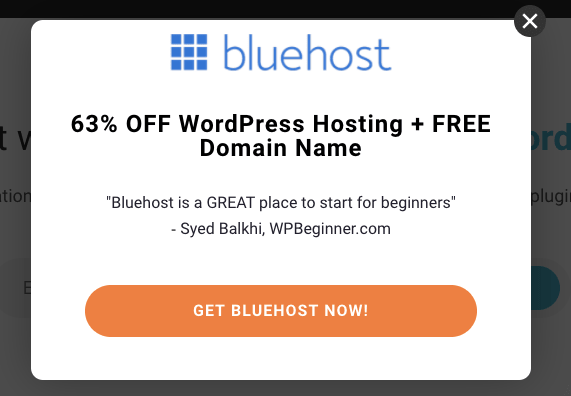 Ultimately, affiliate marketing sales and click-tracking will be a vital key to figuring out the strengths and weaknesses of your site.
So, how do you start tracking? Let's go through it together, step by step.
How to Track Affiliate Marketing Sales
Unfortunately, if you use affiliate links across different companies, there isn't one singular tool that will measure your total sales. However, there is a very powerful tool that will track conversions and clicks on your affiliate links.
Using this tool will help you track all of the essential metrics we talked about early, like clicks and conversions.
But, first things first. This tool will only work if you use a website to post your affiliate marketing links. Likewise, if you only post links through social media, this method will not work.
So, what is this tool?
If you use WordPress to build and manage your website, the easiest way to track affiliate marketing sales is through a Google Analytics plugin like MonsterInsights.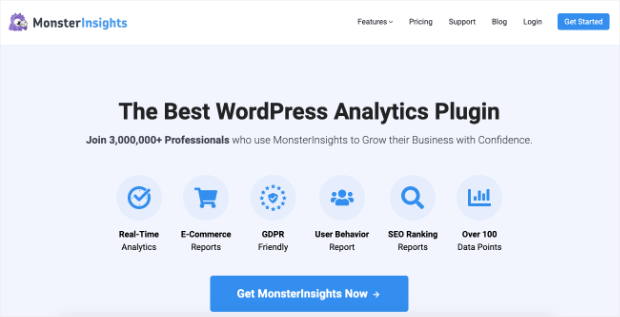 With MonsterInsights, you can automatically set up affiliate link tracking, making it a powerful affiliate marketing tool to track sales.
In fact, by using MonsterInsights on your WordPress site, you get access to many pieces of important and advanced Google Analytics data right in your WordPress dashboard. Plus, you don't need to add any code to get it set up. Together, they help you gather all the data you need to track your affiliate links.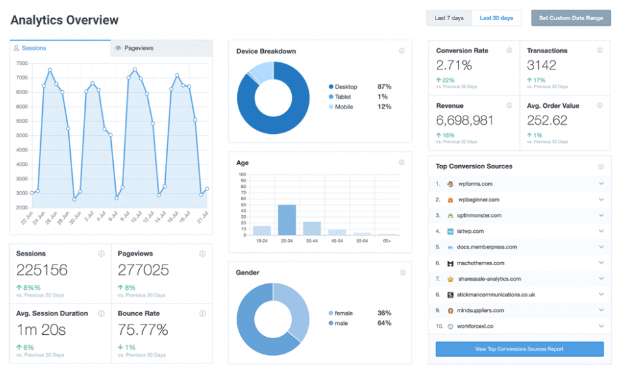 To get further into the numbers, MonsterInsights provides reports specifically for affiliate sales.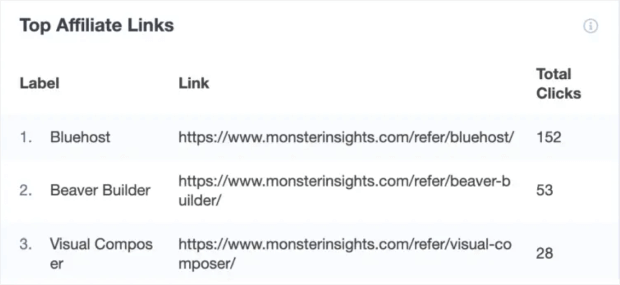 As you can see, this report lets you check out clicks on each link, so you can identify the best performers.
Plus, you can check out these metrics and more, all without leaving your WordPress dashboard.
So, how can you get MonsterInsights onto your WordPress site?
Step 1: Install MonsterInsights
MonsterInsights is simple to install on WordPress. To start, you'll need to download the plugin.
First, create or log into your account on the MonsterInsights website.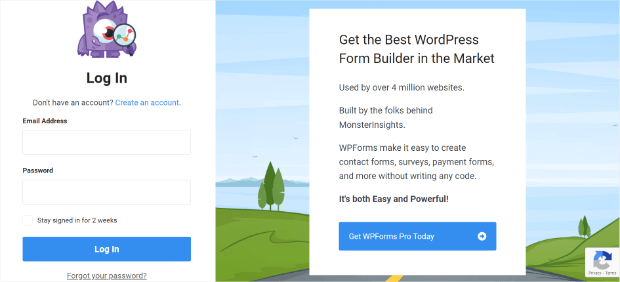 Then, click on the MonsterInsights Downloads tab.

Now, you'll need to download MonsterInsights. So, click on the large blue Download MonsterInsights button next.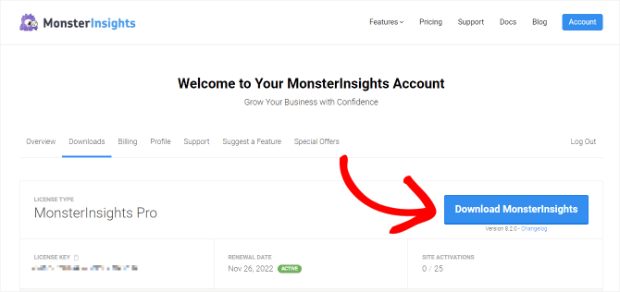 Next, we need to add this to your WordPress site. First, you'll have to remove any tracking codes or Google Analytics plugins that you might have previously installed on your site.
Once that's one, log in to your WordPress admin site and navigate to the admin dashboard.
Click on Plugins > Add New and click on Upload Plugin at the top of the screen.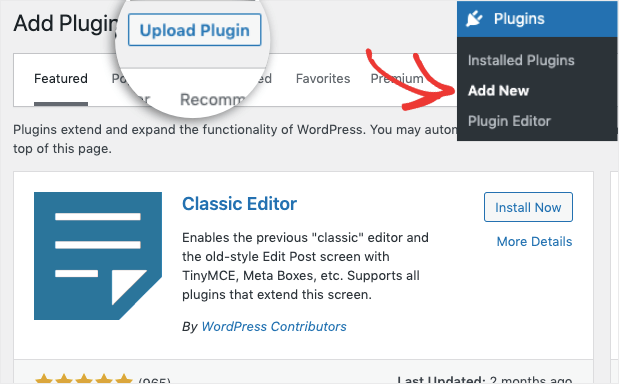 Now, click on Choose File to select the zip file you downloaded from the MonsterInsights site. Then, click on Install Now to both upload and install MonsterInsights.

Once the MonsterInsights plugin is installed, you'll need to activate it on your site. So, go ahead and click on Activate Plugin.

Finally, you'll need to enter your license key from the MonsterInsights My Account page. Once you find it, copy the key.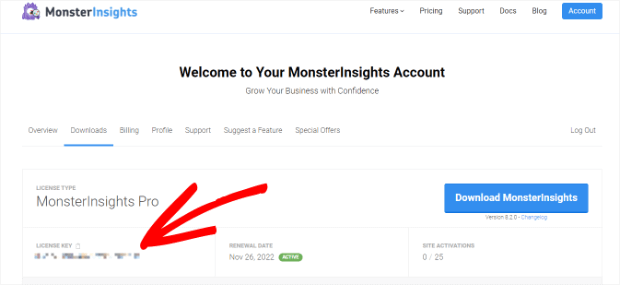 Moving back to your WordPress dashboard, navigate to Insights > Settings and paste your key in the License Key field.
Finally, click on the Verify Key button.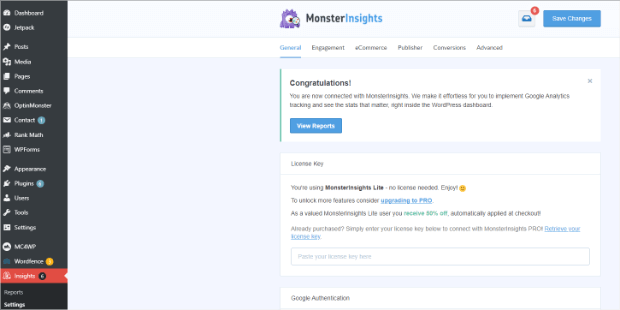 The setup wizard in MonsterInsights will also walk you through connecting your account with Google Analytics.
MonterInsights is now installed and is ready to track your affiliate link data. Now we need to tell it what data it should follow.
Step 2: Manage Affiliate Links
Let's face it, most affiliate links are lengthy and complicated. As you collect more links from more companies, tracking them will become even more difficult. Some links don't even give you a clue what the product is for.
How are you supposed to remember what every affiliate link points to? It can get confusing and frustrating unless you start tracking all of the links manually.
So, let's make it easy on ourselves by redirecting all of these ugly and cumbersome affiliate links to ones that all include the same path.
What do we mean?
Just image you own a website at thisismywebsite.com. You get an affiliate link from OptinMonster through our affiliate program, which looks like this:
shareasale.com/r.cfm?B=601672&U=123456&M=49337&urllink=
By using WordPress plugins to manage your links, you can redirect the link to a URL that's easier to remember and recognize, like:
thisismywebsite.com/affiliate/OptinMonster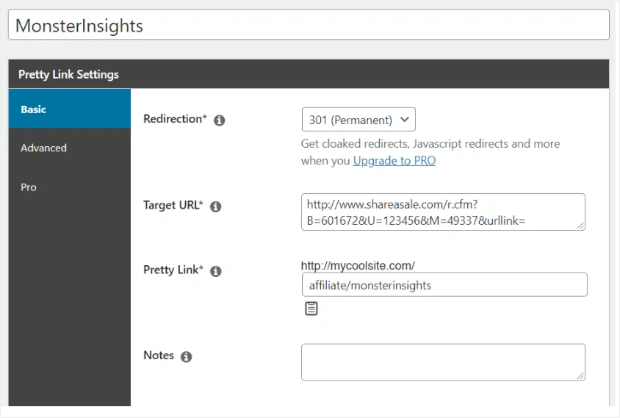 Then, you can put that clear and, quite frankly, pretty URL on your website. When someone clicks on it, they'll still be taken to the original link you got through the affiliate program.
MonsterInsights works with both ThirstyAffiliates and Pretty Links. Therefore, we have included links to their guides to get started with both plugins.
Once you do this, then MonsterInsights will start tracking data on your affiliate links.
IMPORTANT: When changing your links to the link management plugins, make sure they all include the same path. In our example, we used /affiliate/. Use whatever makes sense to you, but make sure it's consistent in all of your links.
Step 3: Set Up Affiliate Link Tracking
Now that you've organized and standardized your affiliate links, you are ready to finish setting up MonsterInsights.
In your WordPress dashboard, click on Navigate to Insights > Settings, and click on the Publisher tab at the top of the page. Then, scroll to the Affiliate Links section.
If you are using /affiliate/ as your path, then that's what we will track in this step. Otherwise, put the path that you picked in the Path box.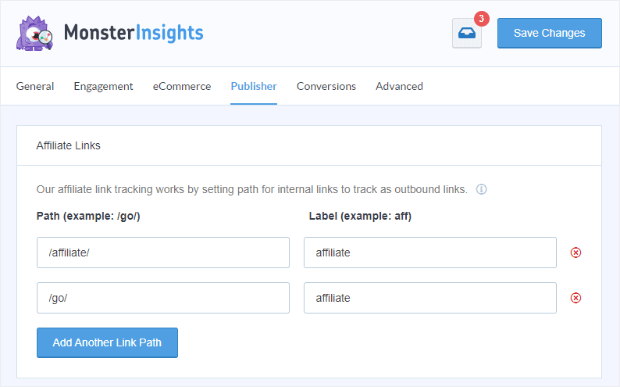 As you can see, there is an option to add multiple paths. If you want to really organize and segment your paths, feel free!
Once you've filled in your paths, click the Save Changes button.
Now, MonsterInsights will automatically start tracking your affiliate marketing links.
Are you ready to better understand how your own affiliate links are performing?
Get started with MonsterInsights today!
Boost Affiliate Marketing Sales
Now that you know how to track your affiliate marketing links let's boost those sales.
Visibility and personalized targeting get the right affiliate links in front of the right people. Or maybe you have an affiliate link that you really want to push.
Then, we have the perfect way to do both of those things and more.
This is where OptinMonster comes in.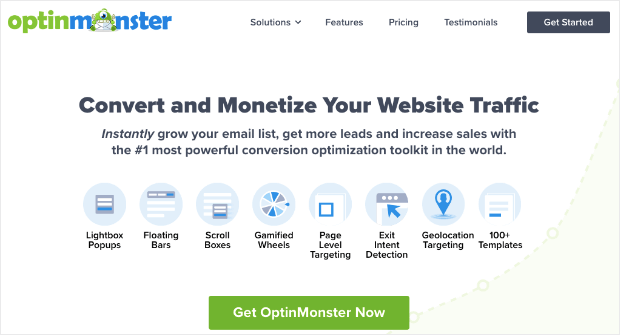 OptinMonster is the most powerful targeting and popup creation tool on the market.
Now, this isn't just any old popup that will just get ignored.
OptinMonster gives you the tools and tricks you need to create a hard-to-refuse popup to promote your affiliate products.
With over 50 stunning templates and 9+ campaign types, you will be sure to catch your visitors' attention.
And with its drag and drop builder, you can customize everything about your campaign, including the text, images, and color. It also lets you add advanced elements like countdown timers, photos, videos, buttons, and more.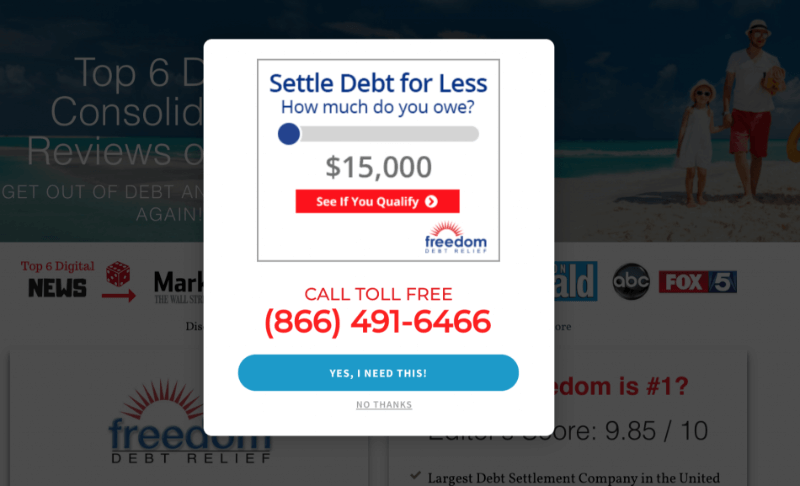 But what about those powerful targeting features we mentioned?
OptinMonster allows you to customize which visitors see your campaign and when. So you can target your audience based on their activity, interests, and behavior on your site.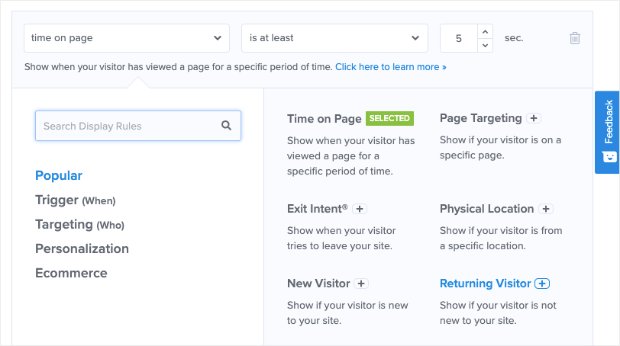 Like tracking your affiliate marketing sales, you can track how well your campaigns are working with an easy-to-understand dashboard. A/B testing will also let you test different campaigns in real-time.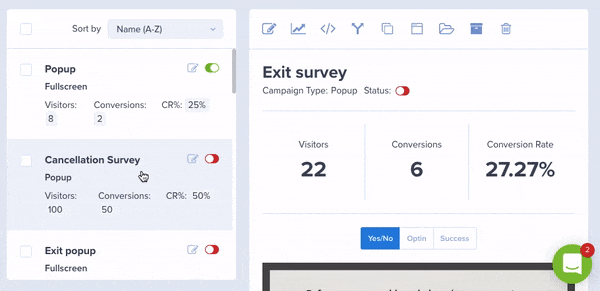 And, with OptinMonster's powerful Exit-Intent® technology, you can send abandoning users to the affiliate's product pages. That's exactly how Top 6 Digital made 30% more money.
Now, it's time to get the same results for your website.
Get Started With OptinMonster Today!
BONUS: Done-For-You Campaign Setup ($297 value)
Our conversion experts will design 1 free campaign for you to get maximum results – absolutely FREE!
Click here to get started →
And that's it! You now have the tools and know-how to track and boost affiliate marketing sales.
We hope you enjoyed this article. If so, you might find these resources helpful:
These articles will help you increase affiliate marketing sales while launching better campaigns.