Are you trying to figure out how to use gamification to boost engagement on your website?
The way you interact with your customers is important.
But so is the way your customers interact with you.
So what if we told you there was a strategy that would immediately hook your site's visitors and increase the odds they'd subscribe to your site?
AND what if this strategy would improve the user experience (UX) at the same time?
This is exactly what we're going to cover in today's post. Because, in this article, we're going to teach you how to use gamification to get users engaged on your site.
Before we start, though, let's get clear on what we mean by gamification.
What Does Gamification Mean?
Gamification is when marketers incorporate game-like elements into their marketing strategy to make a user's experience (UX) with their product or services more enjoyable. These gamification elements can include:
Keeping scores
Tallying points
Unlocking surprises
Spinning a wheel for exclusive rewards
And much more…
Gamification in business is effective because it brings something fresh to interrupt the typical customer journey.
Whereas many companies rely on traditional marketing tactics like direct sales, persuasive copy, sales pages, and so on, gamification does something unique.
It makes purchasing your product feel like a game.
And if you do it right, it's a game your customers want to play again. This is why you really need to learn how to use gamification for customer engagement.
The more fun your users have shopping with you, the more likely they are to return. But how is gamification used in a practical way for small businesses with lower budgets?
Let's look at 3 gamification techniques you can start using right now to boost customer engagement.
How to Use Gamification: 3 Expert Tips
If you want to know how to apply gamification to your website, then look no further.
Because you're about to learn how to gamify a website in a few easy steps.
Let's dive into the list.
1. Add a Spin-to-Win Wheel
Remember the TV show The Price Is Right? It was 45 minutes of games and contests that led to 1 thing:
Spinning the wheel to enter the final showdown.
And watching that wheel spin was the most suspenseful part of the entire show.
You can create this same feeling for your store's customers, too. Doing so builds suspense, excitement, and gets potential leads invested in buying your products.
But how do create a spin-to-win wheel that grows your subscriber list if you're not a professional coder (or designer)?
That's where OptinMonster steps on the scene: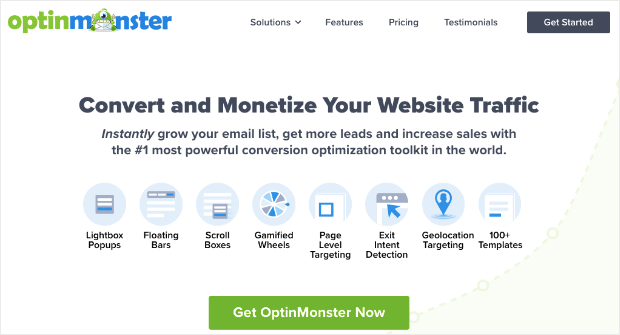 OptinMonster is hands down the #1 lead generation tool on the market. That's because it allows anyone to quickly and easily create stunning optin campaigns.
By 'optin campaigns,' we're simply referring to things like popups, floating bars, slide-ins, and so on. These are small messages designed to get your visitors' email addresses.
That way, you can nurture your leads and drive more sales through email marketing best practices.
But what you REALLY care about is setting up one of the most effective optin campaigns: spin-to-win wheels.
OptinMonster has 14 Coupon Wheel templates that allow you to gamify most aspects of your marketing strategy.
This includes 3 spin-to-win wheels that come in blue, red, and green.
Plus there are 11 other coupon wheel templates for popular holidays throughout the year, including:
Halloween
Cyber Monday
Black Friday
Winter Holidays
And much more…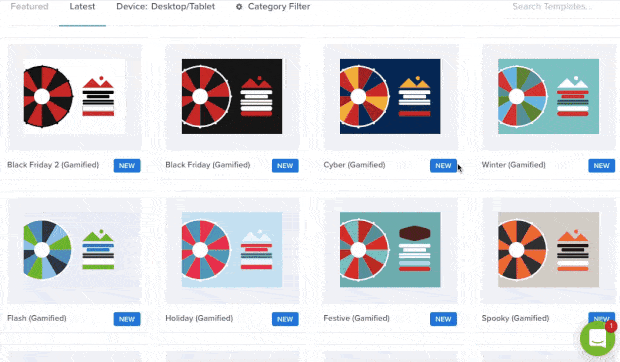 Each portion of the coupon wheel has some offer or prize that your customer can win. Setting these options up can be done in just a few clicks:
And if you have a prize that is suddenly out of stock or unavailable, you can switch the toggle to Off in your Can win settings:

This is perfect for temporarily halting larger prizes that may be out of stock while you're waiting to replace them.
After all, the last thing you want is to offer a prize you can't deliver!
But the big question remains: is gamification effective for boosting user engagement?
In short, YES.
Gamification and engagement rates are highly correlated. Plus, they're ridiculously easy to set up.
Here's an example of a spin to win wheel campaign we created in under 5 minutes: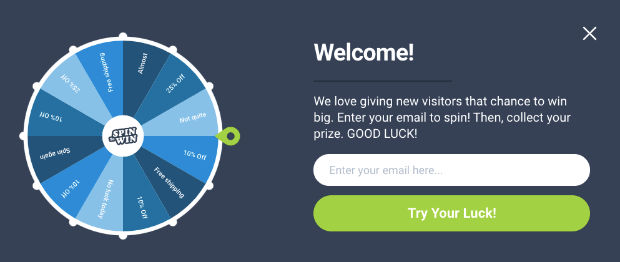 You can quickly create the same exciting moment for your users.
Not only will you grow your email list, but you'll also drastically increase user engagement with your brand.
That means your customers will be more likely to stick around long-term and tell their friends about your products.
And the best part is that you can target these gamified wheels ANYWHERE on your site. OptinMonster lets you determine when, where, and to whom these popups appear for the highest conversions.
This gives you more confidence that you're optimizing the number of leads you get without leaving any on the table.
Want to learn how? Check out this detailed guide on how to create a spin-to-win wheel for any website FAST.
Or feel free to get started by clicking below and creating your 100% risk-free OptinMonster account today:
Get Started With OptinMonster Today!
BONUS: Done-For-You Campaign Setup ($297 value)
Our conversion experts will design 1 free campaign for you to get maximum results – absolutely FREE!
Click here to get started →
2. Run an Online Contest
One of the easiest ways to gamify your site is running a contest.
Online giveaways are effective at driving traffic, increasing your social followers, and skyrocketing user engagement.
The problem is that most small business owners don't know how to run an online contest in the right way. That's why we highly recommend using RafflePress: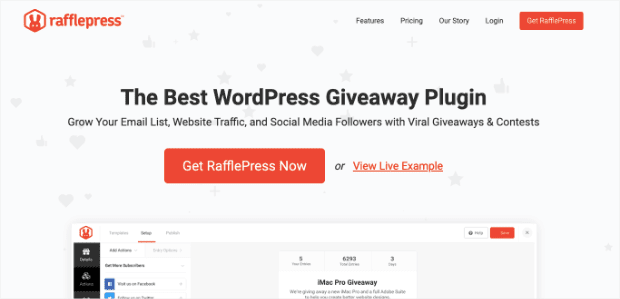 RafflePress is an online giveaway plugin that allows you to create viral contests in minutes. It also helps you boost user engagement in more ways than one.
That's because, with traditional online giveaways, you're usually limited to one prize for one action.
You've probably seen promotions like "Leave us a review on iTunes and enter your chance to win a FREE MacBook Pro!"
These are great but, again, they have one prize (MacBook Pro) for one action (leave a review).
User engagement is boosted, but only with one specific area of your marketing strategy.
RafflePress changes that.
With RafflePress, you can create a prize and award entry points for different actions taken on your site. So you could give more points for:
Subscribing to an email list
Following social media platform
Referring-a-friend through social sharing
Watching a video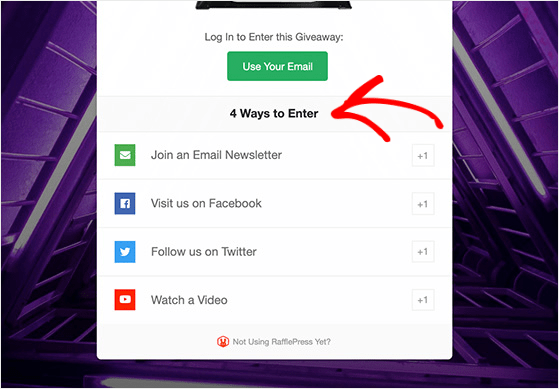 And so much more.
Plus, unlike traditional online contests, your RafflePress giveaways are safe from spambots.
They have a 1 Click Entry + Fraud Protection feature that makes it easy for real users to sign up, but difficult for spambots to flood your email list with fake subscribes.
But what if you're not very "tech-savvy"? Will you still be able to create stunning contests that people want to participate in?
Absolutely.
RafflePress has a codeless visual contest builder that requires ZERO technical knowledge. And once you're done, you can embed the contest across your site via:
Custom blocks for the Gutenberg editor
Shortcodes for the Classic editor
Automated landing pages generated by RafflePress
That means you can have professional and highly engaging contests up and running in a matter of minutes (and with just a few clicks).
If you want to use gamification across marketing platforms to increase user engagement, running an online contest is an absolute must.
Get started with RafflePress today!
3. Build a Customer Loyalty App
If you really want to roll out the red carpet, consider creating a gamified customer loyalty program in the form of an app.
This is particularly useful when it comes to gamification for SaaS companies because user expectations are so high now.
But all companies can learn from the importance of gamification.
Starbucks is a perfect example. They are a brick-and-mortar store that used gamification to create one of the most popular loyalty programs on the planet.
Rather than go with the traditional "Buy 6 coffees and get 1 free" approach like their competitors, Starbucks upped their game.
They created a gamification system that rewards purchases with gold stars. When customers accumulate enough of these stars, they can redeem them for other Starbucks products.
Now, in principle, this is exactly the same as a punch-out card you see from other coffee vendors. But the game-like elements make it so much more appealing.
For example, which of the following 2 loyalty programs would you rather use…
This punch-out card by McDonald's: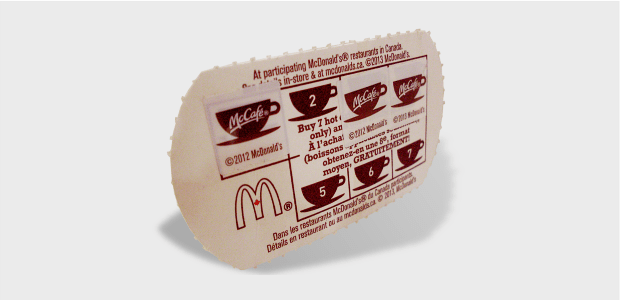 Or this gamified app by Starbucks: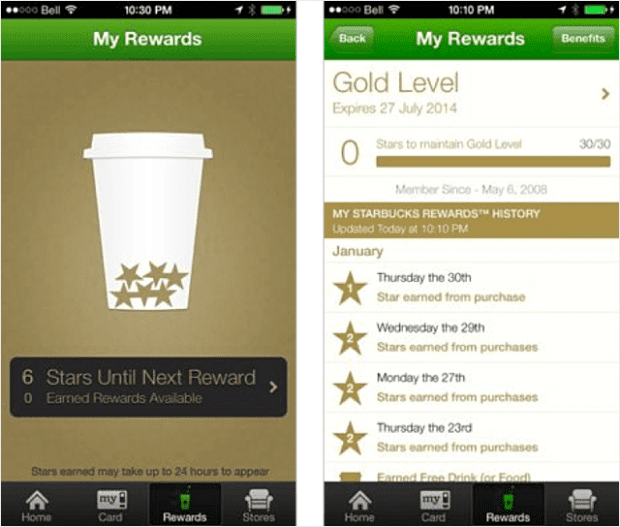 Even though Starbucks has a more expensive product, it still dominates the coffee rewards program.
Why? Because rewarded customers are happy customers.
And happy customers always come back.
That's what makes Starbucks one of the best gamification examples on the market.
You can get loads of happy customers too by creating a gamified app for your brand. And if you're not a developer, no worries.
Head over to sites like Fiverr or Upwork to find freelance workers who can build you an app that your customers will love.
Before wrapping up this post, we quickly wanted to share the EASIEST way to increase engagement on your website: social proof.
Tying It All Together With Social Proof
Here's the thing: none of these gamification strategies will work if your audience doesn't trust you.
In fact, no marketing strategy will work if your audience doesn't trust you.
That's why it's so important to use social proof throughout your customer's journey. You need to let them know that you're reputable and offer a legitimate product or service.
This all starts on your homepage.
That's because once people are done with your gamified marketing campaign, the first thing they'll do is head over to your website.
And you only have a few seconds to make a great first impression. If your site doesn't look trustworthy from the start, you can expect new visitors to leave and never come back.
Which is why trust badges are so important for your marketing plan (even for gamified campaigns).
You need to add trust badges across your website to instantly build credibility with your new customers. These trust badges can include:
Reviews
Testimonials
Money-back guarantee stamps
And much more…
For a full list, check out these 12 trust badges that you can start using today.
But by far the most effective trust badge you can use are recent activity popup notifications. You've probably seen these before.
They look something like this: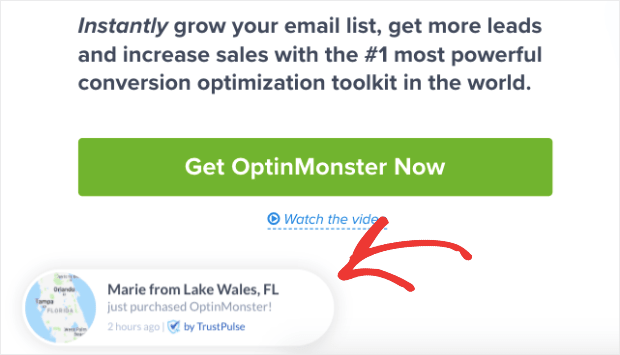 To create add these recent activity popup notifications, there's no better tool or software than TrustPulse: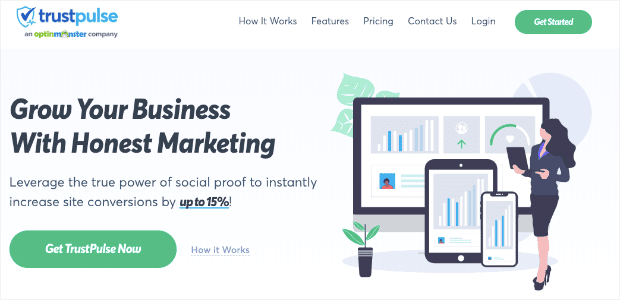 TrustPulse offers fully customizable recent activity popup notifications that boost sales by 15%.
What makes them work so well?
Whenever a customer takes positive action with your brand, a small notification is displayed across your website.
This shows other users that your brand has a lot of engagement, which leads to the psychological marketing tactic called fear of missing out (FOMO).
Seeing other people take positive action for themselves instinctively makes us want to do the same.
So when your new visitors see that someone has purchased your product, 2 things will happen:
They'll trust your site more because of social proof
They'll be more tempted to buy your product because of FOMO
Either way, you come out the winner.
And that's all for today!
Using any of the 3 actionable tips in this post is guaranteed to get more interaction with your customers. Or you can use all 3 techniques to build a gamification system that enhances your entire customer journey.
We hope you enjoyed this article on how to use gamification for customer engagement.
If you did, then you definitely don't want to miss the following posts:
These articles will have even more information that you can use to learn about and leverage gamification for your online store.