Are you looking for an in-depth Drip review to see if this email service provider is perfect for your small business?
Email service providers (ESP) come with all of the essential tools that you need to build, grow, and stay in contact with your email list. From building eye-catching emails, automating multiple tasks, and building workflows, ESPs save you time and money.
In today's post, we'll show you what you need to know about one of the most popular email service providers on the market: Drip.
More specifically, this Drip review will look at the tool in terms of:
Feel free to use the table of contents above to jump around to the sections that interest you most.
Otherwise, let's start from the top to discover if Drip is the right email service provider (ESP) for your business.
Drip Review: What Makes It Perfect for Small Business
Drip is a popular marketing tool optimized for eCommerce and small businesses. While it has plenty of other marketing features, we'll be focusing exclusively on Drip's email design and service tools.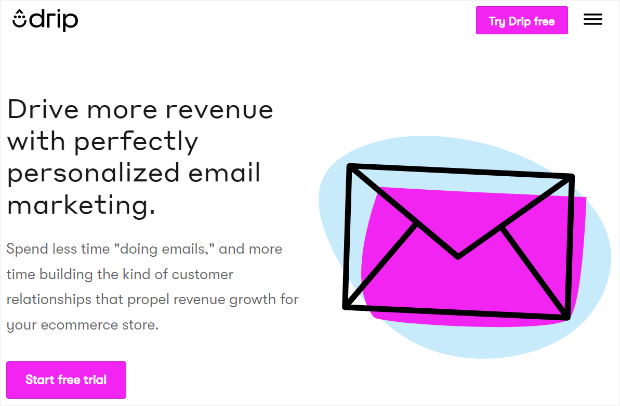 Let's dive right into our Drip review:
1. Ease of Use
When we're talking about using any ESP, we need to make sure it's easy to do 2 main things:
Setup the service
Design a new email campaign
a) Setup: Ease of Use
Signing up for Drip is incredibly easy. Like all of the other email service providers we've reviewed, you only need some basic information and a few minutes to get Drip set up.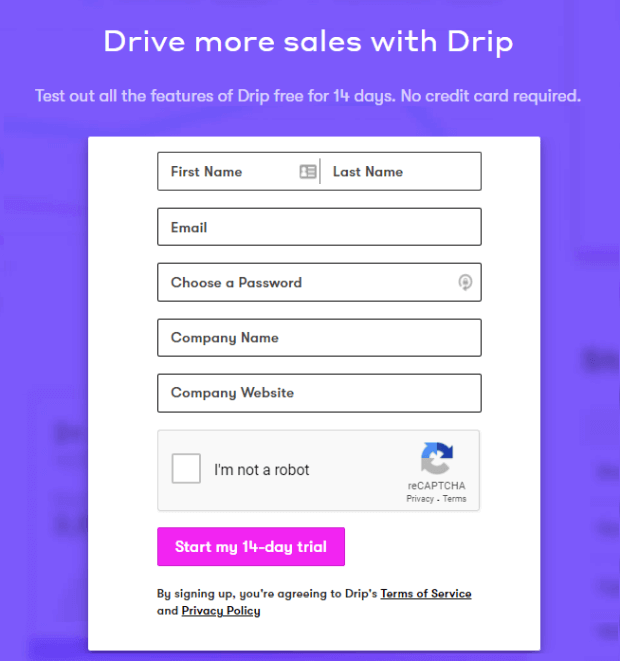 After entering your contact information, you'll be asked to select the eCommerce platform you use to sell online.
If you don't have an eCommerce setup or don't want to configure it with Drip, you can select I don't have an online store.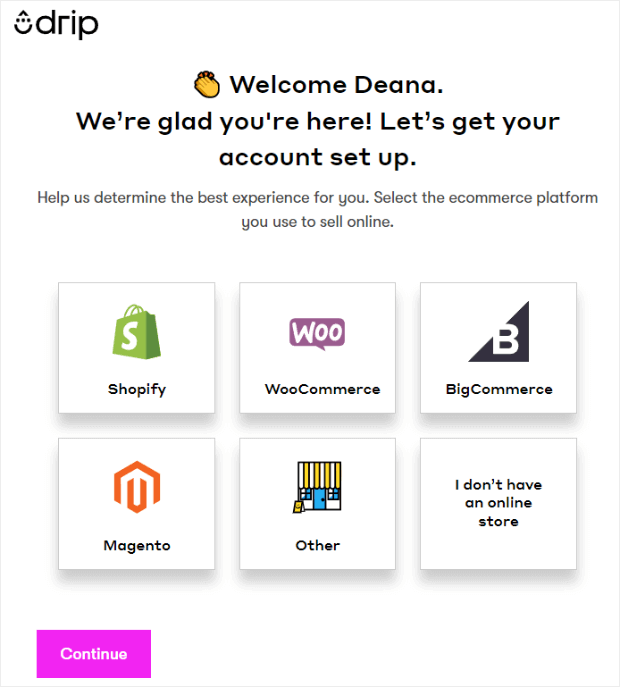 Next, you'll set up your email sending defaults. This will include all the information needed to ensure your emails conform to the CAN-SPAM Act.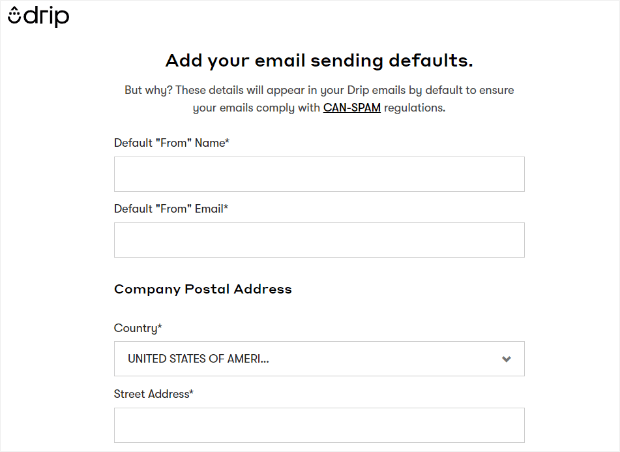 And that's all there is to set up your Drip account. Once you provide your contact information, you'll be taken right to your main account dashboard.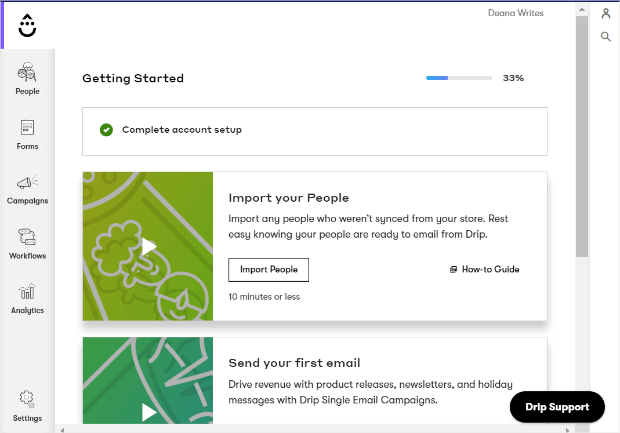 This was an incredibly easy and quick signup process. Account set up took about 3 minutes to complete.
b) Campaign Design: Ease of Use
Creating your first email campaign with Drip is intuitive and straightforward.
Right from your dashboard, there's not only a featured link to create your first campaign, but it also tells you how much time you need to get it done. In this case, "30 minutes or less".
There's also a How-To Guide in case you need some help.
How thoughtful and convenient is that?
Going into the campaign builder, Drip helps you out with a Support popup to walk you through the process.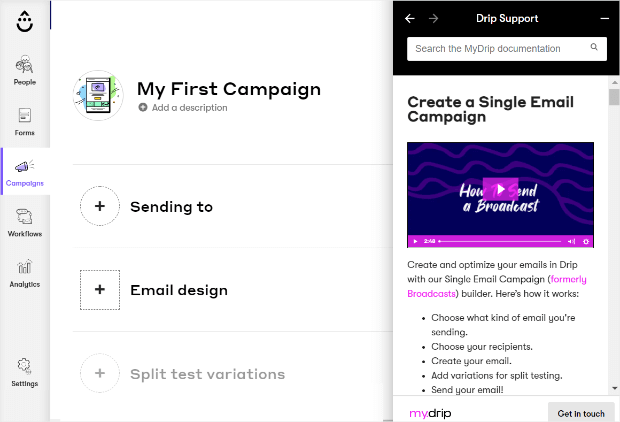 If you click on the + button next to Email design, you'll get a menu with templates and designs to choose from.
Drip also comes with templates that have basic column layouts waiting for your personal touch.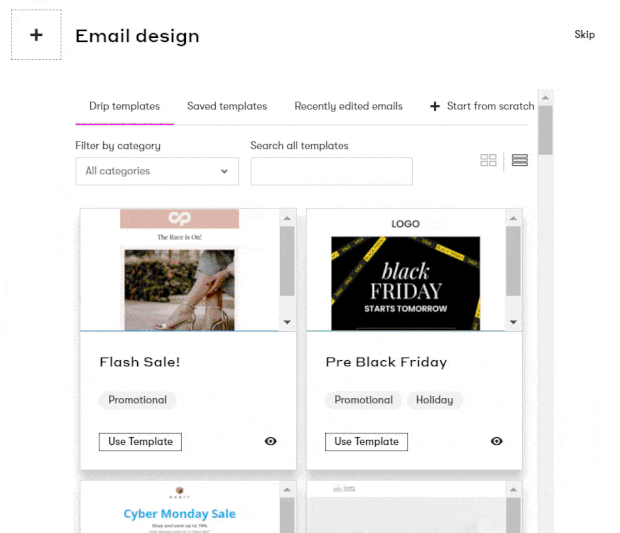 Your main workspace is in the center of the screen, which gives you a live view of your email. As you hover over each element, you'll notice a bar that gives you the option to either Move, Duplicate, or Delete that area.
If you'd like to edit that section, just click, and the editing options will pop up on the right side of your screen.
And to the left, you'll find the email's settings and options to add additional elements to your email.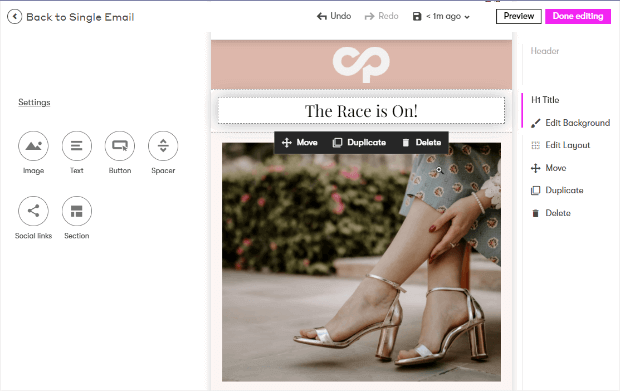 The templates get your email designed quickly yet professionally. Basically, you just need to replace the images and the text. That's it!
Of course, they are fully customizable, so you can make the emails look however you'd like.
Then when you are finished, you have the option to run a split test on the campaign, schedule, or send your email.
Designing a campaign in Drip was fast and effortless. When you are short on time, that's a huge plus!
Moving forward in our Drip review, let's look at some of its other functions and features.
2. Flexibility
Drip is one of the most flexible email providers on the market. Where most providers limit flexibility by subscription tiers, Drip opens all flexibility to every person who purchases a license.
Instead, you'll pay based on the number of contacts on your email list. That way, your Drip account will grow right along with your business.
Integrating with your other marketing platforms is what makes Drip so effective. In fact, there are over 100 tools that you can integrate with Drip. These include popular platforms like:
Shopify
WooCommerce
Magento
Zapier
PayPal
Stripe
If you prefer to have an SMS marketing strategy, Drip also has that option.
Basically, Drip can meet you where you are and works in tandem with the tools you already have.
But, how can Drip save you time? Well, let's go over some of the automation tasks and abilities Drip offers.
3. Automation
Drip has 29 automated workflow templates to develop relationships with current and prospective customers.
These templates are pretty much ready to go right away. All you have to do is add your brand identity and your own messages.
What these automation templates do is simple: keep your business in the mind of your customers. The best part is that Drip handles all of the communication for you. So once the automation starts, everything else goes on autopilot.
For instance, here's a sample Drip automation for someone that recently purchased from your shop: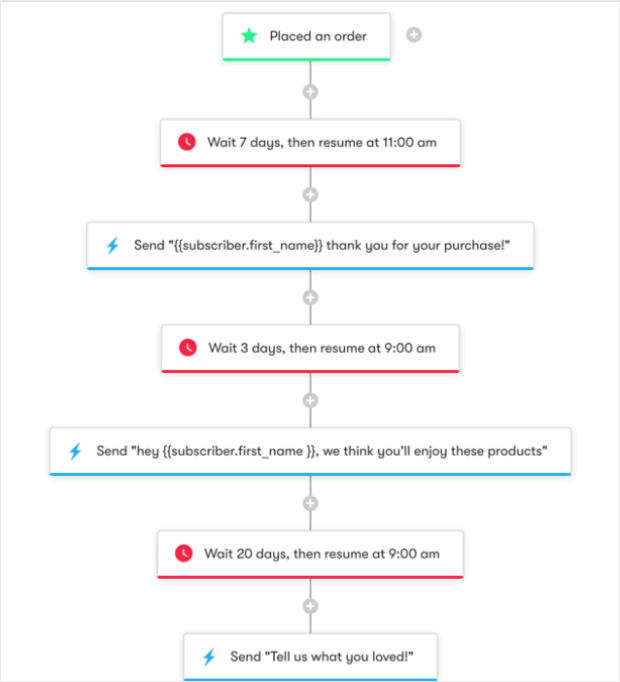 In fact, Drip already has workflows set up to help you:
Welcome new customers
Win-back inactive customers
Deactivate undeliverable and unsubscribed addresses
Celebrate special occasions
And more…
If you did all of these tasks yourself, just imagine how much time you'd spend sending emails. Plus, how easy would it be for someone to fall through the cracks?
That's the heart of automation: saving time, increasing sales, and enhancing the customer experience.
To make the emails feel more personal, Drip tailors them using data from your store. That way, they'll get recommendations for products they want at just the right time to maximize conversions and sales.
But how do you get customers into your email list in the first place? Up next in our Drip review, we'll look at lead generation.
4. Lead Generation
Most email service providers offer lead generation tools. Drip is no exception.
Though, just like every other ESP, lead generation isn't the platform's main focus. So what does that mean for you?
Lost sales and conversions because of limited design options, the inability to target your ideal audience, and showing your campaigns at the wrong time.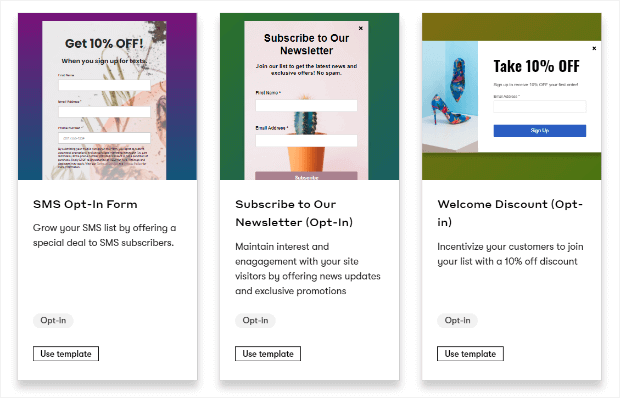 While you can design email optin campaigns for your site in Drip, you are limited to:
9 templates
4 display positions (popup, slide tab, exit-intent popup, and embedded HTML form)
6 display rules (based on segment rules, time on page, scroll distance, or link clicked)
Let's be honest. While that's a good start, it's not the most effective way to generate leads and convert customers for your business.
To maximize the number of quality leads for your email list, you need a tool that's primary focus is on lead generation.
Effectively Generate Leads With OptinMonster
The best tool to use to instantly grow your email list is OptinMonster: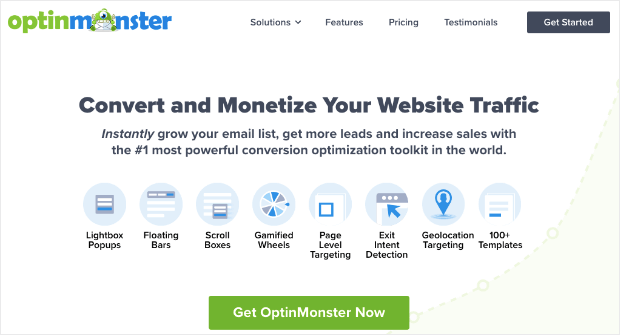 OptinMonster is the world's most powerful lead generation tool.
With a user-friendly design, you can easily create campaigns that generate leads and convert visitors.
You don't need to know coding or design to create eye-catching campaigns. That's because OptinMonster comes with over 50 pre-made templates.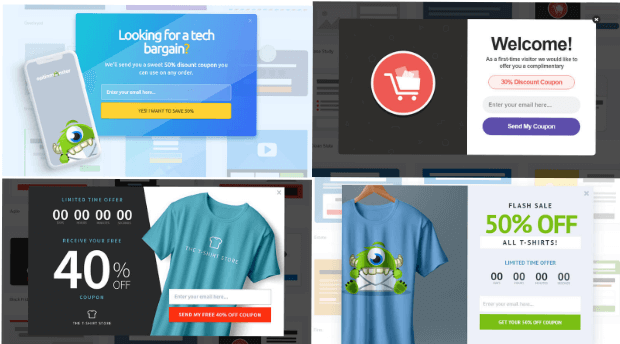 Plus, with OptinMoster's drag and drop builder, you can edit your popup with just a few clicks.
But why should you use a separate tool for lead generation?
OptinMonster has advanced targeting rules that result in even HIGHER conversions.
We already covered the limited targeting and display rules in Drip. But, did you know that these could leave money and leads on the table?
Meanwhile, OptinMonster gives you 46 rules to mix and match that target each campaign to your ideal audience. Some of the more popular campaign targeting rules include:
Exit-Intent® Technology: Trigger your campaign to appear when visitors actively leave your site.
OnSite Retargeting®: Shows fresh campaigns to returning visitors.
Geolocation: Personalize campaigns based on the visitor's physical location.
Finally, OptinMonster and Drip seamlessly integrate so you can email your leads right away.
How do we know that it's wise to use a different lead generation platform? Because we see the results every day.
In fact, using OptinMonster is how Cosmetic Capital exploded their email list by 300%.
Or how Wholesale Suite exploded their email list by collecting over 6500 qualified leads each year.
You too can experience these spectacular results by clicking below and starting your 100% risk-free OptinMonster account today:
Get Started With OptinMonster Today!
BONUS: Done-For-You Campaign Setup ($297 value)
Our conversion experts will design 1 free campaign for you to get maximum results – absolutely FREE!
Click here to get started →
5. Pricing
Pricing for Drip is incredibly straightforward.
You simply pay for the number of contacts you need. So instead of trying to balance a variety of plans that offer different features and number of contacts, you only need to keep track of one number.
Email-only marketing plans start at $19/month for up to 500 contacts. If you have up to 2,500 contacts, the cost bumps up to $39/month.
These plans include unlimited email sends and email support.
Verdict: Is Drip Perfect For Small Business?
The short answer is yes.
If your primary need is to design, automate, and send emails, Drip is a perfect choice for any small business.
In other words, Drip is one of the most powerful, flexible, and intuitive email providers on the market.
Suppose you want the most out of your marketing time and budget. In that case, remember to pair it with a tool like OptinMonster to add even more leads to your automated email campaigns.
And that's all for today! We hope you found this Drip review helpful.
If you did, then you'll definitely want to check out the following resources:
These articles will have even more valuable information to help your email marketing efforts reach the next level by driving more leads and sales.
Want even more conversions? Get started with OptinMonster today!